Smoked hazelnuts add incredible flavor to homemade Nutella making a fantastic family friendly, yet smoky, treat!

*Bonus: this makes an incredible gift for the holidays!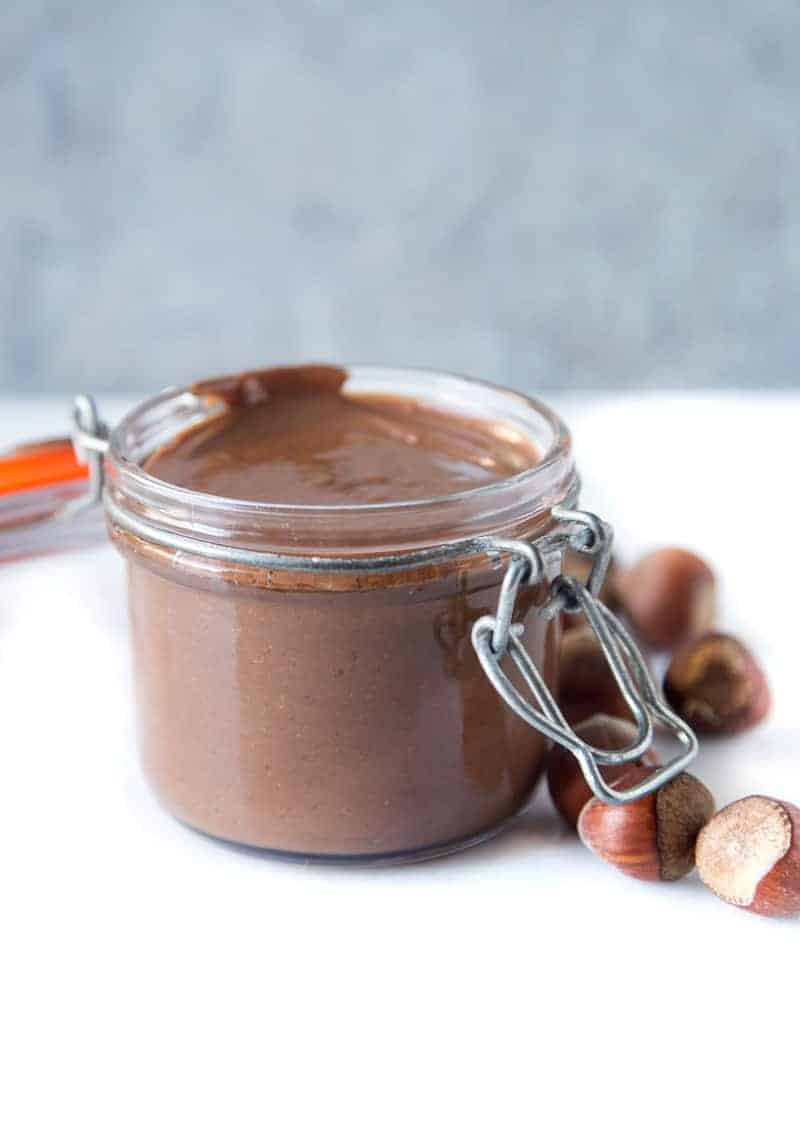 I never intended to write a recipe for smoked hazelnut Nutella. But a few weeks ago I posted a photo, both on my Instagram stories, and on my personal Facebook page, and people went crazy for it.
This was the exact photo: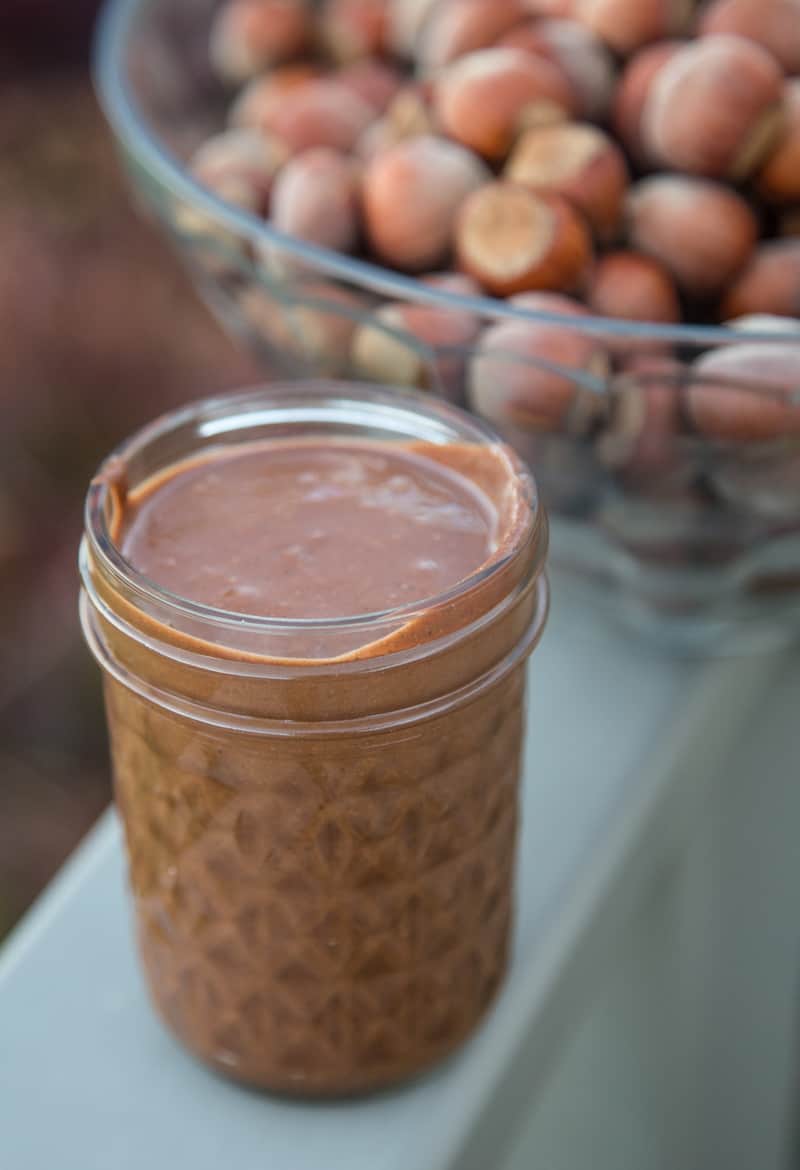 The only reason I made it in the first place is because I'm pretty anti-Nutella around here. And by that I mean I don't buy it for my kids because of all the artificial ingredients, and the fact that the first ingredient in it is sugar, followed by oil, then with what should be the main ingredient (hazelnuts) third.
BUT, they have this grandmother, see, who loves the stuff, and always buys it when she visits and then leaves it in our pantry for the kids to drool over. They crave it.
So when we were staring at this big pile of hazelnuts a few weeks back – because that's what you do when you live on a 4-acre hazelnut farm – we discussed different things we could do with it. They immediately asked if we could make Nutella, because kids. And chocolate.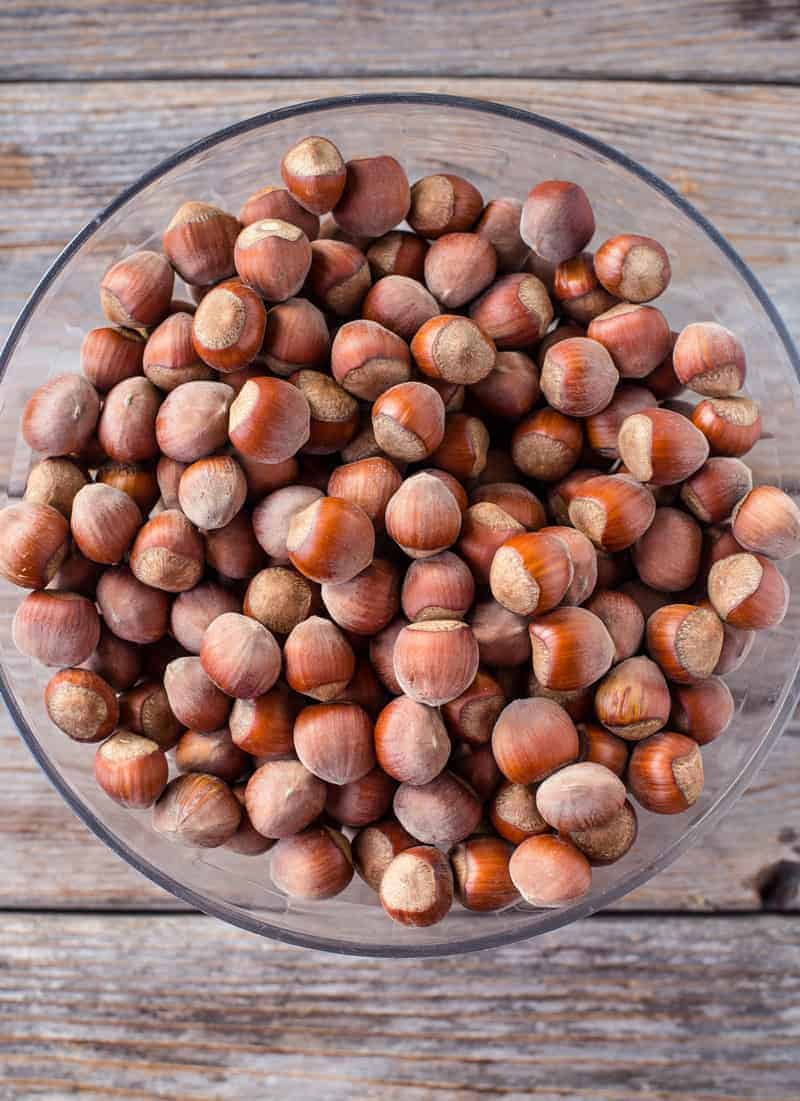 Challenge accepted.
But of course we weren't going to roast the hazelnuts like most recipes suggest. Nope. We were going to smoke them.
Because that's what we do. We drink wine and smoke things.
How to Smoke Hazelnuts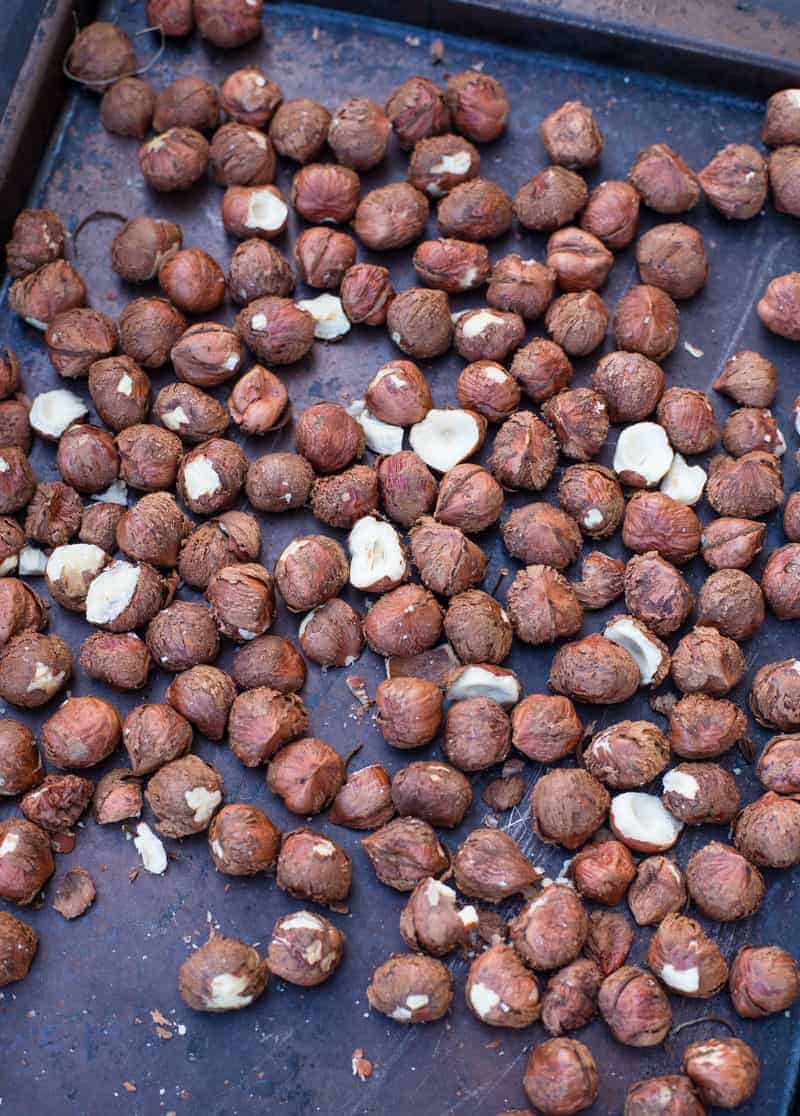 I figured they would cook on the smoker the same way almonds do, and we make a ton of smoked almonds, so we tried it that way. 225 degrees for about one hour. But when combined with the chocolate the smoked flavor was a bit muted. They needed longer time on the smoker, but at a lower temperature so that they didn't overcook. We settled on somewhere between 180-200 degrees for closer to 90 minutes. There was enough smoke flavor to know what was in it. It's not strong or overpowering. The chocolate still overpowers the smoke a bit, but it creates a better balance.
You guys. This is crazy delicious.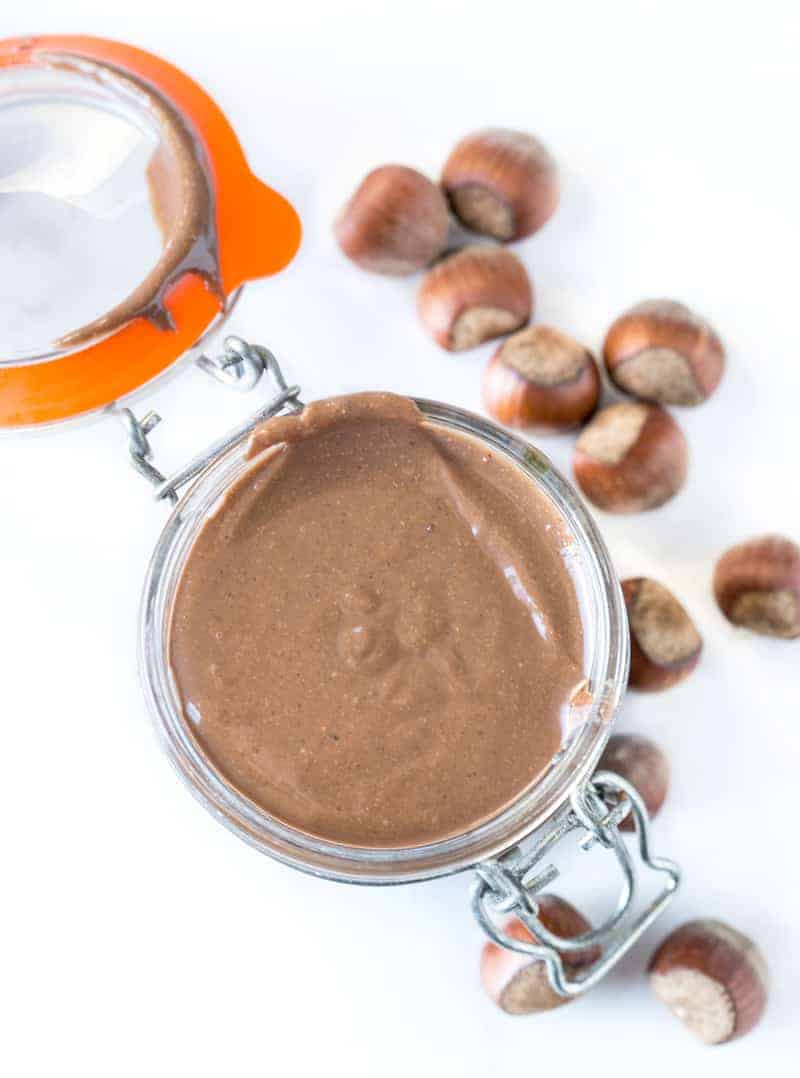 I'm pretty sure I've converted to letting my kids eat the stuff regularly now.
How to make Homemade Hazelnut Nutella
For the base recipe I consulted a few recipes for inspiration.  The Splendid Table was where I started. That one seemed to have a nice balance (and bonus, I had all the ingredients).  David Lebovitz's was interesting, but involved a lot of dairy (milk and powered milk), and I was iffy as to how long it would last on the shelf. bon appétit added an entire stick of butter and a full cup of heavy cream, defeating my purpose of attempting a slightly "healthier" version than the store-bought. On the opposite spectrum Detoxinista was dairy free and used a lot of coconut (oil, powder, and sugar). I ended up using a combo of the later and The Splendid Table, using coconut oil as my oil.
What happened was that after a day of sitting the end product was hard. It was still delicious, but it lost its creamy texture.
I then switched to hazelnut oil for creaminess. That did the trick.
Since Oregon produces 99% of the nation's hazelnuts (fun fact!) we can find hazelnut oil around these parts with little effort. But if you can't find it I'd suggest another mild oil (such as vegetable or canola), vs a hard oil like the coconut I originally used. While the coconut added a nice flavor, it didn't help with the silky texture I was aiming for.
That all being said, this was an absolute delight to make, my kids go crazy for it, and I'm totally okay with them eating it by the spoonful (unlike it's store-bought alternative)!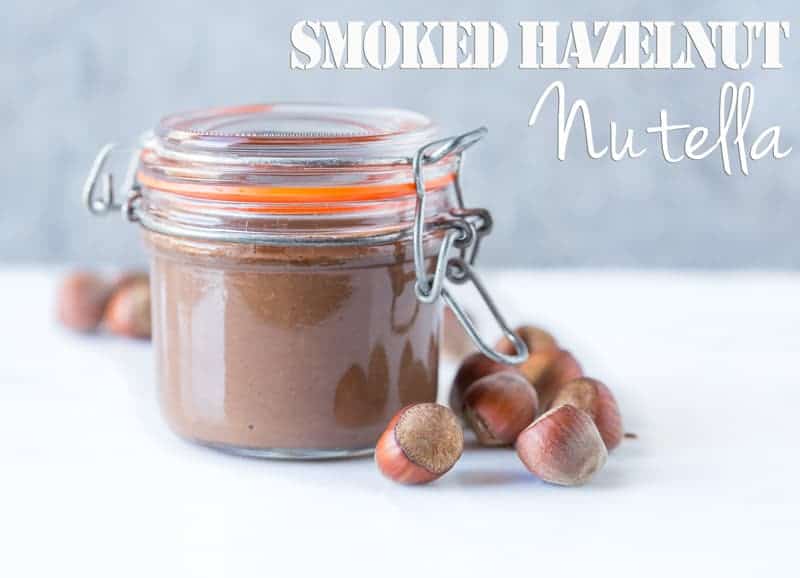 Smoked Hazelnut Nutella is crazy good on so many things:
Graham crackers for a simple snack
Toast
Crepes (mmmmm, especially with some banana slices)
Mix a spoonful into your morning coffee (I dare you!)
Strawberries
Pretzels (my kids current favorite)
And so many more!
This is definitely a winner that will make regular rounds here on the hazelnut farm.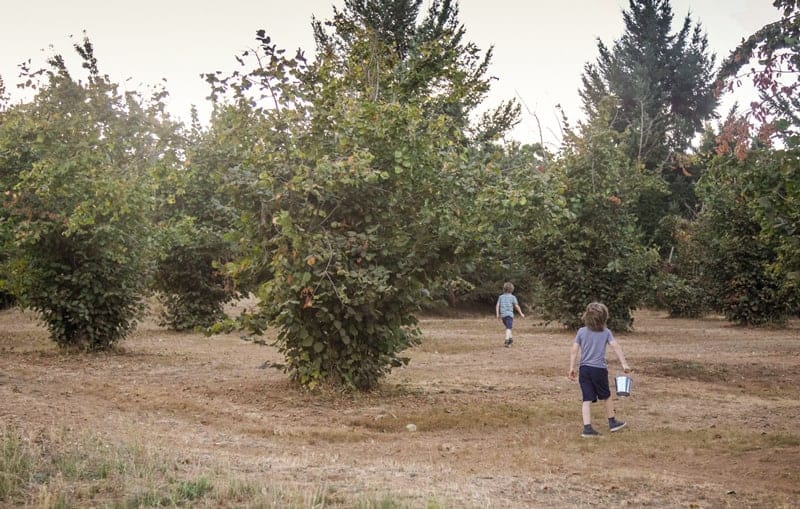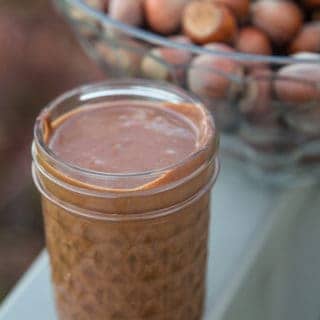 Smoked Hazelnut Nutella
A great way to add smoked flavor to Nutella. Smoked Hazelnut Nutella. Easy, creamy and simply indulgent.
Print
Rate
Prep Time:
1
hour
30
minutes
Total Time:
1
hour
35
minutes
Ingredients
1

heaping cup raw hazelnuts

6 oz

1

cup

milk chocolate

chips or chopped pieces (semi-sweet, dark, or a combo work well too), melted

2

tablespoons

powdered sugar

2

tablespoons

cocoa powder

2

tablespoons

hazelnut oil

canola or vegetable work well too

1

teaspoon

vanilla extract

1/4

teaspoon

salt
Instructions
For the smoked hazelnuts:
Preheat smoker to 200 degrees (F) using a fruit wood

Place raw and shelled hazelnuts on a baking tray and place on the smoker for 60-90 minutes, checking every 30 minutes on the status of the hazelnuts (see notes).

Remove and, when cool enough to handle, remove any skin that may still remain.
For the Smoked Hazelnut Nutella:
In a food processor or strong blender place the hazelnuts and blend for about 2 minutes until a paste forms. This takes time. At first it looks like chopped nuts, but keep going, pausing periodically to push down the sides. Once a paste (similar to peanut butter) forms, you're ready for the next step.

Add melted chocolate, powdered sugar, cocoa powder, hazelnut oil, vanilla, and salt, and puree until combined and creamy.

Pour into an air tight container (like a mason jar) and keep at room temperature for up to 2 weeks.
Notes
Not all hazelnuts are created equal. Some will release more oils than others, creating a creamier result. If yours isn't as creamy as you'd like add additional hazelnut oil to get the consistency you like (add 1 tablespoon at a time).
For the oil: If you can't find hazelnut oil use another liquid neutral oil such as canola or vegetable.
Chocolate: I prefer the sweet taste of milk chocolate, but you can easily sub semi-sweet or dark, or a combination of 2 or 3 of those.
This will harden a bit after a day. It will still remain spreadable, but not as liquid as when you blend it. If you want to get it back place it in the microwave and heat in 15 second increments, stirring between, until you get it back to the consistency you like.
THE VIDEO
---
For more tasty recipes, BBQ tips and tricks, check out the Recipe Index.
If you like this recipe we'd truly appreciate it if you would give this recipe a star review! And if you share any of your pics on Instagram use the hashtag #vindulge. We LOVE to see it when you cook our recipes.
---