Take Grilled Chicken Wings to the next level with an amazing Honey Bourbon BBQ Sauce Glaze. The wings are crispy and the 20-minute sauce adds a sweet and savory flavor perfect for your next tailgating party or wing night.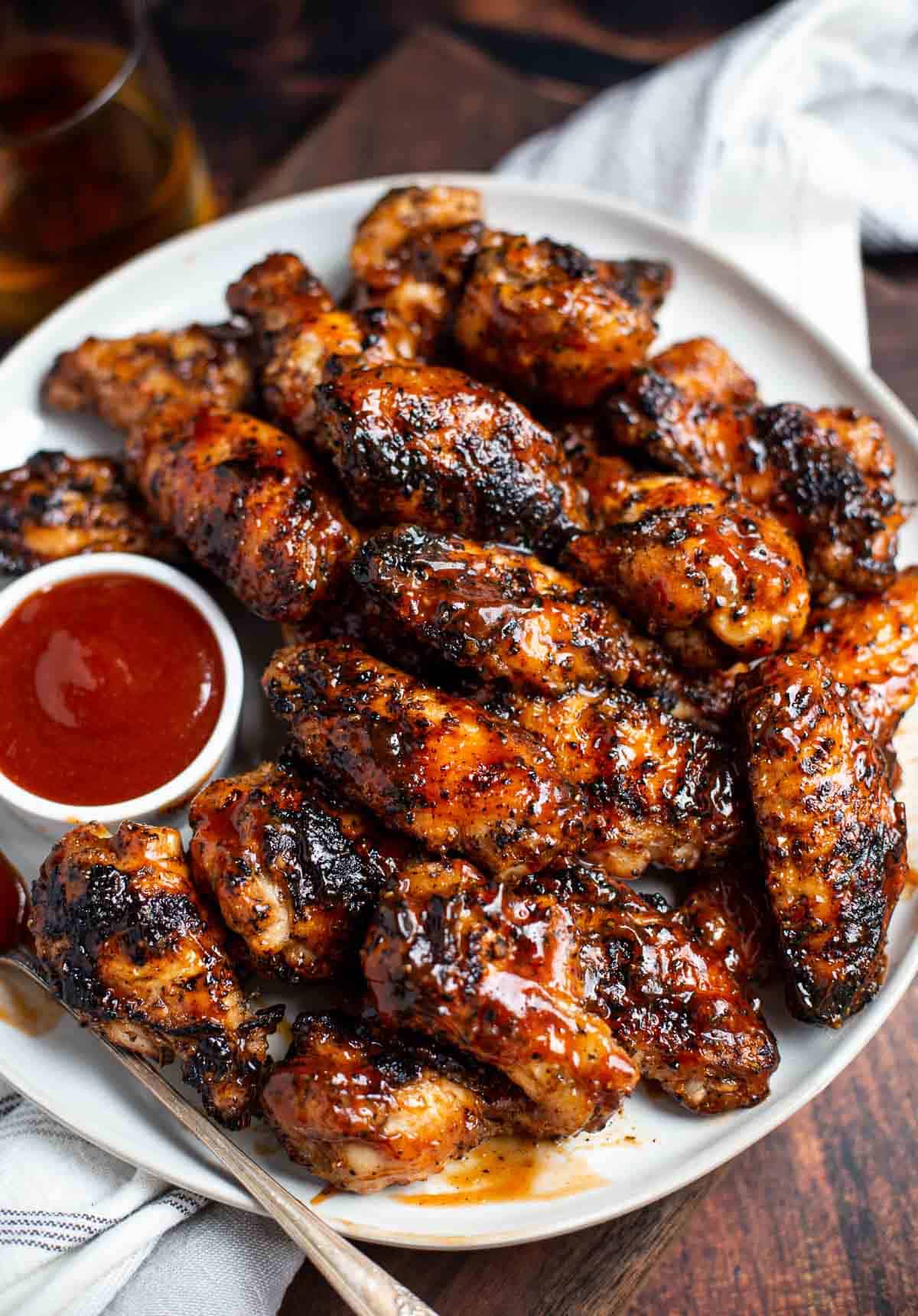 Jump to:
If you're a chicken wing fanatic (hi!) and constantly looking for new wing sauce flavors to add to your rotation then you need to keep reading! This sauce is not only finger licking good, it's ridiculously amazing on chicken wings. These particular wings are cooked on the grill (not baked or deep fried) for that crispy grilled texture and slightly smoky bite, then finished in our Honey Bourbon BBQ Sauce for incredible flavor. You won't be able to stop eating these crispy and irresistibly flavorful wings!
Ingredients for Honey Bourbon Wings
Wings – Look for "party wings" or chicken wings (flats and drums). Ideally make sure the wing tips are removed so you don't have to pay for that extra weight. The tips don't grill well. Just use the flats and drums. A general rule of thumb is that every 1 pound of wings yields 12 wings.
Seasoning – We keep it simple with salt, pepper, and garlic. Then mix corn starch into the seasoning as well.
BBQ Sauce – We are using our Honey Bourbon BBQ Sauce, detailed below. It's a combination of ketchup, bourbon, honey, apple cider vinegar, and dried spices like mustard powder, garlic powder, onion powder and kosher salt.
Optional Sides – Ranch is great with these Honey Bourbon Wings, but we won't judge if you go with blue cheese instead. Carrots and celery are always the classic accompaniment.
Dehydrate the Wings (Important Step!)
To achieve grilled (or smoked) wings with crispy skin, one important prep tip is that the wings need to be DRY. This is especially important if the wings are wet or moist when you remove them from the packaging.
It's easiest to do this is to lay the wings out on a cookie drying rack inserted onto a sheet pan (see below).
Pat dry the wings with a paper towel. Then lay them out on the drying rack and place them in the refrigerator for at least 2 hours uncovered.
Then you can remove them, season them and put them on the grill.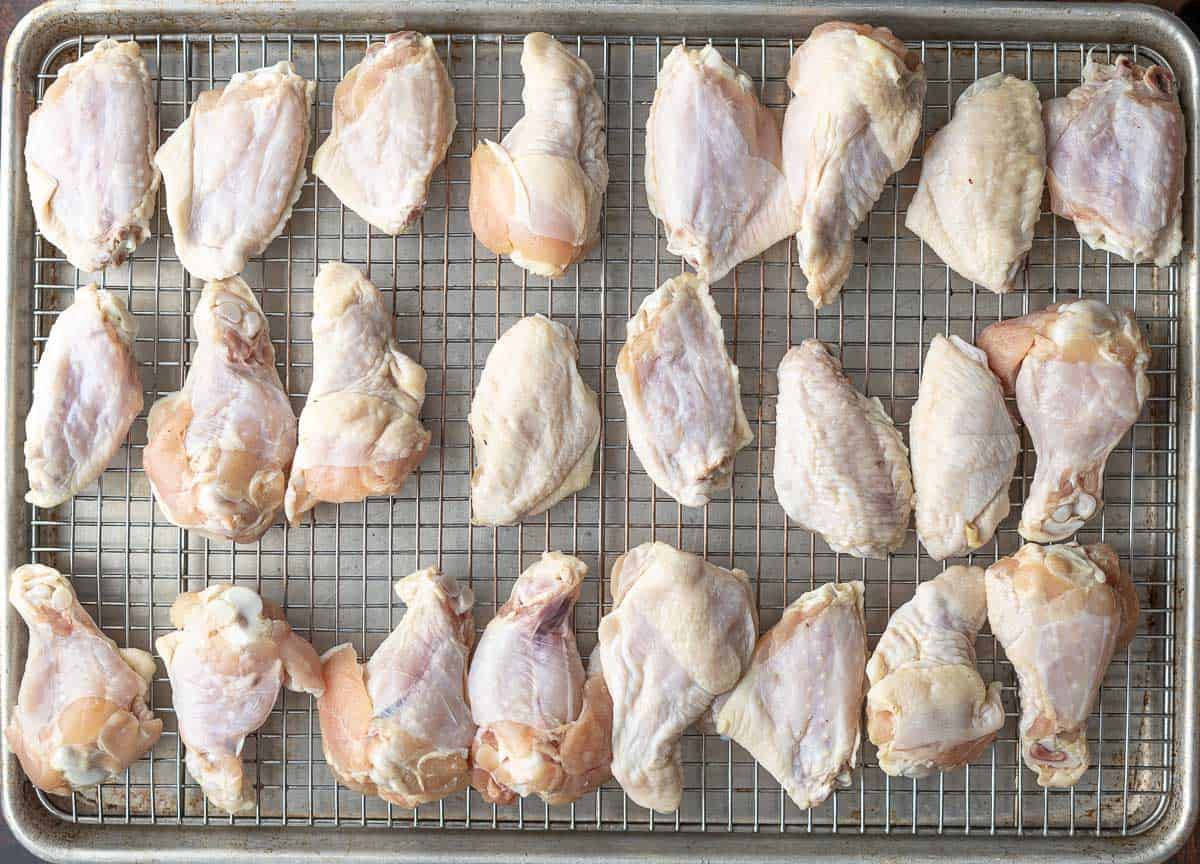 How long should you leave wings in the refrigerator to dehydrate? We find 4-hours is a good duration. If you wanted to do overnight that's fine too, if it makes for easier preparation.
Chicken Wing Season
Our go-to wing seasoning is simply kosher salt, coarse black pepper, and granulated garlic, or a classic SPG seasoning. We use 2 tablespoons of seasoning for every 1 pound of wings and then add corn starch to the mix to help mimic the deep fried texture and help them crisp up.
Why Corn Starch?
Mixing corn starch with the seasoning aids the wings in crisping up. Some recipes will call for baking powder, but the first ingredient of baking powder (and the actual ingredient that helps with the chemical reaction) is corn starch. So we recommend just using corn starch.
Plan 1 teaspoon of corn starch for every 2 tablespoons of seasoning to achieve crispy skin when grilling chicken wings.
Honey Bourbon BBQ Sauce
Combine all the ingredients into a small sauce pan on medium heat, stir to combine and bring to a simmer. Lower the heat and continue to simmer for 20 minute occasionally stirring. It's best to make this sauce as the grill warms up as you want the Honey Bourbon Sauce to be warm when you mix with the finished grilled wings. You can also make the sauce in advance, then warm it up before tossing it with the grilled wings.
You can read more details about modifications in our Honey Bourbon BBQ Sauce Recipe.
How To Grill Honey Bourbon Chicken Wings
After you have dehydrated the wings and seasoned them it's time to grill them.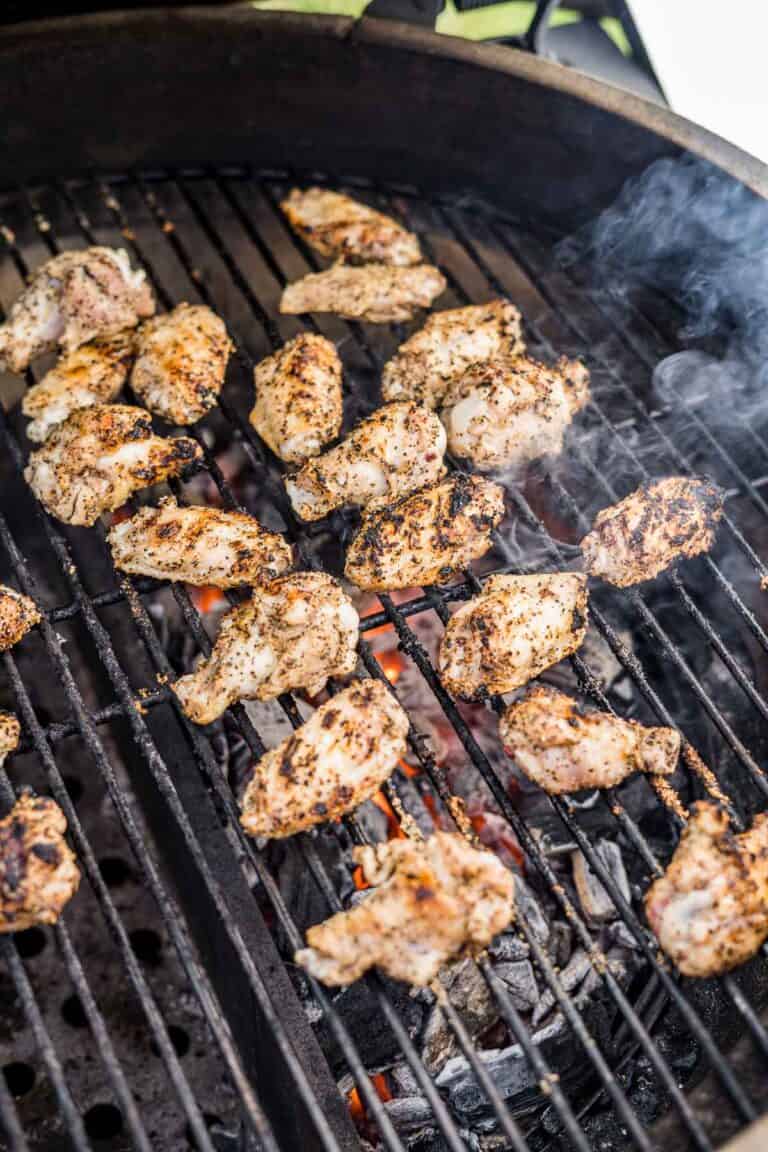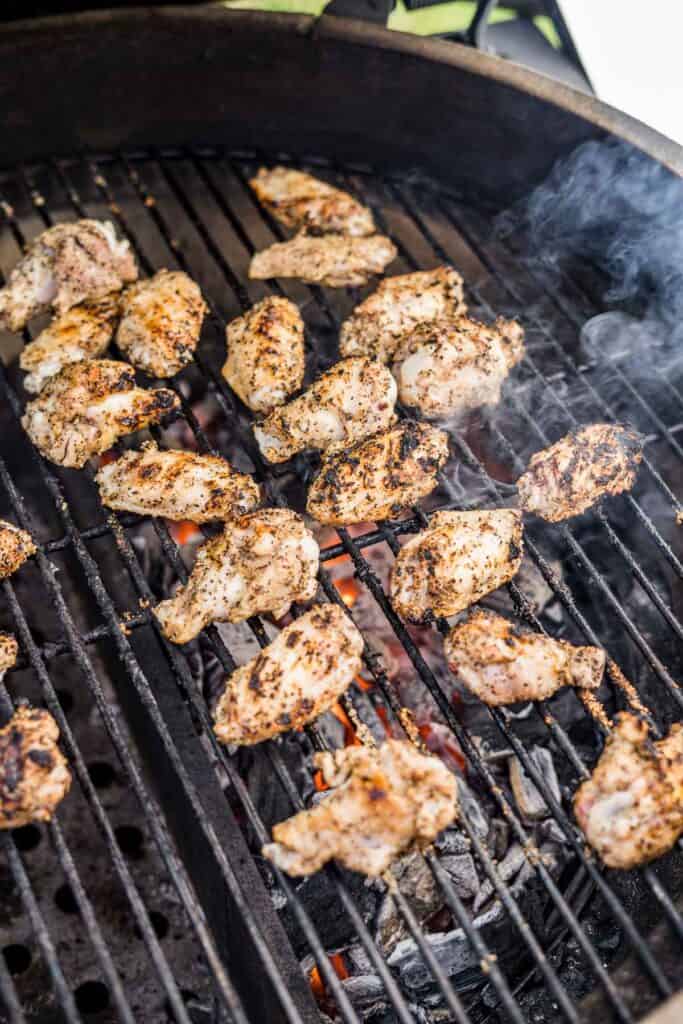 Prepare Grill: Preheat grill using two-zone method, or direct/indirect. Target 400 degrees Fahrenheit as internal cooker temperature.
Grill Direct: Place the wings on the grill grate over direct heat. Close the lid. Monitor closely and rotate the wings around the direct grate to take into account any hot spots. This will avoid burning the wings as the fat from the skin will create flare ups. After a few minutes over direct heat, and when you like the color of the wings, move them all to indirect heat and close the lid. Total direct grill time for the wings should average 6 – 8 minutes total.
Grill Indirect: Continue to grill indirect until the internal temperature of the wings reaches 175 to 180 degrees Fahrenheit as read with a good instant read meat thermometer. The skin should be crispy.
Toss with Sauce: As soon as the wings are done, place them in a large bowl and add 1 cup of the Honey Bourbon BBQ sauce and toss together. Serve immediately.
When are the chicken wings done? We like to cook chicken wings to an internal temperature of 175 – 180 degrees Fahrenheit. This allows them to crisp up and the meat to have a nice texture. You can read more in our article all about the proper internal temperature of chicken.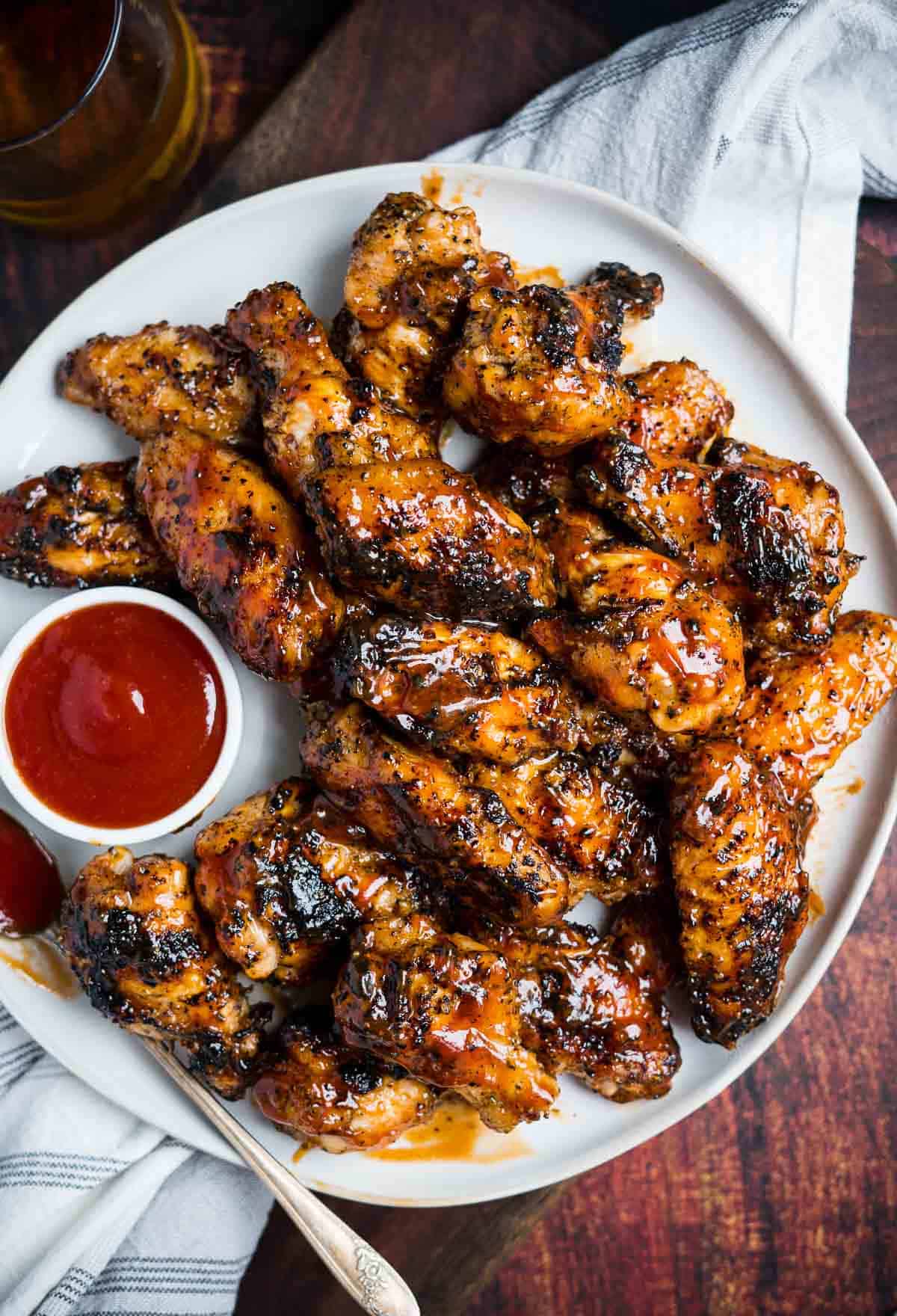 Tools
A good set of long tongs is critical to prevent burning your arms and hands. A high quality instant read thermometer, like the Thermoworks Thermapen One, is key to taking the proper internal temperature of the wings quickly.
Troubleshooting
If your grill is too hot (over 450 degrees F) then the chance of the wings scorching or burning is high. Control the temperature and keep at or around 400 degrees if you can. Otherwise if your grill gets too hot then start the wings on the indirect side of the grill and then finish over the direct heat to add some color.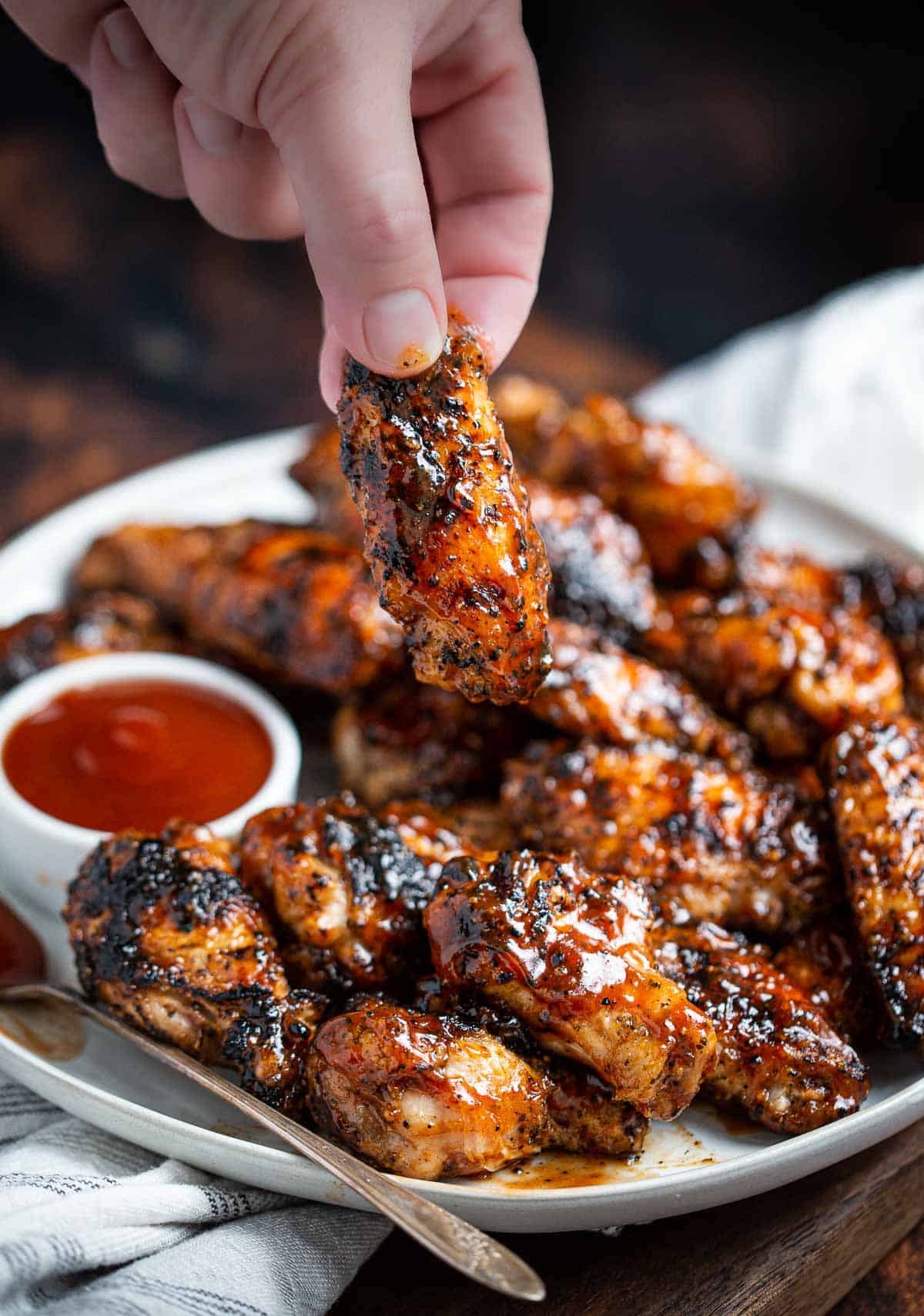 More Chicken Wing Recipes
We have a variety of wing recipes, from smoked wings to the original grilled Buffalo wing recipe. Here are a few more favorites. You can also check out other appetizer ideas in our round up of Tailgating Recipes.
About Vindulge
Mary (a certified sommelier and recipe developer) and Sean (backyard pitmaster) are co-authors of the critically acclaimed cookbook, Fire + Wine, and have been creating content for the IACP nominated website Vindulge since 2009. They live in Oregon on a farm just outside Portland.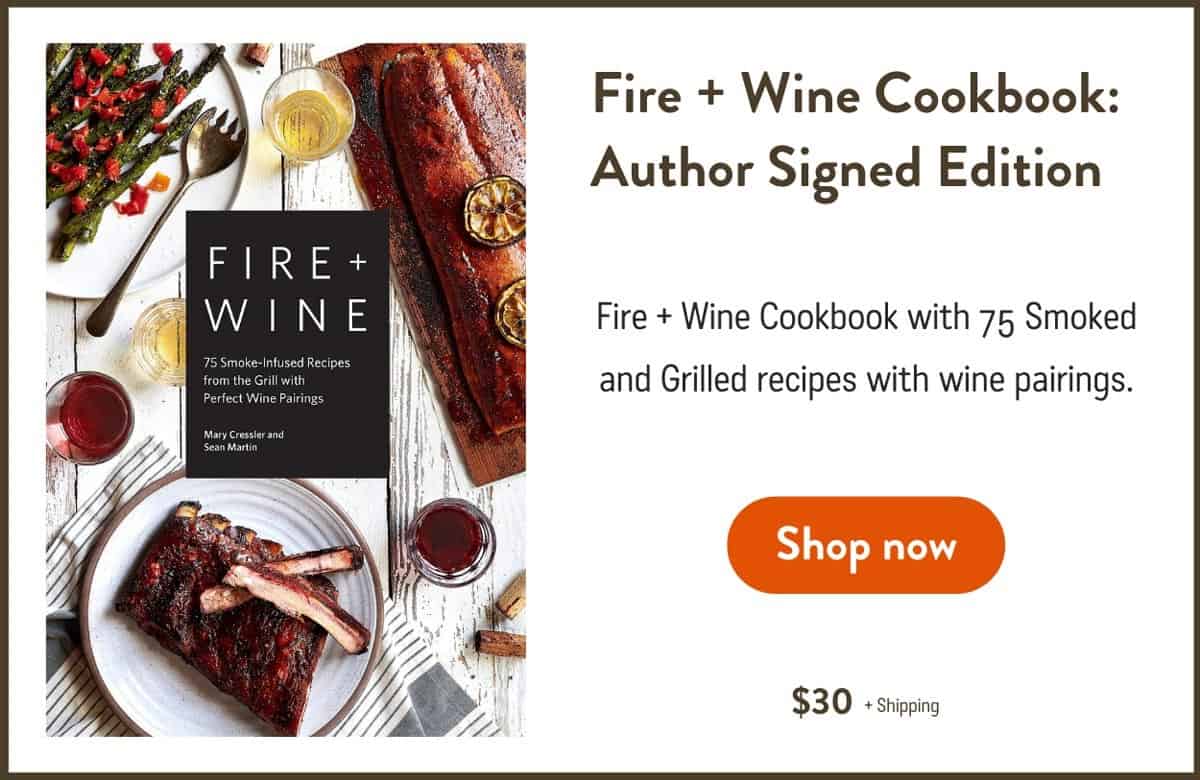 Tried this recipe? Give us a star rating and we would love to see! Mention @vindulge or use the hashtag #vindulge on all the social media handles. And consider subscribing to our newsletter where we drop all our favorite ideas and inspirations every week.
This post may contain affiliate links. This means if you click on the link, we may receive a small commission if you purchase through the link. We partner with brands we know and love and use and it helps keep the blog going!