Honey Bourbon BBQ Sauce is an easy to make homemade sauce that is perfect with pork and chicken. You can use as a glaze or use as a dipping sauce too. This delicious recipe is ready in less than 20 minutes and does not use liquid smoke.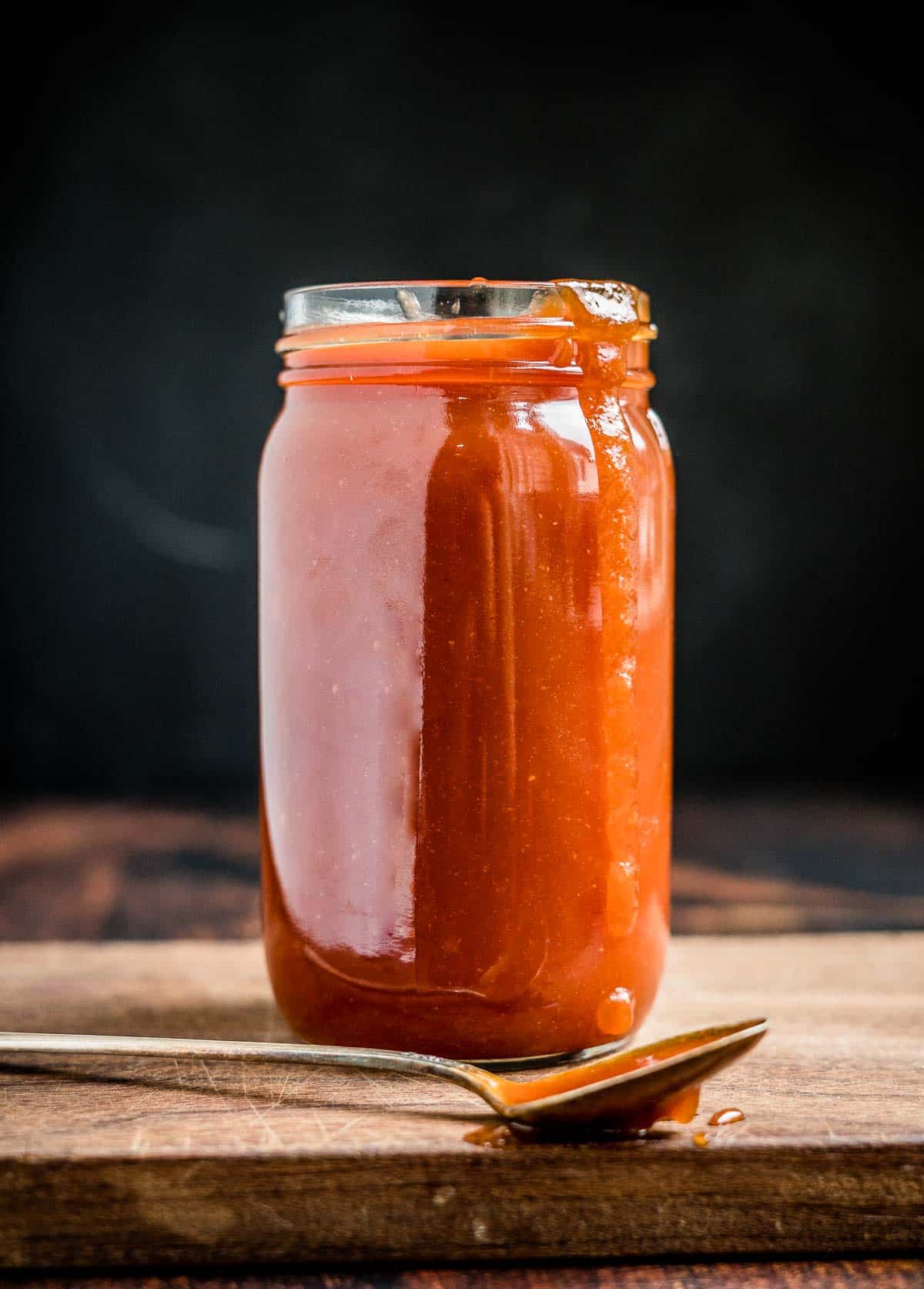 While store-bought BBQ sauces are easy and convenient, many have ingredients we don't want or like. The good news is you can make your own bottle of homemade barbecue sauce with simple ingredients you likely already have at home and avoid things like liquid smoke and high fructose corn syrup.
We love this homemade bourbon BBQ sauce for almost every type of meat we cook, especially pork and chicken!
Ingredients for Honey Bourbon BBQ Sauce
The goal with any of our styles of barbecue sauce is to create balance. That means a balance of sweet and savory as well as acid. We avoid going overboard with sugar by using natural sweeteners like honey. This Bourbon BBQ sauce recipe is also meant to be easy, so we opt for dry seasonings so that we don't need a food processor to blend chunky vegetables up in order to create a smooth sauce.
Chef's Note: Because of the simmering the alcohol content is reduced but not eliminated completely.
Modifications
Recipe Steps
In a small saucepan over medium heat combine all ingredients and stir with rubber spatula or whisk. When the sauce starts to simmer reduce to a low heat and continue to stir on occasion.
Simmer for 20 minutes and then remove from heat. Let cool.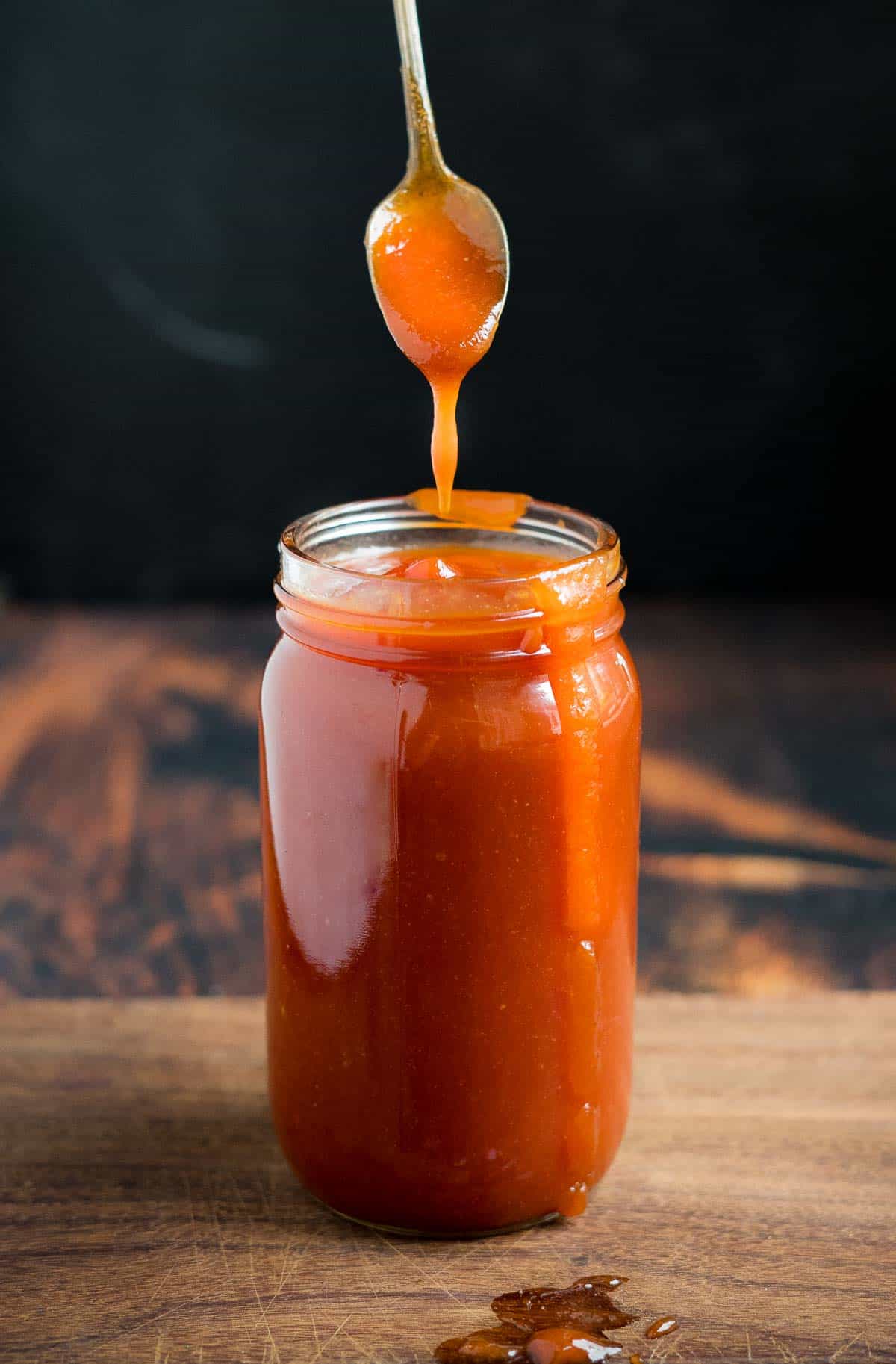 Storage for Honey Bourbon BBQ Sauce
What helps with shelf life for any homemade barbecue sauce is acid. The two tablespoons of apple cider vinegar in this homemade bourbon barbecue sauce makes it perfect for up to three months if stored in the refrigerator in an airtight container such as a mason jar.
Frequently Asked Questions
What does honey Bourbon BBQ sauce taste like?
It has a slight smoky flavor with a touch of tang from the vinegar and a hint of Bourbon. The honey adds a natural sweetness with the dried spices adding more depth of flavor. It's a well balanced sauce that hits all the flavor areas of your tongue. Our recipe is not overly sweet.
Can I store Bourbon BBQ sauce?
Yes, you can store in an airtight container in a refrigerator for up to three months because of the pH level that the vinegar adds. This recipe is not intended to make a shelf stable homemade Bourbon BBQ sauce that would live in your pantry.
Can I use Whiskey instead of Bourbon in a Bourbon BBQ sauce?
Yes, you can substitute a Whiskey for Bourbon in any recipe requiring Bourbon. Use a decent Whiskey you don't mind sipping. The higher the alcohol content the more pronounced the flavor is going to stand out. But much of the alcohol will cook out as you simmer the sauce.
Does Bourbon BBQ Sauce still have alcohol?
There is still some residual alcohol in this sauce because we aren't reducing the sauce for too long. So be aware as you serve even if minimal.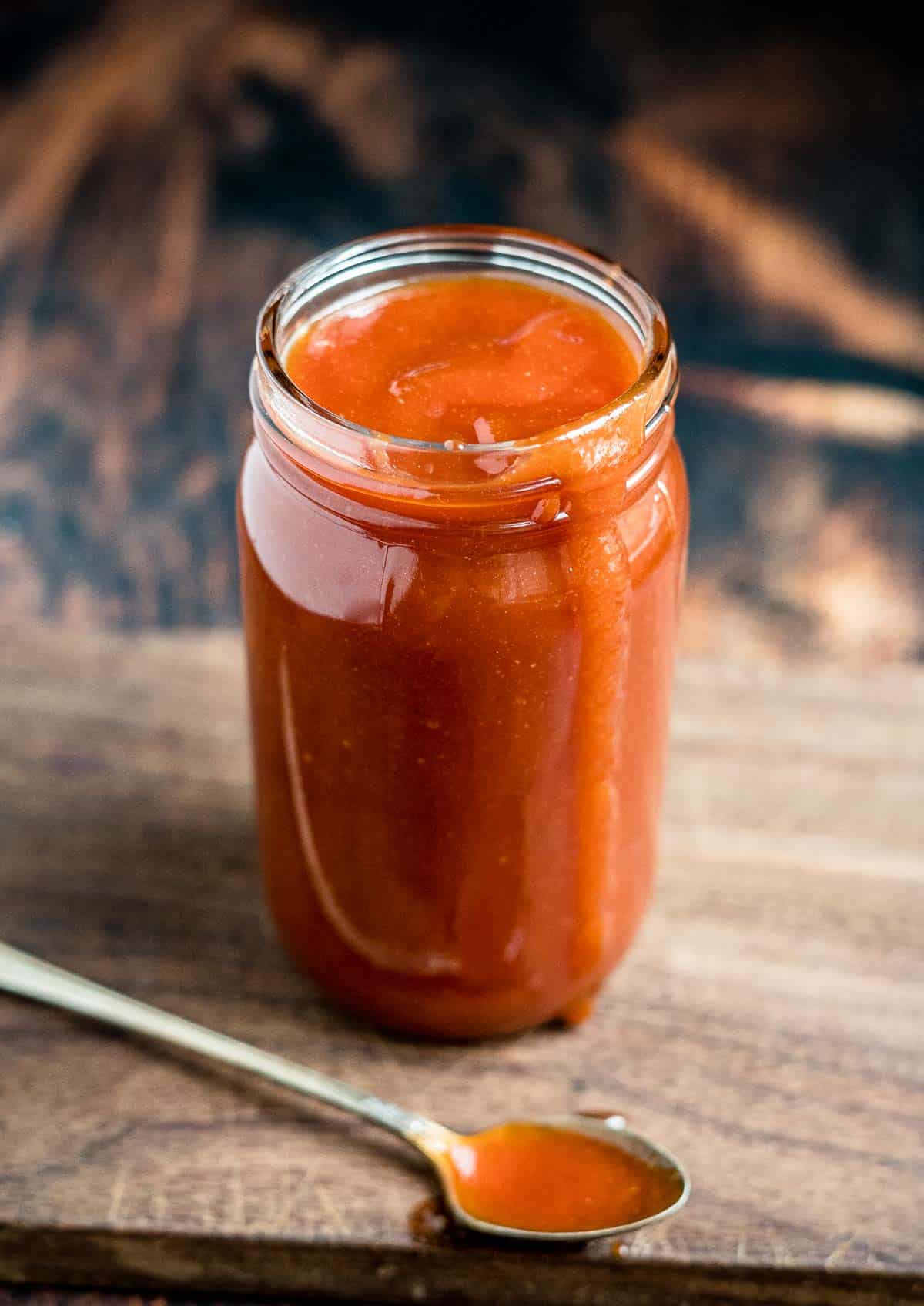 Recipe to use Honey Bourbon BBQ Sauce On
Other BBQ Sauce Recipes
We have several great barbecue sauces you can make at home. Browse through some of our favorites, including.
---
About Vindulge
Mary (a certified sommelier and recipe developer) and Sean (backyard pitmaster) are co-authors of the critically acclaimed cookbook, Fire + Wine, and have been creating content for the IACP nominated website Vindulge since 2009. They live in Oregon on a farm just outside Portland.
Tried this recipe? Give us a star rating and we would love to see! Mention @vindulge or use the hashtag #vindulge on all the social media handles. And consider subscribing to our newsletter where we drop all our favorite ideas and inspirations every week.
This post may contain affiliate links. This means if you click on the link, we may receive a small commission if you purchase through the link. We partner with brands we know and love and use and it helps keep the blog going!