Trout can come in many styles, and one of our favorites is smoked trout. It is so easy to simply season, and then put on the smoker for a tender, smoky, and juicy smoked trout dinner.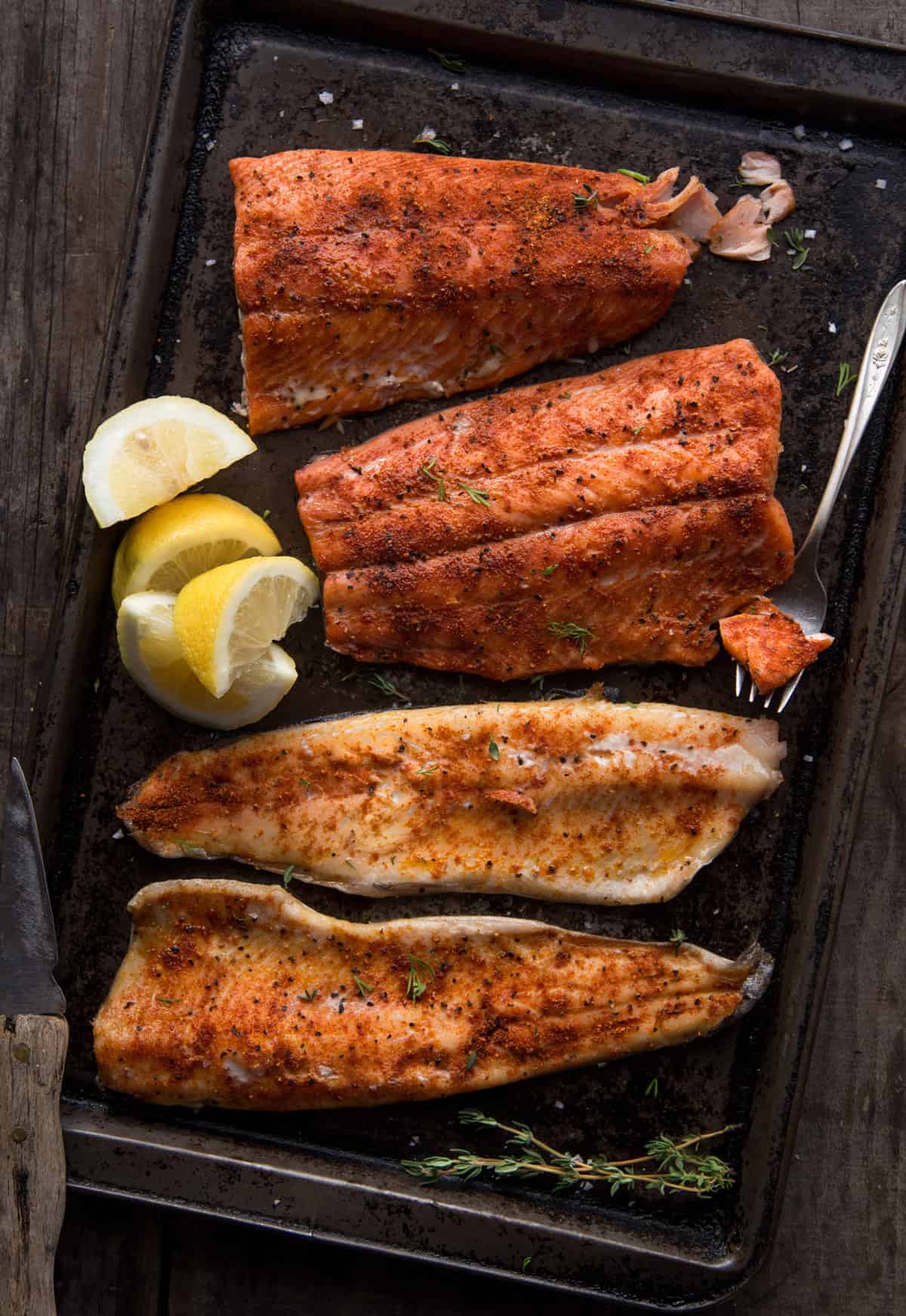 There are many species of trout and this delicate fish can be prepared in many different styles. In our cookbook Fire and Wine, we dress and grill a whole trout. But when you want an easy and elegant way to serve trout, try smoking the fish for a touch of sweet smoke flavor.
Types Of Trout
Trout is in the same family as salmon. And like salmon you may see a number of species for sale at your grocery store, or those you may have caught yourself in lakes and streams across North America. This recipe can work for any variety.
The key is the time it takes to smoke. The smaller the fish, the shorter the time it takes to smoke the trout. Trout will mostly come from fresh water, although there are some exceptions, so the flavor will tend to be very fresh, tender, and delicate. The following are commonly seen in the stores and can come in all sizes from small individual fish, to large fillets for a crowd and are great options when buying in the store.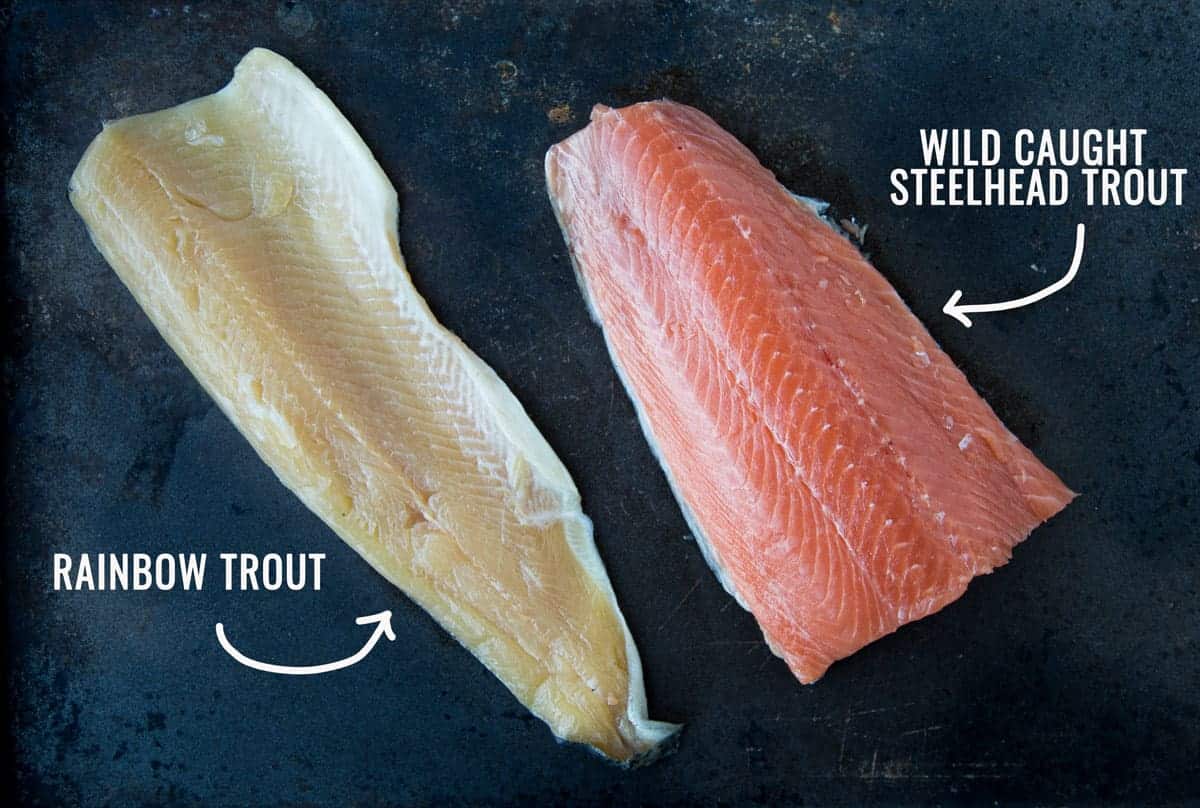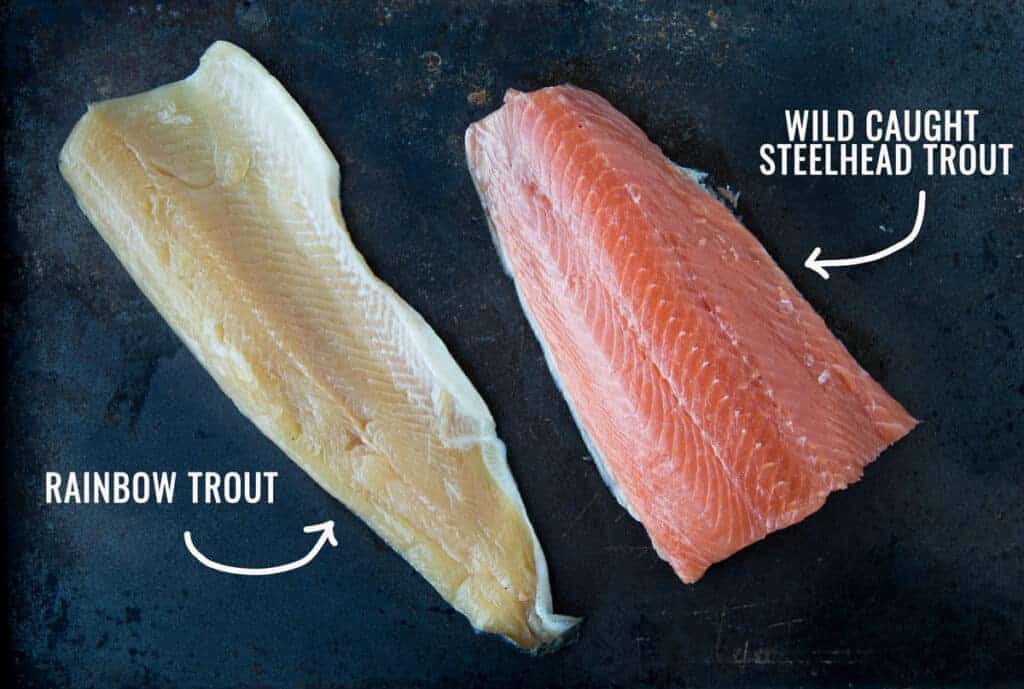 Rainbow Trout – Originally from the Pacific Northwest and introduced in fresh water streams and lakes around North America, this rich fish has a colorful outward appearance and has flesh that can range from white to pink depending on where you get it. A great option for grilling or smoking and will come in many sizes from small to large.
Steelhead – This large trout is is similar to rainbow trout (same species), and also spends time in the ocean as well as fresh water. This is a great option if seen in the stores. The steelhead filets are larger, like salmon, with a similar color and flavor profile.
Brown Trout – These can vary in size, and often come from streams and freshwater areas around the country.
Lake Trout – These are often big, some say the largest of trout, great for smoking or grilling and very flavorful.
We strongly encourage line caught trout when you can find it. It's sustainable and the wild caught trout has a very rich flavor.
How to Prepare Trout
When smoking ask your fish monger for filets, so they can do the hard work. If doing filet's the best way to prepare the trout is to:
Descale – Using a large chef knife, hold the filet down with scales facing up. Scrape from the tail side toward the head to scrape off any excess scales. Often this has been done by the fish monger.
Debone – Remove the pin bones with culinary tweezers as seen in our smoked salmon recipe. You don't have to, but makes for better eating texture.
Then, using a paper towel, pat dry the trout to remove excess scales or pin bones that stick to the meat.
This is a great kit from Mercer for a Plating Set including great tweezers.
Trout does not need a brine. If you do want to brine, consider a simple brine of water, kosher salt, and brown sugar. Dissolve the salt and sugar in a dish over a low heat. Let that cool and then place the trout into the brining liquid. The brine will add some moisture to the fish while cooking and a touch of flavor, but we love smoked trout without a brine.
How to Smoke Trout
Trout will smoke quickly. All it needs is a touch of seasoning.
Prepare the smoker for a low heat cook, targeting 225 degrees Fahrenheit.
Fruit wood is best for the sweeter flavor it imparts. Cherry or Apple are great. Nut woods are also a good option.
Season with olive oil and your favorite seafood seasoning.
Place on the smoker for 30 minutes and then begin checking the temperature, especially for smaller filets.
Remove the trout when an instant read thermometer like the Thermoworks Thermapen MK4 reads 140 degrees F.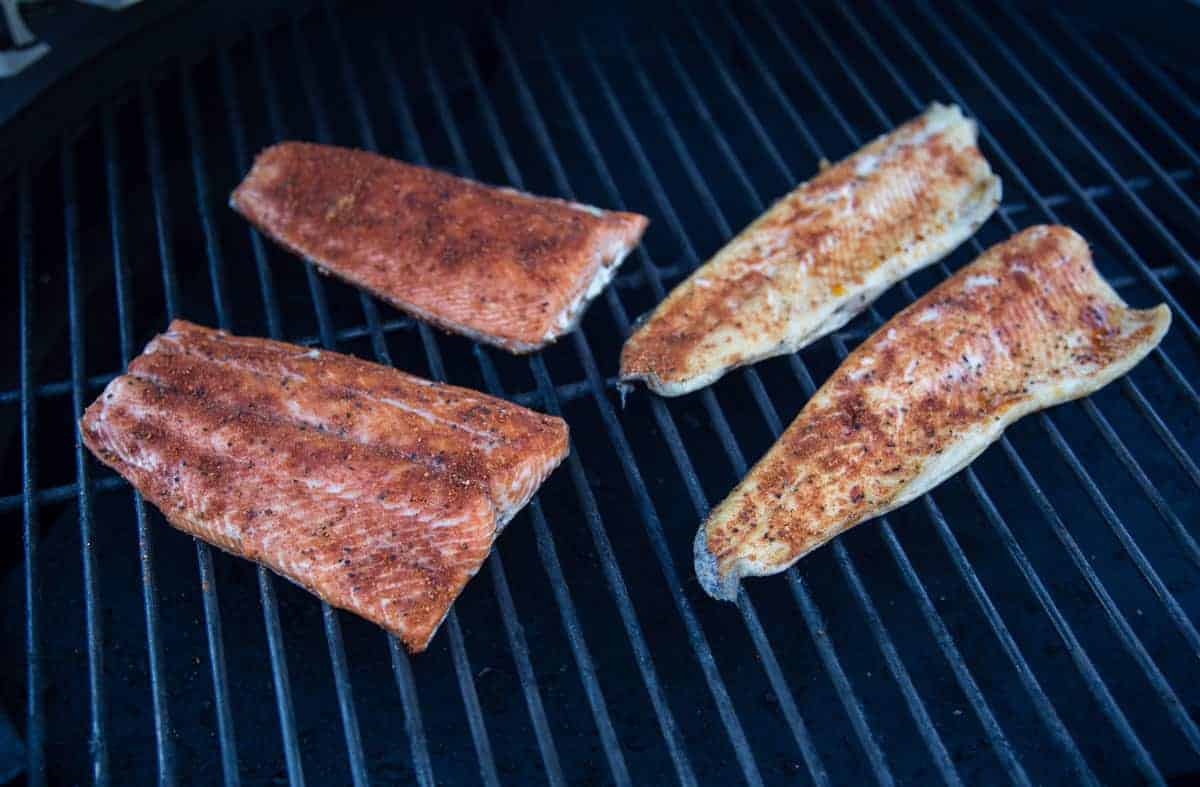 The temperature is the most important measure of when the fish is done. If you go longer it will dry out and take on a texture more like jerky.
Variations
Using this smoked trout recipe you can add variations including:
Using for a smoked trout salad swapping the flank steak for trout.
Making into a dip, swapping salmon for the trout like this smoked salmon dip.
Making into trout sandwiches with some arugula and mayo.
Wine Pairing for Smoked Trout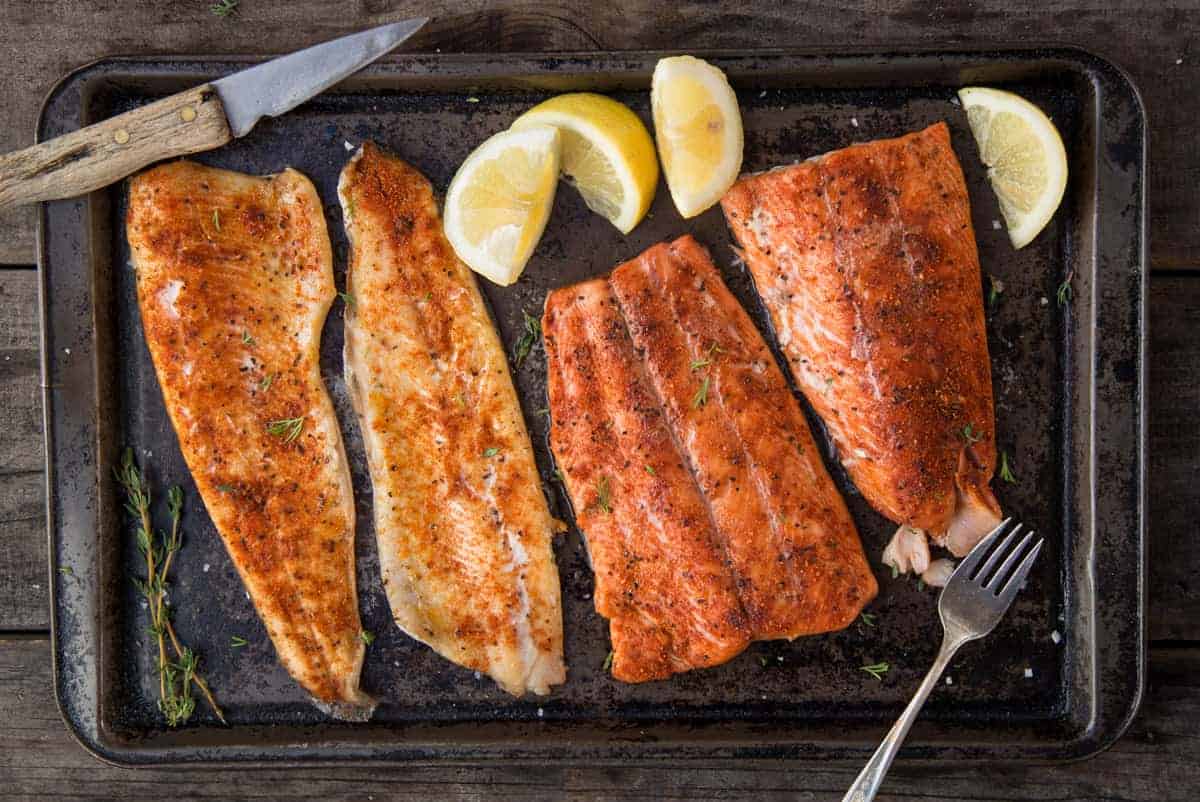 The seafood seasoning on this trout lends itself to a light bodied red, like Pinot Noir or Beaujolais (or Gamay Noir). Something fresh and fruity.
But if white is your thing, I also enjoy this recipe with a nice mildly oaked Chardonnay for the fruitiness and mild oak tones it provides to the dish. Rhone-style white wines also work quite well.
This post may contain affiliate links. This means if you click on the link, we may receive a small commission if you purchase through the link. We partner with brands we know and love and use and it helps keep the blog going!
Smoked Trout Recipe