Grilled Salmon Recipe with a Sweet Glaze is a delicious meal. Healthy, yet indulgent enough to eat on a date night! Throw in a glass of Prosecco Superiore and you've got yourself a perfect meal.
Jump to:
Focusing on healthy eating? Wanting to search for a great grilled salmon recipe? This is one of our favorites. Combine that with the perfect salmon pairing, Prosecco Superiore!
I like to focus on balance. And balance, to me, means not giving up the things I love, but instead, moderating, or going a bit lighter versus say, a smoked salmon.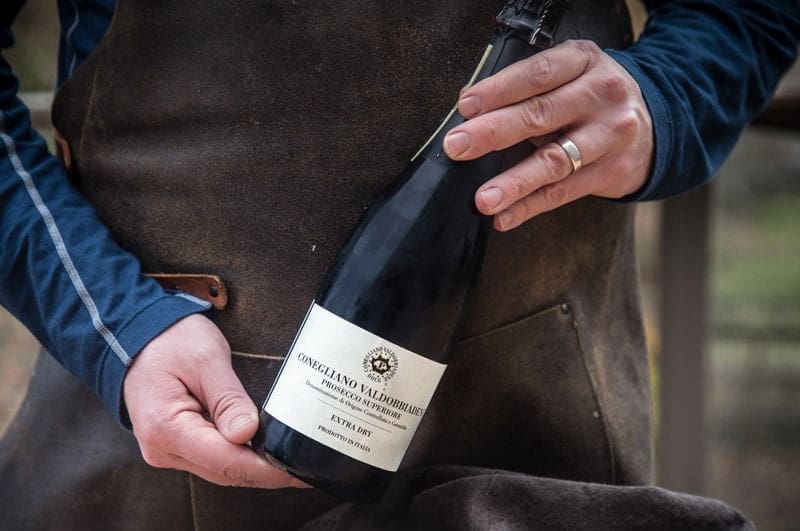 Combine the food-friendly flavor profile of Prosecco Superiore with fun unique wood fired dishes and you have an amazing combo.
That's right. Despite what you may think, this is a beverage that can be paired with so many grilled dishes. Why?
Because Prosecco Superiore is complex. It has a wide range of flavors. It's elegant, yet fresh. It's fun, yet serious.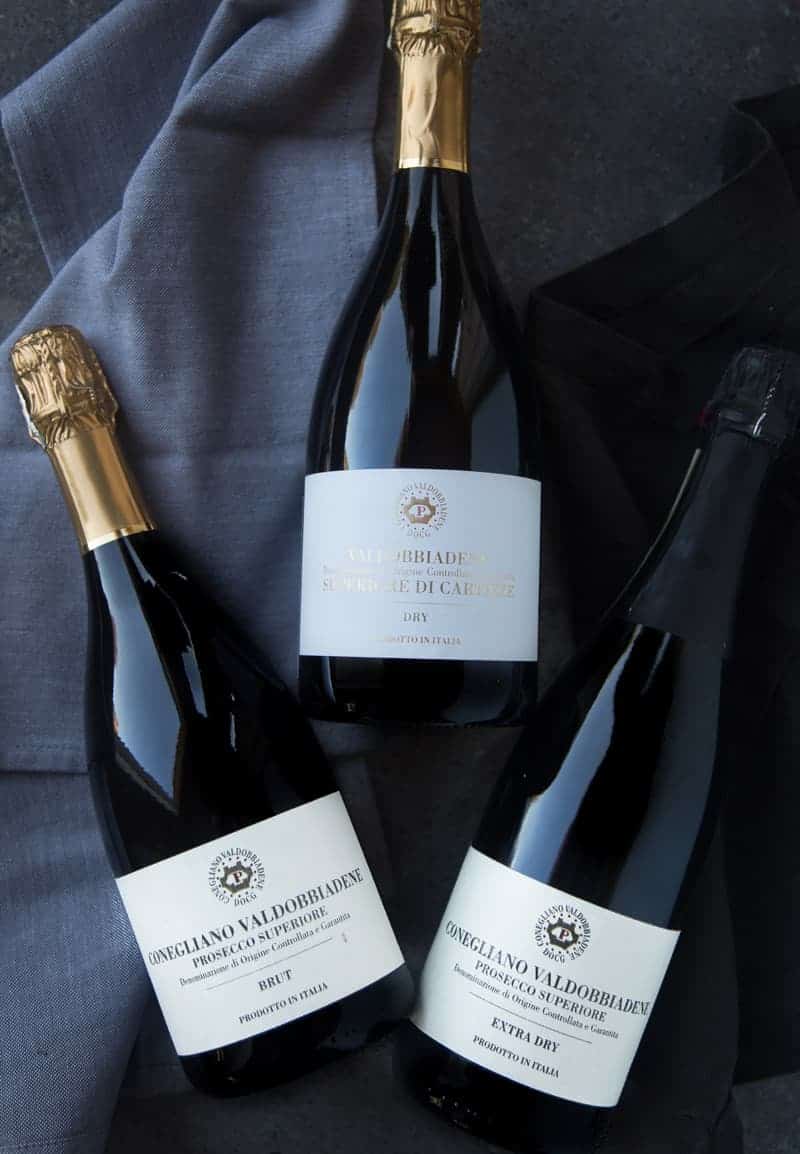 Learn more about what is Prosecco, especially Prosecco Superiore and the different styles of wines produced in this region. We also talk about the levels of sweetness you can expect from the three distinct styles (from dry to sweet). We also showcase a fantastic pairing of spicy shrimp with a sweeter style "Dry" Prosecco Superiore on our local ABC TV morning show AM Northwest.
Conegliano Valdobbiadene Prosecco Superiore DOCG: The vineyards
The towns of Conegliano and Valdobbiadene are at the heart of this region, and the home of the highest quality DOCG Prosecco Superiore wines.
The Conegliano Valdobbiadene region (say it with me: Co-neee-lee-ah-noh Val-doh-bee-ah-de-neh) – is located just miles from Venice, and the home to handcrafted sparklers that are are anything but ordinary.
Within the Prosecco Superiore DOCG region there are two sub regions that are distinct on their own. And that you should know about.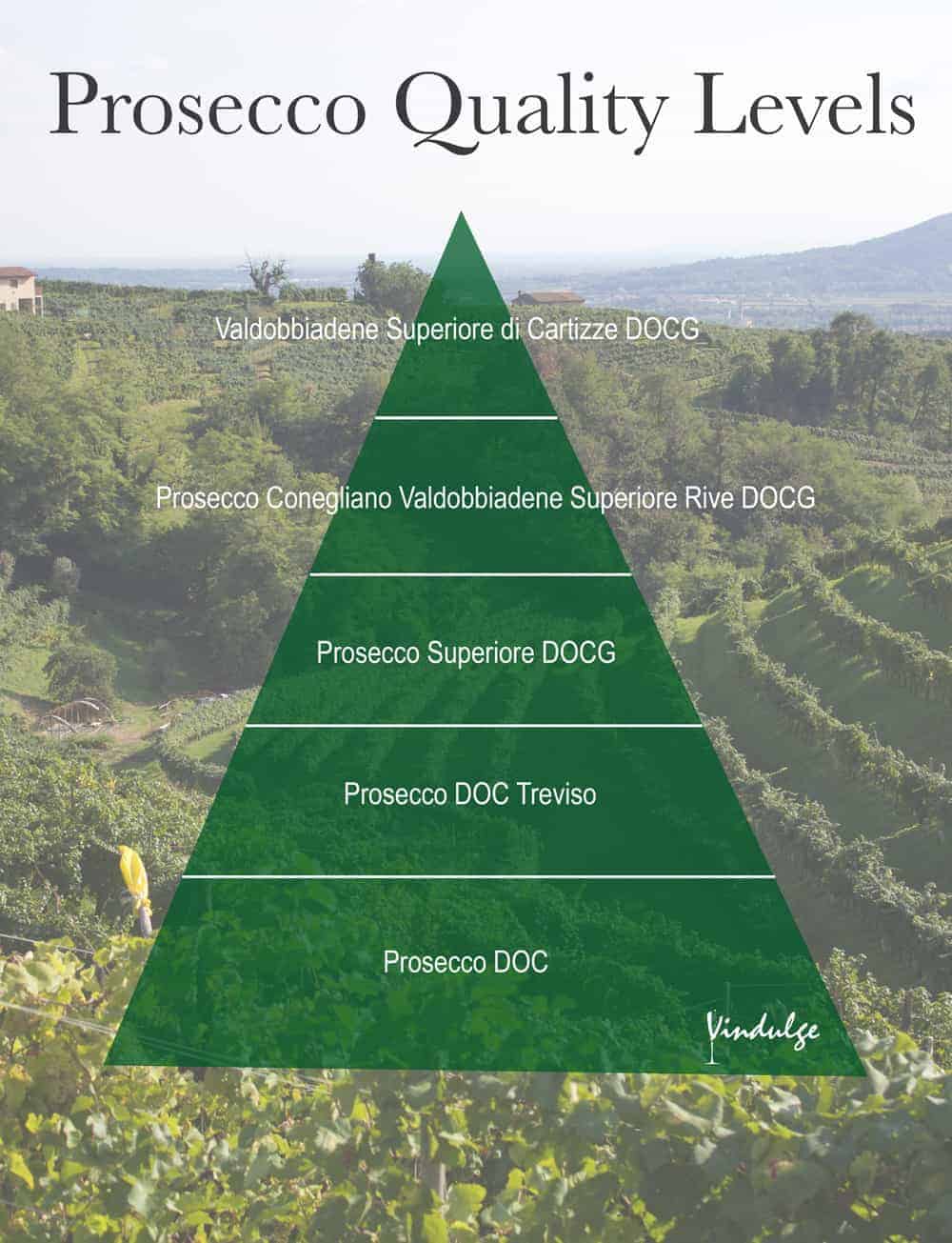 Cartizze and Rive
Both are subzones within the region of Prosecco Superiore DOCG, that express the top quality of wines produced here. These areas are considered the "crus" and "grand crus" of the region. And you can expect to pay generally up to the $30 – $40 range, which is a fantastic value for such gorgeous, handcrafted, artisan sparkling wines and very competitive with grower Champagnes in price/quality.
And these are only from this Conegliano Valdobbiadene region.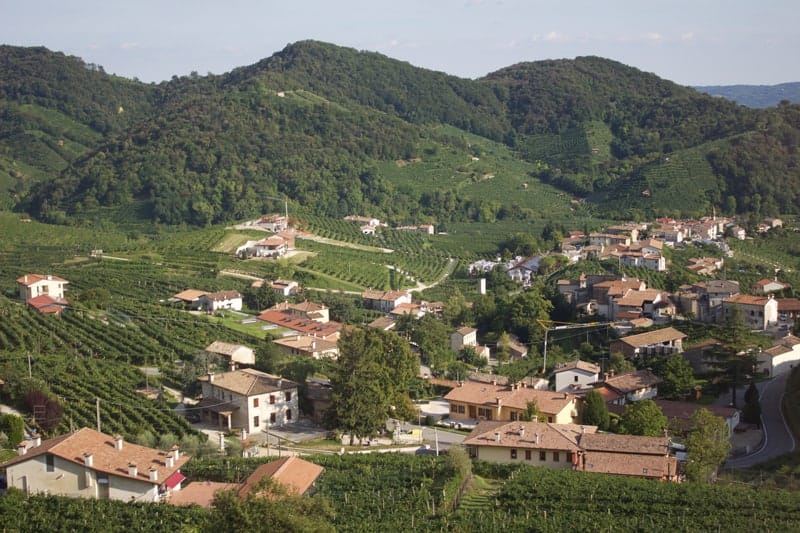 I'm telling you this from experience. The region here is simply stunning and awe worthy! The wines are handcrafted primarily from family operated wineries, handpicked, on some steep and dangerous hillsides, that have been doing this for generations! Humble and resilient people, working in a stunning region, making balanced and gorgeous wines.
You want to try these!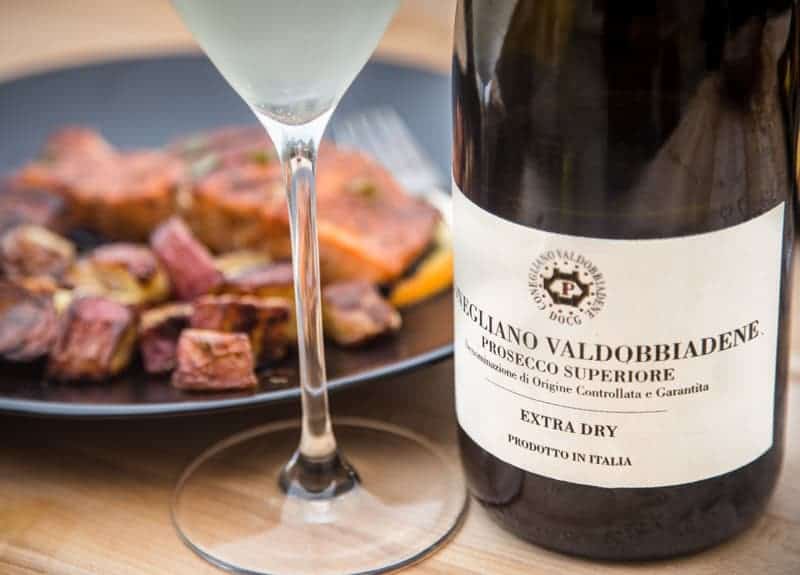 And we're pairing this Extra Dry Prosecco Superiore with an elegant, yet easy, Grilled Salmon with a Maple Orange Glaze.
Salmon
Yes, we live in the Pacific Northwest (PNW). And what that really means is we have access to the worlds best salmon. And our grilled salmon with a nice glaze provides and amazing contrast to the Prosecco Superiore.
Look for wild caught salmon like Columbia River King (Chinook), or Coho. Great salmon with good fat content.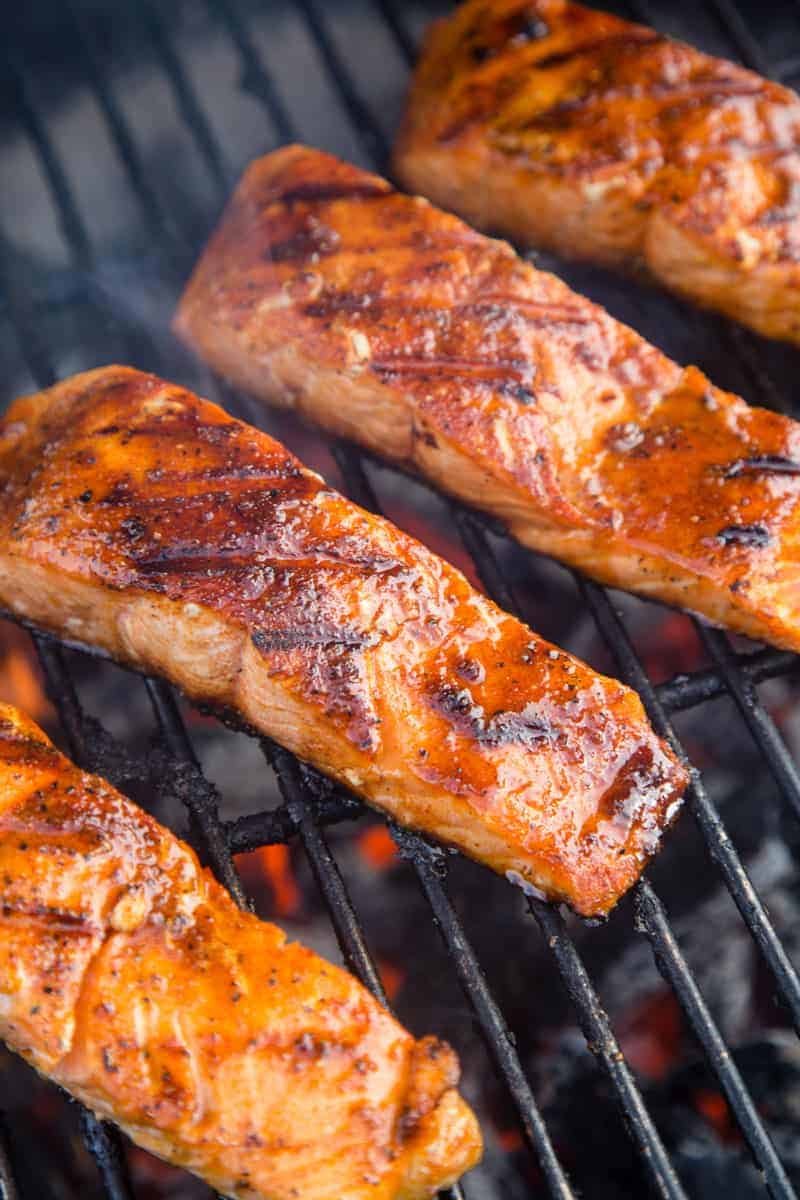 Grilling Salmon
Let's make this simple, yet full of flavor.
Make a dry rub for the salmon. And make the glaze.
And apply that dry rub no more than a day before you are going to grill it.
Then we put it on the grill over direct heat skin side down. This will caramelize the rub and get us ready to add the glaze.
Flip the salmon after 3 minutes or when it doesn't stick to the grill.
Grill skin side down for three minutes, then brush glaze on the salmon until the salmon is done.
Finally we remove the salmon from the grill and we brush one more time with the glaze. Serve with rosemary roasted potatoes, or your favorite side.
Chefs Tip: Make sure your grill grates are clean and slightly oiled. Salmon skin and flesh will stick to dirty grills. But if you dab a little oil onto a paper towel over clean grates, it helps prevent the fish from sticking.
Pair this dish with an Extra Dry style Prosecco Superiore DOCG.
What Temperature do I Cook Salmon To?
Good quality salmon can be cooked to medium rare. We grill salmon until the internal temperature of the salmon in the thickest part reaches 125 degrees Fahrenheit. Carry over cooking will continue and cook it to about 130 – 135 degrees Fahrenheit. Use a good instant read thermometer like the Thermoworks MK4 Thermapen for the best salmon.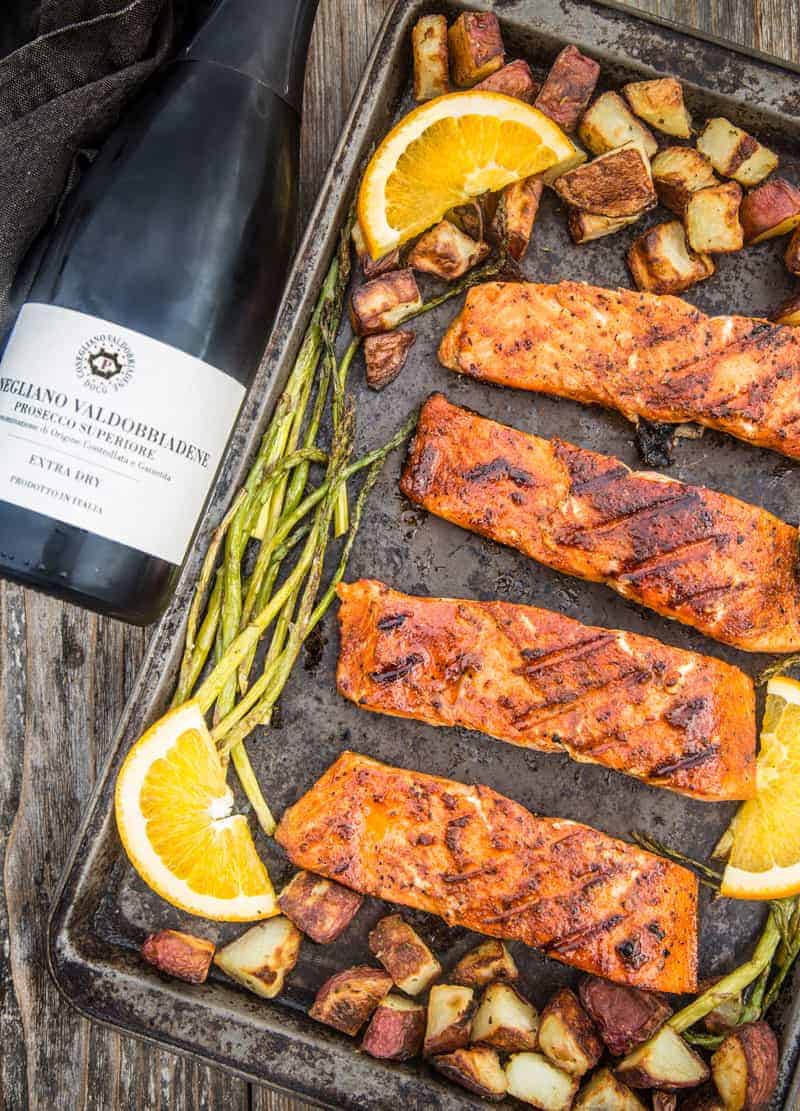 Video for Grilled Salmon with Orange Maple Glaze
What is Prosecco Superiore DOCG?
Start here:
---
Grilled Salmon with Orange Maple Glaze Recipe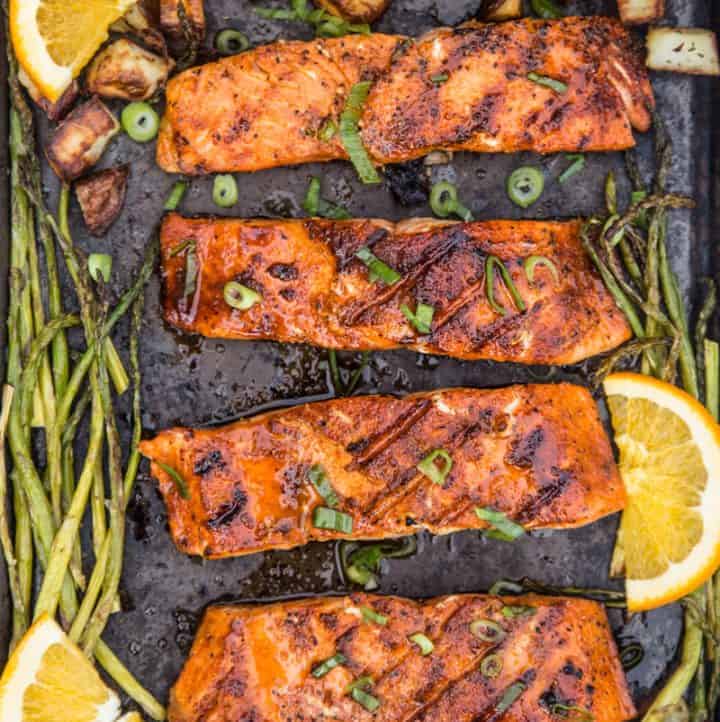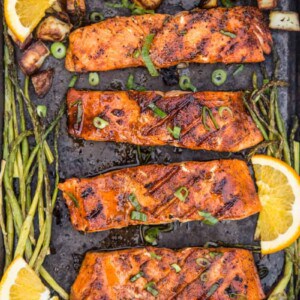 Grilled Salmon with Orange Maple Glaze
Grilled salmon over direct heat lightly seasoned with a sweet citrus glaze as a finish. Paired with Prosecco Superiore.
Print
Pin
Rate
Ingredients
Sweet and Spicy Dry Rub
1

tablespoon

brown sugar

2

teaspoons

kosher salt

1

teaspoon

smoked paprika

1/2

teaspoon

garlic powder

1/2

teaspoon

fresh ground black pepper

1/4

teaspoon

cayenne pepper
Orange Maple Glaze
2

tablespoons

soy sauce

1/4

cup

maple syrup

(honey works too)

1

medium

orange, juiced

1

teaspoon

salt
Instructions
Preheat your grill for direct/indirect cooking.

In a small bowl combine all the rub ingredients, and in a separate bowl combine all the glaze ingredients and set aside.

Coat salmon pieces in olive oil then sprinkle the dry rub over the salmon liberally.

Place salmon, skin side up, on the grill over direct heat. Let it sear for up to 4 minutes. You know it's ready to flip when it doesn't stick to the grill. Flip, close lid, and then cook on direct heat for another three minutes skin side down.

After three minutes, brush the glaze over the top of the salmon and close the lid to finish cooking. In another two minutes check the internal temperature of the thickest part of the salmon and pull at 125 degrees F for the upper end of medium rare. If your flame is too high, move to indirect heat and check the temperature more often.

Remove salmon from the grill. Let it rest for 10 minutes. Plate it, and drizzle with additional glaze just before serving. 
Notes
When buying the salmon, ask the fish monger to remove the pine bones.
Nutrition
Calories:
114
kcal
|
Carbohydrates:
19
g
|
Protein:
1
g
|
Fat:
4
g
|
Saturated Fat:
1
g
|
Cholesterol:
1
mg
|
Sodium:
2251
mg
|
Potassium:
106
mg
|
Fiber:
1
g
|
Sugar:
16
g
|
Vitamin A:
328
IU
|
Vitamin C:
8
mg
|
Calcium:
22
mg
|
Iron:
1
mg
---
This post was originally published in December of 2018 and updated in October 2020 to include more details on the salmon and the grilling steps.
---
This post was sponsored by Consorzio di Tutela Conegliano Valdobbiadene Prosecco Superiore DOCG. As always, all opinions are my own and I only work with folks I love and support. And I will always have a warm place in my heart for the Conegliano Valdobbiadene Prosecco Superiore growing region.