Smoked Armadillo Eggs are a delicious twist on jalapeño poppers. Take the classic popper stuffed with cream cheese mixture, wrap it up with some Ground Beef, and then finish with a red wine glaze. These also make a great tailgating recipe, because you can prepare them in advance and then smoke them in your favorite portable grill.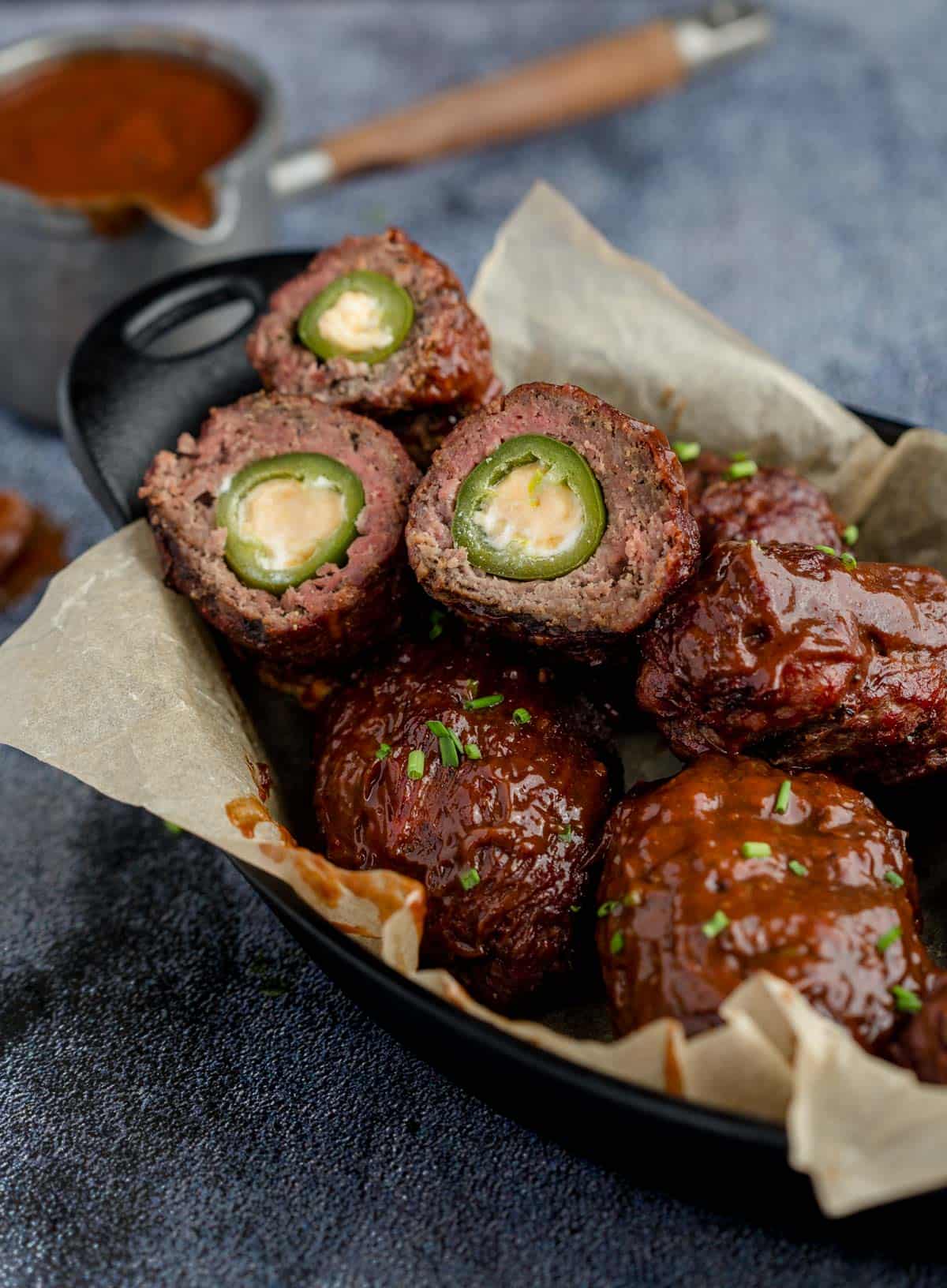 This recipe and video is sponsored by Beef. It's What's For Dinner. on behalf of the Beef Checkoff. All opinions are our own.
What makes a jalapeño popper taste even better? How about taking some amazing seasoned Ground Beef and wrapping it around the cheese filled jalapeño. Then, the final touch is adding a savory red wine glaze to give a rich, cheesy, and slightly spicy egg shape appetizer. The best part is that we slowly smoke these incredible appetizers for even more flavor and to get the pepper nice and tender.
Jump to:
Ingredients
When it comes to Armadillo Eggs, the two most important ingredients are the right size jalapeño peppers and for us it's using good Ground Beef as our meat of choice. This recipe yields 6 eggs with 1 ¼ pounds of beef.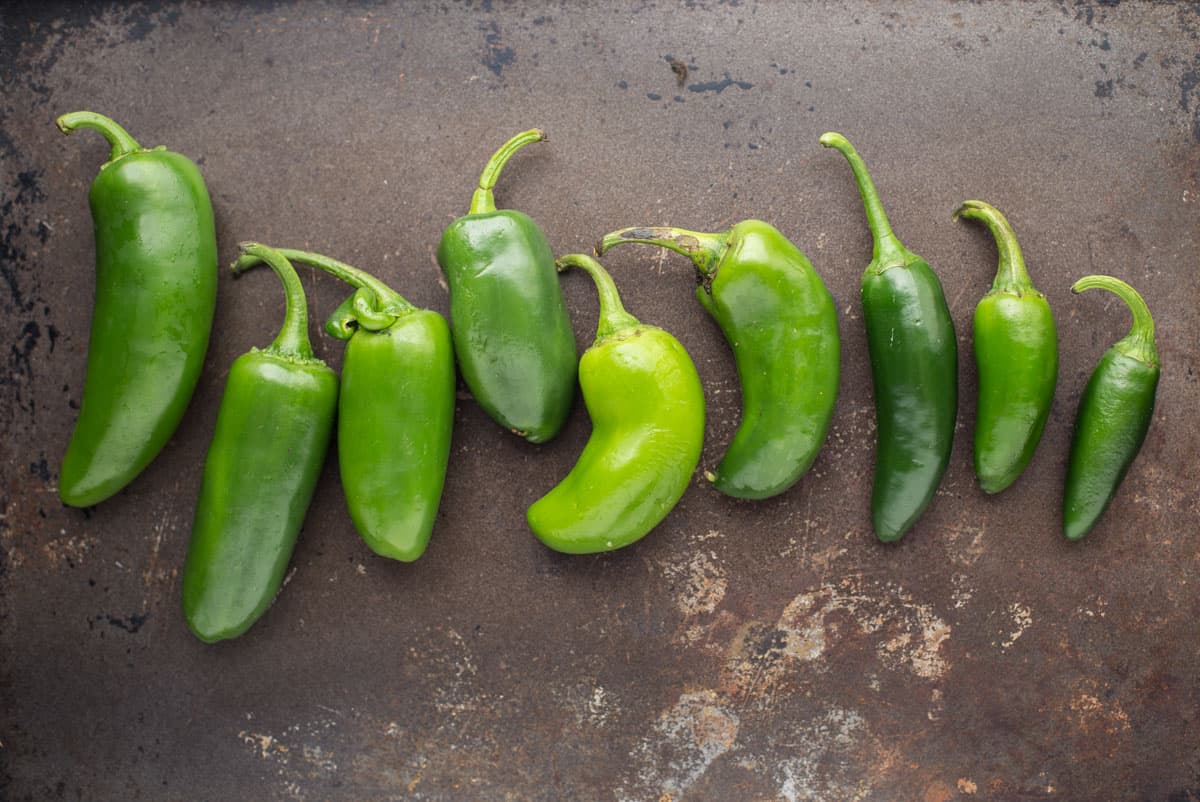 Jalapeños – Look for peppers that are 2 to 3 inches long. If the peppers are too small, you won't get enough of that cheesy filling in there. If they are too big, they won't be easy to eat AND they will require more Ground Beef and more filling than this recipe states.
Ground Beef – The best ratio is 80/20 Ground Beef. This means 80% is lean and 20% is fat. Not only does this mean amazing flavor, the fat ratio helps the Beef stay intact around the pepper as it slowly smokes. If you use lean Beef (90/10 or higher), you'll need to add another binding agent like egg. For seasoning use a bold beef seasoning, which in our case is equal parts kosher salt, coarse black pepper, and granulated garlic.
Cheese – Cream cheese and shredded cheddar are our two favorites. The cream cheese makes for a soft texture and tanginess while the cheddar adds flavor and color.
Wine Glaze – The final ingredient is a wine-based glaze. We use our Pinot Noir BBQ sauce, but you can also use any BBQ sauce you like plus wine. Just use equal parts BBQ sauce to red wine.
See recipe card for quantities.
Preparation
Combine the softened cream cheese and cheddar in a bowl and mix with to combine.
In a separate bowl, combine the beef with the seasoning and mix.
Next, cut the stem/top off the jalapeño and discard. Then using a narrow sharp knife, remove the seeds, membrane, and ribs so the jalapeño is hollow (this also minimizes the heat).
Stuff the jalapeño with the cheese mixture. Be sure to pack it in tightly to avoid air pockets.
Layout the seasoned Beef in a large rectangle and divide into six squares. Using your hands, gently press the pepper into the Ground Beef and work the Ground Beef around the pepper forming the "egg". Be sure that all sides are surrounded and that you have enclosed and pinched any seams.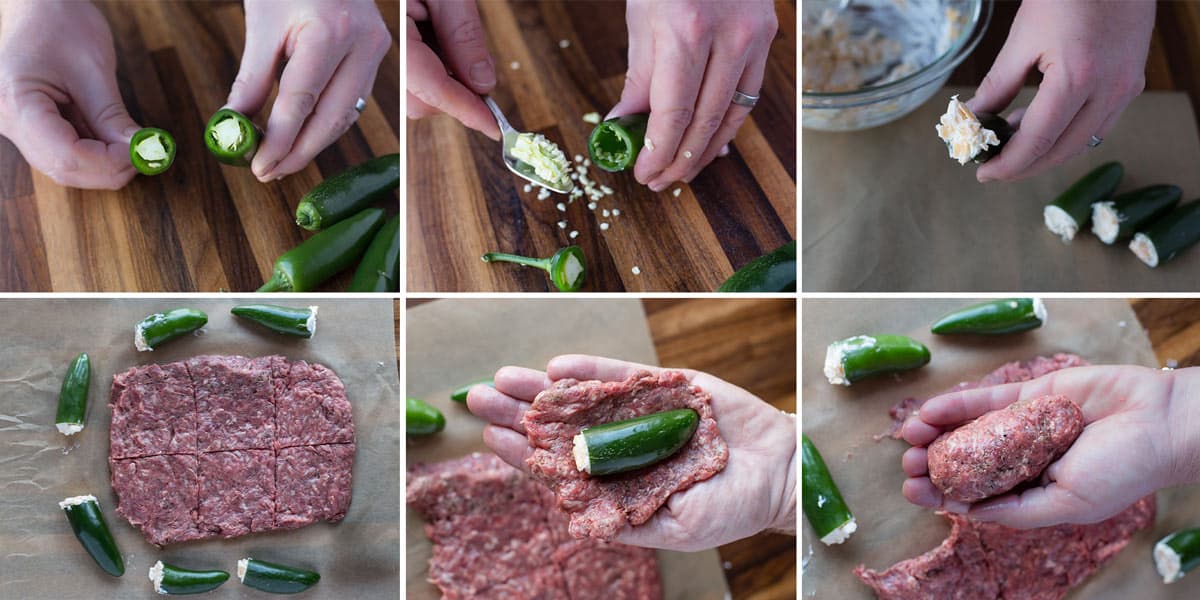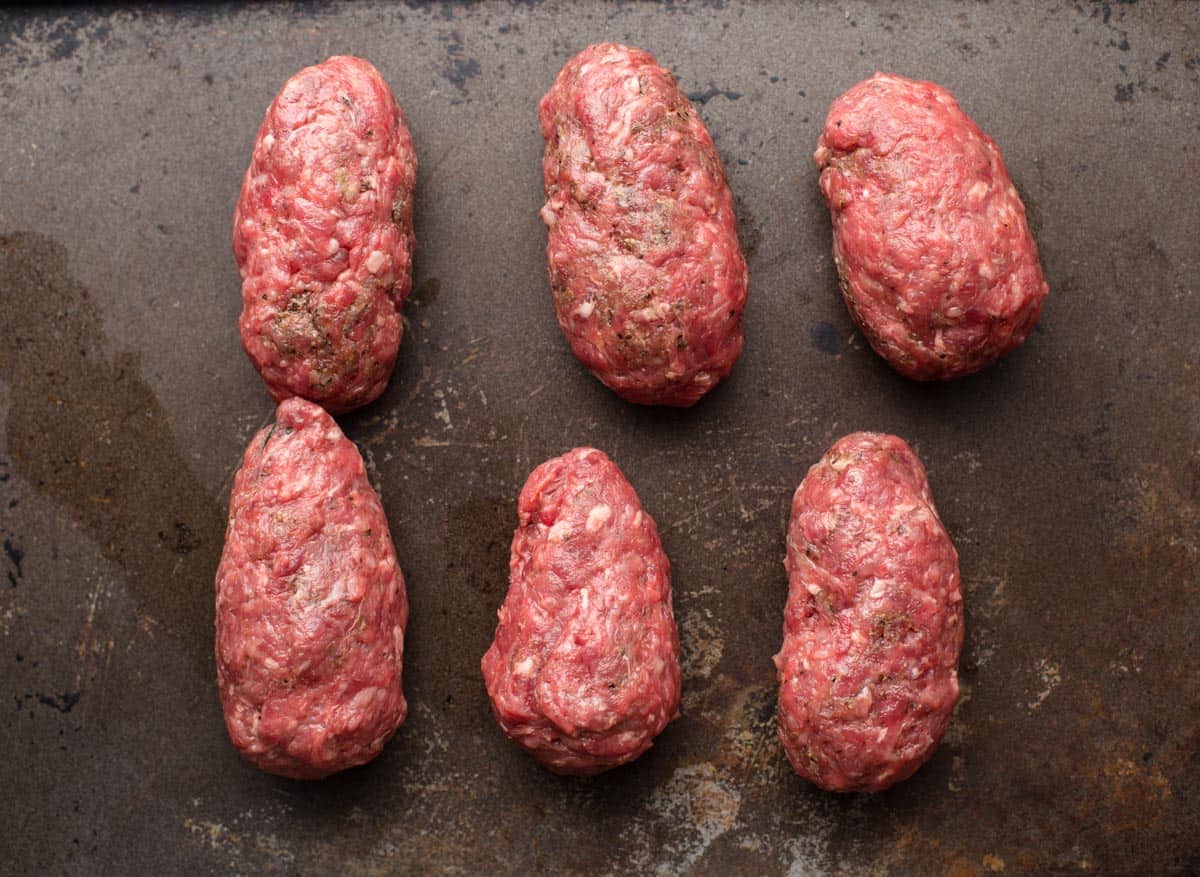 If Tailgating – Place the uncooked eggs in a storage container and then keep in cooler or refrigerator until you are ready to smoke them. Make the sauce in advance as well so all you need to do is smoke and glaze.
Softening Cream Cheese – Consider leaving the cream cheese out of the fridge for an hour to soften. If you use a microwave, do not go longer than 10 second increments to soften or it could melt (and we want soft cream cheese, not melted).
Smoked Armadillo Eggs Instructions
Preheat Grill/Smoker: Start with preheating your smoker to 225 degrees Fahrenheit using oak or a fruit wood. The low temperature is important to keep the beef from shrinking. If the smoker runs hotter, the beef will pull back and shrink, exposing the pepper and making for an uneven cook.
Smoke Armadillo Eggs: Place the Beef Armadillo Eggs on the smoker for one hour. After one hour the internal temperature of the beef will be between 165 and 170 degrees F, which means they are cooked through.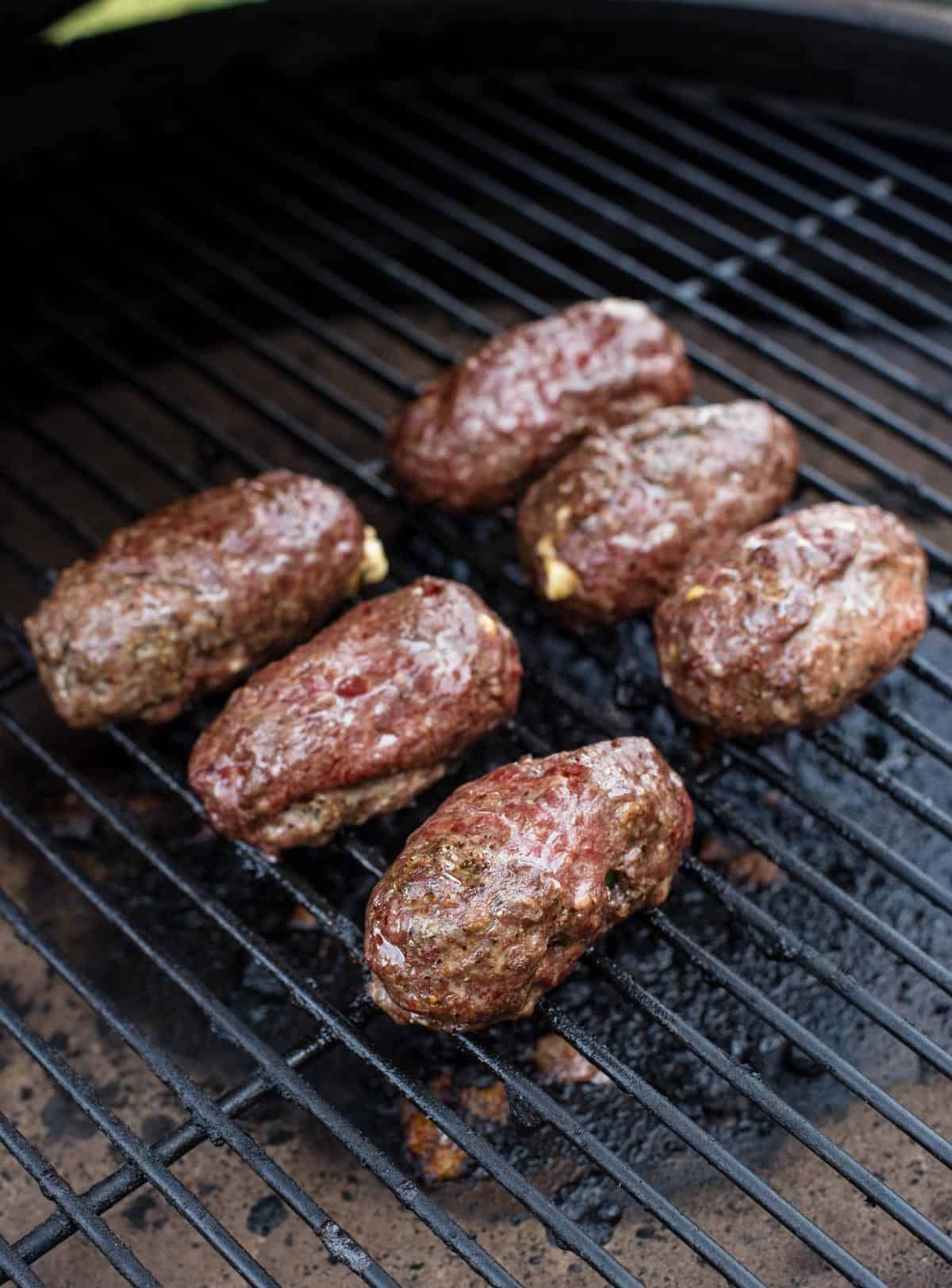 Glaze Eggs: Next glaze the eggs with the wine glaze and continue smoking for an additional 10 minutes. This lets the sauce set and darken for more flavor.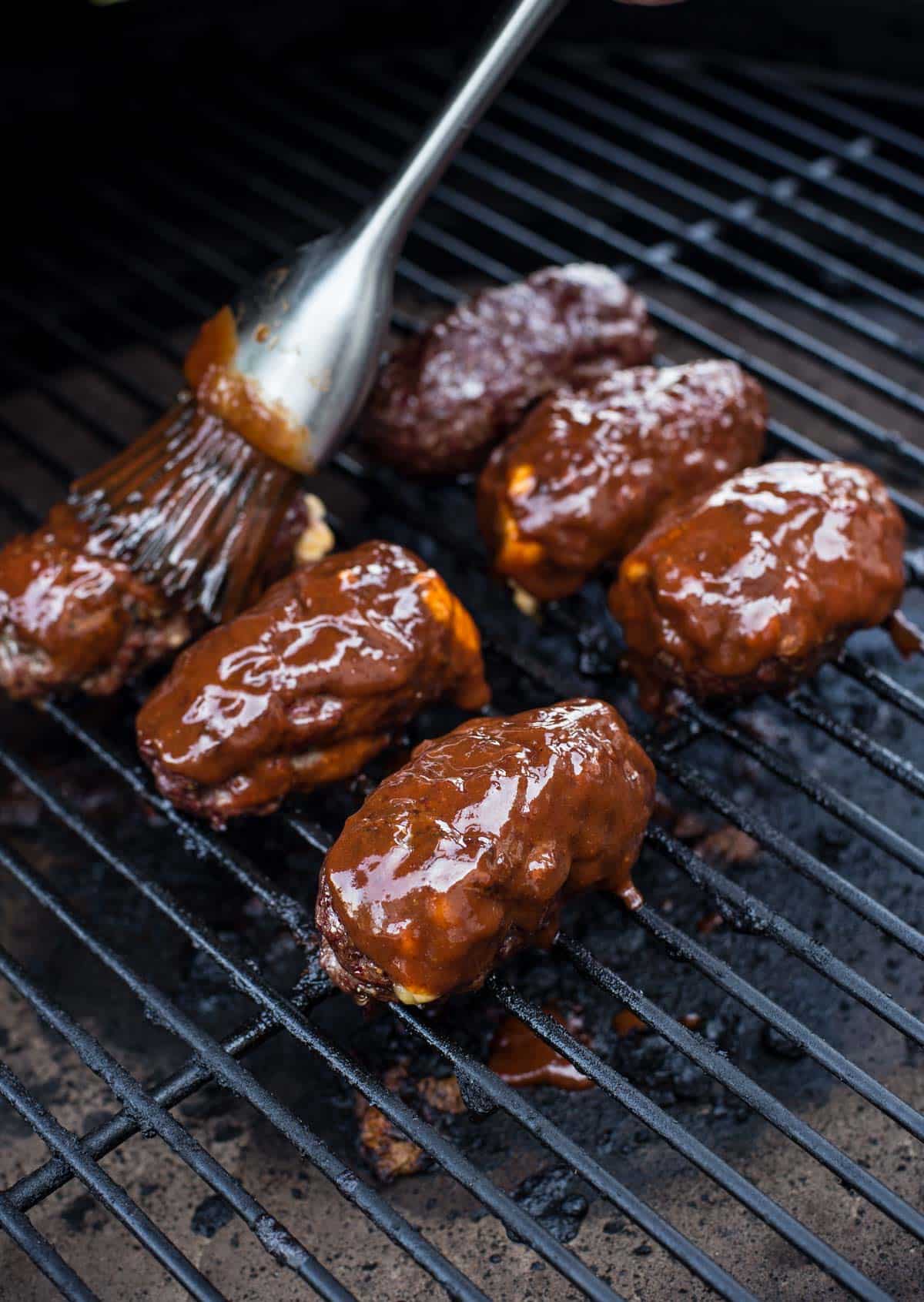 Remove: Remove and then let them rest for 5 – 10 minutes until they are cool enough to touch. Serve and enjoy.
Hint: When cleaning the grill after use, remember to use a non-wire-based grill cleaner while the grill is still warm to clean the grates.
Substitutions
If you don't have time to make the wine glaze from scratch you can use any barbecue sauce you like.
Wine Glaze – Any dry red wine will work. Instead of using our own recipe, you can put ½ cup of wine and ½ cup of your favorite BBQ sauce in a pan over medium heat. Stir to combine until bubbling and let cool.
Top tip
If all you can find is large jalapeños (over 3 inches long), increase the amount of Beef to 2 pounds to account for the size. And then plan an additional 30 minutes of cooking time before glazing.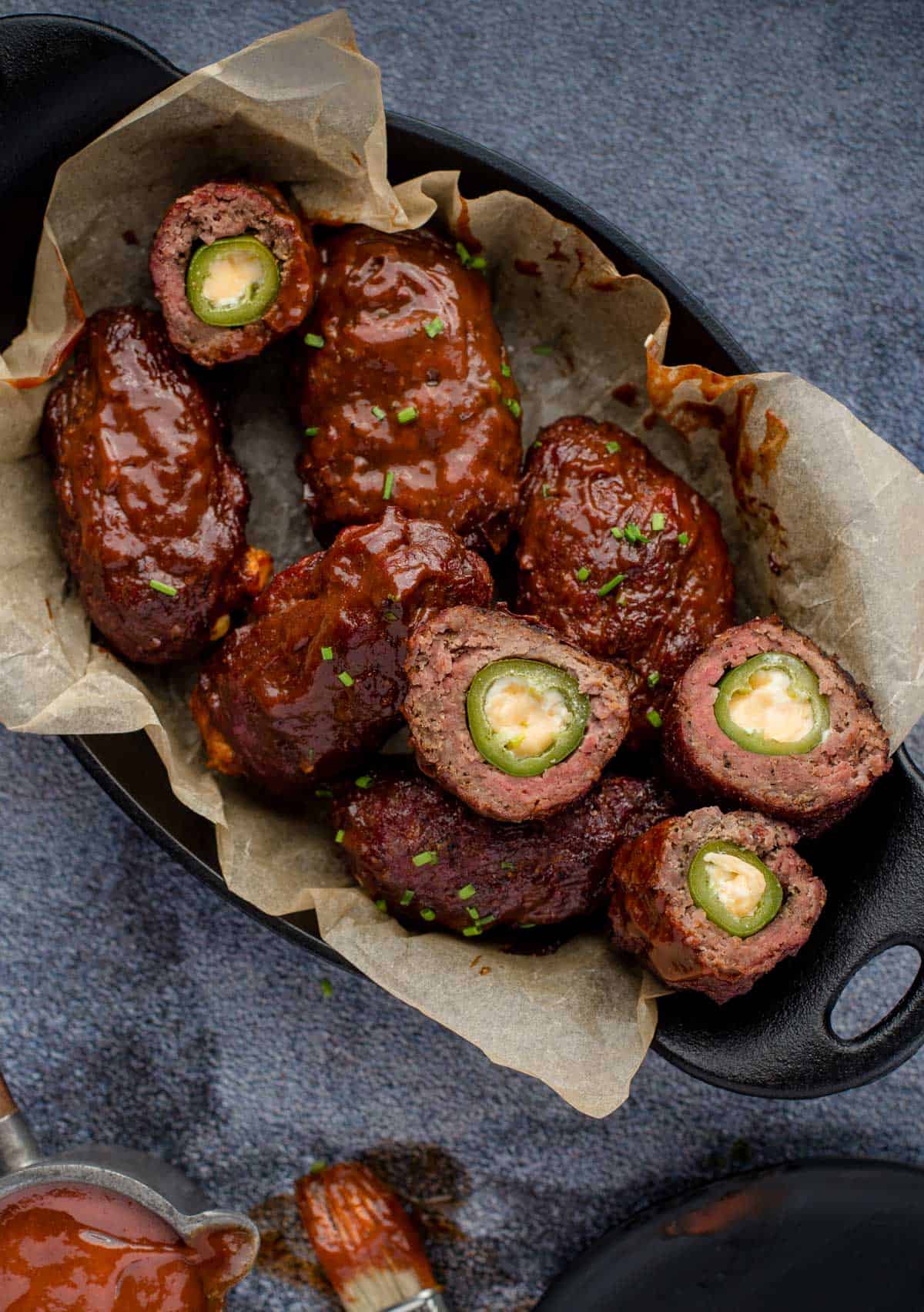 Food Safety
Things to keep in mind while cooking with Ground Beef.
Cook Ground Beef to a minimum temperature of 165 °F (74 °C)
Do not use the same utensils on cooked food that previously touched raw meat
Wash hands after touching raw meat
See more guidelines at USDA.gov.
---
---