Pinot Noir BBQ Sauce Recipe is what happens when the combination of the delicate flavors of Pinot Noir wine and the bold flavors of BBQ sauce collide. This savory and slightly sweet sauce can be made with any fruity red wine.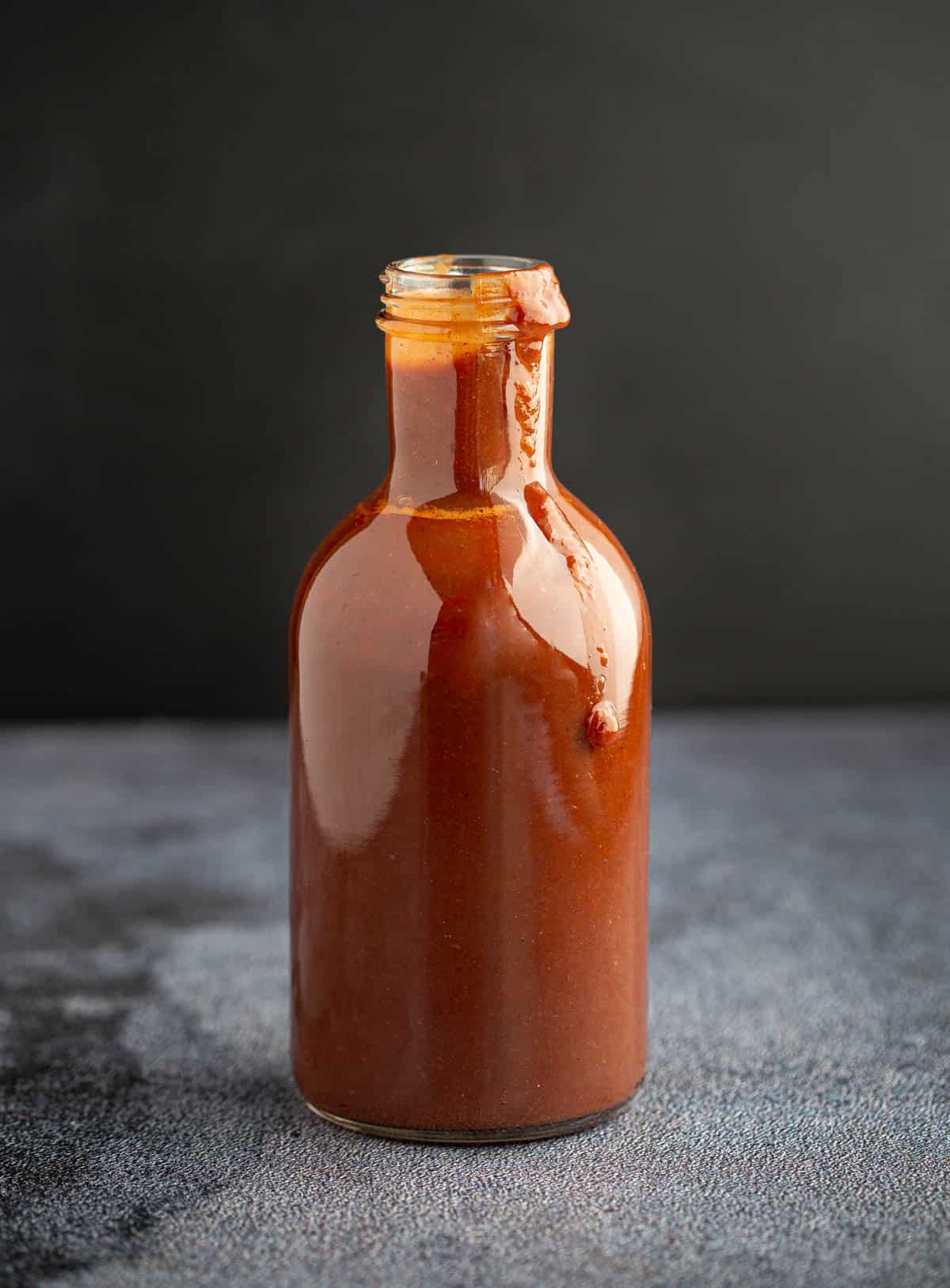 There are many styles of BBQ sauce from around the US, and what stands out is how they reflect the local cuisine and ingredients of the region.
Living and catering in Northwest wine country, we learned that adding elements of our cuisine around us makes for a unique homemade Barbecue Sauce. In this case it was Pinot Noir, which is abundant throughout Oregon.
Jump to:
Pairing Wine and BBQ
Pairing wine and BBQ can be tricky, especially when the wines are more delicate in nature, like Pinot Noir for example. To pair wines with a traditional bold Kansas City style barbecue sauce full of sweet tomato flavor and heat would have seriously overpowered these beautiful wines.
So when creating recipes or meals for wineries (as in the case of our catering experiences) the goal is to not overpower the guests' palates with bold barbecue flavors that would have ultimately drowned out the wines.
For that reason, we decided to use Pinot Noir as a base to create a BBQ sauce. One that would not only mirror the flavors found in their wines, but also be mild enough so as not to upstage the wines. Other low tannin wines work well too, like Zinfandel for example.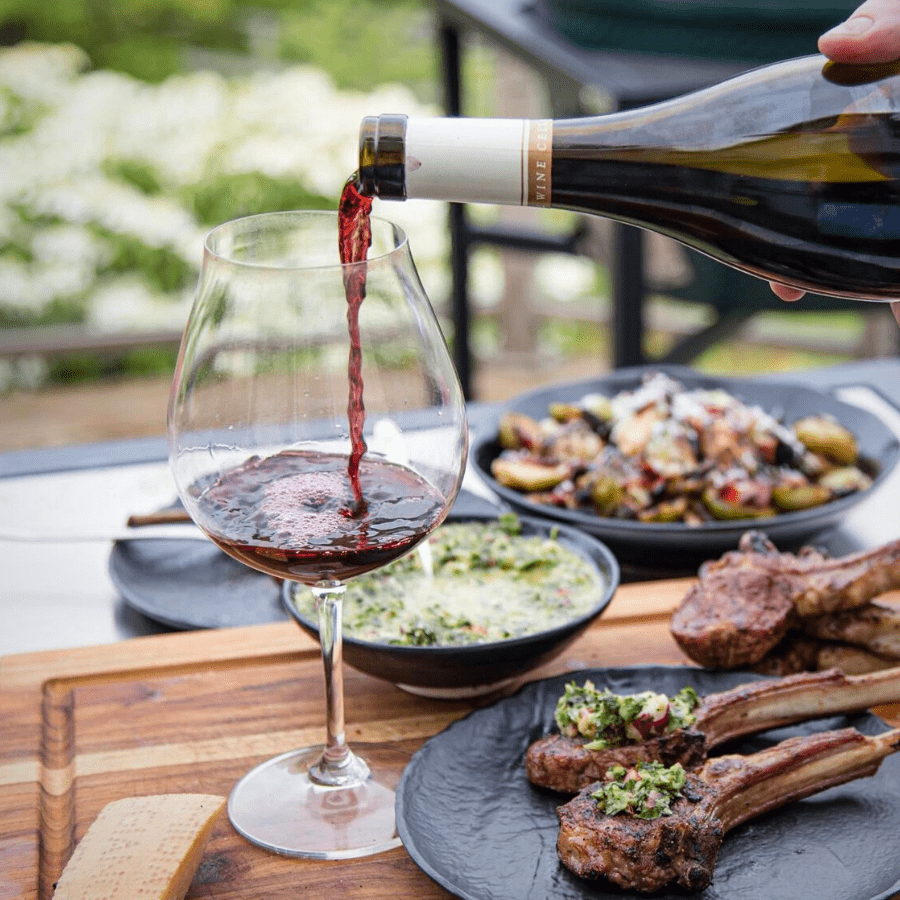 Join our
Wine Club
Receive small production, high quality wines from sustainable, small, and family- owned producers.
Pinot Noir Wine BBQ Sauce Ingredients
We keep it simple with this sauce inspired by tomato based sauces from places like Kansas City.
Shallots and garlic for the underlying savory flavor.
Dried spices, like chili powder and dry mustard, for earthiness.
Wine for acidity and the fruit flavor. Many sauces use apple cider vinegar for similar reasons.
Ketchup, to add a sweet tomato element since most ketchup has some sugar in it already.
How to Make BBQ Sauce
The sauce starts similar to many BBQ sauces, and but is then layered with wine and mild seasonings.
Start by sautéing up some shallots and garlic. Slowly sautéing allows those flavors to absorb into the liquids when added.
Add dried spices to sauté so it slightly toasts.
Pour some red wine, and reduce it slightly.
Add ketchup and simmer. Voila! It's really as simple as that.
Store in a mason jar in the fridge.
This isn't an in-your-face BBQ sauce. Instead it's complex, delicious, and one that you can safely use to finish off your favorite proteins with, and serve with a lighter style wine, like a Pinot Noir.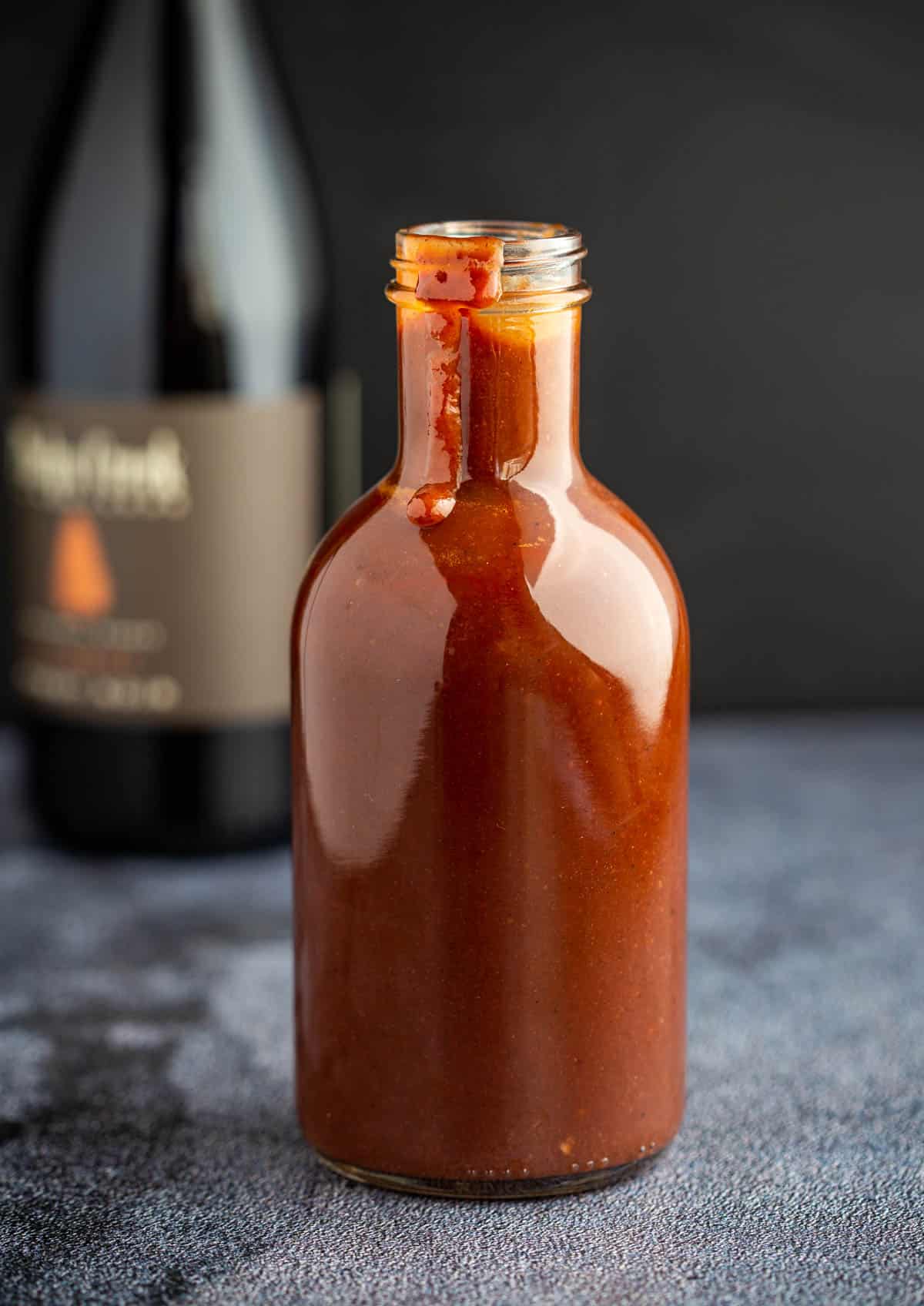 How To Store BBQ Sauce
This sauce will last up to two months properly stored in an airtight mason jar or glass jar with a lid and in the refrigerator. It will thicken up when in the fridge, so adding a little water to the sauce next time you use it is fine if you want to thin it out.
What to Use the Sauce For
Other BBQ Sauce Recipes
We also have some more great sauces featured in our cookbook Fire + Wine.
If you like this recipe we'd truly appreciate it if you would give this recipe a star review! And if you share any of your pics on Instagram use the hashtag #vindulge. We LOVE to see it when you cook our recipes.
*This post was originally published in October, 2014, and updated in December, 2020, with additional details and photos (the recipe remains exactly the same).