Pinot Noir BBQ Sauce is what happens when the combination of the delicate flavors of Pinot Noir wine and the bold flavors of BBQ sauce collide.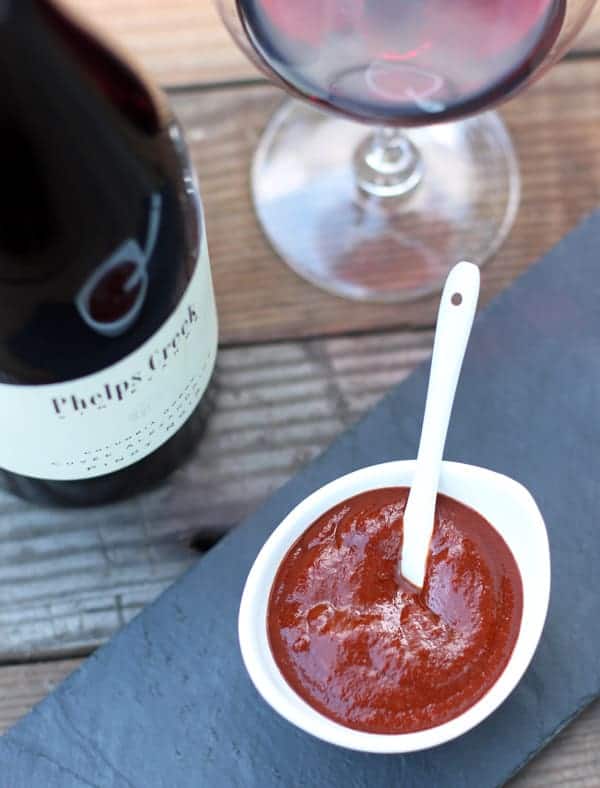 Shortly after we got The Beast (aka our commercial smoker) we started a catering company. At the time, my husband/partner was still working his day job, and he had never worked in the restaurant industry (unless you count the one time he worked as a busboy when he was in high school). So we decided to focus on small and private events until he got a grasp of things. While I have a restaurant and events background, we still knew we wanted to take things slow.
Our second big event was held at Phelps Creek Vineyards in Hood River, Oregon. Phelps Creek called upon us to cater their annual summer wine club event, and in particular, to make pulled pork sandwiches with an original barbecue sauce recipe (below).
We decided to take it up a notch by using their Pinot Noir IN the sauce.
Pairing Wine and BBQ
Pairing wine and BBQ can be tricky, especially when the wines are more delicate in nature, like Pinot Noir for example. And Phelps Creeks wines, their Pinot Noirs in particular, are not the type of bold in-your-face powerful wines typically associated with BBQ. They are subtle, balanced, and delicate with a lot of complexities. To pair these wines with a traditional bold Kansas City style barbecue sauce full of sweet tomatoes and heat would have seriously overpowered these beautiful wines.
The purpose of this event was to showcase their wines, not overpower the guests' palates with bold barbecue flavors that would have ultimately drowned out the wines.
For that reason, we decided to use one of their Pinot Noirs as a base to create a BBQ sauce. One that would not only mirror the flavors found in their wines, but also be mild enough so as not to upstage the wines.
Pinot Noir Wine BBQ Sauce
The sauce starts similar to many BBQ sauces, and but is then layered with wine and mild seasonings. Start by sautéing up some shallots and garlic, then season it up, add some red wine, reduce it, then add ketchup and simmer. Voila! It's really as simple as that.
This isn't an in-your-face BBQ sauce. Instead it's complex, delicious, and one that you can safely use to finish off your favorite proteins with, and serve with a lighter style wine, like a Pinot Noir.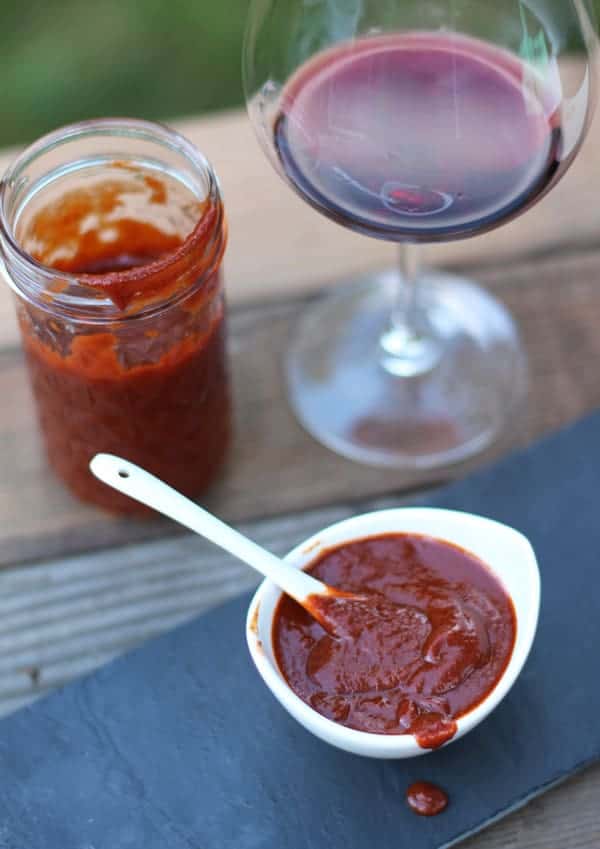 Weeks before the event we tested several variations until we found the jackpot recipe.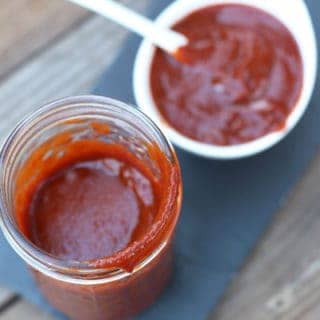 Basic Pinot Noir BBQ Sauce
We created this recipe in order to highlight a light bodied Pinot Noir. We tried to avoid spicy, vinegary, and overly sweet, since those flavors would have killed the wines. In order to make the sauce balance with the wines we kept the recipe simple and mild.
Print
Pin
Rate
Ingredients
1

tablespoon

olive oil

2

shallots

diced (red onion works too, approx 1/3 cup of them)

2

garlic cloves

finely diced

2

tablespoons

chili powder

1/4

teaspoon

cayenne pepper

1/2

teaspoon

dry mustard

1

cup

Pinot Noir

or other light bodied red wine

1

cup

ketchup
Instructions
Place olive oil and shallots into a saucepan set to medium heat until translucent (about 5 minutes). Turn down heat if you see browning. Add garlic and cook for 2 additional minutes. Stir occasionally and watch out for browning.

Into the saucepan add the chili powder, cayenne pepper and dry mustard and stir constantly, for one minute.

Add the pinot noir and turn the heat up to high. Bring the pinot noir to a boil and then reduce heat to simmer for about 5 to 7 minute, stirring occasionally. You want the pinot to reduce about 1/4 to 1/3 for flavor.

Add ketchup and bring back up to a simmer again while stirring for about five minutes then remove from heat, let cool and place in a container.
Notes
Sauce will thicken when put into fridge. To thin out the sauce add one tablespoon water at a time and stir until desired thickness. For added flavor and savoriness, add: 1 tablespoon Dijon mustard, 1 tablespoon Worcestershire sauce, 1 tablespoon apple cider vinegar, 2 tablespoons brown sugar Modified instructions - for more savoriness and heat. Step 4: Add ketchup, Dijon mustard, Worcestershire sauce, apple cider vinegar and brown sugar to the wine and bring to a simmer for about 8 minutes stirring frequently. Remove from heat and place in a container. Yields about 2 cups of sauce.
The Event
The day of the big event I sadly couldn't attend as I was on my way back from France at the time. Lucky for us though our good friends Becky and Zack volunteered to help Sean prep and execute the event. Not only that, but Becky, a photographer, also took photos (thanks Becky!!). Sean couldn't have got through that day without their help! Lesson learned: don't try to cater an event for 100+ people solo!

I was on pins and needles the whole day waiting to hear how things went. The report came back successful! Everyone seemed to love the pork, the BBQ sauce, and, of course, the wines.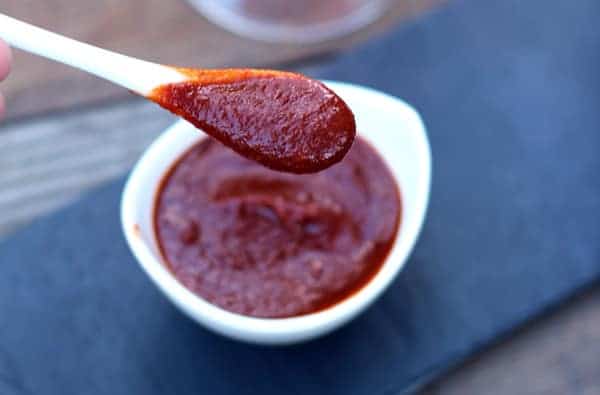 ---
If you like this recipe we'd truly appreciate it if you would give this recipe a star review! And if you share any of your pics on Instagram use the hashtag #vindulge. We LOVE to see it when you cook our recipes.