Smoked Beef Short Ribs finished with a Red Wine Braise are truly the ultimate beef short ribs (and one of my favorite meals ever)! Comes with wine pairing recommendations.
This recipe has dinner party or holiday meal written all over it!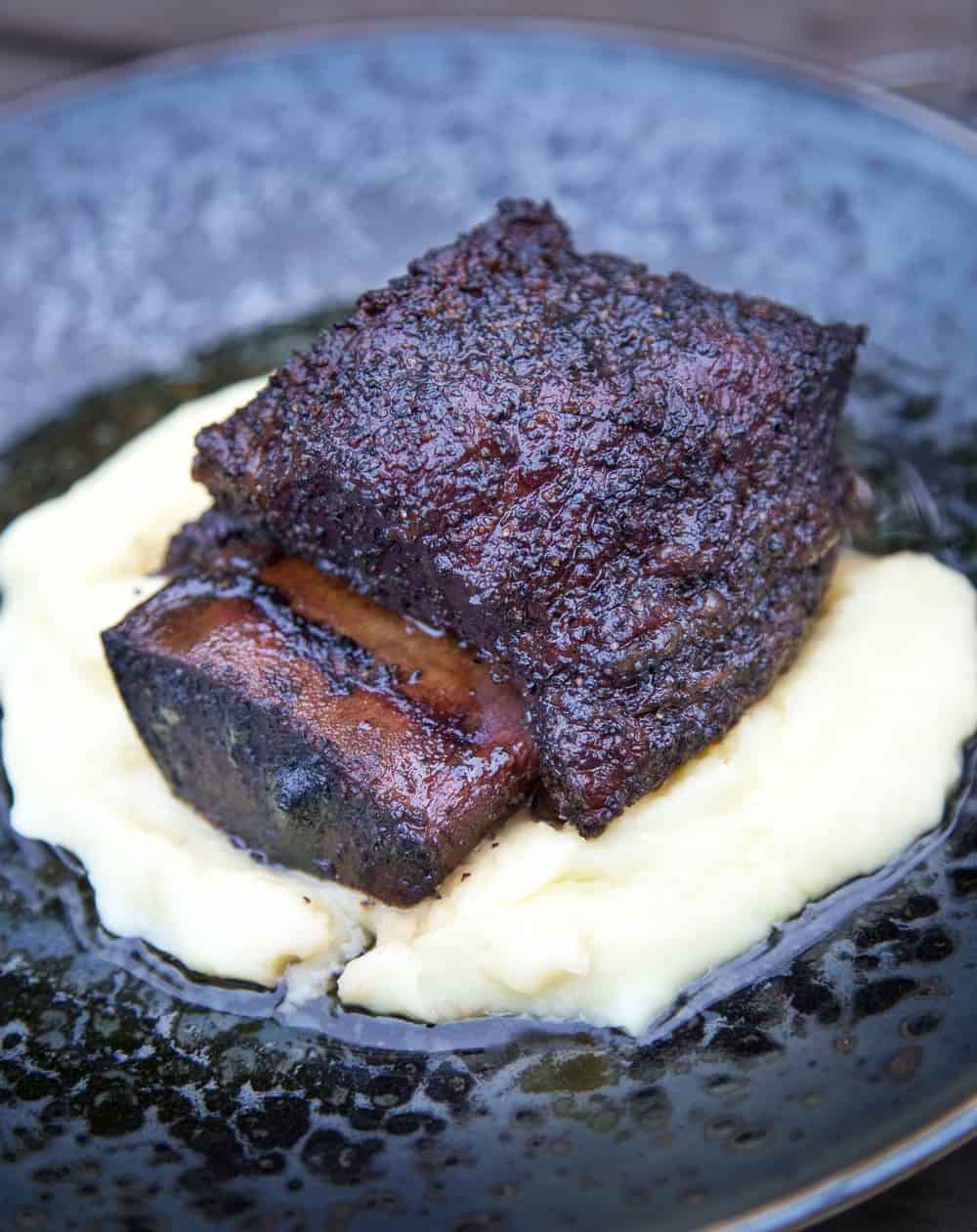 Beef Short Ribs are my ultimate comfort food. This is *the* single cut that turned me from a vegetarian into a meat-lover. When done right it's super tender and full of incredible beefy flavor and a rich butter-like texture.
What it comes down to for a memorable meal is technique and starting with high quality beef. We start with Snake River Farms beef, season them liberally with a simple rub, and then follow the technique below for the best results. It's the technique and amazing marbling from beef short ribs that's going to give you that melt-in-your-mouth buttery texture that I love about a slow cooked smoked beef short rib.
Types of Beef Ribs
Most commonly you will see beef short ribs and back ribs. Beef short ribs are also synonymous with plate ribs. The 13 beef ribs that extend from the spine would fall under the back ribs, and extending downward. The beef plate, or beef short ribs, will come from the lower portion of the ribs (similar to spareribs on a pig).
You can see our full plate rib recipe here.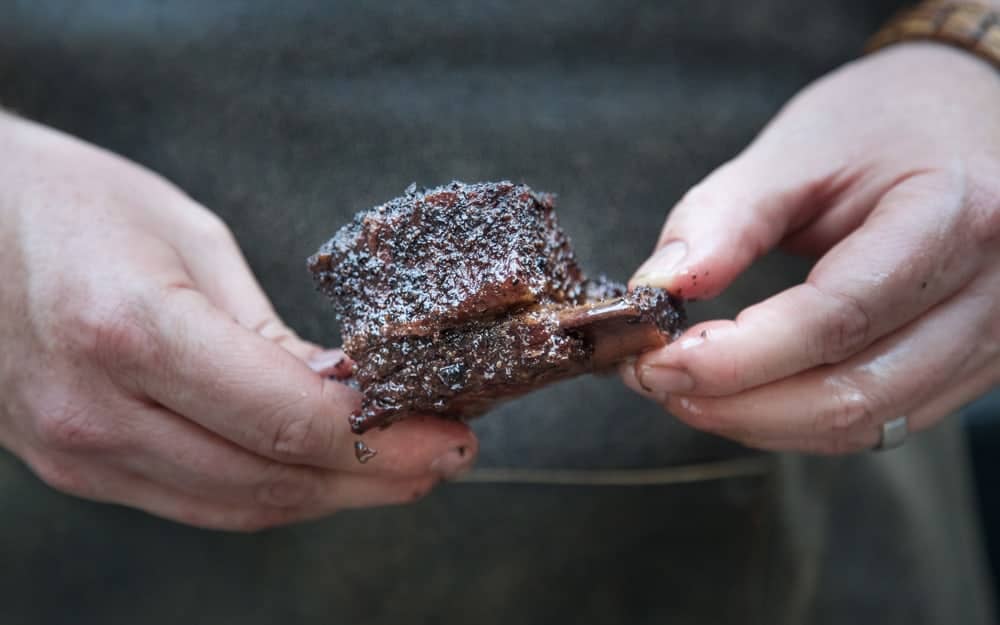 How to Buy Beef Short Ribs
Marbling: When buying beef short ribs, look for marbling throughout. At the minimum look for USDA choice. We proudly use Snake River Farms for American Wagyu and Double R Ranch beef for USDA prime.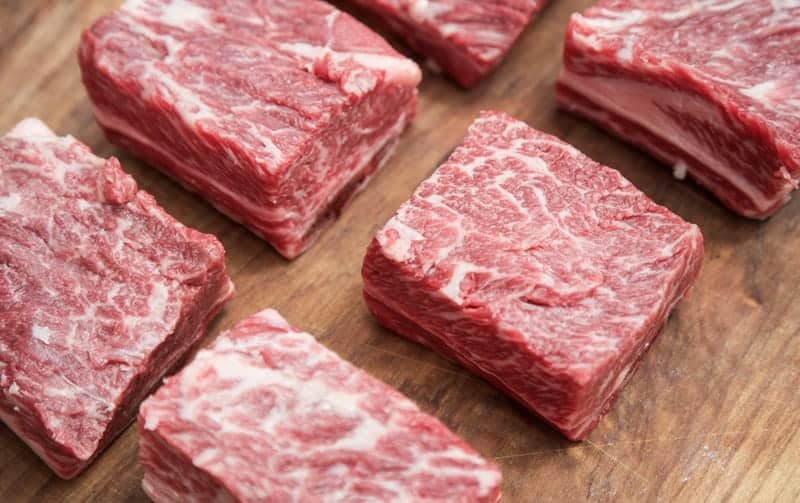 Size Matters: Make sure the bone length is consistent, like three or four inches AND the height. You will often see various sizes of height, and those will all cook at different times. To avoid an overcooking experience, tell your butcher that you want a specific length on the bone (roughly 3 inches) and that they all have uniform height. Consistency in size will ensure that they will all cook the same.
Make sure they are SHORT ribs, not beef chuck back ribs! These are two different areas from the cow. You want "short ribs" for this.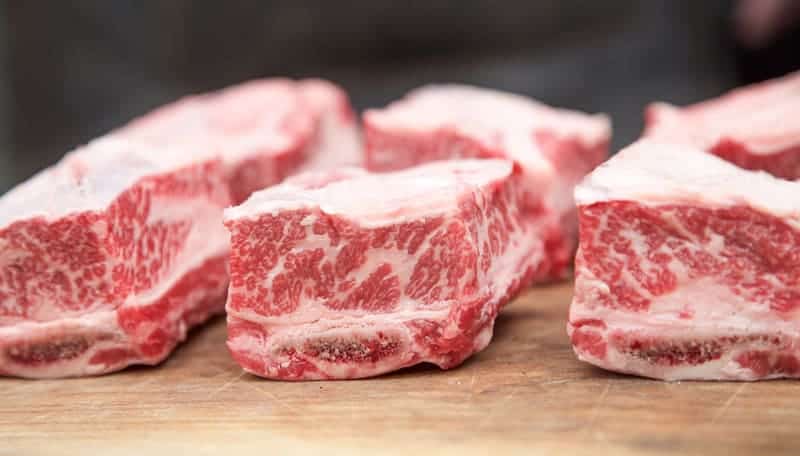 How to Trim and Prepare Smoked Beef Short Ribs
Trim: Use a sharp knife to remove that silver skin membrane at the top of the rib. (Not the bone side) This is not fat. The silver skin is a tough membrane that should be removed. This does not remove flavor, it removes a tough membrane that is not pleasant to eat. A good short rib will have plenty of marbling throughout the cut.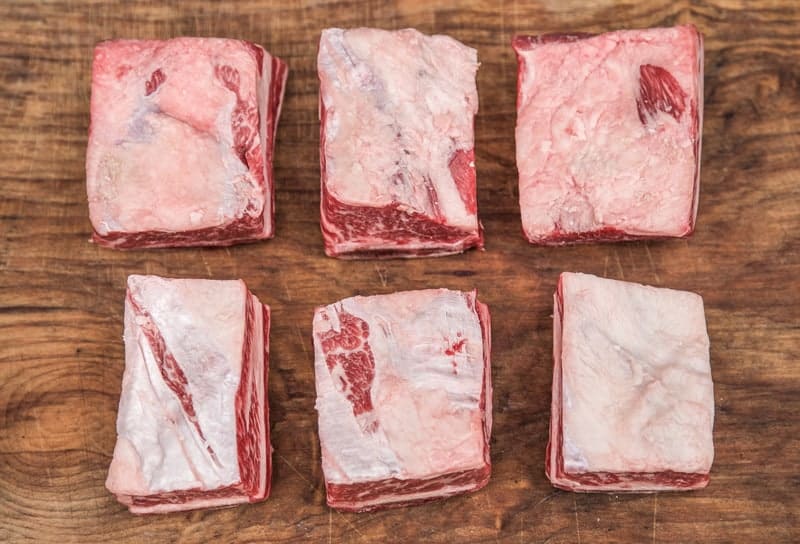 This exposes the marbling and allows your rub to connect directly with the meat, and not fat or the silver skin. It also allows smoke to get at that meat easier than trying to work through the silver skin.
How to Season Short Ribs
With any meat, I add some kind of slather or liquid. This allows my rub to stick. In this case, I go simple with extra virgin olive oil and make sure I coat all sides of the beef rib. I then follow that with a generous amount of dry rub.
I love the natural beef flavor, so I stick with an equal mix of kosher salt and pepper in order to let the flavor of the meat shine. But if you have a favorite beef rub, feel free to use that instead. And be generous when applying the rub because as your meat cooks, it sweats out and you can lose some of that flavor. So don't be shy.
We make a larger amount of rub in this recipe and if you don't use it all, simply store the rest for the next beef cook.
How to Smoke Beef Short Ribs
We follow a simple method for smoking beef short ribs in the smaller cuts.
Smoke – Smoking uncovered for a period of time to add the flavor.
Spritz – Adding a liquid spray to coat the meat and allow extra liquid for the smoke to adhere to.
Braise – Adding smoked short ribs into a liquid braise, or bath, to continue to infuse more flavor and render the meat to the desired finished temperature.
Rest – Allowing short ribs to rest, off the heat, in order to allow the meat to slightly cool and maintain the tender texture.
Smoking adds the initial smoked flavor to the short ribs as the smoke and lower temperature add flavor and start to cook out the intramuscular fat.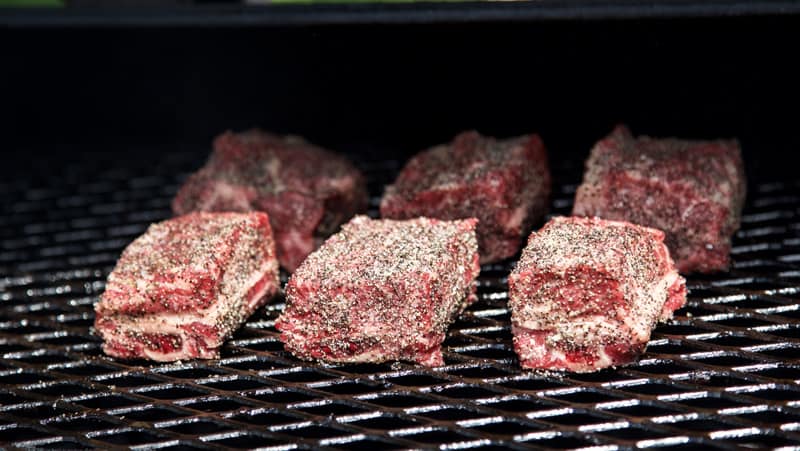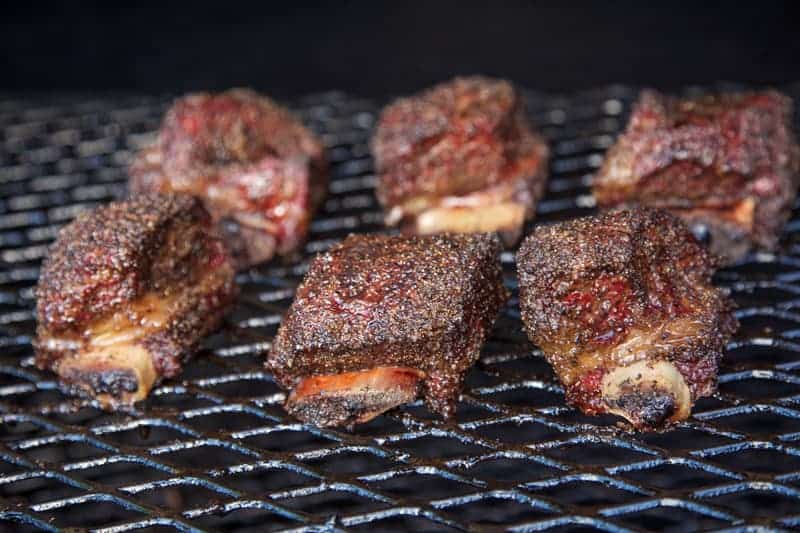 2. Spritz: Then spritz during the smoke process to add flavor and give the good smoke something to adhere to. You can use whatever liquid you like for this. For this recipe we're going with savory flavors with red wine, beef broth, and Worcestershire sauce in equal parts.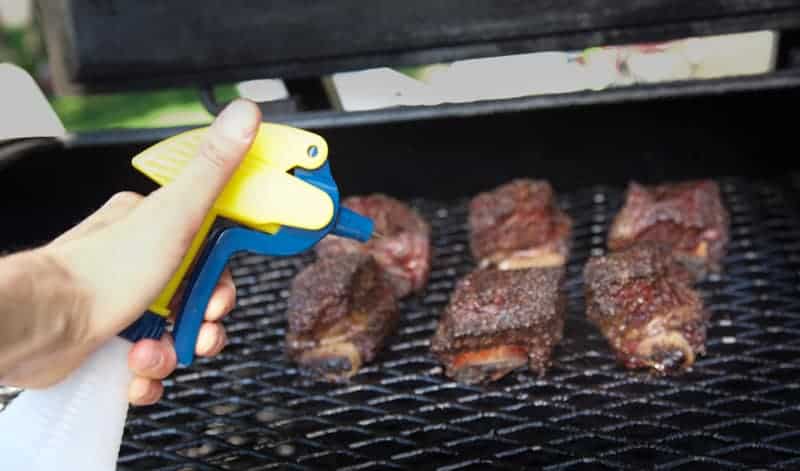 3. Braise (or wrap in liquid): In a baking dish (or foil pan), add wine, more broth, salt and pepper, and butter, and cover the dish. This adds extra flavor into the meat and finishes rendering out that fat.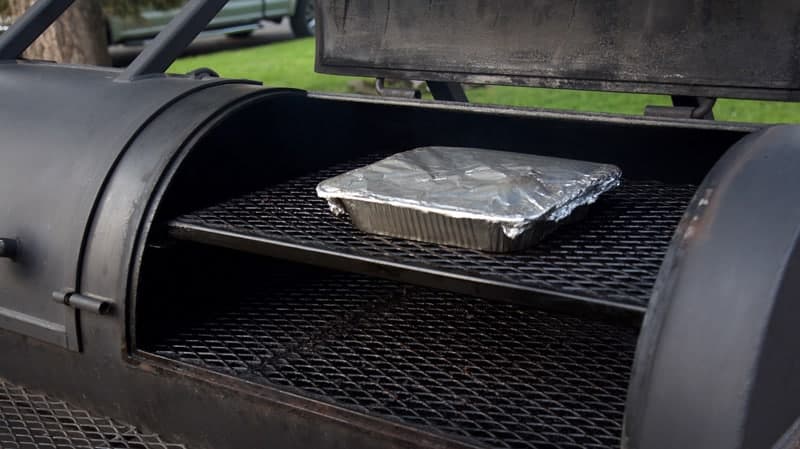 4. Finish and Rest: Pull and rest the smoked beef short ribs once your meat thermometer slides into the meat like warm butter, it's usually between 200 and 205 degrees F. We like a digital thermometer like this one. Here it is important to focus on the texture, not timing. As frustrating as it can be, the rendering is the most important step, so be sure to focus on how it feels when that thermometer probe eases into the meat.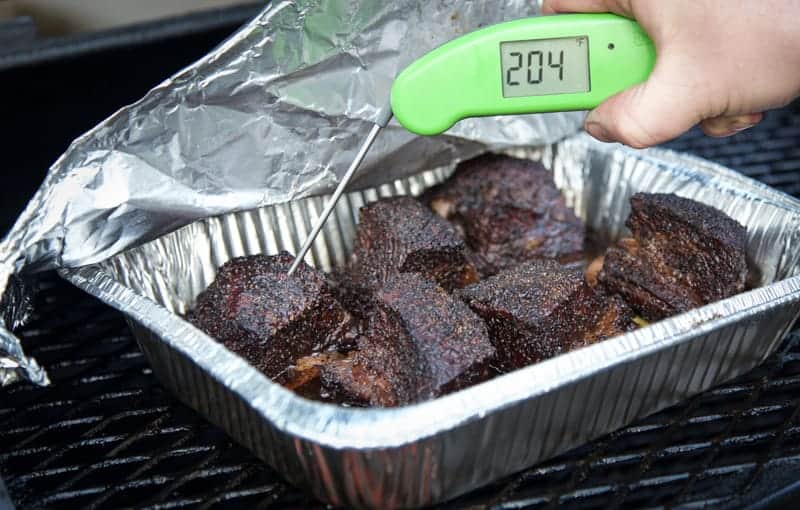 Rest for 15 minutes allowing the juices to redistribute, then eat.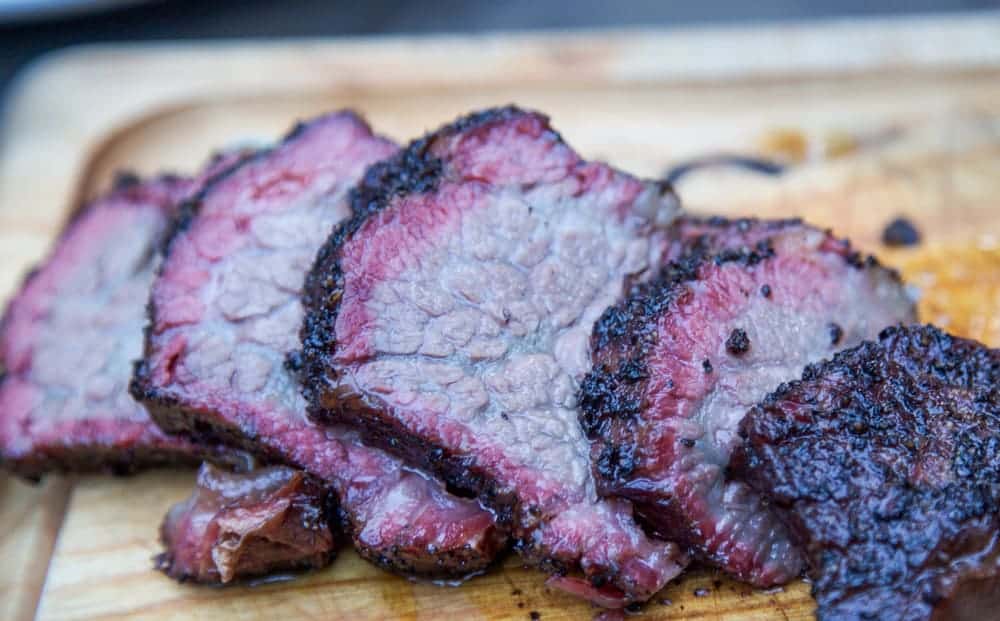 Best Charcoal and Wood For Beef
We use lump charcoal for all of our cooks. Lump charcoal has a more natural wood smoke flavor to it and has large chunks.
For wood, cherry is great for short ribs for color and a sweeter smoke flavor. Oak works well too.
If using a pellet smoker like a MAK Two-Star General consider a blend of 60% cherry to 40% oak.
For offset smokers, try starting the cook with lump charcoal and wood, then use logs or chunks for the remainder of the cook.
For a Big Green Egg – mixing the lump charcoal and wood chunks works great and you won't need to refill through this cook.
Beef Short Ribs Video
Related Recipes
Wine Pairing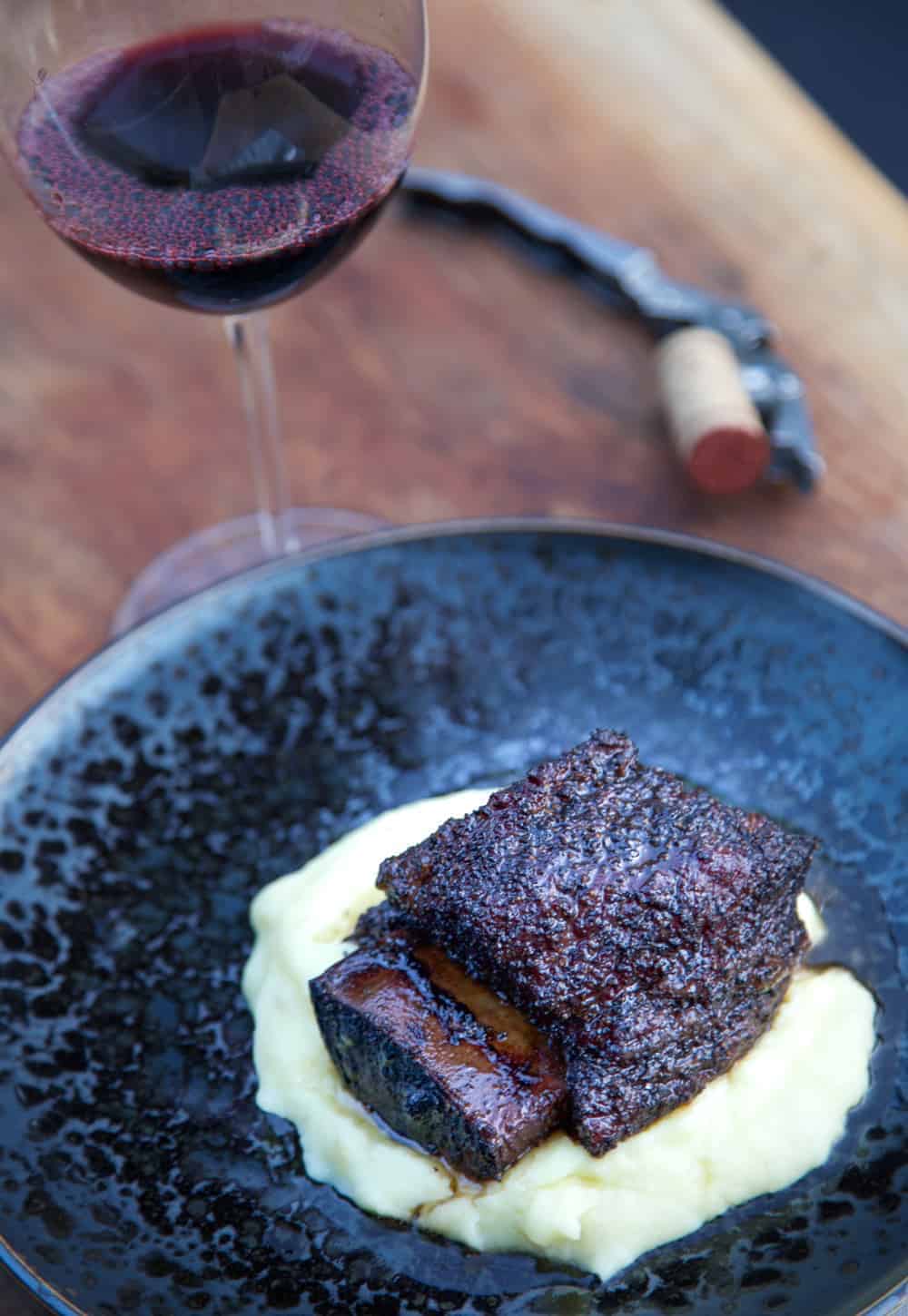 The texture of Smoked Beef Short Ribs is so soft and tender with that amazing infusion. Much of the fat has rendered out, but what you are left with is juicy, melt-in-your-mouth meat. We also let the meat braise in that wine for awhile, picking up some of those concentrated rich and savory flavors. I'm looking for a red wine that has a somewhat rich and velvety texture, with medium to low tannins and deep fruity flavors (not ripe or overly sweet). I want something full-bodied, but not overly intense, and I want some acid to refresh the palate.
I like Sonoma Valley Cabernet Sauvignon for this. Rich and bold, but not overly tannic, with deep blackberry, black cherry, and blueberry fruit, pepper, vanilla, and toasty notes. It really works well with the richness of the meat. The wine and meat are perfectly in tune and balanced with each other.
Smoked Beef Short Ribs Recipe
This post was first published in June of 2017, and updated in June of 2020 with additional process photos and recipe specifics in terms of time on the smoker.
---
*This post contains affiliate links for Snake River Farms and the ThermoWorks Mk4 Digital Thermometer. We only recommend products we use and love! And all of the products mentioned above are those we use regularly.
---
If you like this recipe we'd truly appreciate it if you would give this recipe a star review! And if you share any of your pics on Instagram use the hashtag #vindulge. We LOVE to see it when you cook our recipes.