I thought I knew what the ultimate use for leftover Thanksgiving turkey was.  I was wrong.
The ultimate use for leftover turkey is this Smoked Buffalo Turkey Dip!!!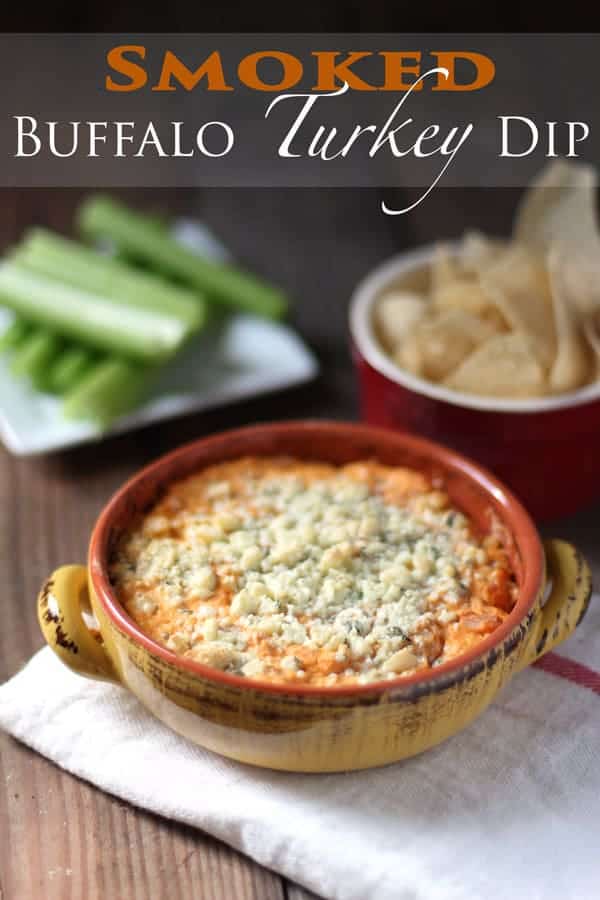 On Sunday we were still chugging away at leftover smoked turkey from Thanksgiving Day (yes we smoked our turkey… two of them actually), when hubby declared he was "done" with leftovers and wanted to go out for wings.
"Um, not happening," I responded.
"What? Why not?!" he asked.
"Because you insisted on smoking two turkeys for only five adults and two kids.  You have to deal with the repercussions (i.e. insane amounts of leftovers)."
But, being the supportive wife I am, I came up with a way to satisfy his craving for wings, and my stubborn need to not let anything go to waste — Smoked Buffalo Turkey Dip.
That's right.  I used leftover smoked turkey, and turned it into a game day staple.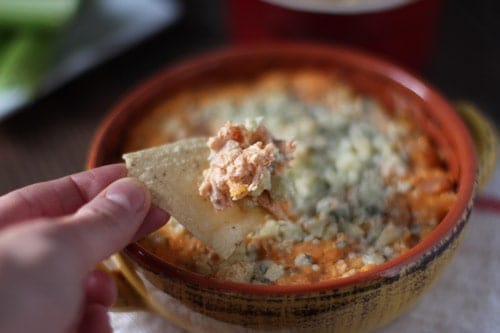 I wasn't intending on even adding it to the blog, but after I posted an iPhone pic of it on Facebook I got feedback from folks wanting the recipe.  So with even more leftovers (yes, we still had more the following day) I made it again…. This time I made it for my dad who had just arrived from Arizona for the week.  Even Dad agrees that this beats my moms Green Chili Turkey. That's saying a lot!
The best part (as if this could get any better?) was that this is a much lighter version than the hundreds of recipes you find online filled with cream cheese and sour cream.   I was inspired by a "skinny" Buffalo Chicken Dip I saw on Pinterest over the summer and used Greek yogurt instead of the traditional sour cream.  Hubby didn't even realize until after we ate the entire bowl!  It's "light" and nobody will ever know.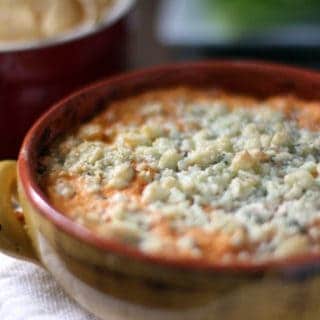 Smoked Buffalo Turkey Dip
The ultimate use for leftover Thanksgiving Turkey. Smoked Buffalo Turkey Dip!
Print
Rate
Ingredients
3

cups

leftover smoked turkey

shredded (go ahead and use roasted turkey or leftover shredded chicken. But the smoked flavor is unbeatable!)

4

oz

half a packet light cream cheese, softened

1

cup

Greek yogurt

1

handful

approx ½ cup shredded cheddar cheese

½

teaspoon

garlic powder

½

teaspoon

celery salt

Salt & pepper to taste

½

cup

Frank's Red Hot

hot sauce. No substitutions. It has to be Franks!

½

cup

blue cheese crumbles
Instructions
Preheat oven to 375 degrees F.

Mix all ingredients (except blue cheese!) together in a large bowl. When everything is well combined, transfer into a small oven safe baking dish. Top with blue cheese crumbles and place in oven, uncovered, for 15-20 minutes, or until the dip starts to bubble.

Serve with chips or celery sticks.
Notes
A friend of mine noted she makes this (with chicken) weekly, and puts some ranch dressing and chopped celery into the mix. Sounds like a great plan and I'll definitely try that next time. If you do add ranch, I suggest to go a wee bit lighter on the Greek yogurt to keep the liquid proportions the same (so it doesn't come out watery).
Did you find any new uses for leftover turkey this past Thanksgiving?