These Smoked Meatballs are stuffed with gooey mozzarella cheese, slowly smoked on the grill, and then finished with a BBQ sauce glaze. Smoked Stuffed BBQ Meatballs are the ultimate game day food or appetizer for your next gathering.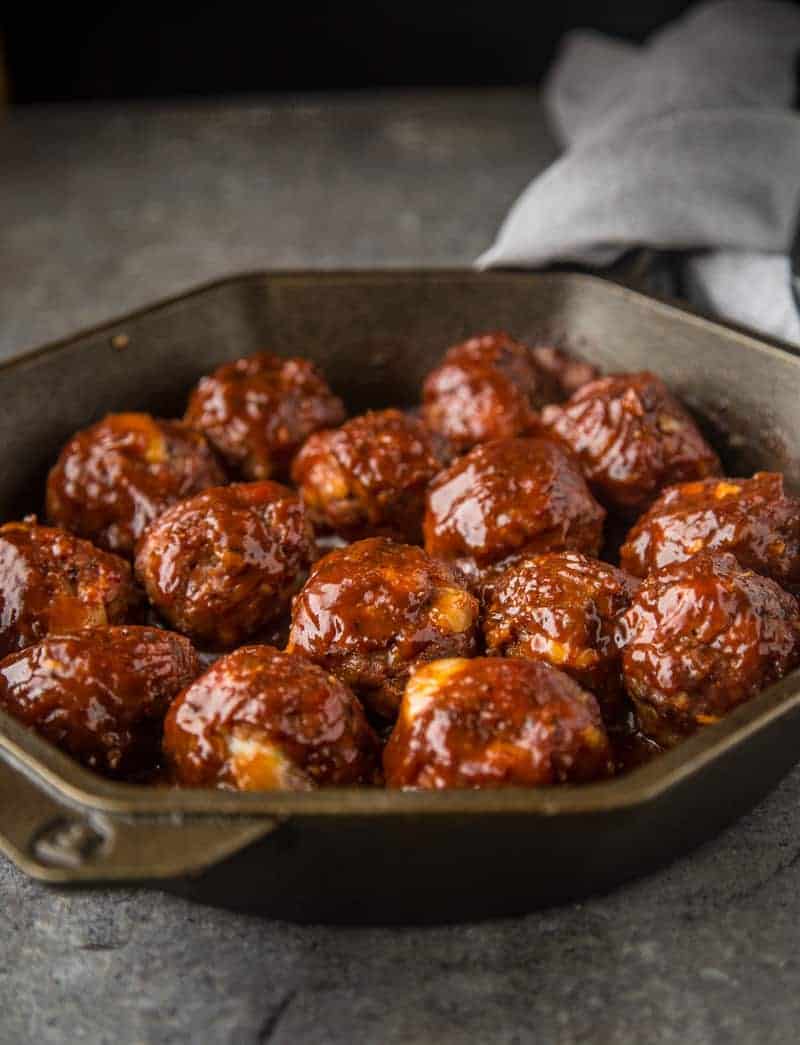 We don't mess around with meatballs around here. I like to pack them with bold or unique flavors. Whether we're going with our giant meatballs perfect for a meatball sandwich, or the holiday flavors of the smoked meatballs in a cranberry pinot noir sauce, or even lamb meatballs for a twist, we like to make them big BBQ flavor bombs.
Now smoked meatballs alone are fantastic. But if you want something fun and indulgent for game day, party appetizer, or heck just a Tuesday night dinner, these Smoked Stuffed BBQ Meatballs are absolutely delicious.
How to make Smoked Stuffed BBQ Meatballs
We start with the meat. In this case we're combining beef and pork for added flavor. Then adding flavor and binding in the form of our dry seasonings, liquids, and egg. For the cheese there are plenty of options (cheddar, mozzarella, fontina, provolone, comté, anything that melts well).
We're going with mozzarella, specifically store-bought string cheese. Why? Because it's so simple to take the cheese, cut it into small cubes, and stuffed it into that meat! Boom. Feel free to shred your cheese, or spend time cubing up large chunks of cheese yourself. But why when you can just take that long piece of string cheese and cut it. Easy stuffed meatballs, right?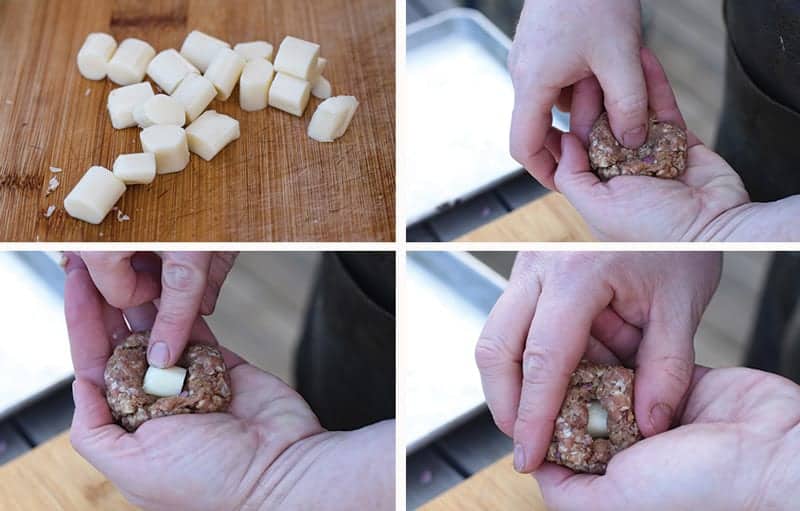 Just form your ball and make a little well in it (see photo above), and place your cheese in the well, then cover it up and reshape the ball.
How to Smoke Stuffed Meatballs
Place the stuffed meatballs on the smoker at 225 degrees for 45 minutes, or until the internal temperature of the meatballs reach 155 degrees.
In this case we're smoking the meatballs on the Big Green Egg using apple wood. But these meatballs work great on whatever cooker you have!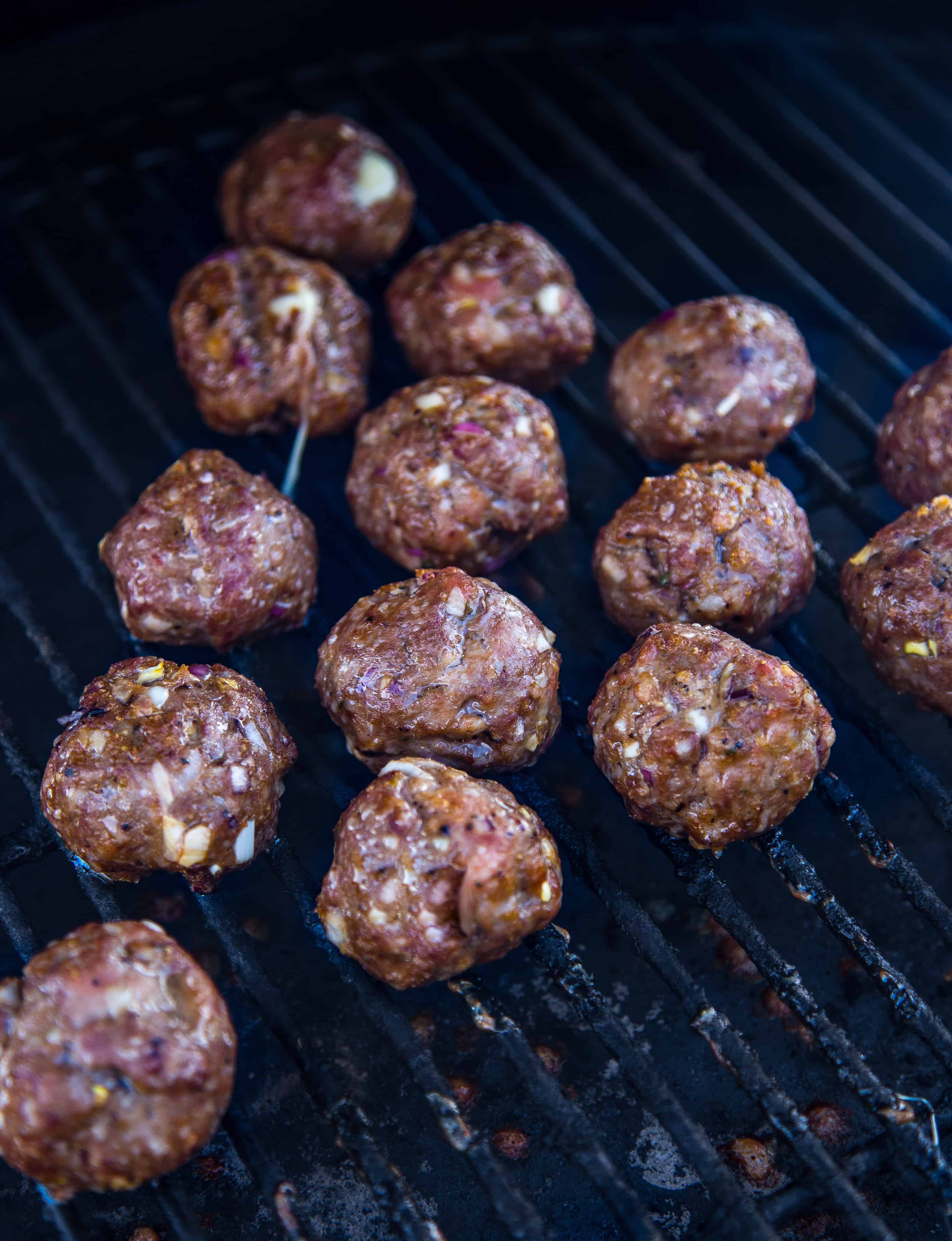 Once the meatballs reach temp, transfer them to a heatproof dish (a cast iron pan works perfect for this), and add your BBQ sauce. Gently toss the meatballs around (or use a large spoon) to get the balls fully covered in the sauce.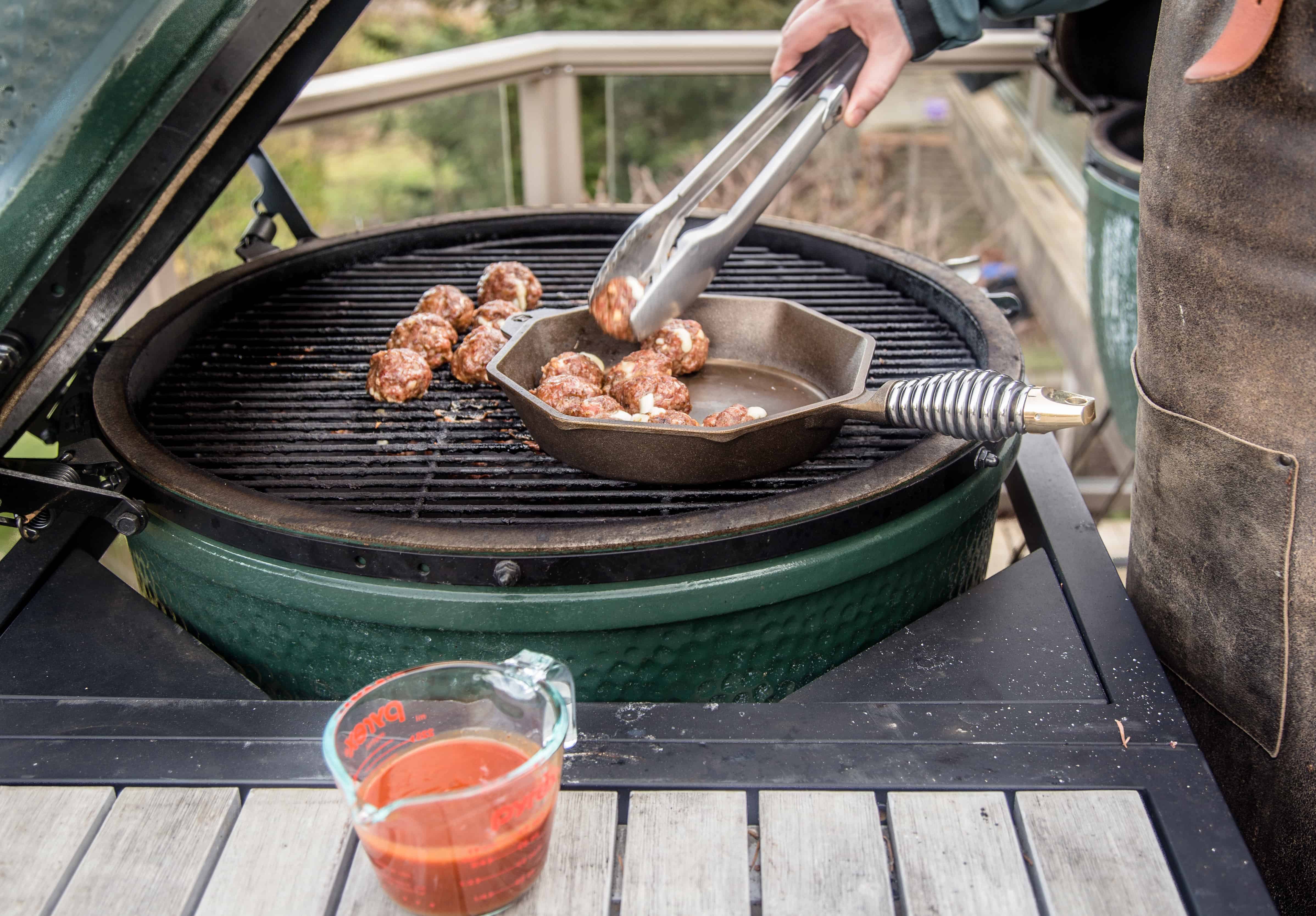 Then place back on the smoker and cook an additional 10-15 minutes, to let the sauce set. When do you know your meatballs are done? When they reach 165 degrees (F) using a thermometer. In this case you have cheese in the middle, so you want to be sure you are temping the meatball itself, the cheese will come up to temp faster than the meat.
Can you smell em?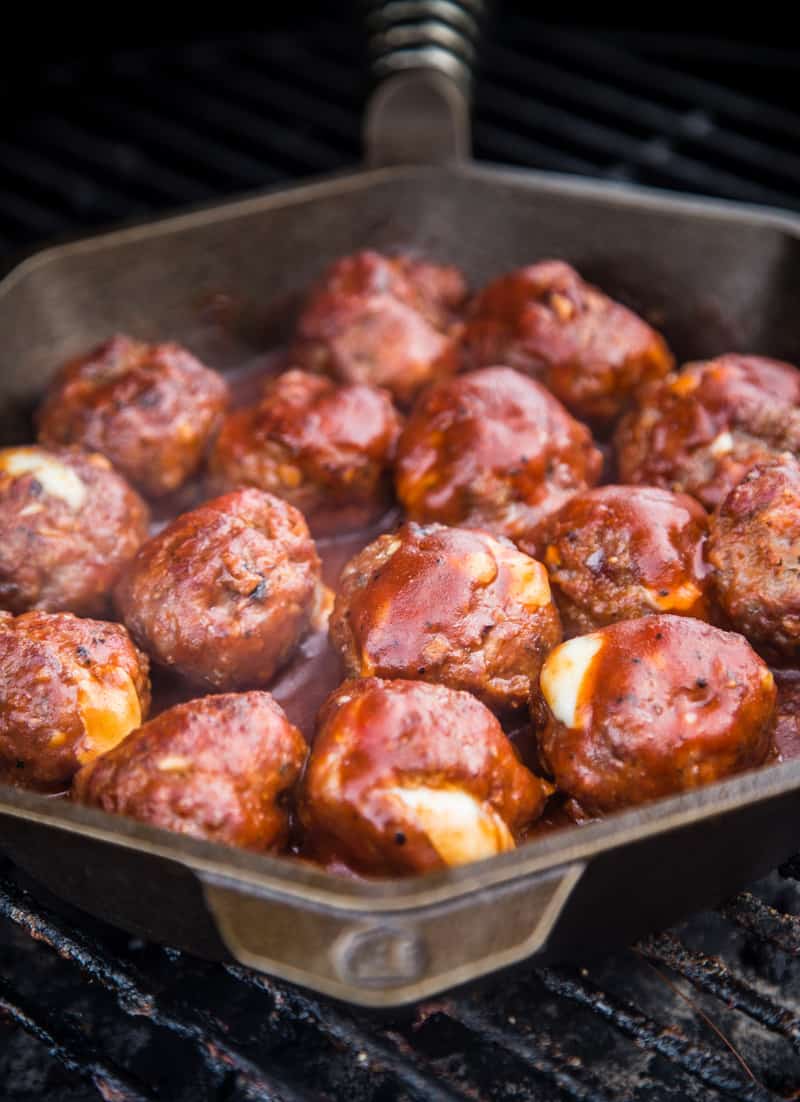 When they're finished, remove the dish from the smoker, and serve immediately.
You can serve directly from your dish, or transfer to platter.
However you choose to serve them, make sure to dig in while they're still warm to take advantage of that ooey, gooey, delicious, melted cheesy goodness.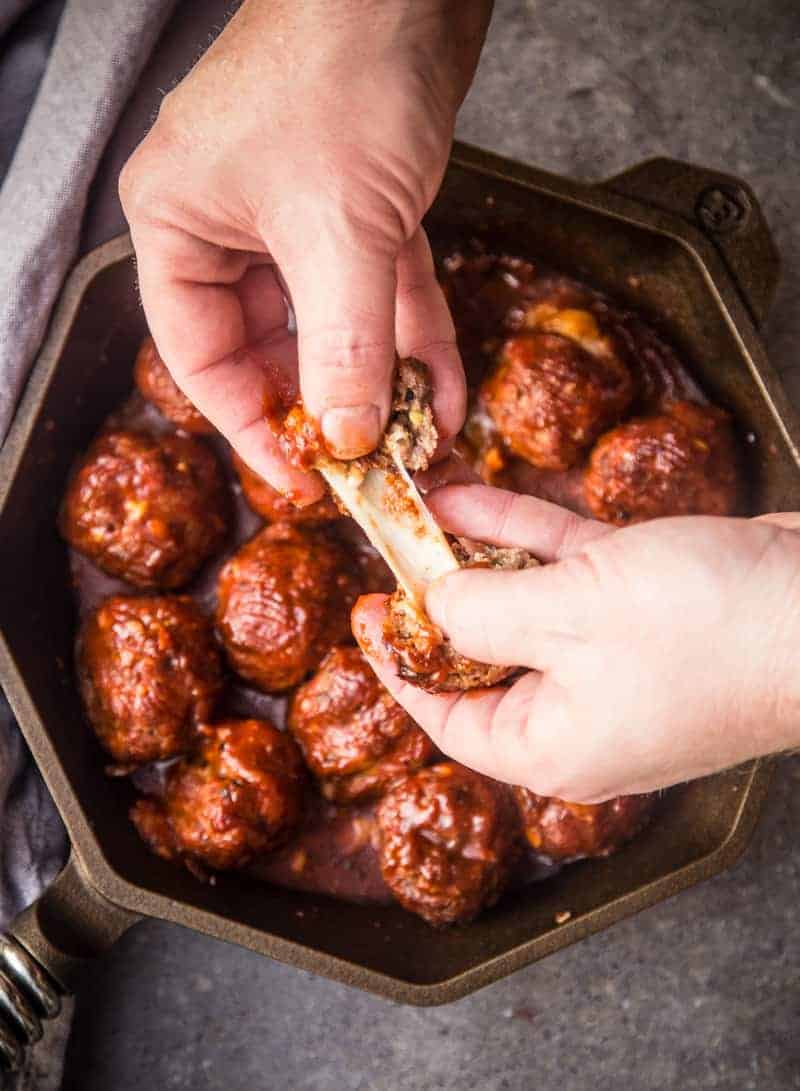 These are fantastic as a party food, but also make incredible sliders for a meal.
I think you're going to love these!
Are these Meatballs Gluten Free?
They can be made gluten free by using pork panko "breadcrumbs". These may be hard to find, but they're a great substitute for regular panko breadcrumbs. Otherwise use whatever your favorite gluten free breadcrumb substitute.
Equipment Used
We used a FINEX 12″ cast iron pan to finish the meatballs in the smoker with. (affiliate link)
More Meatball Recipes

Smoked Stuffed BBQ Meatballs Recipe
---