These Smoked Meatballs are stuffed with gooey mozzarella cheese, slowly smoked on the grill, and then finished with a BBQ sauce glaze. Smoked Stuffed BBQ Meatballs are the ultimate game day food or appetizer for your next gathering.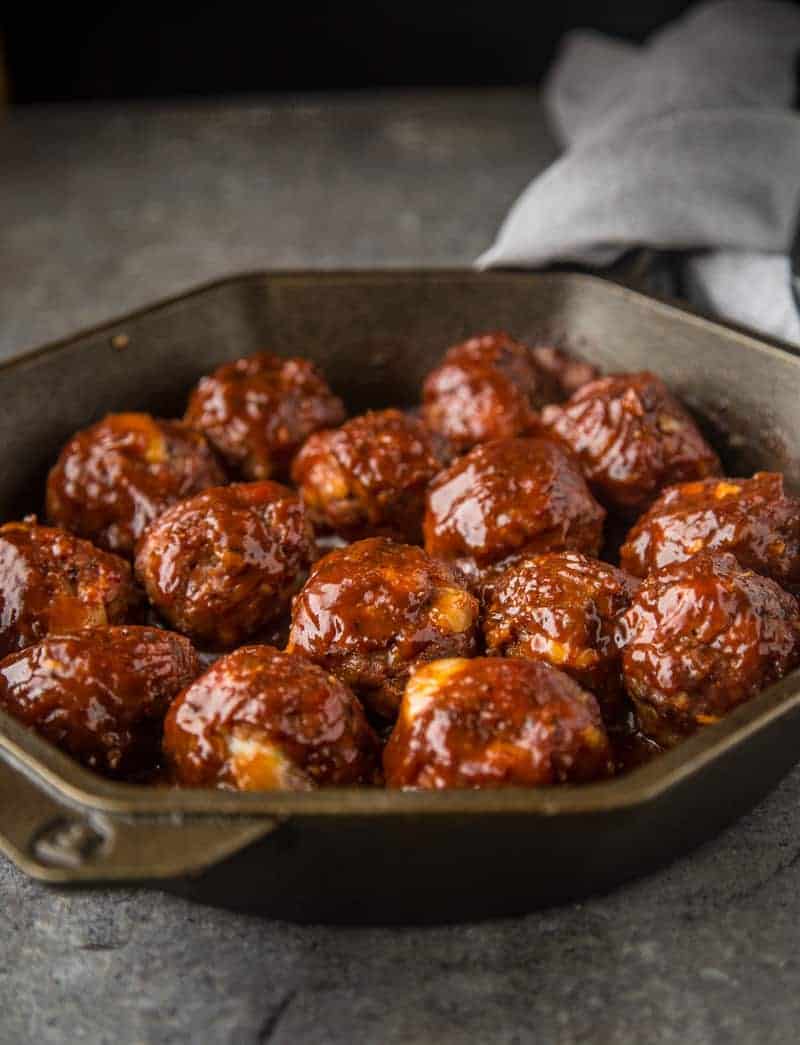 We don't mess around with meatballs around here. I like to pack them with bold or unique flavors. Whether we're going with our giant meatballs perfect for a meatball sandwich, or the holiday flavors of the smoked meatballs in a cranberry pinot noir sauce, or even lamb meatballs for a twist, we like to make them big BBQ flavor bombs. We also have a simple smoked BBQ meatball with our wine BBQ sauce if you are looking for something not stuffed.
Jump to:
Now smoked meatballs alone are fantastic. But if you want something fun and indulgent for game day, party appetizer, or heck just a Tuesday night dinner, these Smoked Stuffed BBQ Meatballs are absolutely delicious.
Ingredients
Ground Beef – We use 80/20 beef which is 80% lean and 20% fat.
Ground Pork – We like the combination of the beef and pork flavor.
Panko – We use a gluten free pork panko but regular panko in the same quantity are also fine.
Dry Rub – A seasoning of any kind adds a touch of flavor. We like our homemade ultimate dry rub which is a mix of sweet and savory.
Dried Thyme – The herbal and aromatic flavor make the meatballs really stand out.
Red Onion – Diced.
Garlic Clove – Finely diced.
Worcestershire Sauce – This adds a nice richness. You could also sub with soy sauce.
Egg – Helps the meat bind together.
Parmesan Cheese– This also helps the meat bind together as it melts while the meatballs smoke.
Mozzarella Cheese Sticks – Cut into roughly 1″ pieces (adjust to the size of your meatballs). You can use any mozzarella but the sticks make for easy preparation.
Barbecue Sauce – A rich sauce is glazed on at the end. Alternatively you can use our red wine BBQ sauce.
How to make Smoked Stuffed BBQ Meatballs
We start with the meat. In this case we're combining beef and pork for added flavor. Then adding flavor and binding in the form of our dry seasonings, liquids, and egg. For the cheese there are plenty of options (cheddar, mozzarella, fontina, provolone, comté, anything that melts well).
We're going with mozzarella, specifically store-bought string cheese. Why? Because it's so simple to take the cheese, cut it into small cubes, and stuffed it into that meat! Boom. Feel free to shred your cheese, or spend time cubing up large chunks of cheese yourself. But why when you can just take that long piece of string cheese and cut it. Easy stuffed meatballs, right?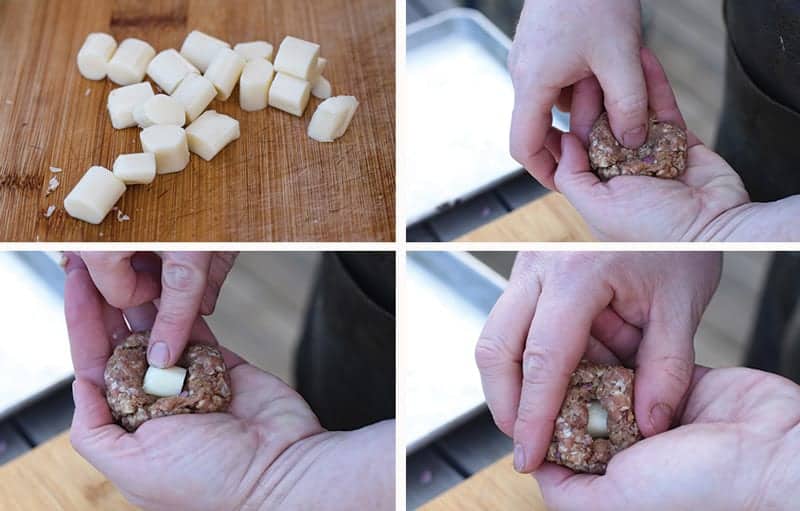 Just form your ball and make a little well in it (see photo above), and place your cheese in the well, then cover it up and reshape the ball.
How to Smoke Stuffed Meatballs
Place the stuffed meatballs on the smoker at 225 degrees Fahrenheit for 45 minutes, or until the internal temperature of the meatballs reach 155 degrees.
In this case we're smoking the meatballs on the Big Green Egg using apple wood. But these meatballs work great on whatever cooker you have!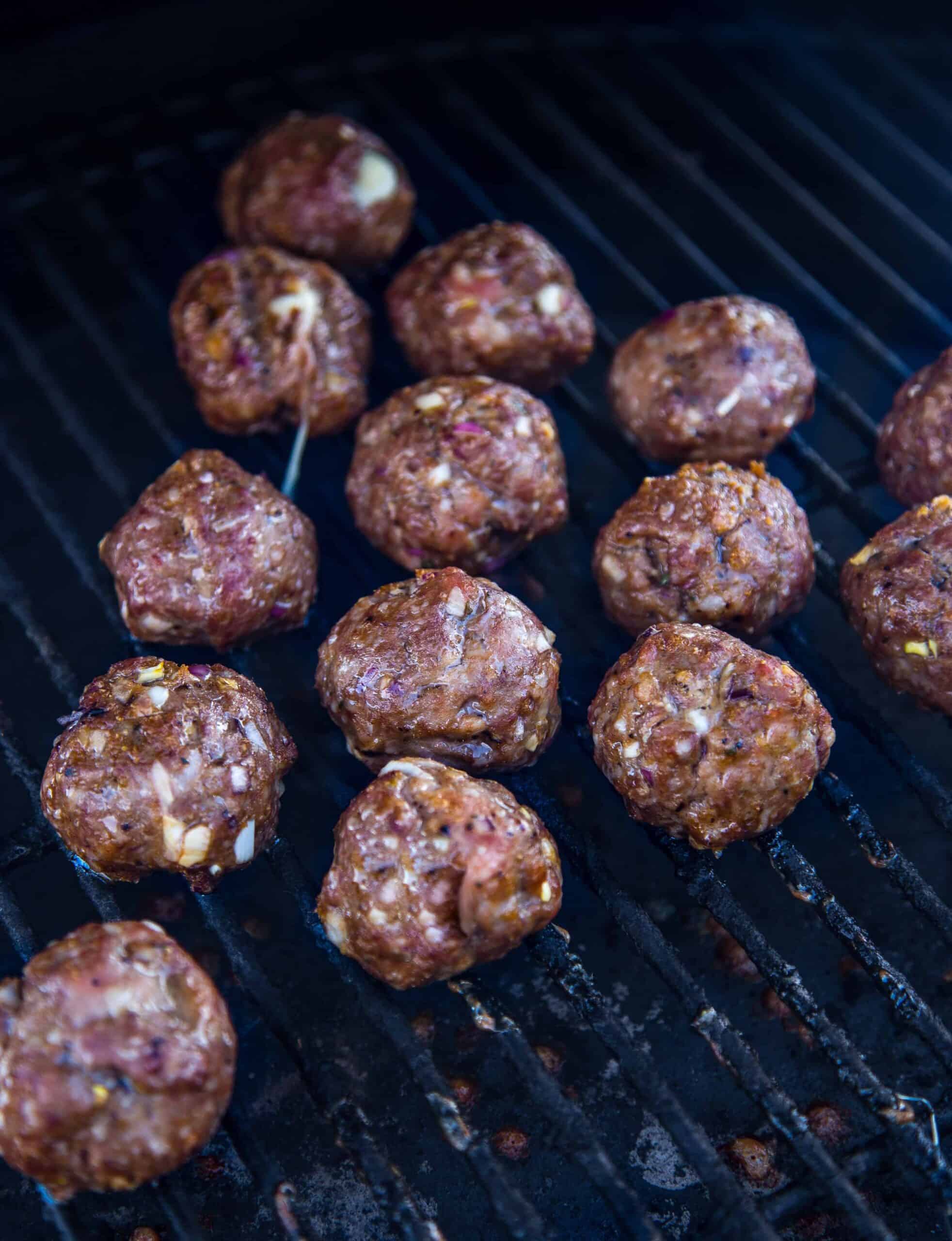 Once the meatballs reach 155 degrees internal temp, transfer them to a heatproof dish (a cast iron pan works perfect for this), and add your BBQ sauce. Gently toss the meatballs around (or use a large spoon) to get the meatballs fully covered in the sauce.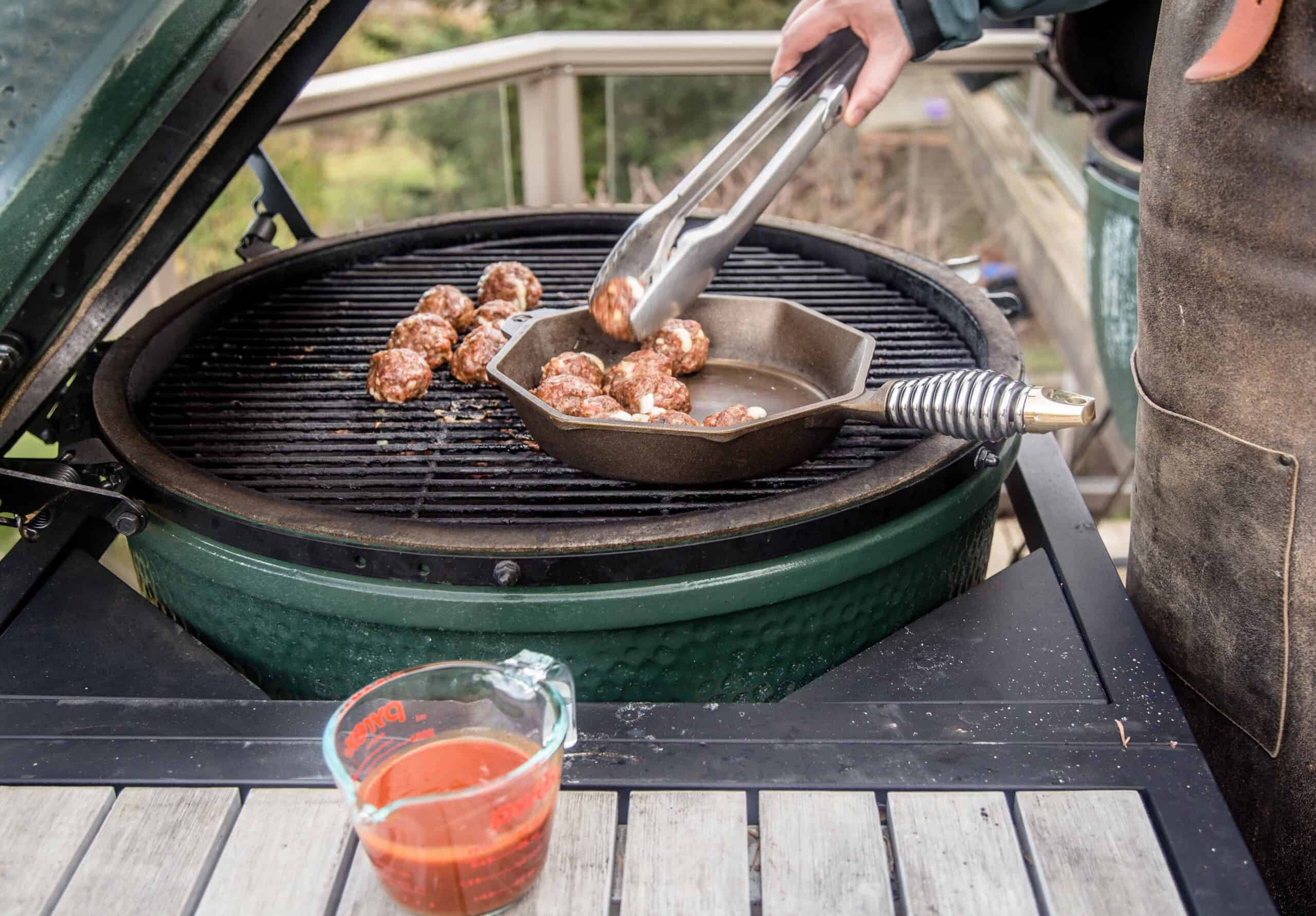 Then place back on the smoker and cook an additional 10-15 minutes, to let the sauce set. When do you know your meatballs are done? When they reach 160 degrees (F) using a good instant read thermometer. In this case you have cheese in the middle, so you want to be sure you are temping the meatball itself, the cheese will come up to temp faster than the meat.
Can you smell em?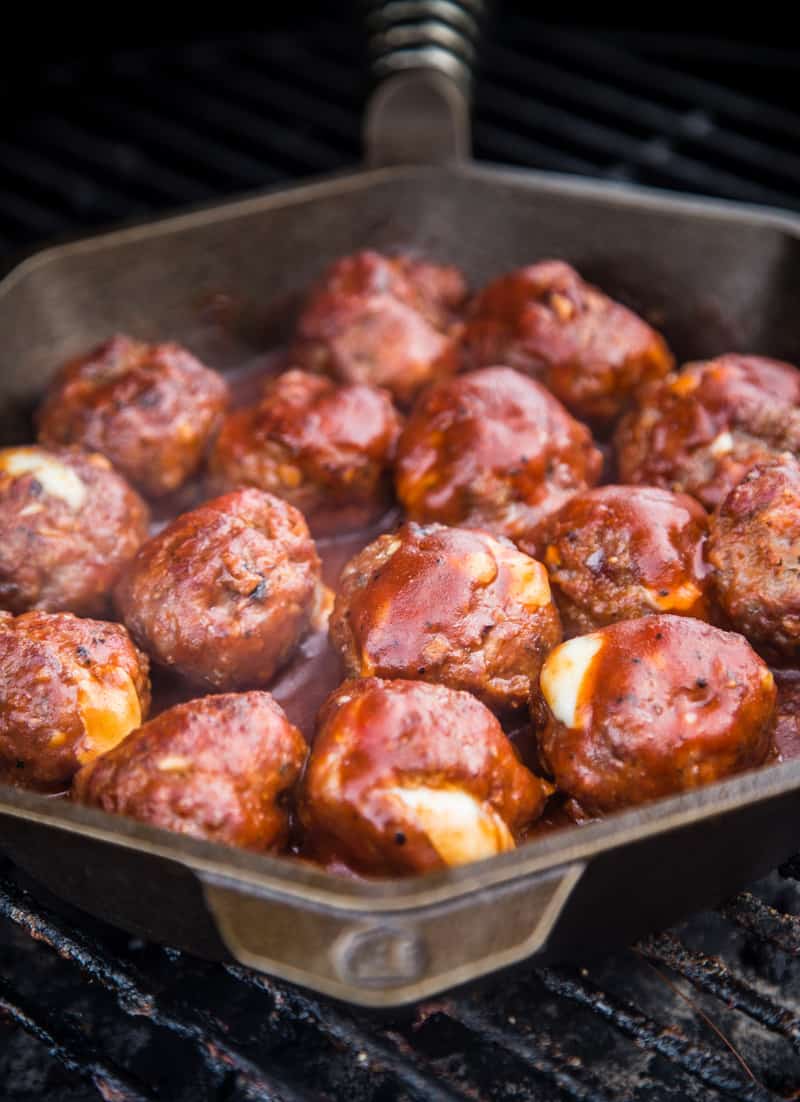 When they're finished, remove the dish from the smoker, and serve immediately.
You can serve directly from your dish, or transfer to platter.
However you choose to serve them, make sure to dig in while they're still warm to take advantage of that ooey, gooey, delicious, melted cheesy goodness.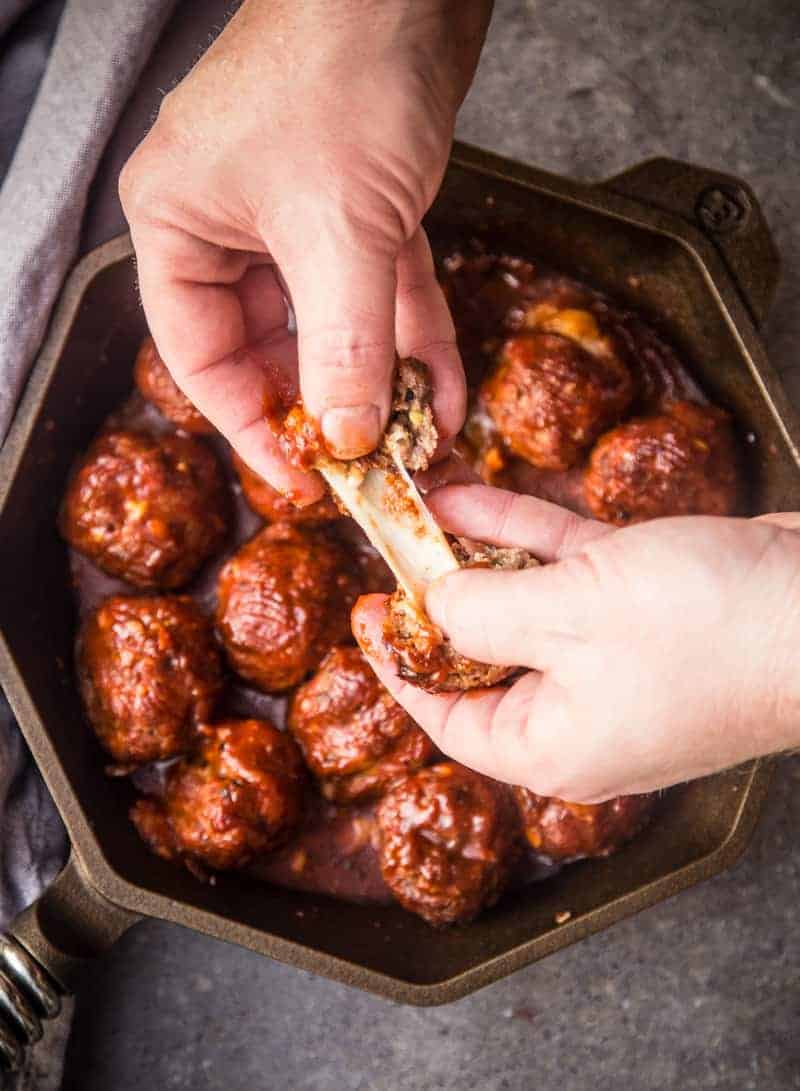 These are fantastic as a party food, but also make incredible sliders for a meal.
I think you're going to love these!
Gas Grill: You can modify this recipe with a gas grill using our guide on how to smoke on a gas grill.
Are these Meatballs Gluten Free?
They can be made gluten free by using pork panko "breadcrumbs". These may be hard to find, but they're a great substitute for regular panko breadcrumbs. Otherwise use whatever your favorite gluten free breadcrumb substitute.
Equipment Used
We used a FINEX 12″ cast iron pan to finish the meatballs in the smoker with. (affiliate link)
For measuring the internal temperature of the meatballs we use the Thermoworks Thermapen One instant read meat thermometer.
More Meatball Recipes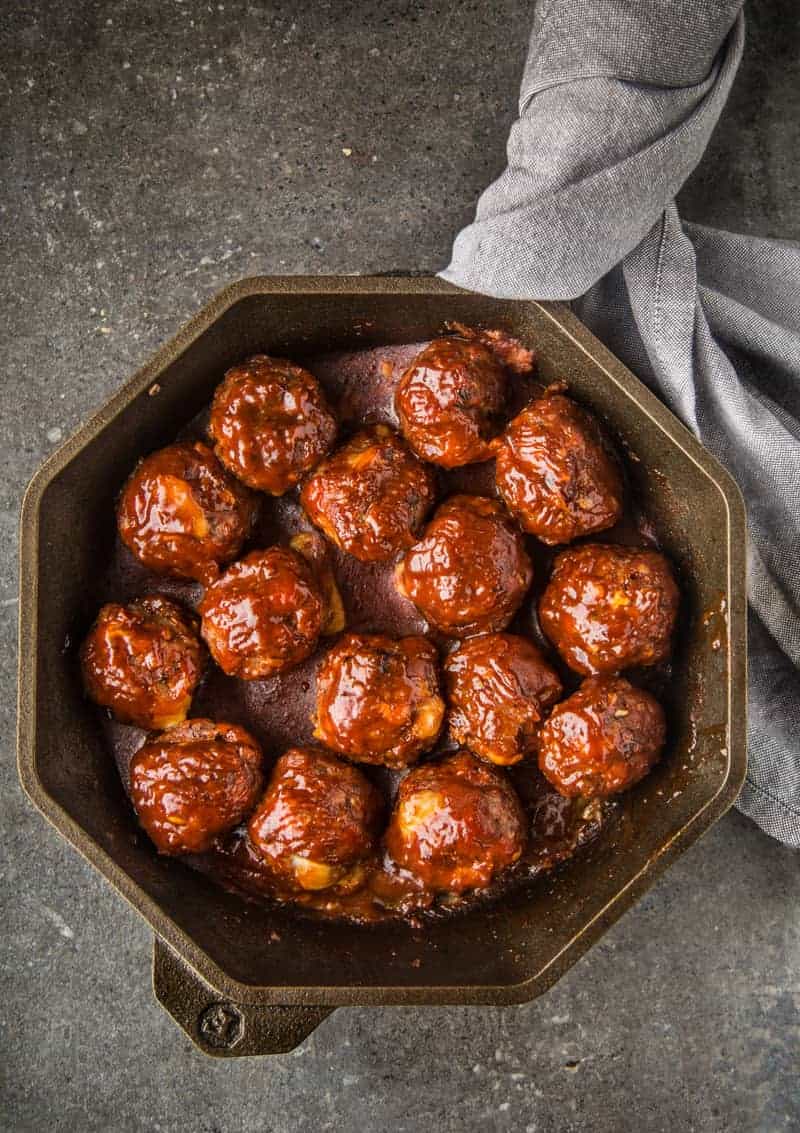 Mary (a certified sommelier and recipe developer) and Sean (backyard pitmaster) are co-authors of the critically acclaimed cookbook, Fire + Wine, and have been creating content for the IACP nominated website Vindulge since 2009. They live in Oregon on a farm just outside Portland.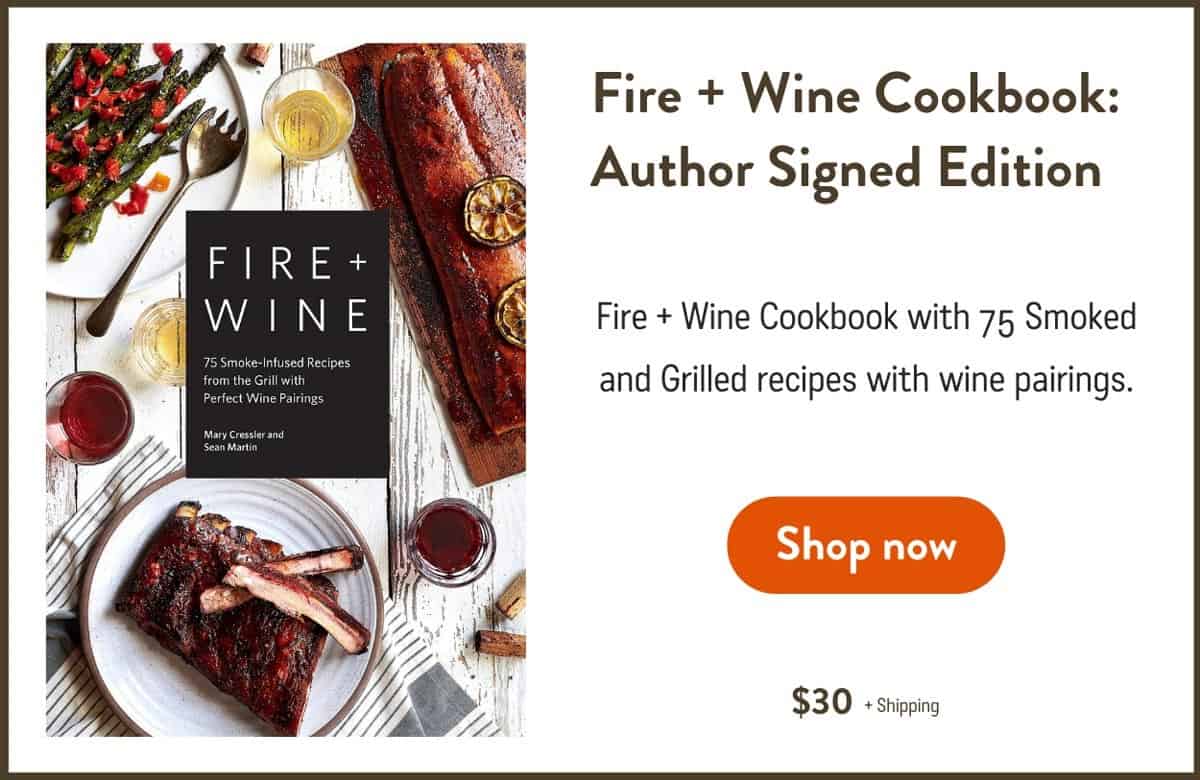 Tried this recipe? Give us a star rating and we would love to see! Mention @vindulge or use the hashtag #vindulge on all the social media handles. And consider subscribing to our newsletter where we drop all our favorite ideas and inspirations every week.
This post may contain affiliate links. This means if you click on the link, we may receive a small commission if you purchase through the link. We partner with brands we know and love and use and it helps keep the blog going!