This past Saturday Lady Hill Winery hosted a memorial for Cole Danehower, who passed away in August after battling late-stage pancreatic cancer. You can read more about Cole's life and a thoughtful tribute to him here.
I'm not here to write about his life, or explain what he meant to the wineries and winemakers of Oregon (he meant a lot!). I want to share what he did for local wine writers, or at least the impact he left on me; and why his legacy matters for the Pacific Northwest wine community.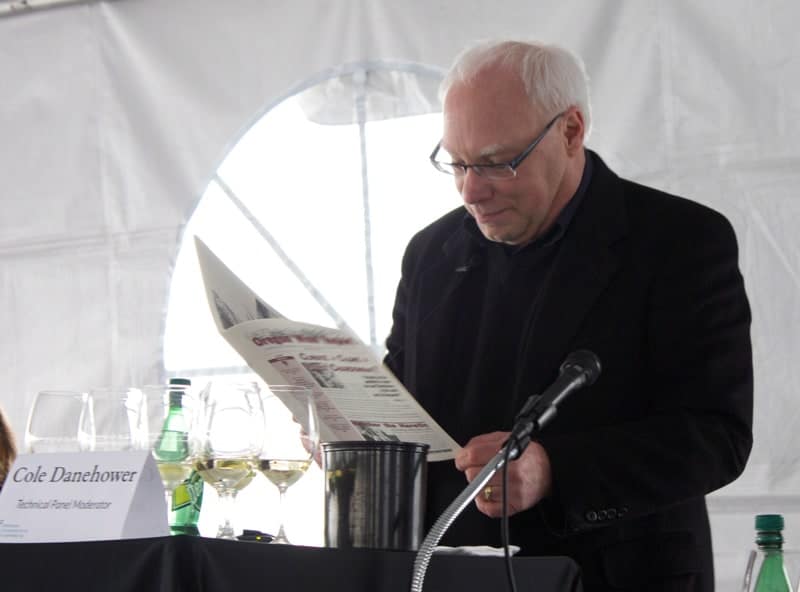 Cole Danehower moderating the 2014 Oregon Chardonnay Symposium
Cole was not only a tireless advocate for Oregon wine, but also a passionate, talented, and focused writer who not only had the ability to describe a wine with exquisite detail, but also explain the people, the story, and the emotions behind each sip. When looking at his credentials, such as the coveted James Beard Foundation Journalism Award, accomplished author, magazine publisher, you would never expect a man so humble, generous, and kind.
I first met Cole Danehower while I was working at a small winery out in the Columbia Gorge back in early 2009. Cole was an advocate for wineries big and small and went out frequently to meet with winemakers and taste through their wines. At the time Cole was the co-publisher of Northwest Palate Magazine, a popular print magazine that covered food, wine, and travel in the region. I was in the middle of studying for my Court of Master Sommelier Certified Sommelier exams and wanted to pick his brain about our regional wine and how to taste like a professional.
As we tasted through the wines, and I watched Cole diligently focused and taking thorough notes, I remember asking him, "So, how does this whole blind tasting thing you guys do at the magazine really work?" I was skeptical. "Do you really taste the wines 'blind'? How does that even work anyways?"
He turned to me and smiled his famous smile and simply asked, "What are you doing next Monday?"
"Nothing," I responded.
He then said something that would change my wine writing career forever, "Why don't you come to the magazine and taste with us. We will be reviewing wines all day for the next issue."
So I went.
And during that tasting I witnessed how he tasted wines. Cole's colleagues at the magazine would brown bag the wines in a separate room, and we would taste flights of wines (in specific categories) throughout the day. There was a team of anywhere from 3-5 people providing feedback on the wines, though Cole and Cameron Nagel (the magazine's founder and co-publisher), had final say on the wines ultimate score. As we tasted flight after flight they would always come around to me and ask my thoughts on each wine. I wasn't worthy to share! I knew so little at the time about how to describe a wine, or what to look for in these wines.
"Uh, I get some apples, and pears."
"What kind of apples," Cole would ask, encouraging me to dig deeper.
"Um, red apple," I might respond.
"What kind of red apple?" digging deeper.
"I guess it kind of reminds me of Thanksgiving apple pie. Baked red delicious, with some cinnamon and brown sugar."
"That's better."
He had such a gift for describing wines in a way that you would really get a sense of what the wine was without ever even tasting it. And he would encourage others to really focus while tasting.
I learned an immense amount that day. But that wasn't it. He invited me to come back again the next time they tasted, then again, and again. I joined their tasting panel on and off for the better part of a year, whenever I was available, tasting wine with their panel of experts. You can't buy that kind of mentorship.
When I was looking back at my books of notes (I saved all my notebooks from my days of tasting with that talented group), I found my notes from that very first day of tasting with them, back in early 2009.
One of the first flights we tasted through was Rieslings from Oregon. My own notes were pretty basic, but Cole's descriptions were unlike anything I'd ever heard anybody describe Riesling (ripe Bosq pear, juicy peach, dried lime peel, shortbread cookie, petrol, austere, etc. — he was always very specific). This guy knew Riesling. When I asked him about this grape, he engaged in a detailed explanation on the importance of Riesling to the region and how well it can flourish here. This man was so passionate about his Riesling! At the time I had never met anyone get so excited about such a simple grape (which is what I thought about it at the time. I've since changed my mind entirely!). One wine on that flight was a 2007 Brandborg Riesling from Umpqua Valley. Brandborg is a producer Cole introduced me to, and one of the best Riesling producers in the state.
We were asked to bring a bottle of wine to the memorial that reminded us of Cole. There were many that reminded me of him. But I decided to bring a 2012 Brandborg Riesling, which reminded me of that first time I tasted wine with him.
Being able to sit with the panel at Northwest Palate Magazine and learn from one of the best writers and tasters in the region was a true gift, and I don't know if I would have had the confidence to pursue what I am doing now without his encouragement. Cole didn't have to keep inviting me back week after week, but he did. That's the kind of guy he was. He was incredibly generous with his time and his knowledge. He was passionate, curious, and truly gifted with words. He was a gift to our region. As a writer, nobody will ever be able to fill his shoes. But we can do our best to keep that passion for Northwest wines alive and work our hardest to share the stories of the people and the wines that make up this great region.