A hearty Wild Mushroom Soup is the ultimate comfort food in our house. This recipe calls for both dried wild mushrooms soaked in sherry, and cremini mushrooms for a delicious, savory, earthy soup.
This soup was also adapted from our very first cooking class we ever took, and in some ways launched our food and wine journey. Read more for our take on an amazing Wild Mushroom Soup with Sherry and Thyme.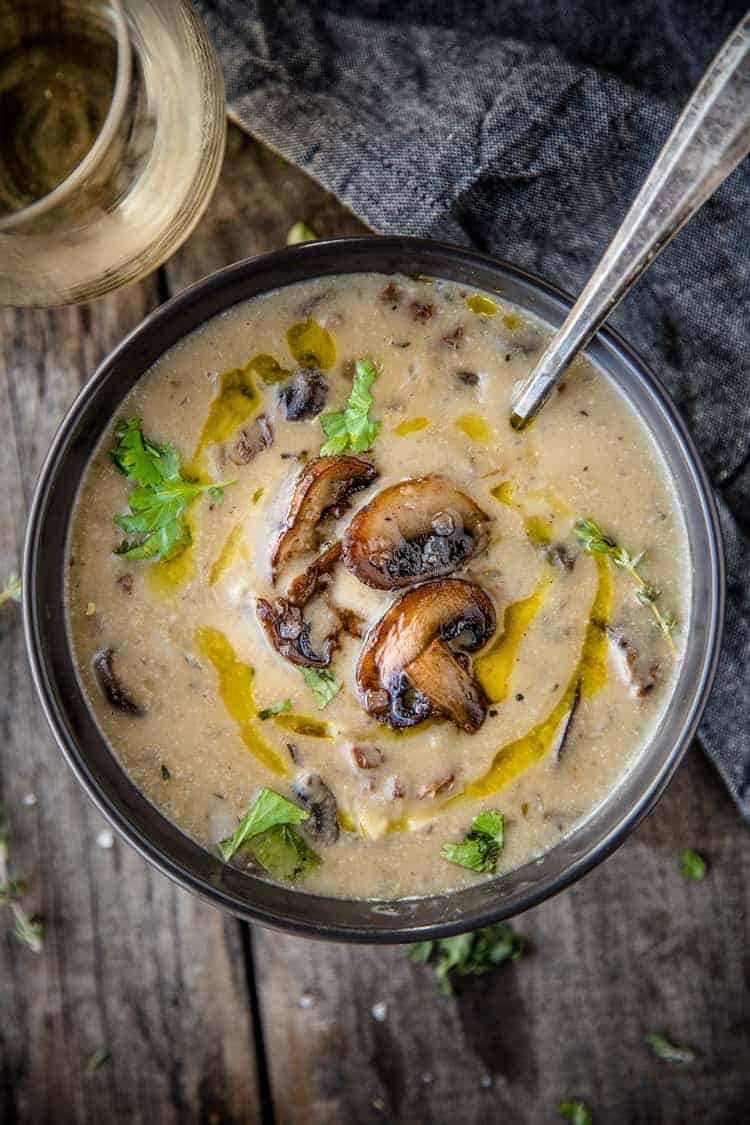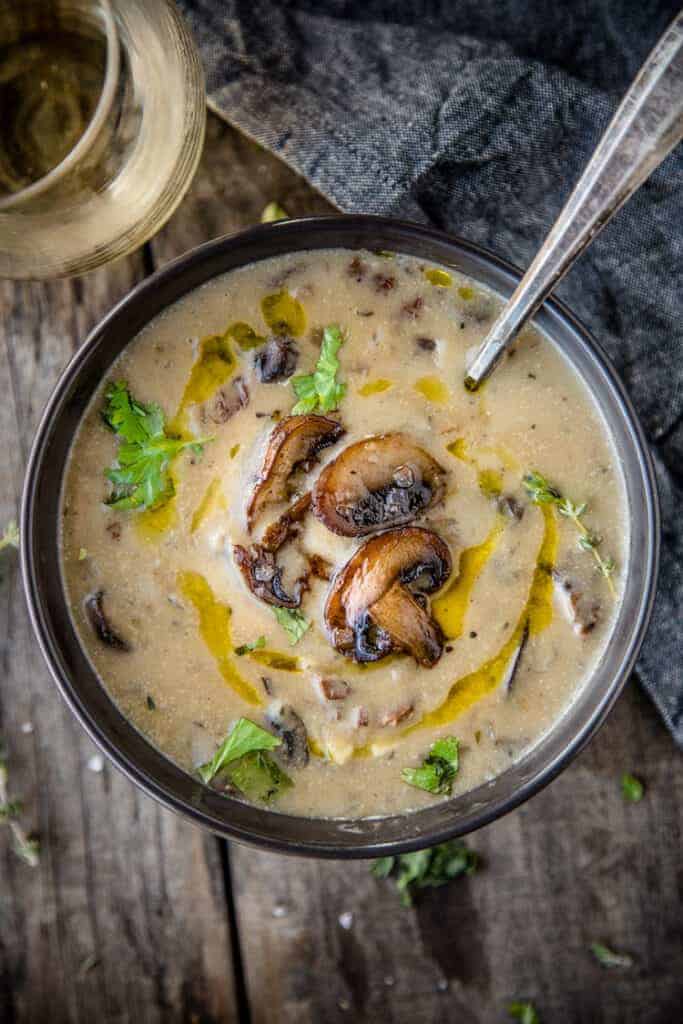 Jump to:
Background
Once upon a time after Sean and I first moved in together (circa 2003-ish), we were living in San Francisco and his birthday was coming up. Neither of us were very good cooks at the time, and we were also struggling to get by (I was a full time graduate student, and also worked full time directing an after school program, and taught classes part time at the university… we were pretty busy!). So I decided to buy sean a cooking class. Secretly I just wanted him to learn some skills so he could cook great meals for me after a long day. 😉
The class was called "Soups, Stocks, and Sauces" and was meant to teach the fundamentals of, well, liquids. He came back from the class empowered and excited to cook me a soup he learned how to cook in class. Needless to say, a simple wild mushroom soup was the first thing he learned how to cook with confidence. We've since changed it up, a lot, but the fundamentals of creating a soup from scratch remain the same.
It was truly the gift that keeps on giving! Teach a man to fish…. ok, let's move on.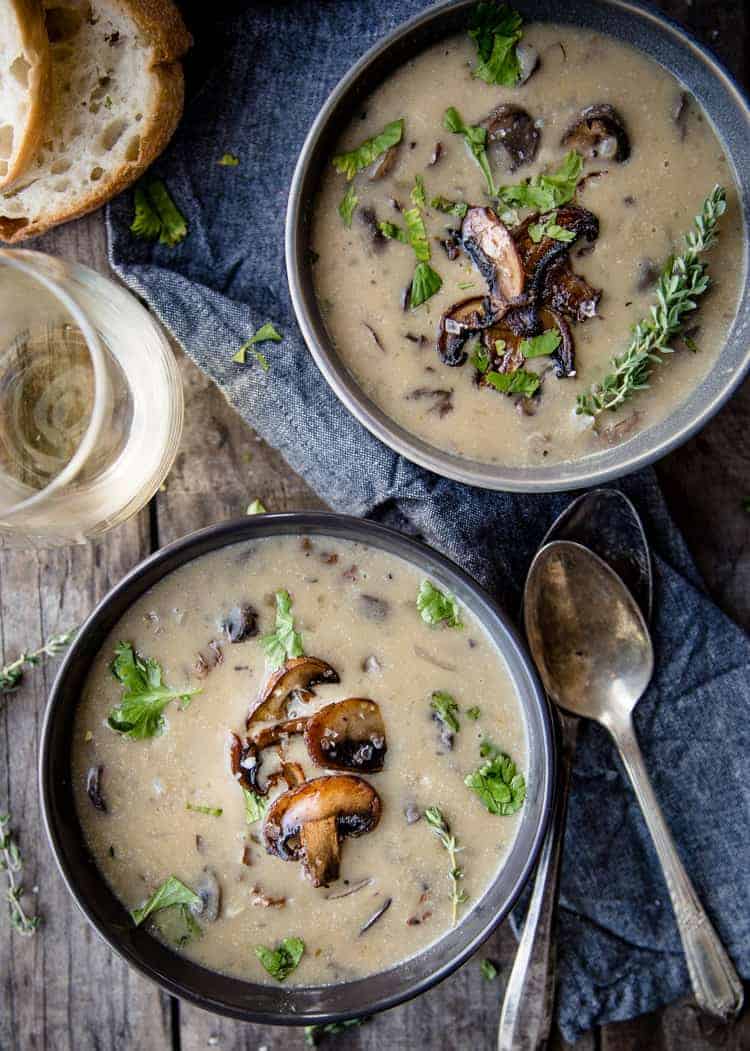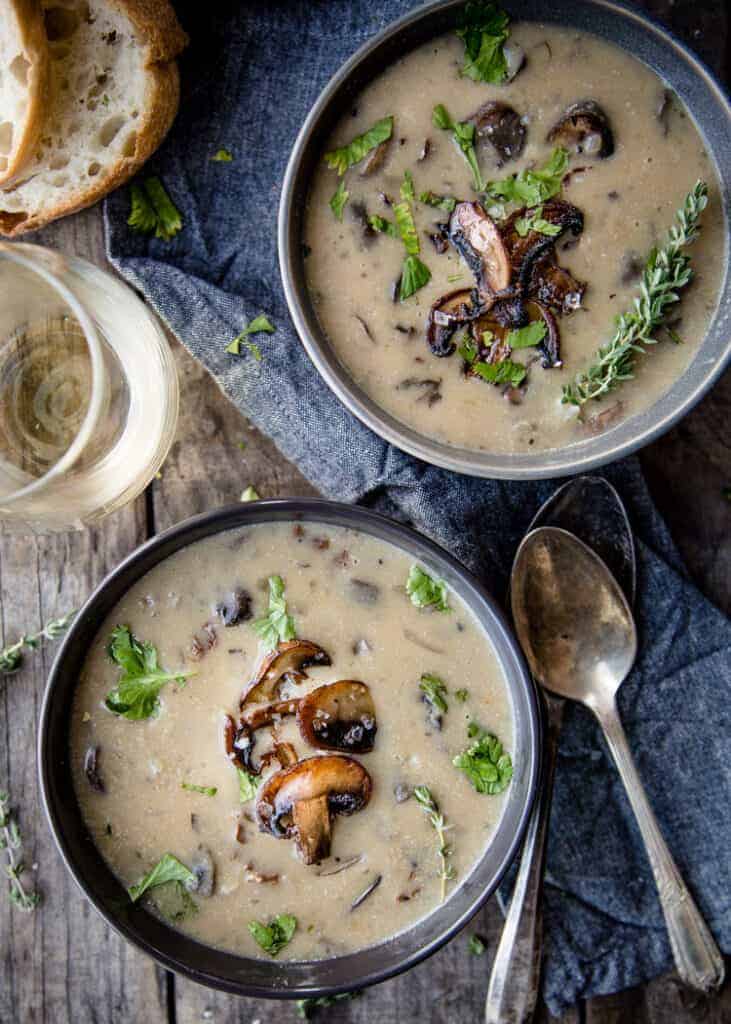 Living in the Northwest we also have a ton of access to wild mushrooms. There are seriously foragers all over the place and the farmers markets are full of them. We love using a combination of different mushrooms for flavor. Feel free to adapt the mushrooms to whatever you have in your area.
What Are Wild Mushrooms
Wild mushrooms are simply mushrooms not cultivated by humans (i.e not grown or farmed). They're found in nature. In this soup we start with wild (dried) Chanterelles, Porcini, or sometimes Morels.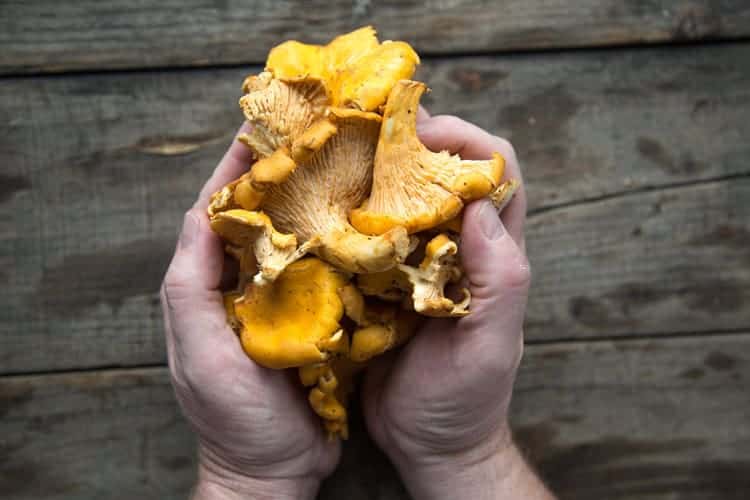 We also mix in some fresh Cremini mushrooms, as we're doing in this version. A mix of both. Cremini mushrooms are simply the baby or smaller version of Portabello mushrooms and can be wild or cultivated (but what you find in the stores are usually the cultivated versions).
How to Store Mushrooms
Store in a brown paper bag for best results. If you buy mushrooms wrapped in plastic, then transfer them to a brown paper bag to absorb the excess moisture. I learned this trick from one of the largest mushroom producers in Washington state.
Eat as soon as possible from purchasing. You can store mushrooms in fridge for roughly 4 – 5 days and then they will start to lose their freshness.
Do not wash/clean mushrooms until you are ready to use them
How to Clean Mushrooms
The most important rule to mushrooms is to avoid them from getting wet. When cleaning the potential dirt from the mushroom the two easiest methods are a dry or slightly damp paper towel, or using a kitchen towel.
Place the mushroom in a dry or slightly damp paper or kitchen towel.
Brush the cap of any dirt, and gently roll the mushroom to remove the stem.
Store dry prior to cooking.
How to Make Wild Mushroom Soup
The steps to making a wild mushroom soup are important in order to avoid the texture of the soup becoming unpleasant. If you add the liquid first, the texture of the mushrooms will be soft and almost gelatinous. We generally follow this order:
Saute onions and mushrooms so they are slightly browned
Make a roux
Add liquid and flavoring
Finish by tempering in a cream – in our case crème fraîche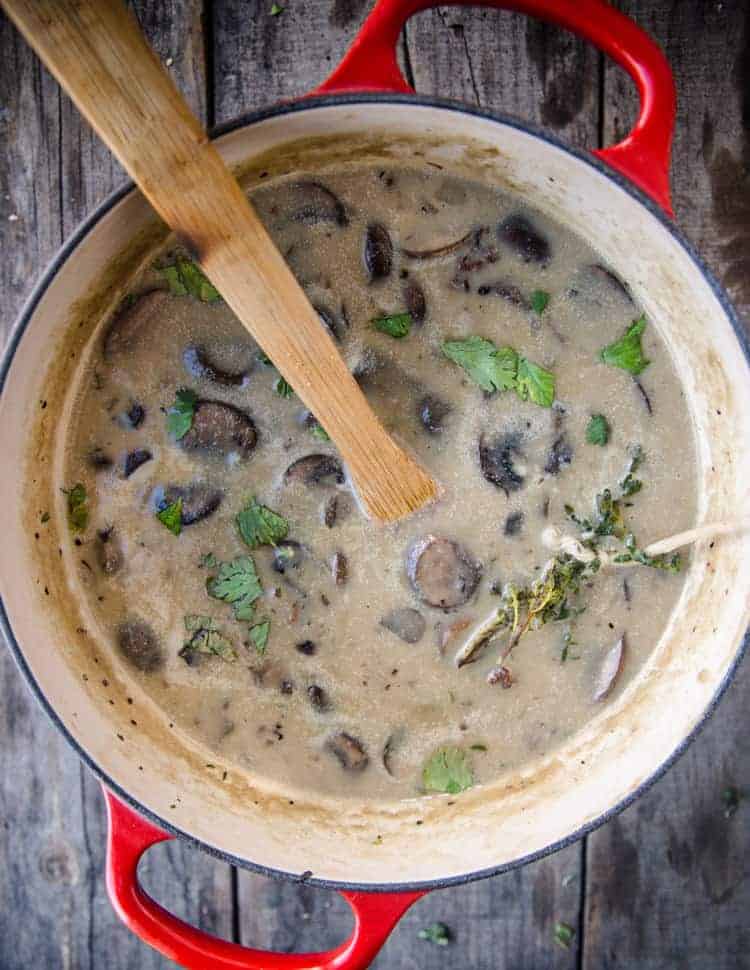 We add a touch more flavor by adding a good quality Sherry (NOT "COOKING SHERRY"!). Sorry for yelling, but the key is to find a Sherry that you would actually sip yourself (if you wouldn't drink it, don't use it). To add the Sherry flavor we re-hydrate the dried mushrooms with the sherry and then pour into the soup as part of the liquid after they have re-hydrated.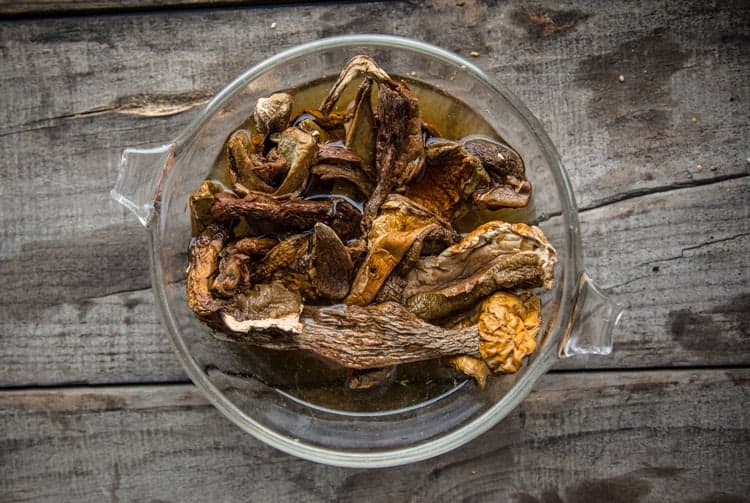 We finish with a nice crusty bread. For an added bonus, dice up a few fresh chanterelle or cremini's and fry up in butter as a nice topping.
Wine Pairing for Mushroom Soup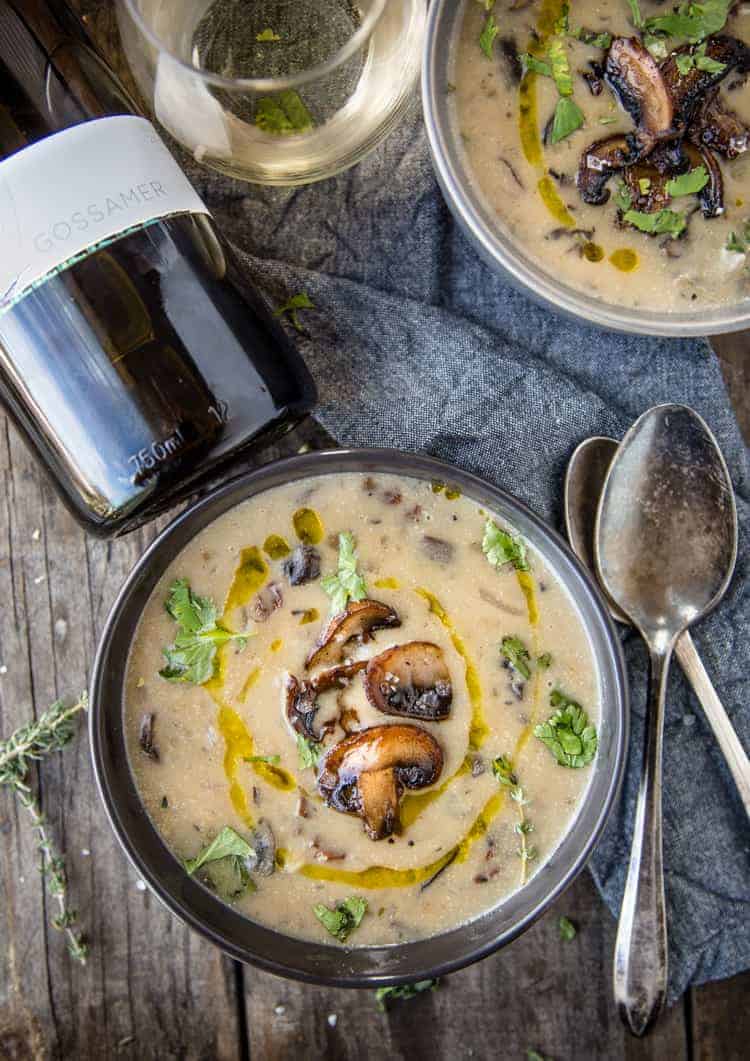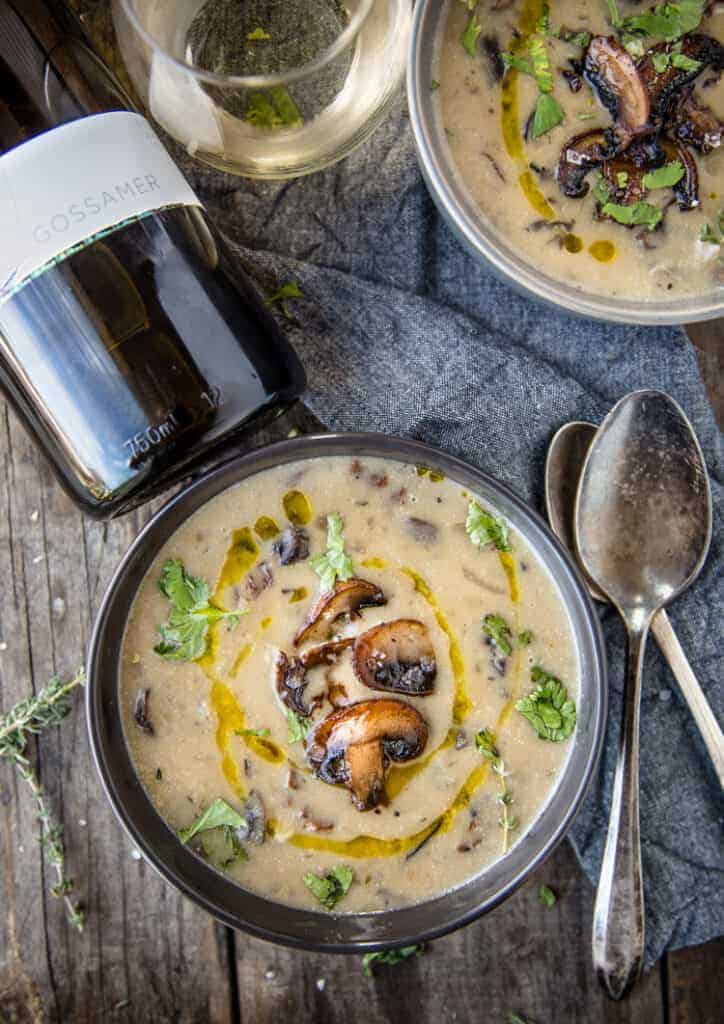 This soup is slightly creamy from the crème fraîche mix, and very savory from the earthy mushrooms and sherry. The creamy textures and flavors are a fantastic match for a barrel fermented Chardonnay.
You can also try it with white Rhone blends too. The style of wine has the perfect balance of fruity richness, savoriness, and a touch of spice that was fantastic with the soup.
If you can't find this small production wine, look for a new world Chardonnay or Rhone Style Blend from Washington State or California. If you prefer a red wine, you can't go wrong with an Oregon Pinot Noir for this.
More Soup Recipes