A quick, easy, soul-soothing, cold-calming, delicious Smoked Salsa Verde Chicken Soup for when you're not feeling well. And three ways to prepare in advance of cold season.
This post was sponsored by Albertsons. As always all opinions, statements, and recipes are my own.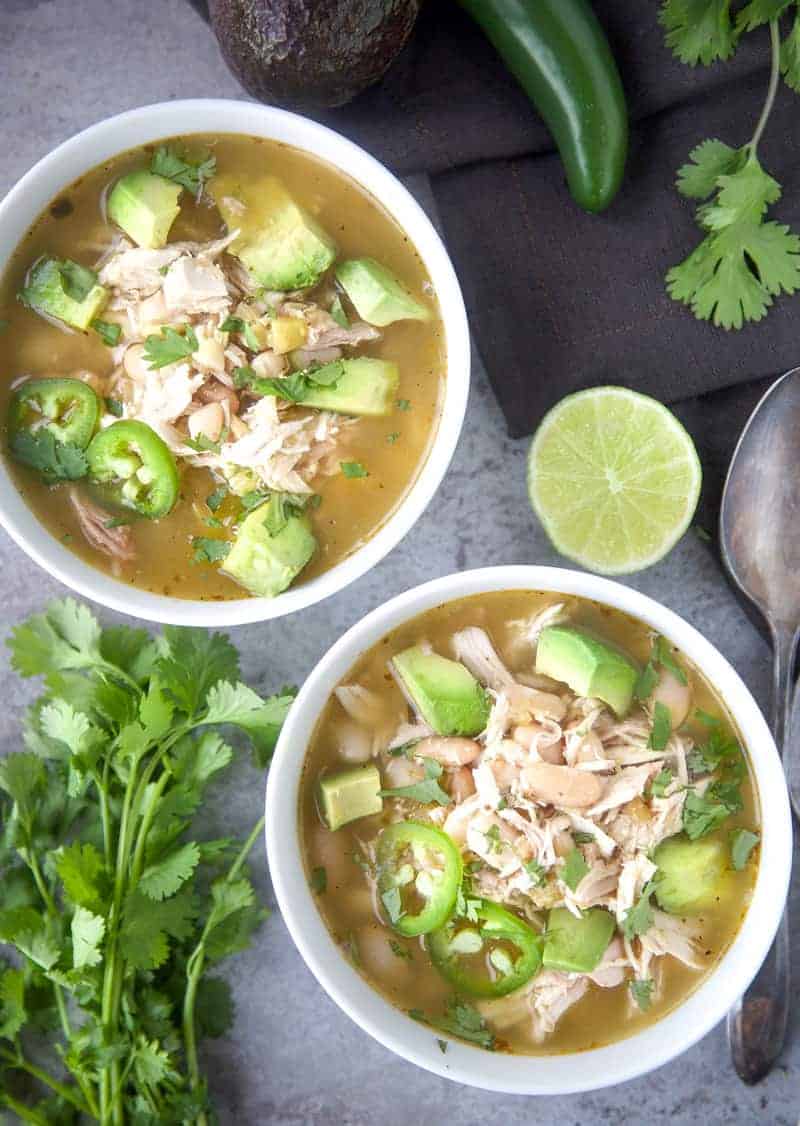 I have bad news, friends. Cold Season is here!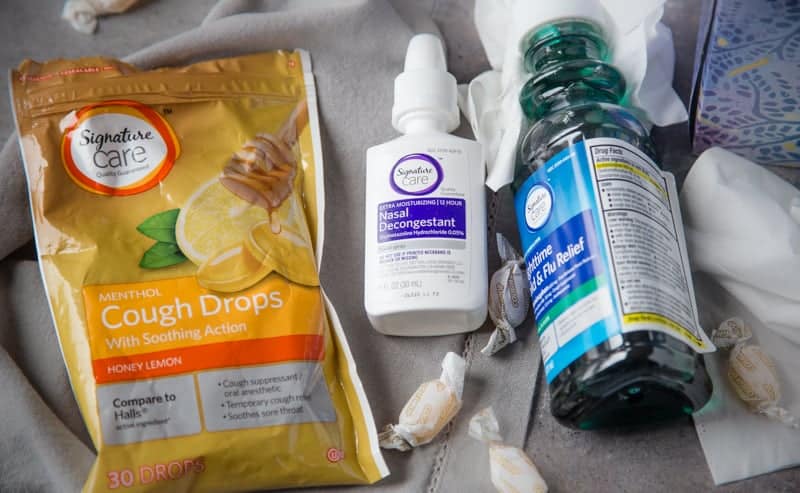 Have I ever told you how I spent most of last year cooped up with the plague? THE PLAGUE I tell ya! Okay, so it may not have been that dramatic, but it felt like it. It was the typical, my-kids-started-kindergarten-and-brought-home-all-their-germs story. Only they never got sick. They gave it all to me. Every few weeks I came down with cold after cold after cold. All the way into spring.
I tried everything to prevent these from reoccurring. I sought all of the natural remedy advice from friends; I used a Neti Pot, I used essential oils, probiotics, exercise, you name it. But honestly the only things that really worked was drugs. Yup. Good old-fashioned meds. Or at least they were the only things that brought me relief. I'm pretty sure most doctors will explain that all colds must take their course and that there is no real "cure." But instead of prolonging my colds, I found ways to bring me relief in the form of nasal sprays, cough medication, and sinus pressure relief (not to mention, of course, hot toddies!). And soup. Lots of soup.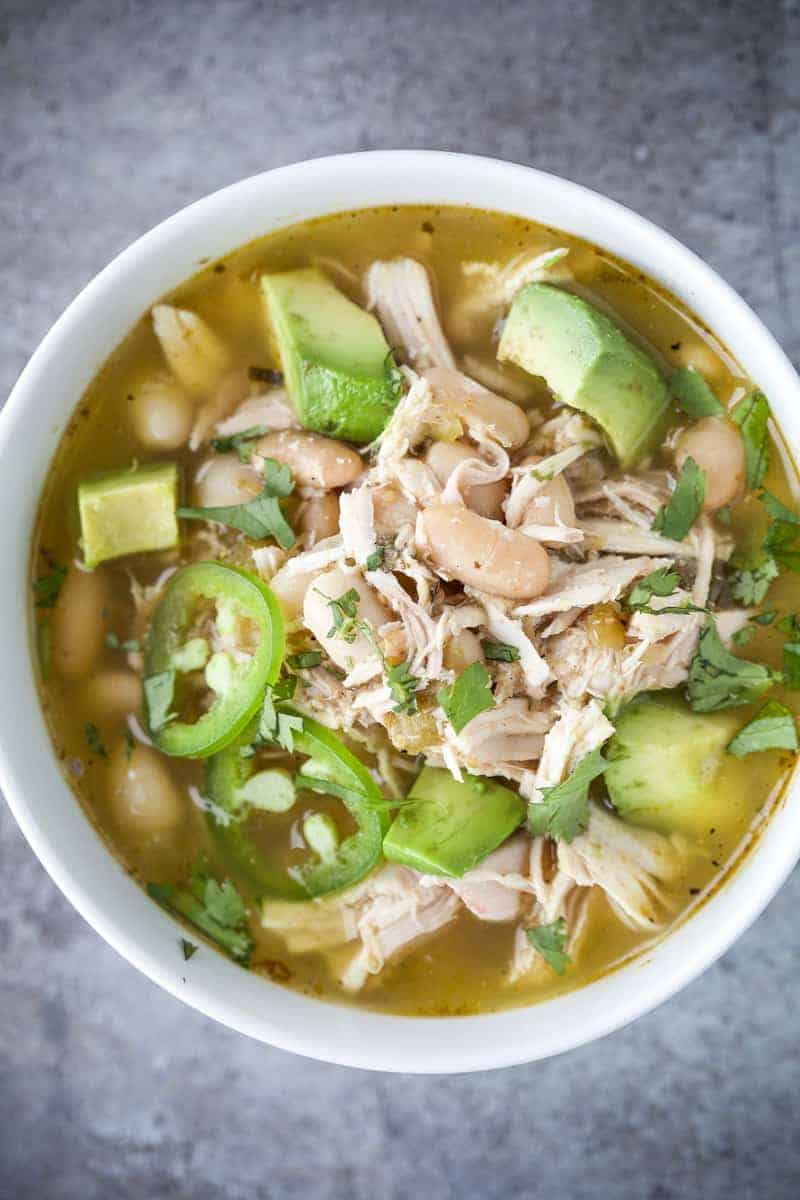 There's something to be said about a warm chicken soup when you're sick. It's the time-honored thing to eat when you're under the weather, right? My mom is the queen of soup in my family. She's the soup guru and the person I seek out for inspiration. And as you may know she's the salsa queen, which is why she's the perfect inspiration for this soup.
And speaking of my mom, funny side story, she spent her career working at Albertsons. She's retired now, but growing up it was she who took care of me when I was sick. And she always knew how to make me feel better. So now whenever I get sick, I turn to the store that never let me down as a kid for my cold relief. I know I know, I sound like a cheesy commercial, but it's totally true. Hear me out! Now that we're in the country, the Aloha Albertsons is actually the closest grocery store to us (which in turn makes me think about my mom all of the time)! And that's where I will go should I be plagued like I was last year. But since I'm still a good 15 minutes away from the store I made sure to stock up this year on all my potential cold needs for my family and myself.
And you can be sure if and when a cold hits, this soup will be right by my side.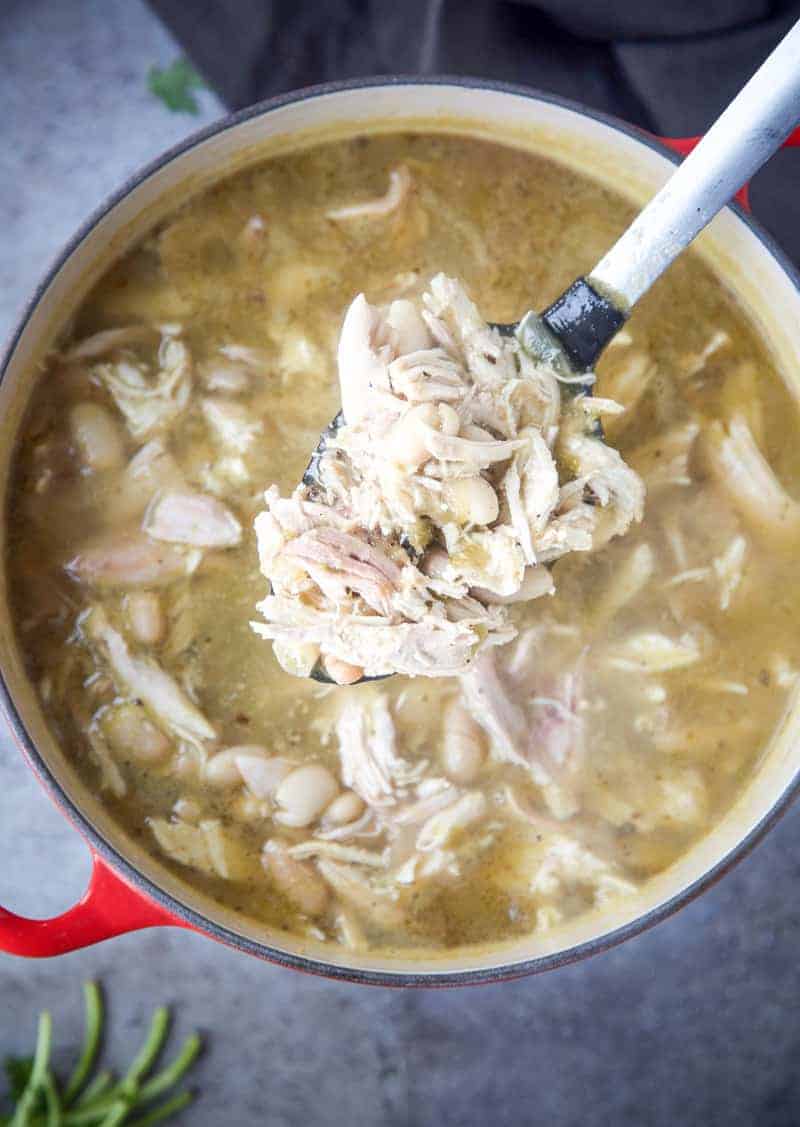 So this year, instead of letting cold season throw me off guard, I'm going to be prepared.
I've got my lineup of my favorite cold remedies prepped — like their Signature Care™ Nasal Decongestant. This one is my fav! — so I don't need to drag myself out of bed and into town when I'm feeling ill.
Signature Care is a brand that's exclusive to the Albertsons Companies family of stores, including Safeway, ACME Markets, Jewel-Osco, Vons, Pavilions, Randalls, Tom Thumb, Shaw's, Star Market, United Supermarkets, Market Street, Albertsons Market and Carrs/Safeway. They have all the same active ingredients as the national brands, but at a better value. You can be assured that these products are pharmacist recommended and come with a 100 percent satisfaction guarantee so you get your money back if you're not satisfied. What could be better than that?
And I'm also going to make sure I have everything I need to make this soup when I'm craving it.
There are three ways to prep this soup in advance. And remember, great ingredients going in, means great flavor coming out.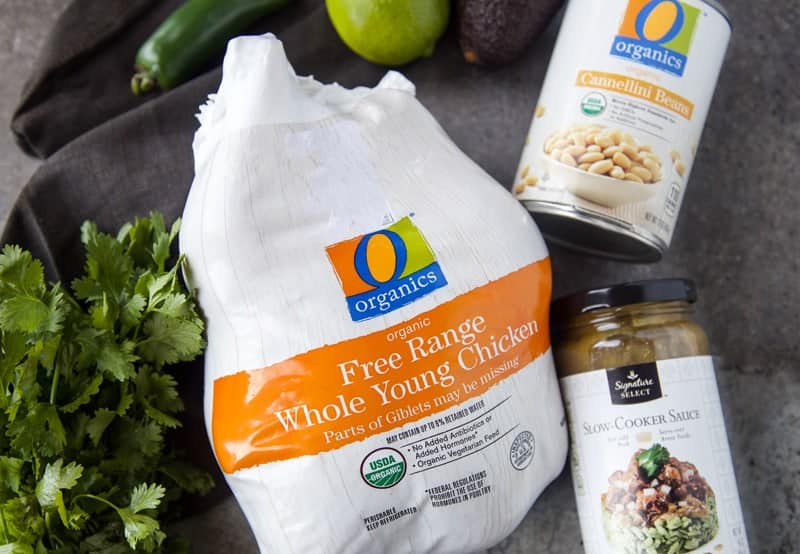 Much like preparing for a cold by having all of your cold meds ready to go, I also prepare by making sure I'm fully stocked with smoked chicken stock so it's ready when I need it!
Whenever I smoke a chicken I make stock with the leftovers. It's pretty easy to do, and a great way to salvage the smoky flavors of that chicken carcass. Just make the stock in advance and freeze in batches of 2-cup increments. I always have smoked chicken stock in my freezer for soup days!
Once you have the smoked stock, you can just use the stock and mix it with the shredded chicken of your choice, and your favorite verde salsa and the soup can be prepared in less than 15 minutes.
This salsa is DA BOMB! It's so good. And it works so perfectly in this soup. If you use this then you don't need to have any smoked stock. This gives you all the smoky flavor you need. Then use the chicken of your choice (store bought rotisserie works well if you don't have time to smoke a chicken on your own).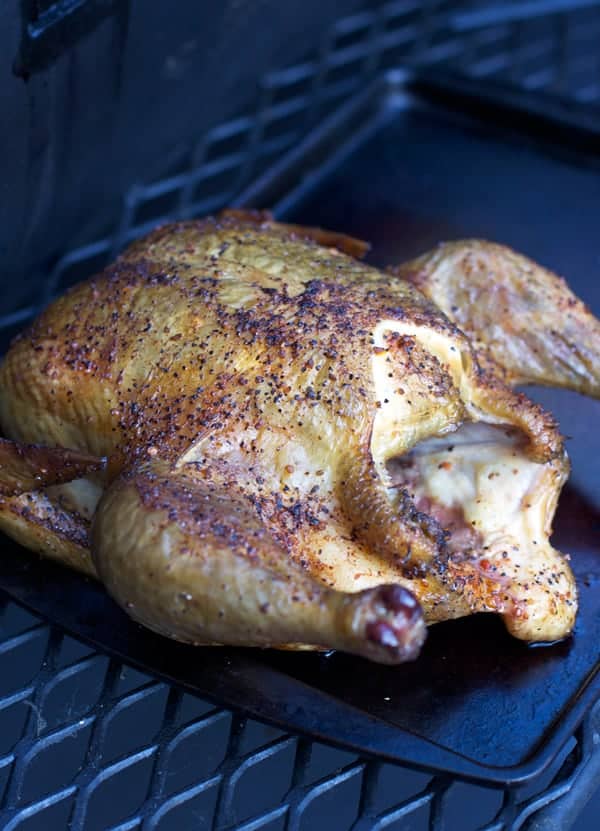 I smoke a whole roaster chicken, using this recipe, using the O Organics® chicken. Then mix it with your favorite store bought salsa verde. This will take the longest, but you can use any kind of stock and any verde salsa. Speaking of salsa verde I found Signature SELECT™ Slow-Cooker Chile Verde Sauce at Albertsons and it works perfect in this soup. It's meant to be used as a marinade, so it's much more rich and condensed in flavor than a typical salsa verde. But that power and flavor is what you need in the soup because it gets diluted with stock. So instead of using 24 oz of salsa like our usual recipe, I can use one 16 oz jar of this marinade. It's a fantastic substitute.
So, if you're feeling up for it (and for best results!), smoke the chicken you plan to use for the soup. But again, if you're sick you're all, "Mary, I ain't got time to smoke a whole chicken, you silly girl!" then use any of the above shortcuts and the soup is just as delicious!
All the rest of the ingredients are easy and you likely always have them on hand. Finish with some fresh lime and creamy avocado and you've got my favorite soup ever, inspired by my salsa-loving soup-making mama who used to take good care of me when I would get sick as a child.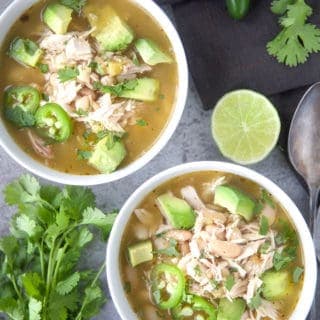 Smoked Salsa Verde Chicken Soup
Recipe for Smoked Chicken Salsa Verde Soup. A quick, easy, soul-soothing, cold-calming, smoky delicious soup for when you're not feeling well. And three ways to prepare in advance of cold season.
Print
Rate
Ingredients
4

cups

smoked chicken stock

or regular chicken stock, see notes

4

cups

smoked chicken

shredded (or other chicken, see notes)

2

cans white beans

sometimes called Great Northern Beans, drained and rinsed

1

jar Signature SELECT™ Slow-Cooker Chile Verde Sauce

from Albertsons

½

teaspoon

salt

to taste

1

lime

juiced

Optional toppings: shredded cheese

sour cream, avocado, fresh cilantro, crushed tortilla chips
Instructions
Bring a large pot to medium heat. Add the stock, then shredded smoked chicken, beans, and verde salsa. Simmer for 15-20 minutes.

Before serving, squeeze the juice of one lime into the pot.

Cut any remaining limes into wedges and use for serving.

Serve with your favorite toppings; shredded cheese, sour cream, avocado, fresh cilantro, crushed tortilla chips, more lime, you name it.
Notes
See post for alternative methods, using smoked stock, smoked whole roaster chicken, Vindulge Smoked Tomatillo Salsa, as alternatives. This is a very adaptable recipe. You can mix and match based on what you have at your convenience.
Ok, so going into this cold and flu season, what are YOUR favorite remedies?
I am so very very determined to NOT get sick this year!

This post was sponsored by Albertsons. As always all opinions, statements, and recipes are my own. My history with Albertsons runs deep! I'm a lifelong fan!

---