This hearty Lentil Soup made with Smoked Sausage, Bacon, Red Wine, and Vegetables has deep smokey and savory flavors, is comforting, and completely soul-soothing. It's the perfect soup for a cold and rainy afternoon.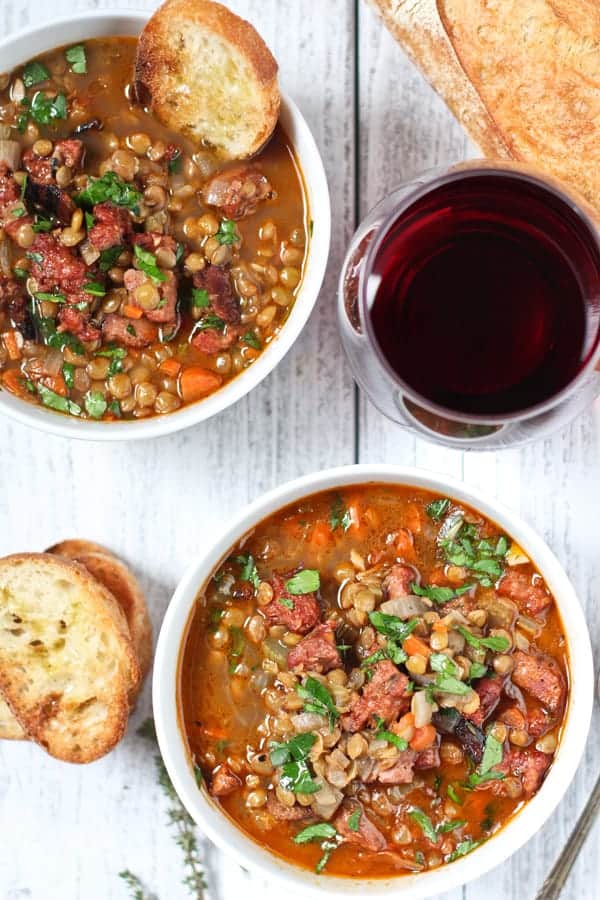 A Tried & True Soup Recipe To Feed A Crowd
This soup is a winter staple with our catering company, Ember and Vine. We created it for WillaKenzie Estate's "Pigs 'n' Pinot" Party years ago — An event with over 400 people! We knew we needed something comforting, delicious, easy to make, and would please a huge crowd. This was it!
This soup starts with smoked sausage, then those flavors ease their way into a hearty lentil soup with vegetables and bacon.
It was a "Pigs" and Pinot party after all. Bacon was a must!
After cooking this soup for hundreds of people, and hundreds since, we can say, with 1,000% honesty, this is a tried and true lentil soup recipe that large crowds and small families absolutely love.
This soup is perfect for a cold and wet Pacific Northwest evening. Throw in a snuggie, some UGG boots, and a roaring fire and I'm golden!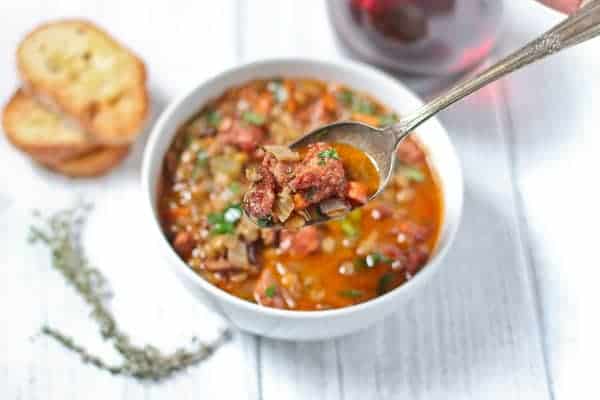 Best Sausage to Smoke for Lentil Soup
This Lentil Soup Recipe is actually quite simple, and contains ingredients you likely already have in your pantry and fridge.
The only caveat? In order for this dish to really stand out and make peoples' jaws drop is that you've gotta use good quality sausage!
For our events we use bulk seasoned sausage with pork from Snake River Farms. But if you aren't into making your own sausage, just be sure to use good quality bulk sausage from the grocery store or specialty market. I like Italian style bulk sausage (sausage not in a casing) for this soup if I just go to the grocery store.
How to Smoke Sausage for Smoked Sausage Soup
Start by breaking down the bulk sausage into small pieces (quarter size), and smoke it at 275 degrees for 60-90 minutes.
Check after about 60 minutes, it should have a nice dark color. The internal temperature of the sausage chunks should be 160 degrees F. Use an instant read thermometer like the Thermoworks Thermapen to get the most accurate temperature.
As the sausage finishes up on the smoker you can prep your ingredients for the soup, because once the sausage is done, this soup recipes comes together pretty quickly.
If you don't have a smoker, simply bake the sausage in the over at 375 degrees F for about 20 minutes or until the temperature of the larger chunks reach 160 degrees F.
Do you have to soak lentils before cooking them?
No. The lentils do not require you to soak them before using them in soup. Just rinse them in cold water, then add them to the cooking broth and they will soften in around 20 minutes.
How to Make Lentil Soup
In large stock pot, cook bacon until crispy. Remove, set aside, and discard most (but not all) of the bacon fat.
In the same pot soften your vegetables.
Add red wine and tomato paste and incorporate. Then add your herbs, stock, sausage, bacon and lentils.
Stir and simmer for approximately 25 minutes covered, or until lentils are tender, but still slightly al dente.
Season and serve in your favorite soup bowl with crusty bread.
Now this is a meat-heavy soup, so if you're not looking for so much heartiness feel free to cut down the sausage a bit. But we love the portions. It makes for a hearty dish perfect for a cold night by the fire. It's also a great match for Pinot Noir.
Secret Ingredients for Over-the-Top Lentil Soup
I guess our secret will be out now, but, to get super flavorful Smoked Sausage Lentil Soup (besides the quality sausage), you want to start with bacon! It layers in the perfect salty & smoky bacon flavor that pairs perfectly with the smoked sausage. We don't use a lot of the rendered bacon fat, so the soup will not be greasy. Just nice & flavorful.
The other "secret, not-so-secret" ingredient is red wine. By adding a little wine to the broth you get a nice deep flavor that sets this Sausage Soup recipe apart from any other Classic Lentil Soup.
That's really it! Enjoy!
Wine Pairing for Lentil Soup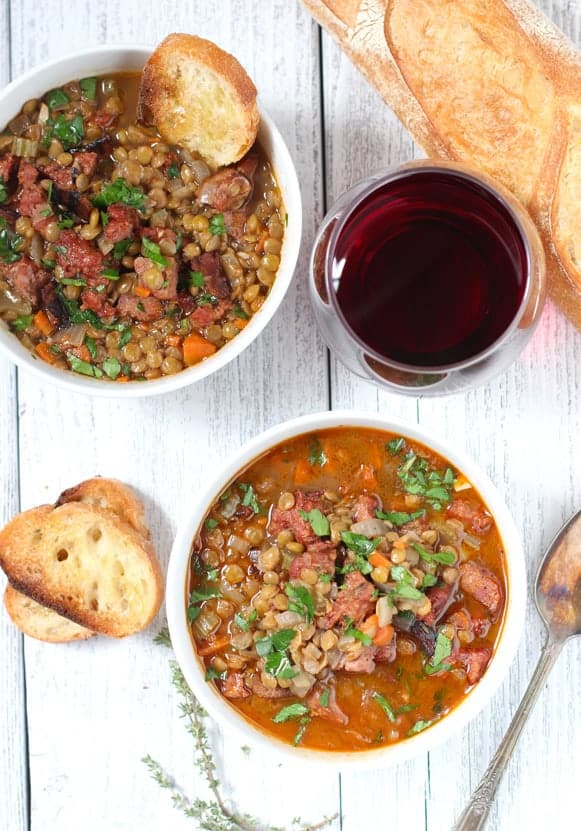 We wrote this recipe to pair specifically with the WillaKenzie Estate 'Pierre Leon' Pinot Noir. That wine had a nice richness to it, with some spice notes, making it a great match for the hearty soup with slightly spicy sausage. But we've also enjoyed it greatly with Beaujolais Villages and it stood up quite well. The tangy red berry fruit from the Beaujolais balanced out the spice from the sausage. Both are nice matches. Just don't choose a wine that's too delicate or the soup will overpower it. And steer clear of powerhouse red wines (like Cabernet Sauvignon or new world Syrahs) or anything too high in tannins, as they would clash with the flavorful broth.
More Soup Recipes?
Lentil Soup Recipe with Smoked Sausage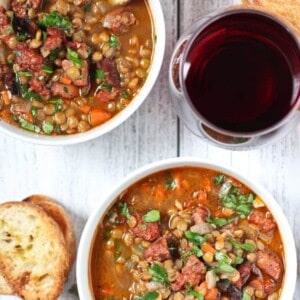 Lentil Soup with Smoked Sausage
Lentil Soup made with Smoked Sausage, Bacon, and Vegetables is a hearty and flavorful soup that is perfect for a cold winter night or a rainy fall night. 
Print
Pin
Rate
Ingredients
1

pound

seasoned bulk sausage,

We use Snake River Farms, or consider Italian

1

tablespoon

olive oil

3

slices

thick bacon, diced

½

large yellow onion, diced (about 1 cup)

1

carrot, diced (about ¼ cup)

1

celery stalk, diced

2

cloves

garlic, diced

½

cup

dry red wine

1

tablespoon

tomato paste

15

sprigs of thyme, wrapped in kitchen twine

1

bay leaf

6

cups

chicken stock

1

cup

green lentils

Salt and Pepper to taste
Instructions
To Smoked the Sausage:
Preheat smoker to 275 degrees Fahrenheit.

Place sausage spread out on a large foil-lined cookie sheet in small clumps.

Smoke for 60-90 minutes and remove. Look for a darker color on the exterior while still moist.
To Make the Lentil Soup:
In large stock pot over medium heat, add olive oil and bacon. Cook bacon until crispy, about six minutes. Remove, set aside. Discard most of the bacon fat, leaving about 1 tablespoon worth in the pot.

Add the onions into the pot over medium heat for four to five minutes. Then add carrots and celery. Cook an additional five minutes or until carrots are soft.

Add garlic and cook an additional two minutes.

Add red wine and tomato paste and stir frequently, for about three minutes (wine should be simmering and texture may thicken due to paste).

Add sprigs of thyme, bay leaf, stock, sausage, bacon and lentils. Stir together.

Bring to a boil and then reduce to a simmer for approximately 25 minutes, covered, or until lentils are tender, but still slightly al dente. Stir occasionally. (Add more stock if you find the liquid level get too low as needed) Even if the sausage was slightly undercooked, the time in the simmer will finish it off and impart a beautiful smoky flavor to the broth.

Salt and Pepper to taste, serve in your favorite soup bowl with crusty bread.
If you like this recipe we'd truly appreciate it if you would give this recipe a star review! And if you share any of your pics on Instagram use the hashtag #vindulge. We LOVE to see it when you cook our recipes.
---