This hearty Lentil Soup made with Smoked Sausage, Bacon, Red Wine, and Vegetables, has deep smoky and savory flavors, and is comforting and completely soul-soothing. It's the perfect soup for a cold and rainy afternoon.
If you want a highlight of all of our fall soup recipes, check out our round-up.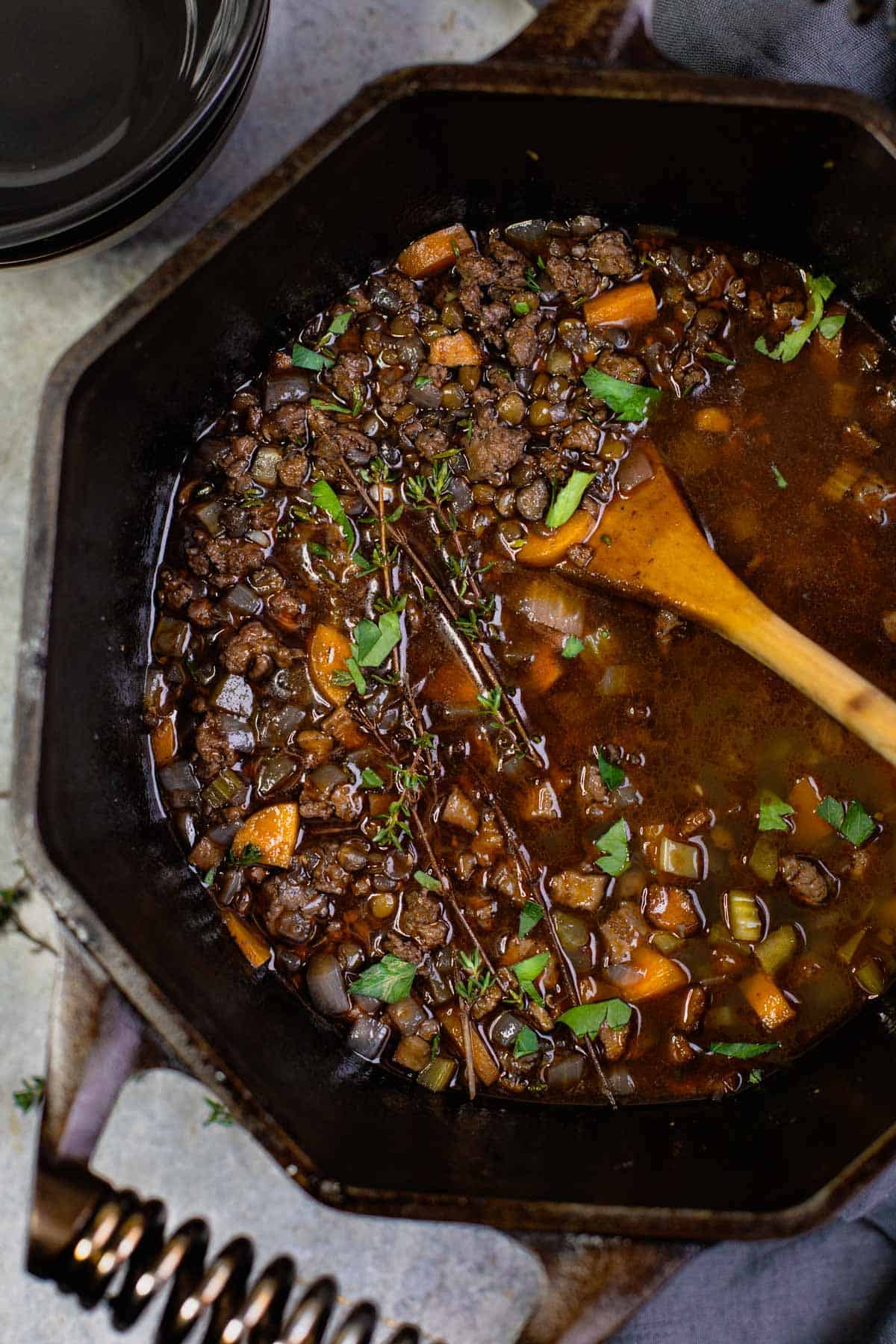 It's always important to have a go-to comfort soup that feeds the soul. This is a recipe we created in the fall for a big catering event at a winery in the Willamette Valley. It was scheduled to be an intensely rainy day, so our host wanted their guests to have something comforting and welcoming as they entered the event. I knew it had to be this soup. It's an easy (almost) one pot meal that marries smoked sausage with a classic French-inspired lentil soup. Even if you don't have a smoker you can easily adapt the recipe and brown the sausage in the pot.
Jump to:
Why This Recipe Tastes So Good
Smoking the sausage gives extra flavor to the soup as it simmers.
Bacon bits add another smoky flavor and texture. Plus, bacon!
Simmering the lentils softens them and they stay intact for nice texture.
Tomato paste and wine enhance the broth with a rich and savory flavor.
Ingredients for Smoked Sausage and Lentil Soup
This lentil soup recipe is actually quite simple, and contains ingredients you likely already have in your pantry and fridge.
Italian Sausage – The main stand-out ingredient for this recipe is Italian seasoned sausage. It has a nice punch from red pepper flakes, and the fennel flavor that will infuse in the broth. You can use mild or spicy (though we recommend spicy).
Lentils – Green (or brown) lentils both work for this dish because they are hearty and can absorb the liquid without loosing their shape and getting mushy. Red lentils are not great for this because they cook quickly and will get mushy which makes the texture of this dish not pleasant.
Bacon – Thick cut bacon is best for the chunks you want in the finished product. Be sure it's diced into nice squares.
Trinity – Carrots, celery, and yellow onion, the classic trio. And a bit of garlic for measure.
Wine – We first created this recipe to pair at a catering event with a local winery. So a dry red wine is great, and specifically seek out a good Pinot Noir. Ideally use a wine that you would drink, versus anything labeled "cooking wine".
Pantry – From there it's seasonings from the pantry to enhance the flavor including tomato paste, bay leaf, kosher salt, pepper, and good chicken stock.
Do Lentils Need To Soak Before Making Soup?
The answer is no. Soaking lentils helps speed up cooking and to break down compounds in the lentils to make them easier to digest. So it is really up to you. However, the simmer time on this soup is plenty to simply get the lentils cooked through.
We do recommend sifting through the lentils to remove any rocks or oddly colored lentils that may be in the bag and rinsing them of any residue in the bag.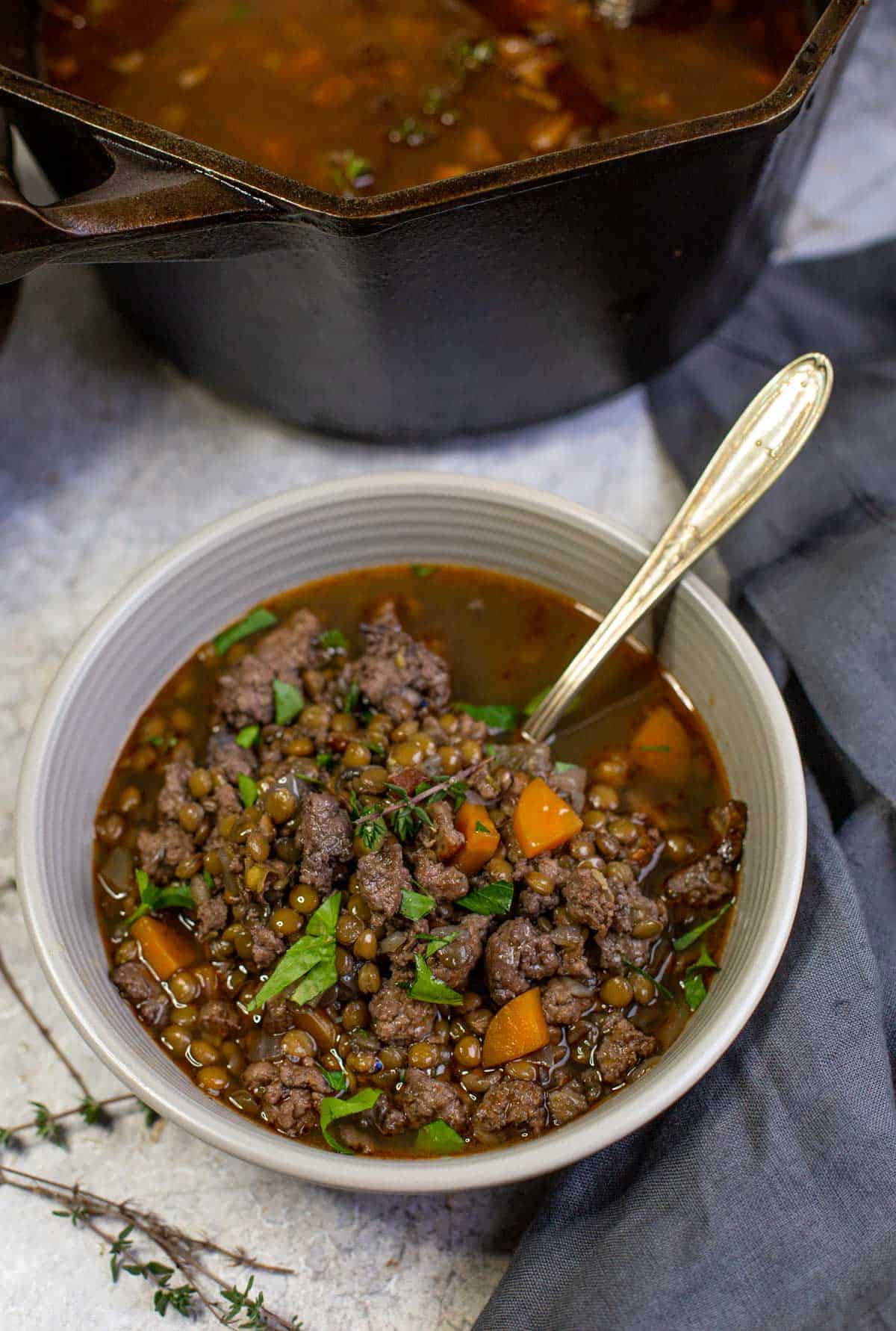 Smoked Sausage
To get that enhanced flavor, follow the steps below to make this the best lentil soup recipe.
Start by breaking down the bulk sausage into small pieces (roughly the size of a quarter), place them on a baking sheet, and smoke it at 275 degrees for 60 minutes using fruit wood like apple or cherry.
Check after about 60 minutes, the sausage should have a nice rich color. The internal temperature of the sausage chunks should be 160 degrees F. Use an instant read thermometer like the Thermoworks Thermapen One to get the most accurate temperature.
As the sausage finishes up on the smoker you can prep your ingredients for the soup, because once the sausage is done, this lentil soup recipe comes together pretty quickly.
If you don't have a smoker, simply brown the small sausage chunks in the pot before you start on the bacon. Just put a little olive oil in a pan over medium heat, and stir often for 10 minutes until browned. Then remove from pot, discard the liquid fat, and start on the recipe.
How to Make Lentil Soup
In large stock pot, cook bacon until crispy. Remove, set aside, and discard most (but not all) of the bacon fat.
In the same pot soften your vegetables (onion, celery, carrots, garlic).
Add red wine and tomato paste and incorporate and simmer. Then add your herbs, stock, sausage, bacon and lentils.
Stir and simmer for approximately 25 minutes covered, or until lentils are tender, but still slightly al dente.
Season and serve in your favorite soup bowl with crusty bread.
Now this is a meat-heavy soup, so if you're not looking for so much heartiness feel free to cut down the sausage a bit. But we love the portions. It makes for a hearty dish perfect for a cold night by the fire. It's also a great match for Pinot Noir.
Wine Pairing for Smoked Sausage and Lentil Soup
We wrote this recipe to pair specifically with the WillaKenzie Estate 'Pierre Leon' Pinot Noir. That wine had a nice richness to it, with some spice notes, making it a great match for the hearty soup with slightly spicy sausage. But we've also enjoyed it greatly with Beaujolais Villages and it stood up quite well. The tangy red berry fruit from the Beaujolais balanced out the spice from the sausage. Both are nice matches. Just don't choose a wine that's too delicate or the soup will overpower it. And steer clear of powerhouse red wines (like Cabernet Sauvignon or new world Syrahs) or anything too high in tannins, as they would clash with the flavorful broth.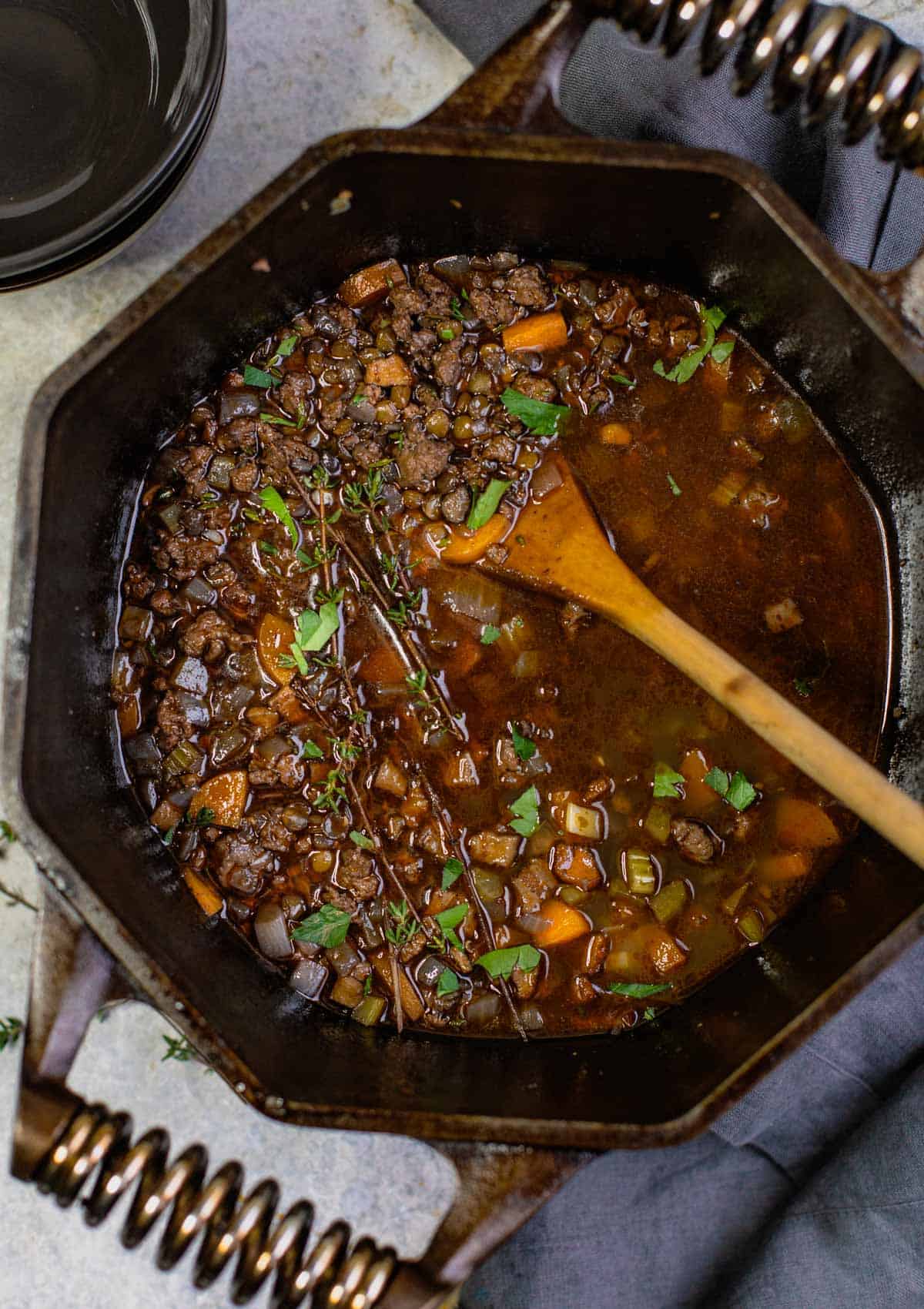 More Soup Recipes
---
This recipe was originally published in November of 2015, and updated in November 2021 with updated photos and instructions. The recipe remains the same.
This post may contain affiliate links. This means if you click on the link, we may receive a small commission if you purchase through the link. We partner with brands we know and love and use and it helps keep the blog going!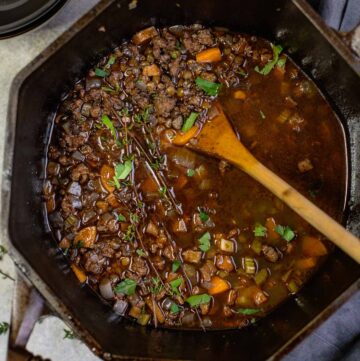 Lentil Soup with Smoked Sausage
Best Lentil Soup Recipe made with Smoked Sausage, Bacon, and Vegetables. This is a hearty and flavorful soup that is perfect for a cold winter night or a rainy fall night. 
Print
Pin
Rate
Ingredients
1

pound

seasoned bulk sausage,

(we prefer spicy Italian sausage)

1

tablespoon

olive oil

3

slices

thick bacon, diced

½

large yellow onion, diced (about 1 cup)

1

large carrot, diced (about ¼ cup)

1

celery stalk, diced

2

cloves

garlic, diced

½

cup

dry red wine

1

tablespoon

tomato paste

15

sprigs of thyme, wrapped in kitchen twine

1

bay leaf

6

cups

chicken stock

1

cup

green lentils

Salt and Pepper to taste
Instructions
To Smoke the Sausage:
Preheat smoker to 275 degrees Fahrenheit using fruit wood like apple or cherry.

Spread out sausage on a large baking sheet in small clumps.

Smoke for 60 minutes and remove. Look for a darker color on the exterior while still moist and an internal temperature of the thick parts of sausage at 160 degrees F.
To Make the Lentil Soup:
In large stock pot over medium heat, add olive oil and bacon. Cook bacon until crispy (about 6 minutes). Remove, set aside. Discard most of the bacon fat, leaving about 1 tablespoon worth in the pot.

Add the onions into the pot over medium heat for four to 5 minutes. Then add carrots and celery. Cook an additional 5 minutes or until carrots are soft. Finally add garlic and cook 1 minute.

Add red wine and tomato paste to pot and stir frequently, for about 3 minutes (wine should be simmering and texture may thicken due to paste). Adjust heat up if needed to get the simmer. Then add sprigs of thyme, bay leaf, stock, sausage, bacon and lentils. Stir together.

Bring to a boil and then reduce to a simmer for approximately 25 minutes, covered, or until lentils are tender, but still slightly al dente. Stir occasionally. (Add more stock if you find the liquid level get too low)

Add salt and pepper to taste, and then serve in your favorite soup bowl with crusty bread.
Notes
Sausage – If you buy bulk sausage that is not yet seasoned, consider the following ratio to mimic Italian sausage. ½ tablespoon crushed dried fennel, 1 teaspoon red chili pepper flakes, 1 teaspoon dried oregano, 1 teaspoon kosher salt, 1 teaspoon black pepper. Combine the dried ingredients with the bulk sausage and mix with your hands.
Preparing the Lentils: Sift through the lentils and remove any stone or discolored lentils. Rinse under cold water to remove any dust from storage. No need to soak them.
Wine: Consider a wine from our very own wine marketplace delivered right to your door, or be sure to buy a wine that you will drink. Pinot Noir is ideal for balanced fruit and acid flavor. If you choose a Cabernet Sauvignon or other richer varietal that will come through in the soup.
No Smoker – If you don't have a smoker, simply brown the sausage in the soup pot first. Over medium heat add olive oil and then the chunks of bulk pork. Stir occasionally for 6 – 7 minutes until browned then remove, strain the fat, and set aside until the liquids are added to soup.
Find the perfect wine pairing at the Vindulge Wine Shop
Nutrition
Calories:
791
kcal
|
Carbohydrates:
48
g
|
Protein:
42
g
|
Fat:
45
g
|
Saturated Fat:
14
g
|
Polyunsaturated Fat:
7
g
|
Monounsaturated Fat:
21
g
|
Trans Fat:
1
g
|
Cholesterol:
103
mg
|
Sodium:
1399
mg
|
Potassium:
1315
mg
|
Fiber:
16
g
|
Sugar:
9
g
|
Vitamin A:
2954
IU
|
Vitamin C:
13
mg
|
Calcium:
80
mg
|
Iron:
7
mg
---