Lentil Soup with Smoked Mushrooms is an incredibly comforting, wholesome, nourishing, vegetarian and vegan, smoked mushroom soup that is dairy-free, gluten-free, with no added sugar.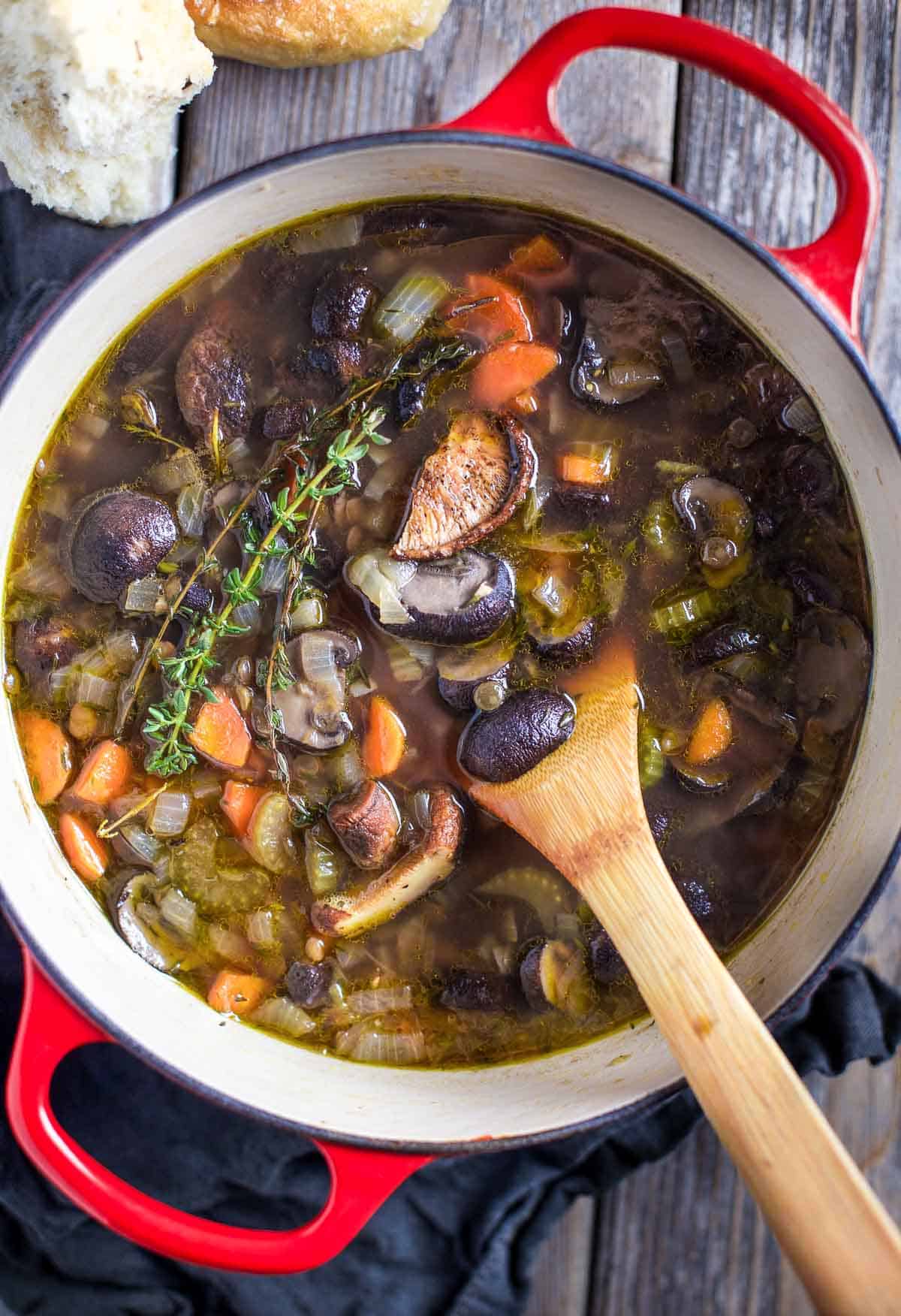 Don't be scared though, this lentil soup recipe has incredible flavor and is pure comfort for a cold winter.
And if you don't have a smoker you can easily sauté the mushrooms instead.
Jump to:
Wholesome and clean soups are perfect for the new year when you need a little bit of a reset. Or perhaps just a weeknight meal when you want something light and fresh, and meat-free (even us hard core carnivores need a couple days a week without meat!).
In trying to compromise making something meat-free (and also sugar-free) we decided on one of our favorite soups, but altered it a bit to make it less rich — A Lentil Soup Recipe with some Smoked Mushrooms. We often make a creamy version of mushroom soup, but I wanted to cut the cream and add more vegetables. This is it!
Lentil Soup with Smoked Mushrooms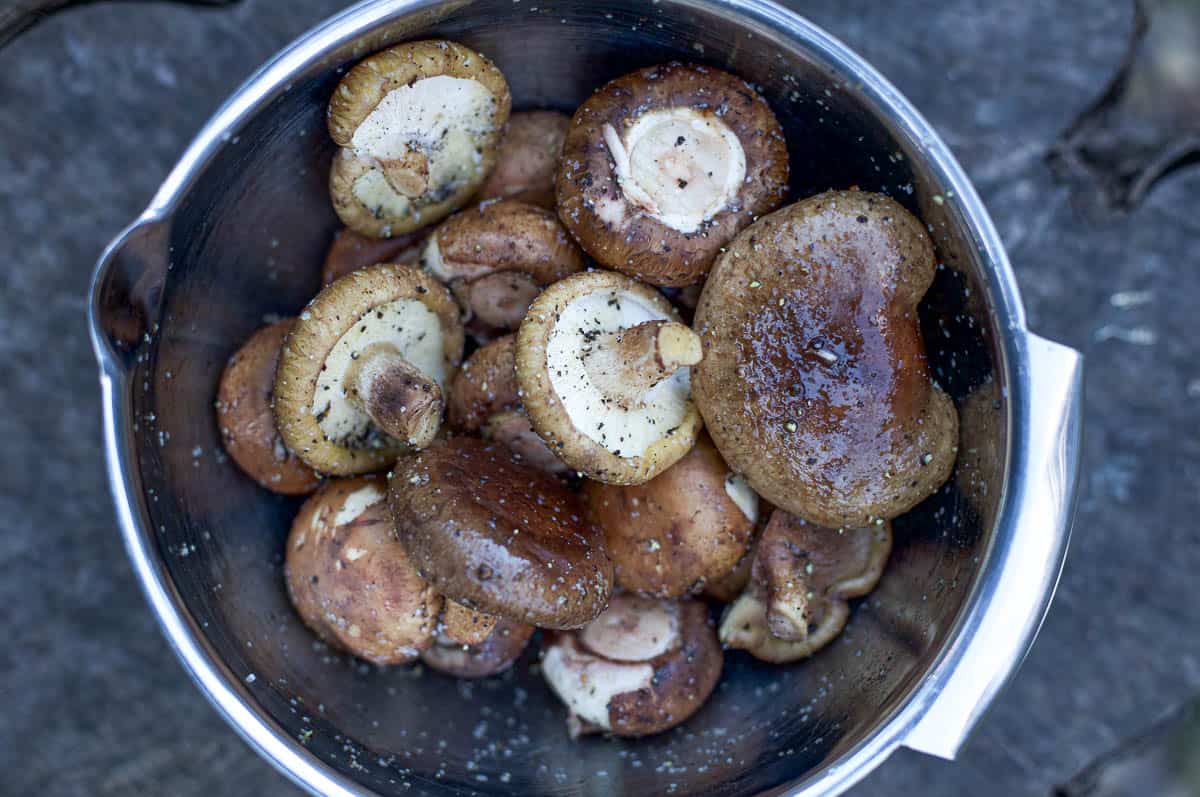 Lentil Soup with Smoked Mushrooms combines a classic lentil soup, with the added richness of smoked mushrooms. It's comforting, wholesome, nourishing, vegetarian and vegan, and also dairy-free, gluten-free, with no added sugar.
It starts with the secret (not-so-secret) ingredient, smoked mushrooms.
Ingredients
In addition to the smoked mushrooms we like to have a hearty amount of vegetables and a good broth.
Classic Trinity: Celery, carrots and onions are the base in addition to garlic and the mushrooms.
Stock: A good low sodium vegetable stock keeps the lentil soup vegetarian. You can add the salt yourself as you season the soup.
Herbs: Adding aromatics enhances the flavor. A bunch of fresh thyme wrapped with kitchen string is nice flavor as well as a dried bay leaf.
Lentils: We recommend brown or green lentils for this lentil soup.
Mushrooms
Cremini mushrooms are our favorite for this recipe because they have a meatier flavor than button (white) mushrooms. It's also very easy to add any additional mushrooms or mix it up. If you do mix up the mushrooms consider shiitake as the next alternative.
Our ratio is 1 pound of cremini mushrooms for this recipe. If you add more mushrooms 4 ounces is the max to avoid the soup from being too dense.
Smoking the Mushrooms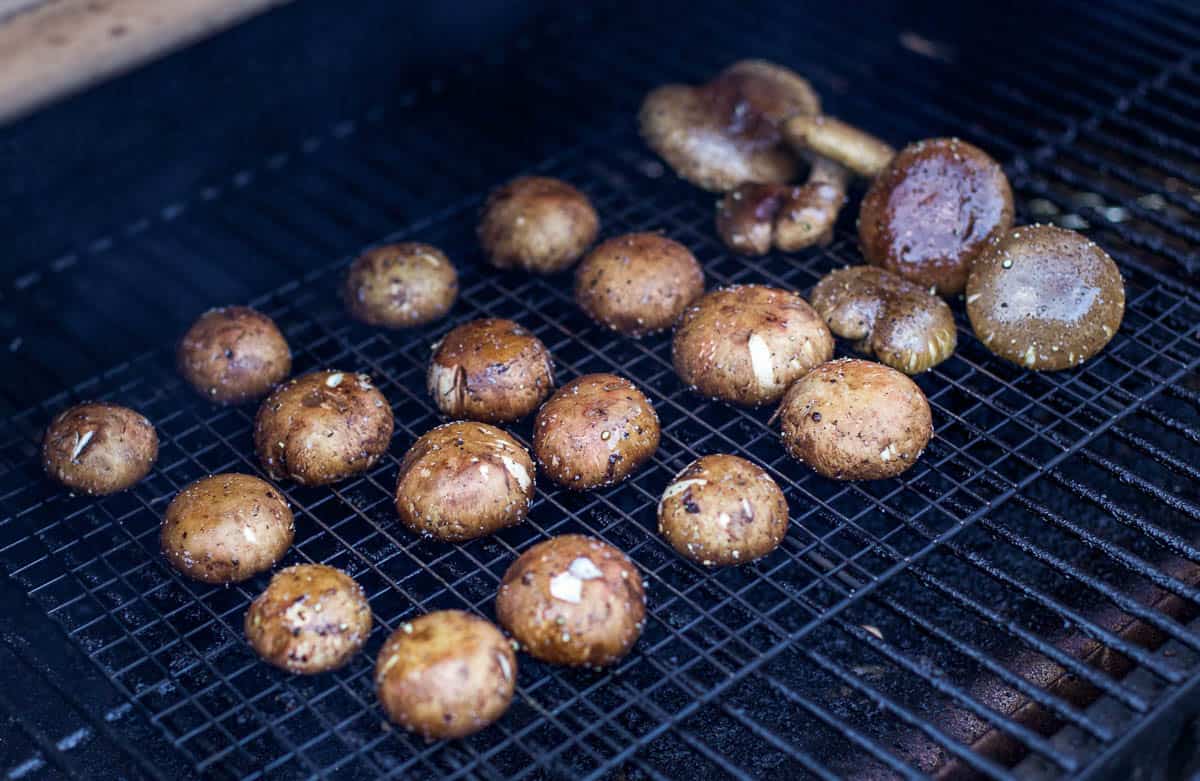 Prepare Mushrooms: Coat mushrooms well with olive oil, salt and pepper. Be generous with this as it's the only time you'll be seasoning your mushrooms. If you feel like adding your favorite dry rub to the mushrooms go for it. We like to keep it simple with salt and pepper.
Smoke Mushrooms: Place them on your smoker set to 200 degrees for up to 45 minutes. You may want to check on them after 30 minutes, and taste one to see if you're liking the flavor. We found the shiitakes needed less time on the smoker as they take to the flavor much quicker, but the creminis need at last 45 minutes or so. Just be sure to monitor them and adjust cooking times to how you like the flavor.
Remove from Smoker: When they're done just remove them and slice them when they're cool enough to work with.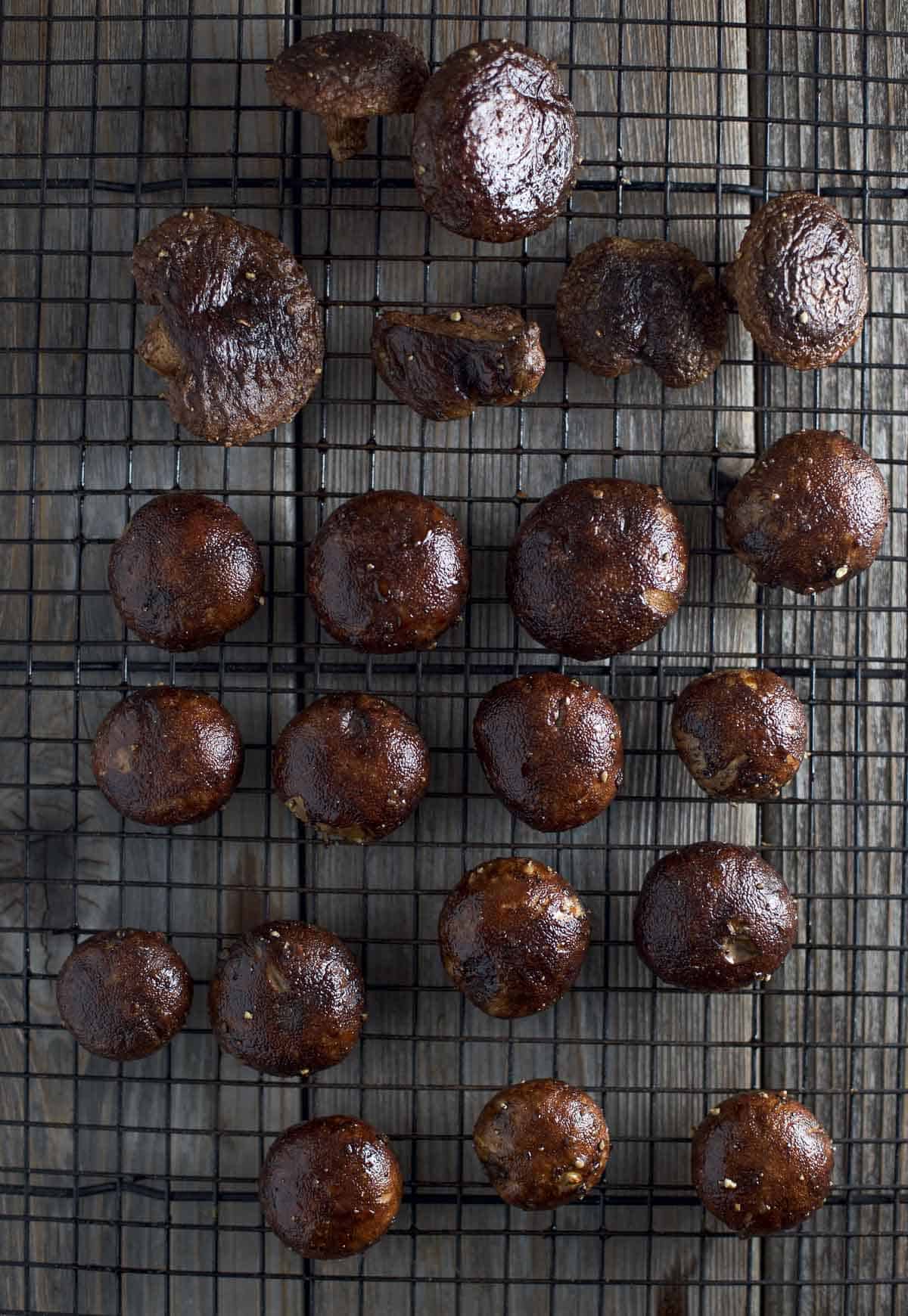 How to Make Lentil Soup
Soften Vegetables: Cook onions, carrots, and celery in a large pot or Dutch oven until tender. Add garlic and cook 1 more minute.
Add Liquids and Herbs: Add the vegetable stock, thyme, lentils, bay leaf and the sliced smoked mushrooms.
Simmer: Stir together and simmer 20-30 minutes, until lentils have softened.
Serve: The lentils and the mushrooms will make the dish hearty and substantial enough to satisfy you as a stand-alone meal.
Frequently Asked Questions
Do I need to soak lentils before cooking them?
No. The lentils do not require you to soak them before using them in soup. Just rinse them in cold water, then add them to the cooking broth and they will soften in around 20 minutes.
Can you smoke mushrooms?
Yes. Because mushrooms retain a lot of water they are a great vegetable to smoke and still maintain a nice texture. Smoke at a low heat (under 225 degrees F) for the best flavor and texture.
Which lentils are best for soup?
Lentils that tend to hold their texture and not soften too much are best. Brown and green are best for soups because they stay al dente (slightly firm) after they have been simmered. Red/Yellow tend to get real soft and almost mushy if cooked too long.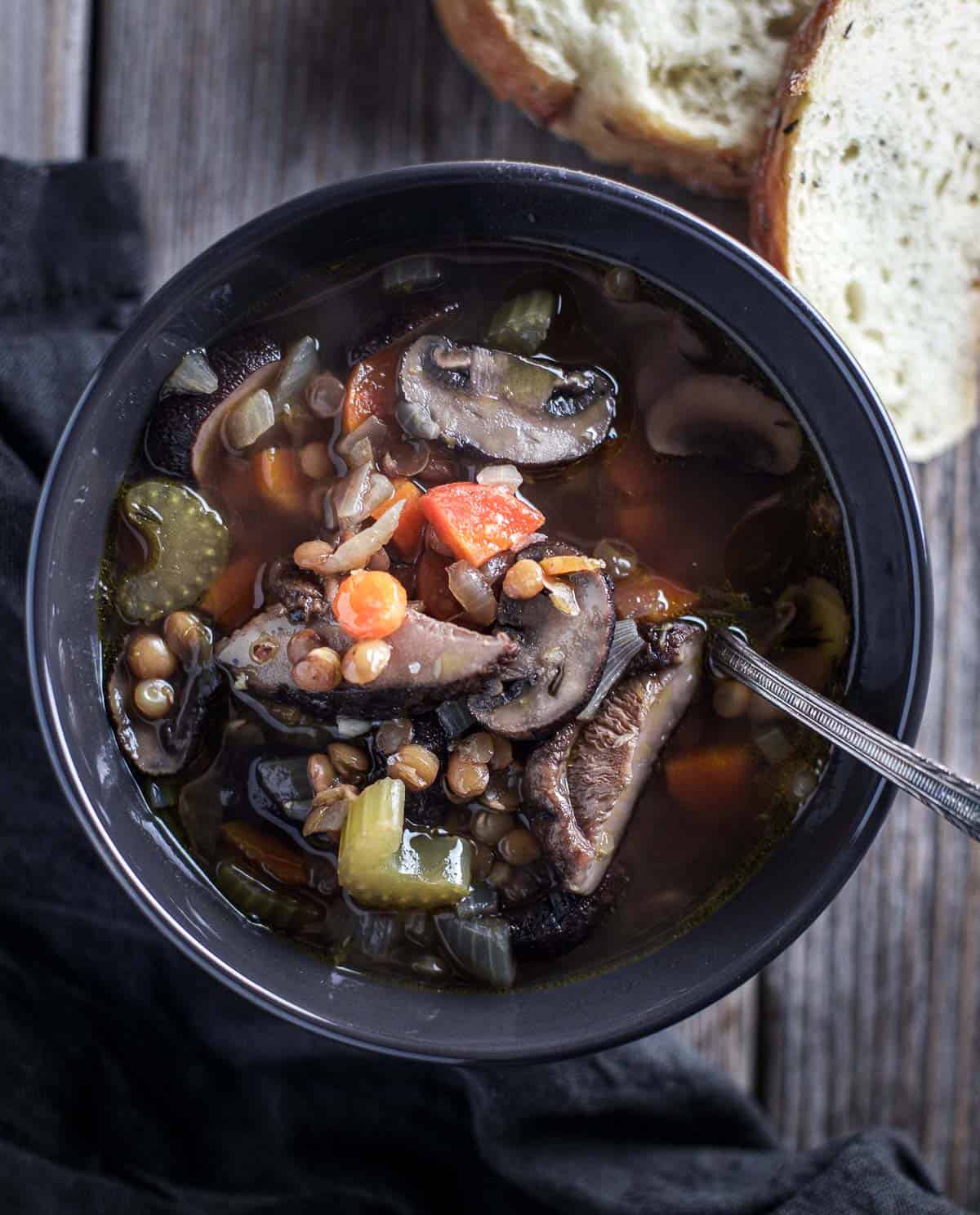 More Soup Recipes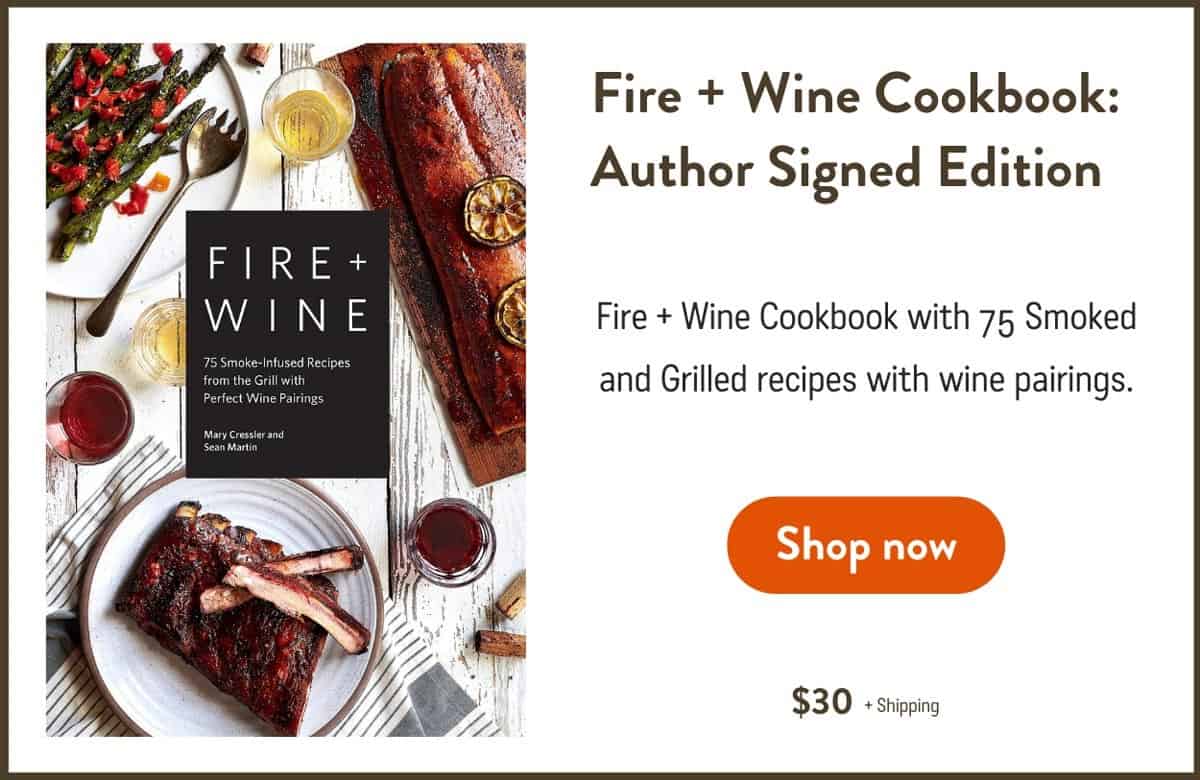 This post may contain affiliate links. This means if you click on the link, we may receive a small commission if you purchase through the link. We partner with brands we know and love and use and it helps keep the blog going!
Mary (a certified sommelier and recipe developer) and Sean (backyard pitmaster) are co-authors of the critically acclaimed cookbook, Fire + Wine, and have been creating content for the IACP nominated website Vindulge since 2009. They live in Oregon on a farm just outside Portland.
If you like this recipe we'd truly appreciate it if you would give this recipe a star review! And if you share any of your pics on Instagram use the hashtag #vindulge. We LOVE to see it when you cook our recipes.