And here you thought all we did was barbecue.
A girl can't live on smoked meat alone (shh don't tell the hubs I said that).
Sometimes I just want to make something that requires no heating up a grill, no starting a fire, no ovens, no stovetops, no crock-pots. Well, really, no cooking. At least in the traditional sense. And with warm summer weather approaching (I can see you!!) I thought it was time to break out one of my favorite summer staples. Ceviche.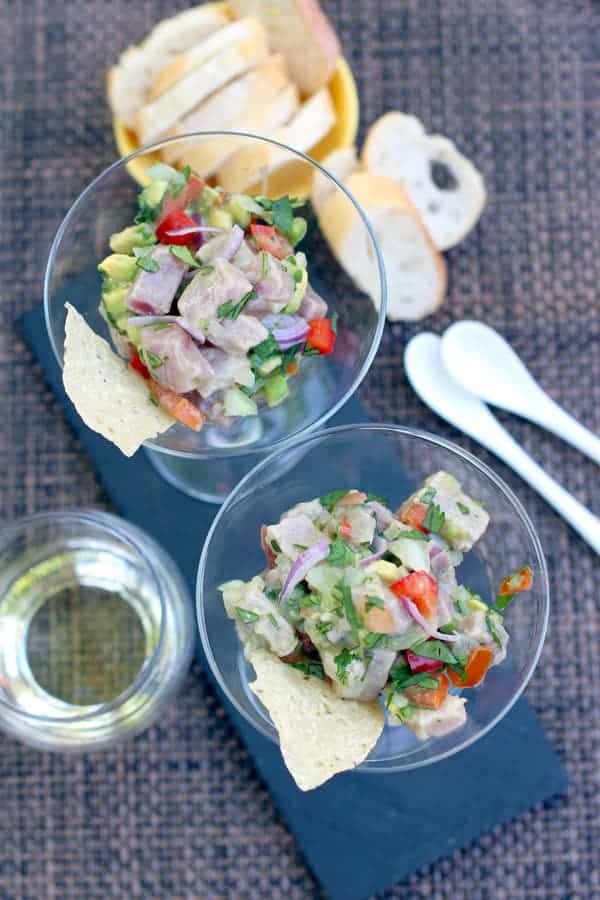 Ceviche is a dish that, to me, just screams summer (and those unseasonably warm spring days like we've been having in Portland). It's light, fresh, herbaceous, citrusy, and is served cold. It is a dish I love ordering at restaurants. I also used to be scared of making it at home, thinking it required some kind of special technique or special ingredients. Nope. Basically, ceviche is about as easy to make as salsa. Just chop up your ingredients and throw them into a bowl.

However, unlike salsa, you will need to marinate the main ingredient (your fish of choice) in lime juice for a short period of time in the refrigerator. That's how it will cook. It's not cooked over heat; it's cooked in acids of the lime juice. Kind of like magic. Voila.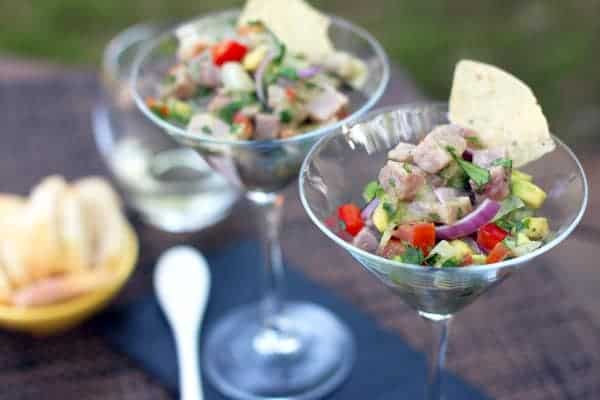 Sushi grade Ahi tuna can be consumed raw, but marinating it in the lime juice will not only cook the tuna, but it will infuse it with great flavor – delightful citrusy and herbaceous flavor. It's like melt-in-your-mouth deliciousness that you find yourself quickly devouring and going back for seconds, but you don't feel guilty about it, because it's so stinkin' fresh and healthy.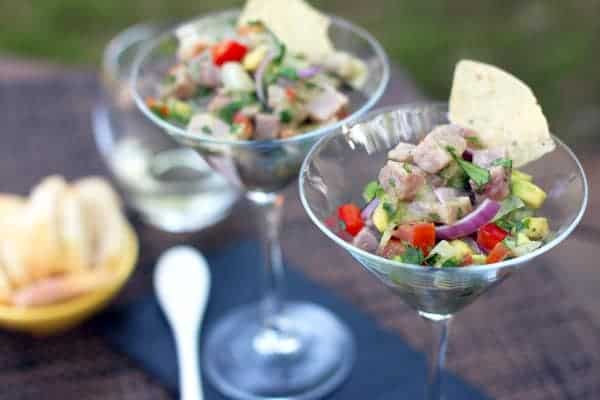 Ingredients
½

lb

sushi grade Ahi tuna

diced into small cubes

1/3

cup

onion

finely sliced or diced

½

teaspoon

lime zest

1/3

cup

lime juice

about 2 limes

1

tablespoon

jalapeño

seeds removed and finely diced

2

tablespoons

cilantro

chopped

1/3

cup

Roma tomatoes

diced

½

avocado

diced

salt

to taste

Chips or baguette slices for serving
Instructions
Combine all ingredients (except avocado) in a bowl. Cover and refrigerate for 1-2 hours, stirring occasionally. Don't let it marinate for more than 2 hours or the meat will become tough.

Just before serving, gently fold in the avocado and season with salt.

Taste to adjust flavoring, and add more lime and cilantro if needed.

Serve with chips or baguette slices.
WINE RECOMMENDATIONS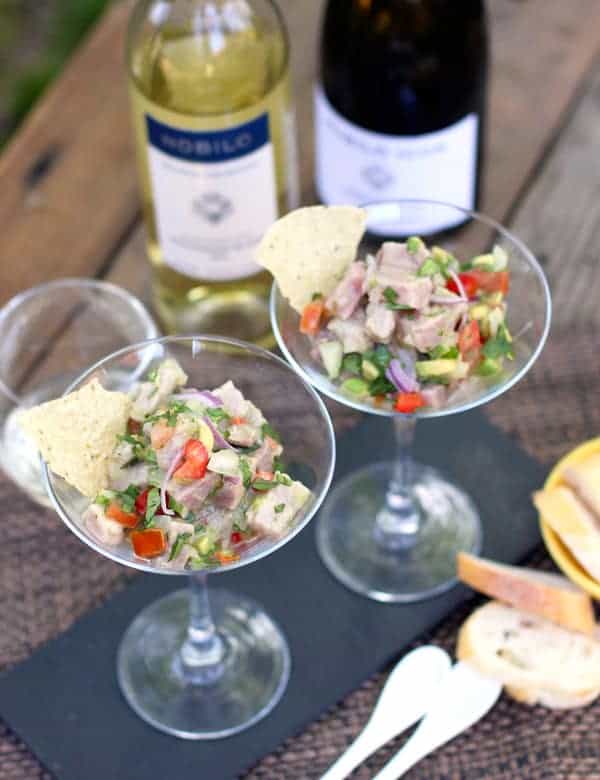 There's a lot of acidity going on here with all that lime juice, along with the added herbaciousness from that cilantro. While there's some lovely creamy textures from the tuna and rich avocado, focus more on the citrus and herbs and look for something high in acidity to stand up to the power of the dish. If you don't pair this with a wine with equal acidity the dish may fall flat and the wine will end up tasting sweet, and that's no bueno!
Pinot Gris (Grigio), some Albariños, and even Dry Riesling (make sure it's dry though!) can work well. But my go-to for ceviche is Sauvignon Blanc because they typically have lots of citrus notes, herbal aromas, and have the acidity to match that found in the dish. This is a pairing where you want to match acid with acid (know what I'm saying?). Some people will warn that this pairing may cause a lime-y or citrus-y overload in your mouth, but I personally think they work great for this particular ceviche recipe.
Although I love 'em to death, I'd steer clear of Loire Valley Sauvignon Blancs for this dish, as I find them more minerally and less fruit/citrus driven. Napa Valley has some great Sauv Blancs these days, as does Chile. But I decided to go where I usually find the most intense examples of the citrus driven SBs – New Zealand — to see if that overpowering theory was true.
The flavor of New Zealand Sauvignon Blancs can be very recognizable, often having lots of grapefruit, lime, tropical flavors (like pineapple, passionfruit, guava), and herbal notes like "grassiness" (or fresh cut grass), even jalapeños. And, sometimes, but not always, they can be crazy high in acidity. I took my chances on these two hoping they wouldn't punch me in the face with too much acidity. Thankfully, they didn't.
These two Nobilo Sauvignon Blancs from the Marlborough region of New Zealand were great examples of wines that don't beat you up with power (which can happen sometimes. true story.). They were both very balanced and worked seamlessly with the dish.
The 2014 Nobilo "Regional Collection" Sauvignon Blanc ($13, media sample) had that signature grassy note, but also lots of passionfruit, kiwi, lime zest, and some pink grapefruit. It has nice fruit and just enough acidity to play nicely with the dish.  The 2014 Nobilo "Icon" Sauvignon Blanc ($22, media sample) was a bit softer than the first, and a bit more complex. It had a more citrus-driven nose and less tropical aromas (though they were still there). Dry, crisp, less juicy and fruity, and not intensely acidic. The Regional Collection was my favorite with the dish, it's also a nice value, but both wines worked well with this ceviche.
What's your go-to beverage for ceviche?
---
For more recipes check out the Recipe Index.
If you like this recipe we'd truly appreciate it if you would give this recipe a star review! And if you share any of your pics on Instagram use the hashtag #vindulge. We LOVE to see it when you cook our recipes.
---