This Easy and Classic Ceviche recipe is made with rockfish (or other white fish, like tilapia or bass) and is perfect for a hot summer day when it's too darn hot to cook. This classic ceviche recipe is also perfect for parties, appetizers, or a light meal at home. 
Or you can check out our tuna ceviche recipe for another variation.
When you are looking for a fresh and inviting dish for those warm days, ceviche is a great option. It's easy to make with simple ingredients, and the flavor is bright, acidic and refreshing.
Our ceviche recipe is the go-to meal when it's hot outside, or when you're looking for something light and healthy to eat in the winter months. It's surprisingly easy to make. So let's get started!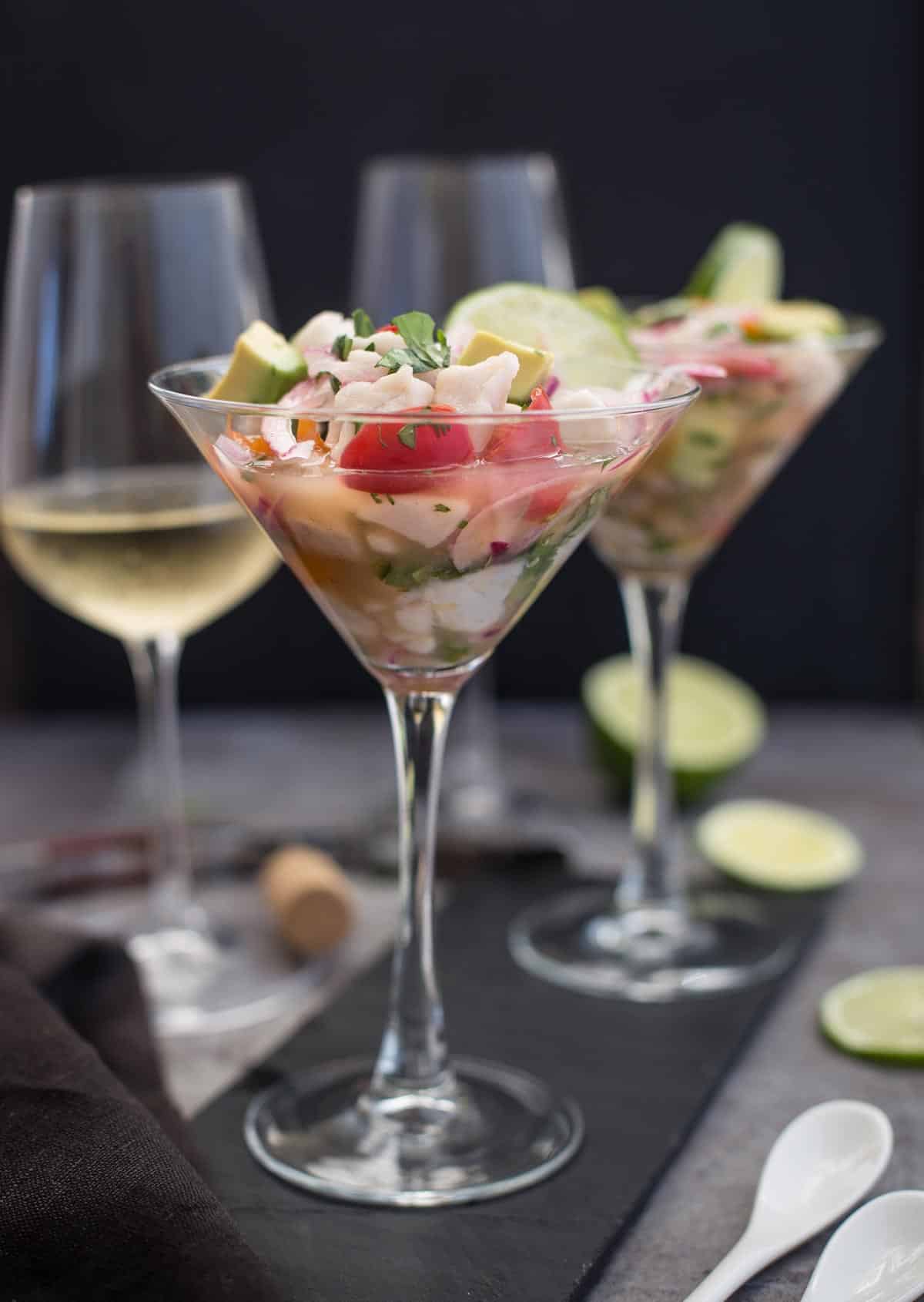 What is Ceviche
Simply put, classic ceviche is raw fish (or shellfish) cooked in an acidic marinade (most often citrus). The acid essentially "cooks" the fish without any grilling or heat. As the fish sits in the citrus the acid penetrates the meat and breaks down the proteins giving it that cooked look and texture like you would get from actually cooking it with heat. Pretty cool huh?!
Many attribute this flavorful dish to Peru, where it dates back centuries. Various types of ceviche recipes have been adopted regionally all over the world from Mexico to Spain. So, depending on your influence, it can take on a lot of flavor variations from spicy to sweet, simple to complex.
Best Fish for Ceviche
We like almost any fresh white fish for a ceviche recipe — tilapia, rockfish, bass, flounder, etc.  Shrimp and tuna also work great for ceviche. We just highly recommend getting the best quality and freshest fish you can find! A good ceviche recipe will only be as good as the freshness and quality of the fish. So mention to your fishmonger that you're making ceviche, and get his/her recommendation on what will be best that day for that purpose.
For the ceviche pictured here, we used rockfish, but that's because it was freshest when I went to purchase my fish in this particular example. Use what is the best that day for this particular ceviche recipe.
Ceviche Recipe Ingredients
For our favorite style, we like lime flavor to stand out, but balance that with a little orange juice so it's not too bitter or too sharp.
Fish – In this ceviche recipe, rockfish, a mild white fish with good texture. Other options are tilapia, bass, flounder, or halibut.
Citrus – Lime and orange are the backbone to this dish, adding the necessary acid to properly "cook" the fish.
Savory – Onion and jalapeño add texture with a slight crunch, as well as flavoring the marinade. The mild heat from the jalapeño (seeds and ribs removed) also gives a nice flavor.
Freshness – Tomatoes, avocado, and cilantro brighten the flavors and add a nice balance.
Salt – A good kosher salt will bind the flavors together.
Preparation
The most important part of preparing ceviche, is to de-bone the fish. If there are pin bones, remove them. Using a sharp boning knife, cut the fish into small diced squares. The smaller dice will allow the fish to cook faster without getting gummy in texture.
For the onions, be sure they are very thinly sliced. If they are too thick the onion will overpower the dish.
For less heat, remove the seeds and rib from the jalapeño. The seeds don't have great texture.
How to Make Ceviche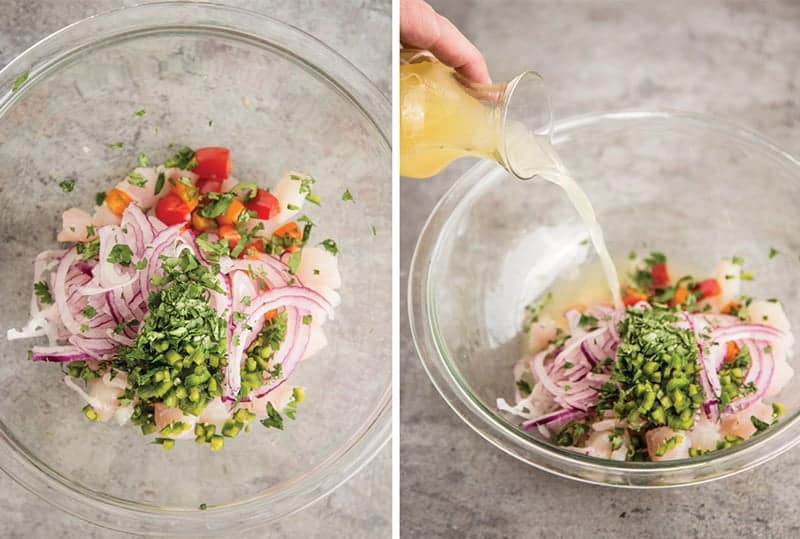 Add cubed fish into a bowl. Squeeze the limes and orange into the bowl with the fish and stir. Add the onion, tomatoes, jalapeño, and salt, and then stir again to combine.
Cover the bowl with plastic wrap and store in the refrigerator to marinate. The citrus will start to cook the fish. After 60 minutes, stir the mixture again and cover. Place back in the refrigerator covered another 60 minutes.
After 2 hours remove the fish and add the avocado and cilantro. Stir to combine.
Portion among four martini or similar serving glasses with your favorite corn chips. Bonus if you prewarm the corn chips in the oven.
How long does it take to make Ceviche?
On average for a ceviche recipe, white fish should be done in 2 hours. Smaller cuts speed up the process. Larger cuts will take longer, which is why we recommend dicing the fish in smaller chunks.
You know it's done when you cut into the fish and it's white all the way through.
You can also marinate just the fish in the citrus, then when it's done drain it to stop it from continuing to cook. Then just before you serve it you add the other ingredients and a few squeezes of fresh lime for flavor and toss together. But we usually throw it all together to cook then serve immediately, because it's just darn easy that way! Boom.
When you're happy with how long it's marinated, portion the ceviche into your serving dishes and dive in. I love serving ceviche in a wine or martini glass. It just looks super fancy and pretty badass that way.
Enjoy
Wine Pairing for Ceviche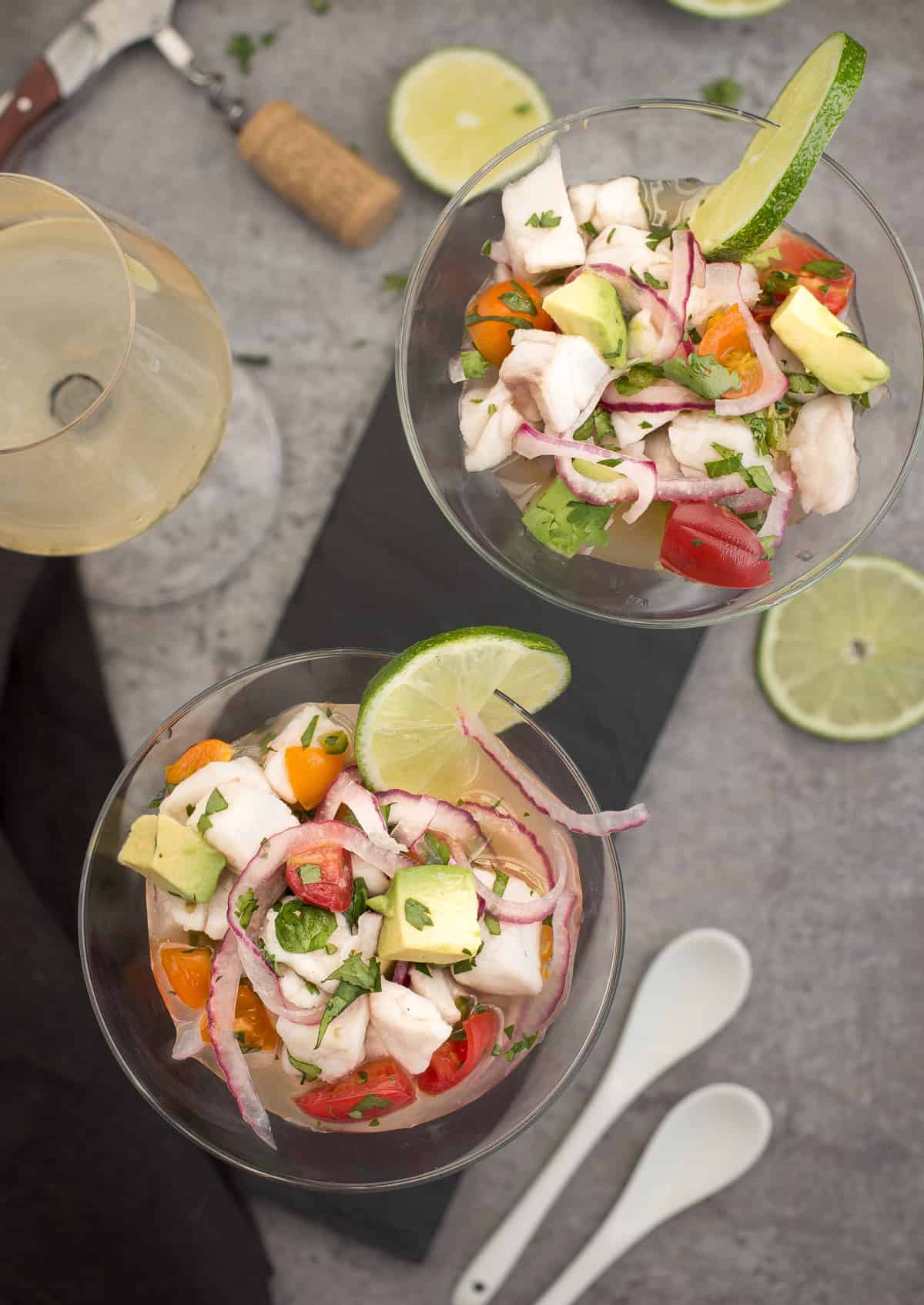 Ceviche is a highly acidic dish, so you're going to want something that can stand up to that acid otherwise the dish will make the wine taste flat and sweet (and that's no bueno).
My go-to is Sauvignon Blanc for this, because they tend to have a lot of similar flavors as the dish (herbal, bright citrus) and have high acidity to match the dish. For region I'd focus on California (or some of the rare Oregon Sauvignon Blanc if you can find 'em) or those found in Chile. Or if you want something bold you can go with a New Zealand Sauv Blanc, where you'll find some of the most intense versions.
Alternatively I've had ceviche with Albariño and Dry Riesling with success as well.
More Easy Seafood Recipes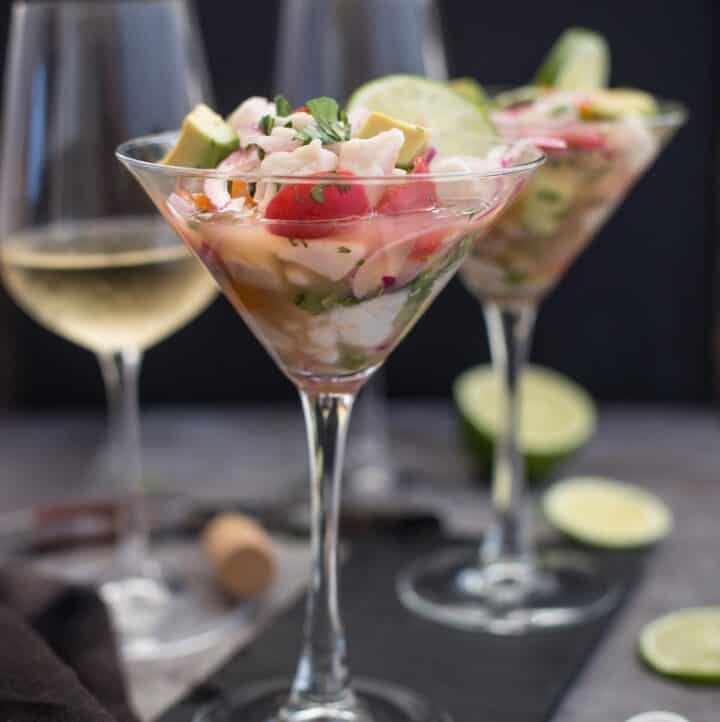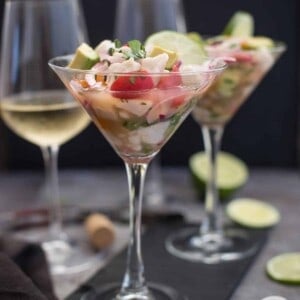 Easy White Fish Ceviche Recipe
This easy and classic ceviche is made with rockfish (or any other white fish like tilapia) and is perfect for a sweltering summer day when it's too darn hot to cook.
Print
Pin
Rate
Ingredients
1

lb

fresh rockfish bones removed, cut into small cubes

(Any white fish will work as well, like tilapia, bass, flounder, halibut)

6

limes, juiced

1

medium

orange, juiced

(the combined juice from the orange and lime should equal 1 cup of liquid)

½

cup

red onion, thinly sliced

⅓

cup

tomatoes, diced

(I like cherry tomatoes for this. Alternatively Roma tomatoes work well too)

2

tablespoons

jalapeño, seeds removed, finely diced

¼

teaspoon

kosher salt

1

small avocado, diced into small chunks

(about the same size chunks as the fish)

¼

cup

cilantro, roughly chopped
Instructions
Cover the bowl with plastic wrap and store in the refrigerator to marinate. The citrus will start to cook the fish. After 60 minutes, stir the mixture again and cover. Place back in the refrigerator covered another 60 minutes.

After 2 hours remove the fish and add the avocado and cilantro. Stir to combine.

Serve with your favorite corn chips or baguette slices.
Notes
We have tested this recipe both marinating the fish with and without the ingredients. Separating the

jalapeño, and other ingredients will be a less lime like flavor. If you really like citrus and lime you can marinate all but the avocado together.
The avocado and cilantro is best when added fresh, just before serving, not to the citrus marinade.
Find the perfect wine pairing at the Vindulge Wine Shop
Nutrition
Calories:
112
kcal
|
Carbohydrates:
13
g
|
Protein:
2
g
|
Fat:
8
g
|
Saturated Fat:
1
g
|
Sodium:
153
mg
|
Potassium:
412
mg
|
Fiber:
4
g
|
Sugar:
4
g
|
Vitamin A:
298
IU
|
Vitamin C:
39
mg
|
Calcium:
23
mg
|
Iron:
1
mg
---
If you like this recipe we'd truly appreciate it if you would give this recipe a star review! And if you share any of your pics on Instagram use the hashtag #vindulge. We LOVE to see it when you cook our recipes.