The Best Smoked Salmon ever! Brace yourself for the easiest, freshest, tender-est, and most flavorful smoked salmon fillet. And I'm not talking about lox, we're talking fresh salmon, cooked on a smoker, and slowly smoked to perfection.
We've got our secrets to great tender salmon, along with a full smoked salmon recipe and video.
Salmon is one of my favorite things to cook on the smoker or grill. But too often salmon gets a bad rap for being too dry when cooked outdoors. Granted this can be so true! I've had my fair share of overcooked salmon. Eek! This, my friend, is not that!
And there's no secret dry rub or sauce to this salmon.
Nope.
Just some Dijon mustard, salt, and pepper.
There's a good reason that this is one of the top requests we get for Ember & Vine catering events. And, like clockwork, we always get guests asking what the secret is to our salmon.
The answer? Using good quality salmon, and not overcooking it.
That's it! And you'll experience the juiciest salmon you've ever had.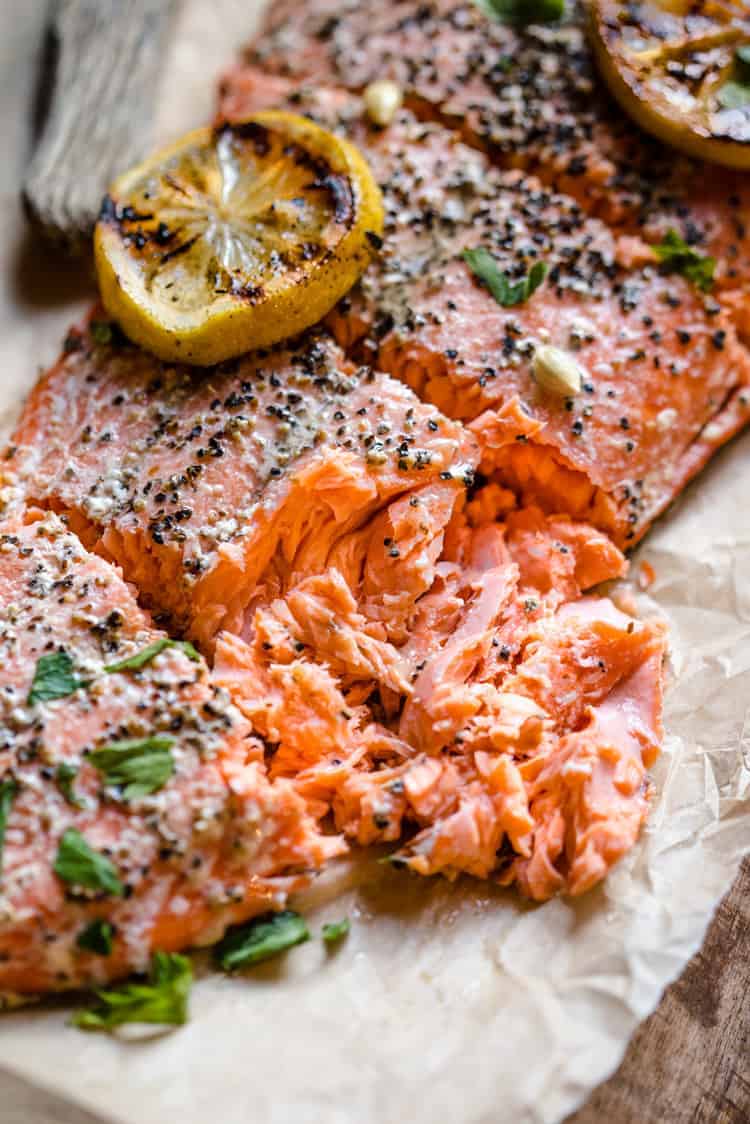 Types of Salmon
With salmon there are several styles to choose from:
Farm Raised – This is salmon raised in a farm or open water pen, often you'll find that the fat content is much higher and they will be bigger. It's because they arguably don't need to work as hard. So they slowly hang out in these large water pens. These are great for smoking as the fat content is very forgiving and makes for very tender and juicy salmon. Look for Columbia River King or Atlantic salmon most commonly.
Wild/Line Caught – From the wild, this is salmon that has been swimming in natural habitat. When you watch the videos of salmon swimming up stream you can see quickly why these are much leaner than their farmed cousins. These are great for grilling hot and fast, but can also be smoked. If you smoke a wild caught, just know it won't have as much fat and will cook much faster. We prefer wild salmon for a number of reasons, the biggest is the flavor. Look for Columbia River King (otherwise known as Chinook), Coho, Copper River, Sockeye, and others.
Either way it should be fresh — Smell it and check the eyes if buying a whole fish. It should not smell fishy, and the eyes should be relatively clear. An overly fishy smell or eyes that are glazed and frosted are indications of a not so fresh piece of fish.
How to Prepare Smoked Salmon
When buying your salmon fillet, ask the fish monger to take the pin bones out. These run along the upper portion of the fillet and off the spine. These can be removed using tweezers yourself if the butcher or fish monger is unable to do it for you, but trust me, ask them to do it for you.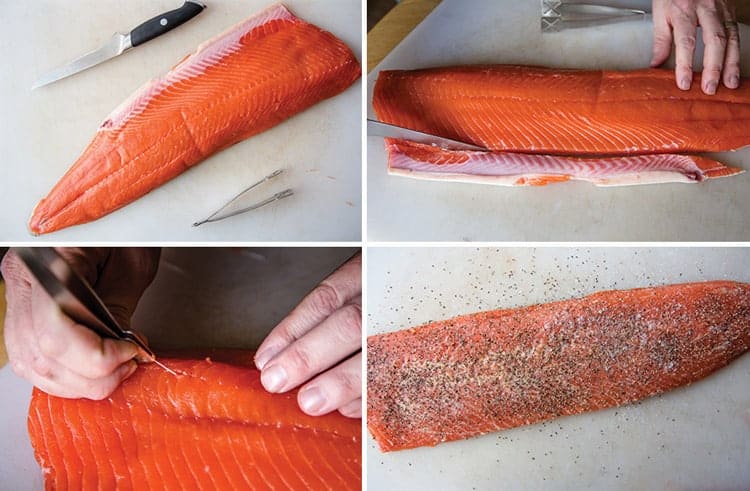 Trim off the belly, we find a natural line that contours the fish. This allows us to cook that separately as a snack. The belly has some cartilage and membrane that is easier to remove and then cook with the salmon.
On the skin side, be sure to use a knife against the scales, scraping it (not cutting it) to de-scale it. A lot of times this too is already done.
Rinse under cold water briefly and pat dry. Then you can season and smoke it. For this recipe we're keeping it simple with just salt and pepper. You can also season it with our seafood seasoning if you want a bolder flavor profile.
How to Smoke Salmon
Start by prepping your smoker to 225 degrees (F) using a fruit wood (we like cherry or apple for salmon).
Place your salmon on the smoker until it hits your desired internal temperature. For tender salmon we cook it to 140 degrees Fahrenheit. You'll see the salmon sweating out the fat, and you'll see a nice red color start to form on the crust of the salmon. Check temperature at thickest part with a probe and you can also poke and pull apart the flaky salmon and make sure that the interior is pink and not translucent.
This should take roughly one hour, depending on the exact size and thickness of your salmon.
Pro Tip: Start checking temperature early. The smaller the fillet, or if using wild caught, start checking the internal temperature as early as 30 minutes.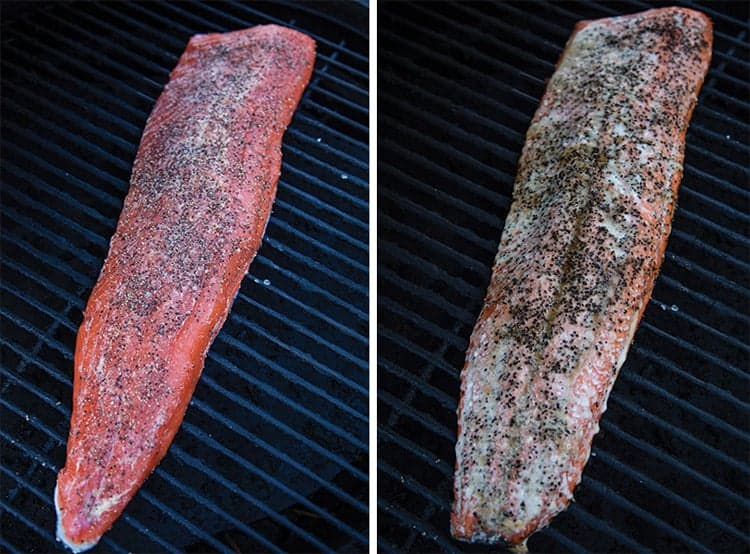 The key to tender juicy salmon is cooking it at a low heat and paying close attention to the internal temperature using a good quality digital thermometer.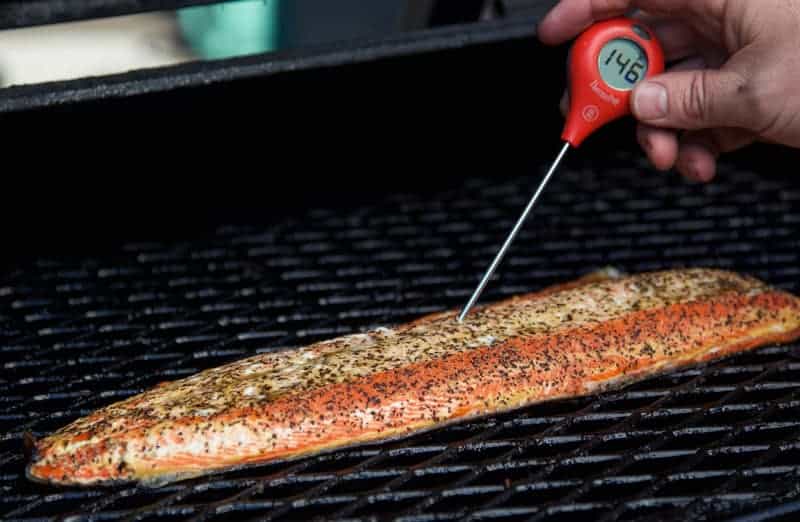 What temperature should salmon be cooked to?
Salmon should be cooked to 140 degrees (F), and not a degree more (except if you're the person taking the temp of this salmon, we're just making sure you're paying attention!). 😉
Carry over cooking will take the internal temperature of the salmon to 145 degrees.
And that is our secret to our salmon. Take great care to avoid overcooking the salmon.
Also consider using an entire fillet. Good salmon will go quickly with a crowd and frankly having a multiple pound salmon fillet on your smoker is an awesome conversation piece. Even if you're cooking for a small family, there are excellent uses for any leftovers (see the end of this post for a few ideas!).
How long to Smoke Salmon?
This will vary depending on exact size of salmon and exact temperature of the smoker. For a 1 – 1 ½ pound salmon we plan on roughly one hour. Always cook to temperature, not exact time.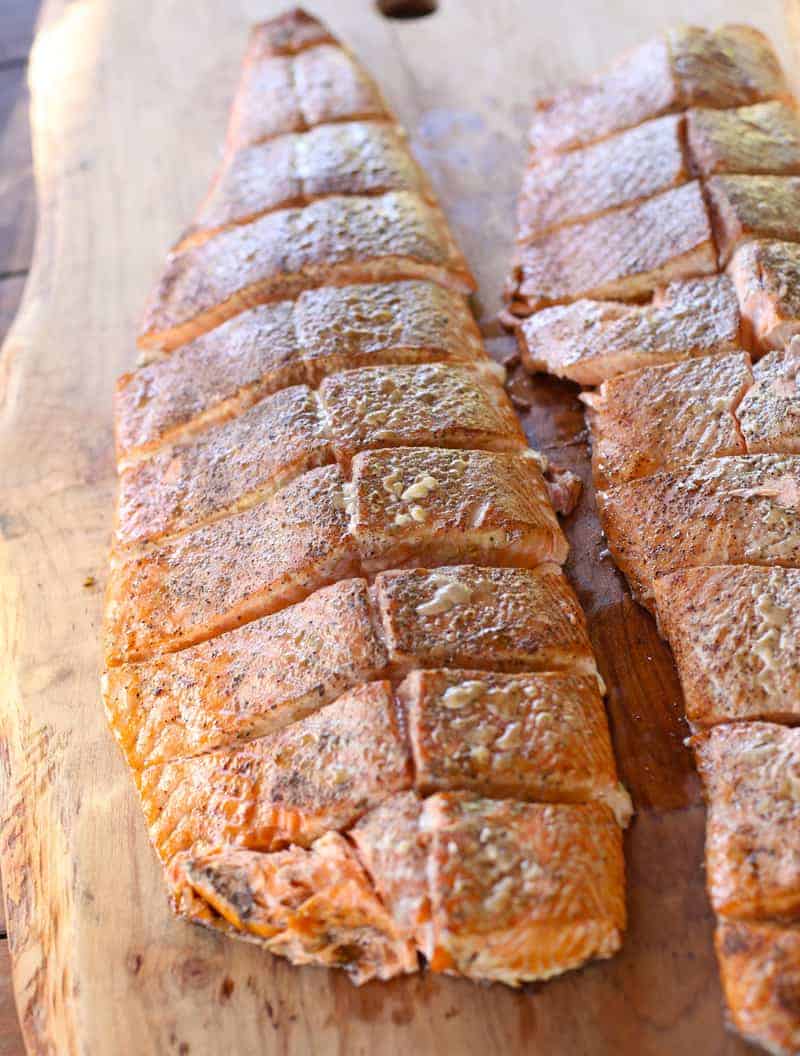 Catering trick: Prior to smoking if you want to portion out the filet, run a sharp knife lengthwise along the salmon filet taking care to not cut through the skin. Then make small cuts horizontally. Then season and cook. When it is done, you can have your servings pulled right off.
It's so easy a kid can do it 😉
Or at least our kids do (see video).
Do I need to Brine Smoked Salmon?
Absolutely not. If you start with fresh good quality salmon and don't overcook it, you will have incredibly flavorful and tender results. No need to brine for flavor or added moisture. If you want to brine, keep it simple with kosher salt, water, and brown sugar. But it is not necessary.
Wine Pairing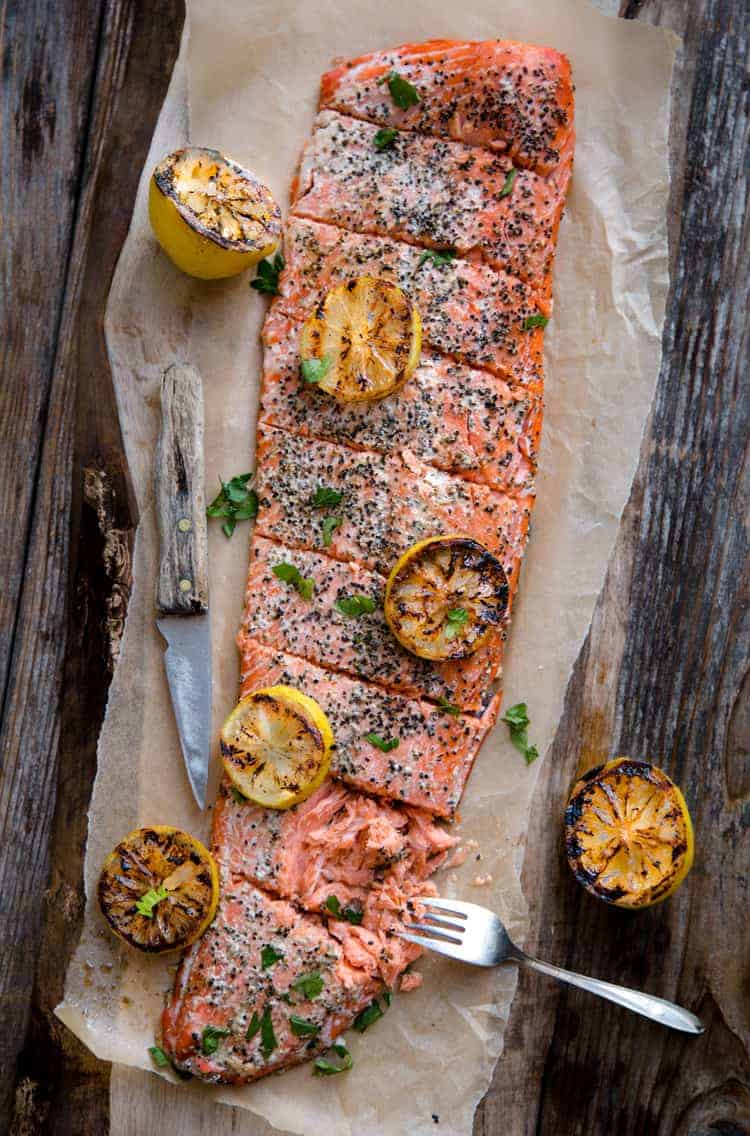 Hands down Pinot Noir is the most popular pairing for Salmon. Pinot Noir, especially from Oregon, has a lovely silky texture, with bright red fruit characteristics (cherry, strawberry and raspberry), often displaying earthy and spiced notes, with mild tannins. These characteristics are a fantastic match for the uniquely sweet flavors of Salmon and its silky textures. Pinot is not an over the top wine, nor is salmon an over the top protein (so long it's prepared simply).
Plus they also say what grows together goes together. Pacific NW Salmon + Oregon Pinot Noir. You betcha!
Of course, there are dozens and dozens of wines that pair well with salmon but Pinot is a classic for a reason.
What to do with leftover Smoked Salmon
Recipe for Easy Smoked Salmon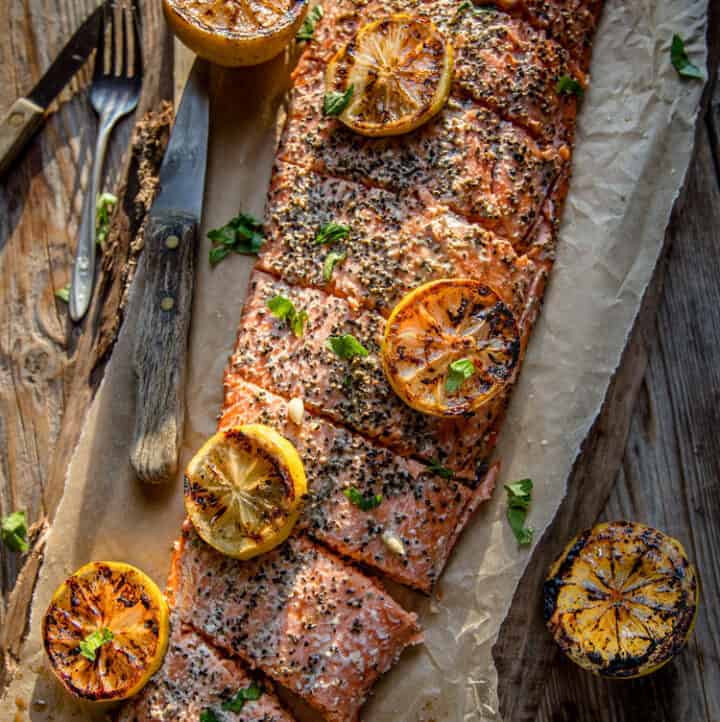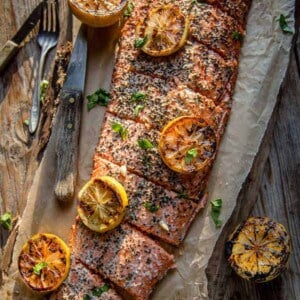 Easy and Tender Smoked Salmon Fillet
Recipe and video for fresh smoked salmon fillet. Secrets to juicy and tender salmon. Comes with wine pairing recommendations.
Print
Pin
Rate
Instructions
Preheat smoker to 225 degrees using fruit wood (like cherry or apple).

Prep and clean salmon, and pat dry.

Season flesh side of salmon with the Dijon mustard, salt and pepper.

Place on smoker and cook until the internal temperature of the salmon reaches 140 degrees (F). If you don't have a thermometer you can pull back the flesh and make sure the inner portion is pink and not translucent.

Remove from smoker and let sit for 10 minutes. Slice up and serve.
Notes
Catering trick: Prior to smoking if you want to portion out the filet, run a sharp knife lengthwise along the salmon filet taking care to not cut through the skin. Then make small cuts horizontally. Then season and cook. When it is done, you can have your servings pulled right off.
Find the perfect wine pairing at the Vindulge Wine Shop
Nutrition
Calories:
322
kcal
|
Carbohydrates:
1
g
|
Protein:
11
g
|
Fat:
3
g
|
Saturated Fat:
1
g
|
Polyunsaturated Fat:
1
g
|
Monounsaturated Fat:
1
g
|
Cholesterol:
31
mg
|
Sodium:
599
mg
|
Potassium:
266
mg
|
Fiber:
1
g
|
Sugar:
1
g
|
Vitamin A:
17
IU
|
Vitamin C:
1
mg
|
Calcium:
2
mg
|
Iron:
1
mg
---
*This post contains affiliate links, which means should you click and purchase some of the items mentioned, we receive a small commission. This allows us to keep putting awesome content out there and we only partner with brands we love and use.
**This post was originally published in July, 2017, and updated in October 2019 with new photos.