Ahi Tuna Ceviche is perfect for summer nights or a simple party appetizer! This quick and easy recipe for classic ceviche made with Ahi Tuna will easily become your go-to ceviche recipe! So good!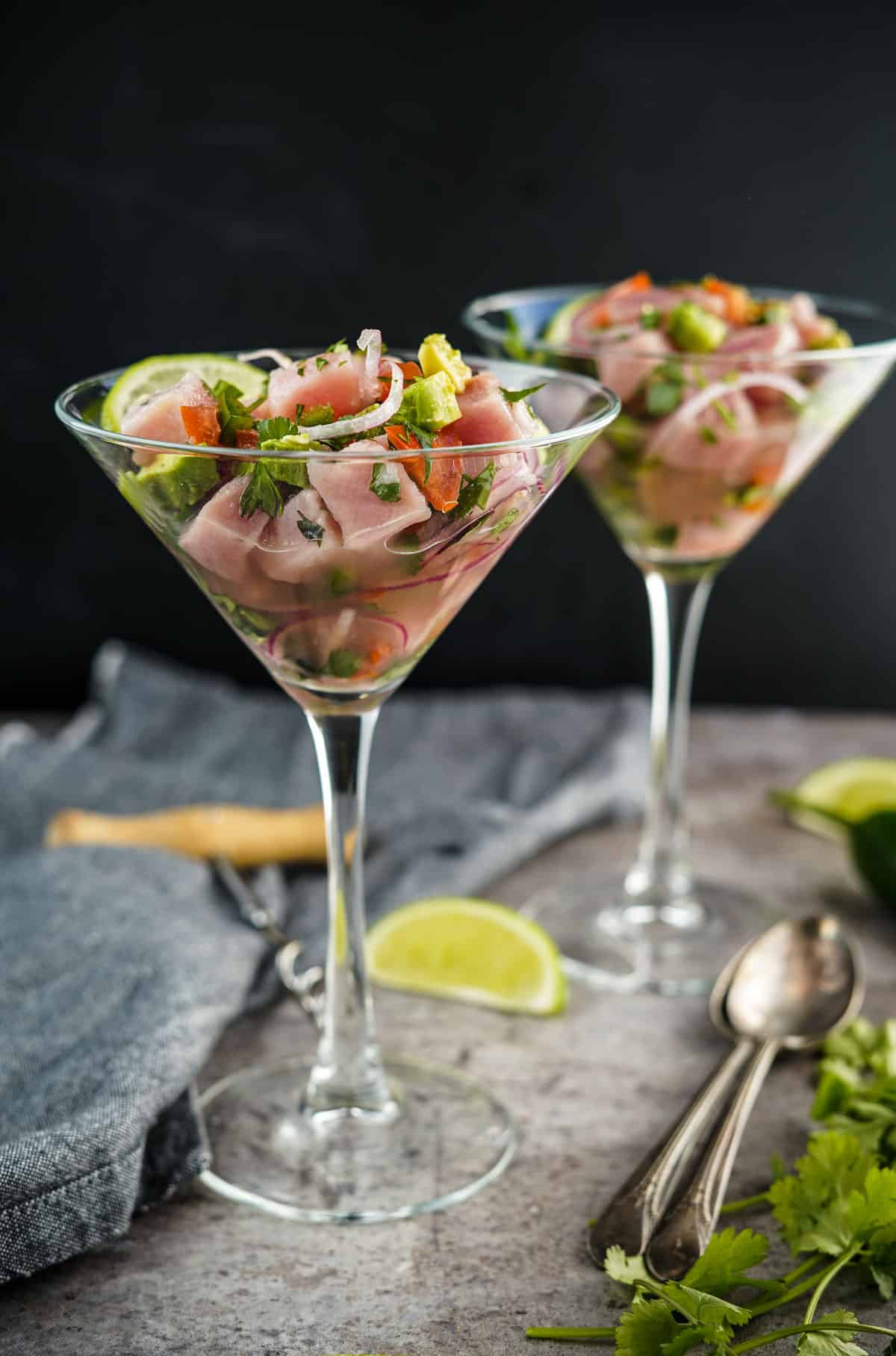 Sometimes I just want to make something that requires no heating up a grill, no starting a fire, no ovens, no stovetops, no crock-pots. Well, really, no cooking. At least in the traditional sense. And with warm summer weather approaching, I thought it was time to break out one of my favorite summer staples, ceviche.
What Is It?
Ceviche is fish that has been marinated, or "cooked", through the use of an acid like lemon or lime plus additional flavor elements. The cuisine comes from South America with various forms of seafood ceviche (or cebiche) varying from country to country. The acid from the citrus acts to denature, or alter, the texture of the fish including killing some bacteria. However, freshly sourced ingredients help minimize any issues with potential pathogens like sushi grade tuna.
Ingredients
Ahi Tuna is the main star. It's light, fresh, herbaceous, and has a great texture. The most important factor is to find and buy FRESH Ahi Tuna, ideally sushi grade. The sushi grade often has been flash frozen to kill any additional bacteria the acid may not get. If it isn't sushi grade, try to find the freshest tuna you can, ideally caught the day of.
Following the fish, the rest of the ingredients add flavor and texture.
Citrus – The lime is the key agent in the marinade that will help cook the fish.
Red Onion – Adding an onion factor adds a nice acidic bite and complements the lime.
Tomatoes – The tomatoes, especially romas, will add a fresh flavor.
Heat – Jalapeno adds a vegetal and slightly hot flavor.
Herbal – Cilantro and lime zest will add a fresh herbal note.
Avocado – Fresh avocado offsets the acid since we add it after the marinade. The fresh flavor and texture is a nice offset to the acidic and bright flavors.
Crostini – Find your favorite bread and make into a crunchy crostini to place the ceviche on. Or use your favorite corn chips.
How to make Ahi Tuna Ceviche
Ceviche is almost like making a salsa. Unlike salsa, you will need to marinate the main ingredient (your fish of choice) in lime juice for a short period of time in the refrigerator. That's how it will "cook". It's not cooked over heat; it's cooked in acids of the lime juice.
Start by cutting your raw Ahi tuna into small bite size chunks (like ¼ – ½ inch chunks). Place the fish into a bowl with other ingredients (except the avocado and crostini) and allow it to marinate in the refrigerator.
Everyone will have different thoughts on how long it should cook. For a white fish we only need to marinate for around 20 – 30 minutes. But for Ahi Tuna I like to go one hour to really soak up the flavors of this marinade.
When done, strain from the marinade, add the avocado and then serve in your favorite dish.
Chef's Tip: Sushi grade Ahi tuna can be consumed raw, but marinating it in the lime juice will not only cook the tuna, but it will infuse it with great flavor – delightful citrusy and herbaceous flavor. It's like melt-in-your-mouth deliciousness that you find yourself quickly devouring and going back for seconds, but you don't feel guilty about it, because it's so stinkin' fresh and healthy.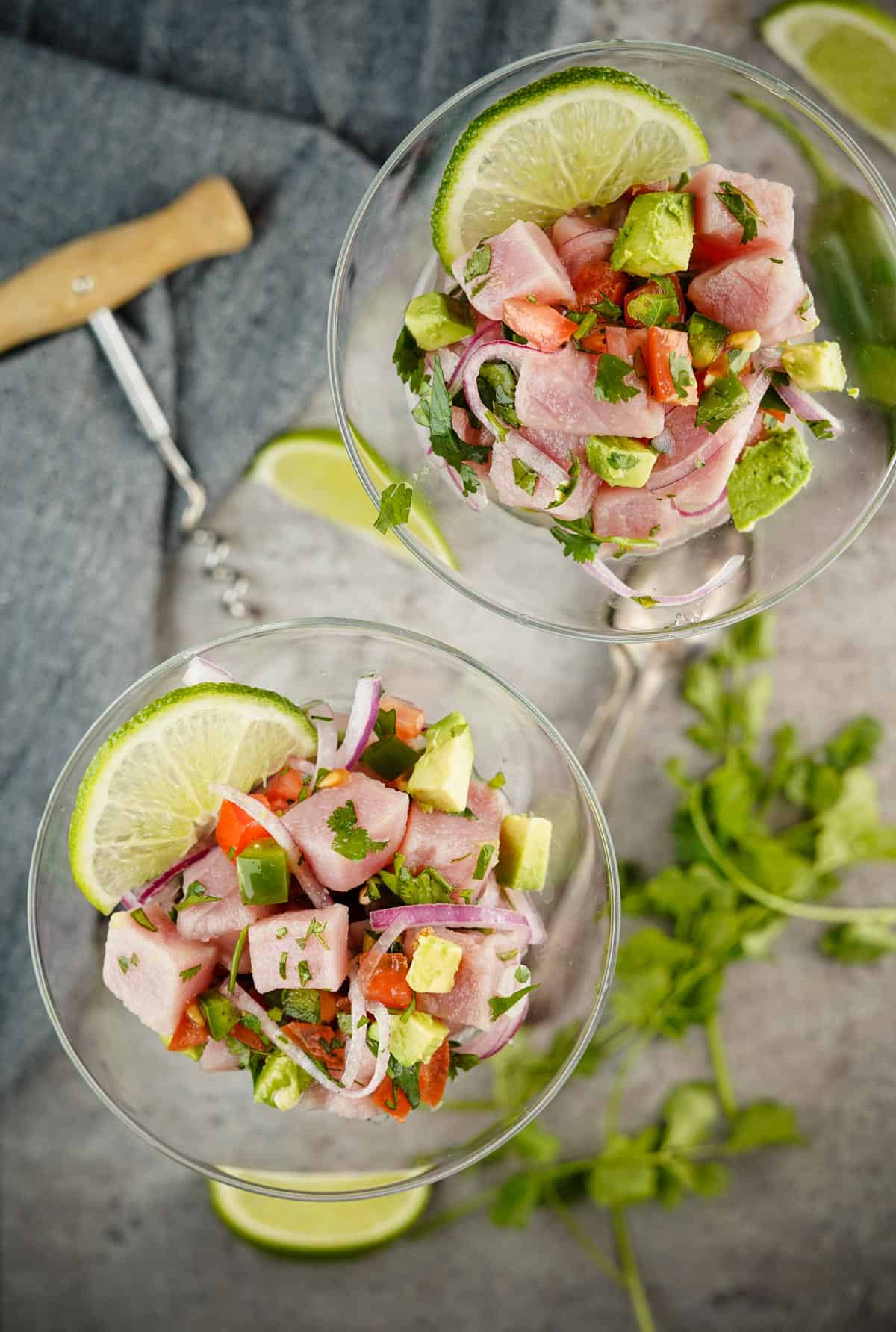 Wine Pairing for Ahi Tuna Ceviche
There's a lot of acidity going on here with all that lime juice, along with the herbaceous cilantro. While there's some lovely creamy textures from the tuna and rich avocado, focus more on the citrus and herbs and look for something high in acidity to stand up to the power of the dish. If you don't pair this with a wine with equal acidity the dish may fall flat and the wine will end up tasting sweet, and that's no bueno!
Pinot Gris (Grigio), Albariño, and even Dry Riesling (make sure it's dry though!) can work well. But my go-to for Ahi Tuna Ceviche is Sauvignon Blanc because they typically have lots of citrus notes, herbal aromas, and have the acidity to match that found in the dish. This is a pairing where you want to match acid with acid (know what I'm saying?). Some people will warn that this pairing may cause a lime-y or citrus-y overload in your mouth, but I personally think they work great for this particular ceviche recipe.
More Seafood Recipes
Mary (a certified sommelier and recipe developer) and Sean (backyard pitmaster) are co-authors of the critically acclaimed cookbook, Fire + Wine, and have been creating content for the IACP nominated website Vindulge since 2009. They live in Oregon on a farm just outside Portland.
If you like this recipe we'd truly appreciate it if you would give this recipe a star review! And if you share any of your pics on Instagram use the hashtag #vindulge. We LOVE to see it when you cook our recipes.
This recipe was originally created in April of 2015 and republished in May of 2021 with new details on the recipe, links to similar recipes, and updated photos.
---