A beginner lesson on the wines of the Burgundy (Bourgogne) region of France.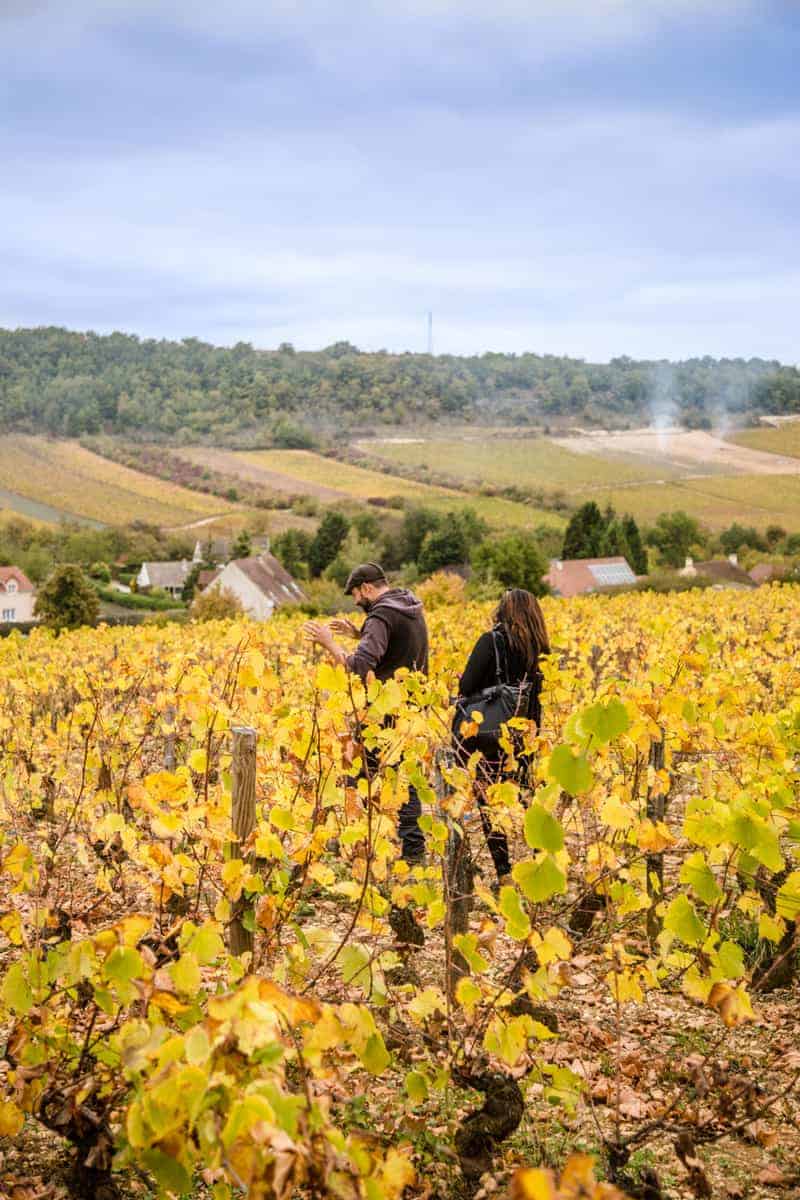 Jump to:
Good Burgundies can be life changing. They are the kinds of wines that, in the 60's and 70's, motivated crazy folks to pack up and plant vineyards in Oregon, because they saw the potential for the kinds of life changing wines they had tasted in Burgundy. Oregon is now one of the most important places in the world to grow Pinot Noir, because of those crazy folks who saw the potential here.
Is It Burgundy or Bourgogne?
You can call it Burgundy, but Bourgogne (pronounced boar-gone) is how it's referred to in France, and how those in the region would prefer to be known and referenced. Bourgogne is where it all started.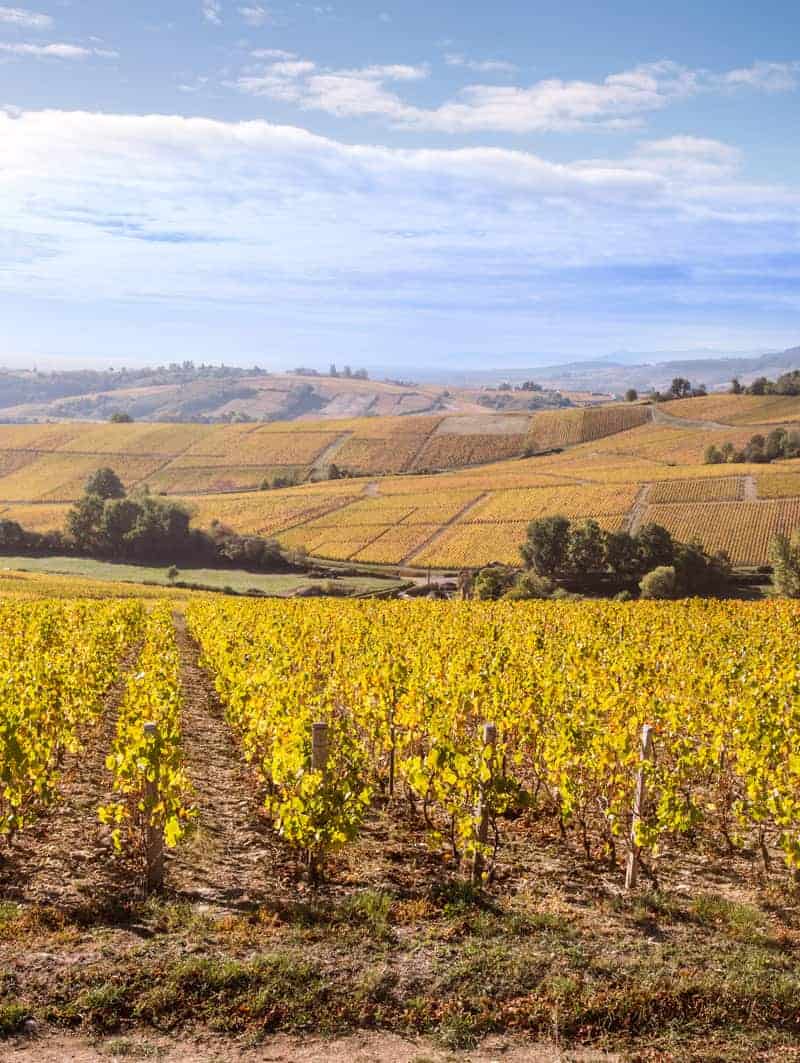 This is a small and complicated region with centuries of history.
It's one that's hard to fully grasp. So for many, we try to simplify it. There's Pinot Noir (for reds) and Chardonnay (for whites) grapes grown for the most part, broken down into five wine-producing regions, with the most famous being "The Côtes" (Côte de Nuits and Côte de Beaune).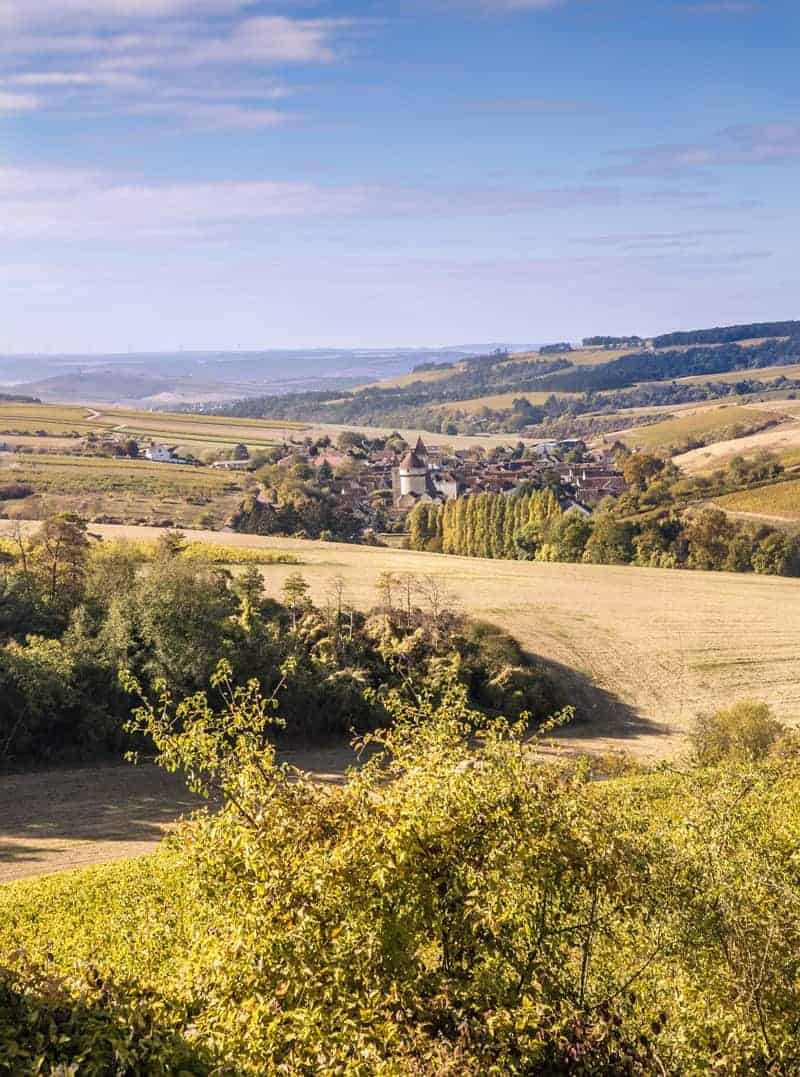 Burgundy Wine Producing Regions
From North to South:
Chablis
Côte de Nuits
Côte de Beaune
Côte Chalonnaise
Mâconnais
But there's so much more to understand about this region than simply stating what grapes are grown and where. Within these five regions there are 84 appellations!
I've spent countless hours studying the region, drinking wines from the region, and having the opportunity to travel there last fall on a press trip, and realized… I'm just scratching the surface.
So, instead of trying to provide a deep dive into this complicated region I'll share what I've learned, and a good base to start from.
What grapes grow in Bourgogne
As I mentioned it's mostly Pinot Noir and Chardonnay, but you'll also find Sauvignon Blanc, Gamay, and Aligoté to name a few.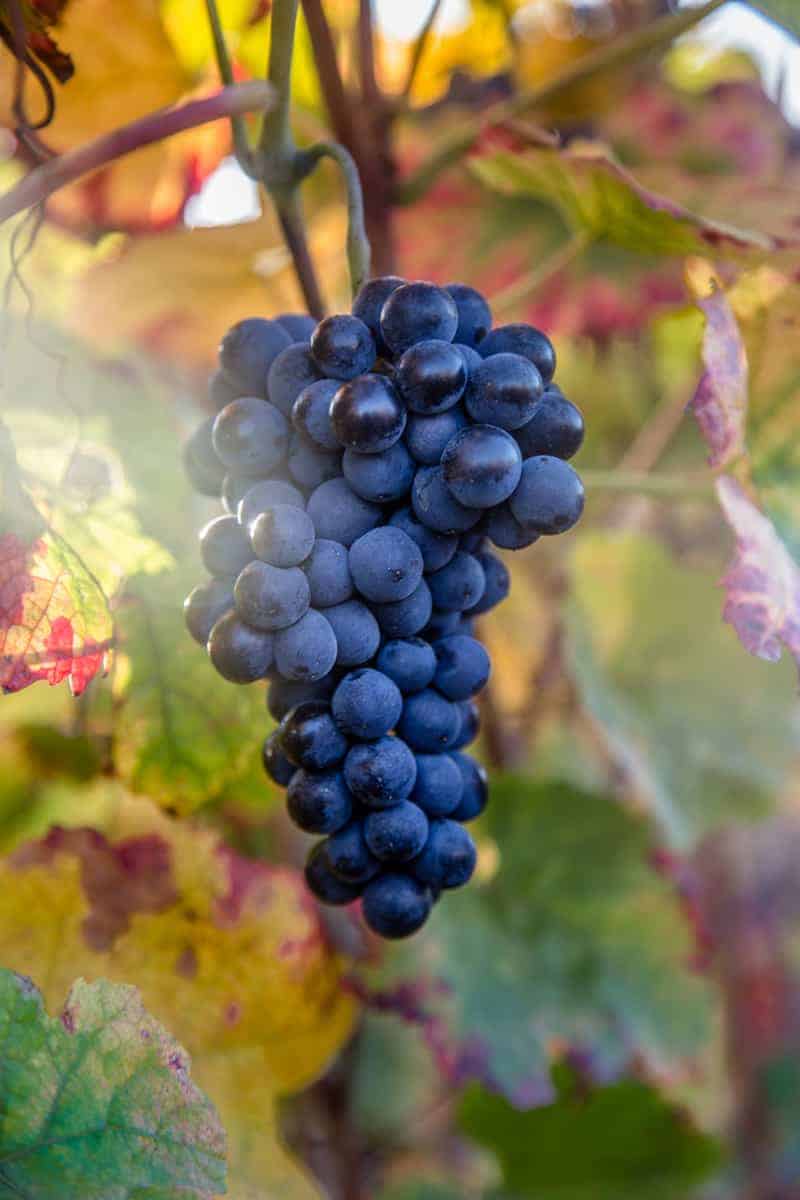 But the majority of what you'll find in the region will be the two primary wines: Pinot Noir (41% overall) and Chardonnay (50% overall).
Though one region I visited, St. Bris, is exclusively Sauvignon Blanc, and one you can find at wine shops (at least here in Oregon). Speaking of, while many focus on the more famous regions in Bourgogne, the focus of my trip was to discover the lesser known regions. And by learning about these regions, you'll find there are some incredible values to be found here (and value isn't a word generally associated with Burgundy wines).
59% of the production is red, 30% is white and rosé, and 11% sparkling. And remember I mentioned many get hung up on the more famous (grand cru) appellations, well they only make up 1% of the total wines produced, with 46% being Village and Premier Cru and 53% regional wines. More on that in a minute.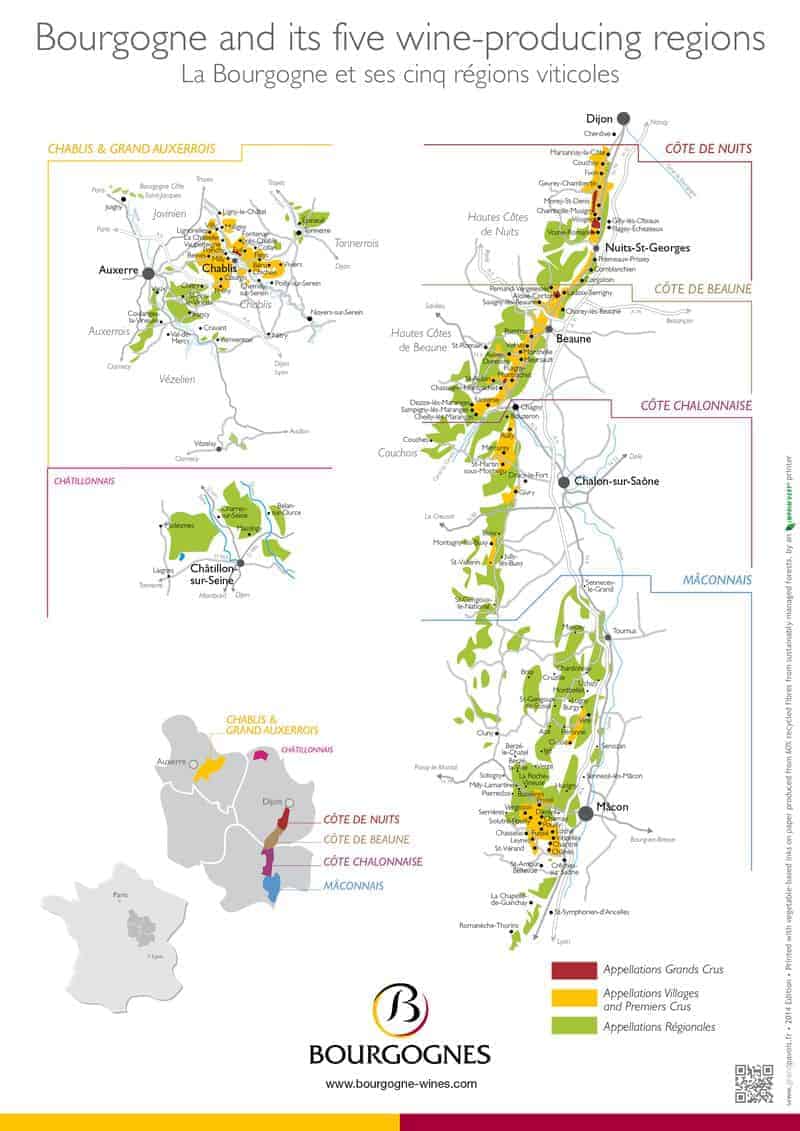 Chablis
Probably my favorite of all of the regions, and most definitely so when it comes to white wines. Chablis is the region furthest north.
All wines labeled as "Chablis" are made from Chardonnay grapes, and these wines have an incredibly distinct flavor. You always find a very notable flint like minerality, and a salinity, along with green apple, lemon, and white flower, to name a few. These tend to be lean and elegant, distinguishing it from Chardonnays produced elsewhere. This is primarily due to the limestone (specifically Kimmeridgian limestone) soils in which the grapes are planted and cooler climate.
What Food To Pair for Chablis: you can enjoy Chablis on its own (I love it as an afternoon sipper), or with grilled white fish. It's ridiculously delicious with oysters! It also pairs well with goat cheeses and hard to pair vegetables (like asparagus and artichokes).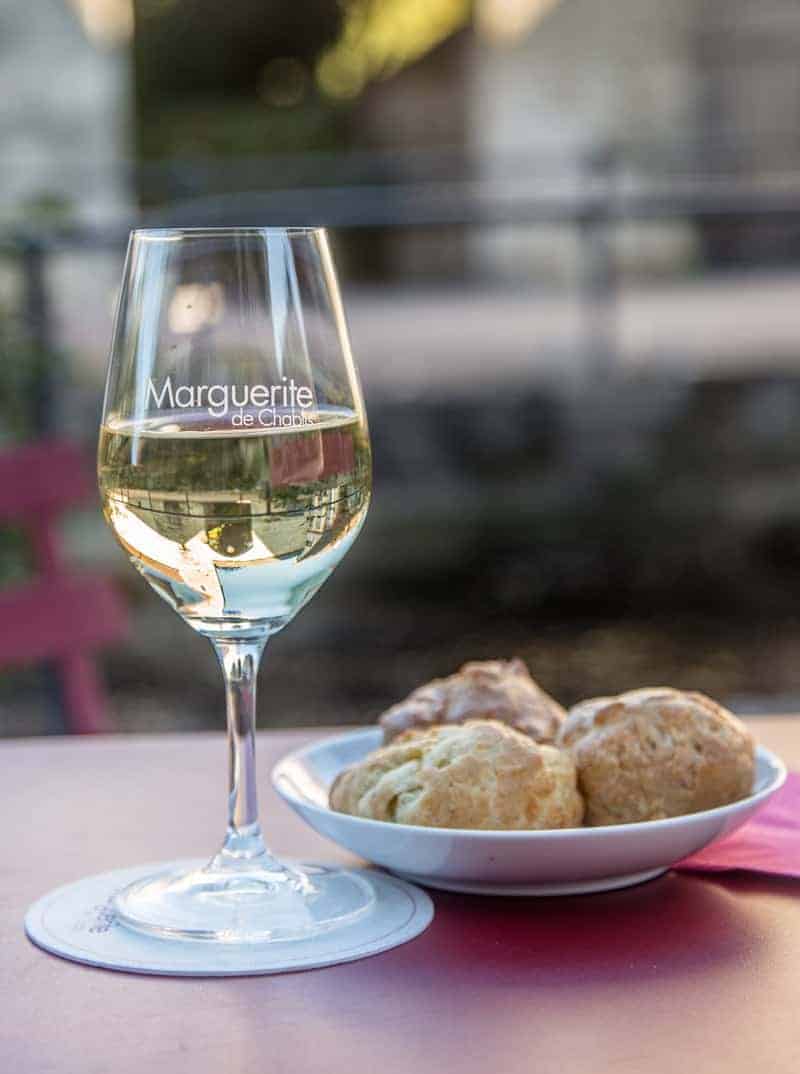 The Côte de Nuits
The most famous region, and home to 24 Grand Cru vineyards and some of the most expensive and sought after wines in the world. This narrow region is approximately 19 km long and averages .5 km wide. You'll find mostly very high quality Pinot Noir here, with some Chardonnay and a small amount of rosé.
Côte de Beaune
This region comes a close second when it comes to my favorite Chardonnays found in the world. They can be truly magical! But that's not all that's grown here.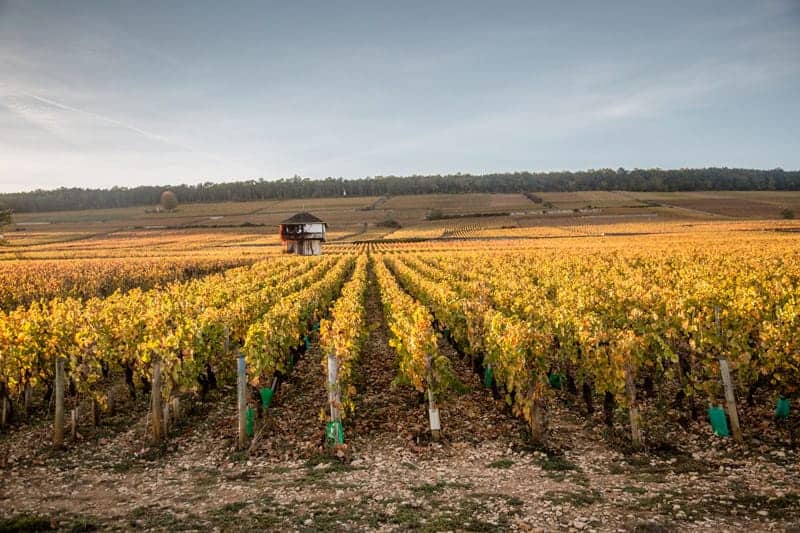 It has nearly double the amount of land as its neighbor to the north, filled with rolling hills. Very high quality reds and whites come from this region, but it's the whites that take note (with several Grand Cru vineyards famous for their Chardonnay). The reds will tend to be slightly lighter than the Côte de Nuits, but still have great tobacco, minerality, and plum flavors.
What Food To Pair With Côte de Beaune: the reds are great with pork, beef roasts, mushroom dishes, and even game. The whites are a great match for creamy white sauces, grilled poultry, shellfish, goat cheeses, and Comté cheese (and also Gruyere).
Côte Chalonnaise
Moving further south we have this smaller region of Côte Chalonnaise. This is where you can start to experience some great values, and gems. You won't find any famous Grand Cru vineyards here, but you will find some delicious wines that you don't have to spend an arm and a leg for (bonus!!).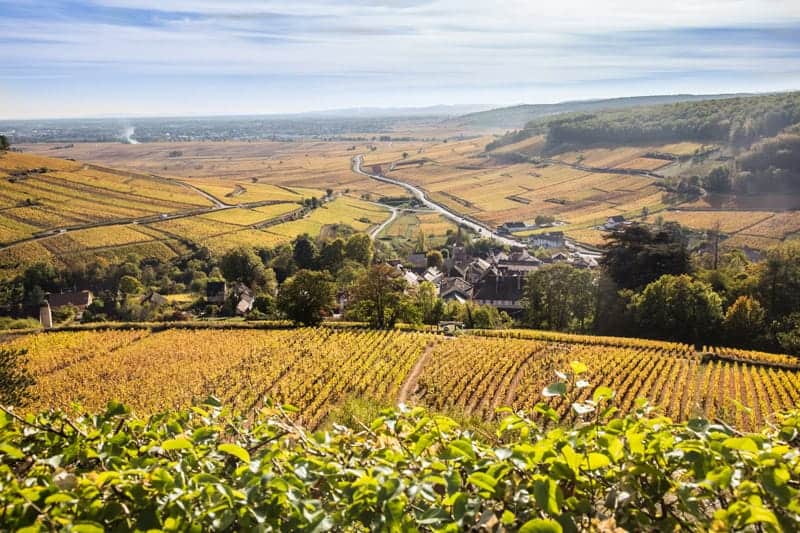 You'll find five village/sub-appellations here, all with distinguishing characteristics. Two of note include:
Bouzeron: dedicated to the Aligote grape. Aligote is a white grape that is often dismissed as simple and fruity, but my goodness you can find some beauties here! See below for some of my favorites. These wines can be excellent and complex.
Rully: here you'll find mostly white wines, with a heavy focus on sparkling Crémant de Bourgogne (did someone say bubbly?!?!). These wines are made in the traditional Champagne method.
These wines are definitely ones to seek out, especially if you're just getting into Bourgogne wines. They can provide a good starting point if you're not ready to spend the high prices its neighbors above can cost. And for you bubble lovers out there, the Crémant de Bourgognes from here are excellent and fantastic values (you can find great examples in the $15-$20 range).
Mâconnais
The furthest region to the south, and also the largest, within Burgundy, spanning a 10k-wide strop of vines 35km long. Similar to Côte Chalonnaise this region can often be dismissed as simple wines. But not in my experience! They've come far since those days.
François Labet, of Château de la Tour, told me during my visit that the very best values in the entire world are in the Maconnaise. Hmm, I think he might be on to something!
Most of the Macon reds are from Gamay grapes, and the whites Chardonnay, with Chardonnay grape being predominant representing 80% of all vines planted in the region.
In the Mâconnais, you can discover a wide range of appellations and styles including Bourgogne, Bourgogne Aligoté, Bourgogne Passe-Tout-Grains, Coteaux Bourguignons and Crémant de Bourgogne.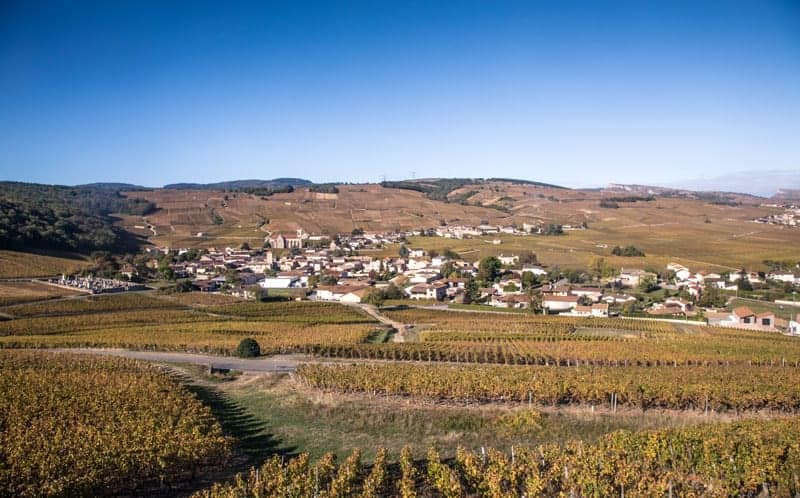 Pouilly-Fuissé is the most famous appellation here, producing Chardonnays that can have delicious mineral qualities, and flavors of citrus, grapefruit, pineapple, peaches, and even brioche.
Two other regions are definitely worth seeking out just next to Pouilly-Fuissé: Pouilly-Vinzelles and Pouilly-Loché.
Vinzelle is located just up on the hills, near Fuissé (and it starts as you gain elevation), whereas the bottom of the hill is simply classified as Macon. You'll find excellent minerality and citrus in many of the white wines from here.
Even the slightest differences in vineyards (literally two vineyards across the street from each other) can make a world of difference in soil types… )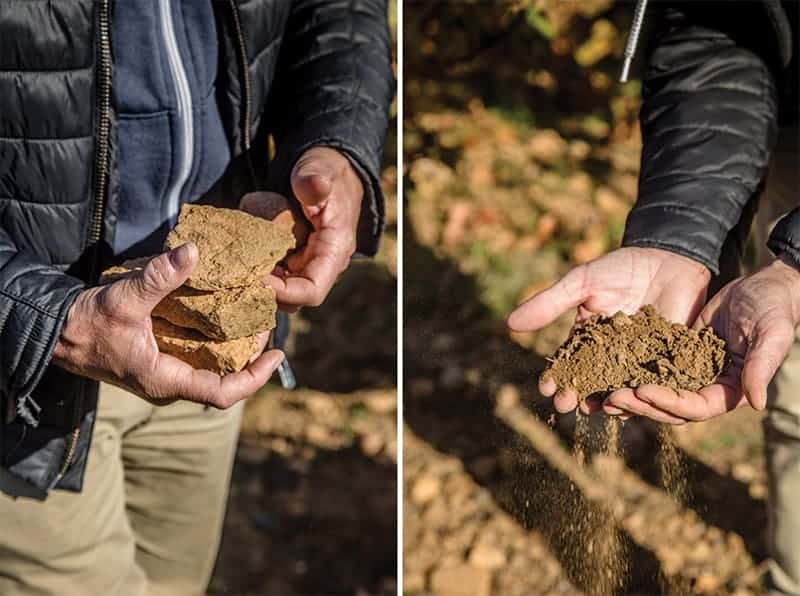 The two pictures (above) were two vineyards just across the street from each other, both classified as difference AOCs based on soil type.
How Bourgogne (Burgundy) Wines are Classified
For many years, the region boasted over 100 appellations (AOC). But the region now recognizes 84 AOCs.
An Appellation d'Origine Conrollee (AOC) is a quality label, guaranteeing the product's characteristics (or rather the terroir where it comes from).
The Bourgogne appellations are divided into 4 levels:
Grand Cru: 1% of the total production, with wines produced on the very best plots (or "Climats") on village land.
Premier Cru: 10% of the total production, produced on very accurately defined plots of land called "Climats" within a specific village.
Village Wines: 38% of the total production, and produced on land around wine-growing villages and bearing their name.
Régionales: 51% of the total production, and produced over the entire Bourgogne region.
Note that Chablis has its own classification system separate from this one. In Chablis the system goes from Petit Chablis, Chablis, Premier Cru Chablis, and Grand Cru Chablis.
To be continued…
There still a lot to learn about this region. But hopefully this can act as a primer. In upcoming posts I'll share more food and wine pairing suggestions from this region.
---
But to end, a few observations from my trip to the region.
Observations from Bourgogne (Burgundy)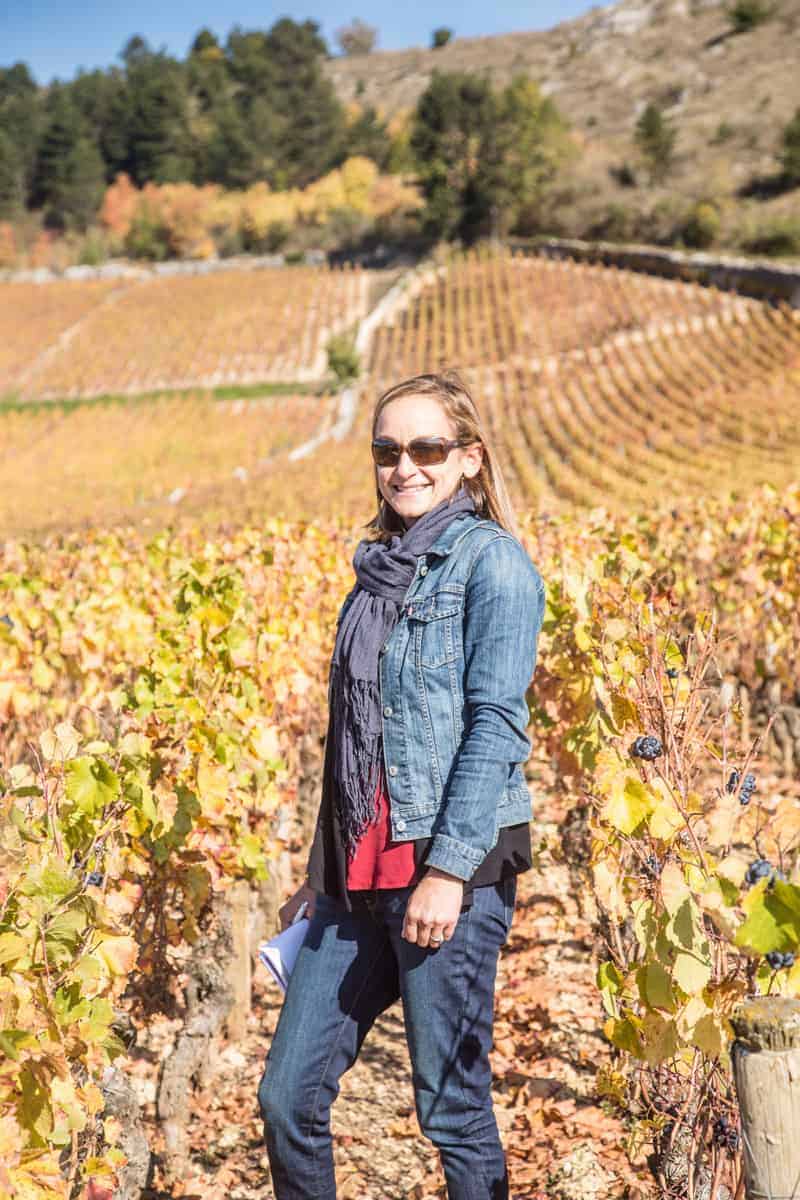 Before my recent trip to the region I knew I loved Chablis, but I never truly realized why. I just thought it was because I loved Chardonnay. But the Chardonnay produced here is so incredibly different than produced anywhere else in the world. It's truly unique. It's truly delicious. The distinct minerality and sometimes saline (salty) notes are defining features that make these wines special and unlike any produced elsewhere in the world. The addition of those that also displayed bright fruit notes made them extraordinary.
Saint Bris (located within the Chablis region) was another surprise for me, and an expression of how Sauvignon Blanc takes on the personality of where it's planted. The Sauvignon I experienced in Saint Bris was very different than those found in other famous Sauvignon producing regions within the Loire, or the Unites States, or even New Zealand. It had its own distinct personality. And a grape that I often find "too much" in other regions was "just right" in its home in Saint Bris. These are wines I've now started seeking out back home in Oregon and trying to pair them with different dishes to explore its range.
Another pleasant surprise, found in Bouzeron, was winemaker Xavier Moissenet, who makes wines for Domaine Las Champs De Themis. Moissenet also represented a new wave of winemakers who didn't inherit vineyards from his family, nor is he an 8th generation winemaker following in the footsteps of his family. He is among a type of winemaker you don't read about in the wine books on this region, a man who left a prior career (in his case, law) and decided to learn how to make wine.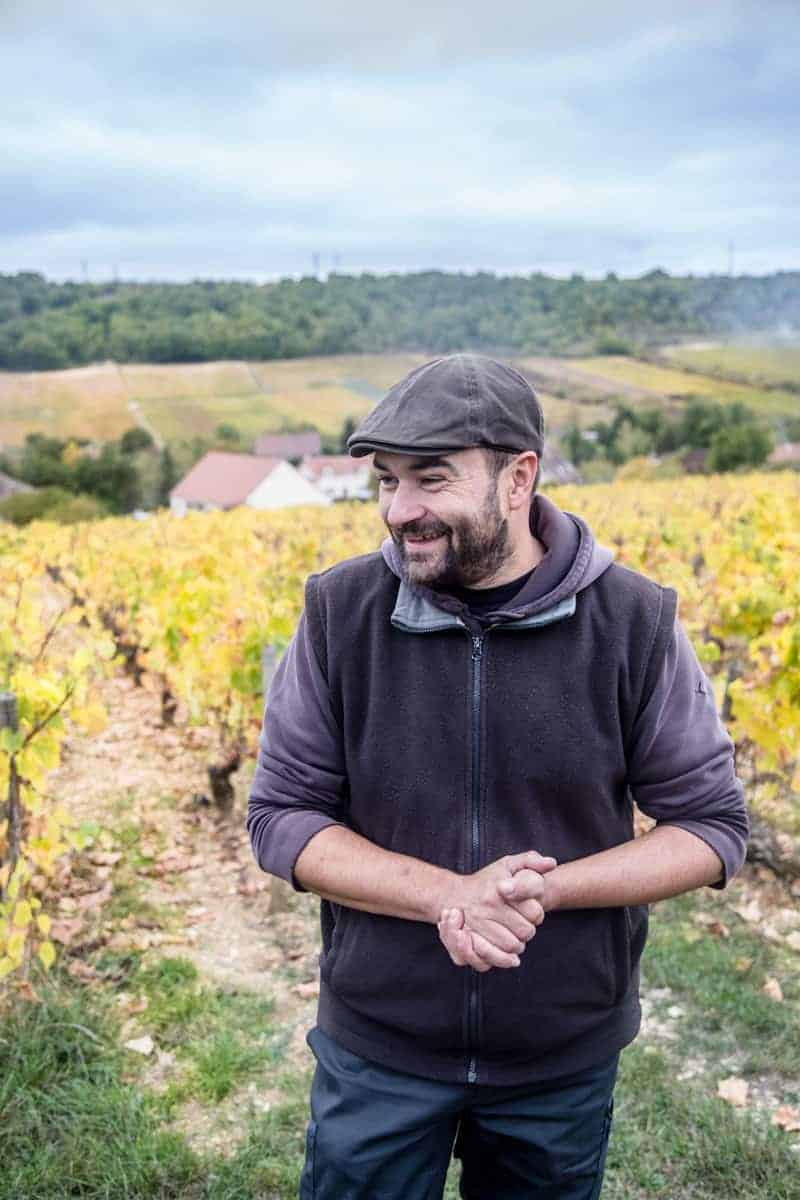 His passion for Aligote was something I hadn't witnessed before here. A grape that often gets dismissed or ignored in the region has found its whisperer in Moissenet who transforms this seemingly ordinary grape into wines with beauty, structure, and elegance. He sees the potential in this grape, one that most others brush off, and I can't wait to see what comes of his wines in the future. If they're anything like what I tasted when I visited his winery, there is a bright future there.
While the red wines I enjoyed there were all quite lovely, it seems the exploration of the white wines left the deepest impression on me. At least for this particular trip.
A final observation, and one I don't see a heavy focus on in the media, but one that is both surprising and important to me, was how many organic farmers we met and wines tasted. Sustainability and quality of both land and wines is becoming increasingly important in this day and age, and it was incredible to see how many winemakers we met who were dedicated to not only crafting beautiful wines, but in a manner that also has a focus on taking better care of the land and its future.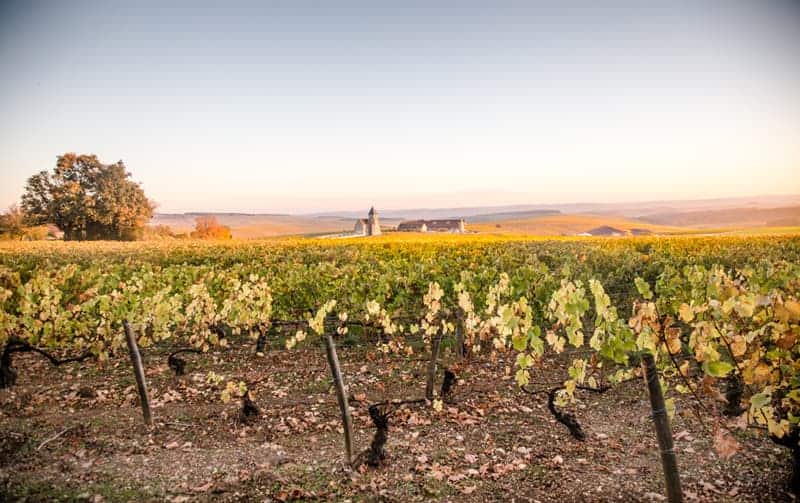 ---
This article was part of a press trip to Bourgogne, sponsored by Wines of Bourgogne Council (BIVB). All opinions, as always, are my own.