You need a great Beef Marinade in your kitchen portfolio. And this Beef Marinade is all the flavors we love and perfectly balanced so you can still enjoy the beefy flavor of whatever cut you want to use. In this Beef Marinade recipe, we are using Bavette Steak and grilling it hot and fast.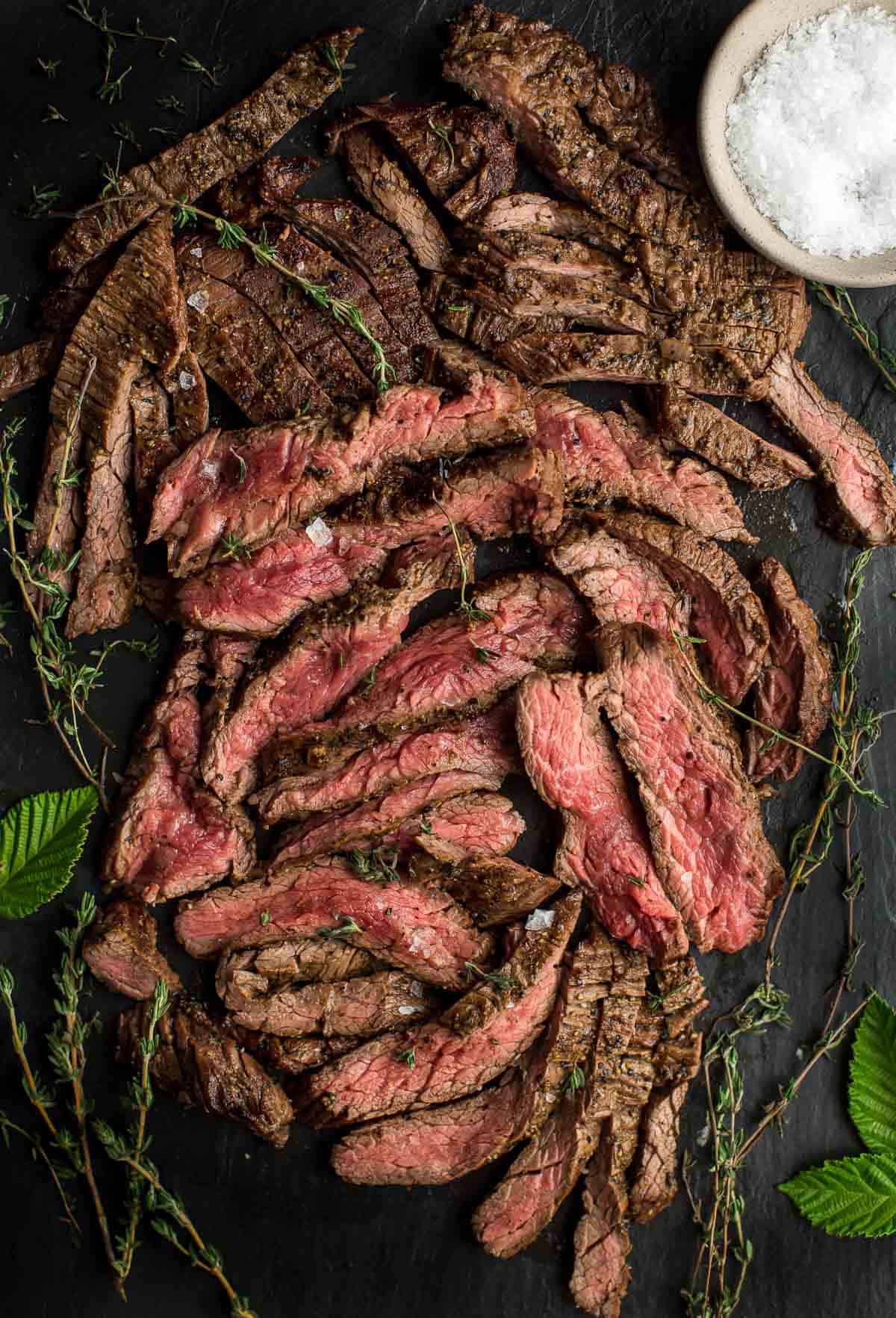 This post is sponsored by Beef It's What's for Dinner on behalf of the Beef Checkoff and all opinions are our own.
Jump to:
Beef Cut – Bavette Steak
Bavette is a lesser-known cut but one we hope everyone seeks out to cook at least once. It's often confused for Flank Steak (it isn't) or Skirt Steak (it isn't that either). It is derived from the Sirloin primal cut where you find Tri Tip and Coulotte steaks, among others. It can also be called Bottom Sirloin Bavette Steak; Bottom Sirloin Butt, Flap Steak, Bottom Sirloin Flap Steak, or Flap Meat according to Beef It's What's for Dinner website.
The texture is incredibly tender, more along the lines of a Flat Iron steak. They come smaller in size as a 1-to ½-pound roast or cut up into smaller rectangular steaks.
You can read more about the cut in our deep dive into Bavette Steaks.
When preparing this cut there is a thicker side and a thinner side. So, some of it will cook faster which is why cutting the entire roast into a smaller set of steaks allows for more even cooking.
Beef Marinade Ingredients
Full portions are in the recipe card.
Beer – We prefer a pilsner or Kolsch for a lighter flavor. If you want a richer flavor, you can use a porter or IPA.
Shallots – Roughly chopped since it's going into the marinade. You can also substitute with any onion in the same portions.
Worcestershire sauce – This adds some savory flavor and depth, so it isn't too one dimensional.
Lime – Freshly squeezed for acidity. About ½ small lime.
Garlic Cloves – Crushed or roughly chopped.
Fresh thyme – Use your favorite herbs, but thyme is our favorite with Beef.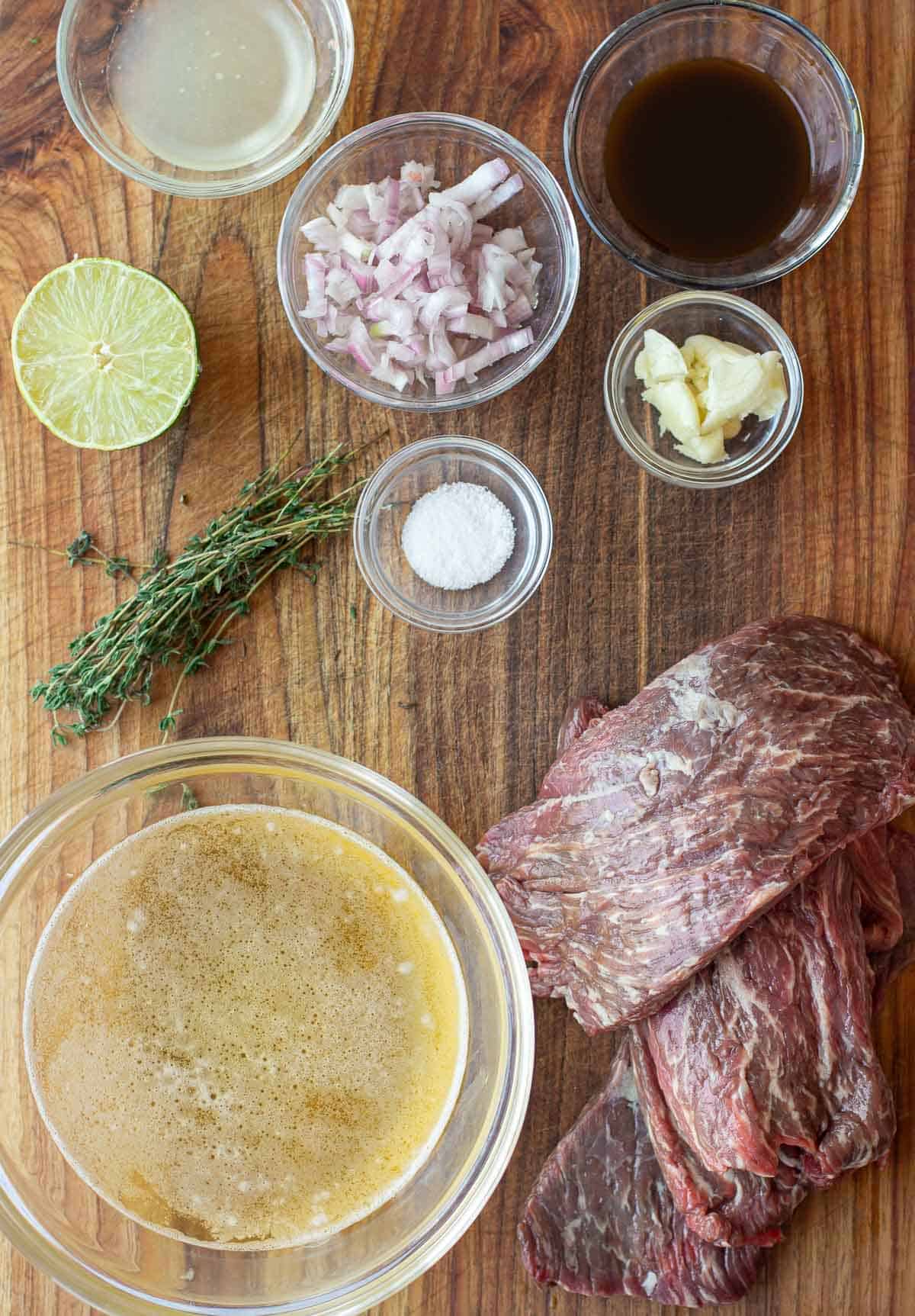 Tools
Large Bowl – We use a large bowl to place our gallon sized freezer bag and hold the meat and marinade better.
One Gallon Freezer Bag – Make sure it has a zipper. We pour all the beef marinade ingredients.
Instant Read Meat Thermometer – We strongly encourage using a good digital meat thermometer for any grilling so you can achieve your preferred internal temperature of your meat and avoid overcooking.
Tongs – Whenever you are grilling it's important to have a sturdy set of long tongs so you can avoid burning your arm and hands over hot charcoal.
Beef Marinade
Place the one-gallon baggie in a large bowl. Combine all the marinade ingredients together and stir to combine. Place the trimmed Bavette Steaks in the baggie and squeeze. Then remove as much of the air as possible from the baggie and seal it tightly. Store in the refrigerator for up to 2 hours.
Grilling Bavette Steak
Preparation: When you are almost done with the Beef marinade start your grill and set it up for direct grilling targeting 500 degrees Fahrenheit. Remove the Bavette from the marinade. Pat dry with a paper towel (it will still have some residual moisture). Liberally season with the Beef seasoning.
Grill Direct: Place the Bavette Steak over the direct heat and grill for 3 to 4 minutes with the lid closed or until you see a nice browning. Flip and grill for an additional 3 minutes or until it reaches your desired internal temperature when using an instant read thermometer.
Slice and Serve: Rest your steak for 10 minutes and allow carry over cooking to occur. Then slice against the grains and serve with your favorite sides.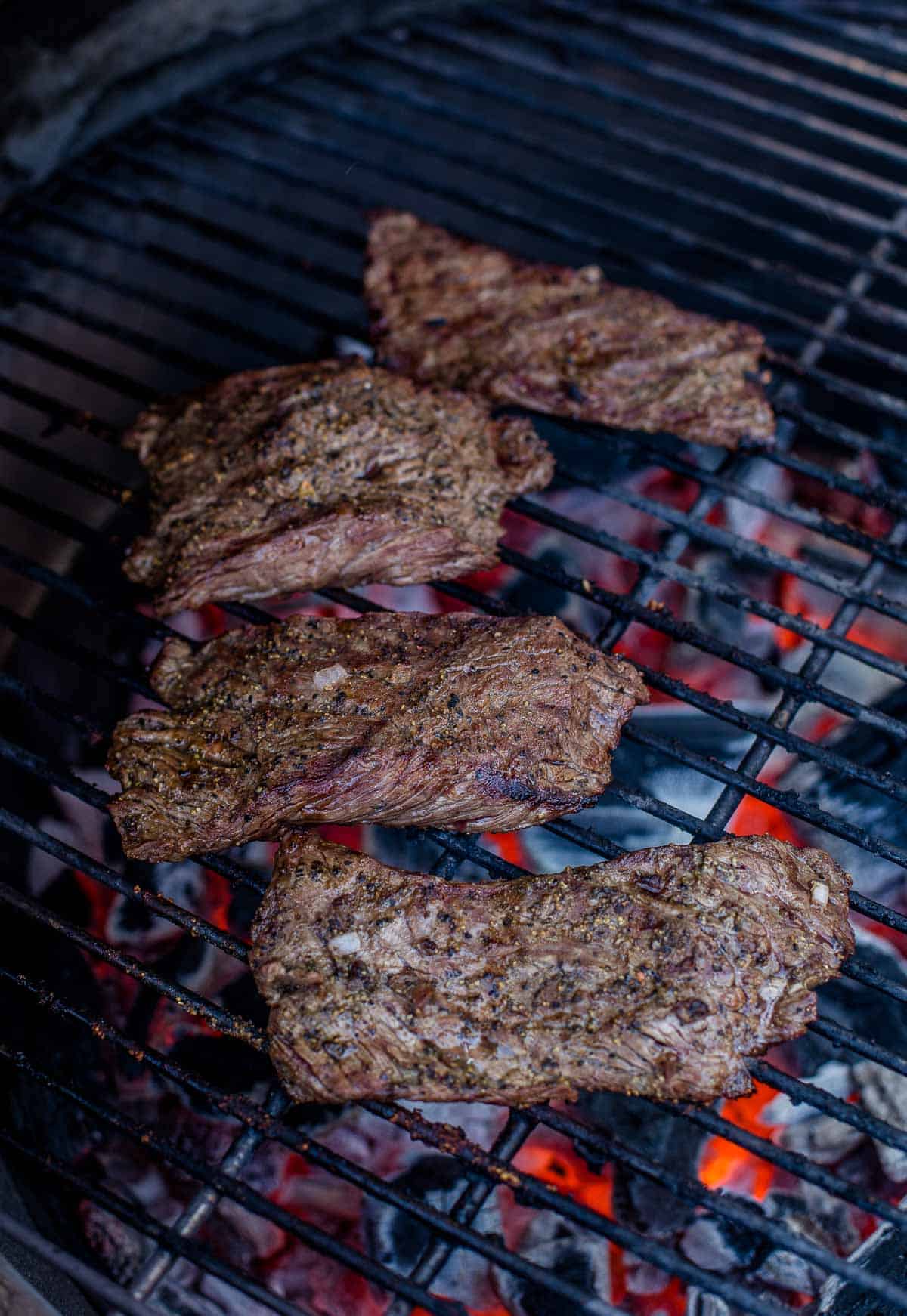 When is Bavette Done?
We like Bavette Steak at medium rare, but you can pull at at any internal temperature level you like.
When cooking Bavette be sure you take into consideration carry over cooking which is when you remove the steak from the heat source and the internal temperature continues to rise for a couple of minutes.
Read more about our steak temperatures in our article on temp and carry over cooking.
Side Ideas for Bavette Steak
When grilling we love going with some type of salad. Our grilled Caeser salad is a fun way to use those coals and put a slight char on the romaine lettuce. If you want a nice make ahead option, go for our grilled corn salad with poblano peppers. A classic starch is our roasted potatoes.
Frequently Asked Questions
Can I reuse a marinade?
It is not recommended to reuse a marinade that you have used with raw meat. You can place the marinade in a saucepan and bring to a boil and reduce for 20 minutes to turn it into a sauce. That will kill any harmful bacteria.
How long should you marinate beef?
For thinner cuts a marinate for beef can impart flavor in as little as 1 hour. For thicker cuts of steak, it can take up to 4 hours. We do not recommend any marinade over 4 hours otherwise the beef texture can start to get gummy and discolor.
Do I need oil in a marinade?
Oils can help emulsify a marinade, but they are not necessary for one. The primary components of a marinade include acid and flavoring agents. Too much oil in a marinade will prevent the marinade from coming together.
About Vindulge
Mary (a certified sommelier and recipe developer) and Sean (backyard pitmaster) are co-authors of the critically acclaimed cookbook, Fire + Wine, and have been creating content for the IACP nominated website Vindulge since 2009. They live in Oregon on a farm just outside Portland.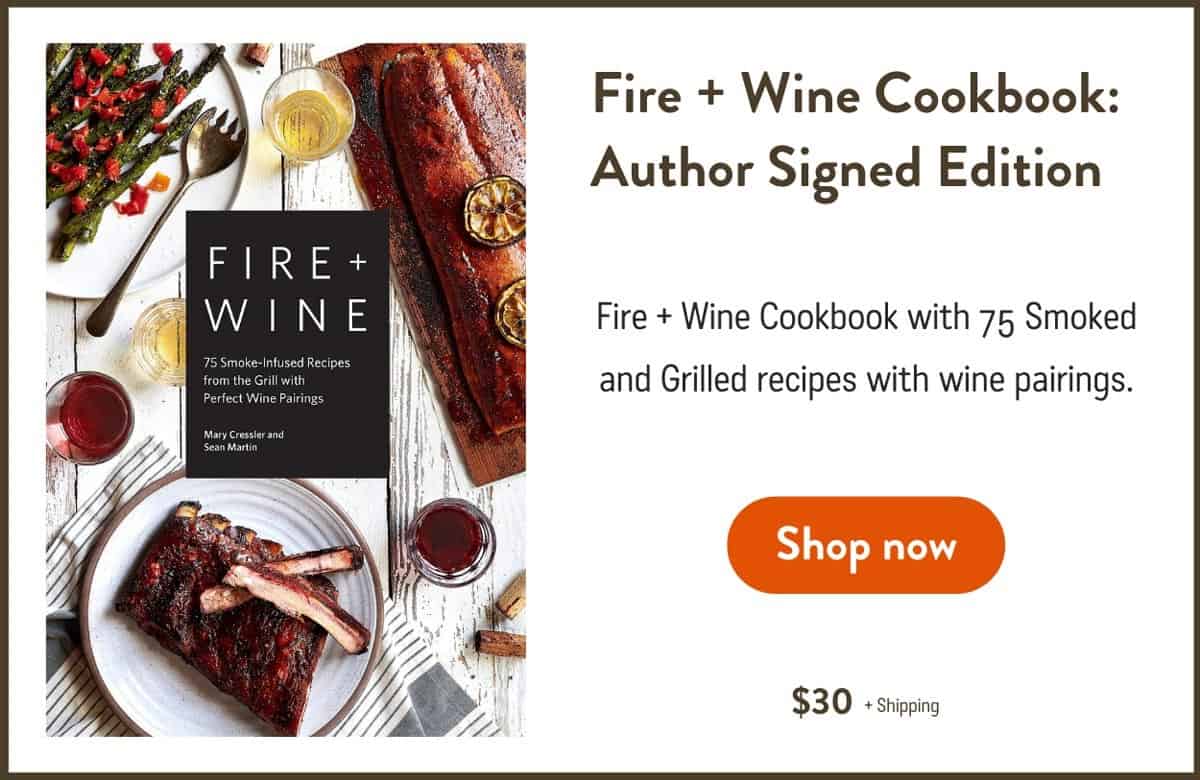 Tried this recipe? Give us a star rating and we would love to see! Mention @vindulge or use the hashtag #vindulge on all the social media handles. And consider subscribing to our newsletter where we drop all our favorite ideas and inspirations every week.
This post may contain affiliate links. This means if you click on the link, we may receive a small commission if you purchase through the link. We partner with brands we know and love and use and it helps keep the blog going!