A Grilled Corn Salad is an incredible summer salad that can stand up on its own, and can also act as a flavorful topping for steak, chicken, or pork chops. This Grilled Corn salad is enhanced with grilled poblano and jalapeño peppers and finished with a simple and bright vinaigrette dressing. This is definitely a summer favorite recipe!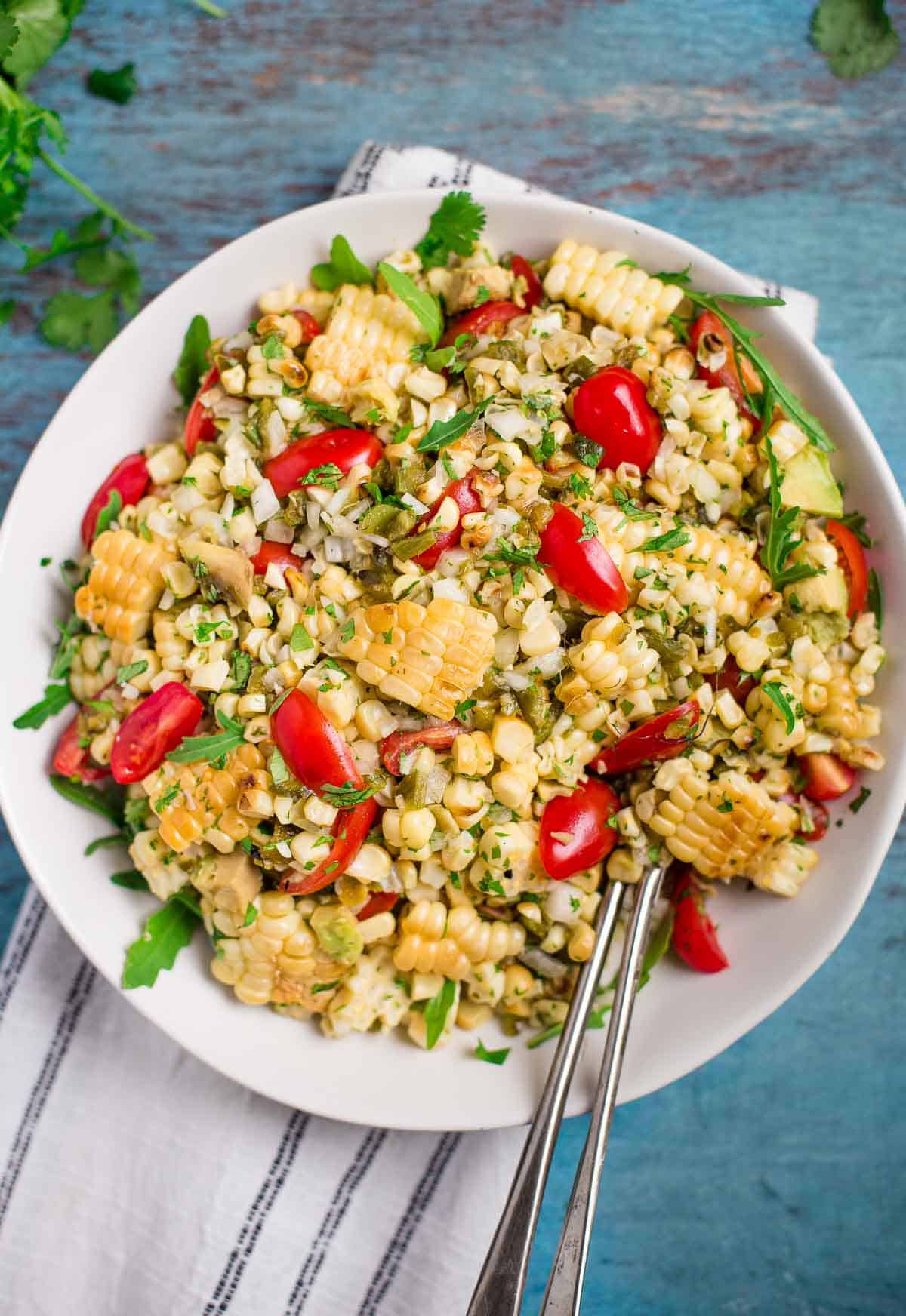 Jump to:
Why We Like This Recipe
This grilled corn salad is incredibly versatile. It can be a stand alone as a great salad or side dish, or can sub as a salsa for chips or topping for your favorite protein.
It's easy to make a day or two in advance making it great for picnics and potlucks.
You can also add this as a topping for grilled steaks, pork chops, and chicken.
It's also a great filling for tacos and burritos!
Corn and Poblano Salad Ingredients
Portions are in the recipe card.
Corn – Buy whole ears of corn. This recipe is best with fresh corn that you will grill.
Poblano Peppers – Poblanos are not traditionally spicy. After grilling they will be diced. You can substitute with Anaheim chile as well if you want more heat.
Jalapeño Peppers – Grill the jalapeño whole, then remove seeds and ribs to minimize the heat units after grilling.
Arugula – The greens are spicy with some texture and the right size. But you can also use any greens you like.
Cherry Tomatoes – Adds a brighter flavor to the grilled corn salad, you can also substitute with heirlooms. Just dice it to the same size as the corn kernels.
Sweet Onion – We love the flavor of Walla Walla sweet onions when in season, but you can also substitute with any onion you like.
Cilantro – If you don't like it – don't add it.
Garlic
Dressing
We like to add a simple vinaigrette dressing to the grilled corn salad. The ingredients are good extra virgin olive oil, Dijon mustard, lime juice, and kosher salt. Whisk it all together to emulsify it then add to the salad when everything is combined.
Grilling Corn, Poblanos, and Jalapeños
You can see more details in our recipe for how to grill corn.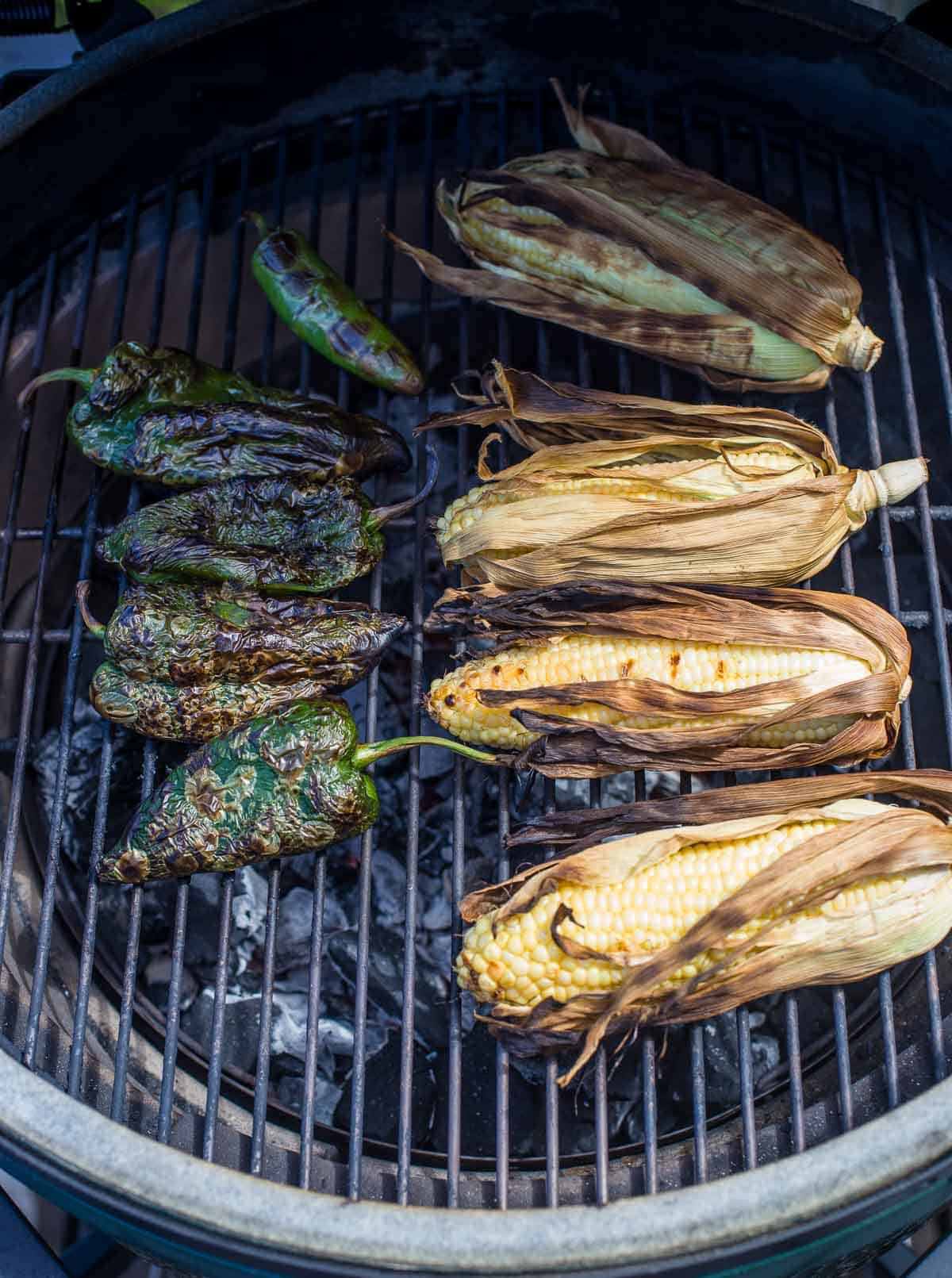 Preparation: Prepare the grill for direct cooking targeting 500 degrees Fahrenheit in the cooking chamber. On a gas grill, medium high heat. Carefully peel back the husk on the corn and remove the fibers. Then cover the corn back up with the husk.
Grill: Place the corn, poblanos, and jalapeño over direct heat on the grill grates. Close the grill lid. Open every few minutes to rotate the peppers and corn. The peppers should blacken and blister on each side and be done in about 12 minutes. The corn continue to rotate every few minutes to get even browning on each side. It should be soft and ready to pull after 25 minutes. If the kernels start browning sooner, then remove the corn from grill sooner.
Cut Corn: Place a small bowl upside down in a large bowl. Remove the husks from corn and discard. Set the end of the corn on the upside down bowl and then cut down to remove the kernels. Cut a little deep to remove parts of the ear as well for good chunks.
Combine: Remove the skin, stems, and seeds from the roasted poblano and jalapeño peppers. Finely dice and add to the bowl with the corn. Add the remaining ingredients and stir to combine.
Add Dressing: Add the dressing to the salad and toss to combine.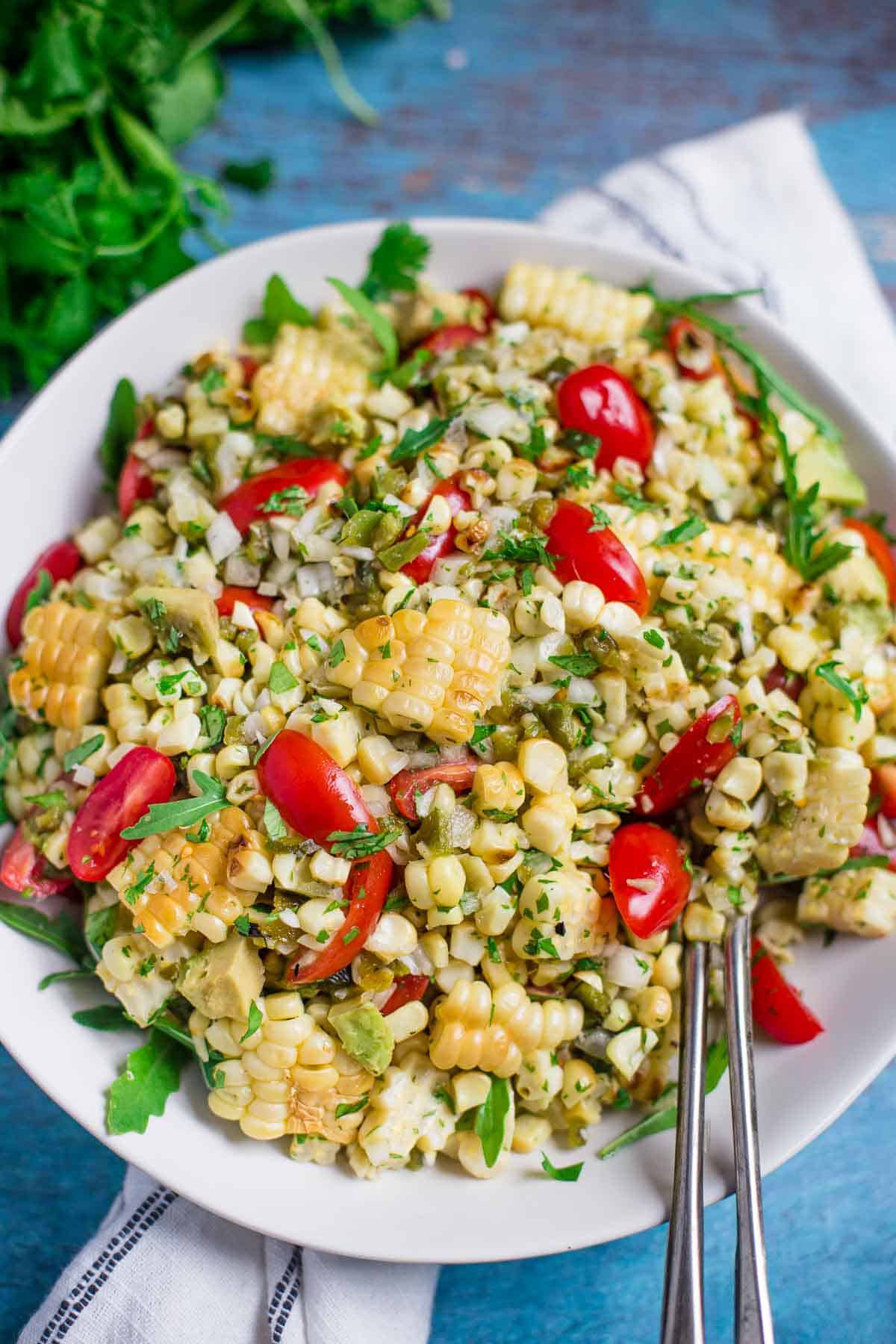 Make Ahead
You can make this salad up to two days prior to when you want it and the flavors marinate together. Just combine everything and store in an airtight container in the refrigerator.
Grilled Corn Salad Menu Idea
Here is a menu layout for this grilled corn salad.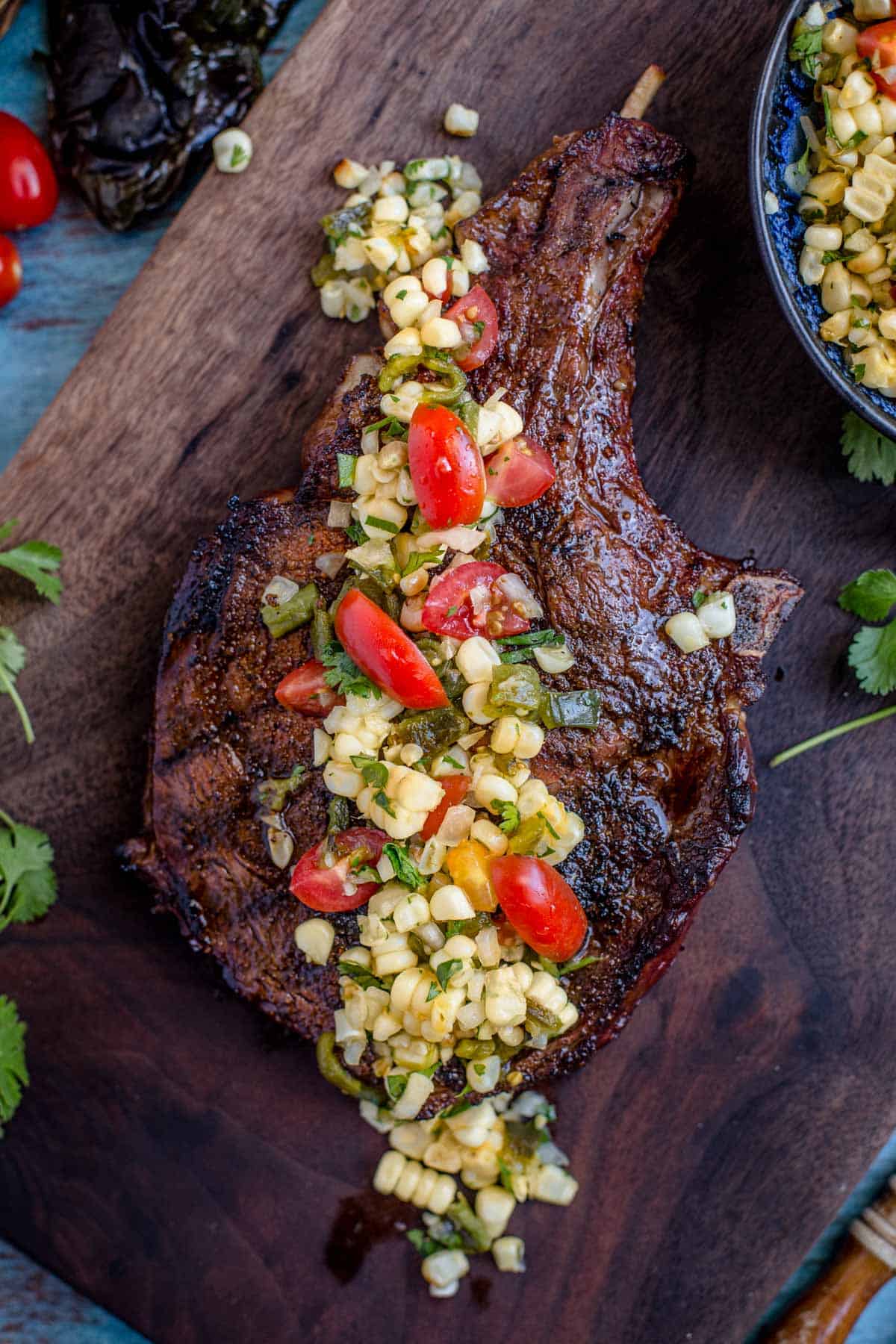 About Vindulge
Mary (a certified sommelier and recipe developer) and Sean (backyard pitmaster) are co-authors of the critically acclaimed cookbook, Fire + Wine, and have been creating content for the IACP nominated website Vindulge since 2009. They live in Oregon on a farm just outside Portland.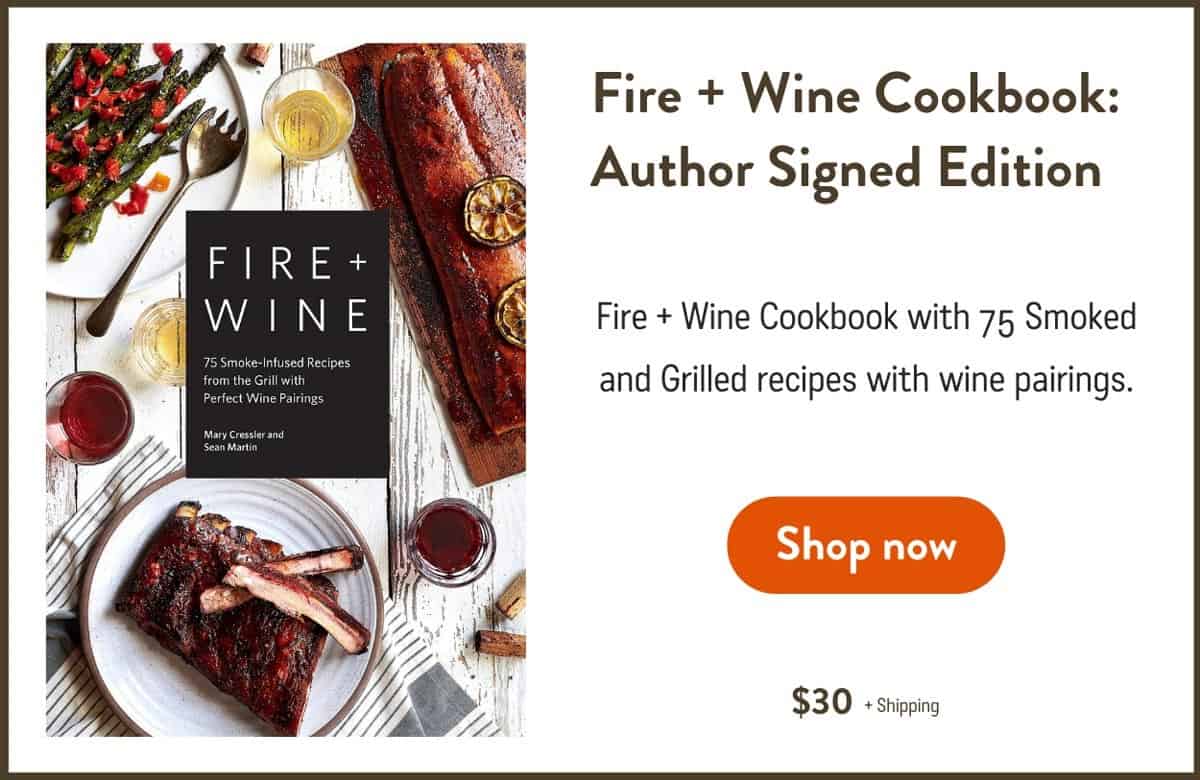 Tried this recipe? Give us a star rating and we would love to see! Mention @vindulge or use the hashtag #vindulge on all the social media handles. And consider subscribing to our newsletter where we drop all our favorite ideas and inspirations every week.
This post may contain affiliate links. This means if you click on the link, we may receive a small commission if you purchase through the link. We partner with brands we know and love and use and it helps keep the blog going!