This Mexican inspired Chorizo Seasoning is going to be your new favorite homemade chorizo spice blend. It's a mix of chili powder and spice blends that comes together for the ultimate chorizo flavor. This chorizo seasoning recipe is perfect with ground pork or ground beef.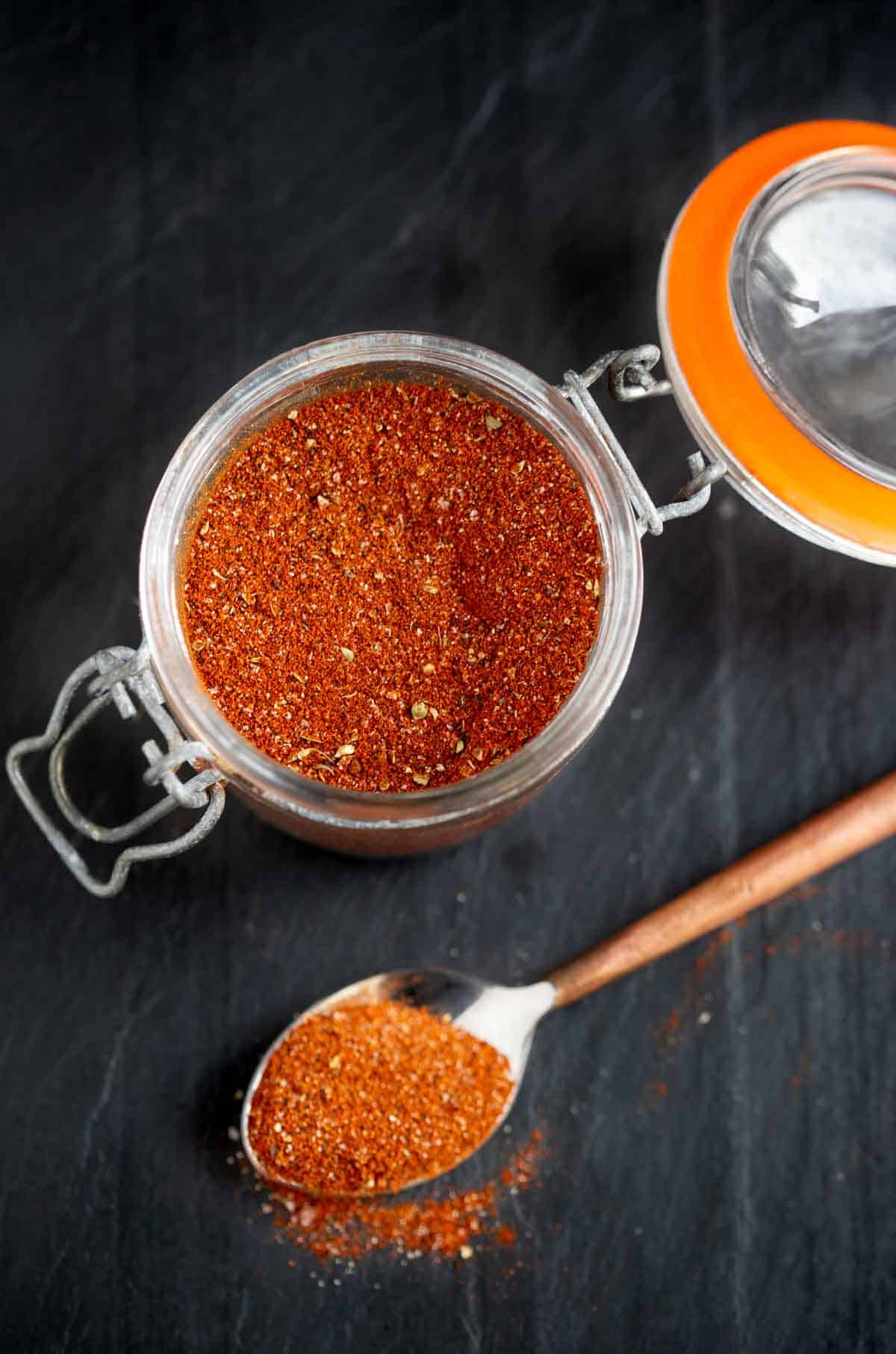 Chorizo Seasoning Highlights
This is intended to be a Mexican inspired chorizo spice recipe versus Spanish.
The spice blend is mild heat and easily adjusted with less red chili pepper flakes.
It's perfect as a base for ground pork chorizo, ground beef, black beans, or vegetarian chorizo.
This recipe uses sugar-free and gluten-free ingredients.
Jump to:
Everyone has that smell that instantly transforms them to childhood. For some it's their grandmother's spaghetti and meatballs, or their mother's biscuits. For me, one of my favorites (there are many) is the vibrant aroma of chorizo cooking in the kitchen.
Growing up in a Mexican-American household, chorizo was a staple, cooked for breakfast most weekends, served with eggs and a tortilla for the most comforting breakfast burritos ever. My mom never really made her own homemade chorizo, as the markets we lived near did a great job making their own, so we'd just buy in bulk from the supermarket.
But where I live now it's a different story, and I've been craving that childhood favorite. So we tested and tested… and tested some more, until we came up with the closest thing I could get to that flavor I grew up with (and using ingredients I could easily find in Oregon).
This chorizo spice recipe is the perfect balance of sweet, savory, chili powder, and salt to bring that authentic flavor. And while there are different ways to make chorizo spice blends, this one reminds me most of home.
What is in Chorizo Seasoning?
Authentic Mexican chorizo is often going to start with specific dried Chile powders, like ancho chile or guajillo peppers. Often those are not as readily available at most commercial supermarkets. Some of those are included in proprietary spice blends labeled simply as dried chili powder. So we use "chili powder" as our primary base. From there it's a mix of various dried spices, like granulated garlic, salt, pepper, cinnamon, and clove. When making pork chorizo some type of vinegar helps to bring a flavor (or kick!) to the meat.
Related Article: Chile versus Chili – Cooking with Green Chile
A note about Spanish Chorizo: Spanish Chorizo spices tend to be focused on cured sausage and heavy in paprika. That is not what this recipe is intended for.
Ingredient List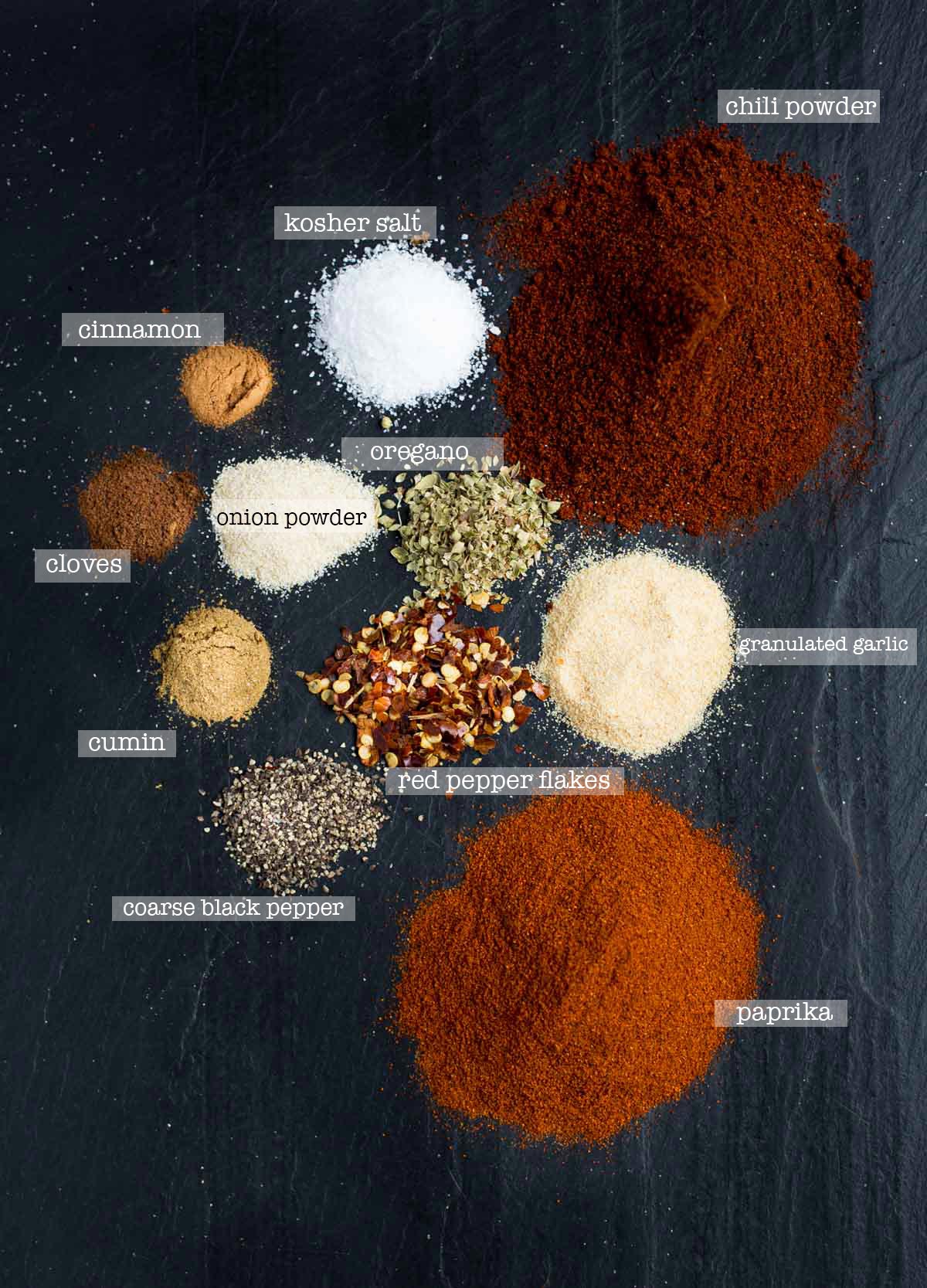 Most commercial grocery stores carry all of the listed ingredients, but you likely have many of these already in your spice rack. We use red chili pepper flakes versus cayenne pepper to bring a medium heat profile.
Chili Powder – We use regular chili powder versus dark.
Paprika (we elect not to use smoked paprika as it adds a more earthy and smoky flavor)
Granulated Garlic
Red Pepper Flakes – For spicier chorizo you can substitute with cayenne pepper or increase the portion of red pepper flakes.
Kosher Salt
Mexican Oregano (you can use regular oregano if that's all you have, but the Mexican varietal is more authentic)
Freshly Ground Black Pepper
Cumin (we use ground cumin versus cumin seeds)
Onion Powder
Cinnamon (just a small amount that gives it a great something extra)
Ground Cloves (just a pinch goes a long way)
This chorizo spice recipe will yield ½ cup of seasoning. We make this portion and then combine with red wine vinegar and 2 pounds of ground pork sausage for a delicious chorizo recipe.
Portions are included in the recipe card below.
Instructions
Combine all the ingredients in a medium size bowl using a whisk. If using right away portion the chorizo seasoning based on the dish you want to prepare. We use ¼ cup of chorizo seasoning for every pound of meat or protein we want to season.
Heat
This chorizo seasoning was intended to have medium heat (mild, medium, hot, spicy). If you want a higher level of spice substitute the red chili flakes with cayenne pepper in the same portions.
For less heat and a more mild flavor reduce the red chili pepper in half.
Storage
It's best to store the chorizo spice blend in your kitchen cupboard in an air tight container. The chorizo seasoning will remain fresh for up to six months.
Ideas for Chorizo Seasoning
Pork Chorizo using fresh ground bulk pork (ground versus in casing)
Beef Chorizo with ground beef
Mixed with black beans
Mixed with tofu or cauliflower "rice" for a vegetarian version
Tried this recipe? Give us a star rating and we would love to see! Mention @vindulge or use the hashtag #vindulge on all the social media handles. And consider subscribing to our newsletter where we drop all our favorite ideas and inspirations every week.
This post may contain affiliate links. This means if you click on the link, we may receive a small commission if you purchase through the link. We partner with brands we know and love and use and it helps keep the blog going!
---