This Cauliflower Vegetarian Chorizo recipe has great texture, medium heat, and all the savory flavors of Mexican-inspired chorizo. Get all the flavor and texture of traditional pork chorizo using cauliflower and your own chorizo spice mix (without any meat!). Vegetarian, Vegan, Soy-Free, and Gluten-Free.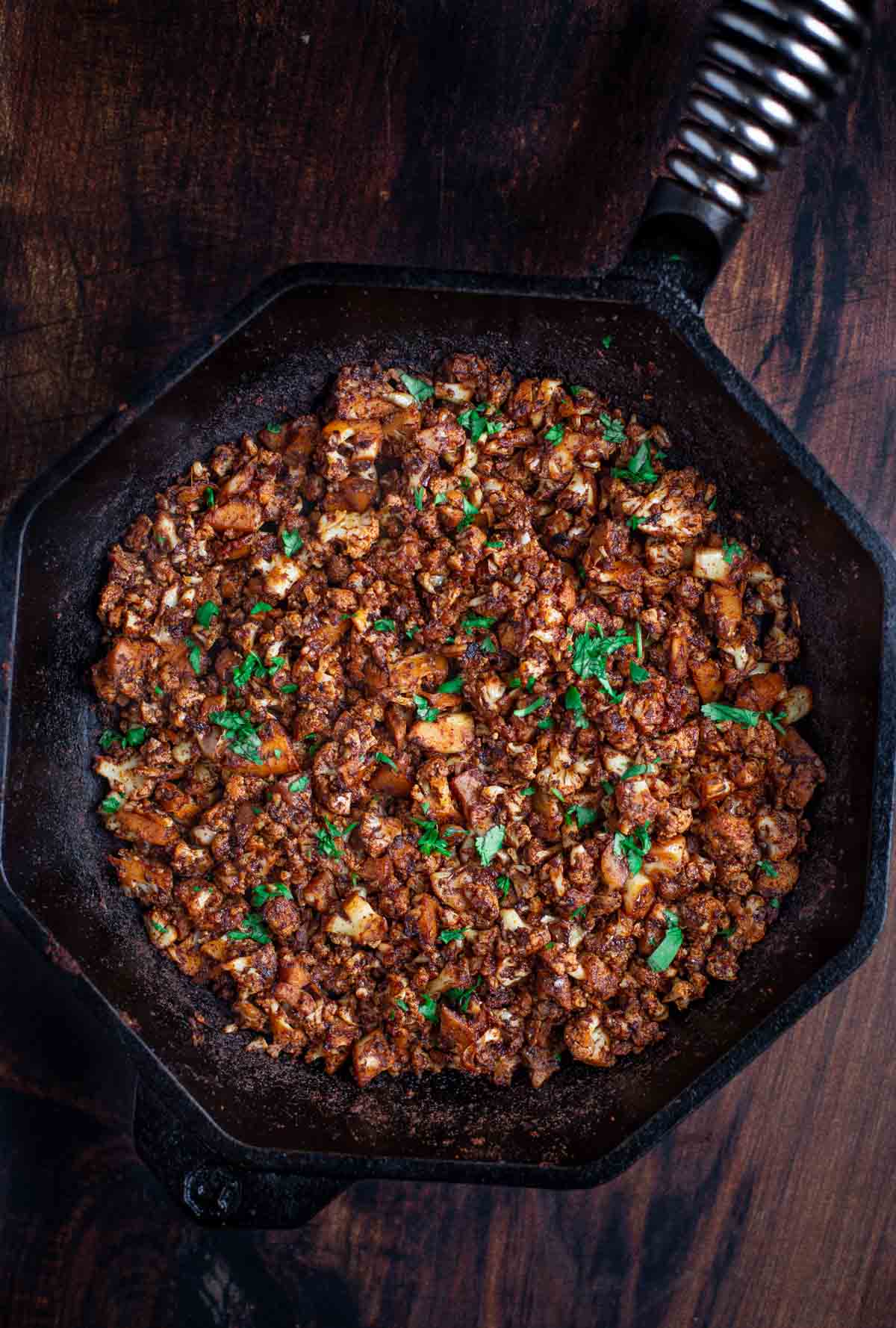 Vegetarian Chorizo Recipe Highlights
This recipe uses chili powder (versus specific dried chiles) and our chorizo seasoning for flavor.
This is a medium heat level (mild/medium/hot/spicy) using red pepper flakes. Easy to adapt to different heat preferences.
This non soy-based vegetarian chorizo recipe is a great alternative with any recipe calling for chorizo.
One of our kids recently became a vegetarian, which is allowing us to experiment a lot more with bringing flavor (and texture) to traditional meat dishes but with a vegetarian twist. Chorizo has been a staple in our family since my own childhood, so I don't want my kiddo to miss out on the nostalgic flavors of this dish, which is traditionally made with pork. And while many vegetarian chorizo recipes call for soy (tofu), this cauliflower vegetarian chorizo uses sautéed cauliflower to get the texture of ground pork, and traditional chorizo spices for flavor.
And unlike Spanish Chorizo, which is typically made with cured meats and lots of paprika, this Mexican style vegetarian chorizo is made using easy to find typical store bought ingredients.
Jump to:
Ingredients for Vegetarian Chorizo
Chopped Cauliflower – Finely chopped cauliflower is the secret to meat-like texture.
Chorizo Seasoning – Mix dried spices together, including: chili powder, paprika, Mexican oregano, cinnamon, cloves, and more. See our chorizo seasoning recipe for more details.
Red Wine Vinegar – You can substitute with apple cider vinegar or white vinegar, but we like the specific added flavor from red wine vinegar for that authentic color and aroma.
Extra Virgin Olive Oil – For cooking the cauliflower. This is important so you get the proper browning.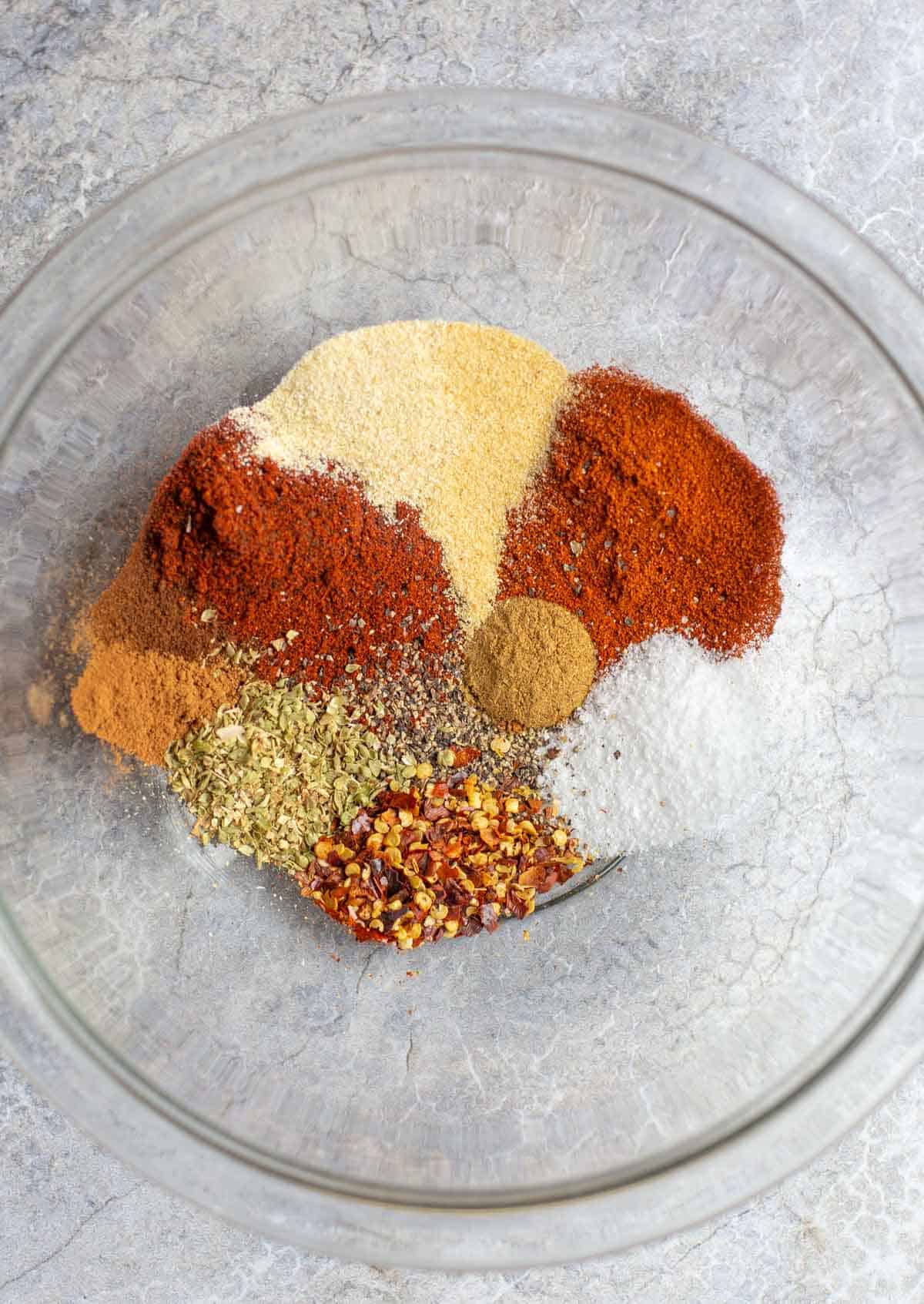 Cauliflower Preparation
Be sure to remove the core (or stem) of the cauliflower. The core does not cook down or brown and is not a good texture to eat.
Cut the cauliflower in half, and then into quarters using a sharp knife. Then carefully remove the dense stems.
Once done, discard the stems and finely chop the cauliflower using a knife until it resembles the size of ground meat. I like to do this by hand, vs using a food processor, in order to get various sized "ground cauliflower" similar to ground meat.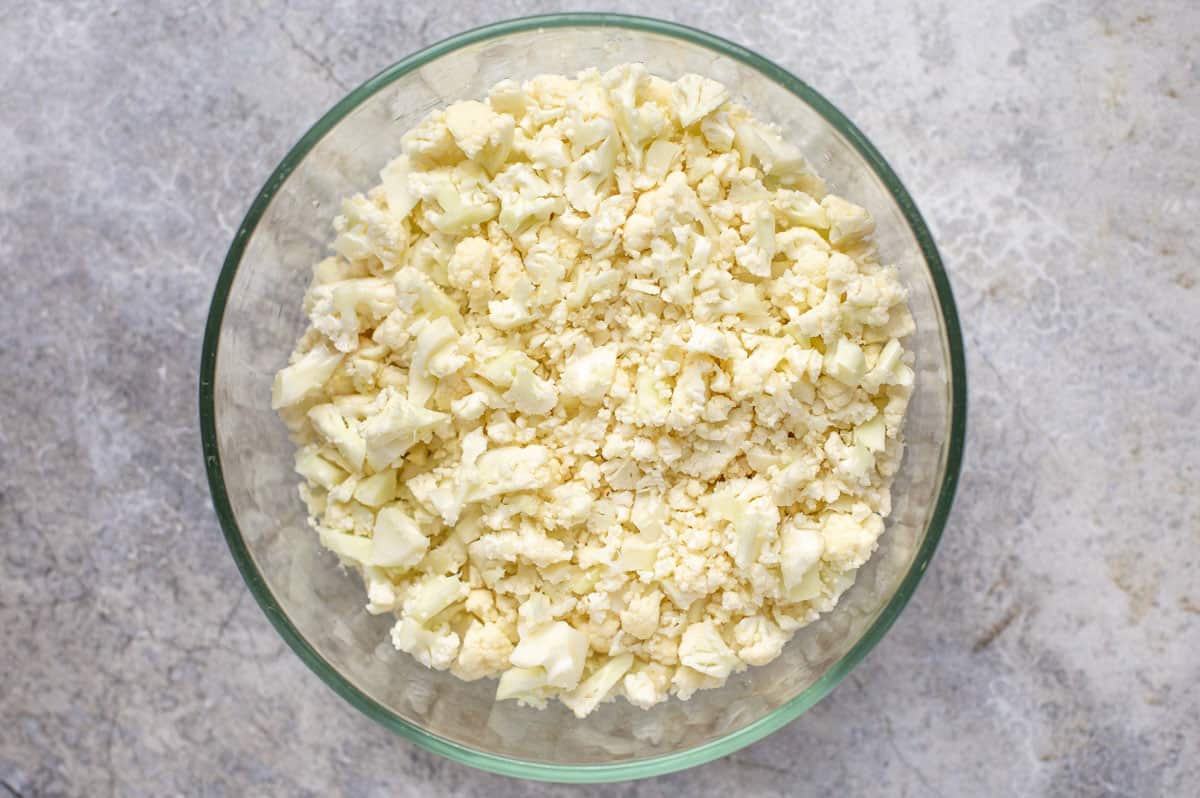 Equipment
We strongly encourage the use of a 10-inch cast iron pan for best results, because it retains heat really well and browns up the cauliflower nicely. Stainless steel and non-stick will work fine if that's all you have, but be sure you keep the heat on high.
How to Make Cauliflower Vegetarian Chorizo
Sauté: In a 10-inch pan over medium heat add olive oil. When it is just starting to smoke add the chopped cauliflower (see notes for prep), and the chorizo seasoning. After 4 minutes of browning the cauliflower, add the red wine vinegar.
Stir: Continue to stir the cauliflower for an additional 8-12 minutes, or until the cauliflower has browned. By this point the red wine vinegar will have been absorbed into the sautéed cauliflower.
Serve: Once done, remove from the pan and serve with your favorite dishes that include chorizo. I love to use it for meals such as chorizo and egg breakfast burritos.
Chef's Note on Sautéed Cauliflower: Cauliflower contains a high amount of water. This means as you attempt to brown the cauliflower in the pan it will steam first and then brown. This is why it can take up to 15 minutes to cook so you can get the right texture. So if it seems like it isn't browning you need to monitor the right level of heat and give it time for the moisture to cook out so it can then brown.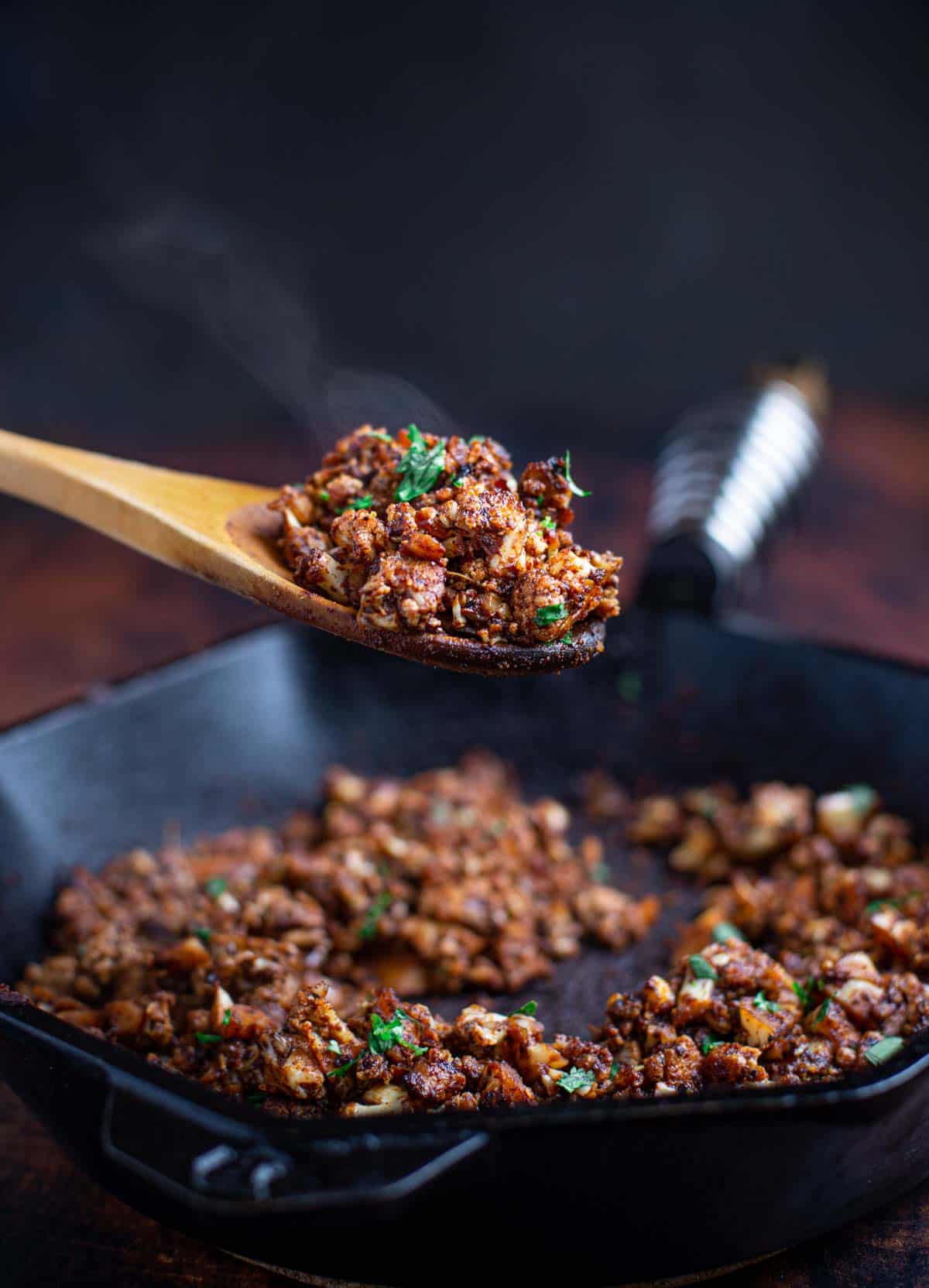 Serving Vegetarian Chorizo
We love the flavor of cauliflower vegetarian chorizo in breakfast burritos or tacos. Just add scrambled eggs, your favorite cheese, and the chorizo. Jazz up with fresh cilantro and a salsa verde (green salsa). You can even add some quick pickled vegetables as well.
Or you can substitute with any recipe that calls for chorizo, like our chorizo pizza with green chile.
Make Ahead Tips and Storage
If you make this ahead of time we recommend prepping and make no more than 3 days prior to use. Otherwise it oxidizes and you lose the texture and aromas.
Store in an air-tight lid and rewarm again with a touch of olive oil and a cast iron pan to get the texture back.
Cauliflower Recipe Inspirations
Here are more cauliflower recipes that have amazing flavor and texture.
Tried this recipe? Give us a star rating and we would love to see! Mention @vindulge or use the hashtag #vindulge on all the social media handles. And consider subscribing to our newsletter where we drop all our favorite ideas and inspirations every week.
This post may contain affiliate links. This means if you click on the link, we may receive a small commission if you purchase through the link. We partner with brands we know and love and use and it helps keep the blog going!