When it comes to leveling up your dipping sauces, there is certainly many options out there. But there is something about the tangy and somewhat spicy fry sauce that takes good meals to great.
This recipe is gluten-free and vegan if you use vegan mayonnaise (which most are).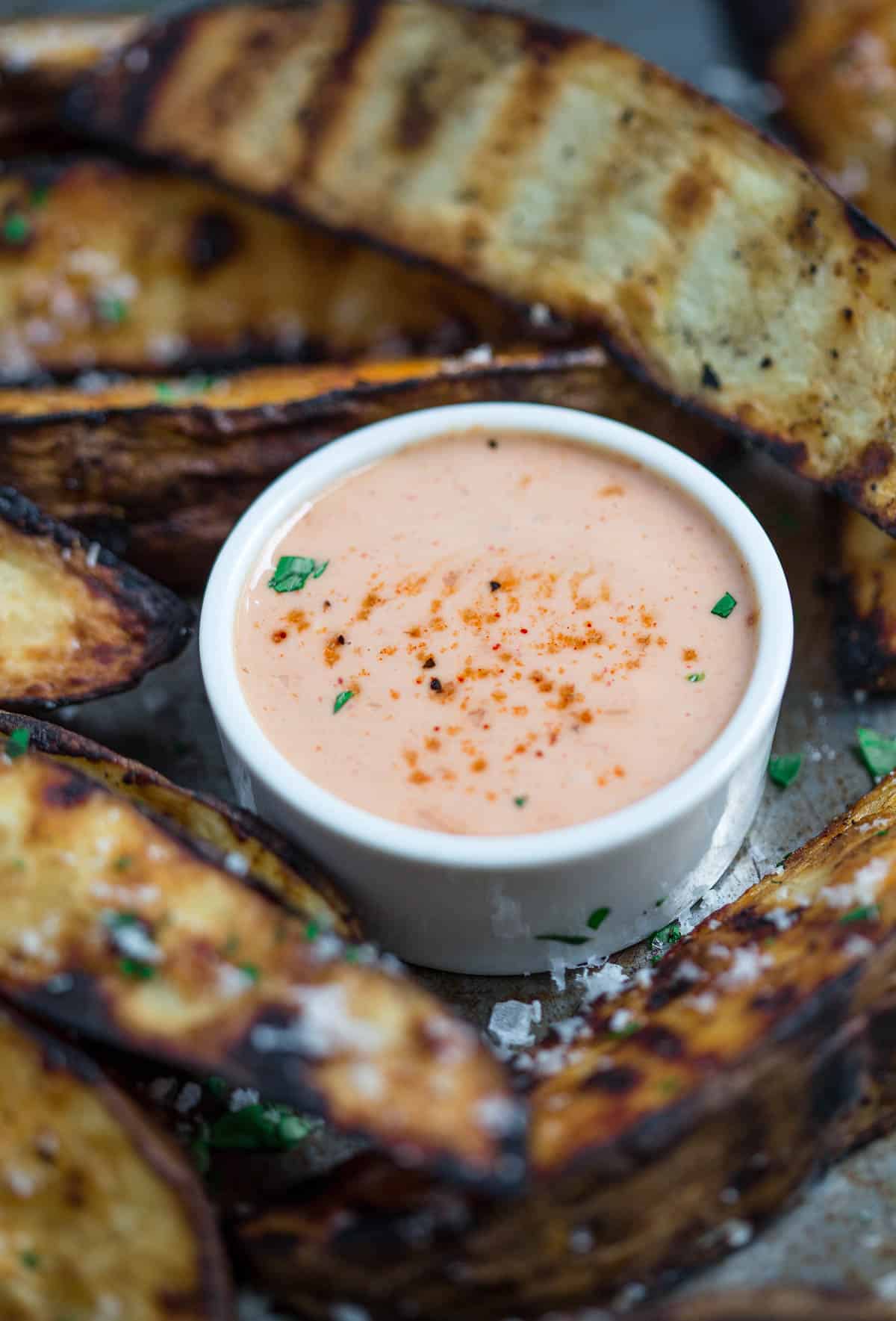 Jump to:
Background
You've probably tried many favorite sauces, whether at a fast food chain, or homemade with your favorite recipes. But today, we're making a sauce inspired from a trip through the National Parks of Utah. This isn't just fries and burger sauce; this is the ultimate fry sauce recipe for dipping, all the way from Salt Lake City, Utah, where it's known as Utah fry sauce.
Born in the kitchens of Arctic Circle Restaurants and popularized by fast food restaurant Chef Don Carlos Edwards, this tangy sauce is a popular condiment in the United States, particularly in the state of Utah and southern Idaho.
The Original Fry Sauce – A Delicious Legacy
Before we get to the recipe, let's take a quick detour through fry sauce history. This delicious sauce was originally a simple combination of ketchup and mayonnaise, with a secret ingredient or two.
A fast food chain might have simply mixed ketchup and mayonnaise, and while that base of most fry sauces is good, we think it can be better. By adding a handful of ingredients, we can turn plain ketchup and mayonnaise into a creamy sauce with so much flavor.
Ingredients
For this easy recipe, you need simple ingredients that you probably have at home or can easily find in grocery stores.
Ketchup – You can opt for your favorite ketchup. The sweeter it is the more you'll want to add acidity to balance it out.
Mayonnaise – Everyone has an opinion on their favorite mayo. But we opt for Duke's mayo for its distinct acidic and vinegar flavor. That tang carries through in the sauce.
Fresh (hot) Horseradish – Don't use the creamy horseradish, use the jarred minced version.
Lemon Juice – Freshly squeezed lemon juice adds acidity as well.
Kosher Salt – Adds a nice finish.
Optional: Worcestershire sauce, apple cider vinegar, pickle juice (or pickle brine if you so dare), hot sauce, garlic powder, onion powder, cayenne pepper, and black pepper are all additional options to play around with.
How to Make Fry Sauce
This simple recipe is one of the best sauce recipes out there. To start, grab a small bowl. You'll want to combine your ketchup and mayonnaise first. The ratio here is important, but it's also a matter of personal preference. Some like a 50/50 mix, others prefer more mayo for a creamier finish. We suggest starting with equal parts, then adjusting to your own tastes.
Next, add the horseradish, lemon juice, and kosher salt. These will give your sauce a tangy kick that sets it apart from a traditional Thousand Island dressing. Add additional spices if you want more flavor. Stir the mixture until it's well combined.
If you have a taste for heat, feel free to add some hot sauce as well. We recommend Valentina hot sauce (best hot sauce ever!).
Once your sauce is well mixed, you can taste it and adjust the seasonings as needed. Then, store your sauce in an airtight container in the refrigerator until you're ready to use it. This allows the flavors to meld together, creating a much more complex and delicious sauce.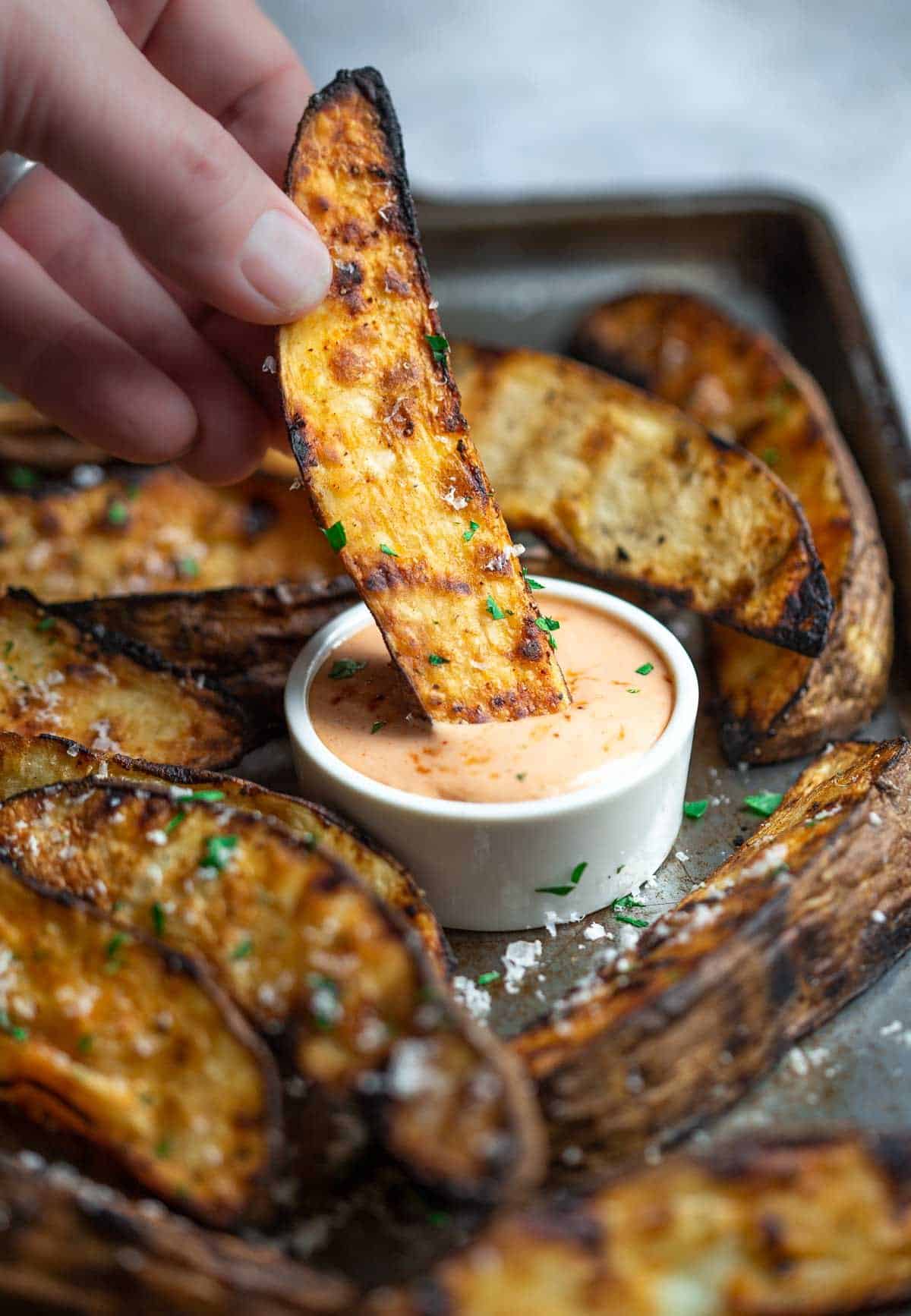 Frequently Asked Questions
How long will fry sauce last in the refrigerator?
This recipe has a fair amount of acidity from the lemon juice and mayonnaise. The sauce should last up to two weeks in the refrigerator stored in an airtight container.
Is fry sauce the same as Thousand Island (dressing)?
They are similar as they both use mayonnaise. But they are not the same condiment.
Is Yum Yum sauce a fry sauce?
The simple answer is yes. Yum Yum sauce has similar base ingredients with more dried spices like paprika, cayenne, or garlic powder.
Is fry sauce a condiment?
Yes, fry sauce is a condiment and can be used in the same variety of dishes as any other condiment.
Healthier Fry Sauce Variants
If you're looking for a healthier twist, you can substitute plain Greek yogurt for the mayo. This version is tangier, but still packed with flavor. Offset any dry flavor with lemon juice.
Ways to Enjoy Your Fry Sauce
Your homemade fry sauce isn't just for French fries. Try it with sweet potato fries, grilled potato wedges, smoked onion rings, on a classic burger as a condiment, or chicken tenders. It's a delicious dipping sauce for all sorts of things. If you want to switch it up, consider adding barbecue sauce instead of ketchup for a smoky twist, or try stirring in pickle relish for extra tang and crunch.
About Vindulge
Mary (a certified sommelier and recipe developer) and Sean (backyard pitmaster) are co-authors of the critically acclaimed cookbook, Fire + Wine, and have been creating content for the IACP nominated website Vindulge since 2009. They live in Oregon on a farm just outside Portland.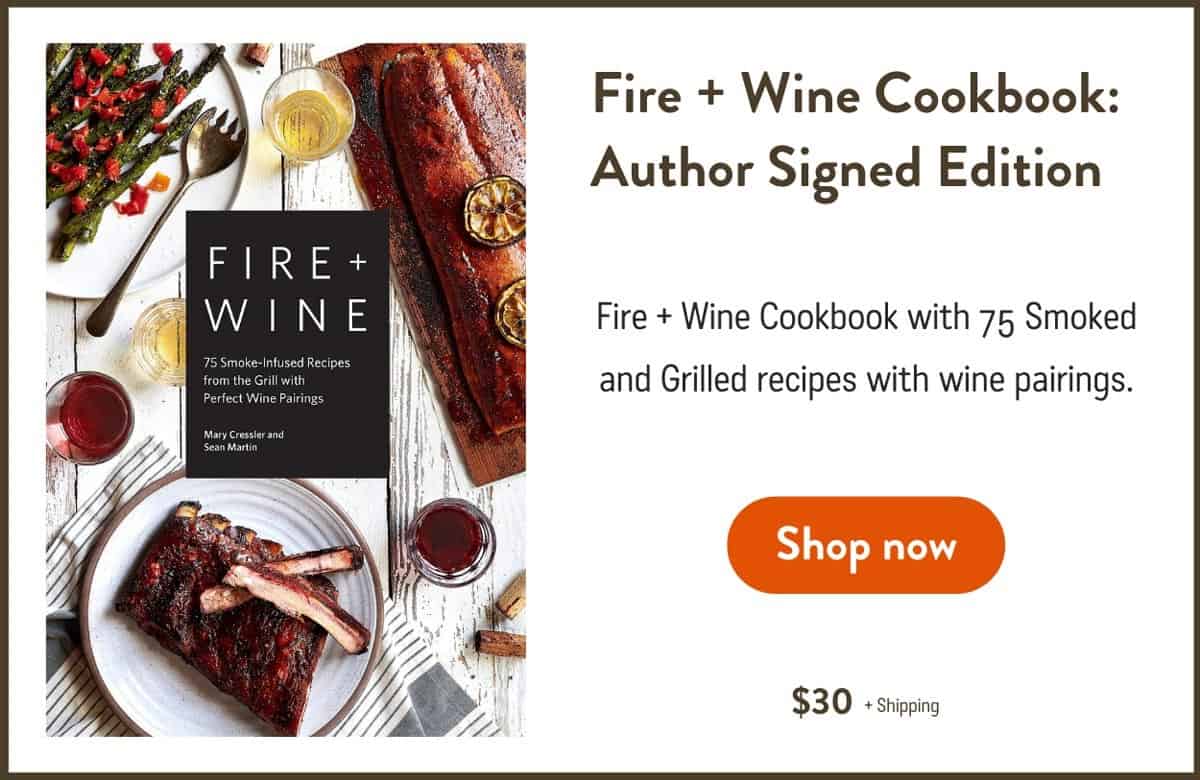 Tried this recipe? Give us a star rating and we would love to see! Mention @vindulge or use the hashtag #vindulge on all the social media handles. And consider subscribing to our newsletter where we drop all our favorite ideas and inspirations every week.
This post may contain affiliate links. This means if you click on the link, we may receive a small commission if you purchase through the link. We partner with brands we know and love and use and it helps keep the blog going!