Homemade Kansas City BBQ Sauce couldn't be easier! This sweet and slightly spicy homemade BBQ sauce represents the flavors you would expect from a Kansas City style sauce. With a tomato base, molasses, sugar, and seasonings, you get that classic flavor with a little bit of heat.
Add to ribs, or a burger, this versatile and easy Kansas City BBQ Sauce is finger smacking good.
Jump to:
Kansas City BBQ Sauce Highlights
Blackstrap Molasses is the main ingredient that adds richness and depth
Fresh onions and garlic add more natural flavor than dried powders
This sauce will last three months in the refrigerator
This recipe is naturally gluten-free and vegan
What Is A Kansas City Sauce?
Sauces come in all flavor profiles. Really it reflects the flavors regionally that evolved around the country. In the Carolinas, you have vinegar-based sauces (among others). In Texas, you'll find less of a sauce and more of a flavor mop while cooking. And in Alabama you'll find a mayo-like white sauce.
But in Kansas City, it's all about the sweet and slightly spicy tomato and molasses based sauce. The kind that many of us grew up with. The kind that BBQ joints throughout Kansas City tend to toss their famous burnt ends in. If you haven't been to Oklahoma Joe's, or some of the other pit houses in the state, it is worth the trip. You can learn more about other styles of BBQ sauces at this post about BBQ sauce styles.
How to Make BBQ Sauce From Scratch
It's quite simple. All you really need to think about is finding the balance between sweet, which will come from your sugar, molasses, and ketchup, savory and heat, which is driven by onions, garlic, peppers, or dried spices. And the final touch is acid, which helps with a strong and complex finish to the sauce. You can get acid from apple cider or white vinegar, or even mustard.
Let the combination simmer together and you have sauce!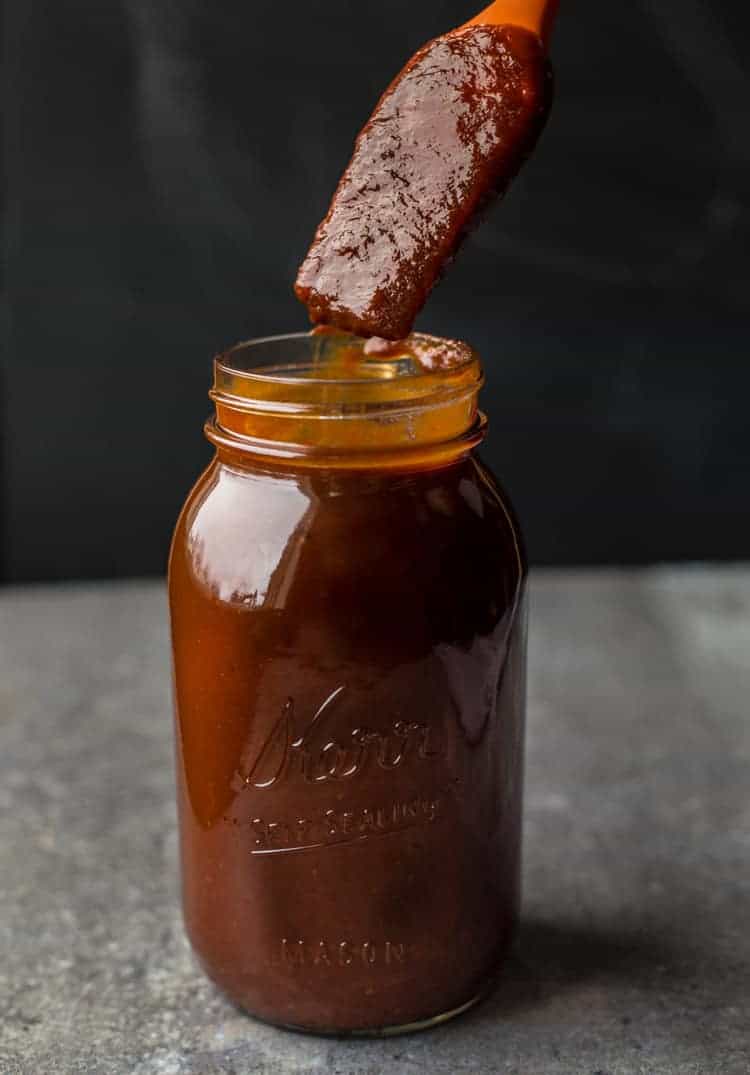 Ingredients
You will see many recipes that call for dried onion powder or granulated garlic. While dried spices are fine (and we use them too), taking the extra step to sauté and use fresh ingredients will go a long way in the flavor arena.
Use yellow onion for the right balance of onion flavor and sweetness. As it sautés in the pan it will mellow out and even sweeten slightly. If you use a red onion, the sauce will have a more pronounced onion flavor.
The ketchup should taste good by itself. This makes it easy so you don't have to balance a ratio of tomato sauce and tomato paste to get the right flavor.
Molasses is key for a KC style sauce as it adds the element that makes it authentic. As the molasses simmers and the sauce reduces it takes on the smoky flavor without the need for liquid smoke.
To avoid the sauce from tasting bitter from the molasses and reduced tomato sauce, add brown sugar. This also sweetens the sauce and provides the right balance with the acid.
Apple Cider Vinegar brings the finish to the dish. We add water to thin out the sauce as needed.
The heat comes from cayenne pepper. If you don't want heat you can leave this out, or cut it in half.
Dried spices add more flavor like chili powder, paprika, salt, and pepper.
How to Make Kansas City BBQ Sauce
Soften Fresh Ingredients: Start by warming up a stock pot, then sautéing the onions until translucent and soft, but not caramelized then add garlic and stir for another minute.
Add Liquids: Add ketchup, molasses, apple cider vinegar, and water and bring to a simmer.
Add Seasonings: Finally add everything else.
Blend: Using a hand immersion blender, blend the ingredients to grind up the onion and garlic and get a nice smooth consistency.
Simmer: Bring back to a simmer and cover for another 20 minutes. Remove from heat, and then using a funnel, pour the sauce into a mason jar. This helps the sauce reduce slightly and brings the flavors together.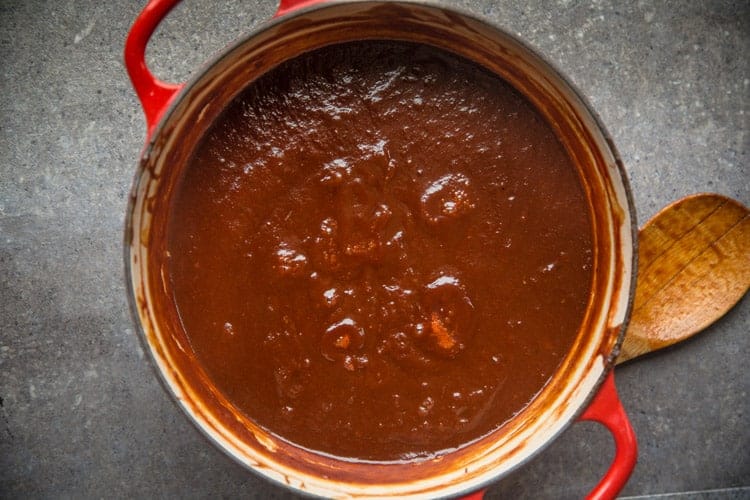 How Long Will BBQ Sauce Stay Fresh?
Adding a little apple cider vinegar is a great way to maintain a shelf life on your sauce. How long can you keep a fresh BBQ sauce you may ask? Up to three months in the refrigerator.
What to Put This On
This sauce is versatile. Slather onto ribs, maybe use as the glaze base for your burnt ends, or maybe just serve the sauce to dunk your meat into. Here are a few recipes to use this sauce in!
More Easy BBQ Sauce Recipes

This post was originally published February of 2019 and republished with new steps for the recipe, modification of ingredients, and based on reader feedback.
If you like this recipe we'd truly appreciate it if you would give this recipe a star review! And if you share any of your pics on Instagram use the hashtag #vindulge. We LOVE to see it when you cook our recipes.
---