Are you in the mood for a tasty, easy side dish that pairs well with almost any main dish? Let's talk about crispy grilled potato wedges. These delicious potato slices, cooked to golden brown perfection on a hot grill, could be just what your next summer meal needs. So fire up the grill, and let's dive into one of our favorite grilled potato recipes.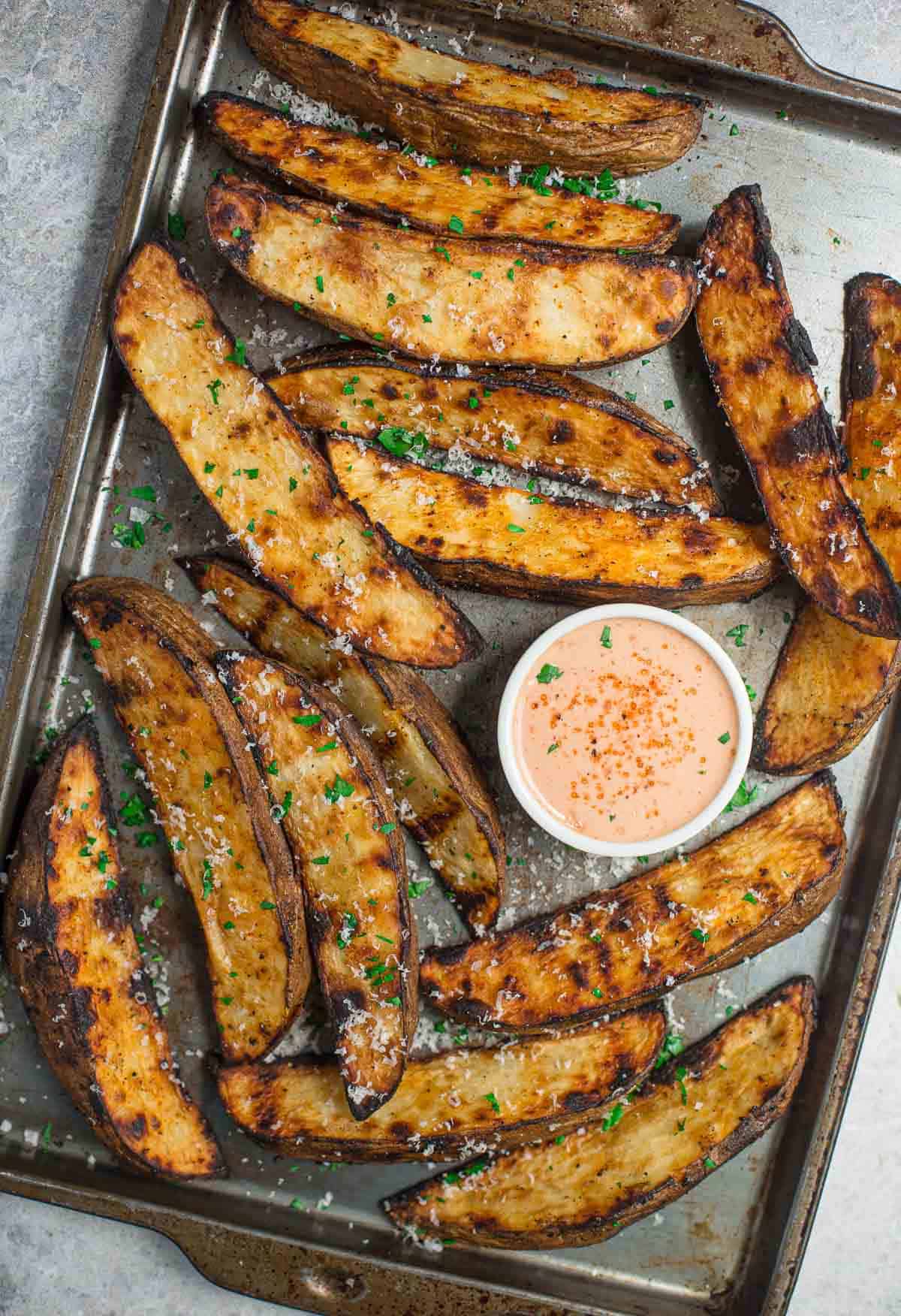 Jump to:
Ingredients
Please refer to the recipe card below for detailed instructions and exact ingredient amounts.
Russet Potatoes – We strongly recommend russets because they have the right shape to make even wedges. If you use Yukon Gold be sure you buy the larger variety and try to keep the shape even. One standard Russet will yield 8 potato wedges and we typically plan 4 wedges per person as a side.
Olive Oil – Using olive oil helps the seasoning stick to the potatoes and helps them crisp up over direct heat.
Seasoning – You can use your favorite grills seasoning. We are using some of our Ultimate Dry Rub with a touch of sugar, salt, and savory flavors.
Fry Sauce – You need a great fry sauce to drizzle over the potato wedges or for dipping. We use a combination of mayo, ketchup, fresh lemon juice, and horseradish. This easy recipe makes a delectable dipping sauce that is the perfect companion to the grilled potato wedges.
Selecting the Best Potatoes for Grilling
When it comes to grilled potato wedges, the best type of potato makes all the difference. Russet potatoes, Yukon gold potatoes, red potatoes, and even sweet potatoes can all be used, but each offers a different flavor and texture.
Russet and Yukon gold potatoes are known for their thin skin and fluffy insides, which are perfect for soaking up the flavors of our seasoning. Red potatoes have a waxy texture that holds up well under high heats, while sweet potatoes offer a distinct, sweeter flavor that contrasts beautifully with our savory seasoning.
For this potato wedges recipe, I usually opt for organic Russet potatoes as my first choice. They might be a bit pricier, but they offer an undeniable freshness that truly enhances the flavor. Otherwise try to find Russet potatoes for best results.
Prepping the Potatoes
Start by washing the potatoes of any dirt. Next, on a large cutting board cut the potatoes in half. Take each half and then cut it in half again so you have four pieces. Then cut the four pieces in half one last time so you have eight pieces. Note: If you have smaller potatoes you likely will only get six wedges per potato versus eight.
Next place the potato wedges in a large bowl. Then fill with cold water until the potatoes are covered. Add a generous amount of kosher salt (3 tablespoons or more) to the water and stir to dissolve. The water should taste like salty sea water.
When recipe testing we tried various methods to see which provided the best results. We found that the best method was the cold soak method and recommend you use that when preparing the potatoes. Soak for 20 minutes, then strain and dry. They are then ready to season and grill.
Methods Tested
For this recipe our goal is to have crispy potatoes and a soft chewy inside. To do this we tested various methods for prepping potatoes. As noted above we found the Cold Soak method is recommended for this recipe.
Par Boiling Method – The idea is to par boil the potatoes to remove starch and soften the potatoes, like in our perfectly roasted potato recipe. Start by cleaning the potatoes and slicing them into long wedges. The secret ingredient here is boiling water. Boiling the potato slices in a large pot of water for about 5 minutes before grilling them ensures they cook evenly and become crispy on the outside while maintaining those fluffy insides. However you run the risk of potatoes that get overcooked and fall apart when grilling.
Cold Soak Method – The idea is to pull starch out of the potatoes with salted water and allow the potato wedges to cook evenly and develop the right texture on the inside and outside. This is typically how hash browns are prepared.
No Prep Method – This is simply cutting the wedges, oiling, and seasoning them and putting them right on the grill. This method works fine but the cooking time takes longer to get a soft interior and crispy exterior. So you run the risk of burning the outside edges.
Seasoning
After the potatoes are prepped, pat the potato wedges dry with a paper towel. Then toss them in a large bowl with some olive oil and the seasoning. Feel free to add a dash of cayenne pepper or Cajun seasoning for a spicy kick.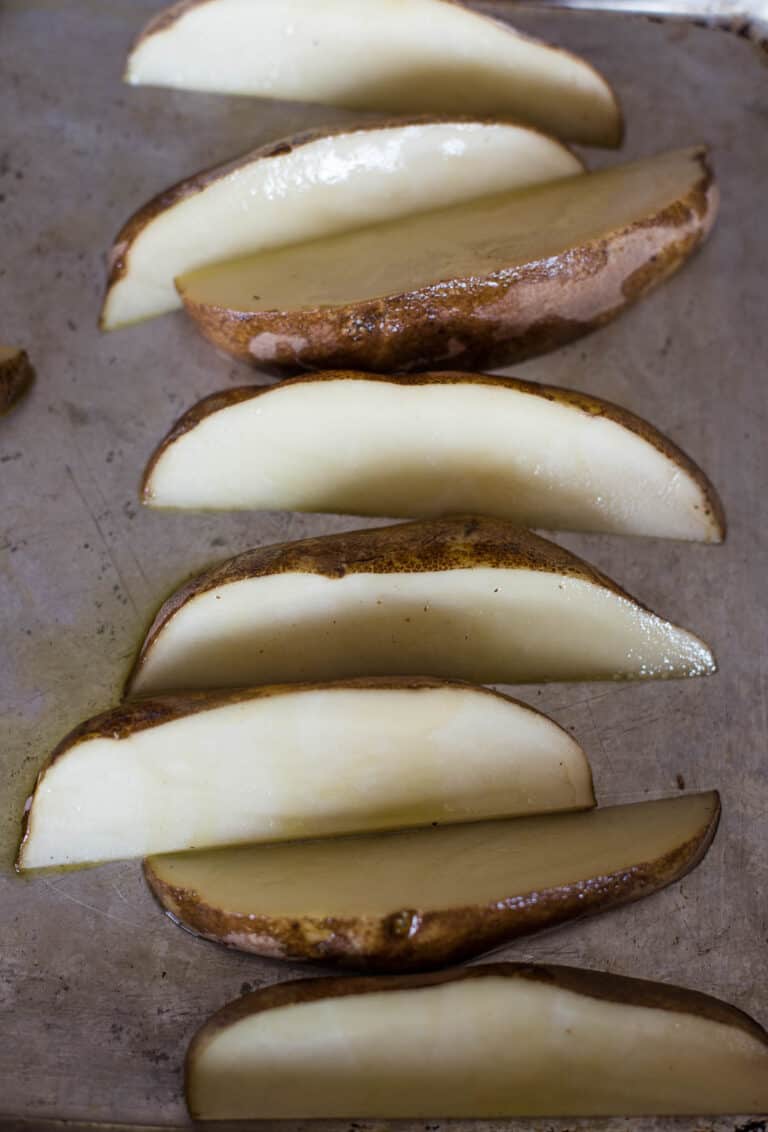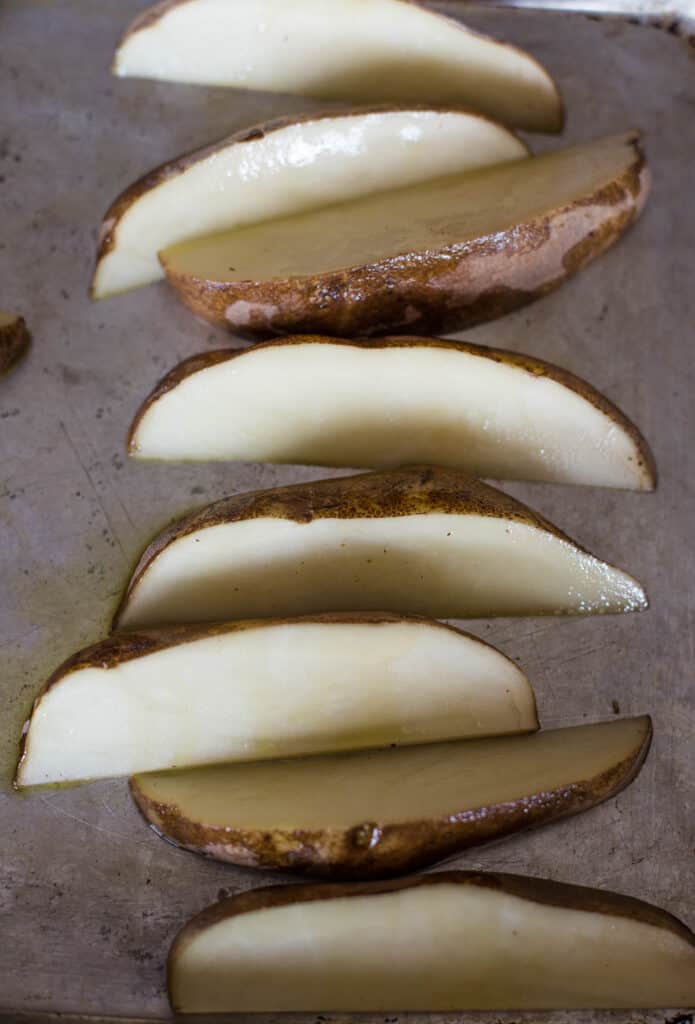 Grilling the Potato Wedges
Preheat your gas or charcoal grill to medium-high heat using a two-zone grilling set up. We target 450 degrees Fahrenheit in the cooking chamber.
Place the seasoned potato wedges on the grill grates in a single layer, with the flat sides down to get nice grill marks. Cook over direct heat for 3 minutes per side to get the grill marks.
After after you have achieved grill marks on each side you can move them to indirect side to finish and get that crispy texture. Rotate the potato wedges every 5 minutes to ensure they cook evenly.
While the potatoes are grilling, mix up your fry sauce in a small bowl.
Serve the warm with the fry sauce.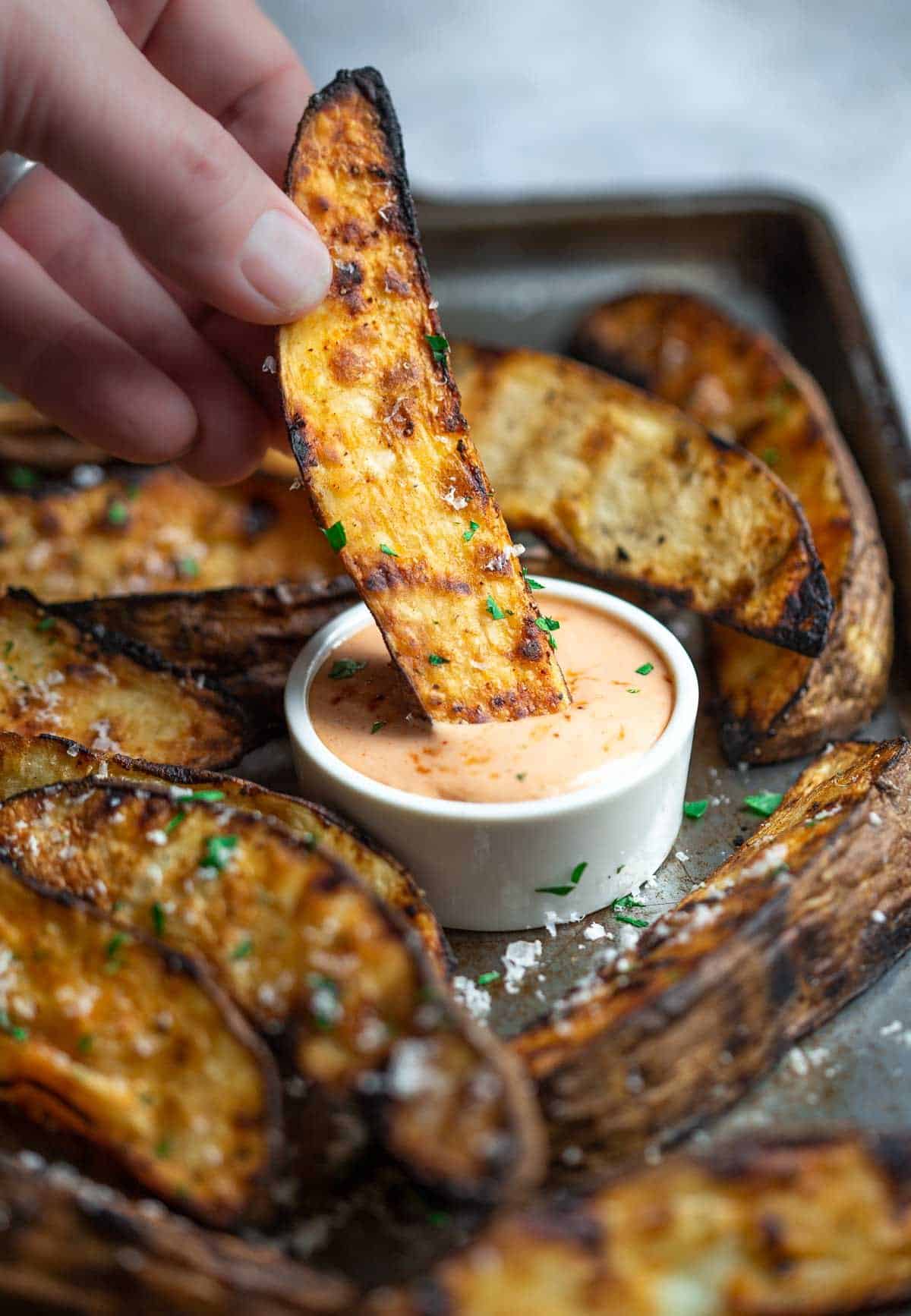 Storing and Serving the Grilled Potato Wedges
Serve the grilled potato wedges hot off the grill as an easy summer side. They pair beautifully with main course options like pork chops or smash burgers. If you have any leftovers, store them in an airtight container. They can be reheated on the grill or in an oven for a quick and easy snack later.
The Perfect Side Dish
Whether you're looking for an easy recipe to compliment your main dish or simply craving a healthier alternative to deep fried French fries, these crispy grilled potato wedges are a delicious and nutritious choice. Even when served as part of an entire meal, these grilled potato wedges are so good they might just steal the show!
Final Thoughts
With their golden brown goodness, these crispy grilled potato wedges are an easy side dish that is sure to please. The blend of seasonings and the smoky flavor from the grill, complemented by the savory dipping sauce, make these potato wedges a treat. Try this recipe, and you might find these grilled potato wedges becoming a summer staple.
So, what are you waiting for? Fire up your grill, grab some potatoes, and get ready to enjoy some deliciously crispy grilled potato wedges!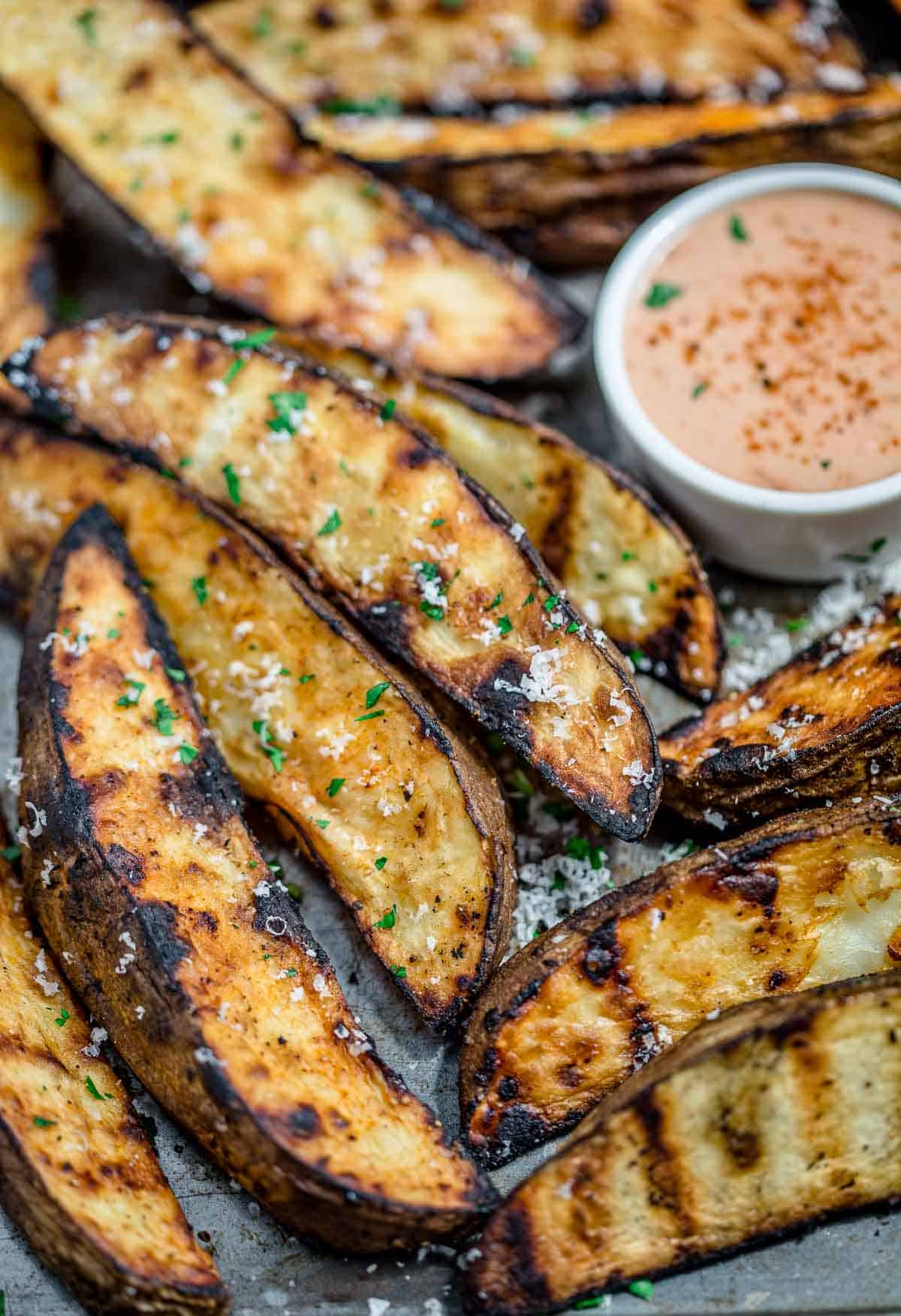 Related Recipes
This makes the perfect side for any of our steak recipes. Or you can serve with grilled chicken or even grilled pork chops.
About Vindulge
Mary (a certified sommelier and recipe developer) and Sean (backyard pitmaster) are co-authors of the critically acclaimed cookbook, Fire + Wine, and have been creating content for the IACP nominated website Vindulge since 2009. They live in Oregon on a farm just outside Portland.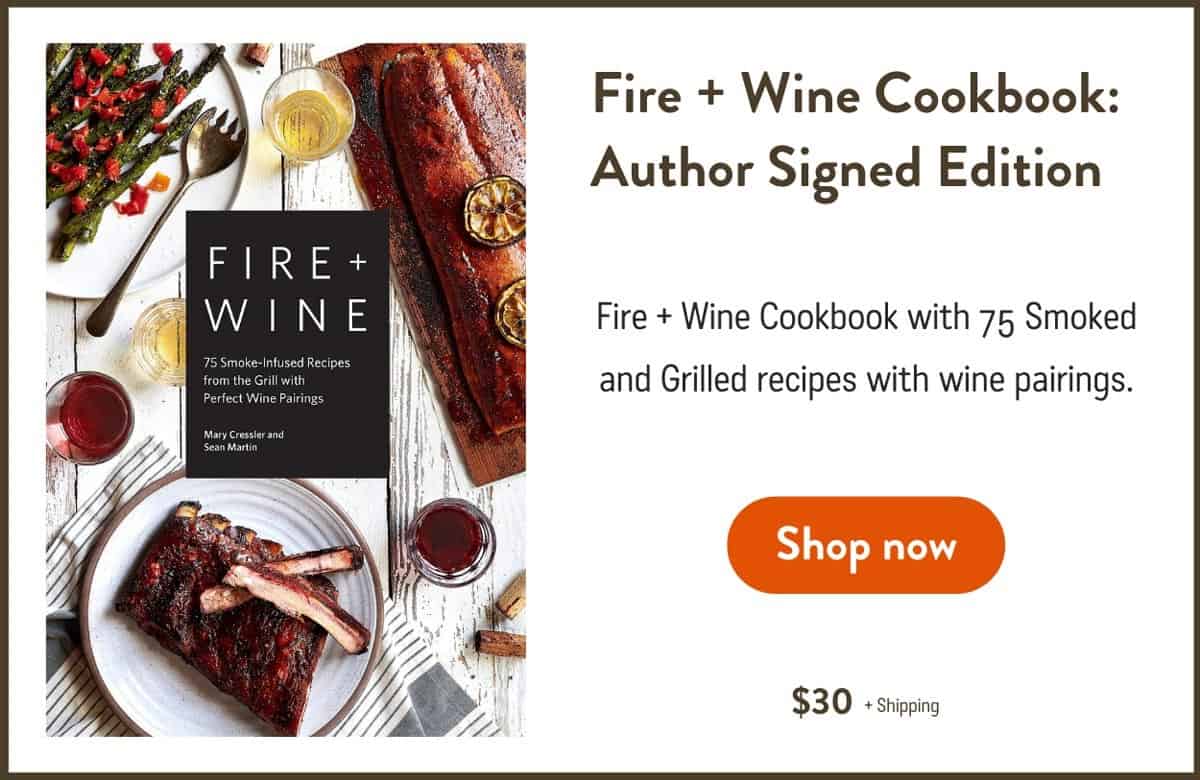 Tried this recipe? Give us a star rating and we would love to see! Mention @vindulge or use the hashtag #vindulge on all the social media handles. And consider subscribing to our newsletter where we drop all our favorite ideas and inspirations every week.
This post may contain affiliate links. This means if you click on the link, we may receive a small commission if you purchase through the link. We partner with brands we know and love and use and it helps keep the blog going!