This Grilled Jalapeño Popper recipe is perfect when you're craving chicken wings, but also jalapeño poppers. Grilled Buffalo Chicken Jalapeño Poppers are the perfect compromise!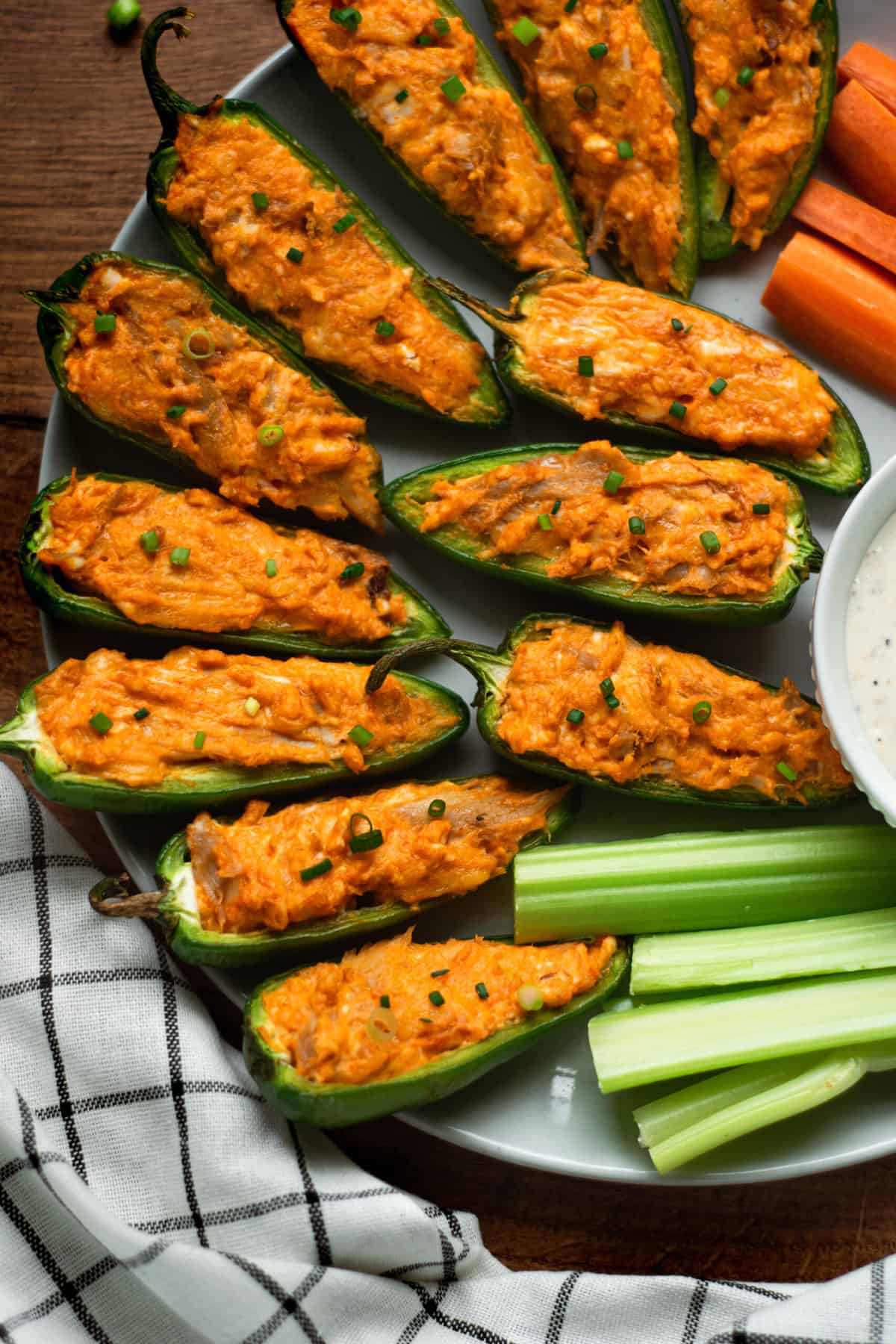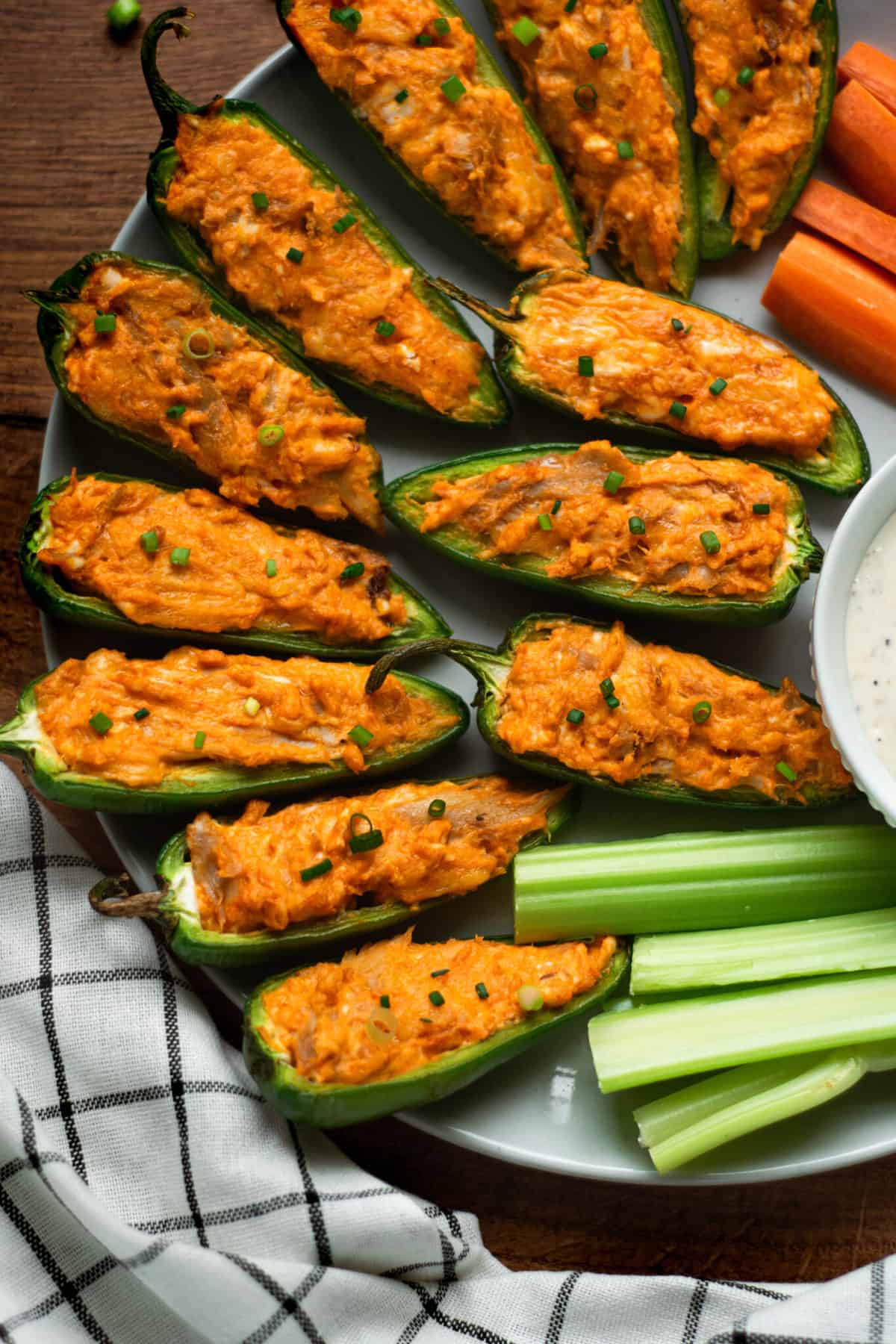 It's like the two perfect appetizers, jalapeño poppers and chicken wings, got married and had a beautiful baby and named it Grilled Buffalo Chicken Jalapeño Poppers.
Jump to:
In all seriousness though (can we even talk seriously when it comes to these little grilled bites of happiness), they really are an incredible marriage of flavors.
These spicy grilled jalapeño poppers are stuffed with the unforgettable savoriness of Frank's RedHot hot sauce, the creamy textures of melted cheese, and the added bonus of the smokiness from the chicken and smoked cheddar.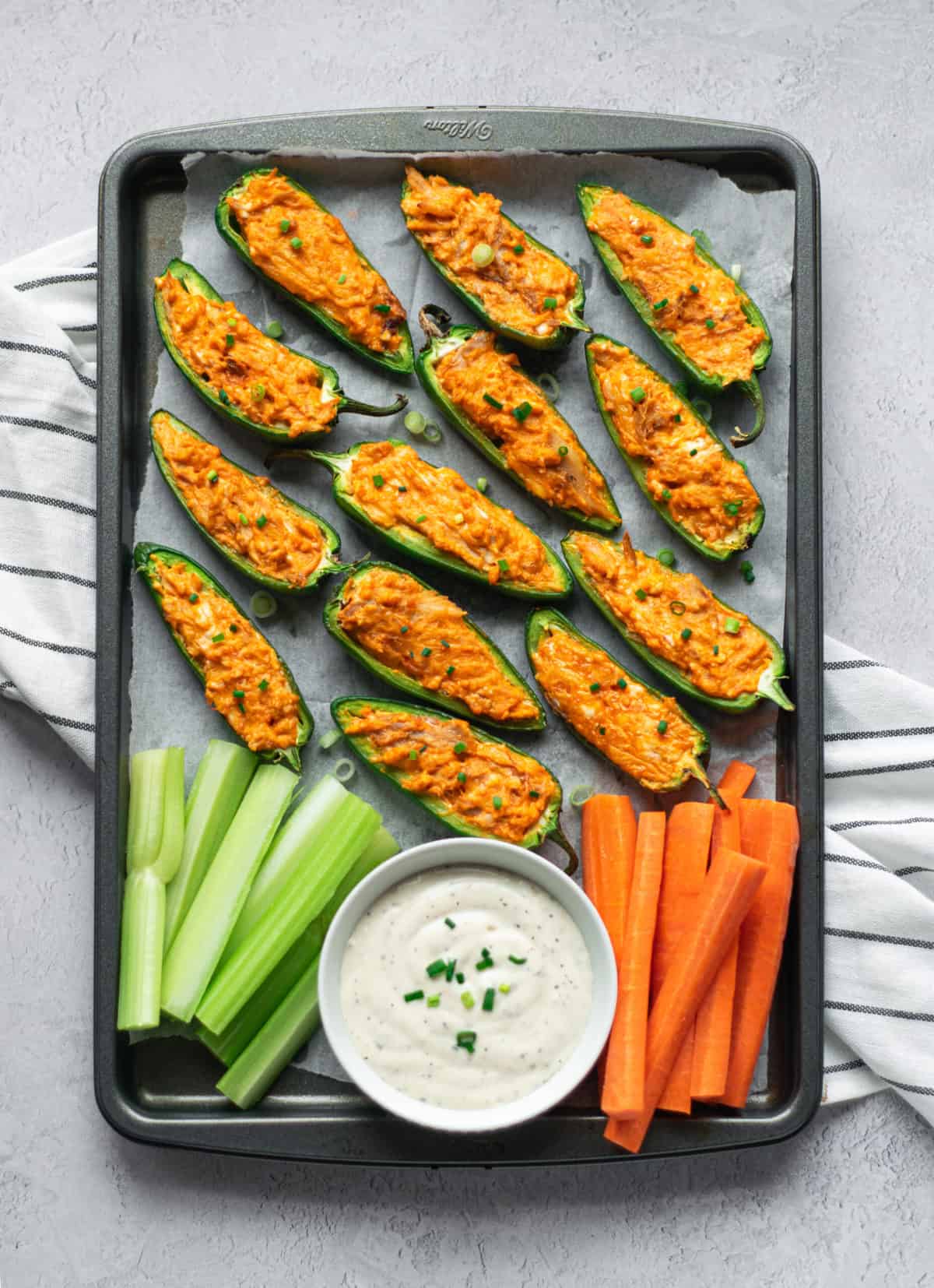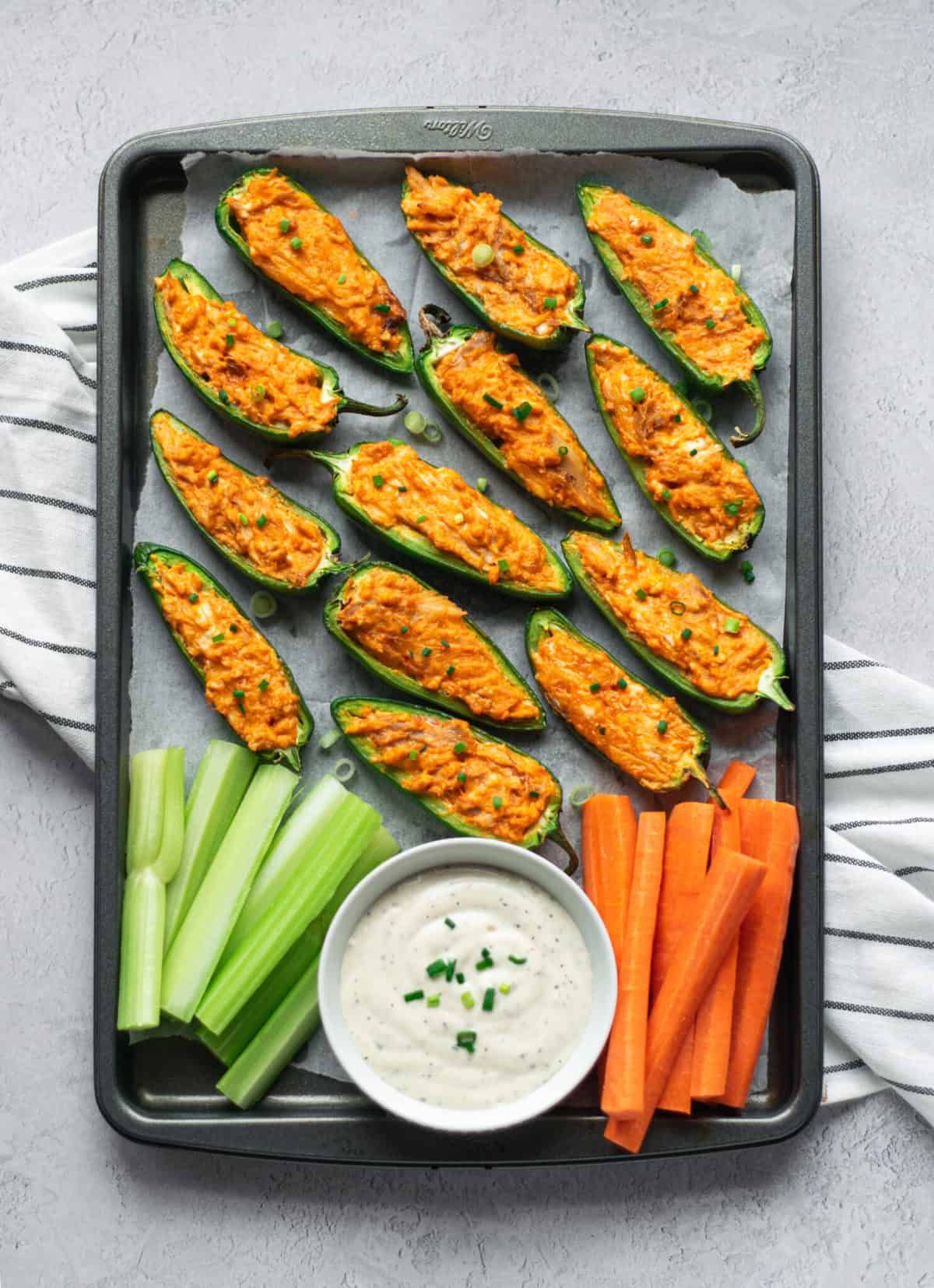 We've done grilled jalapeño poppers several ways, like these smoked poppers with bacon, and we've experimented with different kinds of cheeses to use, and have decided it's best to have a variety of cheeses to keep the filling creamy.
Best Cheeses for Grilled Jalapeño Poppers
We recommend a combination of whipped cream cheese and smoked cheddar.
If you want a more creamy filling for your grilled jalapeño poppers, we've found it's useful to whip the already softened cream cheese a bit, and then mix in some smoked cheddar (regular sharp cheddar also works just fine). This helps for the filling to be creamy instead of dense. Recipes that call for just cream cheese (not whipped) tend to come out a little dense when cooked on the grill or smoker.
We've also found adding just a touch of sour cream (or plain greek yogurt) and a dash of ranch or blue cheese dressing will help smooth out the filling and add some creaminess to it.
In this version we went with ranch in the filling then topped with shaved blue cheese.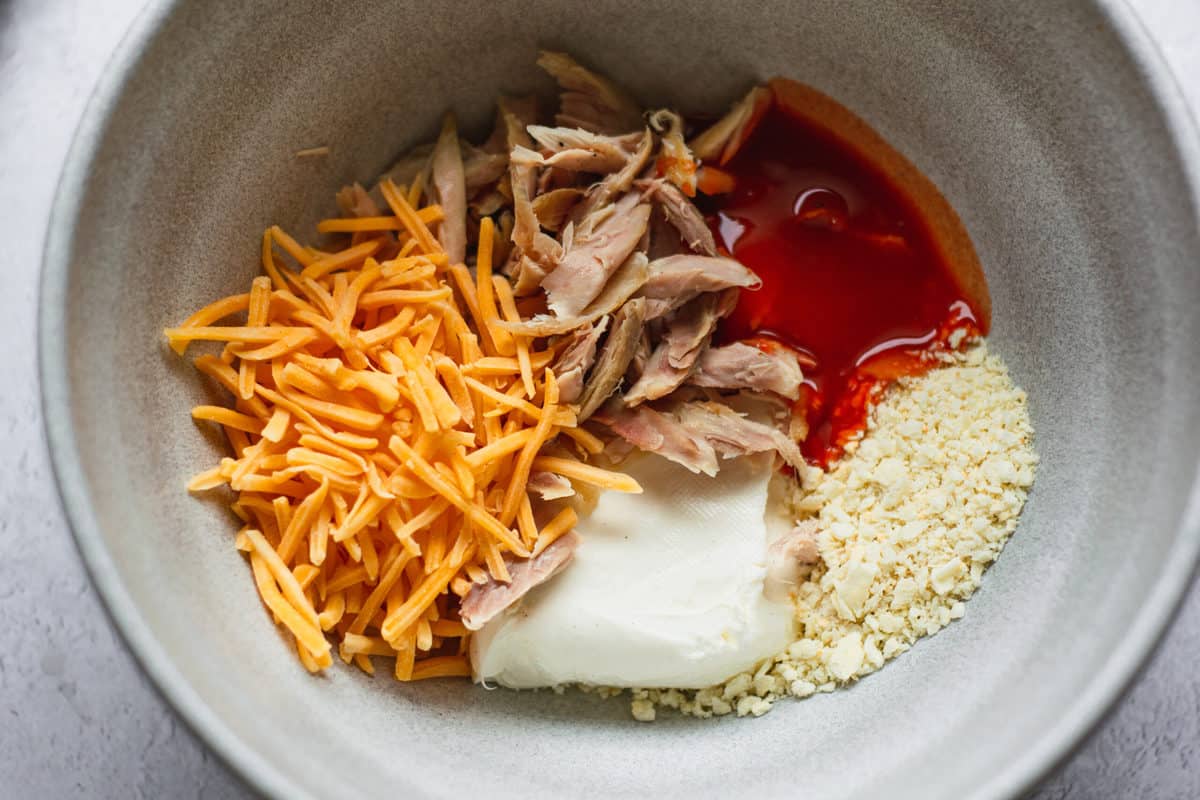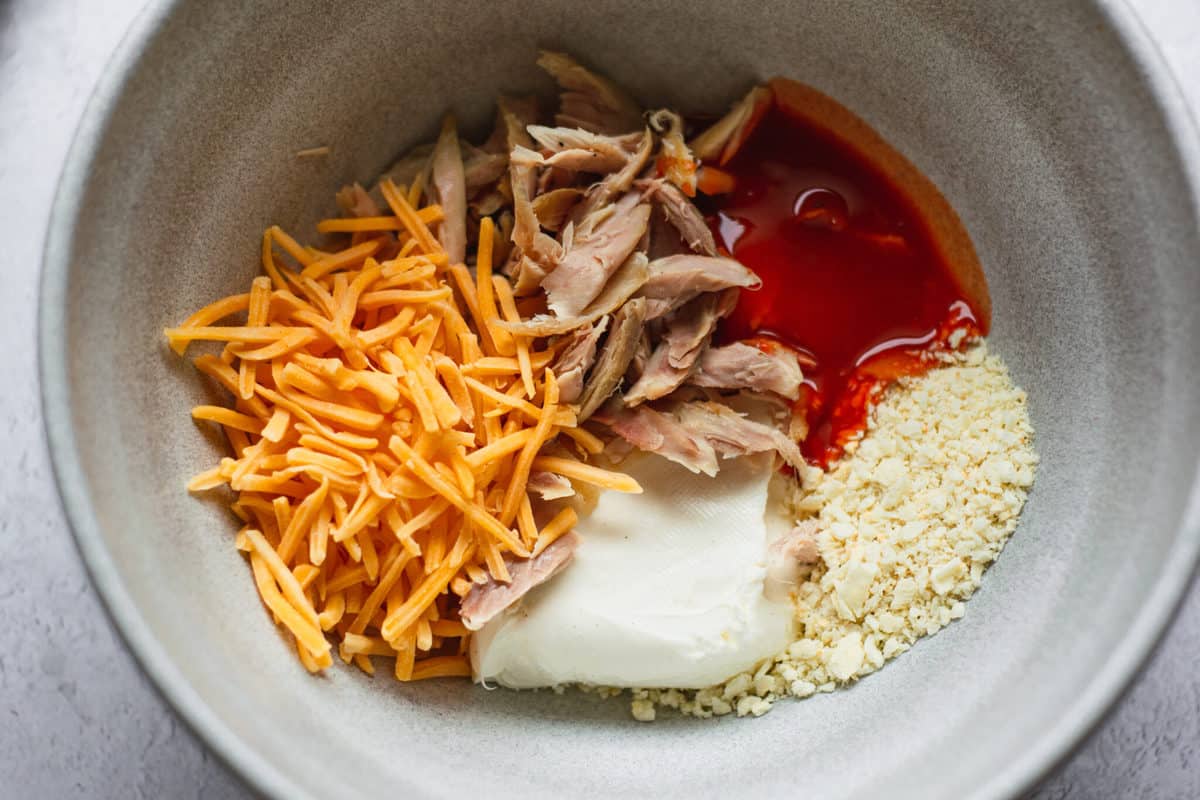 With or Without Bacon?
If you want to go the bacon route I recommend mixing cooked crunchy bacon pieces directly into the jalapeño popper filling mix (rather than wrapping around the popper). The bacon will stay crunchy that way and not get soggy. But for this particular popper recipe, we're really going with the Buffalo wing style flavors here, which is simply Frank's RedHot hot sauce, chicken, and your dipping sauce of choice (ranch ranch ranch). No bacon needed (but I won't be offended if you add some to the mix!).
How to Cook Chicken for Grilled Buffalo Chicken Jalapeño Poppers
Bottom line, you just need a couple cups of shredded chicken for the filling. Any shredded chicken will do (but the smoked chicken is our favorite recommendation because, well, smoked).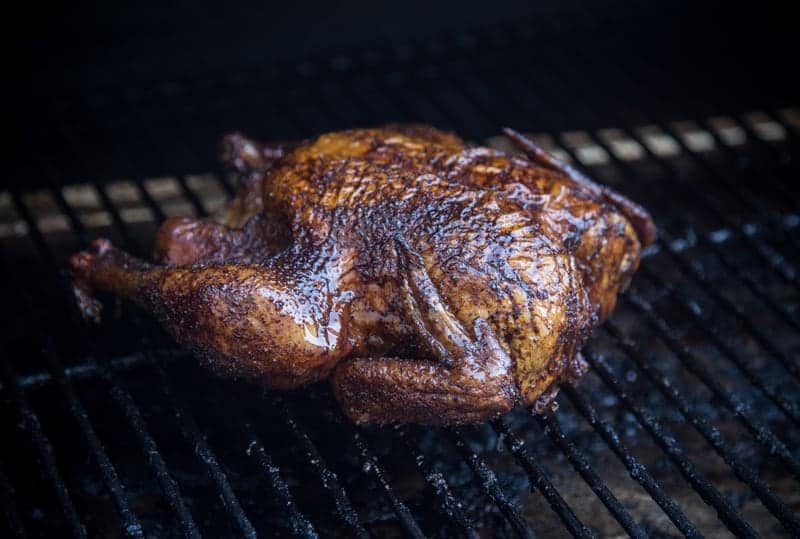 How to Make Grilled Jalapeño Poppers
To assemble the Buffalo Chicken filling just add your ingredients into a bowl and mix. You can taste the filling now to see if you want to add anything or make it more creamy. This is where you would add any extra cream cheese, ranch, or other flavors of choice.
Halve the jalapeños, removing the stem portion, seeds, and ribs (unless you want the intense heat of the ribs and seeds inside).
Then fill those pretty little jalapeño halves with the buffalo chicken filling. Now head to the grill!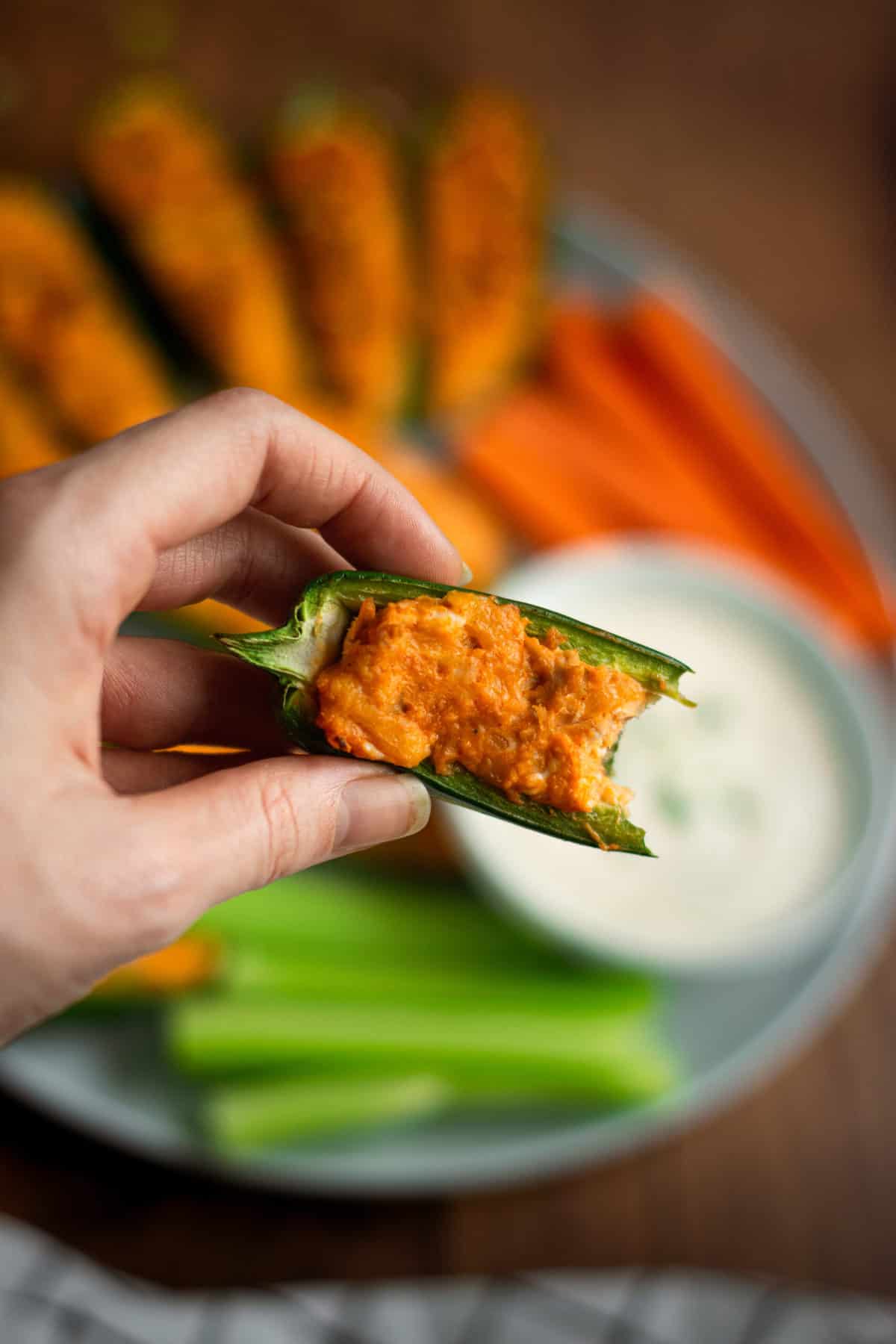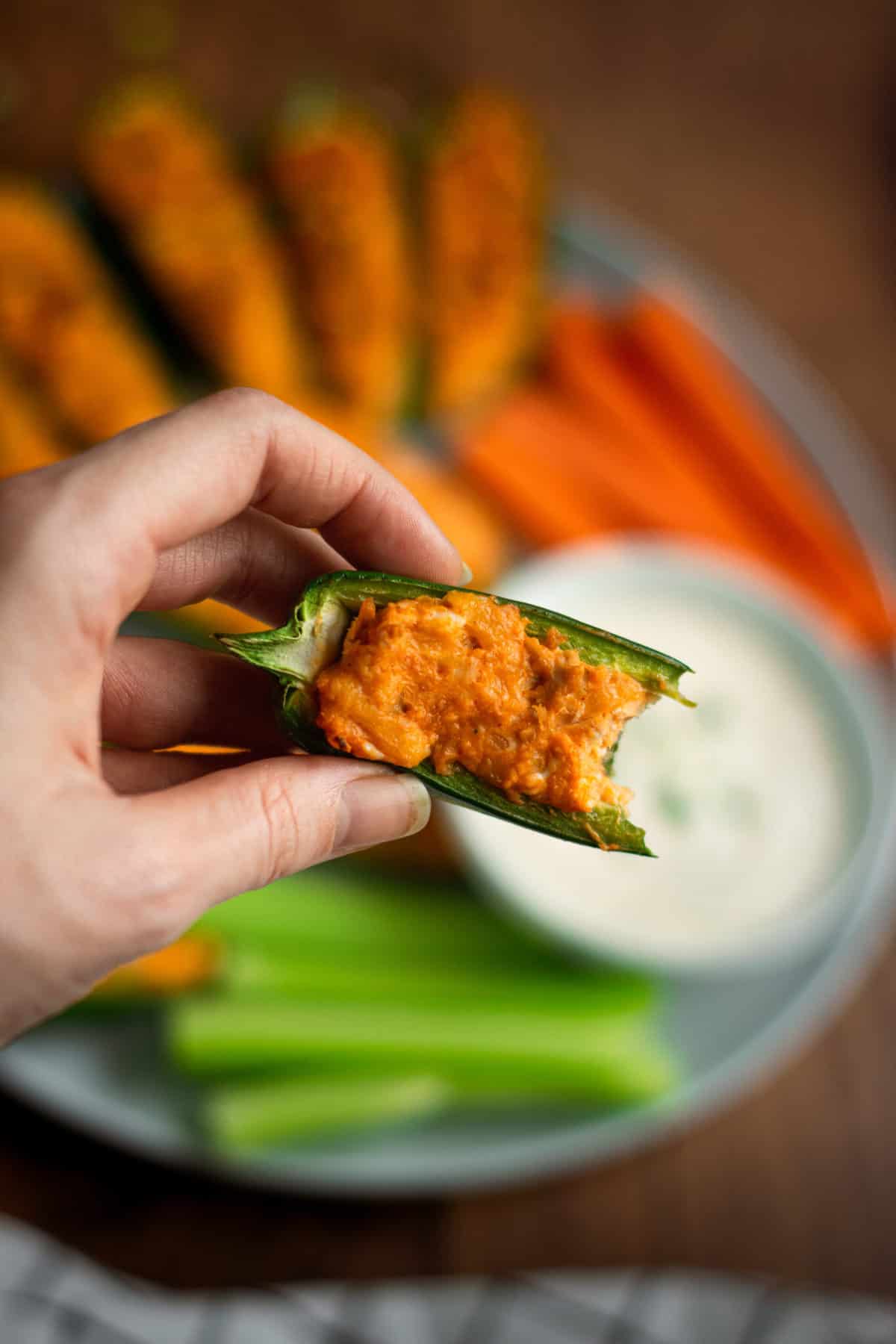 How to Grill Jalapeño Poppers
Set up grill for indirect cooking.
We usually set the grill to one half direct the other half indirect. BUT for these we set it up with the direct in the center of the grill, with the outer circle the indirect side. See the photo below. This is great set up for all these little jalapeño soldiers.
Set the poppers around the outside of the grill, over the indirect heat. Cover and cook a few minutes until the jalapeños have softened and the filling is hot and creamy. This doesn't take long, only 6-10 minutes, so don't walk too far away from the grill.
That's it.
Grilled Jalapeño Poppers best enjoyed warm (but I'm not gonna lie, they're also good cold from the fridge the next day) 😉
** This post was originally published in September 2017, and was updated in 2021 with more photos and added clarity. **
---
If you like this recipe we'd truly appreciate it if you would give this recipe a star review! And if you share any of your pics on Instagram use the hashtag #vindulge. We LOVE to see it when you cook our recipes.