Smoked Jalapeño Poppers with Smoked Bacon. An easy game day appetizer or for any occasion made with crispy smoked bacon, cream cheese, and cheddar cheese filling.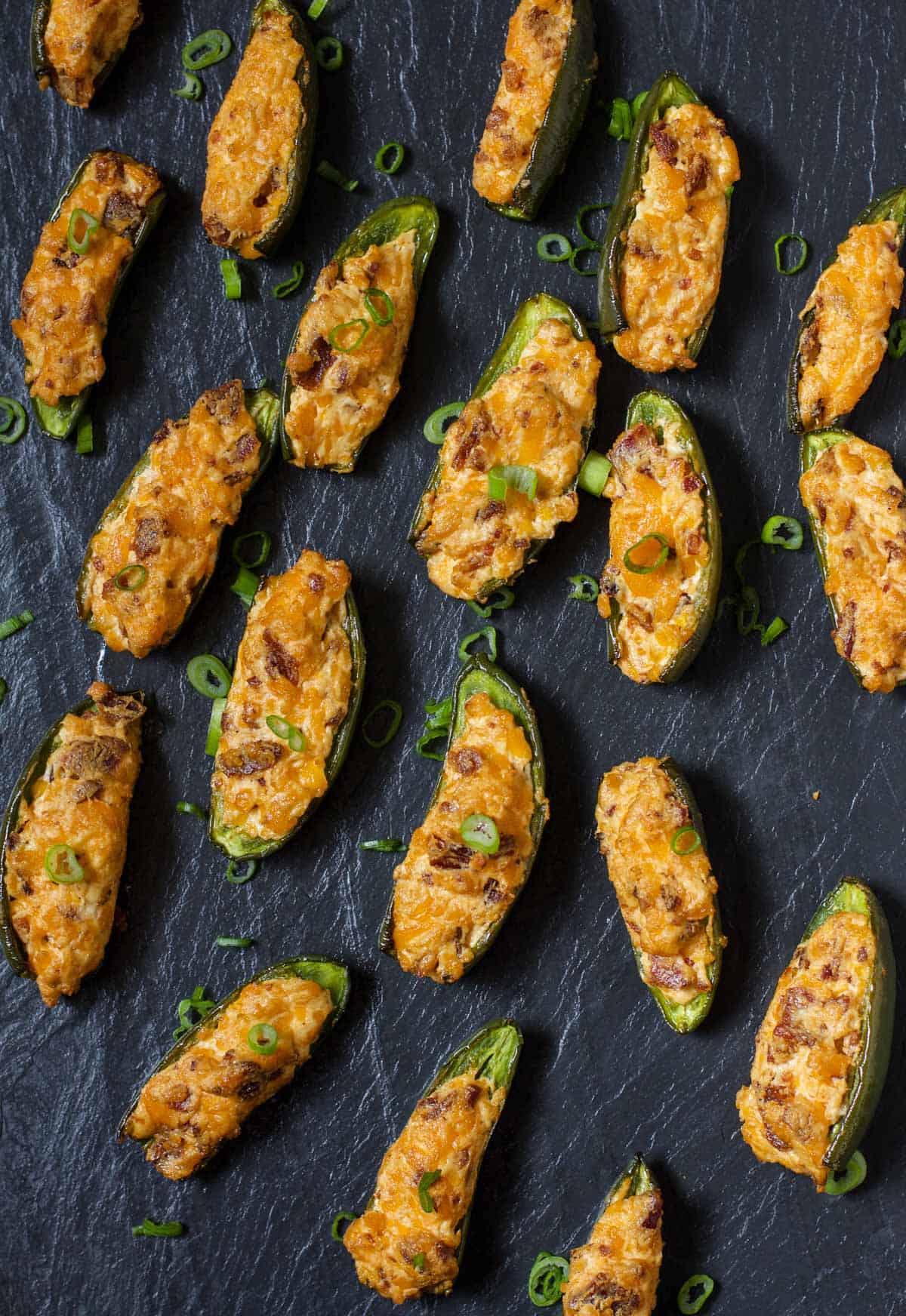 Jalapeño Poppers are a classic. But our take on the classic popper is to deconstruct the way most people make them. Because when you make smoked jalapeño poppers it's tough to get the bacon crispy.
Many smoked jalapeño popper recipes are wrapped in bacon. These can be good and result in crispy bacon when cooking on high heat (grilling) or in a hot oven. But if you plan to smoke your poppers the temperature is a challenge for both crispy bacon, melted cheese, and a nice bite with the pepper when the poppers are wrapped.
Should I Wrap Jalapeño Poppers in Bacon?
It depends. Do you want crispy bacon or soft bacon? When you wrap the poppers in bacon, and cook them low and slow, they tend to come out soft, vs crispy. As the peppers roast and cheese oozes, the moisture seems to steam the bacon which means you can't get the perfect bite.
So, smoke bacon first to get crispy on its own, then add it to the cheese mix.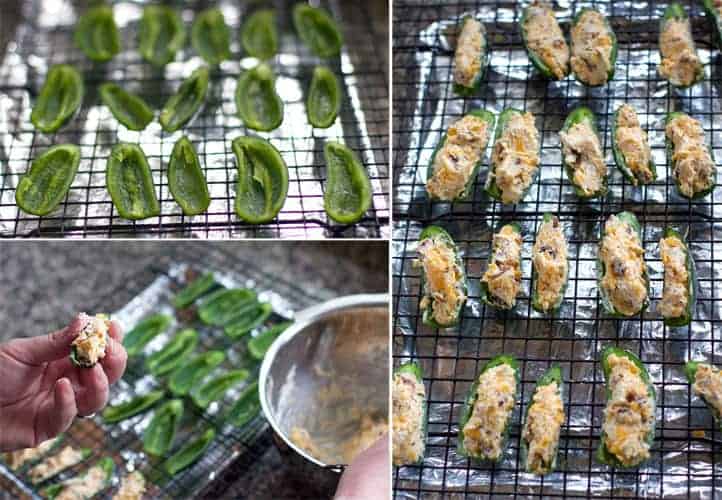 How to Make Smoked Jalapeño Poppers
Cook bacon on the smoker at 250 degrees, for about one hour or until crispy.
While bacon is smoking prep jalapeños and cheese stuffing. Arrange the poppers on a sheet tray or cookie drying rack.
When bacon is crispy, remove from smoker and finely chop, then add to the cheese stuffing.
Fill each jalapeños with stuffing.
Place jalapeños poppers on smoker at 250 degrees for 30 – 45 minutes. You are looking for the cheese to melt and the jalapeños to look slightly roasted. Remove and serve.
Tips
Cook up your bacon first, either smoke it until crispy or cook it in the oven or stovetop until crispy.
Don't overcook the pepper or you risk drying out the cheese, making for a not so pleasant texture. Overly roasted peppers will be bitter.
For a creamy filling we like to use whipped cream cheese, and then mix in some smoked cheddar (regular sharp cheddar also works just fine). This helps for the filling to be creamy instead of dense.
Recipes for smoked poppers that call for just just cream cheese (not whipped cream cheese) tend to come out a little dense when slow cooked on the smoker. Not a fan. This way, you get everything — crispy bacon and a creamy filling.
How long for Smoked Jalapeño Poppers
At 250 degrees it should take 30 – 45 minutes. You are looking for the cheese to melt and the jalapeños to look slightly roasted.
If 275-300 degrees it should take 30 minutes to cook.
These have been tested on a pellet grill, kettle grill, and also a ceramic smoker, and the results are the same on each grill.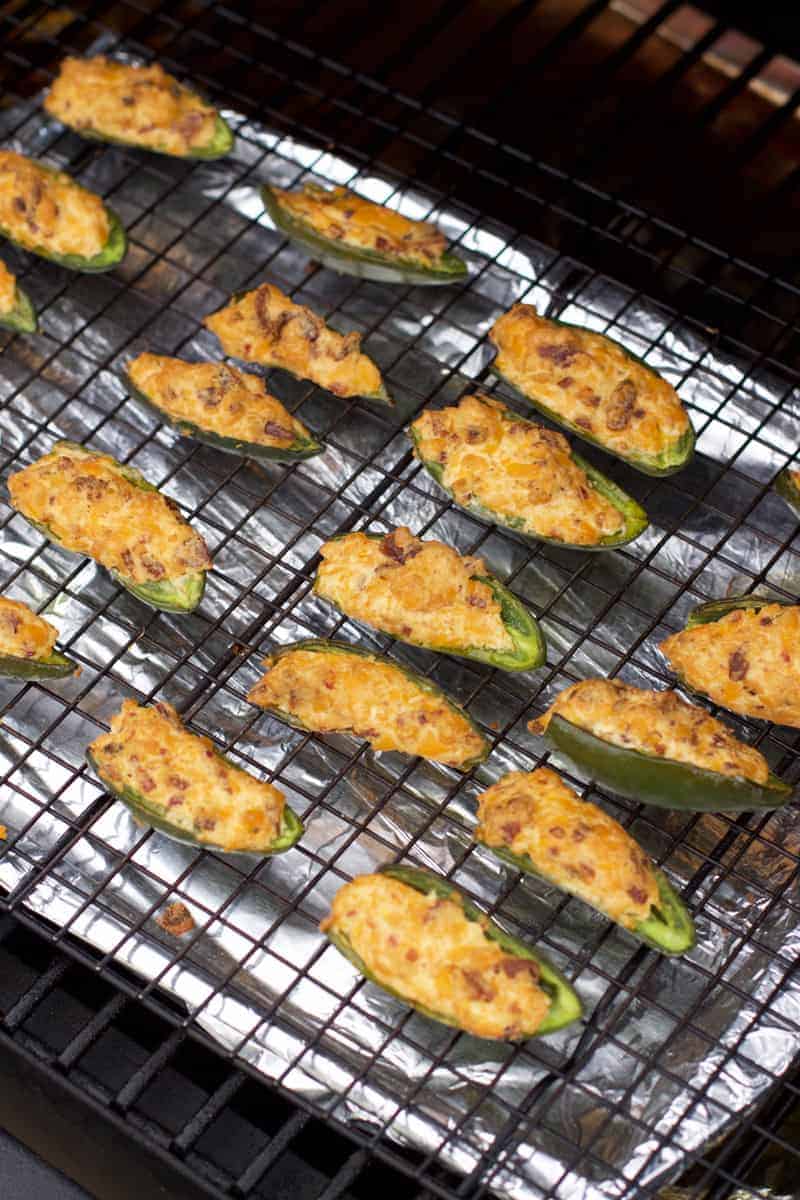 More Game Day Recipes on the Grill or Smoker Ideas
If you're looking for more incredible appetizers for your game day, here are some of my favorites.
Wine or Beer Pairing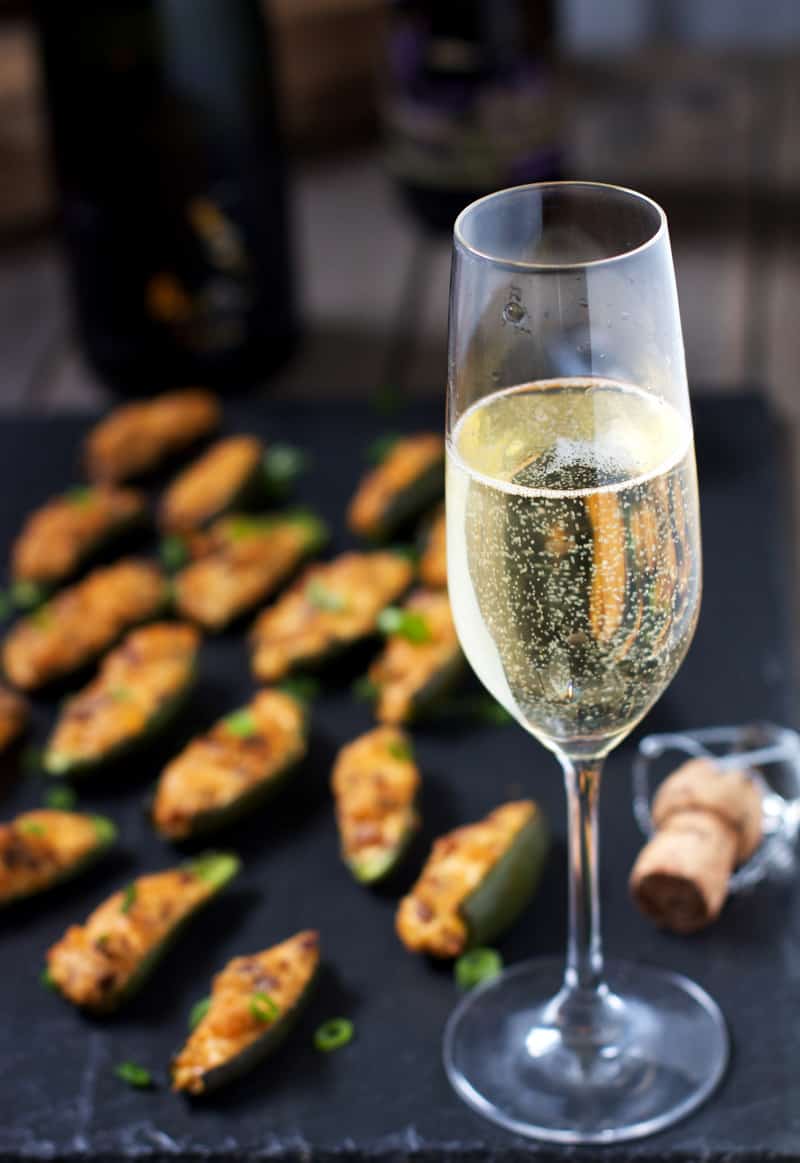 So you may be thinking, silly Mary, this is a beer dish! Well you can go ahead and drink your beer if you wish (I think a crisp pilsner tastes awesome with these poppers), or you can take my advice and drink sparkling wine. Spanish Cava works wonders with these smoked jalapeño poppers. They tend to have bolder flavors that can stand up to the smoky bacon and the powerful bubbles can cut through the creamy cheese the same way a beer would.
Most Cava is also quite affordable at around $10-$15, and is nice and tangy with green apple, fresh pears, and bright citrus. The flavors are bold and zesty and stand up like a champ to these poppers and will stand up equally well to whatever else you serve on Super Bowl Sunday.
Recipe for Smoked Jalapeño Poppers
This post was originally created on January of 2016 and updated October of 2020 with new recipe recommendations and updates to the recipe.
If you like this recipe we'd truly appreciate it if you would give this recipe a star review! And if you share any of your pics on Instagram use the hashtag #vindulge. We LOVE to see it when you cook our recipes.