Chicken Kabobs are like a blank canvas. Simply add the flavors you want, skewer them, and throw on the grill or a hot pan for a delicious and tender grilled chicken skewer. These Grilled Chicken Kabobs start with an easy citrus marinade and then grilled hot and fast.
Click here for a great steak skewer with a jalapeño chimichurri. The chimichurri can also be a great topping for these chicken skewers.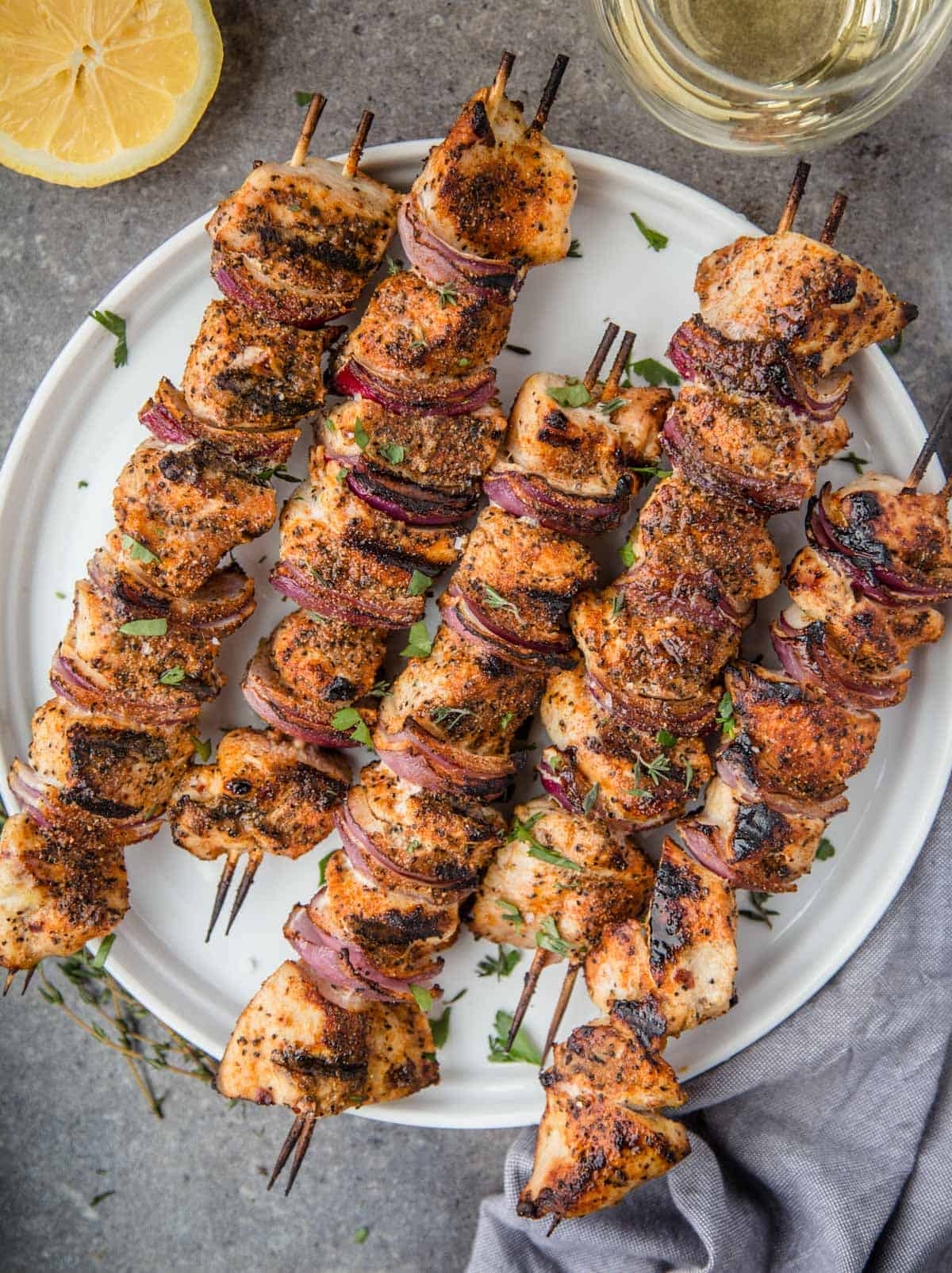 Chicken Kabobs are a great way to provide a meal for a crowd. This grilled chicken kabob recipe is focused on a simple citrus marinade, followed by grilling hot and fast. This is also a great recipe to use when grilling chicken breasts for salads or to serve alongside your favorite side dish.
Is it Kabob or Kebab?
They are both accurate, it just depends where you live. Kabob tends to be a US based pronunciation, while Kebab tends to be used every where else. Skewer is also the same thing.
Consider the following steps when making chicken kabobs:
Marinate the chicken.
Skewer and season with dry rub.
Grill over two zone or direct/indirect cooking.
Eat (Yes I know obvious, but an important step)
Best Chicken For Kabobs
Skinless and boneless chicken breasts are the best way to prepare this protein for kabobs. They are lean and they cut up easily into 1 to 1 ½ inch chunks. If you go with a thigh or other dark meat, the bone and size of the meat is not conducive to uniform bite sizes that easily slide onto a skewer.
Chicken Kabob Marinade
Our grilled chicken marinade is a mix of citrus, heat, sweet, and savory. Our general take on a chicken marinade is to balance acid, savory, heat, and sweet so it infuses into the meat without any one flavor profile dominating the meat. Marinate for 4 – 8 hours to get the flavor fully infused into the chicken.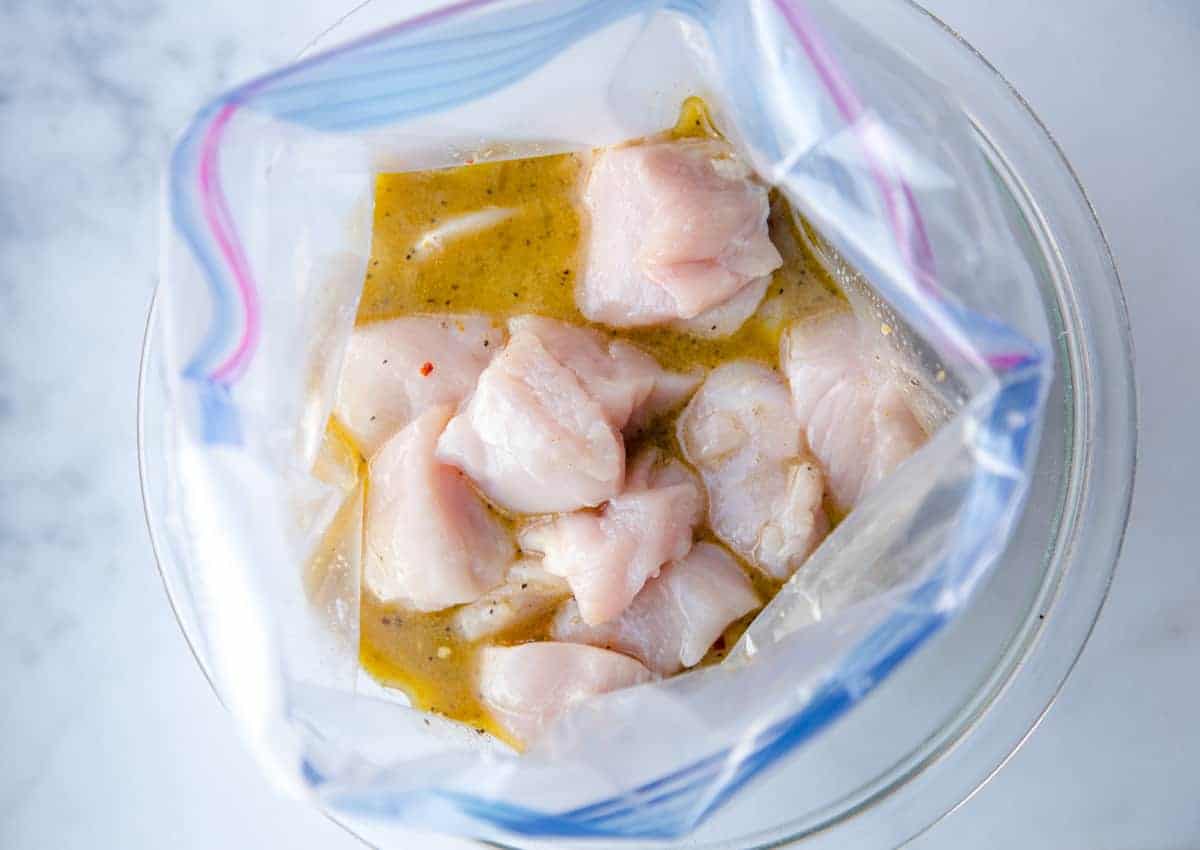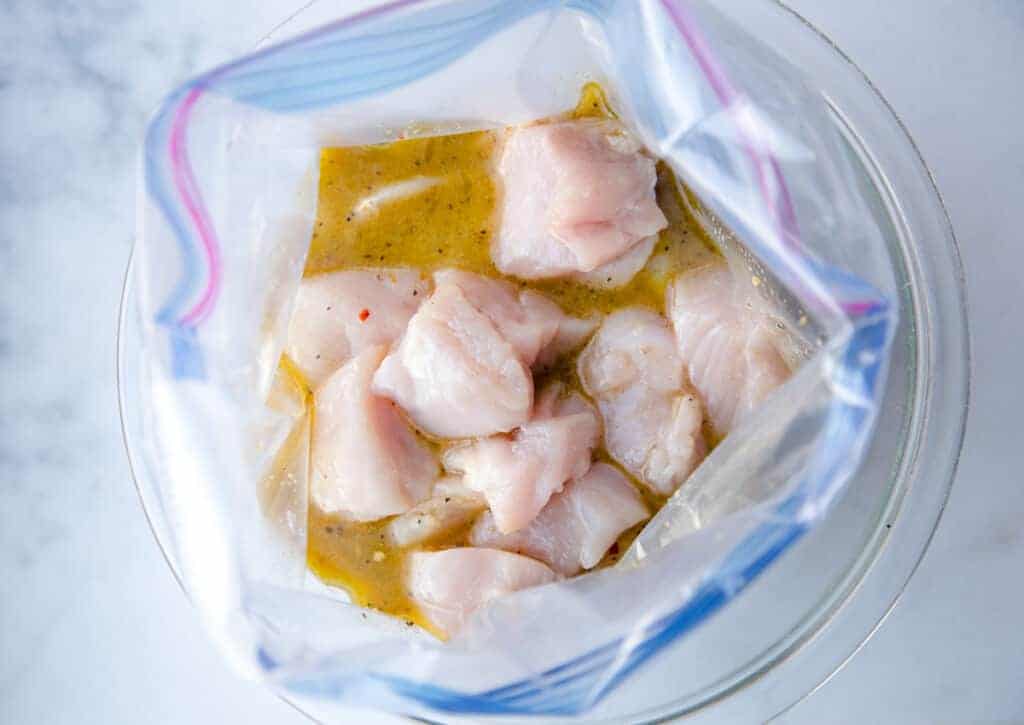 When preparing chicken for grilled chicken kabobs, be sure to cut them into 1 to 1 ½ inch cubes as uniform as possible so the smaller chunks of meat can take on more of the marinade flavor.
How to grill Chicken Kabobs
Start by soaking any wooden skewers in water for an hour. This prevents them from burning up over the direct heat which can and should be near 500 degrees Fahrenheit. We prefer metal skewers that we can reuse regularly.
Tip: Plan to use two skewers per chicken kabob. Using two skewers makes it easier to flip and turn them over a hot grill. With one skewer it is not uncommon to pick up and prepare to flip the chicken and suddenly the meat doesn't turn or the chicken falls off. Using two prevents this.
Slice and prepare any additional skewer ingredients. For this recipe we keep it simple with red onion diced in a way that it is larger and sits uniform on each skewer.
Assemble. Prepare the skewers by adding a cube of chicken along two parallel pre-soaked wood skewers. Alternate one or two onion slices with the next chicken cube.
Grill over direct heat for a few minutes. Flip and then continue cooking over direct heat for a few more minutes. Then when you like the color, move to the indirect side and finish the chicken.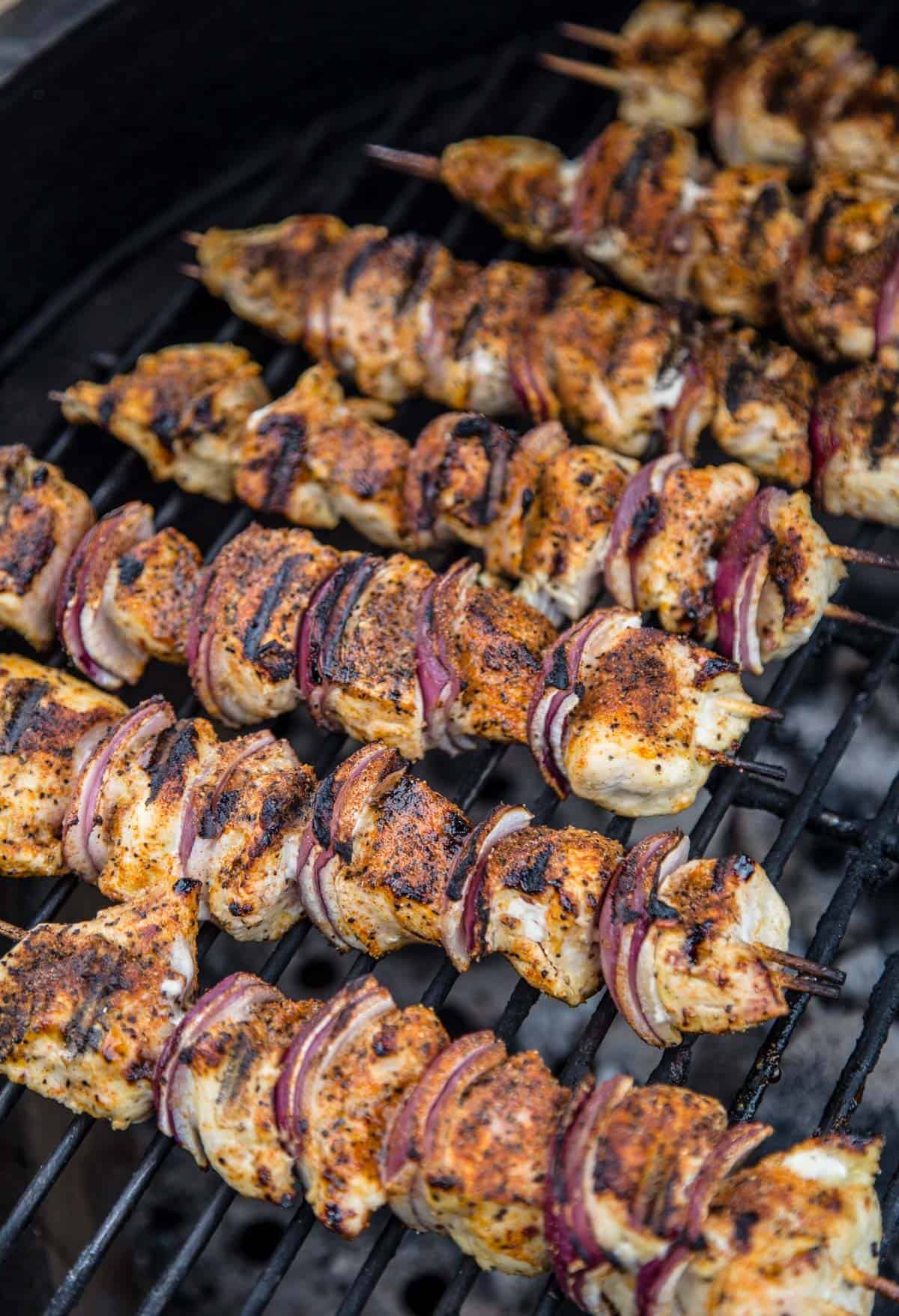 When is Chicken Kabob Done
Grill them until the internal temperature is 160 degrees. That is best measured by an instant read thermometer like the Thermoworks MK4 Thermapen. Carryover cooking will take the chicken up to 165 degrees, which is the USDA recommended cooking temperature for chicken.
Because we cut up the chicken into smaller pieces, they will cook slightly faster. So worry less about time, and more on temperature. This should take about 15 minutes total for smaller chunks of chicken. But the key rule is always cook to temperature, not time when grilling or smoking.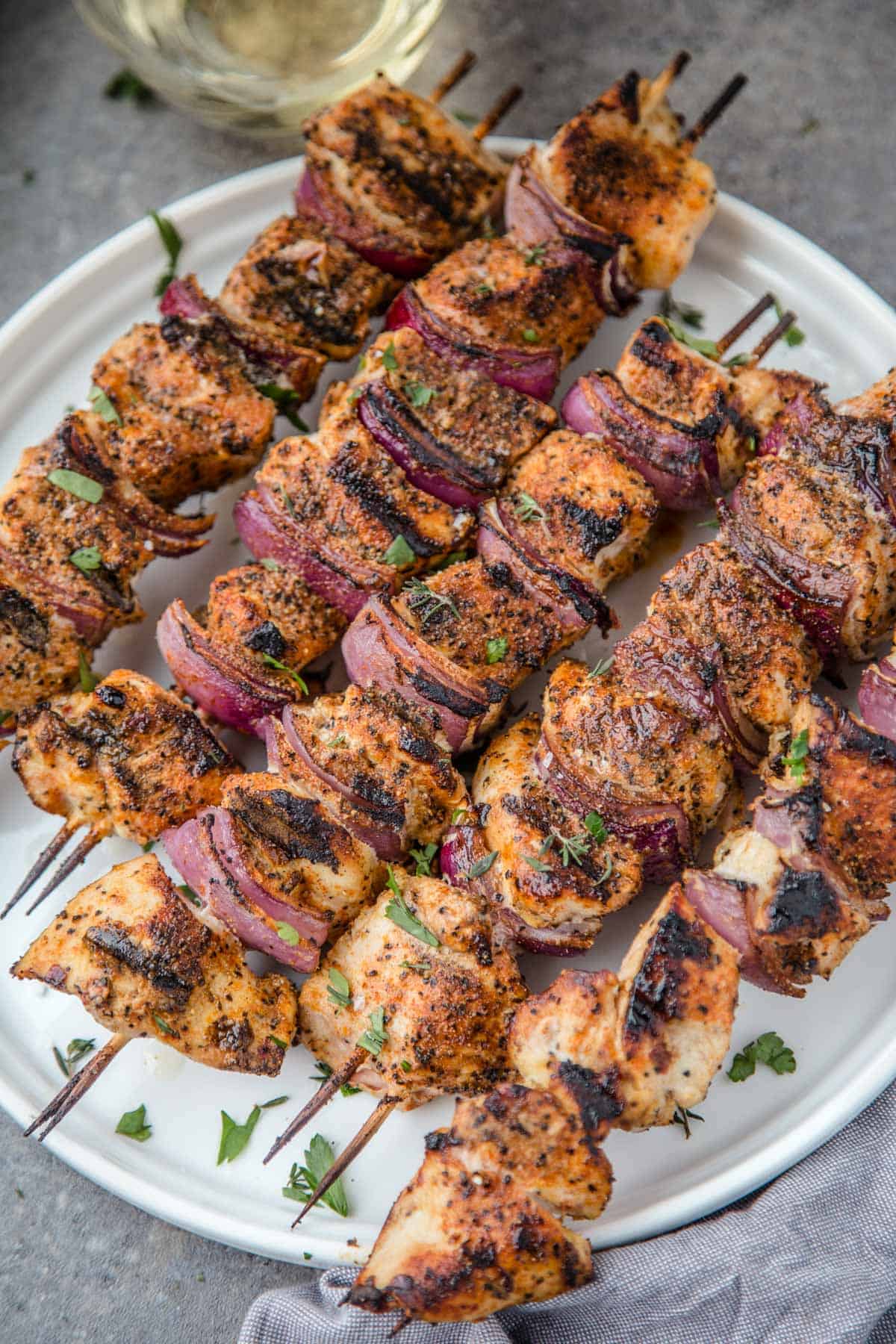 Grilled Chicken Kabob Recipe
More Grilled Chicken Recipes
---
This post may contain affiliate links. This means if you click on the link, we may receive a small commission if you purchase through the link. We partner with brands we know and love and use and it helps keep the blog going!