Teres Major soaked in a savory beer and rosemary marinade, then grilled to perfection, and topped with a flavorful jalapeño chimichurri sauce. These Steak Skewers are incredible for grilling with friends, tailgating, camping or dinner with your family!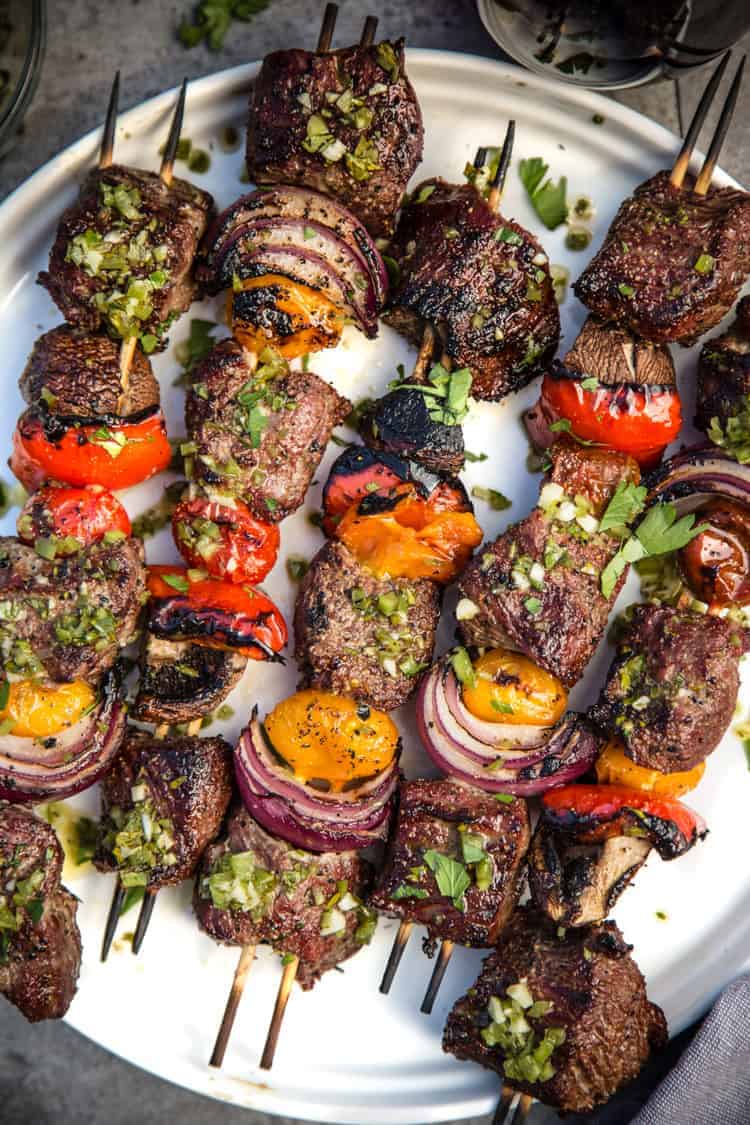 When we're hosting a large crowd, for appetizers, or for a main meal, steak skewers are a great meal to prep early and serve easily. You can marinade the meat, skewer and season, all in advance, and then grill and serve when you're ready to eat. We top these steak skewers with a mildly spicy and fresh take on chimichurri with jalapeño, and garlic, among other ingredients to finish with awesome flavor.
These are great to take with you to a tailgating party, camping, or BBQ with friends, as you can prep everything at home, and take the skewers with you. All you need to do is fire up the grill and cook the skewers and you're set!
Is it Kebab or Skewer? What's the difference?
The skewer is the actual stick or metal rod you are cooking on and often used synonymous with kebab. Kebab is meat and veggies cooked over a heat source ON a skewer. So for title sake, either works. Either way you're going to have a delicious plate of marinated grilled steak goodness on your hands and everyone is happy!
What's the Best Beef for Steak Skewers or Kebabs?
For skewers the best cuts of beef are those that are easy to cube up, and won't be tough when you grill them. Cuts like Top Sirloin, Striploin, or Ribeye are great for skewers. We used the lesser known cut of Teres Major in this recipe because of its incredible flavor and texture.
What is Teres Major Steak?
This lean cut has the texture of beef tenderloin, without the same price tag. It is located in the shoulder. The lack of muscle movement is what makes Teres Major such a tender and lean cut. It may also be referred to as Petite Tender.
How to Cook Teres Major Steak for Skewers
Teres Major can be cut in small medallions, like a Filet Mignon, or roasted as a whole strip. For skewers we cut the strip in half lengthwise, and then cut into 1 inch cubes. It makes the perfect portion size for a skewer. It is best simply seasoned and cooked over direct flame quickly for a nice sear.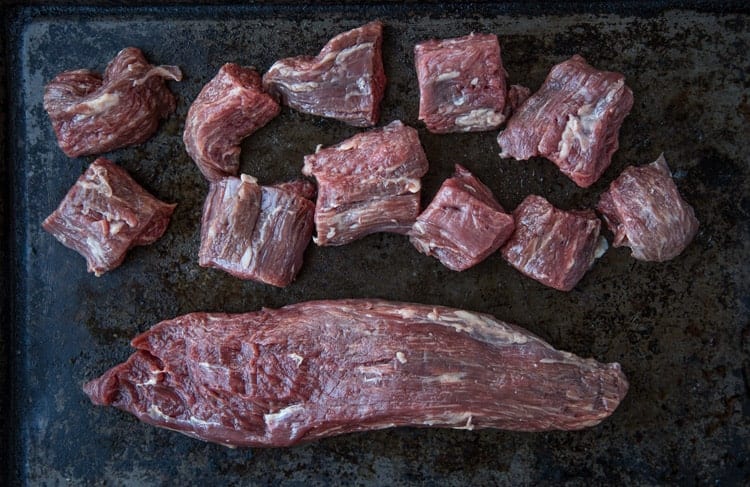 Marinade for Steak Kebabs
Our simple beef marinade for kebabs or skewers includes:
Beer, citrus, and soy sauce — for flavor and to tenderize.
Savory elements like onions, and herbs — for more flavor infusion.
Simply add desired ingredients into a 1 gallon plastic baggie, mix, and add the beef cubes.
How long do you marinade steak for steak skewers?
To maintain a nice beef flavor consider no more than two hours. This is enough time to tenderize and add flavor, but to not over power the beefy flavor. You still want to be able to taste the beef, especially if you're buying quality meat.
Should I add a dry rub to marinaded meat?
Yes, even a simple salt and pepper rub to already marinated meat is appropriate.
How do you Cook Steak Skewers on the Grill?
You have two options. Skewer all the beef together, or add your mix of beef and vegetables to one skewer. We prefer the latter as it makes an easy meal and you don't have need for separate plating. Cook the skewers over direct heat for a few minutes per side until your desired internal temperature using a high quality instant read thermometer. The skewers cook fast.
Pro Tip – Use two skewers if using thin wooden skewers. The two skewers make it so much easier when you are flipping the skewers on the grill.
For a little more detail, start with wood skewers that have been soaked in water or any liquid for at least an hour. Metal skewers are fine too, but know that the metal may heat up from flame intensity cooking both the outside (the flame) and inside (the metal heating up). If you're looking for medium rare meat, the metal will cook the meat inside so you're likely to come out with well done meat. So that is why we prefer wooden skewers.
Finally, like any steak, let them rest at least 5 minutes before serving. We love adding one last touch like our easy chimichurri with jalapeños drizzled over the top.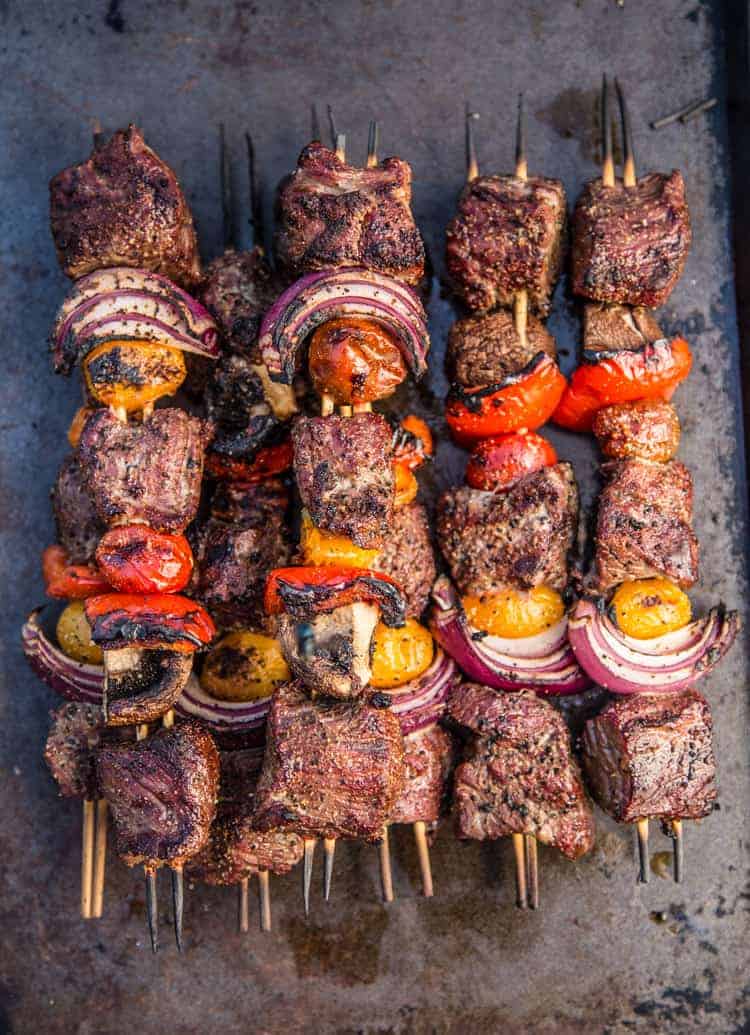 Easy Side Dishes for this Meal
Wine Pairing for Steak Skewers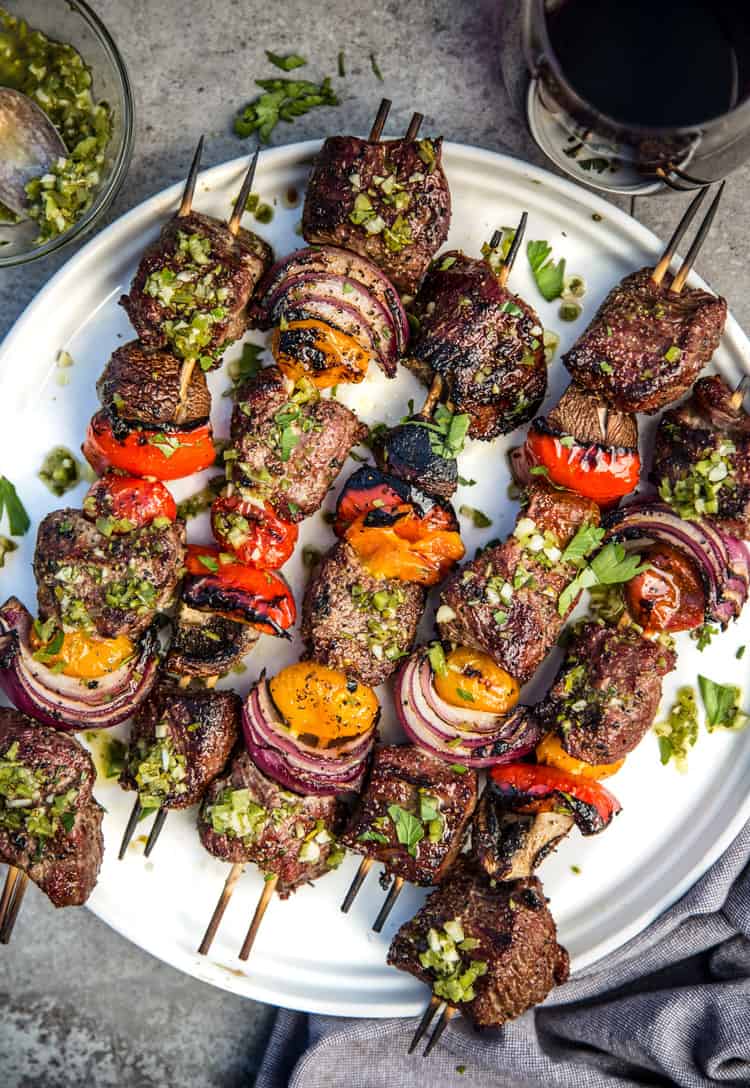 You have lots of options for this savory grilled steak dish. Because of the flavor of the beef and the brightness of the jalapeño chimichurri I prefer Malbec with this dish. Zinfandel would be a close second. I want something fruity and slightly rich, with some peppery notes, and low to medium tannins, and those two fit the bill quite nicely.
Recipe for Grilled Steak Skewers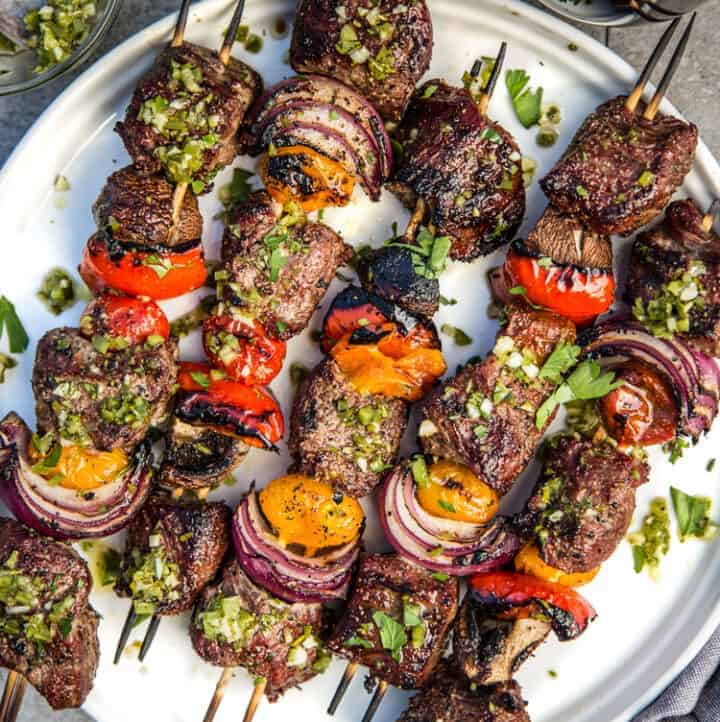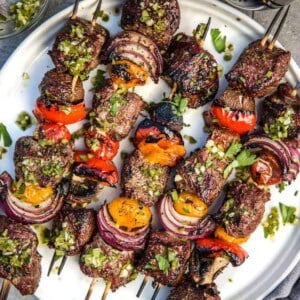 Steak Skewers
Recipe for Grilled Steak Skewers with Beer Marinade and Jalapeño Parsley Chimichurri Sauce.
Print
Pin
Rate
Ingredients
For the Beef Marinade
1.5 – 2

pounds

sirloin or teres major, cut into 1"- 1.5" cubes

2

cloves

garlic, crushed

½

cup

chopped red onion (about ¼ of an onion)

¼

cup

soy sauce

½

lime

juiced (½ tablespoon juiced)

1

sprig

rosemary (about 8" long)

½

cup

beer (lager or pale ale)
Easy Jalapeño Parsley Chimichurri:
¼

cup

parsley, finely diced (or processed in a food processor)

1

jalapeño 

very finely diced (or processed in a food processor), equivalent of 2 tablespoons

1

large clove

garlic, very finely diced (or processed in a food processor), ½ tablespoon

2

tablespoons

olive oil

½

lime

juiced (½ tablespoon juiced)

¼

teaspoon

kosher salt
Additional Vegetables for Skewers
10

Cherry tomatoes (about 4 oz)

½

Large red onion, cut into 1" cubes

1

Red bell pepper, cut into 1" cubes

6

Cremini mushrooms (cut in half if they are large)
Instructions
For the Marinade:
Trim steak and cut up into one inch cubes.

Place steak cubes and all marinade ingredients into a large gallon size seal-able bag. Mix together, and try to squeeze out excess air.

Place the bag in a large bowl, and into the refrigerator for 1 hour (no more than 2 hours).
Easy Jalapeño Parsley Chimichurri:
Combine all ingredients in a medium size bowl. Sprinkle over the top of skewers.

The chimichurri can be made up to three days in advance and kept in the fridge. Bring to room temperature before using.
For the Beef Skewers:
Soak wooden skewers for at least one hour prior to grilling. Prepare grill for direct cooking.

Place ingredients on the skewer. We add three pieces of meat and alternate the other ingredients (we like onions, mushrooms, and red bell peppers) in between the steak.

Place over direct heat and rotate every three minutes until the internal temperature of the beef reaches at least 124 degrees for rare, 135 degrees for medium rare.

While resting add the Chimichurri and then serve and enjoy!
Find the perfect wine pairing at the Vindulge Wine Shop
---
If you like this recipe we'd truly appreciate it if you would give this recipe a star review! And if you share any of your pics on Instagram use the hashtag #vindulge. We LOVE to see it when you cook our recipes.