Apricot Glazed Grilled Chicken is quick, easy, and oh so delicious. Add lime for a citrus pop and fresh diced jalapeño and you have a lip smacking dish for your next grill night.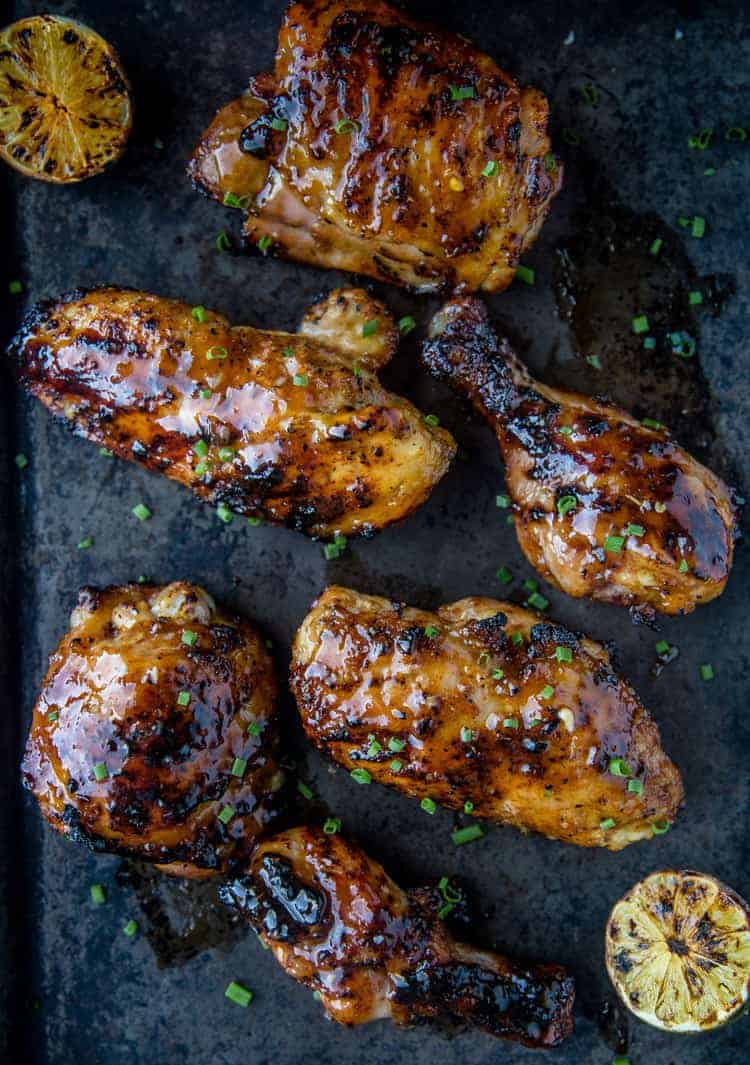 We can't get enough grilled chicken recipes around here. It's a weekly staple, and our kids love this healthy protein!
Jump to:
This grilled chicken recipe spends a couple hours in a buttermilk marinade to tenderize and flavor, then grilled hot and fast and finished with a sweet and spicy apricot lime glaze.
This is a fantastic way to do grilled chicken that's likely to become your summer favorite.
Ingredients + Substitutions
Chicken – We buy a whole chicken to save money and have the butcher quarter it. Alternatively you can cut it into small pieces. You can also make this with individual pieces of chicken.
Buttermilk – The buttermilk is a great tenderizer with a higher acidity level. We combine the seasoning with the buttermilk for the marinade.
Seasoning – We use our ultimate dry rub for a sweet and savory seasoning. You can also use our no-sugar chicken seasoning or your favorite dry rub.
Glaze – Use a store bought apricot jam to start and then combine with some sautéed garlic, jalapeños, and shallots. Added honey helps with a balanced sweetness and freshly squeezed lime adds acidity.
Tools
Long Tongs – You want a sturdy set of long tongs to move the chicken around the grill and not burn your arm hair.
Instant Read Thermometer – A good quality instant read digital meat thermometer is key to reading the perfect internal temperature of chicken while it cooks. We recommend and use the Thermoworks Thermapen One.
Gallon Size Freezer Bag – This makes it easy to marinate in the buttermilk.
Buttermilk Bath
How to make a buttermilk bath
Simply add buttermilk and your chicken pieces into a large gallon size bag and mix together and place in the fridge for 2-3 hours. After the bath remove the chicken and allow it to dry on a baking rack (in the fridge) for 1 hour. This will help get the skin ready for the grill (and ensure the skin gets nice and crispy instead of soggy from retaining that moisture).
Why is buttermilk a good marinade?
Buttermilk is an acid, and soaking chicken in a buttermilk bath will help to tenderize the meat. It also adds a nice tang to the flavor of the meat. This is a common practice when making fried chicken, but also works great for grilled chicken too.
Is the buttermilk bath necessary?
No. If you don't have time you can skip this step. BUT if you do have time, we highly recommend it as it will help to create tender and juicy chicken once cooked over the grill!
Apricot Glaze
Next up prepare your apricot glaze. This comes together very quickly. Soften up some shallots and jalapeños, in olive oil, then add garlic, apricot jam, and fresh squeezed lime and mix together to incorporate. Set aside.
Don't have apricot jam? This works great with mango jam too! Mix and match and try it out with your favorite jam flavor.
To Grill the Chicken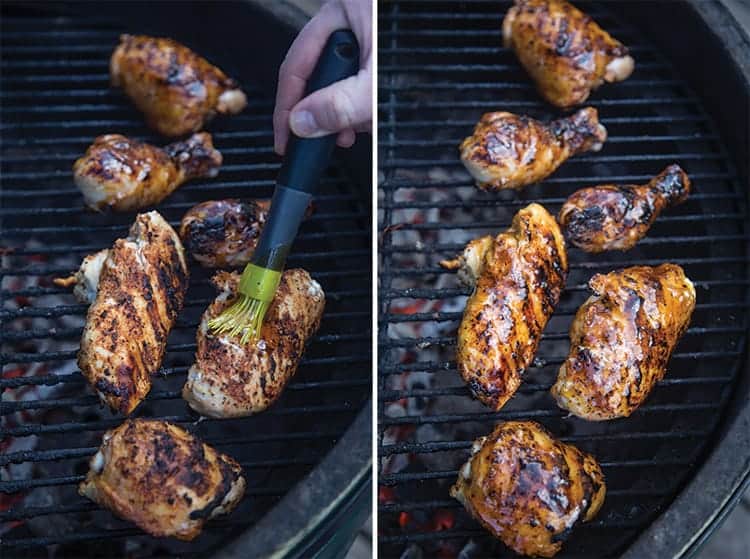 Set your grill up for direct/indirect, or two zone cooking. If you're using a gas grill, set it to medium heat.
Place your chicken pieces over direct heat for 4-5 minutes per side, and once they've developed a nice crust, move them to the indirect side and continue cooking until the internal temperature of the meat reaches 155 degrees.
Once the meat is close to finish (when it reaches 155 degrees) it's time to glaze the chicken.
Once the meat reaches 160 degrees pull the chicken and apply one more layer of glaze on the meat and let it rest 10 – 15 minutes.
Grill Specific Modifications
Big Green Egg – If using a Big Green Egg or Kamado grill, you can set up for traditional two-zone grilling using the grill charcoal basket with divider or you can use your ConvEGGtor plate. If using the plate you don't need to move the chicken around since it's all indirect cooking. Target the internal temperature of the grill if using the plate at 500 degrees F.
Gas Grill – Assuming you have a three burner gas grill, light two adjacent burners at medium heat and leave one off. This is your two-zone set up. Target an internal grill temperature of no more than 500 degrees F.
Kettle Grill – Use a traditional two-zone direct and indirect zone set up. Target 450 degrees internal temperature of the grill. The direct side will be closer to 550 over the direct heat.
Pellet Grill – Use your high or grill setting, preheat the grill so the grates are hot. Grill indirect the entire time and glaze when the internal temperature of the chicken is 155 degrees F. If your pellet grill has a direct grill feature like on a Camp Chef Woodwind, then grill direct and then close the vent to finish indirect.
When is chicken done?
The USDA recommends cooking chicken to an internal temperature of 165 degrees F. But depending on the chicken cut we pull it at different temperatures as noted below. This allows for carry over cooking to occur. This allows the meat to continue rising in temperature even after being removed from the heat. This is the number one tip for juicy chicken.
Chicken Breast: We recommend pulling the chicken breast when the internal temperature in the thickest part of the chicken is 160 degrees F.
Chicken Thighs, Wings, Legs: We recommend removing the chicken legs, thighs, and wings when the internal temperature reaches 170 – 180 degrees Fahrenheit. This allows the interconnected tissue to break down more.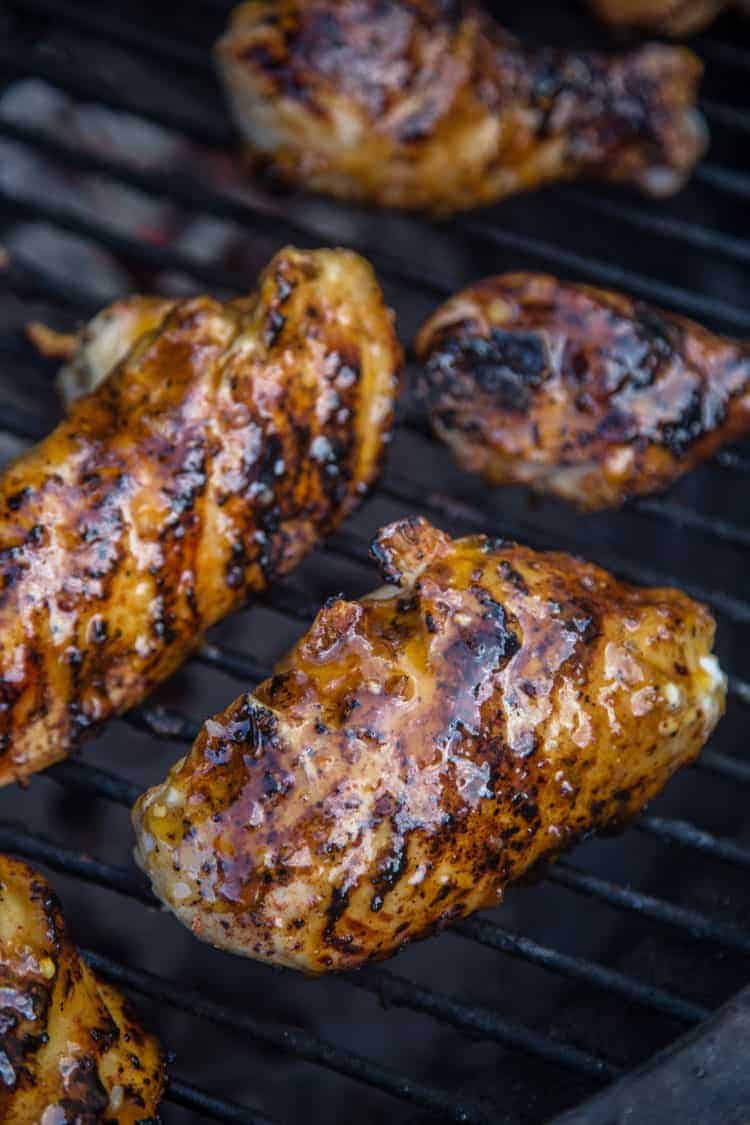 Chef's Tips
You don't want to glaze too soon, otherwise you run the risk of burning the chicken since the sauce contains sugar (sugar and flames create burn). Use the internal temperature of 155 degrees F as the guide.
If cooking chicken breast, legs, and thighs, they will all cook at different times. So pull them when they all reach the correct internal temperature.
Next is the fun part… time to eat!
Wine Pairing for Grilled Apricot Chicken
Grilled chicken can generally go both ways when finding a wine to pair (red or white wine). But for this recipe, with the sweet and spicy apricot glaze, we're sticking with white or rosé.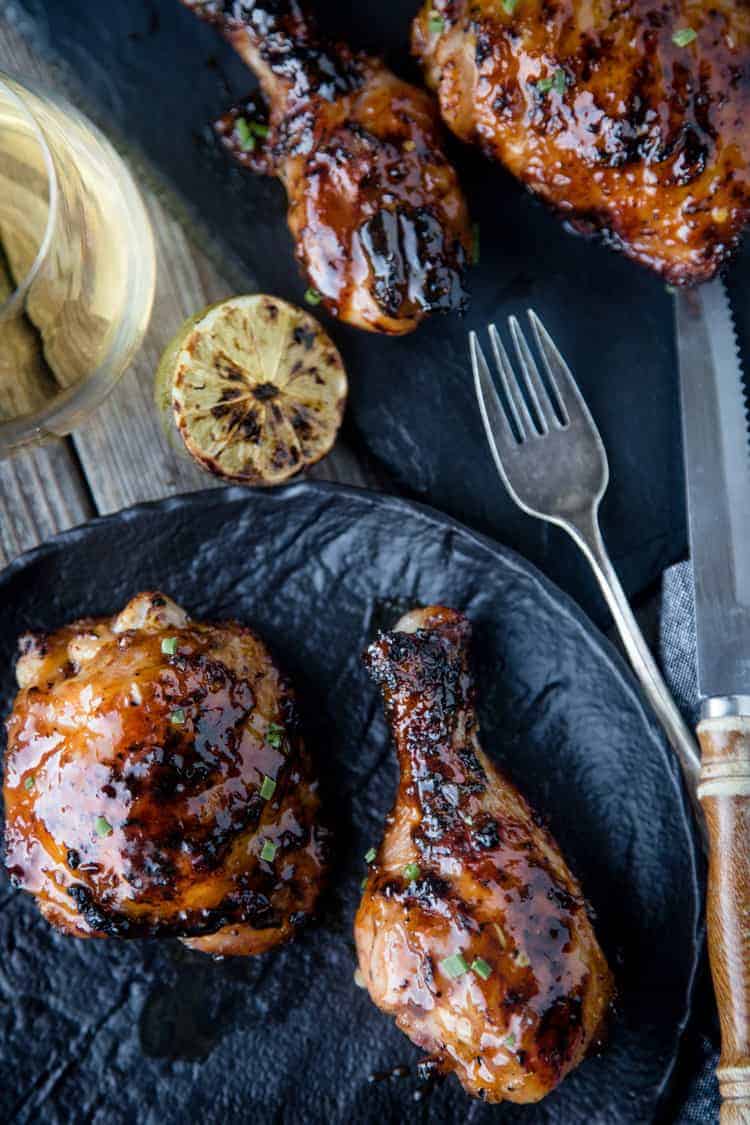 My favorite pairing, and your safest bet, is a semi-sweet Riesling or even a Pinot Gris/Pinot Grigio. The high fruit flavors of the wine, along with any residual sugar left in it, will compliment the glaze quite well!
A fruity acidic rosé with good acidity will be able to cut through the tender and juicy meat without contrasting too much with the sauce.
Want more Grilled Chicken Recipes
Check out all our chicken recipes and we've also highlighted some of our favorites.
Side Ideas
Check out all our side recipes. With this grilled apricot chicken here are a few standouts.
Perfectly Roasted Potatoes – Crispy on the outside and soft and decadent on the inside. The secret is par boiling the potatoes.
Grilled Acorn Squash – A great fall and winter dish and easy to make while making the chicken as it cooks indirect. Finished with maple syrup.
Grilled Caesar Salad – Want to add some greens? How about a Grilled Caesar Salad.
---
Mary (a certified sommelier and recipe developer) and Sean (backyard pitmaster) are co-authors of the critically acclaimed cookbook, Fire + Wine, and have been creating content for the IACP nominated website Vindulge since 2009. They live in Oregon on a farm just outside Portland.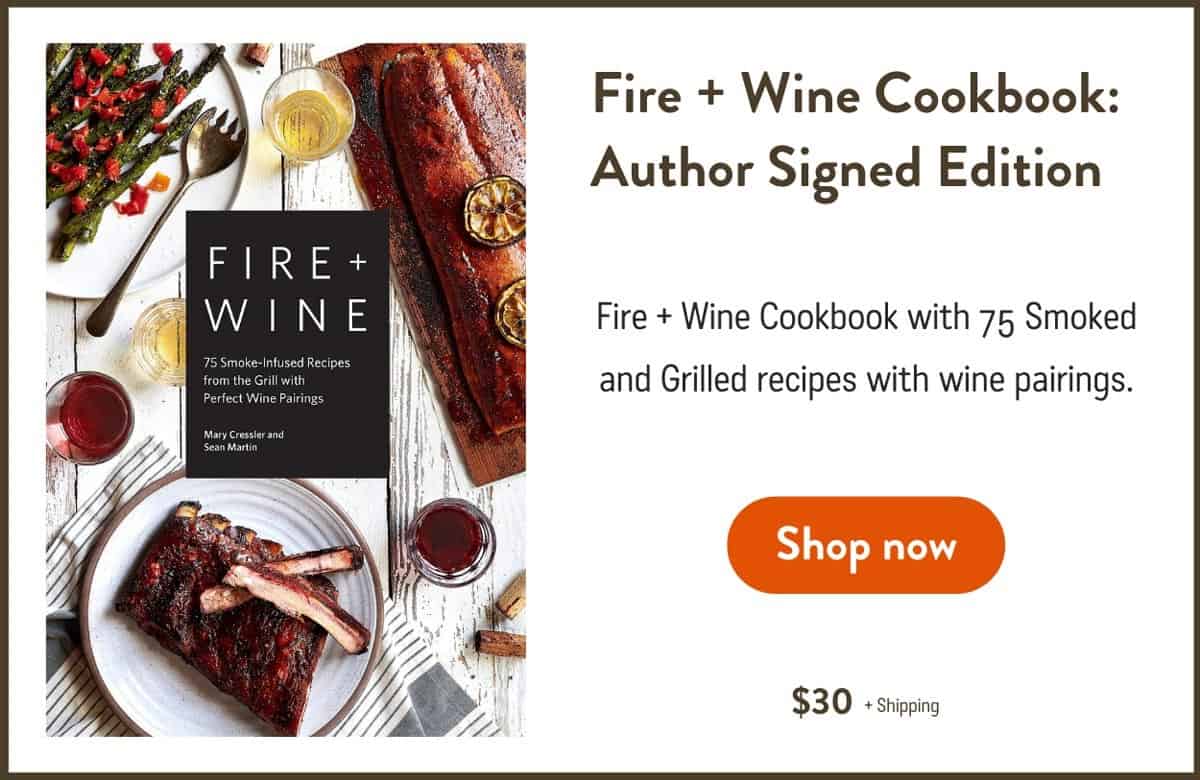 If you like this recipe we'd truly appreciate it if you would give this recipe a star review! And if you share any of your pics on Instagram use the hashtag #vindulge. We LOVE to see it when you cook our recipes.