Grilled Chicken Marinade is a great way to infuse chicken with flavor. But you may have wondered what does a marinade do? Or how does it work? This basic guide walks through our chicken marinade, the basics to creating any marinade and a simple recipe that can be easily modified based upon your personal preference.
Then check out this grilled chicken guide for a comprehensive step by step on perfect grilled chicken.
And use this marinade on these chicken kababs!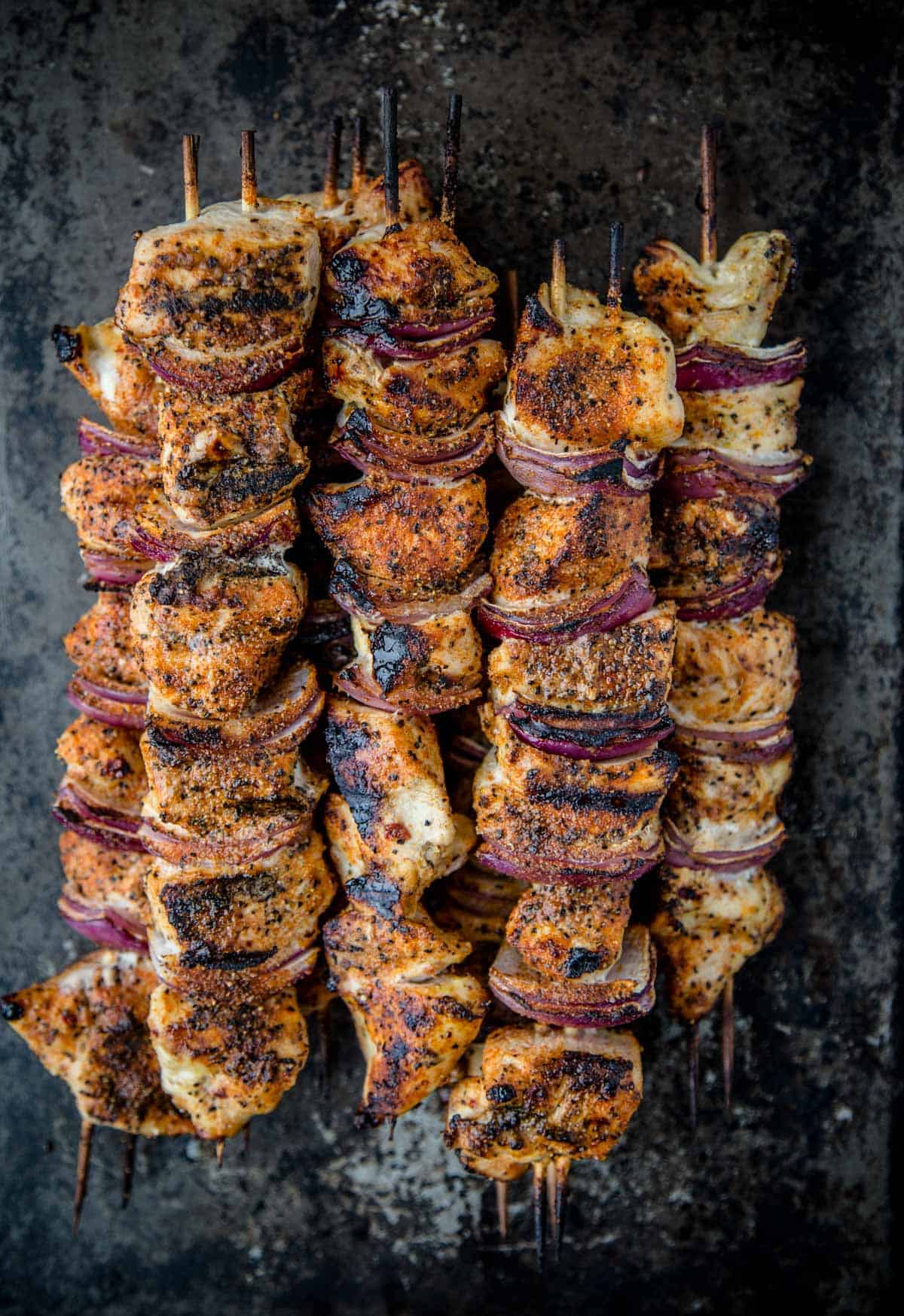 Jump to:
There are many ways to add flavor throughout the cooking process. Dry rubs can help in forming a bark when smoking, or a specific savory or sweet element, injections or brines can infuse flavor the interior of large cuts of meat, and bastes or sauces can add just that finishing touch you are looking for after the food is done.
But another way to start the process before you even turn on the oven or grill, is to marinate.
Is it Marinate or Marinade?
The easiest way to remember is that the act of seasoning is to marinate. The actual product created is the marinade. Don't worry, a lot of people wonder the same thing.
Does A Marinade Work?
If you scan the internet you'll see a number of well-respected sites talk about the myth of marinades.
America's Test Kitchen says a marinade barely flavors the outer portion of any meat. True, but when you think about how a marinade works, you can actually use that to your advantage – as in – cut up the meat into smaller chunks, or be sure you buy smaller or thinner cuts. Also highlighted is not confusing a brine with a marinade (they are two different things).
Cooks Illustrated highlighted that marinating makes meats mushy versus the idea that it tenderizes, or breaks down the meat making the bite through texture more tender. It also highlights our opinion that the most effective way for a grilled chicken marinade (or any marinade) to work is to use smaller cuts of the meat to enhance the flavor.
What do we think? We believe marinades definitely do work, when you use it for smaller cuts (like cubed chicken breasts), or thin cuts (like flank steak).
So what is a Marinade?
A marinade is a sauce that includes oil (fat), herbs and spices (aromatics), fresh ingredients, and liquids that add flavor to a meat or vegetable. By soaking meat in the sauce, the flavors from the combination of those ingredients infuse into the meat and tenderize giving them extra flavor when you cook them.
How does a Marinade Work?
Whether a grilled chicken marinade, steak, squash, or even shrimp, the idea behind a marinade is the same — Adding a balanced profile of flavors will allow acid and enzymes to interact with the protein and tenderize or soften the cells. Aromatics bring the flavor into the meat, and a fat or oil helps emulsify or bind together the components of the marinade.
Preparing Meat for a Marinade
Based upon how to marinate and how it works, there are some best practices to follow when selecting what cuts work best for a marinade and which may need some additional preparation.
Chicken – Cut chicken breasts into bite sizes adding more surface area for flavor. Or consider marinating boneless thighs or cutlets. Another option is to pound flat the thicker part of chicken breasts so they are thin.
Steak – We elect not to marinate many of our steaks instead focusing on buying great quality steak. But some cuts do lend to a marinade. Skirt Steak is one great example, and it is thin and very easy to cut into smaller pieces. Flank and hanger are two other great examples that take well to a marinade. Beef scraps, or sirloin cut into small pieces, also take well to marinades, like these Steak Skewers.
Fish – Fish can benefit from a marinade, but acid is important to pay attention to. If too much acid, the delicate nature of fish may actually "cook" like ceviche. So make sure to keep any marinating of fish to shorter time spans and with slightly less acidity.
Pork – Pork can also benefit from a marinade, like with this Grilled Pork Collar. The collar is a smaller cut then it's shoulder cousin. If we were to do a shoulder or large cut we would brine.
Other Meats – The same principle applies to other meats as well. And don't forget Tofu! Tofu is as boring a flavor as you can get, so it really benefits from marinades to give it flavor.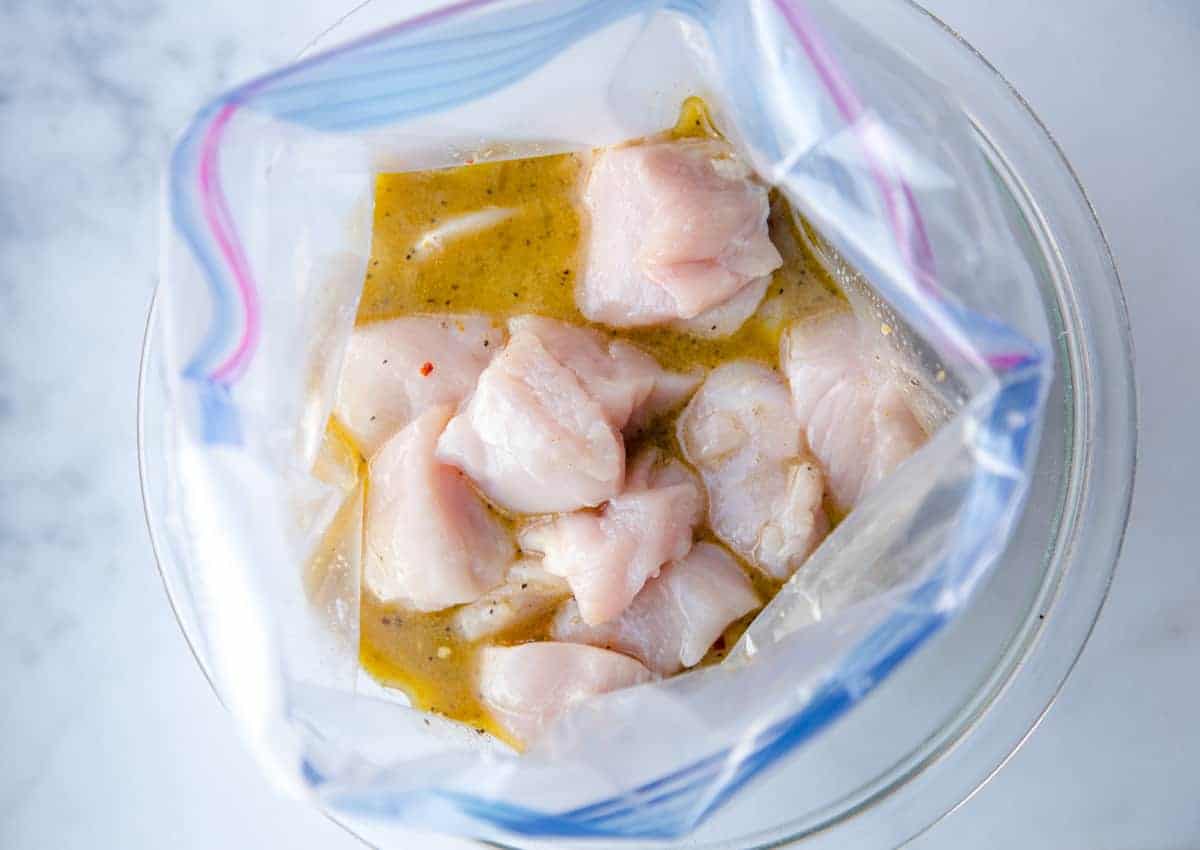 How to make a Grilled Chicken Marinade
When creating a chicken marinade we focus on balance and simple flavors that follow the basic components:
Acid – We make sure we have some type of acid which can include wine, vinegar, or citrus. We may combine 1-2 different acids for flavor.
Aromatics – This includes spices, rubs, or freshly cut herbs. Shallots, Garlic, Onions, Dried Sage, or any other number of these types of ingredients add an aroma and flavor element.
Fat or Oil – Olive Oil (typically extra virgin) is our go to.
Heat – We like to consider some heat element, like fresh jalapeno, cayenne pepper, or red chili pepper flakes.
What about salt? With so many competing flavors, we go light on salt in the marinade and you can leave the salt out should you wish without compromising the flavors. To best use salt, leverage in your dry rub or with a dusting of finishing salt at the end.
Troubleshooting Your Marinade: Using the principles above, if you have too much acid, then you can offset that with more oil. If the marinade tastes bland and consists of too much oil, then add more aromatics, acid, or heat. If the marinade is too spicy, add more acid or oil. There are infinite combinations, but know that you can always offset any overpowering flavor by balancing it with something else.
How long should I marinade Chicken?
Marinade between 4 and 8 hours for best flavor and be sure the chicken is cut into smaller cubes or pressed flat.
Can you reuse marinade?
Technically yes, a marinade can be reused, but only if the marinade has been boiled and cooked long enough to remove any bacteria that may be present from the raw meat. Otherwise, throw it out.
If we need more we elect to make a second batch of the marinade that has not been contaminated with raw meat and then we use that as a dipping sauce or for basting while cooking.
Grilled Chicken Recipes
Grilled Chicken Marinade Recipe