There is nothing more appetizing than eating a warm bowl of freshly steamed mussels with crusty bread being dipped in a wine based broth. And this Grilled Mussels recipe is beyond amazing. We are making a simple simmer broth with garlic, white wine, and some aromatics and steaming the mussels on the grill.
This is a great recipe idea for cooking outdoors on any type of grill from charcoal to gas.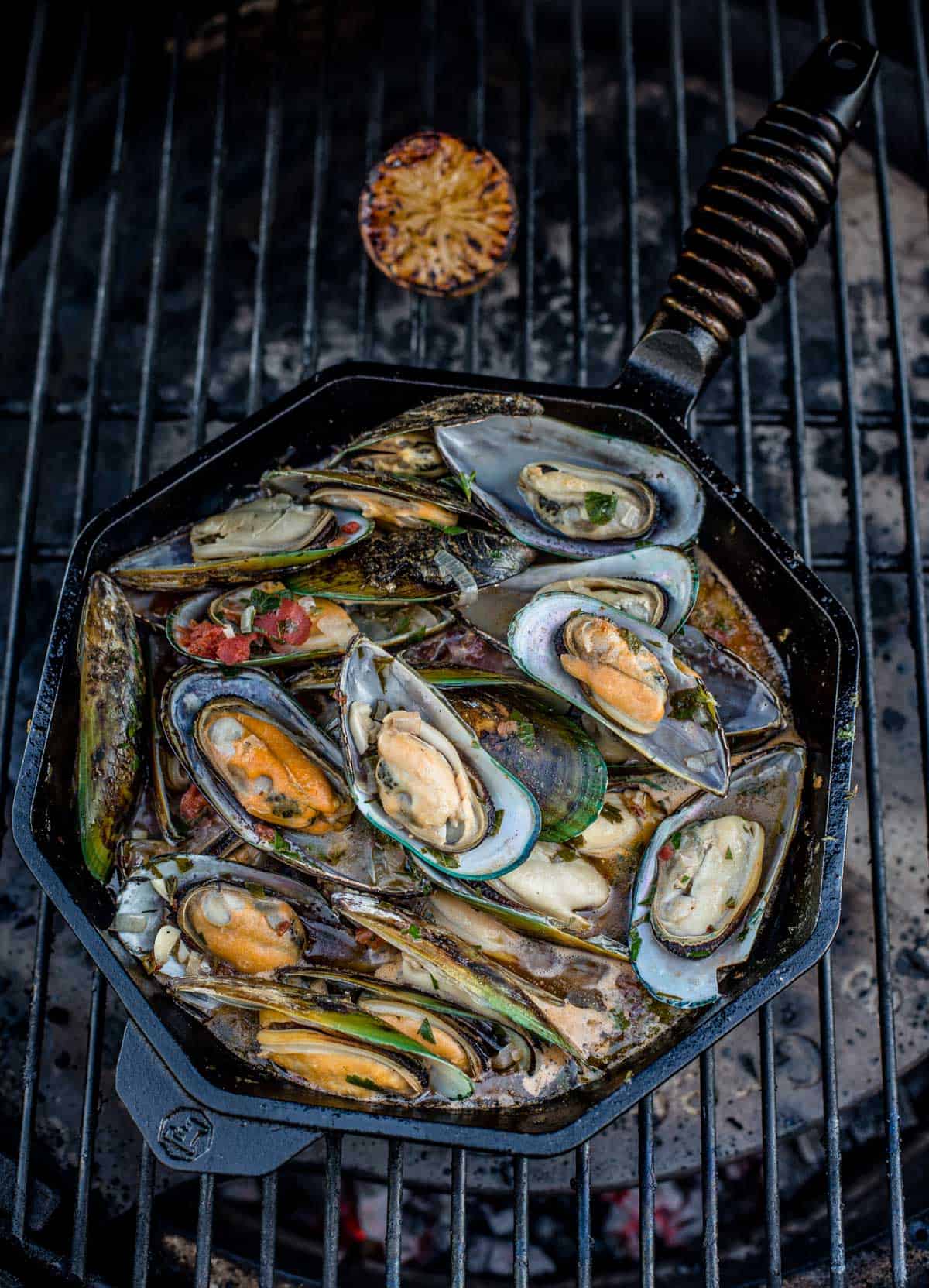 If you are looking for appetizer or dinner ideas to cook outside, then grilled mussels are some of the easiest (and also some of the most impressive!). It's all about prepping the mussels, making the broth, and then steaming them in a cast iron pan with a lid. If you can cook it inside on your stovetop, why not outdoors on your grill?!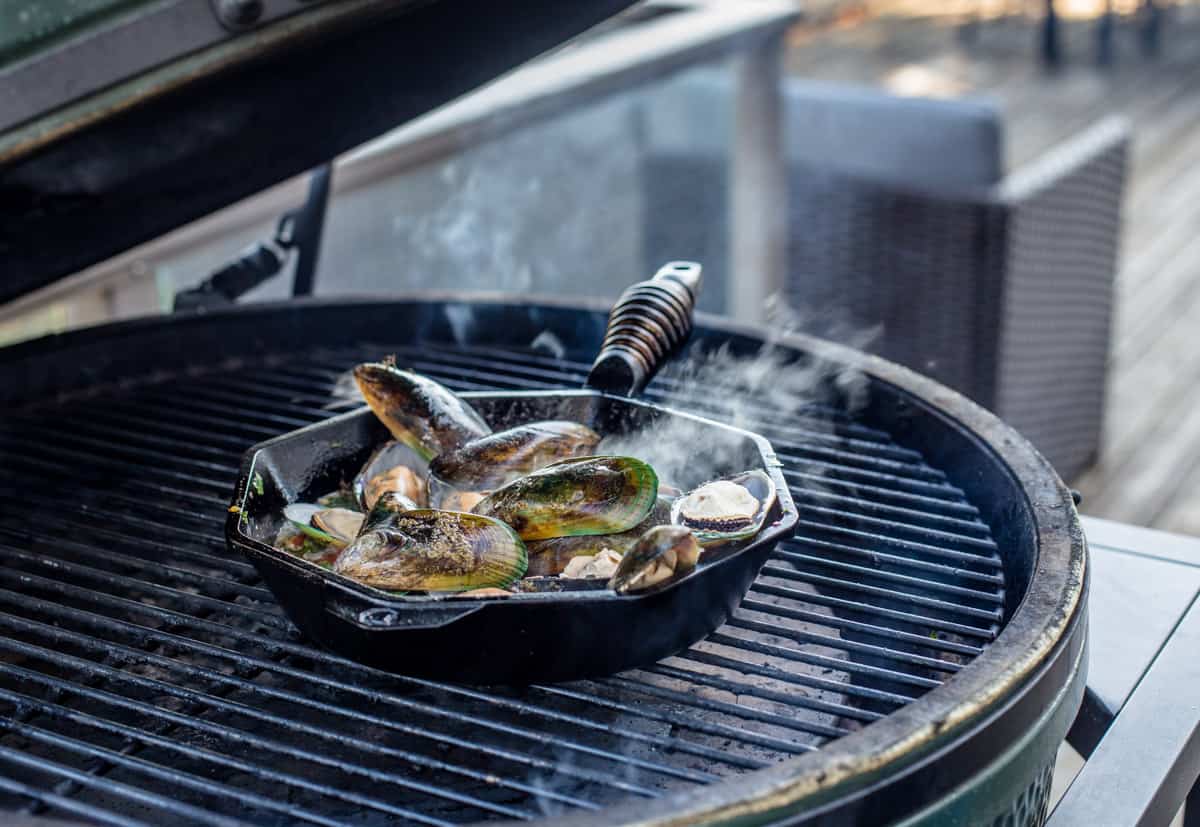 Buying Mussels
Mussels are a great edible treat from the mullusc family. They tend to have a smooth oval shape (versus a round clam shell or the uneven oyster). When buying fresh mussels make sure to look at them closely. They should be closed (not open). If you see them open, see if the fish monger can tap them to see if they close. Discard the ones that wont.
Frozen is another alternative and just as tasty. This is what we're using in this example here. But the recipe works for both fresh or frozen mussels.
Consider ½ pound of mussels per person for a main meal. If buying as an appetizer, then typically we plan ¼ pound of mussels per person.
Cleaning Mussels
Whether fresh or frozen, the first step for preparing mussels is to clean the shells of any seaweed and other sea based growth. To do this, place the mussels in a colander and with the water running lightly, scrub them with a brush. This removes any unwanted flavors from the shells that would otherwise end up getting steamed in the broth. They may also have a "beard" which is typically stringy weed looking growth that is easiest to pull off by cutting with scissors.
Most mussels at the store are farmed, so they have already gone through the process of having any sand removed. If they are hand harvested from the sea, then soak the mussels in water and a tablespoon of corn starch for 20 minutes to encourage the mussels to eliminate the sand.
Discard whole mussels that are broken as the packaging is opened. If frozen, follow the thawing directions on the packaging.
Broth for Grilled Mussels
The goal for grilled mussels is to make a simple broth and use that broth to steam the mussels until they are done. Because the recipe is very simple it's about going big on the portions and flavor.
Ingredients for the broth include:
extra virgin olive oil
butter
shallots
garlic
dry white wine (Albariño, Sauvignon Blanc, Pinot Gris/Grigio, all work well)
parsley
thyme
diced tomatoes (stewed add the most flavor)
red chili pepper flakes
lemon, cut in half (grill it)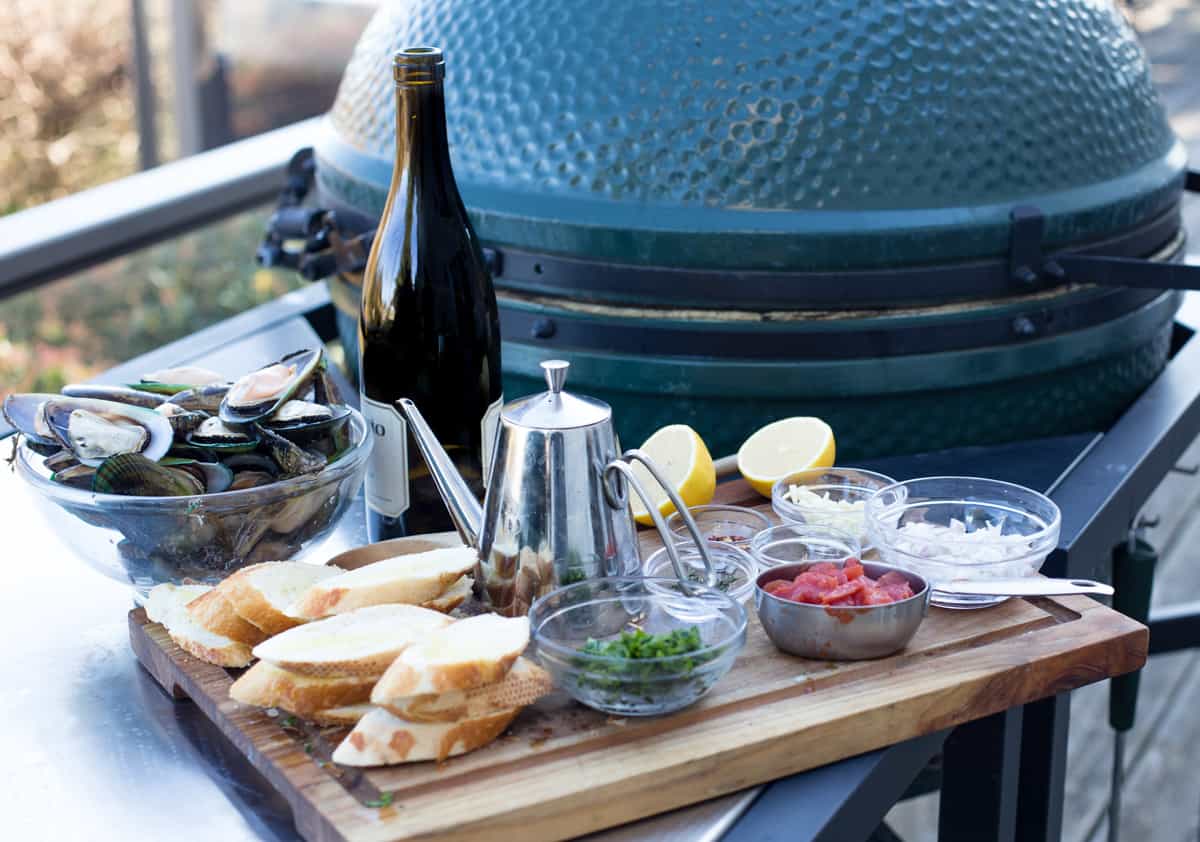 How to Grill Mussels
The key to grilling mussels is to preheat a cast iron pan in the grill while it warms up, and then cooking everything on the grill. It's a true one pot meal for the grill.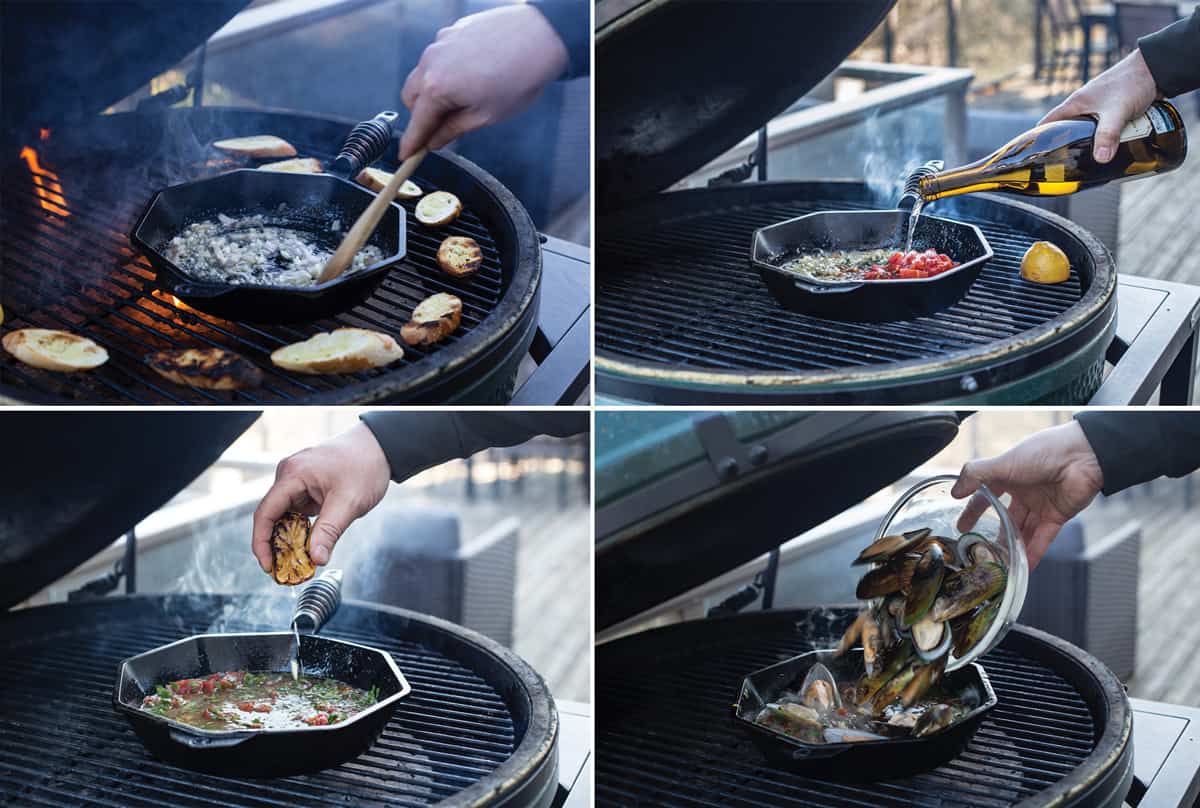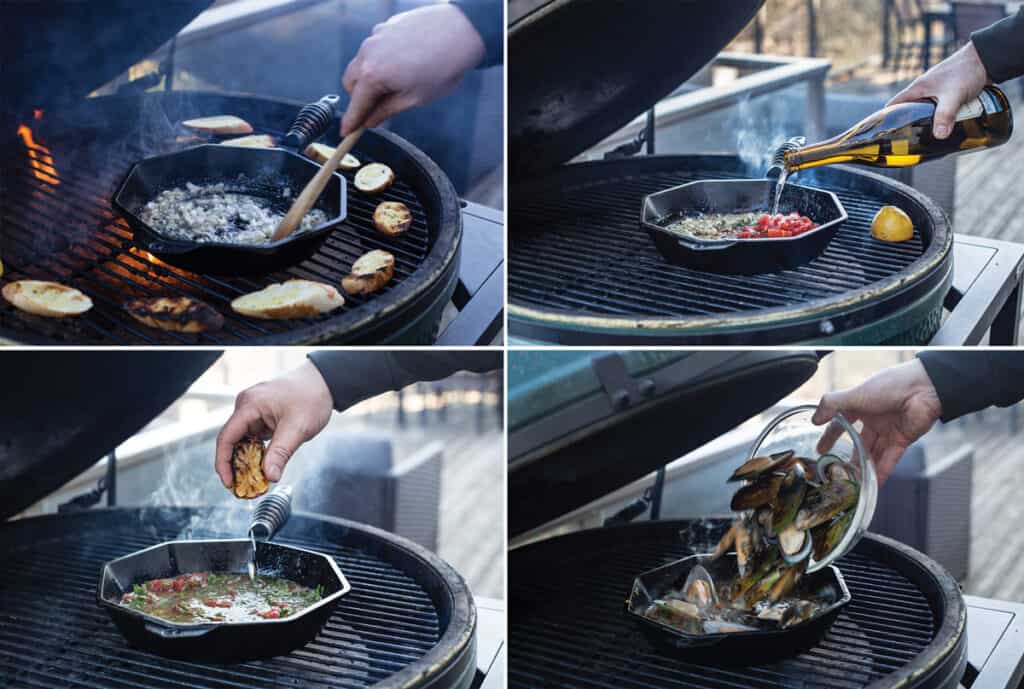 Preheat the grill to 375 degrees Fahrenheit using indirect or two zone cooking. It's important that the cast iron is not directly over the heat source or it will burn the broth. As you warm up your grill, be sure the cast iron, or grill safe pan, warms up with the grill.
Sauté Shallots in butter and oil. When the grill reaches 375 degrees, place butter and olive oil in the pan. It should immediately start to melt. Add the shallots and stir frequently. This will cool the pan and allow the shallots to soften. Do this for 3 – 4 minutes or until the shallots start to get translucent. (note: this is also a good time to place the lemon half over direct heat to grill)
Add Garlic. The garlic is one of the two main stars of this dish. Do not be shy with garlic! Garlic is your friend here. Continue to sauté the garlic for another 1 – 2 minutes.
Add Tomatoes and Wine. Pour in the tomatoes and then wine, parsley, thyme, salt, and chili pepper flakes and stir for 2 minutes or until the wine starts to bubble. If the pan has cooled too much you can place over direct heat. But watch to be sure it doesn't scorch over direct heat. (This is a good time to remove the lemon as it likely has a good char, then squeeze the juice into the pot – check out how to grill lemon if you have questions). This is when to add your bread over direct heat to get some char to it.
Add Mussels. The grilled mussels will now go into the pan. Gently stir them with a large spoon to move them around and in the broth to coat all of the mussels with some of the sauce. Cover the mussels with a fitted lid, and then close the grill lid. Grill (over indirect heat) for about 6-8 minutes or until whole mussels open up. If the mussels were frozen and already in the half shell, then they should still cook in 6-8 minutes.
Serve. Remove the mussels (still covered) from the grill with heat appropriate gloves (the pot handle will be HOT). Serve them warm with crusty bread straight from the cast iron pan for an appetizer. If a main dish then place the mussels divided equally among four bowls and then pour in the broth.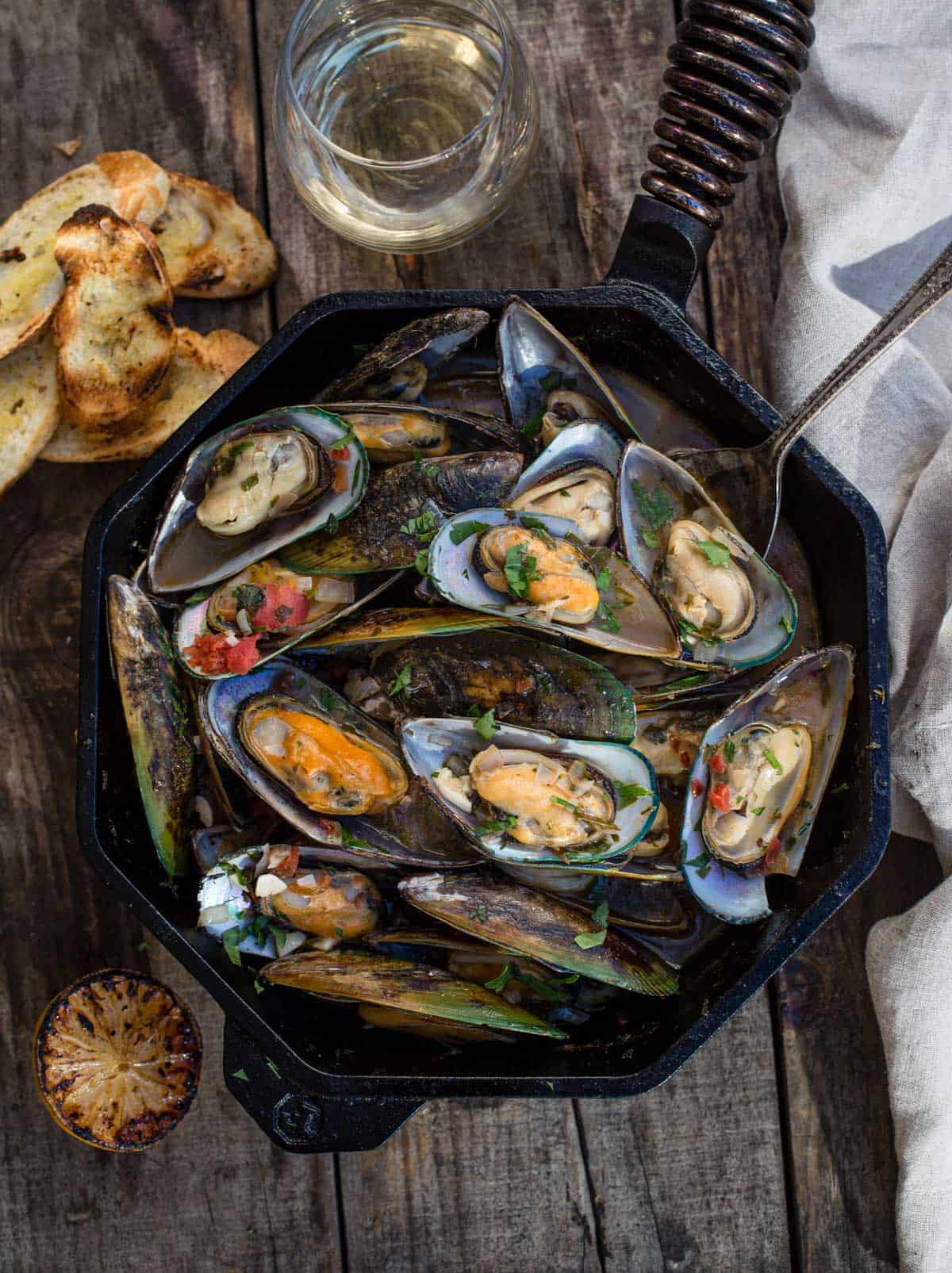 Other Grilled Seafood Dishes
We want to hear from you! If you make this dish, be sure to drop a comment below and give this a rating, especially if you modify or add more ingredients.