Grilled Lobster Tails is incredibly elegant and also incredibly easy to make. A simple compound butter adds even more flavor to this amazing date night meal. Grilling lobster tails is so much easier than you think!
It may sound intimidating, but we're here to break it down into some easy steps.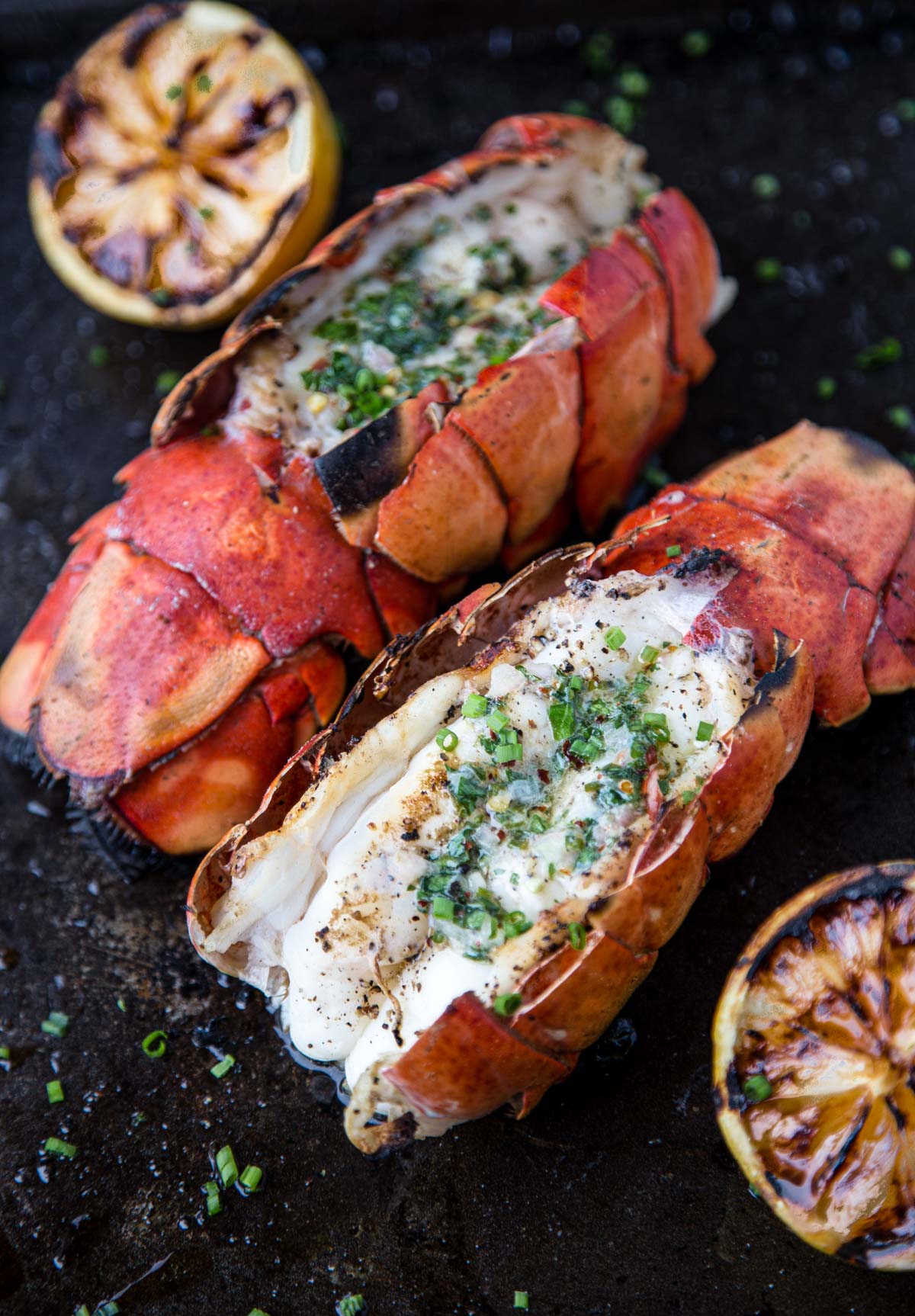 Jump to:
Selecting the Right Tails
You want as fresh as possible. When buying lobster tails, be sure to find a local fish monger that you know will have it fresh. If you can't get it fresh, they may be frozen for purchase. Another option is to get some lobster tails from online sources like Lobster Anywhere.
Be sure that when buying fresh lobster tails that they don't smell fishy at all. Also if buying frozen, defrost the day before you plan on cooking. You don't want them to sit very long, uncooked, in order to maximize the flavor.
Preparing Lobster Tails for Grilling
One of the more intimidating experiences when doing grilled lobster tail is preparing the tails for the grill. As we reference the lobster tails, there are two sides. The shell side and the soft underbelly where the legs connect.
Start by removing any legs on the underbelly of the lobster. It's best to use a sharp paring knife to simply pop them off.
Place the lobster tails on a cutting board. Starting about ½ inch from the actual tail side of the lobster, insert a chef knife straight down to cut through the shell, but not completely through the underbelly.
With your hand on the tail, slowly cut along the top shell in up and down motions to cut the shell until you cut all the way down the length of the tail. Alternatively you can use kitchen shears to do this. If using shears, start by cutting where the meat is exposed and then cut toward the tail.
Using two hands, one hand on each side of the shell that was cut, gently open the shell, like opening a book. It will crack and you may see some shell break, which is fine. Be sure to remove any small shell pieces at this point.
Now it's time to season.
Seasoning Lobster Tails
Keep it simple with kosher salt and coarse ground black pepper. The lobster has it's own amazing rich and buttery flavor that we don't want to compete with. The idea is to season simply and bring out the natural sweet and rich flavors of the meat.
We are also going to add some compound butter as the lobster grills, which will be that much more pop in flavor.
Grilled Lobster Tail Compound Butter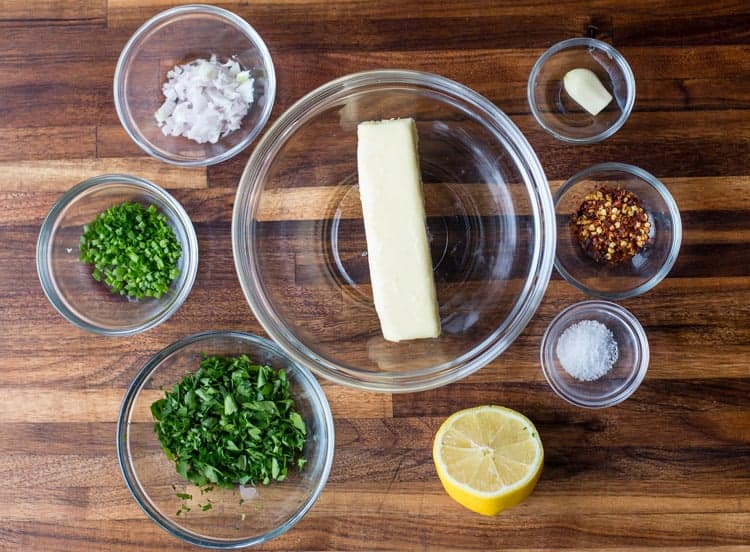 Compound butter is simply a room temperature butter that has added herbs and spices for flavor. For lobster tails we focus on herbal flavors with a slight amount of heat. The compound butter we're using for our grilled lobster tails is a mix of:
Unsalted Butter (so we can control the amount of salt)
Chopped Parsley
Chopped Chives
Diced Shallots
Minced Garlic
Fresh Lemon Juice
Red Chili Pepper Flakes
Kosher Salt
Simply place all the ingredients into a bowl and stir together. You can roll into a log on top of plastic wrap and store if for up to 10 days in the fridge. This allows you to cut small medallions as you want them.
If you forgot to get the butter to room temperature, simply place the butter in a microwave safe dish and warm up on high in 10 second intervals until it is soft but not melted.
How to Grill Lobster Tails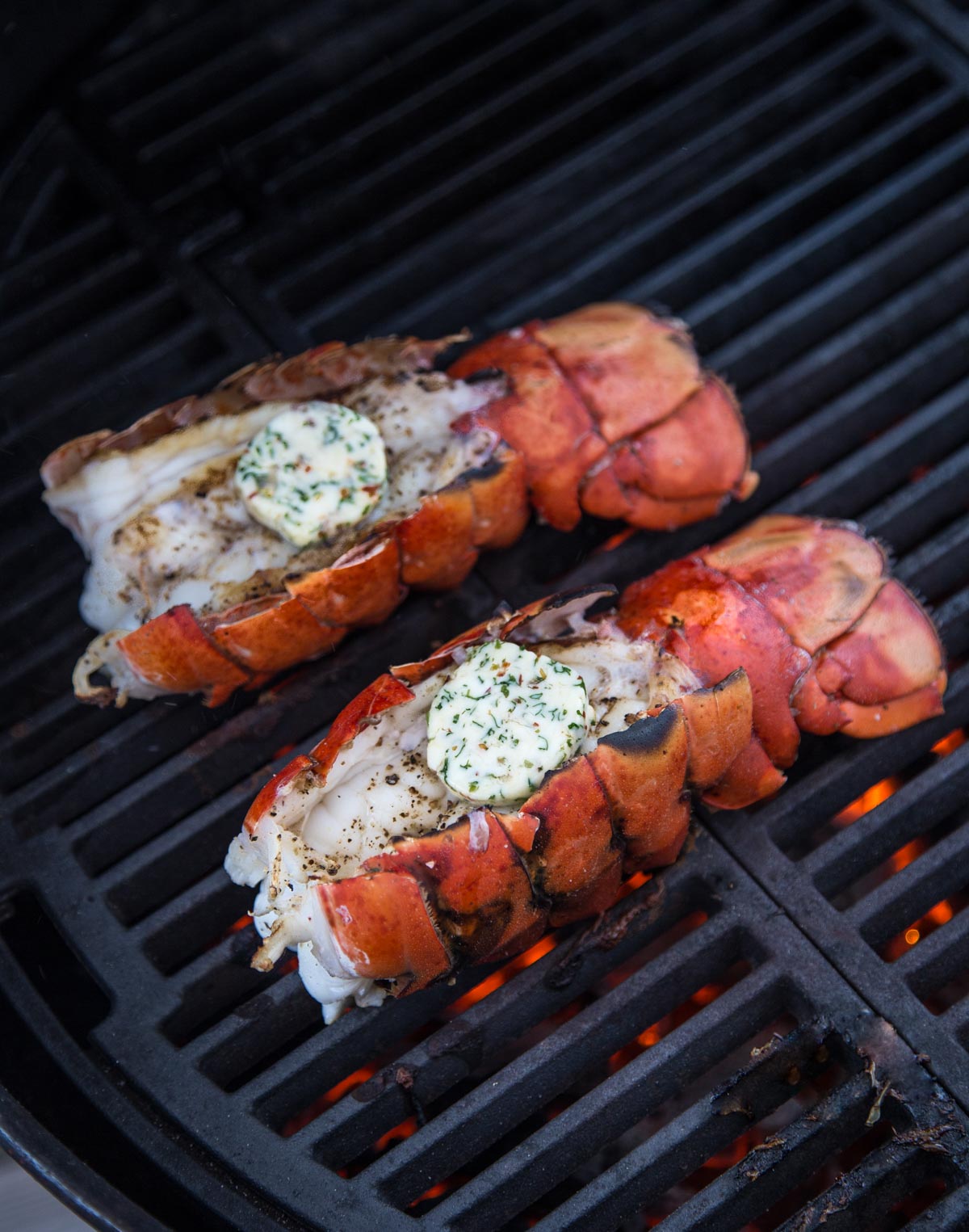 Use direct heat and be sure the grill is hot (like 500 degrees hot over the coals). It's also important the grill grates are clean.
Place the lobster, meat side down (the side with the open shell), over direct heat for five minutes. Flip over when it easily pulls away from the grill grates without sticking.
After flipping add about a 1 heaping teaspoon medallion of the compound butter over the meat. Grill for an additional 3 – 4 minutes over direct heat. The butter will slowly melt.
When the internal temperature of the lobster meat reaches 135 degrees F it is done. Use a high quality instant read thermometer like the Thermoworks Thermapen MK4 to ensure proper cooking temperature.
Place another teaspoon medallion of butter on the meat (optional) and then serve warm with your favorite sides.
It's really that easy. The hardest part is finding good quality lobster tails and preparing those shells. Once prepared they are an amazingly simple meat to grill, and perfect for a date night or to impress your friends!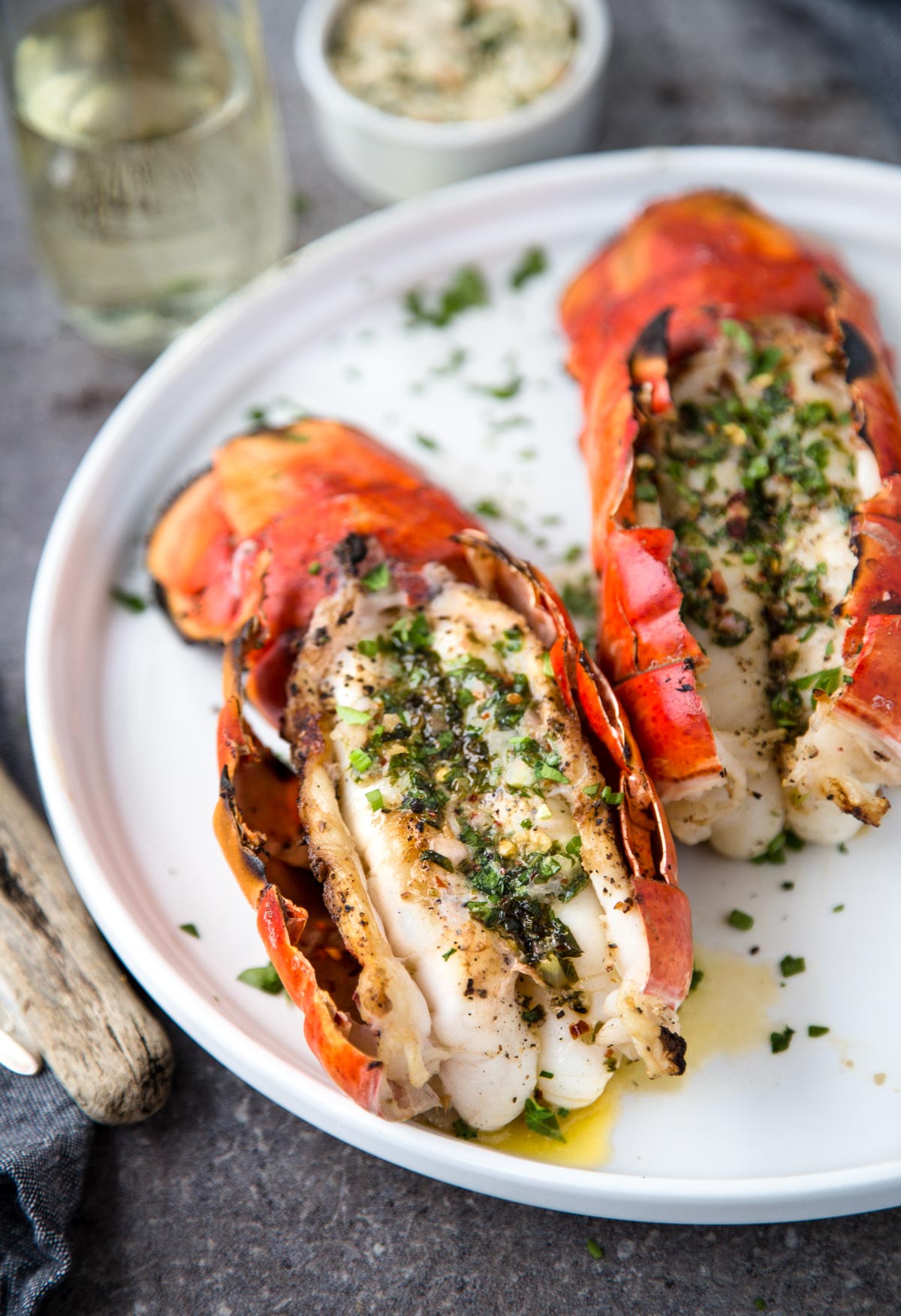 Other Uses for Grilled Lobster Meat
Follow the same steps and use the meat for a salad, or use in a lobster bisque. Adding the grilled flavor will enhance any dish you plan to use lobster for.
Other Seafood Recipes for the Grill
Wine Pairing for Lobster Tails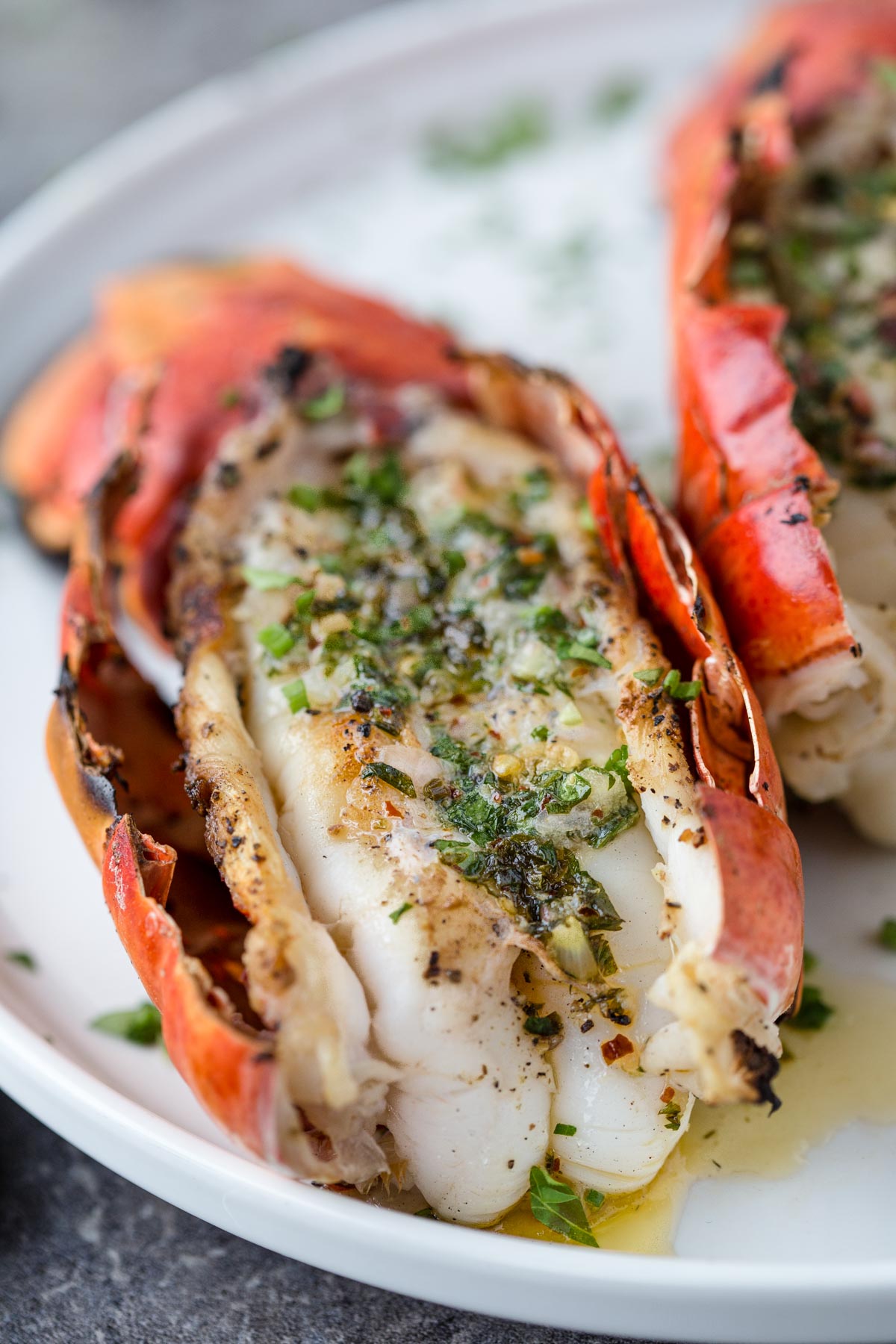 Lobster, to me, is a delicacy, much like Champagne. And as such, the pair fantastically together! The richness of the tender lobster meat, along with that lemony herb compound butter, is brightened up by the freshness and intensity of Champagne, or a good quality sparkling wine (I recommend a blanc de blanc for my favorite match).
My second favorite pairing for these grilled lobster tails would be a good quality Chardonnay (Chablis from France is fantastic with lobster, as is white Burgundy). Oregon Chardonnay is pretty darn spectacular with this meal too!
And when in doubt, Rosé is a pretty nice match for grilled lobster any day of the week as well! Cheers
---
This post may contain affiliate links. This means if you click on the link, we may receive a small commission if you purchase through the link. We partner with brands we know and love and use and it helps keep the blog going!