These Grilled Olives are warmed on the grill, over hot charcoal, with a mix of delicious olive oil, garlic cloves, and hot peppers (optional). This take on baked warm olives is going to be your new favorite appetizer. It's a crowd favorite!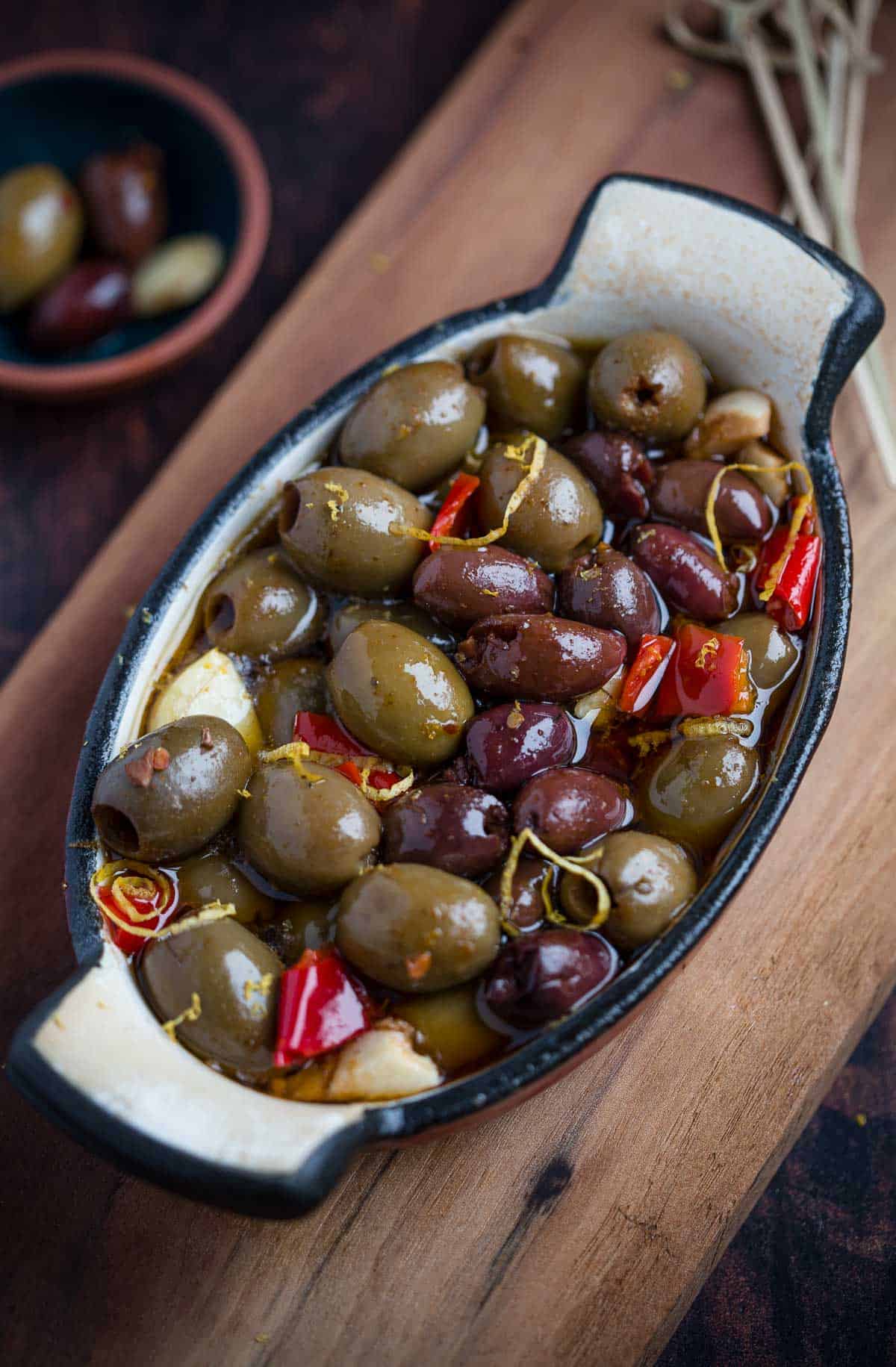 When it comes to entertaining, balancing easy prep with big flavors is not always an easy task. But this amazing olive appetizer idea will do both. Served warm, these grilled olives are simmered in delicious olive oil and are the perfect accompaniment to your next charcuterie and cheese platter.
Jump to:
Ingredients for Grilled Olives
The simplicity of the grilled olives means quality ingredients are important. We do not recommend using canned olives.
Greek Olives – We like the pitted Greek varieties in a brine.
Good Olive Oil – We strongly recommend using a quality olive oil that will enhance the flavor of the dish. We used the Cesira Olio D'Oliva from Italy.
Garlic – Remove the skin and gently crush the olives using a good chef knife. You'll drop them in right into the medley of olives.
Lemon Zest
Pickled Hot Peppers – We love Mama Lil's brand hot peppers, which is a variety of Hungarian Goathorn Peppers. You can also use the milder pickled banana pepper.
While pitted olives technically have the pits removed, be cautions with your guests as some pits may have remained, or olives with pits may have mixed with the batch. We like to have a small dish next to the served olives in case someone has to dispose of any surprise pits.
Tools for Grilled Olives
Baking Dish – We like small cast iron baking dishes. You can use ramekins as well but they need to be grilled under 500 degrees or they will crack while cooking on the grill.
High Heat Gloves – You can use any oven mitt, but having grill gloves that can handle up to 1,000 degree heat are essential and make it easy to remove the baked olives from the hot grill.
Cocktail Zester – This is the perfect zester to get long, thin rows of lemon (or orange) peel.
Toothpicks – For serving.
Serving Tips
If you want to make grilled olives for a larger crowd just double or even triple the portions. Be sure you have the right sized cast iron baking dish to accomodate the amount of olives.
Pro Tip: If making these for a crowd consider making them in smaller batches in a few cast iron pans. This way they stay warm and you can refresh the finished olive dish with a new warm tray of them.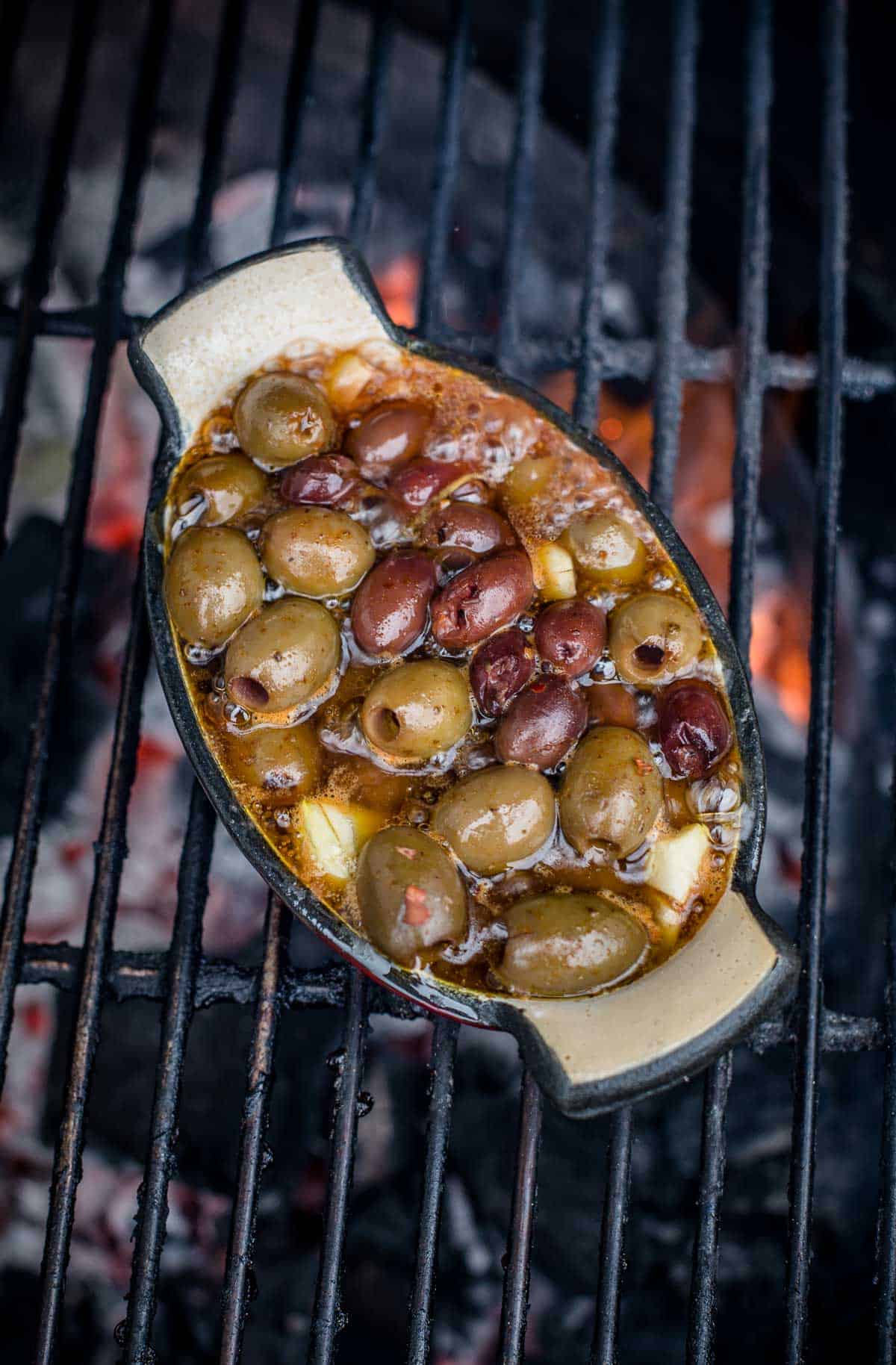 Grilling Method: Direct Heat
These grilled olives served warm are best prepared over direct heat. We like lump charcoal for the added flavor.
Preparation: Prepare grill for direct grilling with lump charcoal. Target the ambient temperature of the grill at 450 degrees.
Grill: In a small cast iron baking dish add the olives, olive oil, crushed garlic, hot peppers, and the lemon zest, and gently stir to combine. Place the dish over direct heat on the grill grates and grill for 12 – 14 minutes. They are done when the olive oil is simmering and the olives are warm.
Serve: Remove from the grill with high heat gloves and place on a trivet. Serve them warm with toothpicks along with your favorite meat and cheese plate.
Oven Baked Olives: If using your oven, set the temperature to 400 degrees Fahrenheit. Bake for 12 minutes on the center rack and serve as suggested.
Other Grilled Appetizer Recipes
We have a number of great appetizers on the grill. Here are a few of our favorites for inspiration.
Mary (a certified sommelier and recipe developer) and Sean (backyard pitmaster) are co-authors of the critically acclaimed cookbook, Fire + Wine, and have been creating content for the IACP nominated website Vindulge since 2009. They live in Oregon on a farm just outside Portland.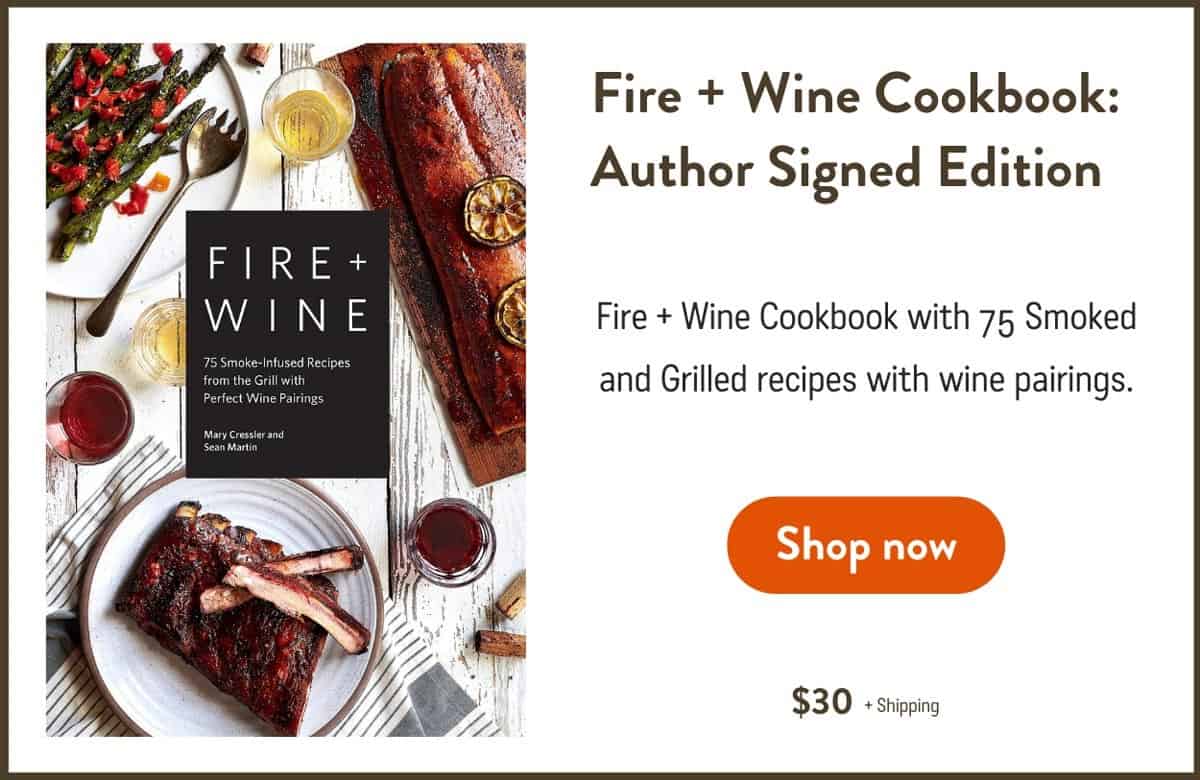 Tried this recipe? Give us a star rating and we would love to see! Mention @vindulge or use the hashtag #vindulge on all the social media handles. And consider subscribing to our newsletter where we drop all our favorite ideas and inspirations every week.
This post may contain affiliate links. This means if you click on the link, we may receive a small commission if you purchase through the link. We partner with brands we know and love and use and it helps keep the blog going!