Grilled Scallops and Shrimp are a great combination as an appetizer or as a main dish. Add some skewers and an easy dipping sauce, like our chimichurri, and you have a simple yet elegant dish. You can also adapt this recipe on the stove top.
If you're looking for an easy (yet gorgeous and elegant) appetizer or healthy and light dinner, grilled scallops and shrimp are a must! Not only do they taste delicious, they cook up fast and can make for a great bite for an evening with friends or family. There's also zero sugar, dairy, or gluten in this recipe, so these are pretty much as guilt-free as you can get.
Ingredients for Grilled Scallops and Shrimp
For seasoning, we recommend our seafood seasoning (no sugar) for the earthy and briny flavor. It's great to make a full batch of the seasoning, store in a mason jar, and then use a small portion for this recipe. Otherwise grab your favorite seafood style rub.
For scallops, we like the big ones, ideally 10/20 (average scallops per pound) if you can find them. You can read more about scallop sizes in our grilled scallops in white wine sauce. Avoid bay scallops, they are too small for this recipe.
For the shrimp, make it easy on yourself and buy frozen deveined or fresh deveined UNCOOKED shrimp. It saves you so much prep time. For size, look for 16/20 or 21/25 (again, average shrimp per pound).
You'll need olive oil and butter for the cast iron pan.
For the dipping sauce for scallops and shrimp, you can use our spicy sriracha cocktail sauce. But for this recipe we wanted a bold and acidic flavor that offsets the rich and buttery flavor of the scallops and shrimp with our chimichurri sauce. It's an incredible combination!
Preparation
Even though we are grilling, we use a cast iron pan to get a good sear. We use the cast iron for 2 reasons: shrimp and scallops can easily fall through grill grates if not skewered, and scallops are fairly delicate and can burn easily if not properly monitored. Cast iron makes it super quick and easy to cook on the grill.
Start by making sure the scallops and shrimp are patted dry with a paper towel. This will help then crisp up on the grill.
Apply the seafood seasoning liberally.
Prepare chimichurri in advance.
If serving as an appetizer, plan to skewer after the grilling is done. This makes it easier to manage the scallops and shrimp inside the cast iron pan.
Grilling Scallops and Shrimp
The goal is to have a hot fire to be able to quickly sear the grilled scallops and shrimp. If the grill is too hot you can easily move the cast iron pan back and forth over the hot fire to manage heat and achieve the perfect sear. Good long tongs are very important as are good quality high heat gloves.
Pre-heat Grill: Start by preparing your grill for two-zone grilling. Target the internal temperature of your grill thermometer at 400 degrees. This means over the direct fire it will be closer to 500.
Warm up Cast Iron: Once the grill is at temperature, place the cast iron pan over the direct heat and pre-warm it for about 5 minutes.
Grill Scallops and Shrimp: Once it's hot, add half the olive oil and butter to the pan. Add the scallops and then close the lid. Allow them to grill for about 2-3 minutes (depending on the thickness of your scallops). Then flip them over and then continue to grill for 2 – 3 more minutes. They should have a nice sear on both sides. Remove scallops and set aside.
Add the remaining oil and butter to the pan over direct heat. Add the shrimp and cook the shrimp for 2 minutes per side. These cook up quick!
Serve: Remove the shrimp and then skewer the scallops and shrimp using a large toothpick or small skewer if serving as an appetizer. Serve with chimichurri sauce.
Chef's Note: If the oil and butter start to turn dark with dark smoke, that means the pan is too hot. Move the pan to indirect heat, dump out the oil, and allow the pan to cool down back down a bit. Start over with the oil and butter. No two fires will burn the same. This is why we like the two zone set up so we can move the pan back and forth and prevent burning.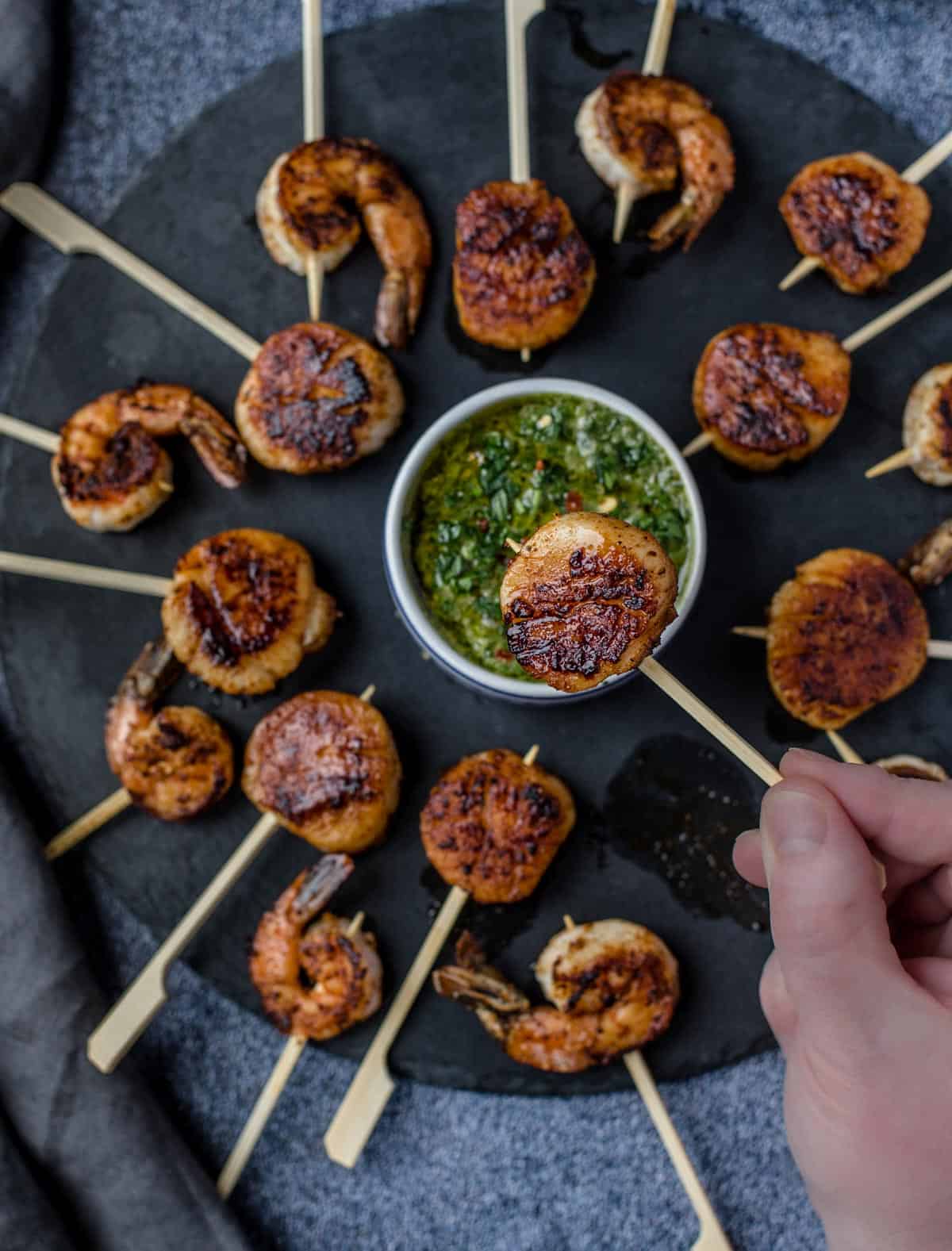 When are Grilled Scallops and Shrimp Done?
Remove the scallops and shrimp when they reach an internal temperature of 140 degrees Fahrenheit. Carry over cooking will then occur allowing the seafood to continue to rise in temperature. If uncomfortable with the lower range, then follow the USDA guidelines and cook until 145 degrees F. However we still strongly recommend you remove them if they are at 140.
Other Great Seafood Appetizer Recipes
---