This is a sponsored post written by me on behalf of Safeway. All opinions are 100% mine.
Grilled Jalapeño Poppers stuffed with Brie, Cherry Jam, and wrapped in Prosciutto are a decadent treat!
It's as if the perfect cheese and charcuterie plate and jalapeños got together to create the ultimate summer appetizer. These poppers are cooked on the grill for a great smoky twist resulting in a crispy, creamy, savory and incredibly flavorful appetizer for summer or game day.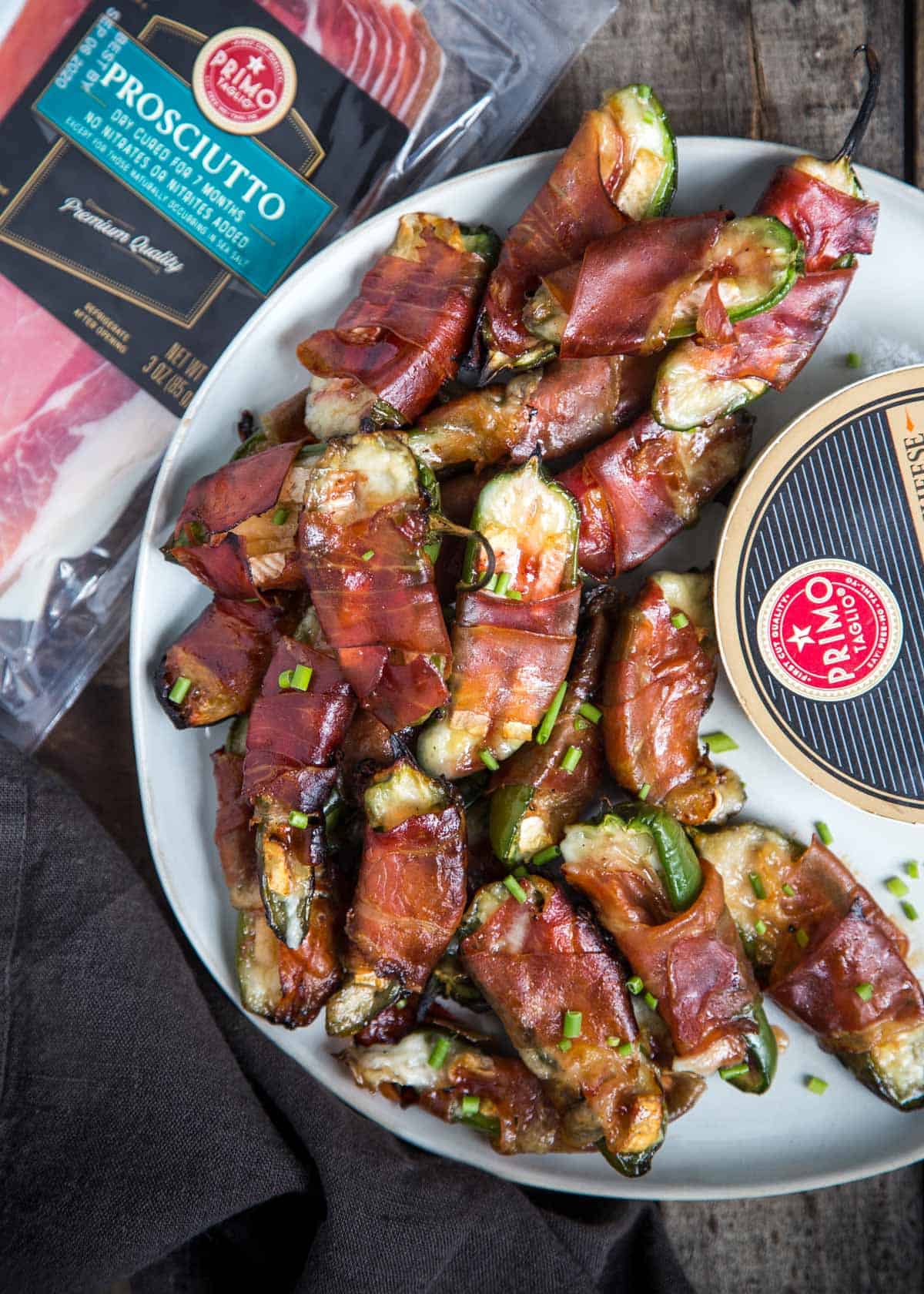 Summer is the ultimate time for picnics, outdoor meals, grilling, and soaking in every last minute of those long warm and sunny days. One of my favorite ways to enjoy a summer afternoon with friends and family is by making a simple cheese and charcuterie plate with a few quality cheeses and some prosciutto or other salumi. And with plates like this, as long as you start with quality ingredients, you don't need to go overboard on your platters. My motto — keep it simple.
But to switch things up a bit, we wondered if we could combine one of our favorite grilled appetizers, jalapeño poppers, with the flavors we love on a cheese platter, like brie cheese and charcuterie.
Traditional poppers are filled with cream cheese, some seasonings, and sometimes wrapped with bacon. And while that combination is fine. We wanted to elevate the standard popper to see if we could give it a new makeover.
Challenge accepted.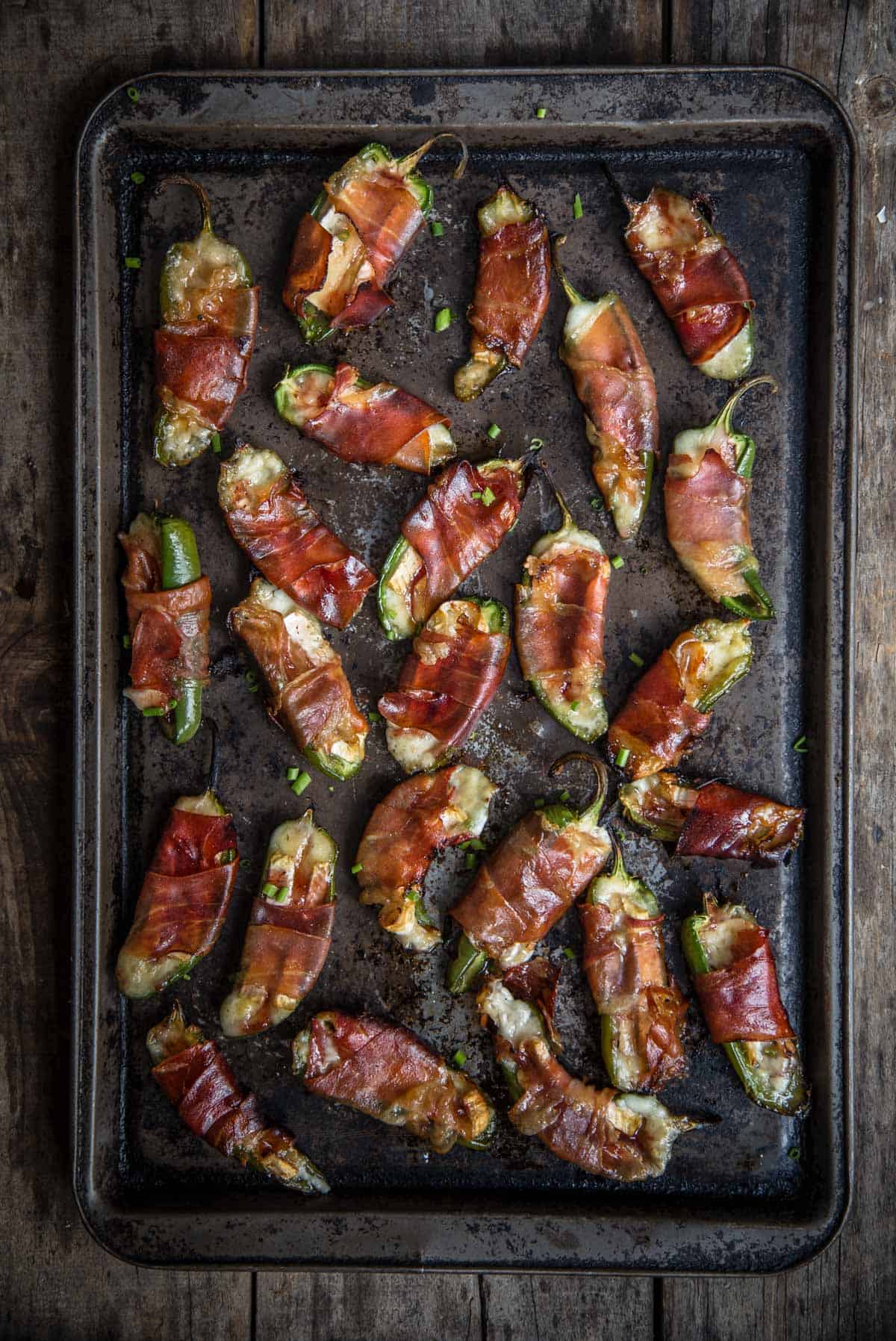 ELEVATED JALAPEÑO POPPERS
Have you ever had a baked brie wheel topped with jam, where the cheese becomes instantly creamy after being baked and the jam provides and excellent sweet kiss to the creamy cheese? Of course you have.
Think of these poppers as a baked brie wheel meets jalapeño popper with the charcuterie bringing everything together. This is a cheese and charcuterie lover's dream popper.
Creamy. Spicy. Sweet. Savory. What more could you ask for?
JALAPEÑO POPPER INGREDIENTS
When you're starting with quality ingredients its important to keep it simple and let the ingredients shine. These poppers are made with only 4 simple ingredients.
Jalapeños
Brie slices
Cherry Jam
Prosciutto
That's it!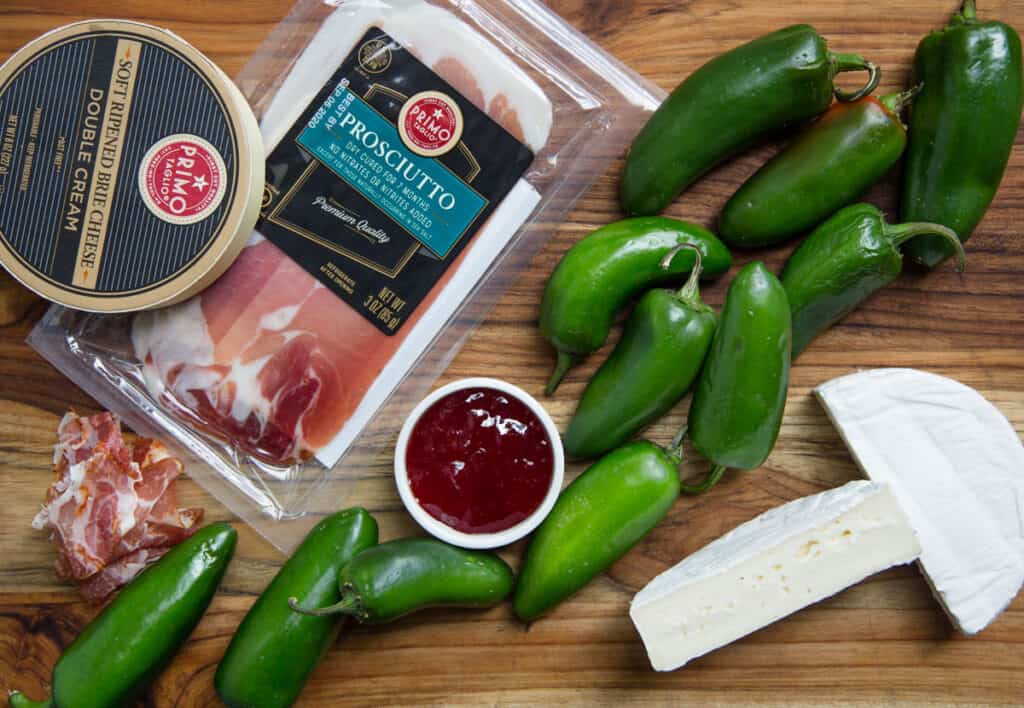 We like to make these poppers with the Primo Taglio® line of products available at Albertsons. Primo Taglio stands for "first cut" in Italian and means that every slice tastes as fresh and delicious as the first. Primo Taglio is a premium quality line of meats and cheeses made with the finest ingredients, available at a great value.
Their products are made with the finest ingredients, using traditional, time-honored preparation methods, and no artificial flavors or colors. Many of the Primo Taglio meats use whole muscle meat with no binders or fillers.
And the cheeses are made with the highest quality milk and old world recipes, which can be naturally aged up to 2 years.
I shopped at the Albertsons Barrows in my local area, but you can also find the Primo Taglio line of products at the Albertsons Companies family of stores, including Albertsons, Safeway, ACME Markets, Jewel-Osco, Randalls, Shaw's Supermarket, Star Market, Tom Thumb and Vons.
HOW TO MAKE JALAPEÑO POPPERS WITH BRIE AND PROSCIUTTO
Prep Jalapeños: Start by slicing jalapeño lengthwise and removing the stems and seeds. Use gloves to slice the jalapeños if you can, to avoid getting the oils on your fingers. Otherwise, make sure to wash your hands thoroughly with soap and water immediately after working with jalapeños.
Slice Cheese: Slice the brie cheese into long strips, about ¼ inch thick, and then cut those strips into about 2″ length slices (long enough to fit into the jalapeño halves). One 8 oz wheel of the Primo Taglio Brie Wheel should yield enough slices for 24 poppers.
Prep Prosciutto: Slice the prosciutto in half lengthwise, for long strips. You'll need 2 packs of the Primo Taglio prosciutto for this, yielding exactly 24 long slices.
Prep Jam. We like cherry jam for this, but you can use your favorite jam. The sweet jam provides a great balance for the spicy jalapeños and the savory prosciutto.
Assemble Poppers: Start by stuffing one slice of the brie into each jalapeño half. Add a dollop (about ½ teaspoon) of jam. Wrap the popper with a strip of prosciutto.
Grill Poppers: place the assembled jalapeño poppers on a wire rack (for ease of transferring). Alternatively you can grill directly on the grill grates, but the rack keeps the process very simple. Grill for about 12-14 minutes, until the brie is melted and the prosciutto is crispy. You may need to rotate the poppers based on the heat source of your grill. Hot spots will make the poppers cook faster. So be prepared to move them around using long tongs for even cooking.
After the poppers have cooked on the grill, remove them and serve hot, while the cheese is still warm and creamy.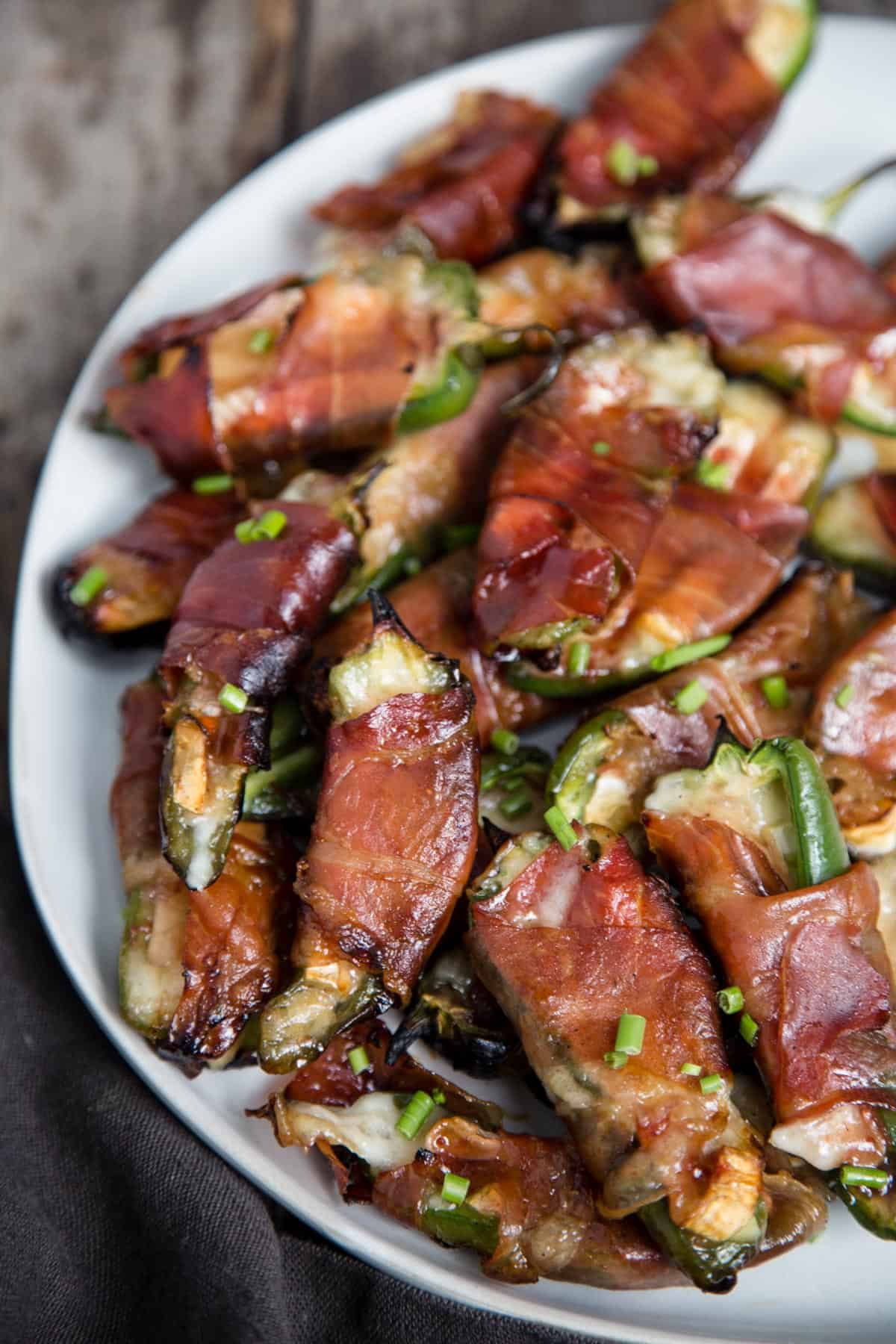 MORE JALAPEÑO RECIPES
JALAPEÑO POPPERS WITH BRIE AND PROSCIUTTO RECIPE