Grilling pineapple on your charcoal or gas grill is an easy way to add flavor to any salad, fruit platter, or delicious side dish for your summer cookouts.
Find out how to make Grilled Pineapple this super easy tutorial.
I cannot stress how easy it is to grill fruit. Lots of fruit. But for the purpose of this tutorial, specifically grilled pineapple.
Jump to:
Simply slicing into rounds or wedges, adding some oil, and then putting over a hot grill grate caramelizes the fruit, giving that extra flavor pop to any dish that calls for pineapple.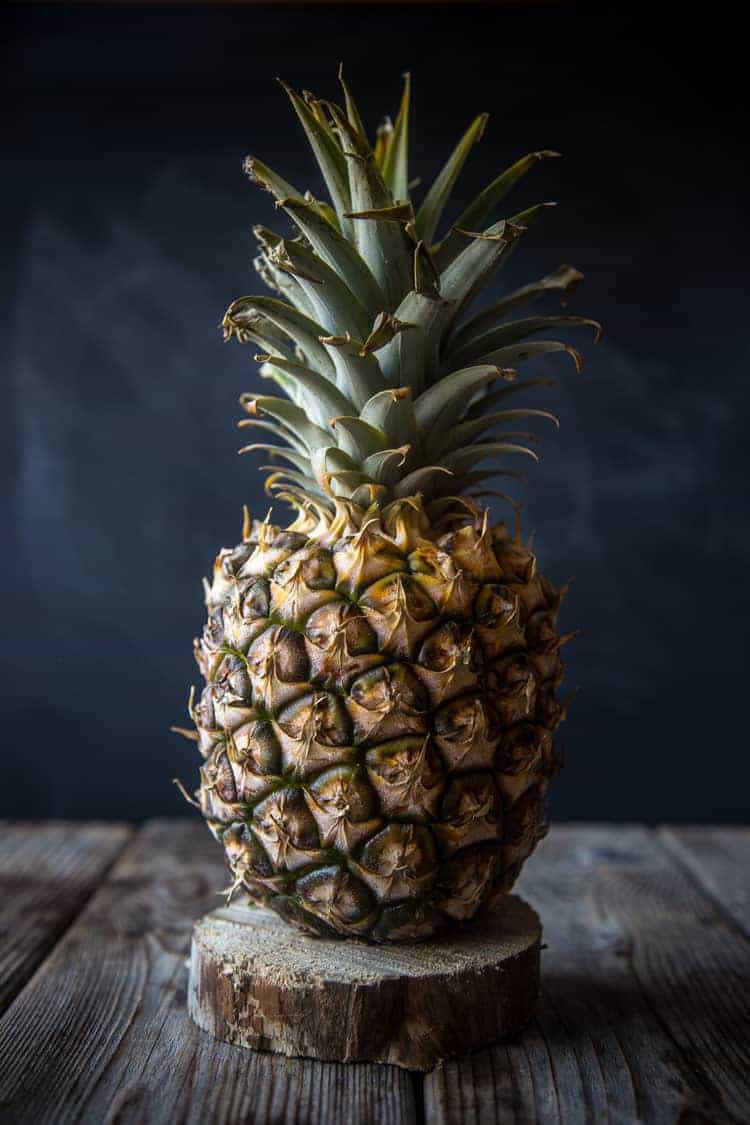 How to Slice Pineapple Rings for the Grill
It all starts with the preparation. We've learned that the best way to grill a pineapple is to slice it into rings, versus wedges. This will allow more surface area of the rings to get that nice caramelization from the grill.
Using a sharp chef knife, simply remove the top and bottom portion of the pineapple. Continue to remove the edges of the pineapple, roughly ¼ inch from the outer layer.
Whether you leave the core is up to you. We like to grill with the core on, making for a more stable grilled pineapple, then remove the core after it comes off.
The last step is to lay the pineapple sideways and then cut ½ – ¾ inch thick slices. This gives that grilled pineapple ring enough thickness to hold up to the hot fire and maintain the shape.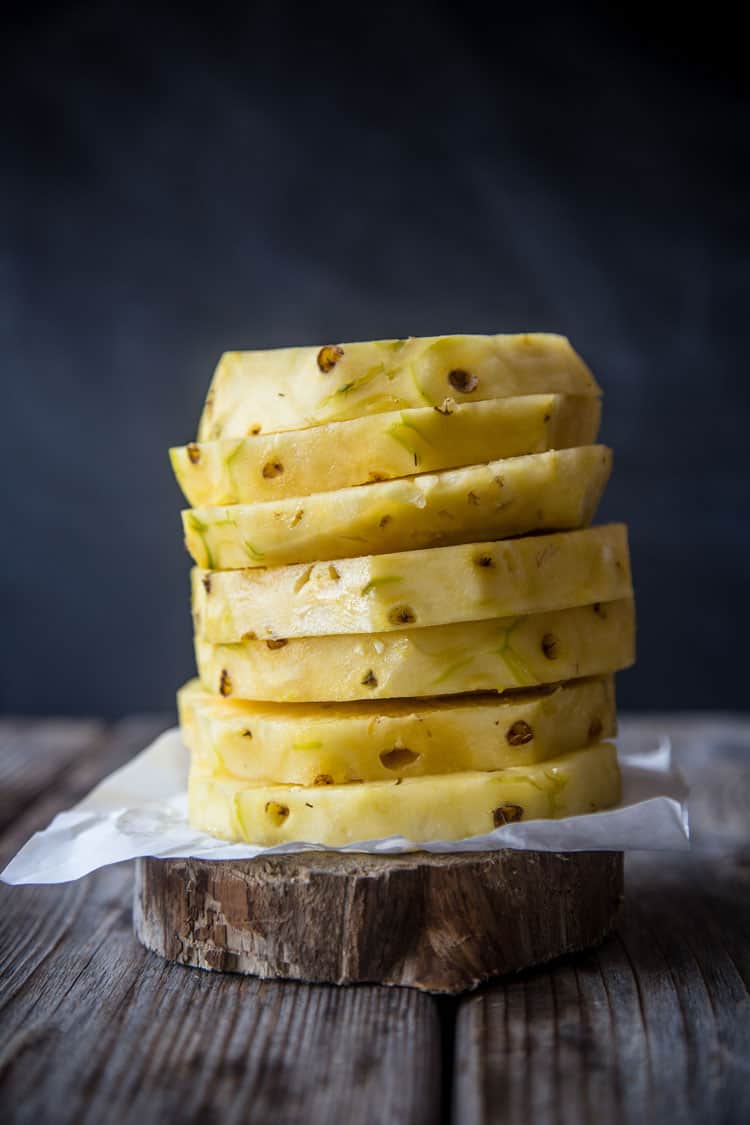 The Seasoning
Keep it simple. We add some extra virgin olive oil, and then a touch of kosher salt. The oil helps prevent sticking on the grill grates, and the salt balances the sweet after the grilling is done.
Using a brush, we apply the oil to the top of the pineapple rings, season with kosher salt. After putting onto the grill, we brush oil the other side and add a slight dusting of salt.
How to Grill Pineapple
Set your grill for direct cooking.
When the charcoal or gas grill is hot, place the seasoned slice onto the direct heat. Let cook over direct heat for 5 to 8 minutes, until you see your desired caramelization.
Flip and cook another 5 to 6 minutes.
Remove and then using a sharp paring knife, remove the core. You can do this on a gas or charcoal grill.
Serving Ideas for Grilled Pineapple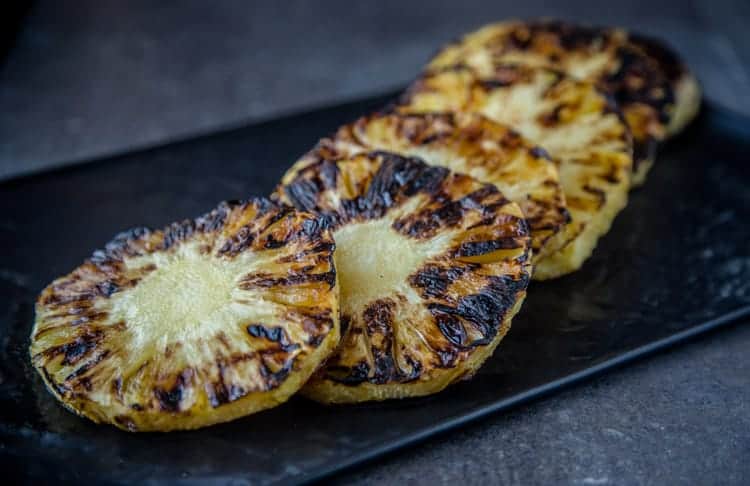 More Ideas for Seasoning
Marinating is a great idea, starting with some umami flavor like soy, or adding more sugar, like brown sugar. Maybe some rum for rum flavored pineapple. Another option is to mix up a glaze that can be used after you remove the pineapple from the grill. Simply add the glaze as you remove the slices from the heat and serve. A drizzle of honey after grilling is a sweet touch too!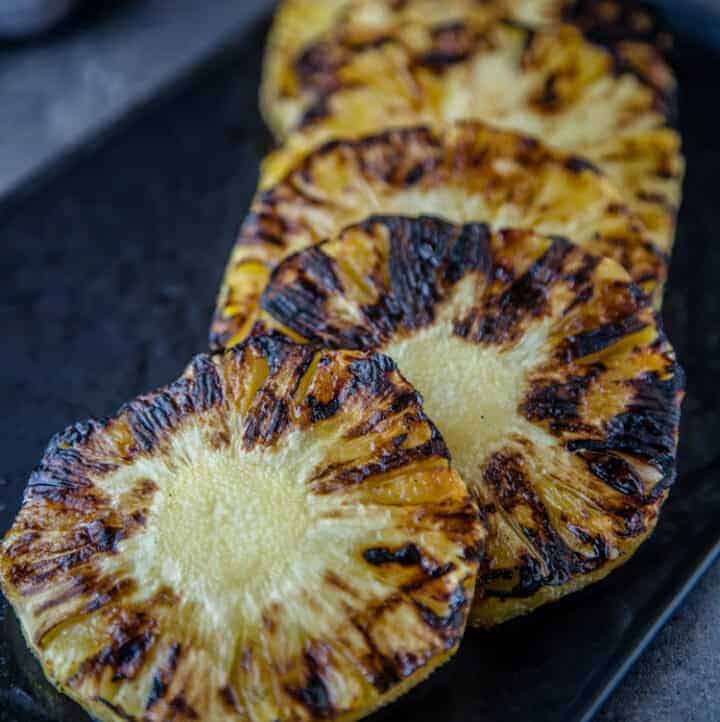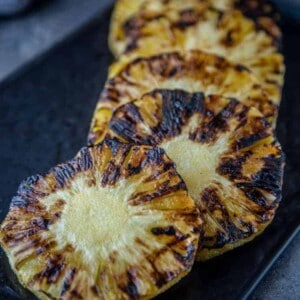 Grilled Pineapple Recipe
Grilling pineapple on your charcoal or gas grill is an easy way to add flavor to any salad, fruit platter, or delicious side dish for your summer cookouts. 
Print
Pin
Rate
Ingredients
1

large

pineapple

2

tablespoons

extra virgin olive oil

1

tablespoon

kosher salt
Instructions
Preheat gas grill to medium/high heat. For charcoal grill, prepare for direct grilling.

Remove the top and bottom of the pineapple. Standing the pineapple vertically, remove the sides of the pineapple, about ¼ inch deep.

Place the pineapple horizontally and cut into ½ inch thick rounds. In a small-medium sized pineapple this can range from 6-8 slices.

On a sheet tray, lay down the pineapple rounds, and brush with olive oil. Add a light dusting of the salt and place over direct heat. While grilling, brush remaining oil and a dusting of salt over the other side of the pineapple.

Grill for 5 to 8 minutes until you see your desired color and then flip. Cook another 4 to 6 minutes until soft and you achieve your desired grill marks.


Remove form heat, remove core if desired, and stack onto a serving platter as appetizer or side for your main meal.
Notes
For added flavor, consider dusting with some finishing salt, or aged balsamic drizzle. If you have a coring tool – remove the core. If you don't, you can slice out after it's grilled.
Find the perfect wine pairing at the Vindulge Wine Shop
Nutrition
Calories:
175
kcal
|
Carbohydrates:
30
g
|
Protein:
1
g
|
Fat:
7
g
|
Saturated Fat:
1
g
|
Polyunsaturated Fat:
1
g
|
Monounsaturated Fat:
5
g
|
Sodium:
1747
mg
|
Potassium:
247
mg
|
Fiber:
3
g
|
Sugar:
22
g
|
Vitamin A:
131
IU
|
Vitamin C:
108
mg
|
Calcium:
31
mg
|
Iron:
1
mg
---
If you like this recipe we'd truly appreciate it if you would give this recipe a star review! And if you share any of your pics on Instagram use the hashtag #vindulge. We LOVE to see it when you cook our recipes.