If you want a fun spicy-sweet condiment idea that is versatile for sweet and savory dishes then this easy hot honey recipe is for you. With only three ingredients, balancing out sweet, heat, and acidity, this is the perfect hot honey sauce!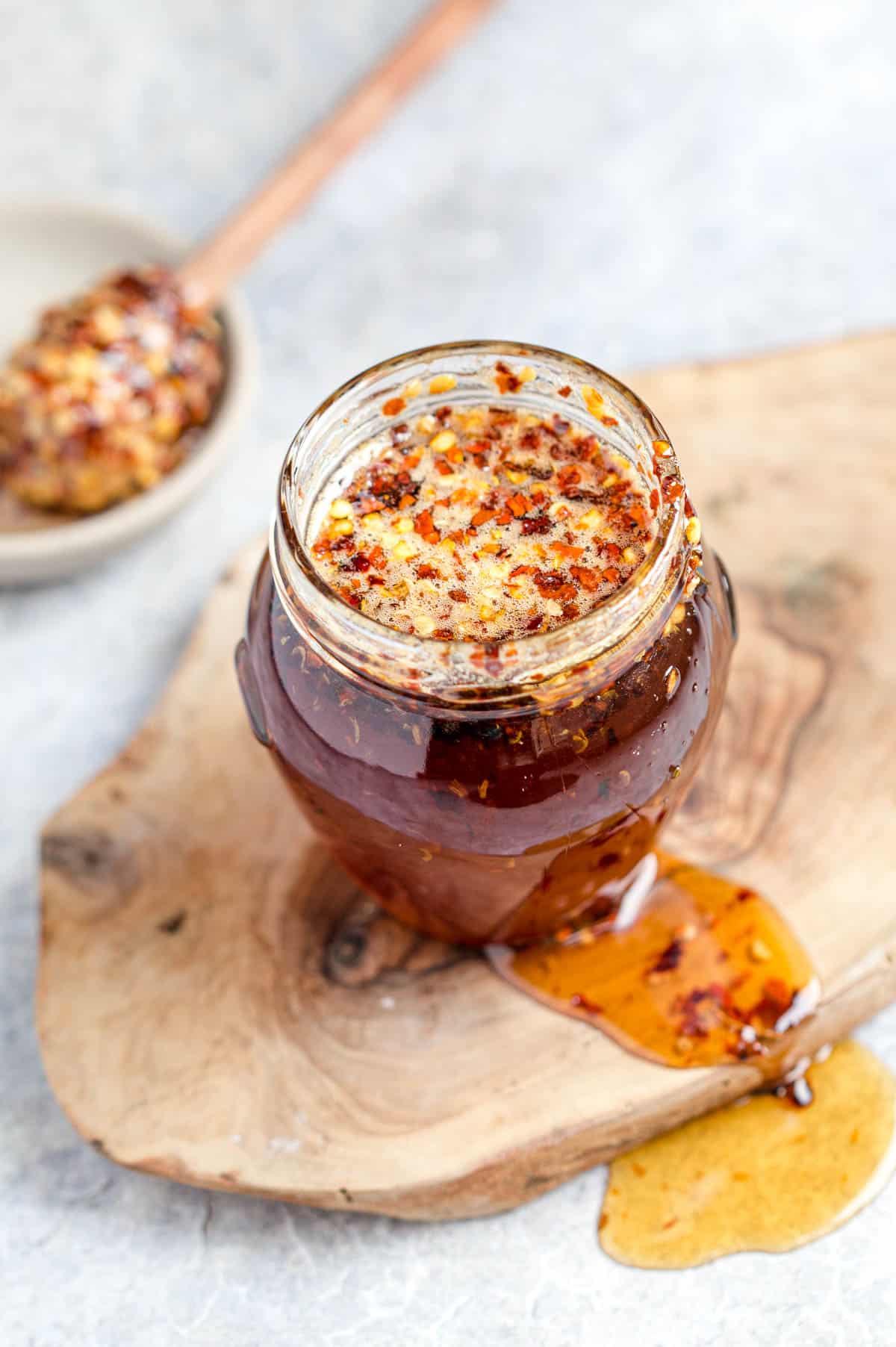 Hot Honey Recipe Highlights
This recipe is ready in less than 20 minutes.
Perfect as a topping for a cheese platter, hot honey pizza, hot toddy, hot honey chicken, or anything fried.
A jar of hot honey makes a perfect gift.
Up your flavor profile by using smoked honey.
Jump to:
It's no secret that Mike's Hot Honey created a huge trend that you now see all across the country, from grocery stores to restaurants. The sweet honey combined with savory and heat elements make for a delicious condiment that we basically use on everything from honey butter, to a charcuterie board, to even drizzling over pizza. The spicy flavors are very mild and you likely have these ingredients in your pantry right now.
Simple Ingredients
You can use just honey and red chili pepper flakes if you'd like, but that tends to run very sweet. Adding a touch of apple cider vinegar gives a little balance to the spicy honey.
Raw Honey – Ideally source a local honey.
Red Pepper Flakes – Your favorite chili flakes will bring the heat flavor and infuse with the honey as you warm it. Note that all brands of red chili flakes have different heat levels.
Apple Cider Vinegar – The added acidity for the vinegar helps balance the sweet and heat.
Portions are in the recipe card.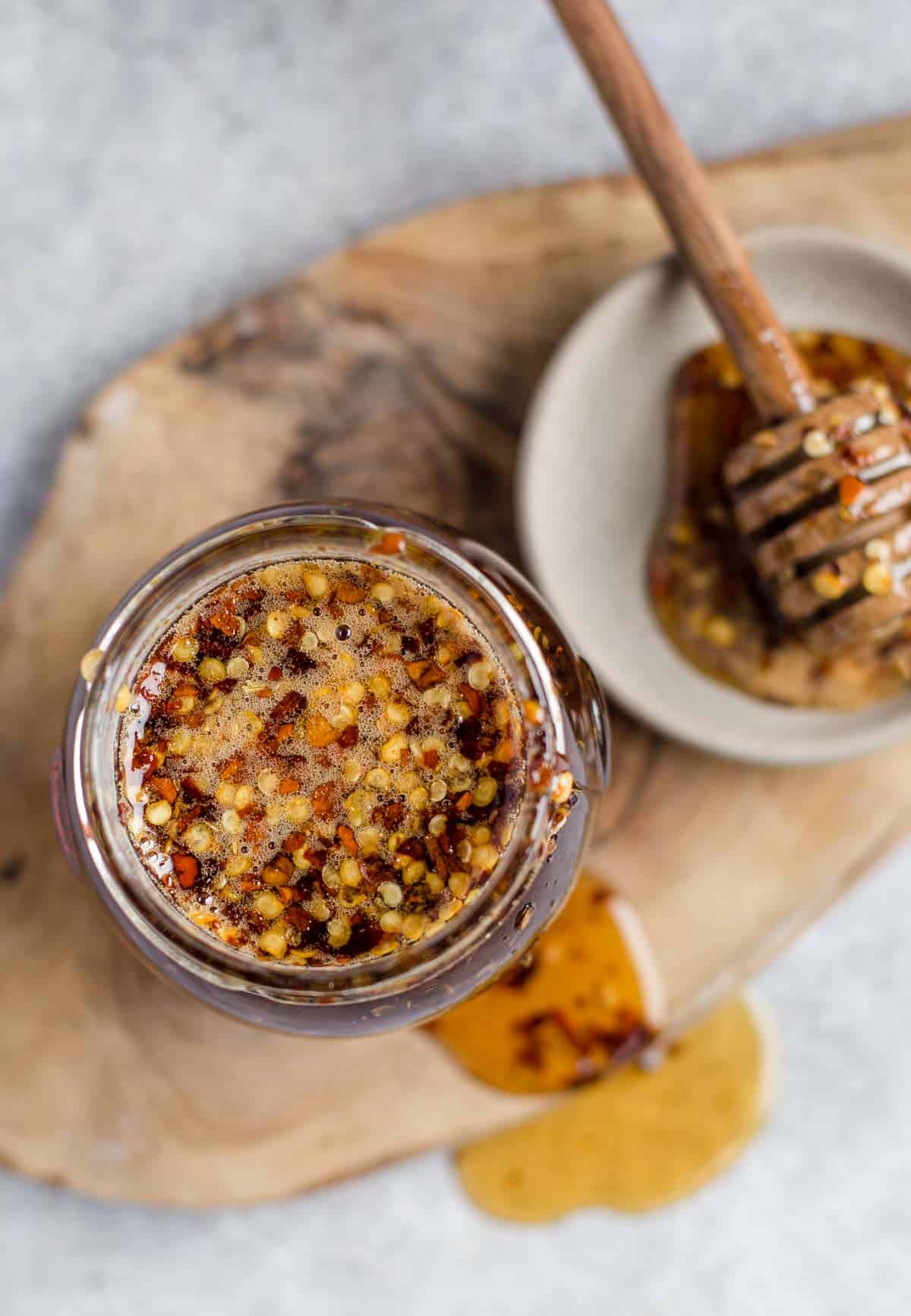 Fresh Chile Versus Dried Chili Flakes
We prefer dried chili flakes over fresh chiles as the texture is better when it simmers and cools. If you are straining, then you can substitute fresh chiles if you have a crop from the garden you're trying to utilize. Though the hotter the chile the hotter the sauce will be (like scotch bonnet or habanero).
Heat Profile
The level of heat for this hot honey sauce recipe is mild. For your first time making this hot honey recipe you can always reduce the amount of red chili pepper flakes by half. That way you can have a little heat and then increase it the next time you make it to match your preferences.
How to Make Hot Honey
In a small saucepan combine honey, red chili pepper flakes, and apple cider vinegar over medium heat and bring to a simmer. Stir and lower heat.
Continue to simmer at medium-low heat for 20 minutes to let the chili pepper flavor infuse. The honey will liquify, which is normal. If the honey is bubbling over then the heat is too high. Be sure the heat is as low as you can to maintain a simmer.
Remove from heat and place in a container. Will thicken up as it cools again. Optional: You can strain if desired, but it is not necessary. Will last up to three months in a dark cupboard.
Chef's Note: DO NOT let the honey come to a boil – use the lowest heat you can to keep it at a simmer. Boiling the honey will caramelize it and it will become thick almost like a caramel. So be sure to stay close to the pot and keep it at a simmer.
Storing Hot Honey
You can strain the red chili pepper flakes with a fine mesh strainer, although we prefer the chunks for look and flavor. Hot Honey will last a long time, up to three months. Store in a small jar (we prefer mason jars). Jars of honey should be stored in a cool dark cupboard.
Likely this will be your new favorite way to use honey and a pantry staple.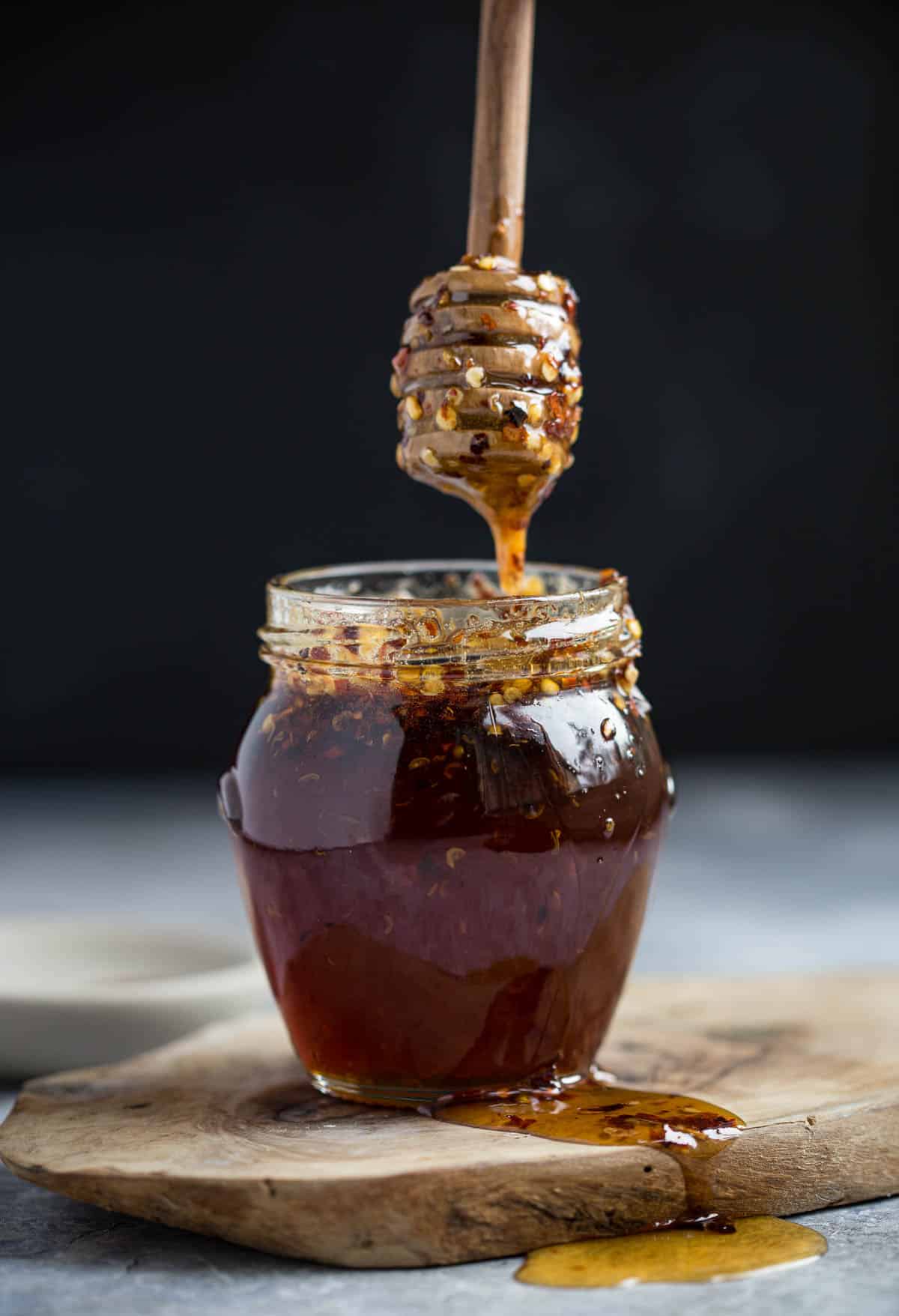 Frequently Asked Questions
What is hot honey made of?
Hot honey is a simple combination of honey, vinegar (for acid), and red chili pepper flakes (for heat). It's slowly simmered to infuse flavor. You can adjust the flavors with your favorite ingredients like our ginger hot honey.
Does hot honey need to be refrigerated?
No, hot honey is best if you leave at room temperature to avoid it thickening. It will last up to three months but likely it'll be gone well before that.
Will hot honey lose the honey's nutrients?
When heating honey some of the nutrients within the honey will break down. This is why we advise not to boil the honey and keep the simmer as low as you can to minimize this.
Best Ways To Use Hot Honey
Tried this recipe? Give us a star rating and we would love to see! Mention @vindulge or use the hashtag #vindulge on all the social media handles. And consider subscribing to our newsletter where we drop all our favorite ideas and inspirations every week.
This post may contain affiliate links. This means if you click on the link, we may receive a small commission if you purchase through the link. We partner with brands we know and love and use and it helps keep the blog going!
---