This recipe for sweet and savory Smoked Pulled Pork Sliders is a take on Asian-meets-Hawaiian flavors with a dry rub of Chinese five spice, dry ginger, and brown sugar, topped with a soy based glaze and a bright pineapple citrus coleslaw. These pulled pork sliders pair perfectly with one of our favorite white wines – dry riesling.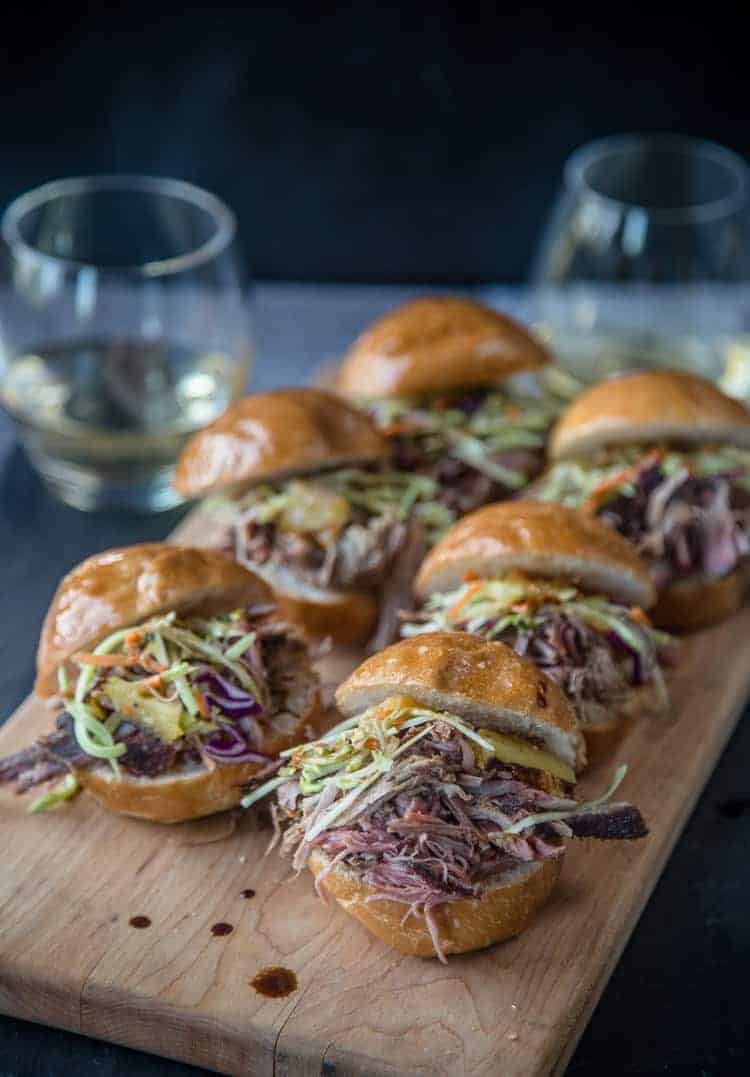 This post is sponsored by Pacific Rim Wines. All thoughts and opinions are our own.
We love traditional BBQ pulled pork sliders, tossed with a sweet and spicy barbecue sauce. But there's something fun about changing up the game a bit. This one doesn't have your typical flavors for BBQ, but is equally impressive and delicious.
Smoked Pulled Pork
If you are new to smoked pulled pork, check out what we have learned over the years in this post on smoked pork butt. That post provides a comprehensive play by play of how to smoke pork shoulder (also called pork butt, or Boston butt).
In this variation, we wanted to create a sweet and savory slider that is lightly sauced with a soy and balsamic glaze and topped with a citrus coleslaw. On our recent trip to Hawaii I went a little pineapple cray cray, and have been craving pineapple since our return. So we're using grilled pineapples in the slaw, really making it pop with flavor! The combination of the tender savory pork with the bright citrus and grilled pineapple slaw makes the slider perfect to pair with a dry riesling.
Generally if I'm eating pulled pork with a heavy tomato based BBQ sauce I'll reach for a red wine. But more often than not I'm craving a crisp and fruity white, and this is the perfect way to ensure you can drink a white wine with your pulled pork.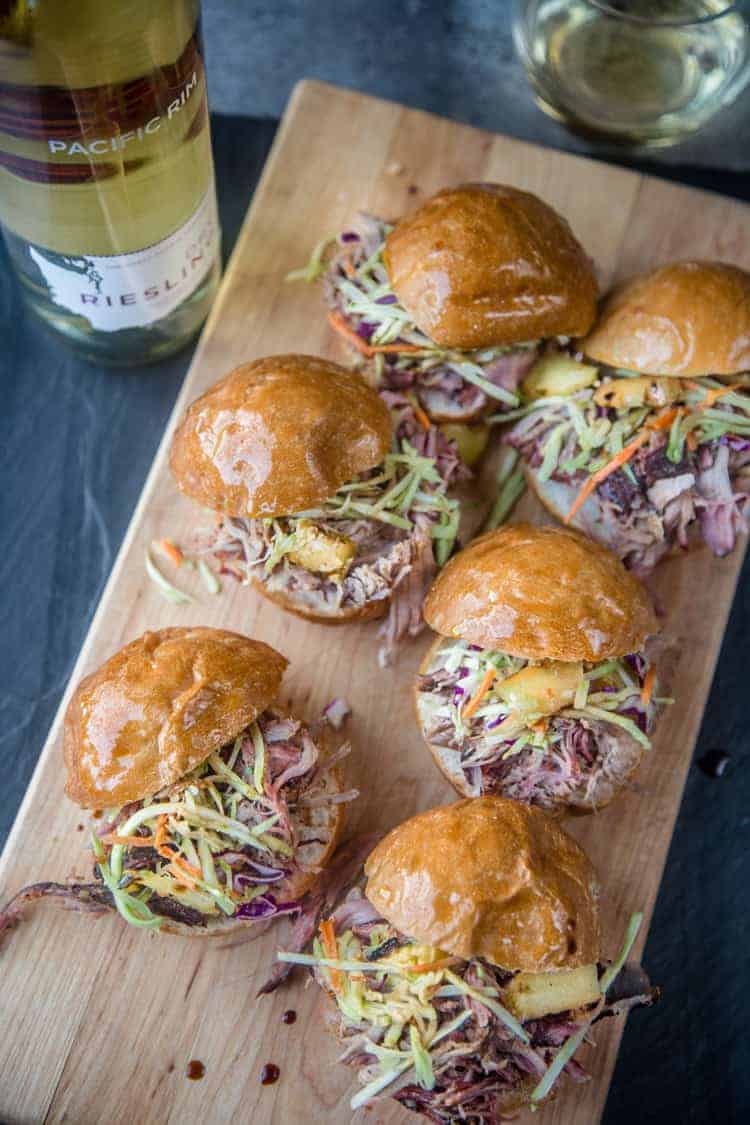 About Pork Shoulder
Pork "butt" is the front shoulder muscle of the pig versus the ham, which is on the backside. Pork shoulder can also be called Boston butt, or pork butt, and can come in many styles. It can come with part of the leg attached, bone-in, or boneless. When ordering, just know it is not, in fact, the butt. It's the shoulder. There will be a side with a fat cap. That is the side that was closer to the skin. And there will be a side without fat. That is where you want to look for marbling. Like steak, marbling is important as that is the intra-muscular fat that will render down when cooking and create that irresistible juiciness when pulled. When smoking, we like to look for a bone-in, 6 – 7 pound, shoulder as the ideal size.
Trimming Pork Shoulder
Trimming the pork shoulder is another important part of the process. On the fat cap, remove most of the fat. We tend to leave no more than ¼ inch of fat, if we leave any at all. On the remaining sides of the shoulder, look for any glands or other fat pockets that can be removed. The fat can be saved for sausages should you wish to freeze it.
Seasoning The Pork Butt (or Shoulder)
The flavors of this dry seasoning are crazy delicious when slowly cooked into the pork shoulder. To best get the rub to stick to the shoulder, we use a Dijon mustard as a binder between the shoulder and the rub.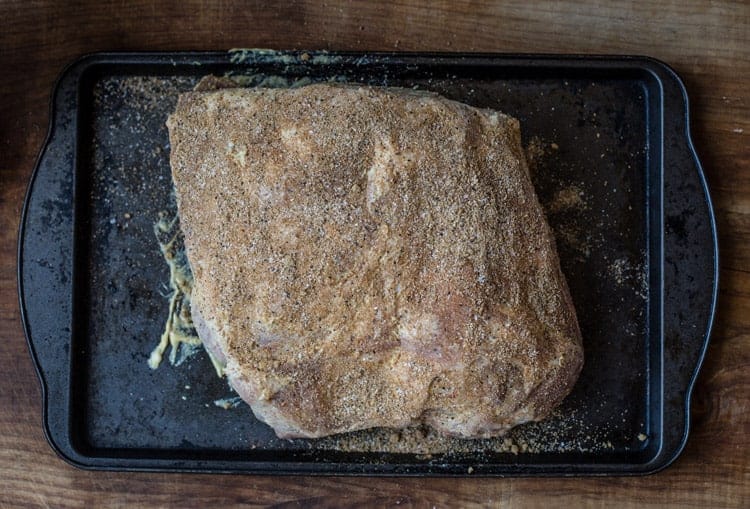 Adding Chinese five spice (which is often a mix of cloves, cinnamon, fennel, star anise, and Szechwan peppercorns) brings a unique flavor to the dry rub. We enhance that with brown sugar for a sweet caramel flavor as it smokes. Finally, we toss a few more spices, kosher salt, and coarse black pepper to round out the dry rub.
The Smoking Process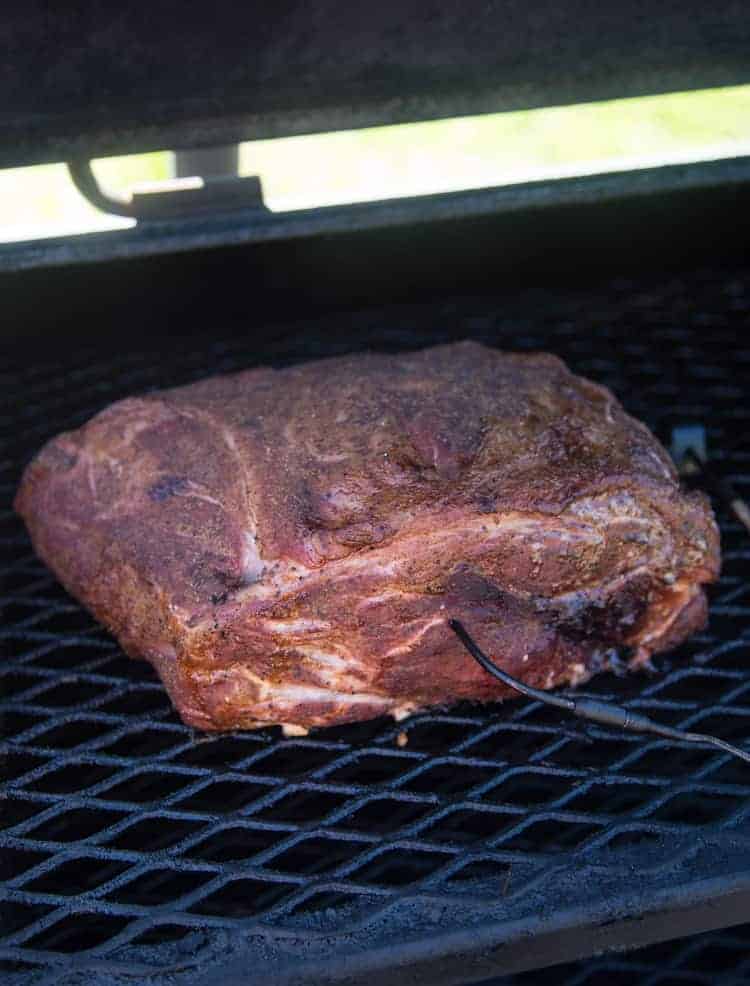 Similar to our popular recipe for smoked pulled pork, this will follow the same milestones as noted below. With the internal temperature being the most important milestones between steps.
The key steps for smoking pork shoulder:
Smoke – The initial phase of getting the bark (the dark flavor crust on the outside of the shoulder).
Spritz – Apple cider vinegar spray on the outside of the pork, adding some flavor and moisture to encourage the smoke to adhere to the outside of the pork shoulder.
Wrap – Wrapping in foil to speed up the cooking process and concentrate the heat on breaking down the intra-muscular fat.
Rest – Removing the pork shoulder when it is done, and letting the shoulder or butt slowly cool and pull that moisture back into the meat cells keeping the pulled product moist.
Pull – Pulling apart the shoulder and getting that perfect texture and flavor combination.
Pulled Pork Sliders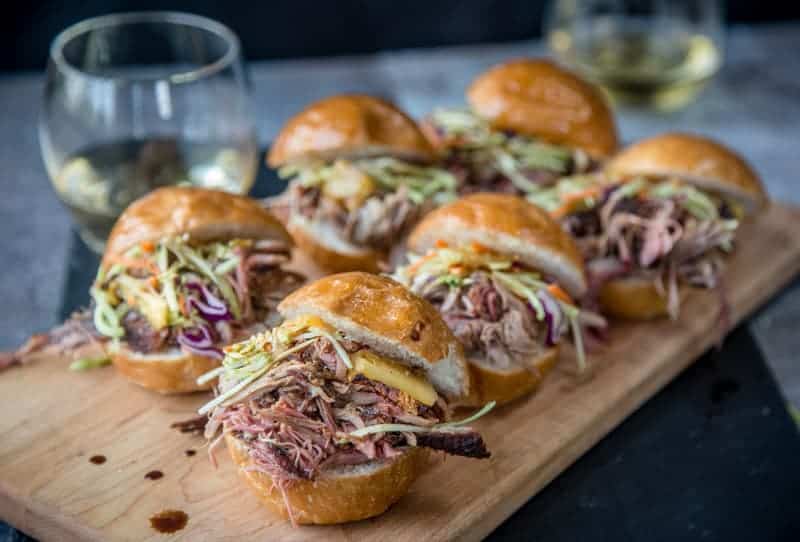 To make this an awesome patio party pleaser, pull the pork and add to your favorite slider bun. We love brioche for sliders, as they are soft on the inside and have a nice (but not rough) crust on outside. We top with a light drizzle of our soy and balsamic sauce, add some Grilled Pineapple Coleslaw and then it's time to eat. Pop a bottle of Pacific Rim Dry Riesling for an awesome pairing!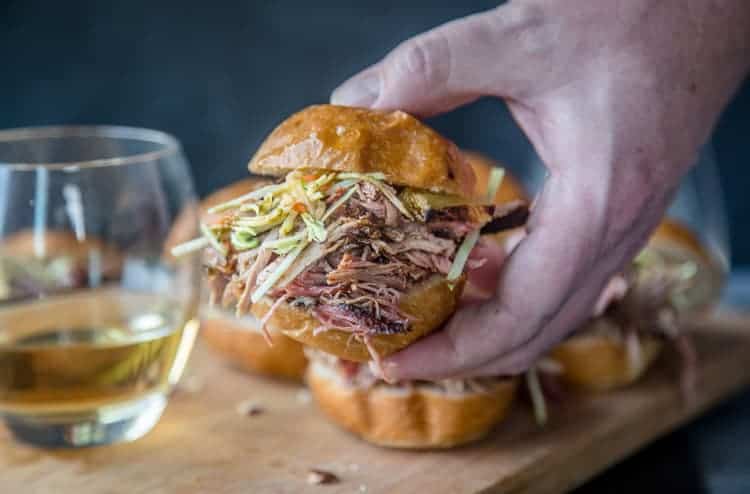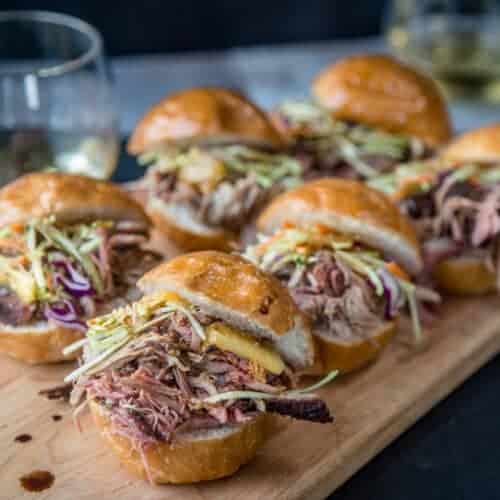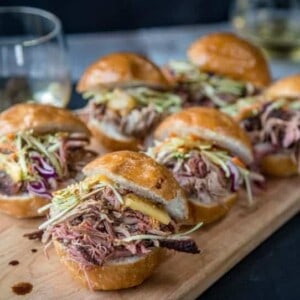 Pulled Pork Sliders with Citrus Pineapple Slaw and Balsamic Soy Sauce
Sweet and savory Smoked Pulled Pork Sliders recipe is a take on Asian-meets-Hawaiian flavors with an Asain inspired dry rub and grilled pineapple coleslaw.
Print
Pin
Rate
Ingredients
1

6 - 8 pound

pork shoulder, bone-in

2

tablespoons

Dijon mustard

1

cup

apple cider vinegar

(placed in a food safe spray bottle)
For the Dry Rub
¼

cup

brown sugar

2

tablespoons

Chinese five spice

2

tablespoons

kosher salt

1

tablespoon

coarse ground pepper

1

tablespoon

ground ginger

¼

teaspoon

cayenne
For the Savory Soy and Balsamic Sauce
1

teaspoon

extra virgin olive oil

1

tablespoon

diced shallots

1

teaspoon

diced garlic

1 ¼

cups

balsamic vinegar

¼

cup

soy sauce

¼

cup

dark brown sugar

1

tablespoon

honey

¼

teaspoon

kosher salt

3

slices

fresh ginger, sliced thin

2

sprigs

rosemary (approximately 3" long)
Instructions
For the Dry Rub
Combine all dry ingredients in a bowl and stir.
For the Savory Soy and Balsamic Sauce
In a small sauce pan over medium heat add olive oil and shallots. Soften shallots for 6 to 8 minutes, but not caramelized. Reduce heat if they are browning. Add garlic and cook another minute.

Add balsamic, soy, brown sugar, honey, salt and stir to incorporate. Add ginger and rosemary, and bring to a simmer. Let simmer on a low heat and let reduce. About 20 - 25 minutes.

Remove from heat and then strain, discarding solids. Place the sauce in the fridge to cool. Can be made in advance.
For the Pulled Pork
The evening before cooking, place pork shoulder on a sheet tray, trim the pork shoulder of excess fat. Coat with Dijon mustard, and the dry rub liberally. Cover with foil or plastic wrap, and place in fridge.

The next day, preheat the smoker to 250 degrees Fahrenheit and remove the pork from the fridge and uncover the meat. When smoker comes to temperature, place pork, unwrapped, onto the smoker. Insert a probe thermometer if you have one.

Smoke for 3 hours. After 3 hours spritz with apple cider vinegar each additional hour, until the internal temperature of the meat reaches 165 degrees F (approximately 3 or 4 additional hours). At 165 degrees, remove any thermometer and set aside.

Place pork shoulder into a large oven safe tray (or a 9x13 glass baking dish). Add remaining spritz liquid into the bottom of the tray, and then cover with foil. Insert meat thermometer back into the pork shoulder for monitoring if using one.

Continue cooking, covered, another 3 to 4 hours until the internal temperature of the pork reaches 200 degrees F. When the internal temperature reaches 200 degrees begin inserting an instant read thermometer into several places. It is done when the probe inserts like butter (and the temperature reads between 200 and 205 degrees).

Remove from smoker and let sit, covered, for at least 30 minutes (ideally 60). Then remove the bone and pull the meat, discarding any remaining fat or cartilage.

For sliders on a bun, place the pulled pork, then the grilled pineapple slaw (recipe in notes), then drizzle a small amount of reserved savory soy and balsamic sauce.
Find the perfect wine pairing at the Vindulge Wine Shop
Riesling Wine
We partnered with Pacific Rim Winery to find a great barbecue combination to pair with riesling. Riesling is a classic grape variety that originated in Europe, specifically Germany and France's Alsace region, and in those regions displays great floral flavors and minerality (and often described as having a diesel, or petrol, aromas). As riesling has expanded throughout the world, it takes on regional variations. In the US, for example, it displays more bright fresh fruit characteristics (anything from citrus to pineapple, to pears, apples, and apricots). Wherever it's found in the world, it is generally highly aromatic and with high acidity, making it a food-friendly pairing option.
Whether it is more tropical notes and warm climate, or the cooler climates with the steely and diesel aromas, riesling wine can range from bone dry to sweet, which really speaks to the residual sugar in the bottle after it has finished fermentation. In this case we use a dry style riesling.
Wine Pairing for Pork Sliders — Dry Riesling
Riesling tends to do well with foods with spice. Now that can mean spicy foods, or foods that are well seasoned with a a variety of dominant and aromatic spices (like this one). The pork in this recipe is tender, juicy, and full of the natural savory flavors from slow smoking, but also contains that savory soy and balsamic drizzle. Topped with that grilled pineapple citrus slaw brings it all together and invites that fresh and fruity wine to really shine. It's a fantastic pairing that will have you going back for seconds, and thirds, and…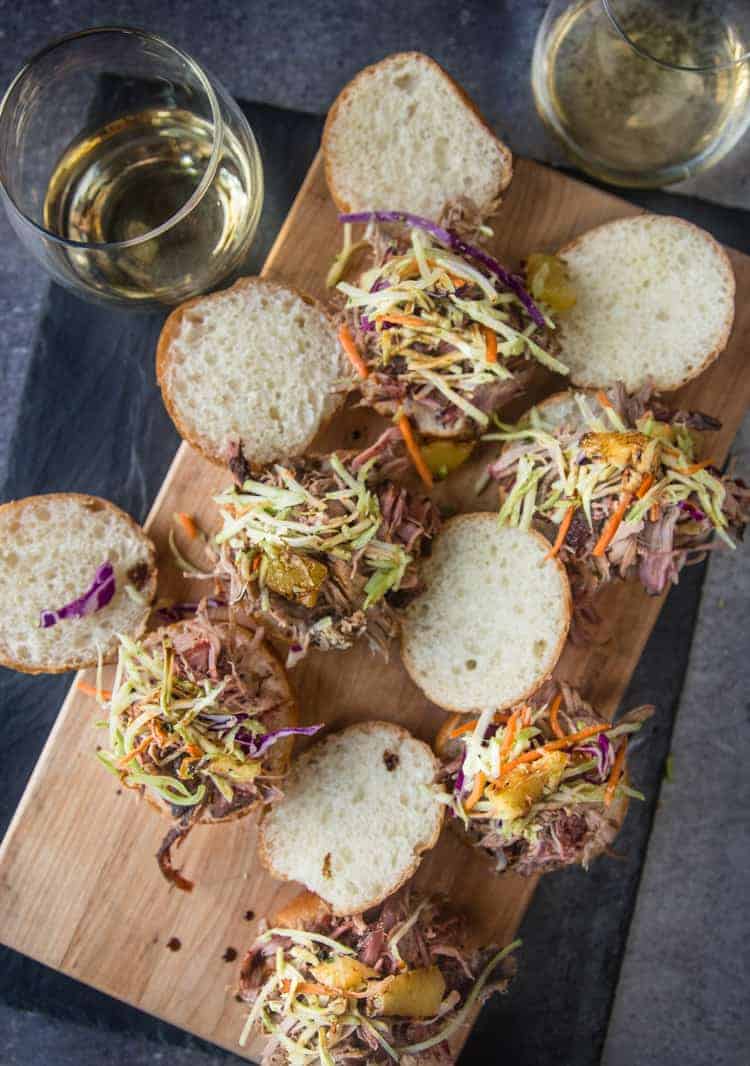 About Pacific Rim Winery
Since 1992, Pacific Rim has sourced fruit from Washington State's Columbia Valley. The Columbia Valley is a large wine growing region within the state of Washington, and represents a very diverse ecosystem of high dessert, valleys, cool, and warm climates. 90% of Pacific Rim's production is comprised of riesling wines. Within that large valley Pacific Rim sources from two distinct sub-regions, Horse Heaven Hills and Yakima Valley. These regions benefit from nice long days of heat, followed by a cool evenings and a drop in temperature (which preserves the grape's acidity).
More on Pacific Rim's wines and riesling:
Riesling is consistently one of the fastest growing white varietals in the wine industry.
Riesling simply is one of the most versatile, complex, and food-friendly of all the major wine grapes.
Riesling's vibrant characteristics are a fresh alternative to fuller bodied, oaked white wines.
You can learn more about Riesling variations at Pacific Rim Winery here.
---
Got Leftover Pulled Pork?
Here's what to do with your leftovers.
---
This post is sponsored by Pacific Rim Wines. All thoughts and opinions are our own.
If you like this recipe we'd truly appreciate it if you would give this recipe a star review! And if you share any of your pics on Instagram use the hashtag #vindulge. We LOVE to see it when you cook our recipes.