Coleslaw and barbecue are a match made in heaven. Adding fun ingredients to any slaw gives an easy way to switch up what can be a very basic dish. Grilling up a pineapple and adding it to a citrus dressed coleslaw is the perfect combination.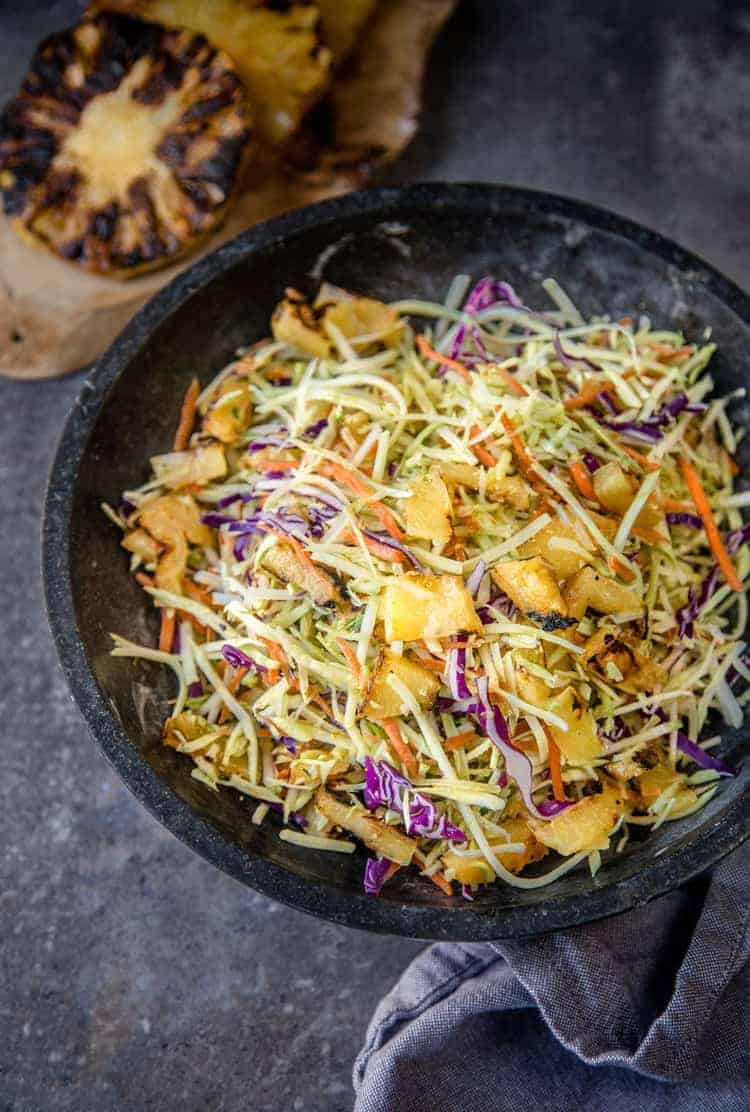 But first things first…
What Is Coleslaw
Basic coleslaw is simply a medley of cabbages, carrots, a dressing, and other ingredients, that is similar to a salad. You can find pre-packaged versions to make this much easier on yourself, or you can grab your own basic ingredients and shred your own.
Coleslaw will often be tossed with a mayonnaise mixture for dressing. But we don't love mayo around these parts, so we use vinegar as the base to our dressings.
For a binder consider things like Dijon mustard or mayo (if that is your thing). Once you have a base, it's fun to jazz up a basic coleslaw, like we're doing here with grilled pineapple.
How to Make Coleslaw from Scratch
For any basic coleslaw, start with a good mandolin. It makes life easy, and allows the purchase of whole cabbages, which is much cheaper, can last longer, and great for a crowd.
Below is our ratio for a basic coleslaw. The number we use is 3:1:1.
Cabbage – Green and red cabbage are the basic ingredients. Our ratio is 3:1 for green to red cabbage. Example – 3 cups of green cabbage to 1 cup of red cabbage. Other ways to improve flavor, consider bok choy, or savoy cabbage for extra crunch and flavor when subbing out the green.
Carrots – Carrots bring sweet and crunch to the dish. We use the large holes on a box cheese grater to easily shred the carrots. Consider 1 part carrots in the ratio.
Dressing – We prefer to dress with some type of vinegar. The most common vinegar we use is apple cider, sherry vinegar, or red wine vinegar (instead of the typical mayonnaise). This adds acidity to bring the slaw together. Another great option is using freshly squeezed citrus, like in this recipe for Grilled Pineapple Coleslaw. For this version, we're doing a orange version of my usual salad dressing.
Using the above ratio, 3 parts green cabbage, 1 part red cabbage, 1 part carrots. Then dress with at least ¼ to ½ cup of dressing, depending on your flavor preference.
Extras – Want some additional heat? Consider red onions in the coleslaw. When adding more elements, we stick with the 1-part ratio. In this case, 1 cup red onions added to the dish for the 3:1:1 basic ingredients. Want some pickled element? Dice up pickled onions or other pickled vegetable (or smoked pickled onions, like the ones in our Smoked Pickled Onion Coleslaw). The options are endless, but start with the basics: cabbage, carrots, and a dressing, then add from there.
Enter Grilled Pineapple Coleslaw…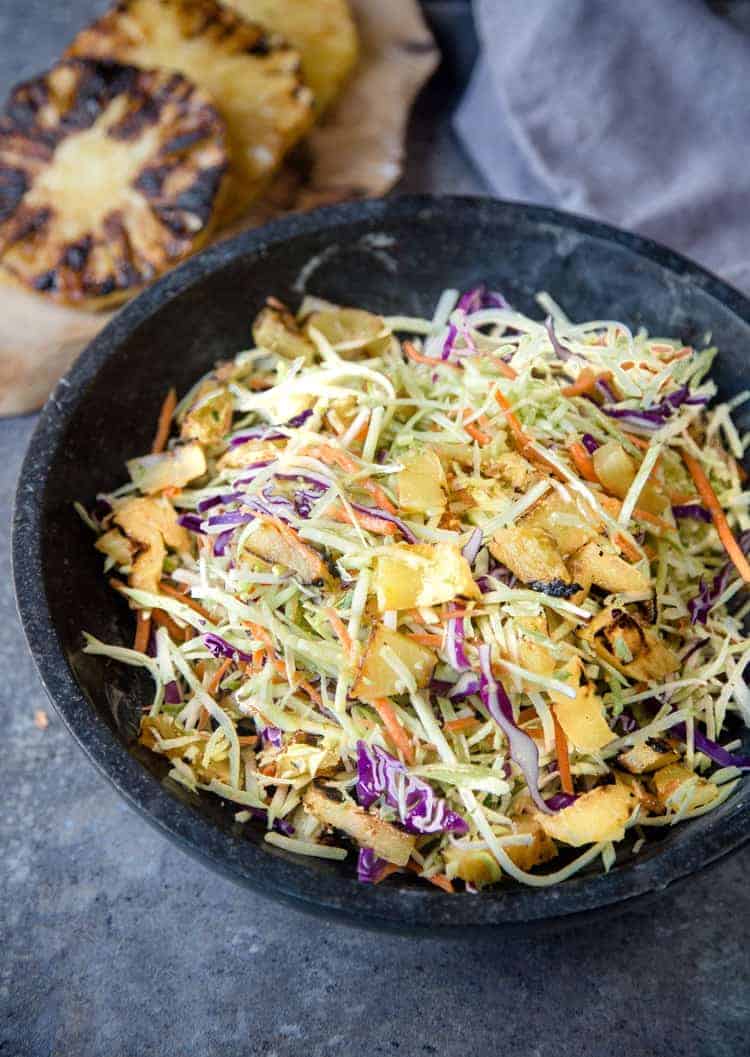 A fun way to jazz up a basic coleslaw is to add some grilled fruit to the mix, like grilled pineapples.
Grilling Pineapple
In this recipe we have an easy way to grill pineapple. Using a diced grilled pineapple not only adds a sweet and savory flavor, but also texture, to the coleslaw. If you're already grilling up some chicken or burgers for dinner, throw on some pineapple slices to get them slightly caramelized and then use that grilled pineapple to add that pop of flavor to your slaw.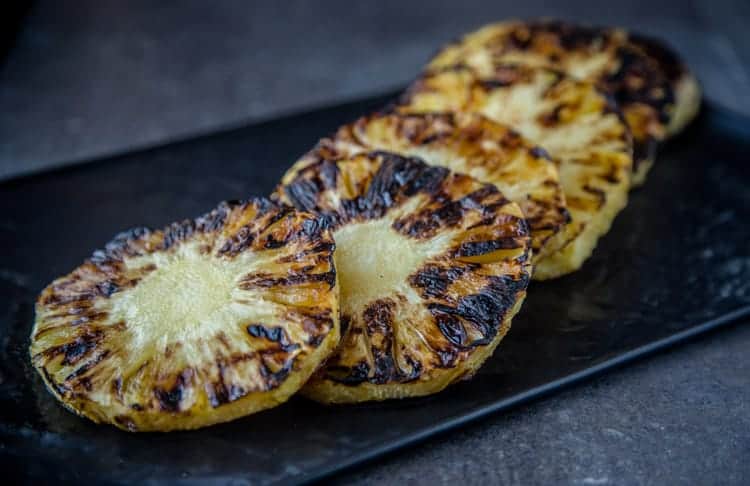 Dice up the grilled pineapple finely for that added flavor. The juices will also combine within the dressing giving a depth of flavor to the dish. Guaranteed to wow guests who will no doubt ask for the recipe. 😊
Where to Use Grilled Pineapple Coleslaw
Consider coleslaw as a side dish substitute to salad. This slaw also makes a great addition to:
---
If you like this recipe we'd truly appreciate it if you would give this recipe a star review! And if you share any of your pics on Instagram use the hashtag #vindulge. We LOVE to see it when you cook our recipes.