Grilled Salmon is one of our favorite fish to grill, with a rich flavor and juicy texture. Learn how to cook salmon steaks on the grill perfectly every time with these easy techniques.
Selecting Salmon for Grilling
There are many salmon species out there. Some are better for grilling because they tend to be larger and more suited to withstand high heat on a grill due to their fat content. Start with larger cuts of salmon like:
Chinook (Columbia River King)
Atlantic
Sockeye
Salmon will come to the store as frozen or fresh. Not all parts of the country can get access to fresh salmon regularly because of the seasonality of salmon or the need to ship it frozen.
Regardless of frozen or fresh, be sure the salmon does not smell fishy and the color is vibrant upon purchase. If you are buying a whole salmon to slice into filets, be sure the eyes are clear and not cloudy. And be sure the salmon has the skin on.
We love wild salmon versus farmed, but that is a personal preference. We find grilling wild salmon has a very distinct flavor that we enjoy.
Opt for whole filets or ask the fish monger to slice a whole filet for you and specify you want the center cut of the fish. The tail end of the salmon is not as meaty, whereas the center is thicker.
The last tip is make sure the salmon cut is thick. There is always a thinner side toward the belly, but the thicker flesh will be best for retaining moisture when grilling.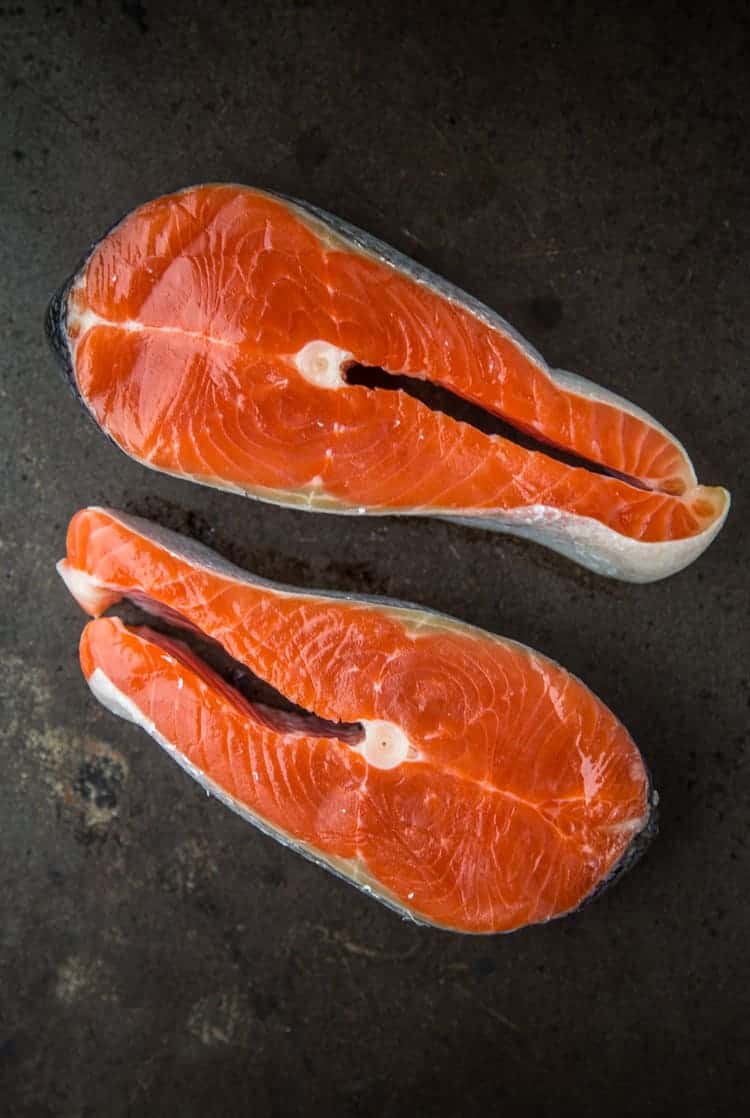 You can buy salmon steaks, which are commonly the body of the salmon cut up to include the spine, pin bones and both sides of the filet. When grilling they look beautiful, but also have bones you need to be aware of that won't come out as easily prior to grilling.
This recipe works for both, steaks or filets. It's your preference.
How to Prepare the Salmon for Grilling
If buying a whole filet:
Remove the belly area that has bones. This is typically the area where silver skin can be seen. We slice along the top of it to keep a nice uniform shape.
Remove the pin bones if it has not already been done with tweezers.
Slice the salmon into four equal filets around 6 – 8 ounces each (or 2″ wide) depending on the size of the salmon. Pat the salmon dry with a paper towel and prepare to season.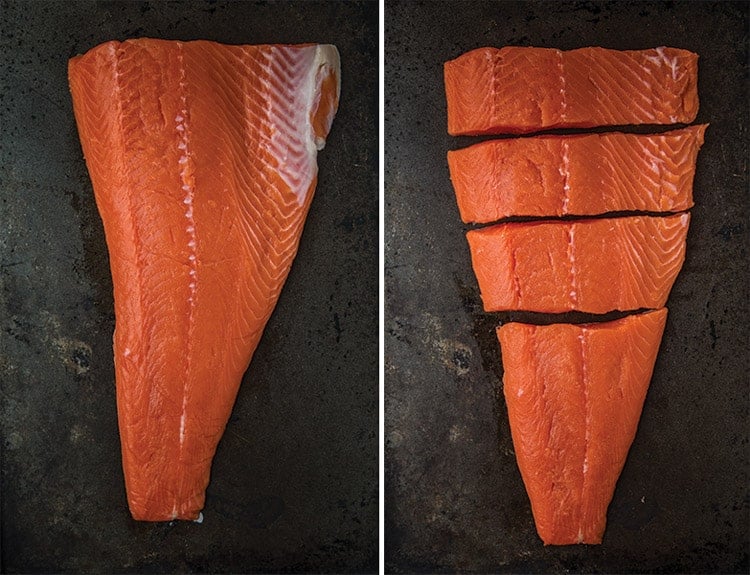 Chef's Tip on Bone-In Salmon: Ask your fish monger or butcher counter to remove pin bones. Pin bones are not fun to pick through. Any good monger or butcher will do this for you.
If you use the tail end, leave that filet slightly larger to get the same weight and note that it will cook faster than the center cut. There is no need to marinade or brine the salmon.
Do I need to Marinate Salmon
No. For this recipe we are not marinating salmon. We believe if you have fresh salmon that a marinade is not necessary, and you can taste the fresh and pure flavors of the meat better. If you want a marinade, go for it! But this recipe does not require a marinade (this also makes it much quicker for a weeknight!). Bonus!
Best Seasoning for Salmon
We love our sugar free seafood seasoning for salmon. It is savory with herbs and a little heat. The key for grilling fish is any seasoning that does not contain sugar. Sugar will burn fast when over such high heat and that is not a pleasant flavor.
If you want a sweeter finish you can always glaze your salmon at the end (like this Grilled Salmon with Maple Glaze). But don't add sugar prior to grilling.
We coat our salmon lightly with olive oil and then sprinkle a liberal amount of our seasoning over both the skin and the flesh side. We finish with a drizzle of grilled lemon for a fresh bright flavor at the end.
How To Grill Salmon
They key to grilling salmon steak is to not overcook it. This means that you have to stay by the side of the grill and monitor the cook, as well as have a good quality instant read thermometer. If you want to know how to grill salmon on a gas grill, follow the same steps with the burner on medium/high.
Prepare the grill: prepare grill for direct (or one zone) cooking with lump charcoal. Target the temperature above the direct heat at 500 degrees Fahrenheit.
Season the salmon: as the grill comes to temperature.
Grill Salmon: Place the salmon over the direct heat skin side down. Two thirds of the cook time will be skin side down as the skin will protect the flesh from burning but still cook from the bottom up. When the flesh easily comes off the grill grates, you can flip the salmon, using thin tongs (like fish tongs). This step can take about 8 minutes.
Flip the salmon: once to finish the flesh side.
Remove: remove the salmon from the grill when the internal temperature taken from the center of the salmon reads 135 – 140 degrees Fahrenheit. This can take up to 3 minutes but depends on the thickness. Temperature is the most important part.
Rest: Let the salmon rest 10 minutes. The carry over cooking will continue to cook the fish another 5 degrees and is the secret to juicy salmon.
Plate and serve with your favorite side.
How Long to Grill Salmon
For a thick, center cut filet grilled at 500 degrees Fahrenheit it will take roughly 10 – 12 minutes. Before relying too much on time due to the variance in fish size and temperature, invest in a quality instant read thermometer like the Thermoworks Thermapen MK4, it has been our go to thermometer for years and the most popular thermometer for chef's and pitmasters around the world.
USDA suggests cooking salmon to 145 degrees, so consider cooking to 140 and letting the rest period allow the temperature to continue to rise to 145 through carry over cooking.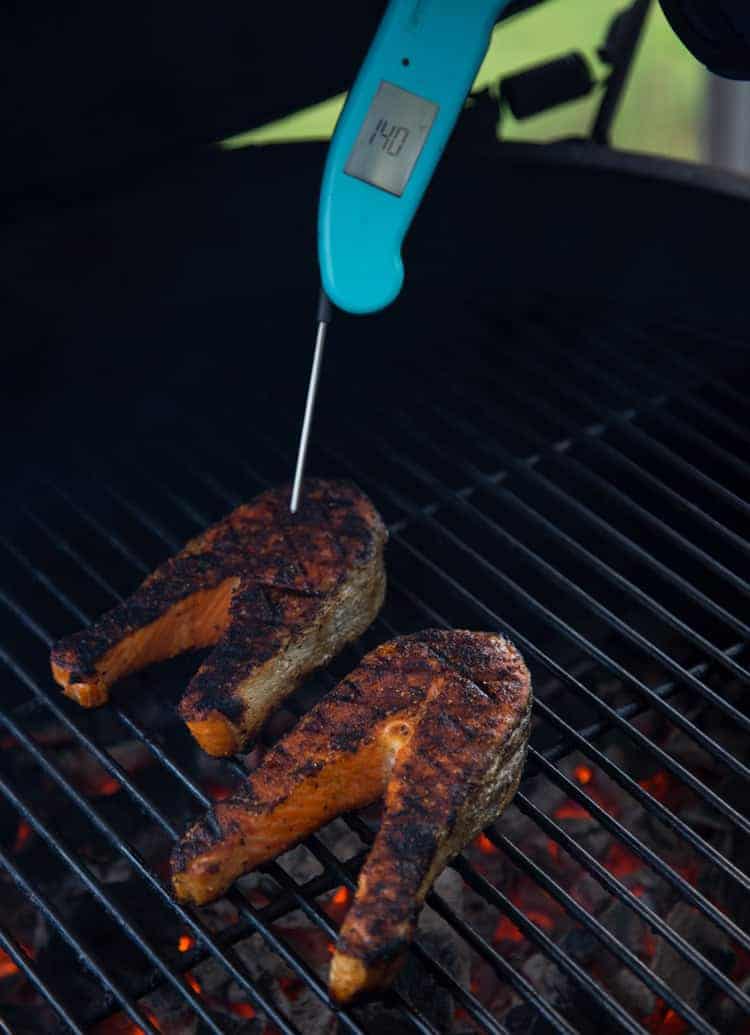 Chef's Note: We pull our salmon at 135 degrees F because we buy quality salmon feel comfortable cooking to a medium rare finish.
Wine Pairing with Grilled Salmon Steaks
The go to pairing for salmon is Pinot Noir, especially from Oregon or the Burgundy region of France. Don't fall into the trap of white wine with fish and red wine with meat. Salmon has a richer flavor than most fish, and grilling salmon brings out some bold flavors, not to mention the char on the outside.
With the grilled element of earthiness and herbs from the dry rub, another great options would be Gamay, or if you want something refreshing try a fruity rosé.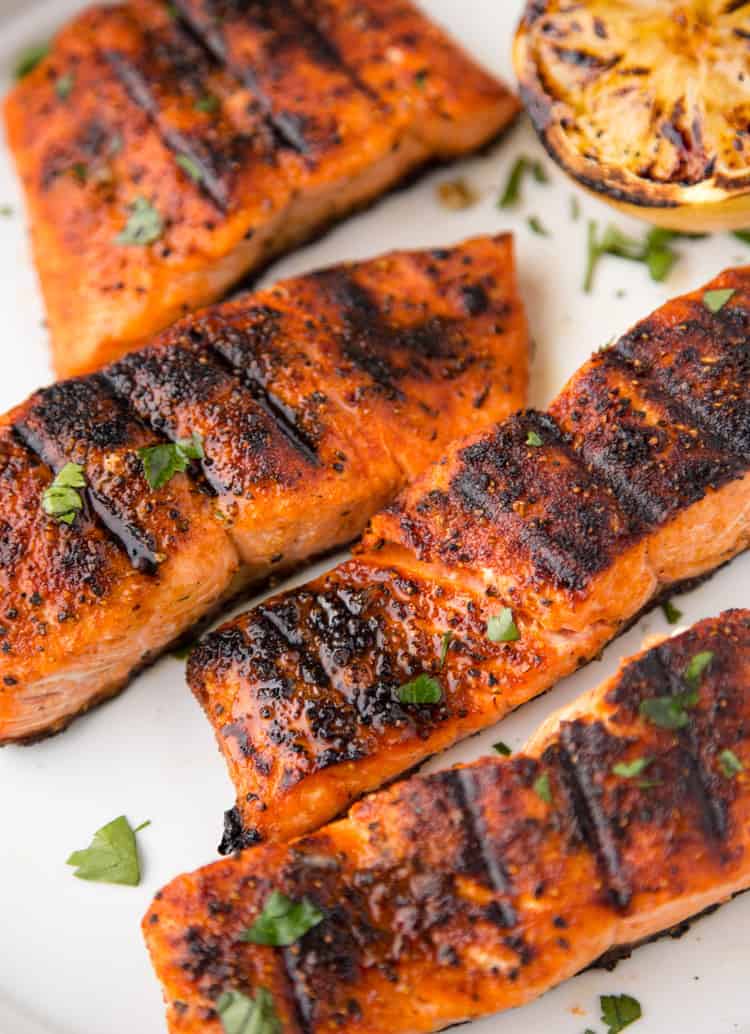 More Salmon Recipes
Grilled Salmon Recipe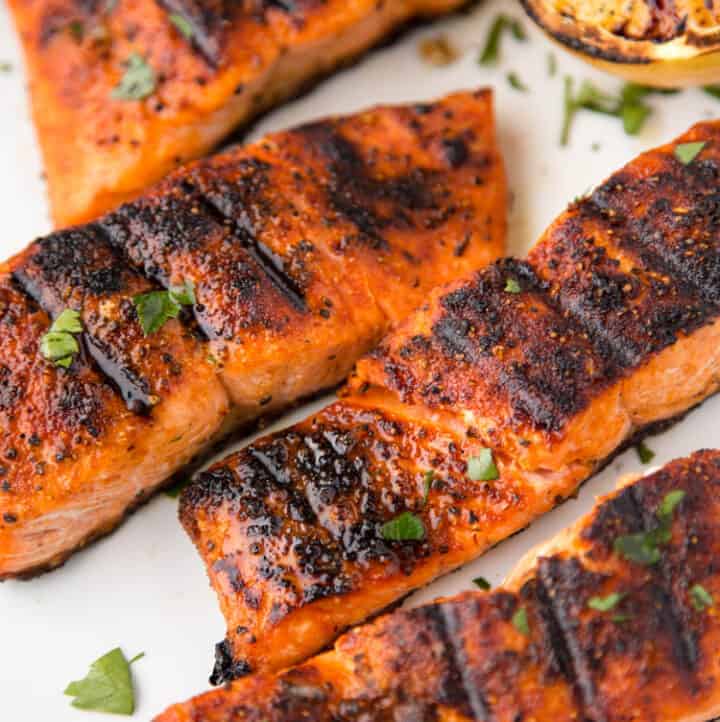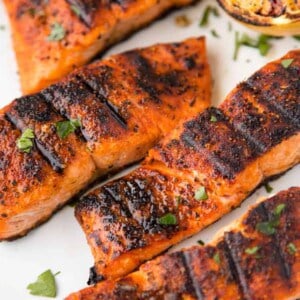 Grilled Salmon
Grilled Salmon recipe and tips and tricks for how to grill the perfect, juicy, and tender salmon every time! No marinade required!
Print
Pin
Rate
Ingredients
4

6-8 ounce

skin-on salmon filets, pin bones removed

(or a 2 pound whole filet, sliced into 2" thick filets)

1

tablespoon

extra virgin olive oil

2

tablespoons

seafood seasoning

1

lemon, sliced in half
Instructions
Prepare grill for direct (or one zone) cooking using lump charcoal. Target 450 – 500 degrees Fahrenheit over direct heat.

If you purchased a whole salmon filet, use a sharp knife to cut into four equal parts leaving skin on. Coat both sides with olive oil and season the salmon liberally with the seafood seasoning.

Place the salmon skin side down over the direct heat. There is no need to oil the grill grate if it's hot enough. We find the best range is 450 – 500 degrees allowing a sear but not burning the salmon. Grill for 8 minutes.

After 8 minutes, using a fish spatchula or tongs, gently nudge the salmon to see if it will release from the grill grate. If it's still sticky, check again after a minute. The salmon skin should release easily when the proper sear has occurred. Flip and grill over direct heat for additional 3 minutes or until the internal temperature of the salmon is 135 – 140 degrees.

Remove from grill and let rest for 10 minutes to allow for carry over cooking. Finish with a squeeze of the grilled lemon, and serve with your favorite side.
For the Grilled Lemon:
While the salmon is grilling place the lemon halves on the grill, flesh side down, for 5 minutes, or until you get a nice sear. Remove and set aside ,and squeeze a drizzle on each salmon filet prior to eating.
Find the perfect wine pairing at the Vindulge Wine Shop