These Grilled Scallops are cooked on a grill on a cast iron pan and finished with a white wine and garlic butter sauce. The recipe, which is cooked on a cast iron pan directly on the grill, takes less than 10 minutes and puts out a tender, buttery, and rich scallop and wine combination.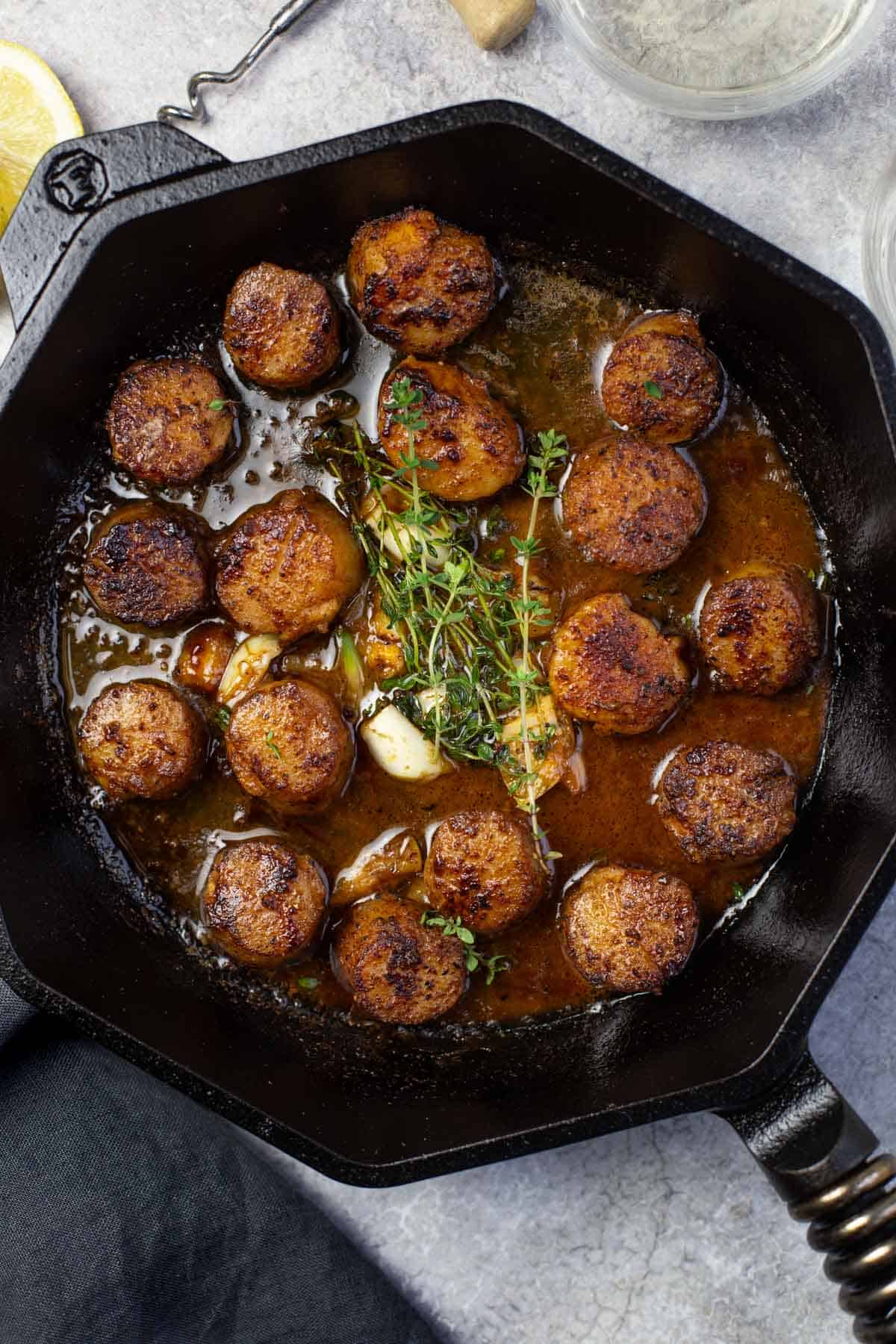 Scallops are an amazing shellfish with buttery flavors and a rich and creamy texture when cooked properly.
Buying Scallops
Similar to shrimp, scallops will come in various sizes displayed in the case at your fish monger or supermarket. The sizes, or numbers, indicate how many scallops on average you can expect per pound. There are sea scallops and bay scallops. Use sea scallops for this recipe.
U10 – Under 10 scallops per pound
10/20 – 10 to 20 scallops per pound
20/30 – 20 to 30 scallops per pound
For this recipe consider using at least 10/20 scallops, which means you will get 10 – 20 scallops per pound. Ideally U10 (or under 10 scallops per pound) will be available and most recommended for this grilled scallop recipe. The larger size make for an easier cook and to avoid overcooking the scallops.
Diver scallops are simply how the scallops were picked and tend to be larger, not a specific variety of scallop.
Bay scallops are smaller and not recommended for grilling. They are better for stews, or a braise.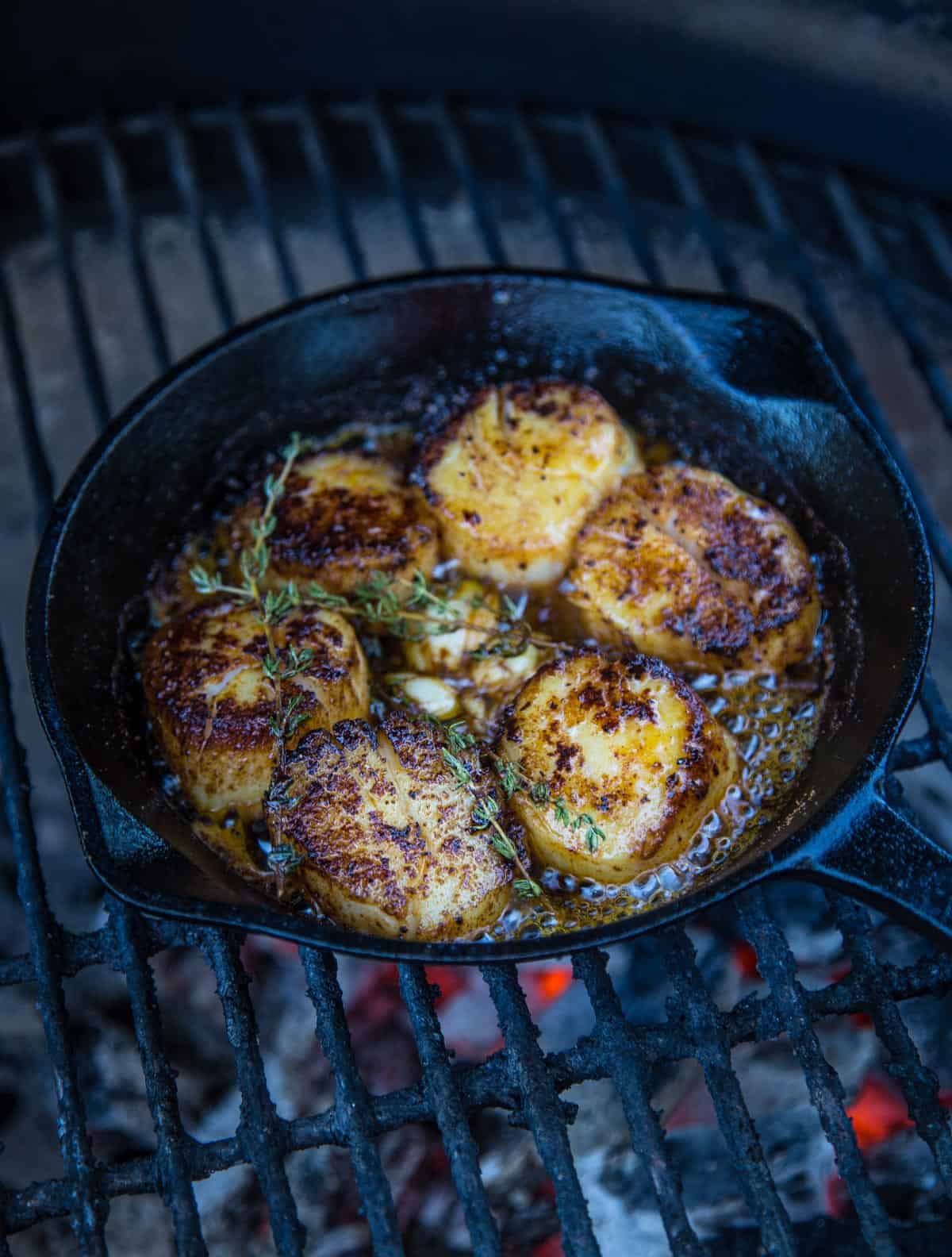 Preparation
Plan to buy the scallops the day you eat them, if they are purchased fresh (vs frozen). They will be soaked in a preservative that you can simply pat off with a paper towel before seasoning. There may also be a small cylindrical side muscle, that should be removed with a sharp boning knife. It's less tender than the scallops. It's not required, but makes for a more tender bite and consistency after they have been cooked.
Now they are ready to season.
Chef's Note: Some mention soaking in milk to tenderize and remove excess sand. There is no real need for soaking scallops as they have already been prepped enough prior to buying them.
Seasoning Grilled Scallops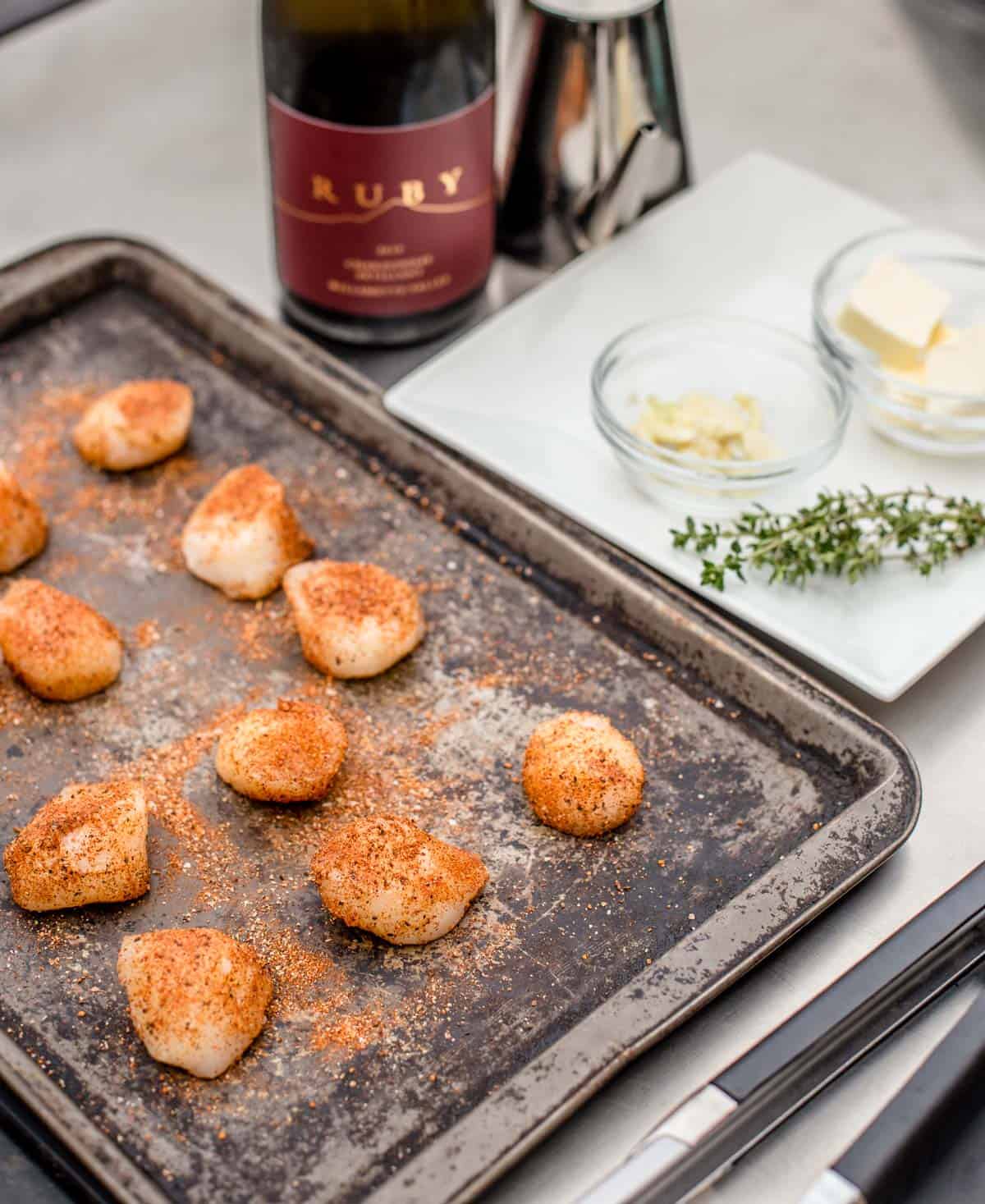 Since scallops have a fair amount of moisture, we do not use oil prior to applying the seasoning. We simply season them with our seafood seasoning, which is comprised of herbs, salt, and savory flavors. Be sure there is little or no sugar in the rub because of grilling at such a high heat (or you run the risk of burning the scallops). Season the top, bottom, and sides of the scallops.
The seasoning is also going to add flavor to the sauce after we grill the scallops. It will be stuck to the pan and the wine and butter will help remove and incorporate the flavor.
Plan between ½ tablespoon to 1 tablespoon of rub per pound of scallops.
How to Grill Scallops
Scallops can be grilled direct if they are big enough and take no more than 3 minutes per side. However, in this cast iron scallop dish, we are grilling the scallops in the pan over direct heat and then finishing with our wine butter sauce to get a nice char on the scallops and then benefit from a rich and easy pan sauce.
Prepare Grill – Start by preparing your grill for direct grilling. Target 500 degrees Fahrenheit (F) in the cooking chamber. As you start the grill, place your 10-inch cast iron pan to let it warm up as the grill temperature rises.
Sear Scallops – Place 1 tablespoon of olive oil in the cast iron pan and wait for it to just start smoking. Place the seasoned scallops in the pan, and close the grill, and let them sear for two minutes. Flip the scallops and grill the other side for an additional 2 minutes to get a nice crust on the scallops.
Make Pan Sauce – With the scallops still in the pan, add garlic and wine and gently stir for two minutes over direct heat to deglaze the pan. Add butter and thyme and continue grilling over direct heat for additional two minutes.
Remove – Remove the pan from the grill with high heat gloves and serve immediately.
When Are Scallops Done
Like any food cooked on the grill, cook to the proper internal temperature, not the time. For scallops we cook until the internal flesh is opaque and you can't see through it. This is typically when the outer portion of the scallop is completely white.
If you have a good instant read thermometer, like the Thermoworks MK4 Thermapen, then target between 115 and 120 degrees F for the thickest part of the scallop at the most. Because we are also adding the pan sauce, we target no more than 115 degrees F.
Carryover cooking occurs after scallops are removed, so by the time the wine has deglazed the pan, and the scallops are put back in, they are done. They just need that extra flavor as the sauce reduces.
The smaller the scallops, the faster they will cook to the proper internal temperature.
Wine Pairing for Scallops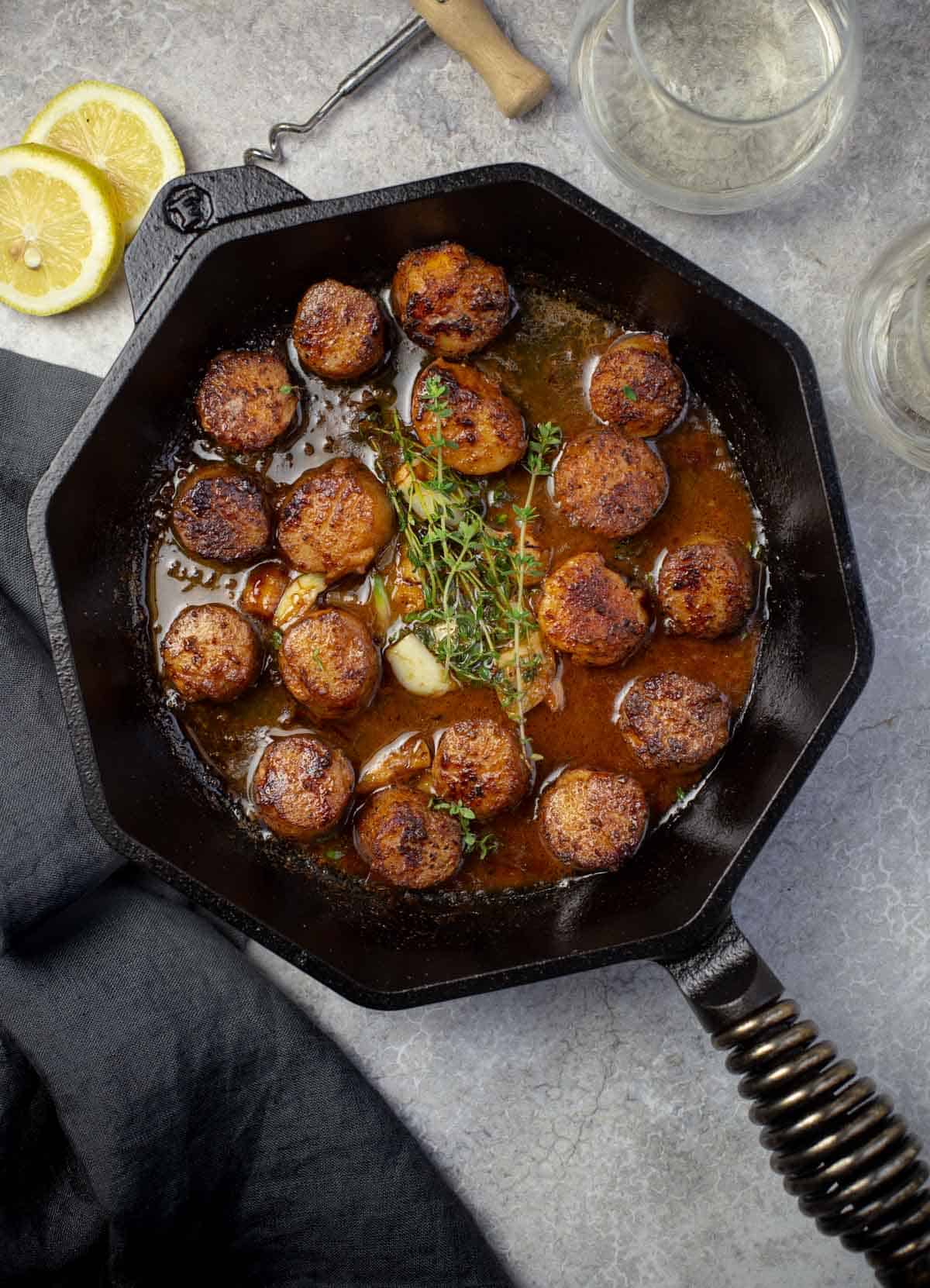 Grilled scallops work well with a full bodied white wine, or high-acid wine that will counterbalance the richness of the scallops. Chardonnays of all kinds (oaked or un-oaked) work great, for the reasons mentioned above. Sparkling wine can also work to cut through the richness. Avoid red wines for this dish, because most will overpower the delicate flavors of the scallops and wine sauce.
More Seafood Recipes on the Grill
Some of our favorite seafood and shellfish recipes cooked on the grill hot and fast.
This post may contain affiliate links. This means if you click on the link, we may receive a small commission if you purchase through the link. We partner with brands we know and love and use and it helps keep the blog going!
---