Grilled Stuffed Chicken Breasts are incredible, elegant, and easy to make. This is a great way to infuse chicken with flavor beyond seasonings and chicken brines. This simple recipe uses five ingredients for a rich and flavorful stuffed chicken recipe.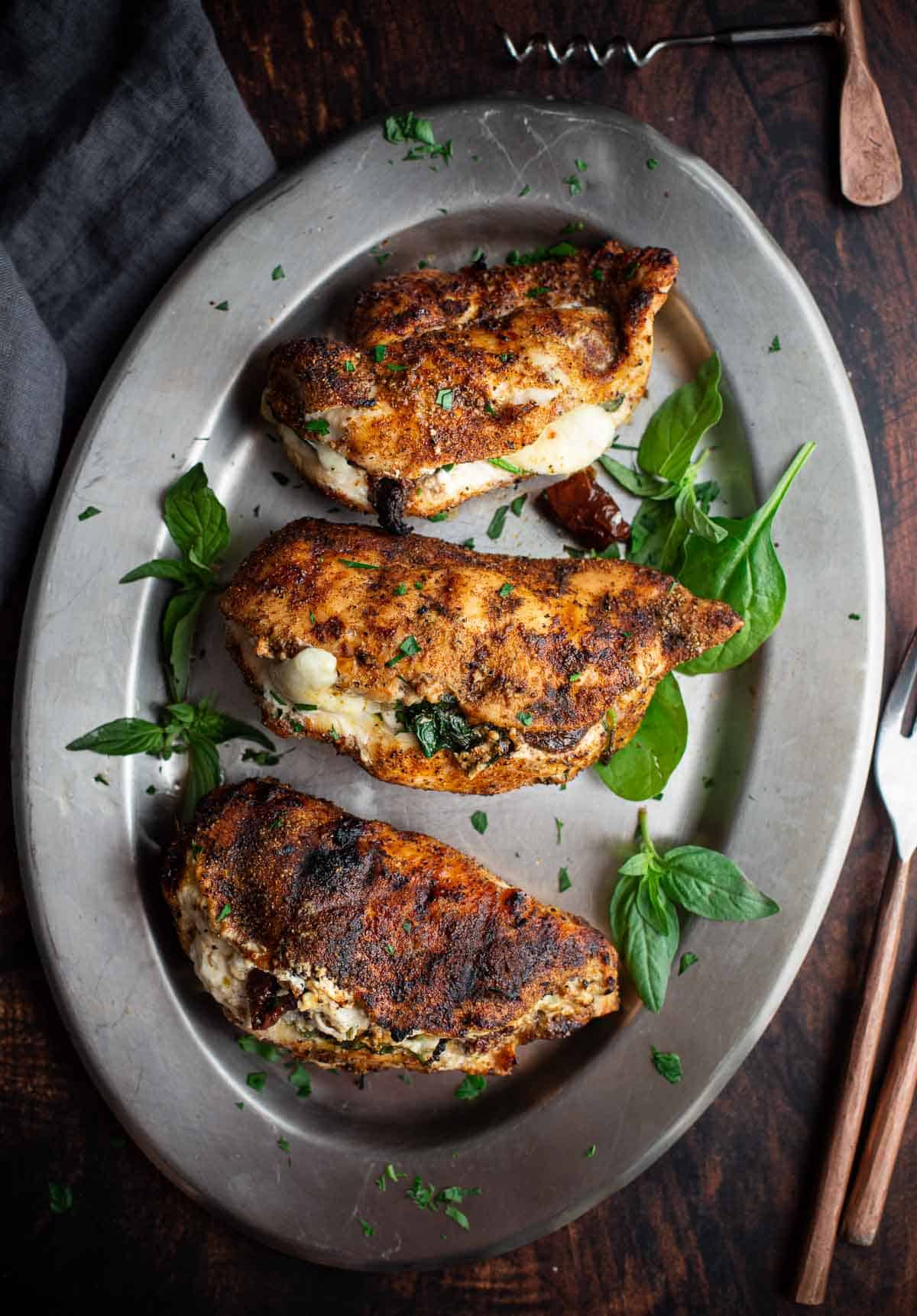 Jump to:
Ingredients for Grilled Stuffed Chicken Breasts
Chicken Breasts – Boneless and skinless chicken breasts are much easier to cut and stuff compared to bone-in. Also be sure the chicken is thick enough to handle being cut open and stuffed.
Seasoning – A good herbal chicken seasoning is best, especially a chicken rub without sugar. Sugar can burn and taste bitter when cooked over direct heat.
Fresh Spinach – You quickly will wilt the spinach down in a pan and then stuff with cheese.
Goat Cheese – We use 2-ounces of goat cheese per chicken breast. If the breasts are smaller then you may not need as much. You can also substitute mozzarella cheese if goat is too strong of a flavor (we do this for our kids).
Sun-Dried Tomatoes – I love the way sun-dried tomatoes taste with the combination of goat cheese and spinach.
Preparation
Prepping stuffed chicken is not as hard as it looks. You will need some toothpicks, a good cutting board, and a sharp knife.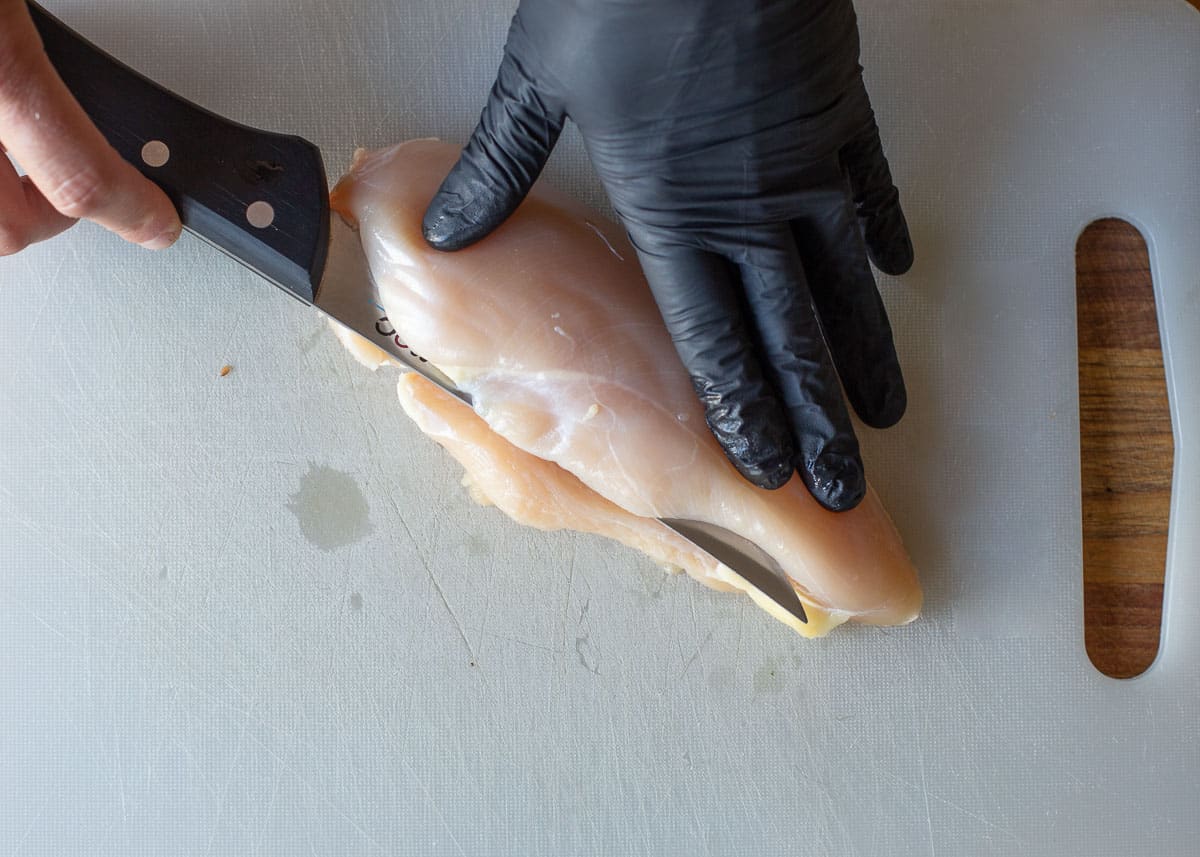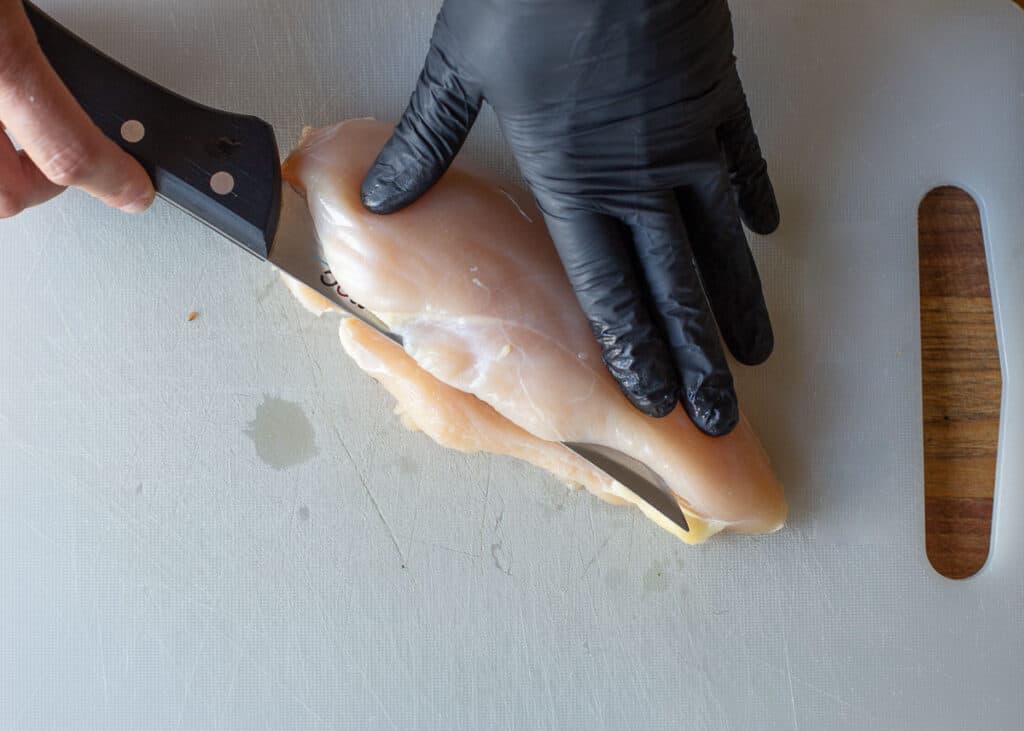 Slice the chicken. We are trying to almost butterfly the chicken, but you don't want it so cut in half that everything falls out. Start by taking the thicker end of the chicken and making a small cut with your knife taking care not to poke all the way through to the other side.
Open the chicken. Slowly and gently expand the cut down the length of the breast about ⅔rds of the way down. Then open the cut breast.
Sauté Spinach. Sauté the spinach so it's wilted. In a small pan over medium heat add olive oil and the spinach and stir until it's wilted (this only takes a couple minutes).
Season and stuff the chicken. Stuff the cavity of the chicken breast with the wilted spinach, sun-dried tomatoes, and cheese then fold it over and use four toothpicks to "close it" and keep it shut. Then coat the outside of the chicken with more olive oil and then the seasoning.
You can do this a day prior and then place them on a sheet tray. Cover with plastic wrap and store in the refrigerator. Then remove them when you start warming up the grill the next day.
Food Safety – You do not want someone biting or cutting into chicken that has a toothpick in it. So be sure to count how many toothpicks you use per breast. We always use four no matter the size so we know. Then you can feel good when you've removed them that they are all accounted for.
Grilling Process for Grilled Stuffed Chicken Breasts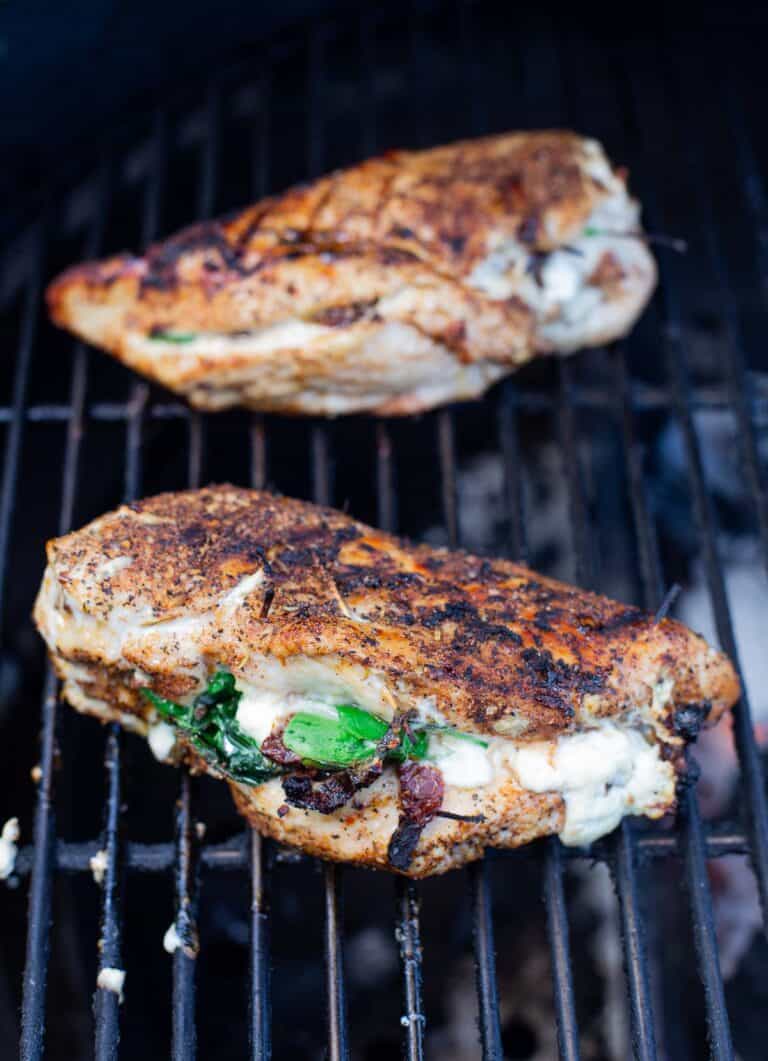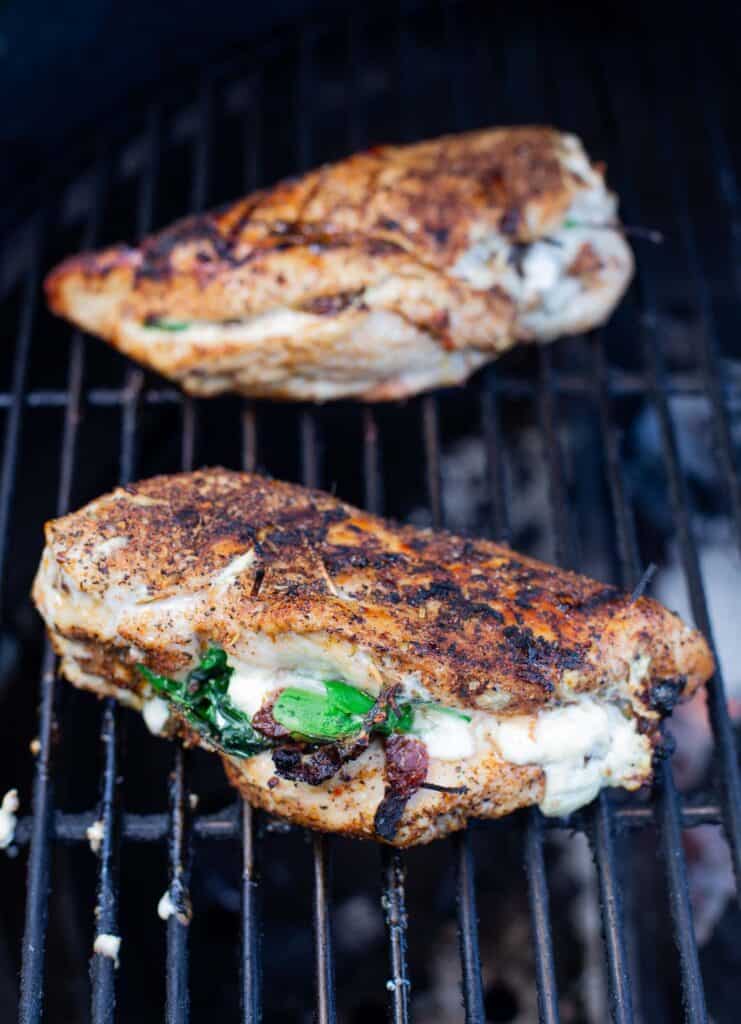 Prepare the grill for two-zone cooking method. Target 500 degrees in the cooking chamber using lump charcoal. If using a gas grill then use medium-high heat.
Place the seasoned and stuffed chicken breasts on the grill grates over the direct side of the grill. Cook for 6 minutes or until you get a nice color.
Flip the chicken breast with long tongs and then continue grilling over direct heat an additional 6 minutes. By now the chicken should have a nice crust, but is not quite cooked yet. Move the chicken to indirect side of the grill. Be sure that you finish the stuffed chicken breasts with the openings facing slightly up so you don't lose the cheese and juices.
Finish over the indirect heat with lid closed for additional 15 minutes or until the internal temperature in the thickest part of the chicken reads 158 – 160 degrees F.
If you are wondering why it's not 165 degrees F (per the USDA) it's because you can still have safe chicken at a lower temperature as it pasteurizes. Read our guide on the perfect chicken temperature.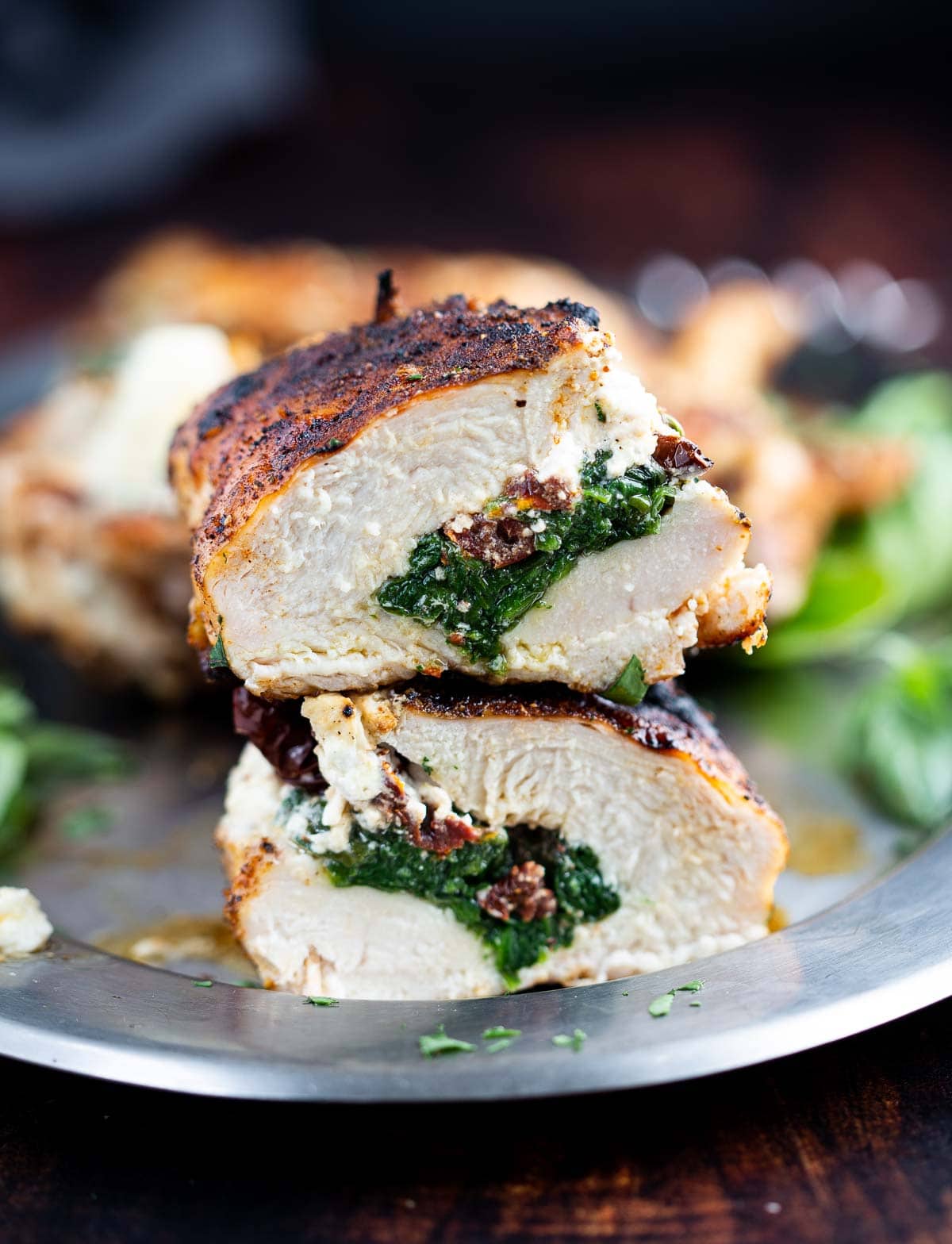 Other Ideas
Here are a few more grilled chicken breast ideas for inspiration.
Side Dish Ideas for a Full Meal
Check out our full list of side dish recipes or browse through some of our favorites below.
Grilled Broccolini – The broccolini can just grill up quickly along side the chicken breasts.
Prosecco Risotto – If you want to go fancy and flavor – try our risotto recipe infused with sparkling Prosecco wine.
Roasted Potatoes – These oven roasted potatoes are creamy on the inside and crispy on the outside thanks to our key tip. Par boiling the potatoes.
---
Mary (a certified sommelier and recipe developer) and Sean (backyard pitmaster) are co-authors of the critically acclaimed cookbook, Fire + Wine, and have been creating content for the IACP nominated website Vindulge since 2009. They live in Oregon on a farm just outside Portland.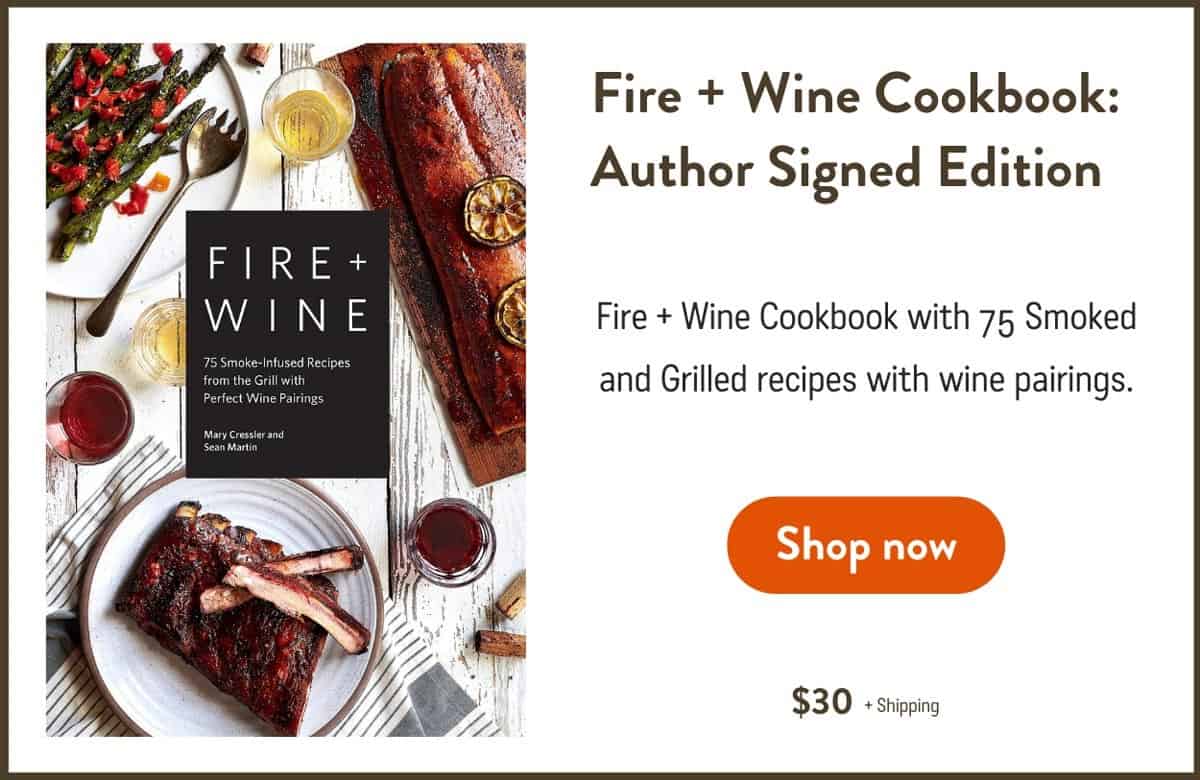 Tried this recipe? Give us a star rating and we would love to see! Mention @vindulge or use the hashtag #vindulge on all the social media handles. And consider subscribing to our newsletter where we drop all our favorite ideas and inspirations every week.
This post may contain affiliate links. This means if you click on the link, we may receive a small commission if you purchase through the link. We partner with brands we know and love and use and it helps keep the blog going!