Easy Sparkling Wine Risotto made with Prosecco. Risotto doesn't have to be mysterious or intimidating. Find out how to make it in a few easy steps.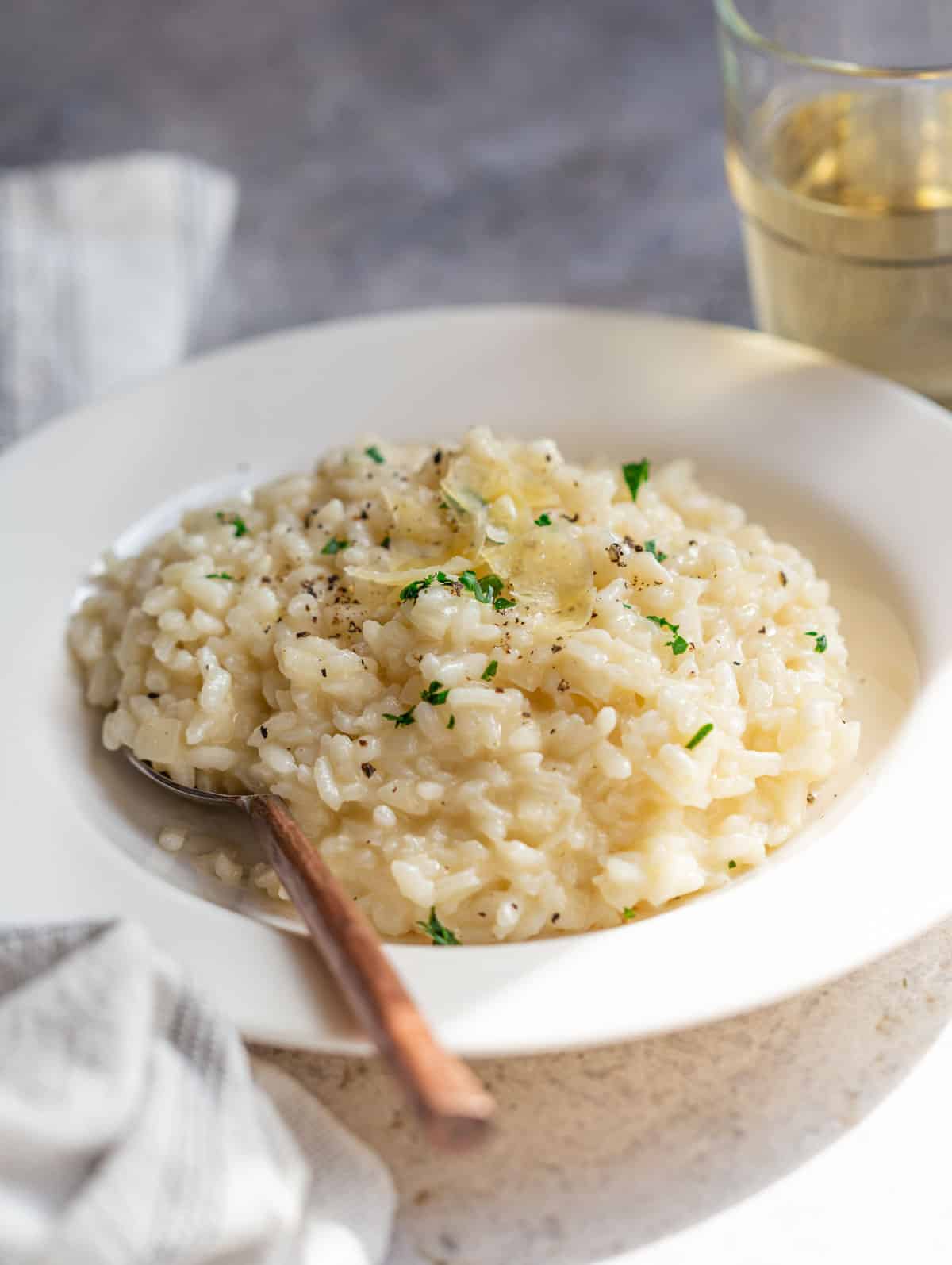 One of my favorite ways to preserve a memorable travel experience is to recreate my favorite meals from the trip back at home. One such trip was a visit to the Veneto region of Italy, experiencing a decadent and rich Prosecco Risotto that not only had Prosecco as a base ingredient, it also was added (in a light splash) as it was presented to me.
Risotto is one of my favorite side dishes to make when enjoying a rich dish like braised short ribs or smoked beef ribs. This dish can sometimes be intimidating because of how long it takes to cook or the potential for undercooking it. But with a few basic tips and tricks we'll get you making incredible risotto with the rich and creamy texture in less than 30 minutes.
Recipe Highlights
Adding Prosecco, or other sparkling wine, adds a vibrant flavor and aromatics while maintaining the rich textures of classic risotto.
Keeping the broth warm while the rice cooks helps speed up the cooking process.
For added flavor you can use leftover parmesan rinds to soak in the broth.
This original recipe was inspired by a trip to the Veneto region of Italy and shared first by us on Palate Press back in 2015.
Jump to:
What is Risotto
Risotto is a northern Italian rice dish, typically made using arborio rice cooked in a broth, until it reaches a creamy and rich consistency. The shape of the rice is similar to a small oval with more width than a typical gran of jasmine or basmati rice. It's best when slowly braised with liquid.
Classic risotto is typically cooked with onions, white wine, the rice, stock (veggie or a meat stock), butter, and finished with Parmigiano-Reggiano cheese (and sometimes with meat or other ingredients added to it). But the order in which it is prepared is important. Let's start with the ingredients for this Prosecco risotto recipe.
Ingredients for Prosecco Risotto
Risotto only as good as the stock you use. So be sure to use a high quality stock, or, better yet, make your own.
Arborio Rice – The shape and texture of arborio rice is important to seek out and is easy to find.
White Onion – While you can use any onion (or even shallots), a white onion gives a pronounced flavor that doesn't over power the flavor of the dish. Red onions will bring more of an onion flavor and not recommended. The best alternative for white onion would be a yellow onion or shallots.
Garlic – A touch of garlic adds great flavor and aromatics.
Prosecco: You can use any sparkling wine, but Prosecco from northern Italy is a more authentic way and has an apple and pear flavor profile we enjoy. It was also the one used in my travels, and has a nostalgic feel for me.
Chicken Stock: We like a good quality, low sodium, chicken stock.
Butter: Adding butter when toasting adds a slightly aromatic and nutty flavor to the risotto and then as the dish is done gives a creamy texture.
Parmigiano-Reggiano Cheese: Be sure it's a fresh wedge that you will grate up on your own versus the pre-shredded kind.
Kosher Salt and Pepper: Add kosher salt and froundpepper to taste. If you don't want to see black bits of pepper use white pepper.
See Recipe Card for portions and steps.
A note about bone broth: We do recommend classic stock, but you can substitute with bone broth if you choose. If you use bone broth for this recipe it's going to be denser and richer. That will impact the texture of the finished recipe. You may need to add some water to the bone broth as you make the risotto and avoid it from being too thick.
Arborio Rice
The best rice for risotto is Arborio (short-grain) rice for both the shape and size as well as the texture it gives as it soaks up the stock. Technically you can pull this off with other rices, but we do not recommend it for that classic style.
Preparation
As always, be sure all the ingredients are prepped and ready before starting to make the cooking process easier.
In a medium-sized pot add the stock and turn the heat on low. You want the stock to be warm as you start the risotto. This speeds up the cooking process so that cold stock doesn't have to warm up.
Grate the Parmesan cheese with a micro-plane.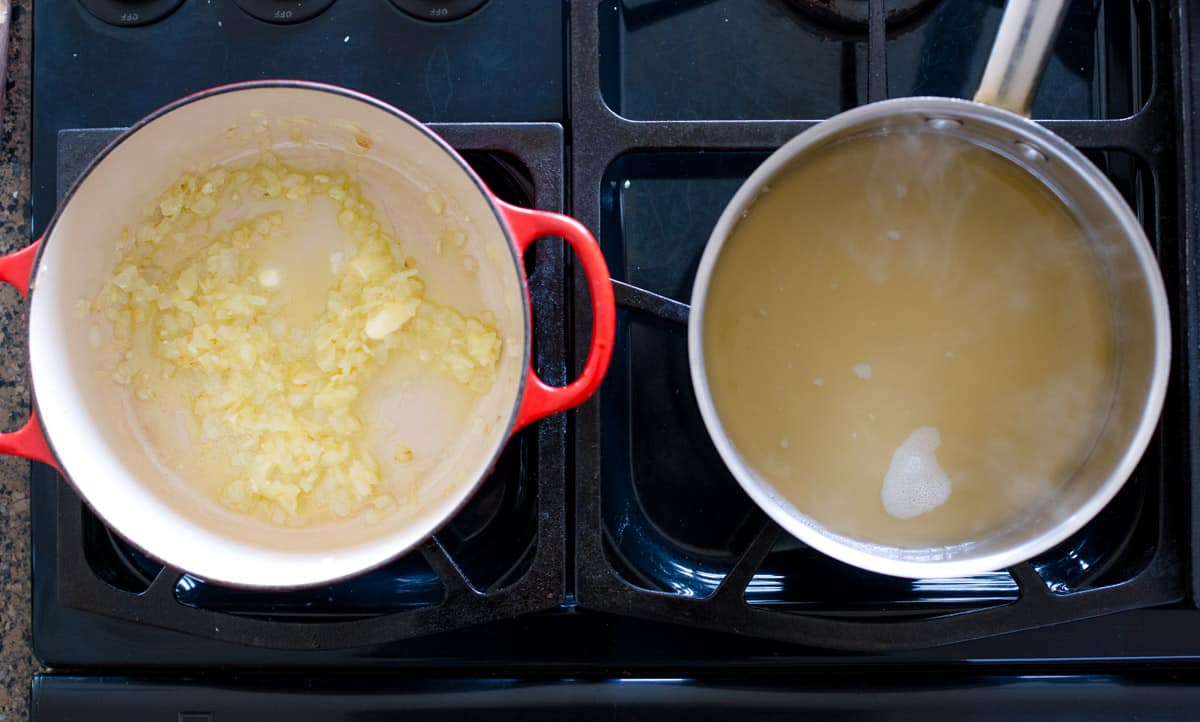 Instructions
The key to perfect risotto is patience and a warm broth. So be sure you have the broth warm on a low heat before you start.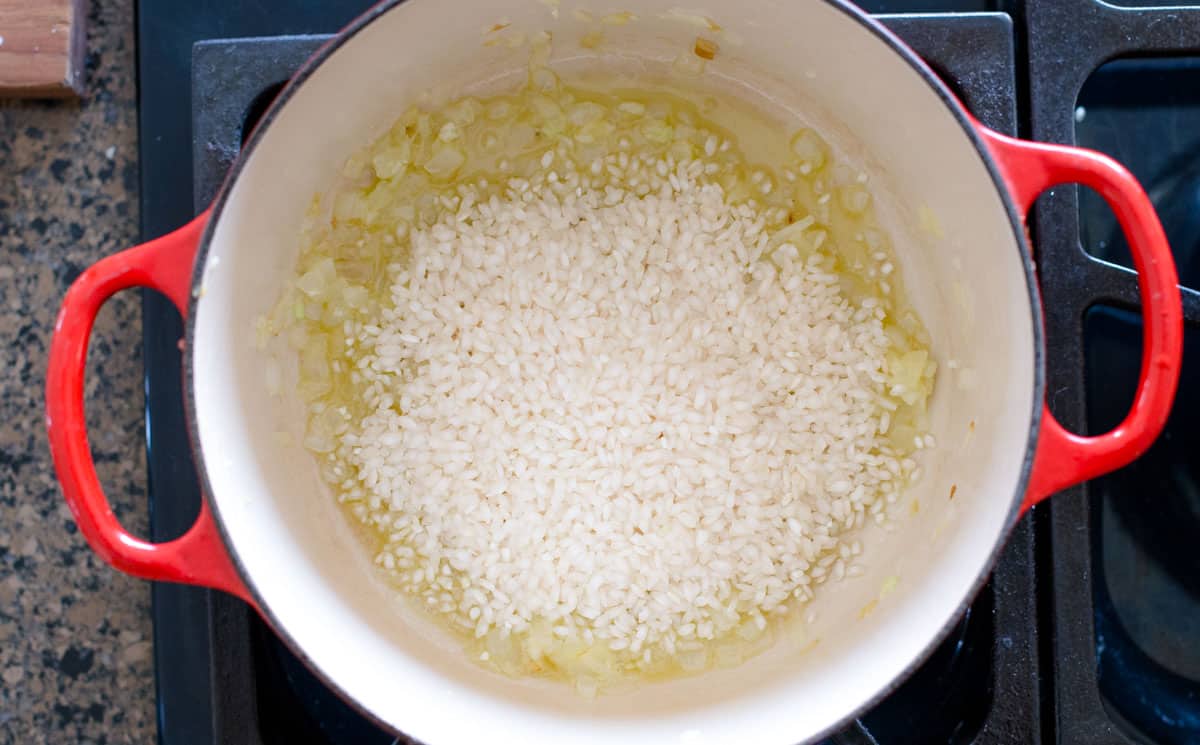 In a medium saucepan over low heat warm the chicken stock. It should not be simmering.
In a Dutch oven on medium heat, add olive oil. Just as the olive oil starts to smoke add onions and stir. Sauté the onions until soft but not browned, about 6 minutes. Then add garlic and stir for one minute. Note: If the onions appear to be browning, reduce the heat. You want soft onions, not caramelized onions.
Add 2 tablespoons of butter and let melt. Then add the arborio rice. Mix with butter and the onions for 2 minutes to toast the rice. Then add the Prosecco wine and let it simmer.
Stir the mixture for 2 minutes as the wine integrates with the risotto. The wine will start to get absorbed by the rice, at which point it's time to add the stock.
Add the first round of warmed stock to the rice using. We use just under one cup of stock per round. As you add the stock, stir it in and then let it come to a simmer. Continue to stir until the liquid is almost absorbed. Then add the next batch of stock and repeat a total of four times.
After the fourth time adding the stock the rice should be soft and slightly al dente (with a touch of firmness). The risotto should have a slightly wet texture but not soupy. Remove from the heat and then add the remaining butter and Parmesan cheese. Stir to combine.
Plate the Prosecco risotto. We make into a volcano shape, and then add a small indentation at the top at which we add one teaspoon (just a small splash!) of additional Prosecco. You can skip this step if serving to youth. But I love the tiny splash of Prosecco at the end.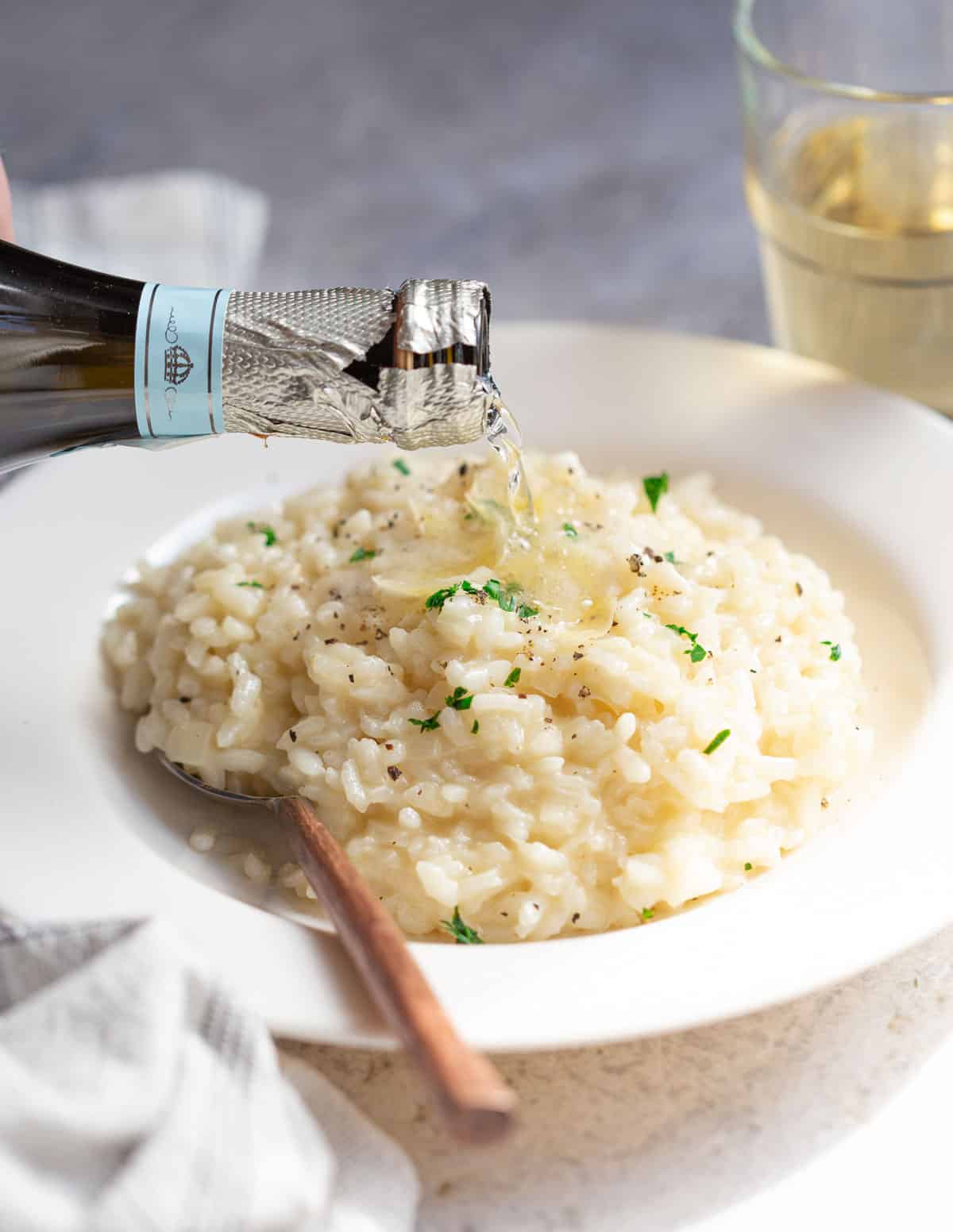 Bonus Flavor and Tip
If you use fresh Parmesan cheese a lot like us then you end up with the rind, which is not often great to use in dishes. If you freeze the rind you can then add it to stock when making risotto or stews for added flavor and richness.
It won't melt all the way, so you need to remove it from stews before eating. Added to warm broth adds more flavor, especially in this Prosecco Risotto.
Equipment
The best way to make the risotto is in a 3-quart Dutch oven. The height allows the risotto to expand as it cooks. A medium size stock pot works as well.
You also want a large stock pot for keeping the stock warm.
Leftovers
If you have leftover risotto, save it for arancini (fried risotto with cheese). Otherwise you can reheat the risotto in the microwave to warm it back up for one minute.
Yes, we said that. You can microwave it. Otherwise you need to warm up in a sauce pan with a little more stock and that's just too much work.
FAQ
Is Arborio rice gluten-free?
Yes, as a short-grain rice, arborio rice is gluten-free. Some brands certify it's gluten-free on their packaging if you are Celiac and need one that is not cross contaminated with other products with gluten.
Is Arborio rice pasta?
No. Arborio rice is not pasta, it's a short-grain rice. This is a common confusion given orzo pasta is similar in shape and size.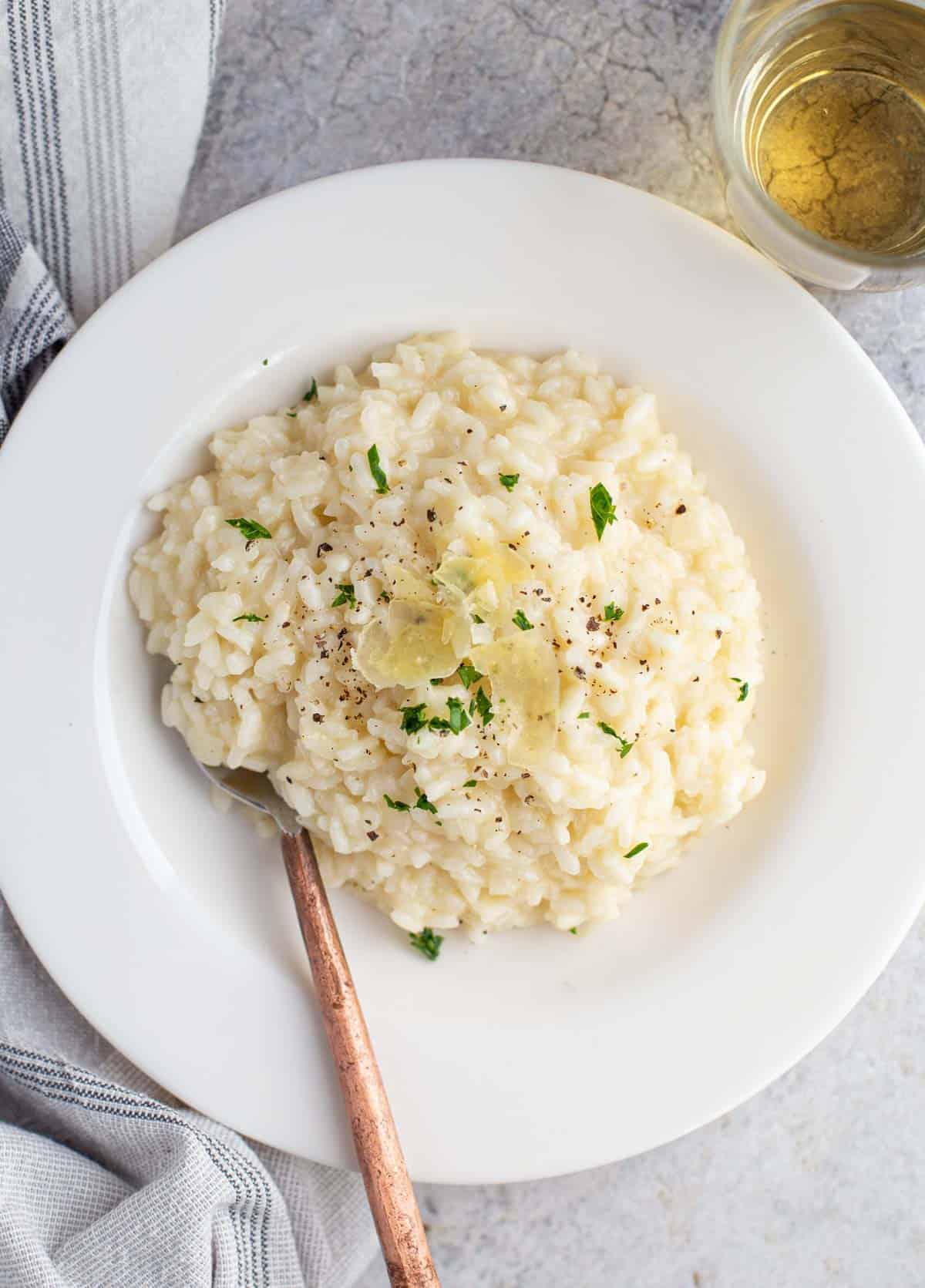 Wine Pairing
Since we are all in on the Prosecco, pair it with a good quality Prosecco or DOCG Prosecco. You can also substitute and then pair with any dry sparkling wine.
If pairing as a course with a meal and rich meat or protein then consider pairing the wine with the primary protein. So if making a braised chuck ribs stew then a nice Syrah or rich red is the better option.
Related Recipes
We love to serve Prosecco risotto with any grilled dish. Especially reverse seared lamb chops or a grilled ribeye steak.
Mushroom Risotto with Smoked Sausage – We smoke the sausage first, and then make the risotto with cremini mushrooms. It's incredibly rich and a full meal on its own.
Puglia Inspired Tuna Toast – Keeping with the Italian theme, this simple appetizer uses delicious tuna on a crostini with fresh veggies and arugula.
This article was originally published by Mary Cressler (author) on Palate Press in October of 2015.
Mary (a certified sommelier and recipe developer) and Sean (backyard pitmaster) are co-authors of the critically acclaimed cookbook, Fire + Wine, and have been creating content for the IACP nominated website Vindulge since 2009. They live in Oregon on a farm just outside Portland.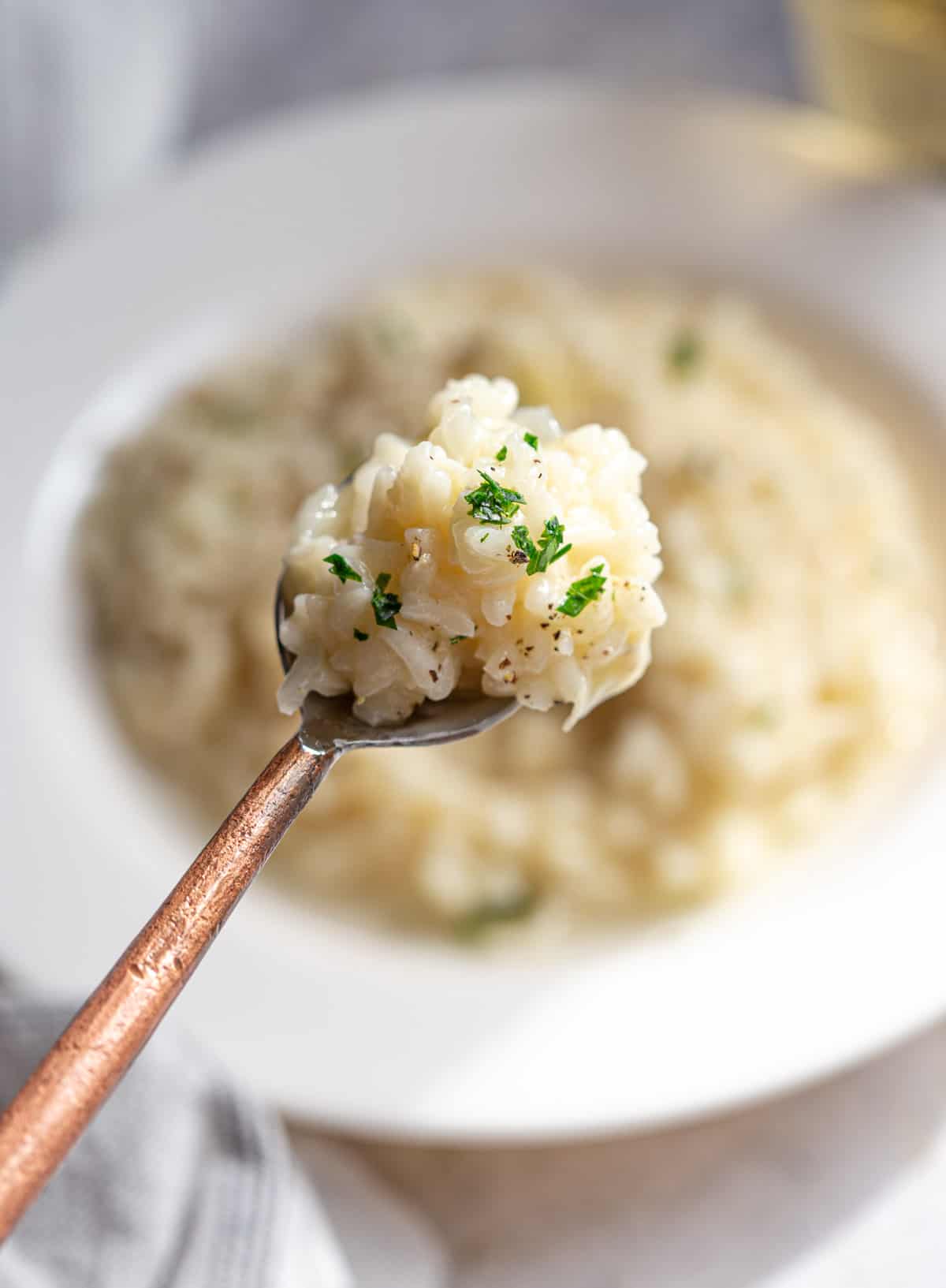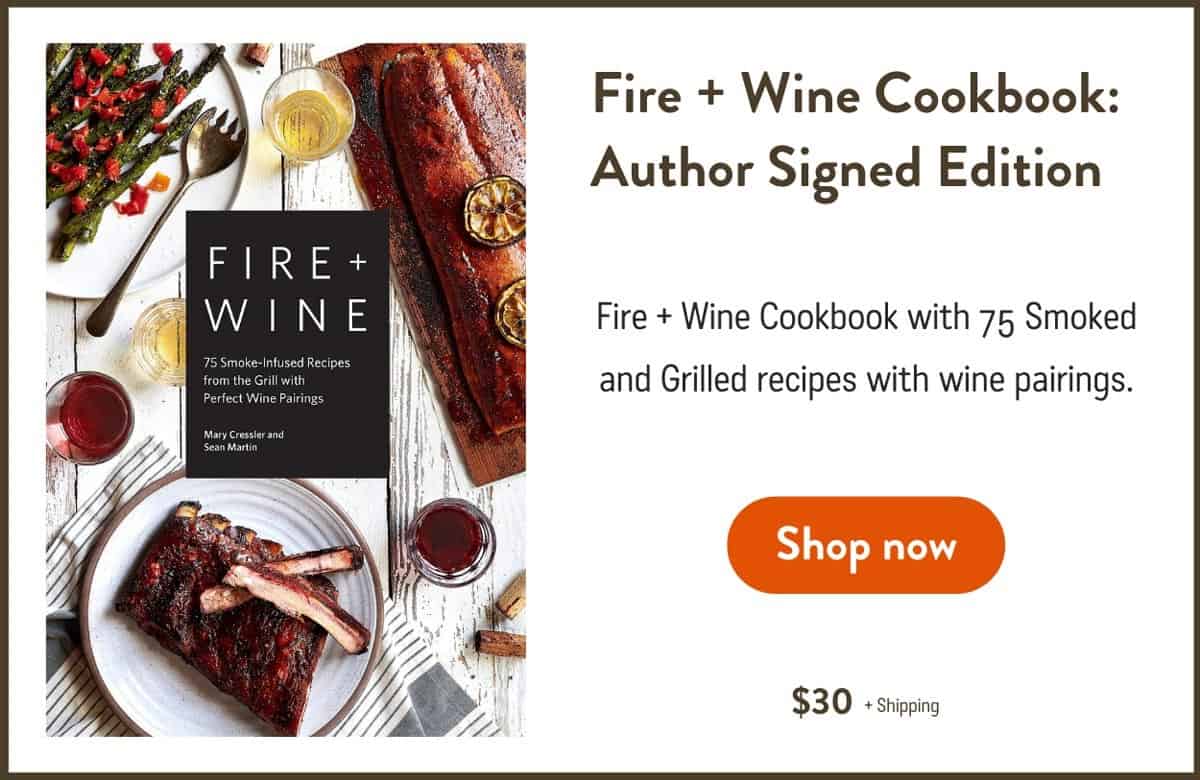 Tried this recipe? Give us a star rating and we would love to see! Mention @vindulge or use the hashtag #vindulge on all the social media handles. And consider subscribing to our newsletter where we drop all our favorite ideas and inspirations every week.
This post may contain affiliate links. This means if you click on the link, we may receive a small commission if you purchase through the link. We partner with brands we know and love and use and it helps keep the blog going!