For the perfect Jerk Grilled Chicken we take our Jerk Seasoning and grill chicken over charcoal for wood fire flavor. This is an easy way to elevate chicken flavor with a little heat and aromatic flavors.
Check out our jerk chicken recipe for a marinade and walkthrough of this historic Jamaican inspired dish.
Chicken is the most consumed meat in the United States and expected to continue that trend for the next decade. But while chicken may sometimes seem boring, the better way to look at it is like a blank canvas. You can do so many things to elevate this piece of meat! And there is no better way to enjoy chicken than on the grill with a jerk inspired seasoning.
Jump to:
What is Jerk Grilled Chicken?
If you're somebody who enjoys heat, like really hot chili heat, then grilled jerk chicken is perfect for you. Based In Jamaica and around the Caribbean, grilled jerk chicken is the way they want to cook chicken, (which inspired us to make our own version).
While you can cook it in the oven, for the purest flavor, and those exquisite char marks, grilling is ideal. The right grilled jerk chicken recipe packs a punch with perfect symmetry between heat and flavor.
It truly is a crowd-pleaser that will surely be the favorite food item at your party. Grilled jerk chicken breasts, thighs, legs, and drumsticks are great pieces to serve and will stay moist when grilled.
Jerk Seasoning Blend
A combination of aromatics, heat, and savory flavors go into our jerk seasoning. For more details in the process of creating our jerk seasoning, you can visit this article.
The Cut – Jerk Chicken Thighs & Drumsticks
When grilling chicken, we love bone-in chicken thighs and drumsticks because they can handle high heat and are still tender when grilled to higher temperatures. You can buy them already separated, or you can buy the leg quarter in which the grilled jerk chicken thigh and drumstick are still connected.
Preparation and Seasoning
If you buy bone-in thighs, trim any excess fat off that hangs over the side with a good boning knife. The drumsticks won't need much trimming at all. For grilled jerk chicken, season the meat 24 hours prior to cooking. This extra time allows the salt and some of the flavor to get into the meat in what is referred to as a dry brine.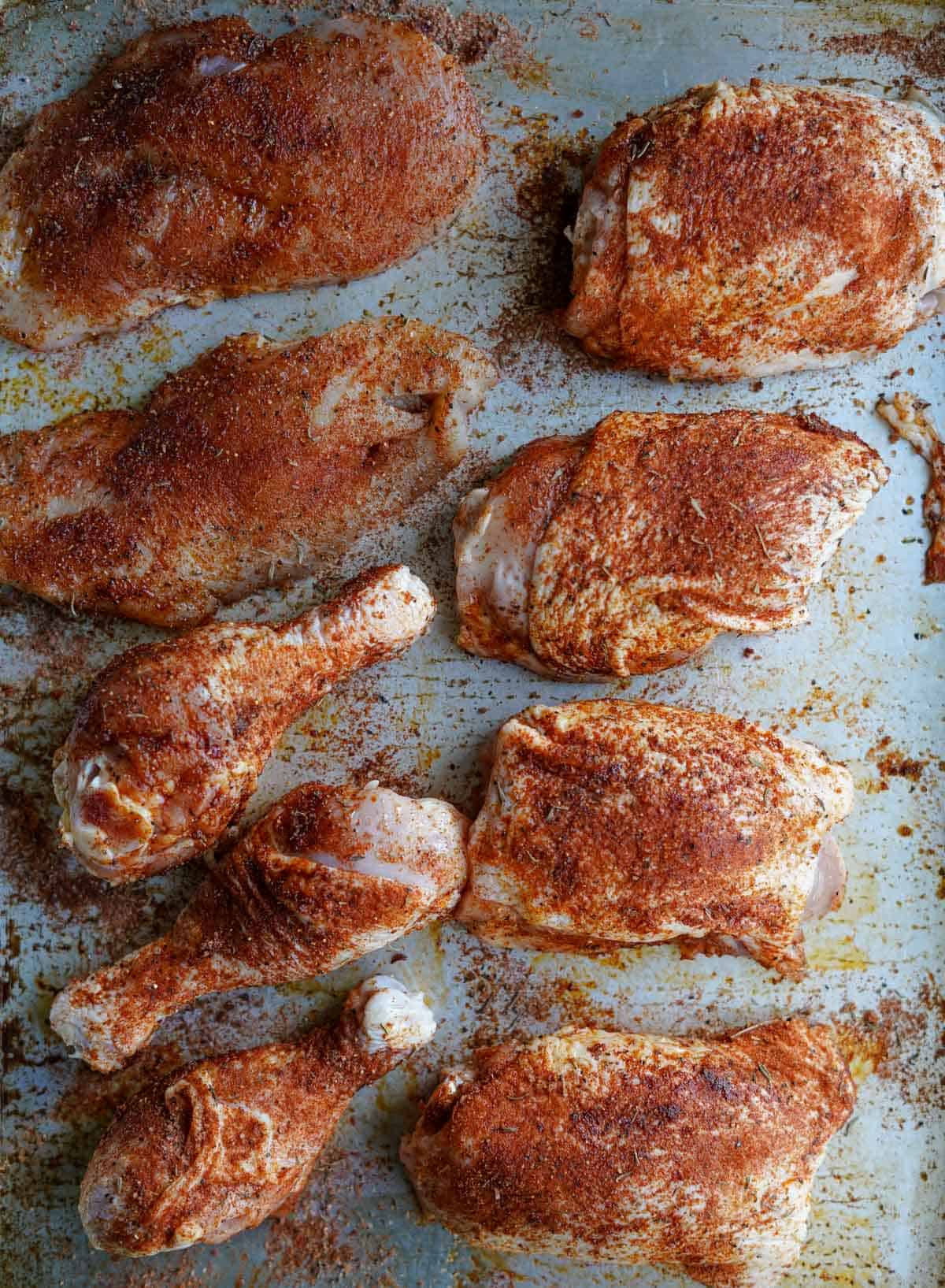 Coat the chicken with extra virgin olive oil.
Liberally season with the jerk seasoning. We use ¼ cup of seasoning for every four individual cuts of chicken.
Place the seasoned chicken into a gallon-size plastic bag and close. Just prior to closing all the way, squeeze out as much excess air as you can.
Place in the refrigerator and allow to dry brine for 24 hours.
How to Cook Jerk Grilled Chicken
Prepare grill for two-zone method of grilling using lump charcoal (briquettes are fine too). Before adding chicken to grill grate be sure the grates have warmed up for at least 5 minutes with cover of grill on.
When grill is at target temperature of 450 degrees and the grate is hot, place the chicken over direct heat. Grill for 3 minutes (covered), or until the chicken has a nice sear.
Flip the chicken and grill direct for another 3 minutes (covered), or until you see a nice crust form.
Move chicken to indirect heat and continue grilling (covered), until the internal temperature of the chicken reaches 170 degrees Fahrenheit. Remove the chicken and let rest for 10 minutes to allow carry over cooking to occur and bring the internal temperature of the chicken to reach 175 – 180 degrees.
Serve with your favorite sides.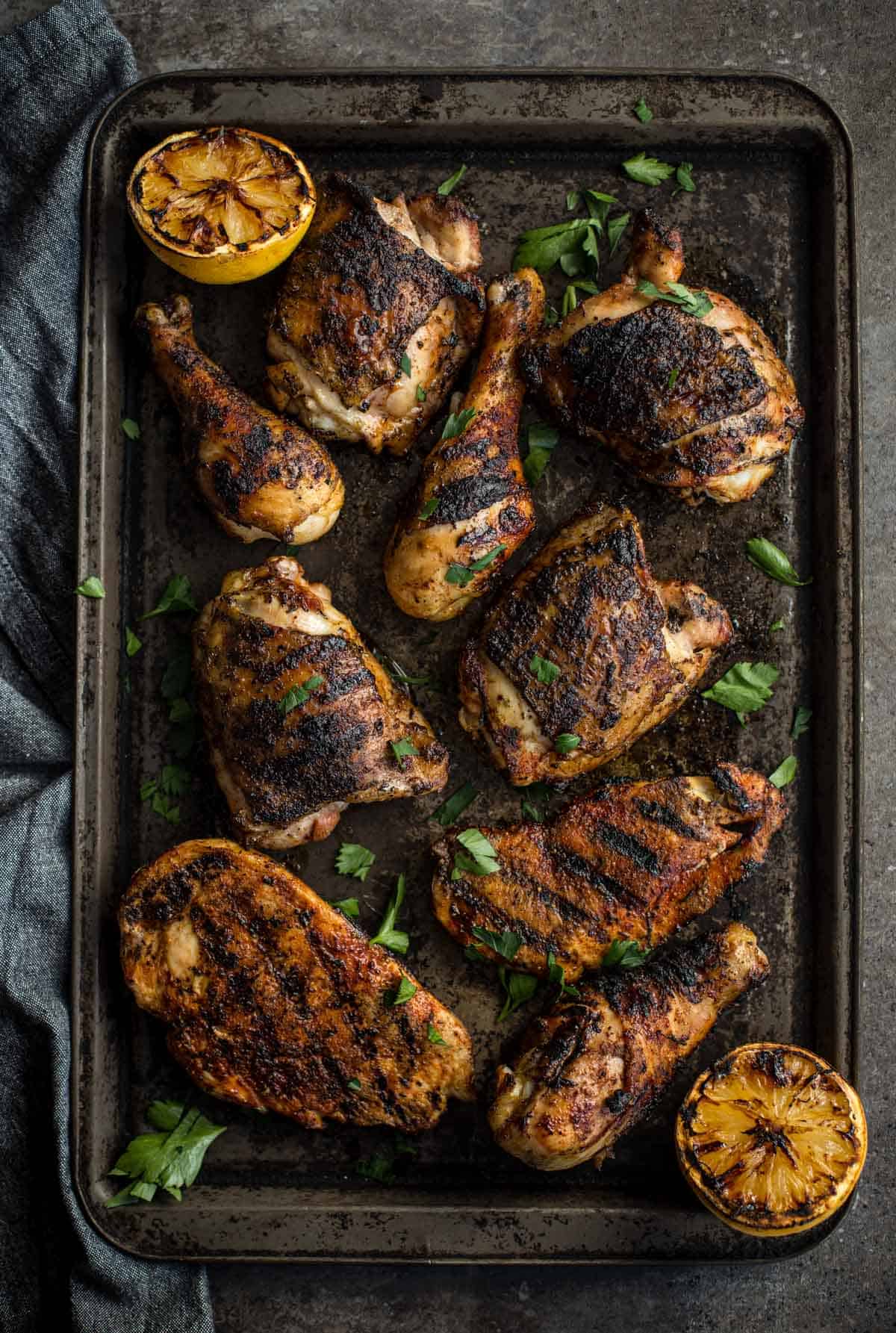 Temperature Tool – Be sure to have a good instant read thermometer when grilling. We have been using the Thermoworks MK4 Thermapen for over 8 years.
Gas Grill Modification – Use the same method of two-zone grilling. Simply lowering the burner makes the internal grill temperature lower.
Chicken Breasts – If you are using the same recipe for chicken breasts, follow the same process. Pull the chicken breasts when they reach an internal temperature of 160 degrees Fahrenheit and let them rest for 10 minutes foiled.
For those who think removing your meat prior to grilling should happen, the reality is that it doesn't materially change the internal temperature of the meat. Allowing the meat to rest at room temperature will actually increase the likelihood of bacterial growth. A hot direct flame will still perform as well with chicken that comes straight from the brine bag.
Other Seasoning Recipes
Any of these seasonings would also be great with this recipe also.
Side Ideas for Jerk Grilled Chicken