Tuna Toasts with Tomatoes and Arugula is a simple Italy-inspired appetizer made with tuna, tomatoes, arugula, and extra virgin olive oil, using the most quality ingredients you can find.
This easy dish is full of delicious flavors and makes for a great appetizer for a crowd!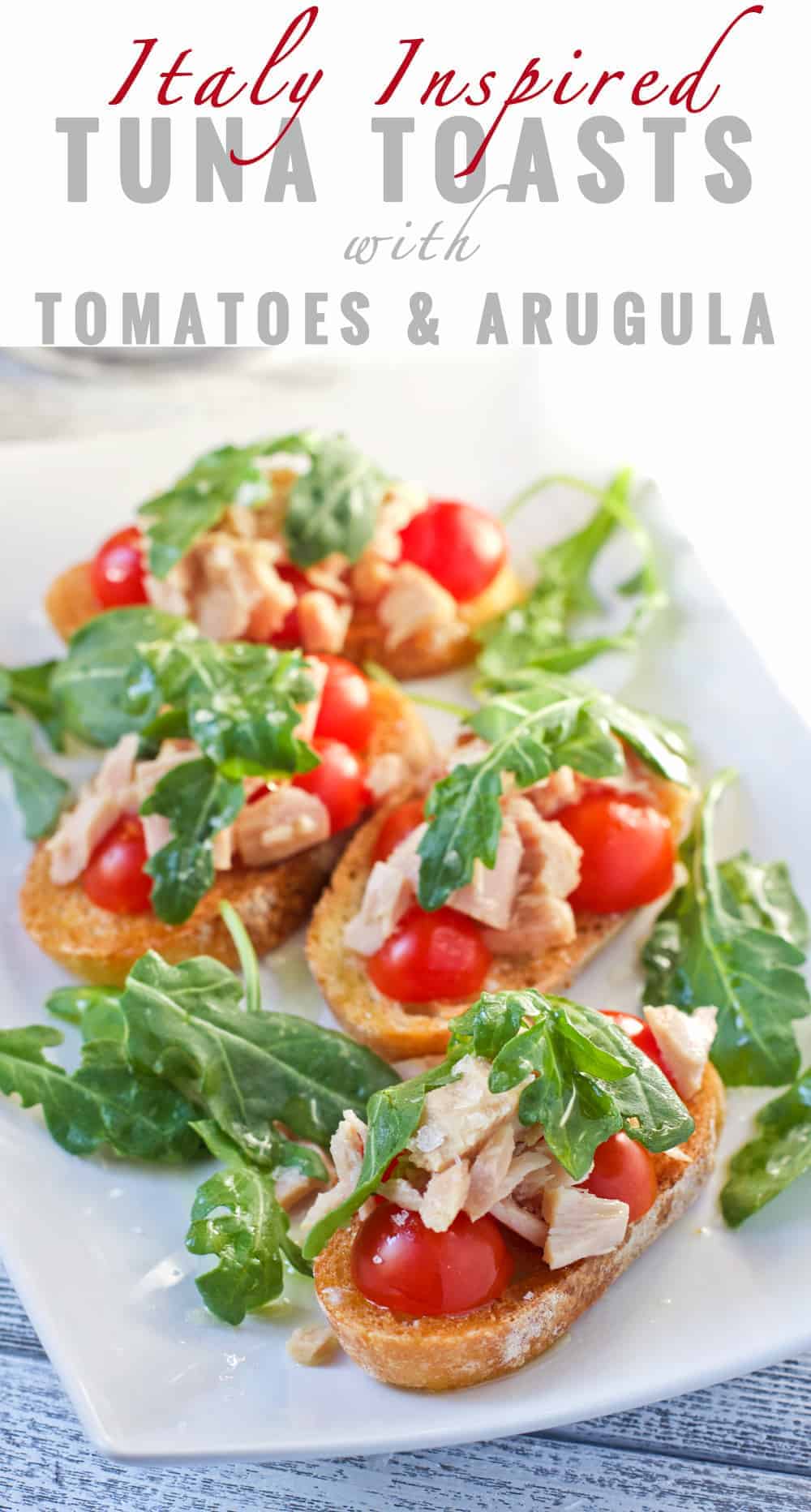 I'm still in awe with the food I tasted while in Italy on my most recent trip. In fact, every single time I've had the honor of visiting this country I'm blown away by the food. I'm not talking about complicated dishes with specialty ingredients. It's things like the comfort and simplicity of the risottos in Northern Italy, the freshness of the seafood in Sicily, the purity of Prosciutto di San Daniele from the Northeast. It's the everyday simple foods that stay in my mind for days, and even years after a visit.
And it's dishes like this from Puglia, that have four simple ingredients to them, that I'm still drooling over, weeks after my return from this Southern region of Italy.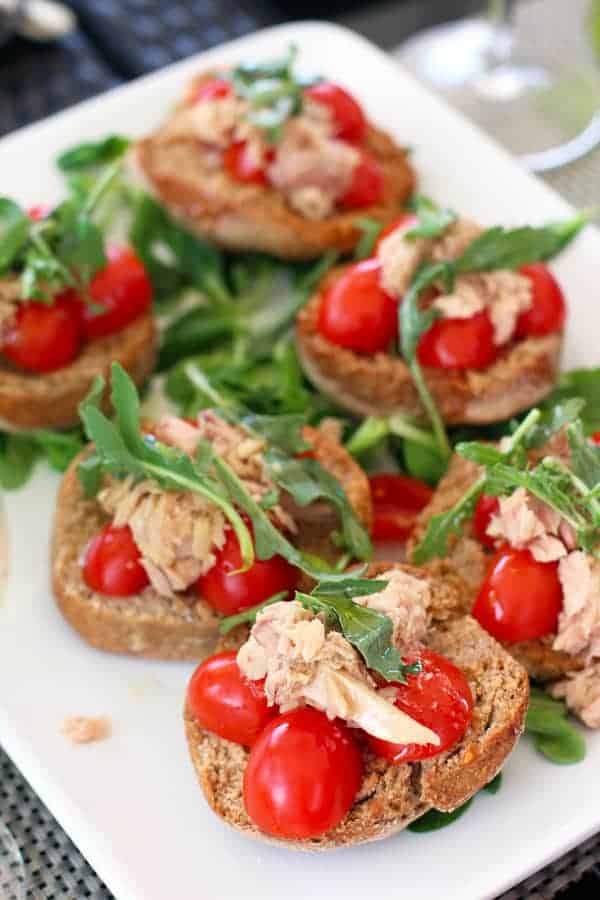 I distinctly remember having lunch at Numero Primo, the wine bar of Tenute Rubino, located along the Brindisi waterfront when this dish (above) came to our table. Frise prepared simply with fresh tomatoes, tuna, spicy arugula, and drizzled with extra virgin olive oil.
Frise (also called Friselle) is a traditional bread of Puglia, made from wheat flour, that looks a bit like a small bagel without the hole. The bread is half-baked, then cut open in half, then baked again until hard. Traditionally a peasant food, you still see Frise served throughout the region.
The power of this dish comes not in the complexity of the recipe (there are only four ingredients), but from the quality of ingredients.
And that's what really stood out about every single thing I ate — everything, from simple breakfast pastries, to the coffee, to multi-course meals at top rated restaurants – was the quality of every single ingredient used.
I wanted to see if I could come close to this dish at home, using what I had available. I did attempt at making my own Frise, but the results were subpar (I'll leave the bread baking to the professionals, like those at Grand Central Bakery where I bought the bread used for my experiment).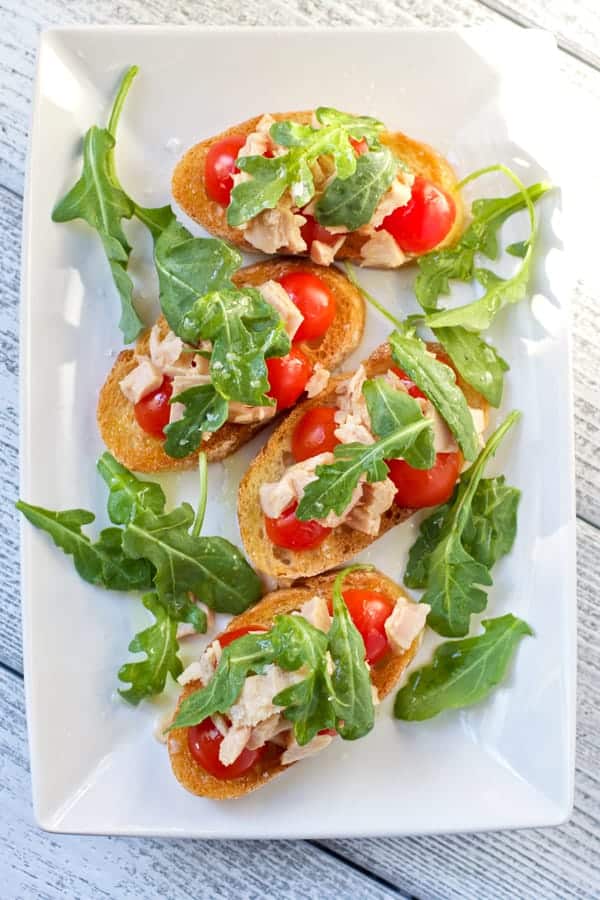 The tuna was important, since it is one of a few ingredients, so I couldn't just use the cheap canned kind found at every supermarket across the country. That had to be of the best quality I could find. So I went to a specialty grocer for that. You might have a few examples at your grocer, but I recommend seeking out a good quality tuna packed in oil for this.
I know I know, this tuna isn't even from Italy (it's from Spain), but it did come highly recommended by the woman at the specialty store I purchased it from. Plus it had a cute old barefoot fisherman smoking a pipe on the can. He looks happy.
Since tomatoes are still pretty fresh around here, I went with some pretty looking cherry tomatoes I found. The extra virgin olive oil you use also must be the very best quality. Remember, the fewer ingredients you use in a recipe, the more important it is to have each one of the best quality you can get your hands on. I used Oregon Olive Mill's Frantoio since I'm loving the way it's tasting right now (it has a great spicy finish that's fantastic on these toasts!). I also topped the toasts with a pinch of Maldon Sea Salt from The Meadow located here in town (and also in Manhattan). It's those final touches you just can't skimp on!
If you feel like making your own Frise, check out this recipe (and let me know your thoughts!). I kept it easy for myself with a fresh baguette cut into thick slices bruschetta style.
Tuna Toasts with Tomatoes and Arugula Recipe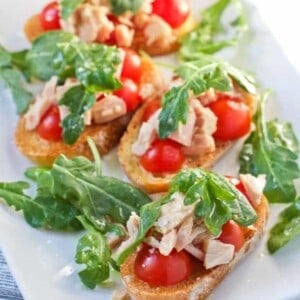 Puglia inspired Tuna Toasts with Tomatoes and Arugula
A simple Italy-inspired appetizer made with tuna, tomatoes, arugula, and extra virgin olive oil, using the most quality ingredients you can find.
Print
Rate
Ingredients
1

baguette, sliced into ½ inch thick slices

Quality extra virgin olive oil, such as Oregon Olive Mill Frantoio

1

6 oz

jar quality canned tuna packed in oil

½

lb

fresh cherry tomatoes, sliced in half

1

handful fresh arugula, loosely ripped

Quality Maldon salt, such as from The Meadow
Instructions
Set oven to broil.

Slice baguette in ½ inch slices then brush lightly with extra virgin olive oil and place them on a baking sheet.

Toast until lightly browned (1-2 minutes). Remove from oven and place on serving platter.

Layer each baguette slice with pieces of the cherry tomatoes, crumbled tuna, and arugula.

Top with a pinch of salt and drizzle liberally with more extra virgin olive oil.
I'm not gonna lie, our experiment was pretty darn awesome! The bread wasn't quite the consistency as the chewy inside and crusty outside of the Frise from Puglia, but it did the trick. Don't be shy with the olive oil, pour it on proudly!
As far as wine, the couple of times I've had this now we've served it with a crisp fruity dry rosé. You should still be able to find your fair share of rosé around these parts, and the fruity red berry flavors go great with the sweet tomatoes and rich tuna.
More Italy inspired recipes:
---