I have a love/hate relationship with these holiday gift guides you see everywhere right now. Mostly I'm just overwhelmed with the amount of suggestions people have. My heart beats at an unhealthy rate when I see gift guides that contain "100 stocking stuffers under $15," or "150 gifts for him," or "75 perfect gifts for her."
WHY SO MANY?!
I'm one of those crazy indecisive people who don't do well with too many options. So we've just narrowed it down to our top 10 in each category this year. Why just 10? Because that's a good number for people like me who can't handle never-ending lists of suggestions. I could easily recommend more than 10, but for my indecisive, anxiety ridden heart, I'm just giving you a few. Like em' or hate em, that's what I've got this year.
Now if you have questions or need advice, I could talk for days on end! So ask away!
When it comes to our favorite gear for BBQ, cooking, and wine loving, we're endless preachers of less is more.
Quality over quantity.
You don't need much to succeed in smoking and grilling (you just need a few solid products). I hope these give you some fun ideas for the BBQ, Grilling, or just foodie on your list. Some (but not all) contain affiliate links. All are products we use and love.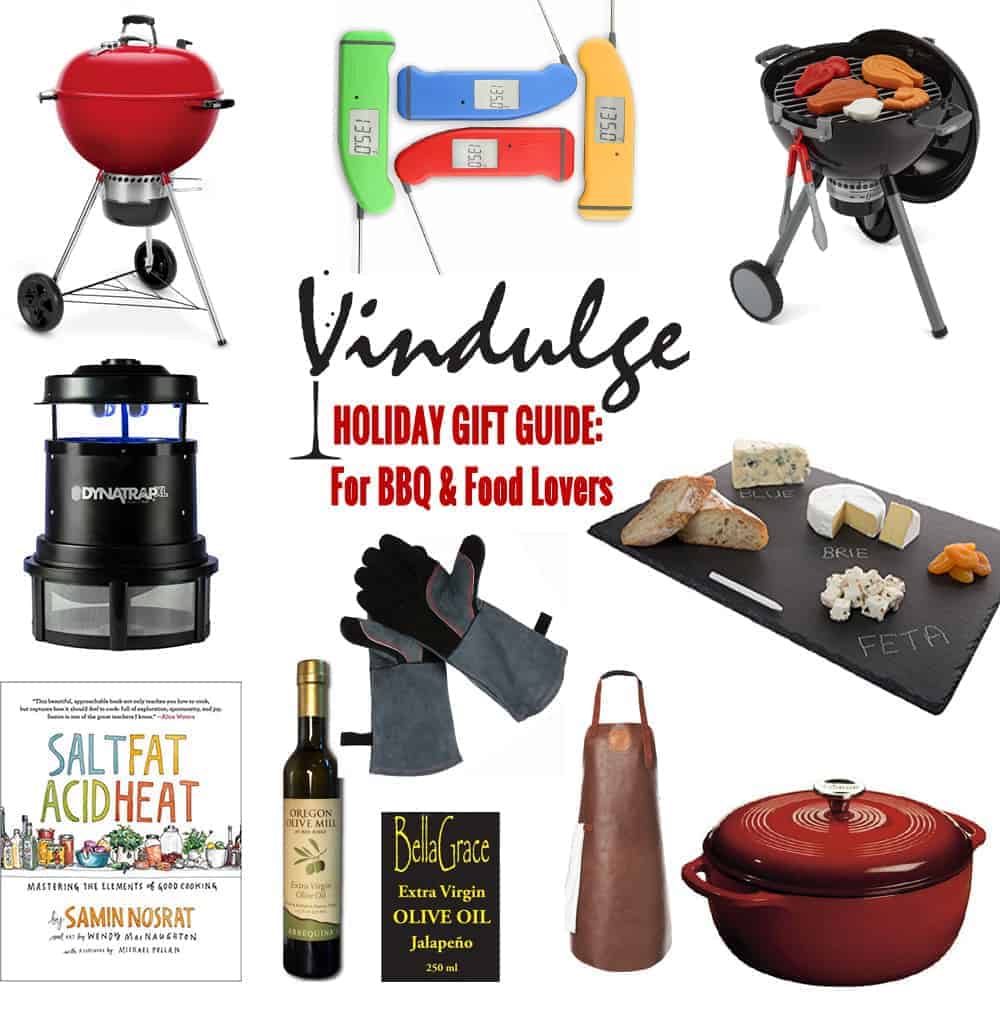 I'm super stoked about this. This kettle grill was the first thing we started expetimenting grilling and smoking food on and remains, to this day, the one we use the most. And I'm especially excited about this limited edition red version because I have an obsession with all red appliances, tools, etc. Even my bicycle is red. Obsessed I tell you. Find it here. 
Get 'em excited about grilling while they're still young! We got our boys their first "grill" when they were 2 years old and they've been cooking with us every since. This toy grill, from Weber, is irresistibly adorable and great for the baby pitmasters in your life. Find it here.
We're broken records when it comes to our enthusiasm for ThermoWorks digital thermometers. We've used several different brands and these are the most consistent. We use the original Thermapen and the Thermapen MK4 for everyday cuts of meat, like steaks, chicken, pork tenderloin, etc. But if you want something a little more affordable the Thermopop does a great job and is priced under $30. And for extra long smokes, like pork butt, briskets, whole turkeys or chickens, we'll use the Smoke. All have their own purposes and all work great. Shop here.
We've talked about these leather gloves before and are worth mentioning them again because you really need a good pair of gloves to be managing those hot (non-food) items like hot wood in the fire, hot pans, transporting hot platters, etc. Find them here.
A fantastic and intriguing book about the 4 elements of cooking — Salt, Fat, Acid, and Heat — and how to understand those elements in order to transform your cooking and empower you in the kitchen (or outdoor grill!). The illustrations are charming and help to transform complex topics into a simple and straightforward bits of information. This is a must have for the cook in your life. Find it here.
Good Olive Oils
For a fun food gift for the general foodie we are obsessed with small batch and local-ish olive oil producers and these are two of our favorite. They also happen to both be wine producers too.
Red Ridge Farms is located here in Oregon and their Arbequina Extra Virgin Olive Oil is just gorgeous and great for dipping bread into or using as a finishing touch on soups.
Bella Grace makes several different flavors of both olive oils and vinegars, but we're addicted to their Jalapeño Infused Olive Oil. It's so delicious, and it's really not that spicy. It just gives you a nice kick at the end. We like to serve both of these side-by-side when we have guests over with some cut up baguette slices. So good! *PSSSST, We're planning on having a giveaway of our favorite Jalapeño Olive Oil coming up soon here so stay tuned!
You might be wondering what a bug trap is doing on a list of gift ideas for BBQ and food lovers, but if you're like me and want to cook (AND EAT) every single meal outside in the summer but you don't want to be bugged (see what I did there?).
This is a gift from the heavens! I plan to write a full write up on this come spring when more folks start spending time outside, but until then just know this completely transformed my enjoyment of being outside this summer (especially during the late afternoon hours and evening when the nasty mosquitoes come out). It really works, friends. We tested it many times (sometimes we'd forget to turn it on and suffer the consequences). It claims to covers an acre of space and I believe it as, we had neighbors in the early part of this past summer (before we moved) that notice the positive benefits of this magical bug catcher. I'm a believer and can't wait to bust it out again next summer (aka bug season!). Find it here.
Something to go with your fancy olive oils, these Slate Cheese Boards. We have several of these, in all different sizes, and love them. They make for a great background for your cheese and meat platters, or just to display the bread for your olive oil dipping. I also use them in the background of several photos I post to this site. Find them here.
We have the 7.5 QT version of this (in red, because of my love for red appliances). BUT we also have a smaller Le Creuset Dutch Oven (also red) that costs 4x as much, and you know what? They're both awesome! I've found no difference yet in cooking with the Le Creuset vs. the Lodge. And they're both equally beautiful. And for only $42 this is a fan-flippin-tastic deal on this! Find the sale here.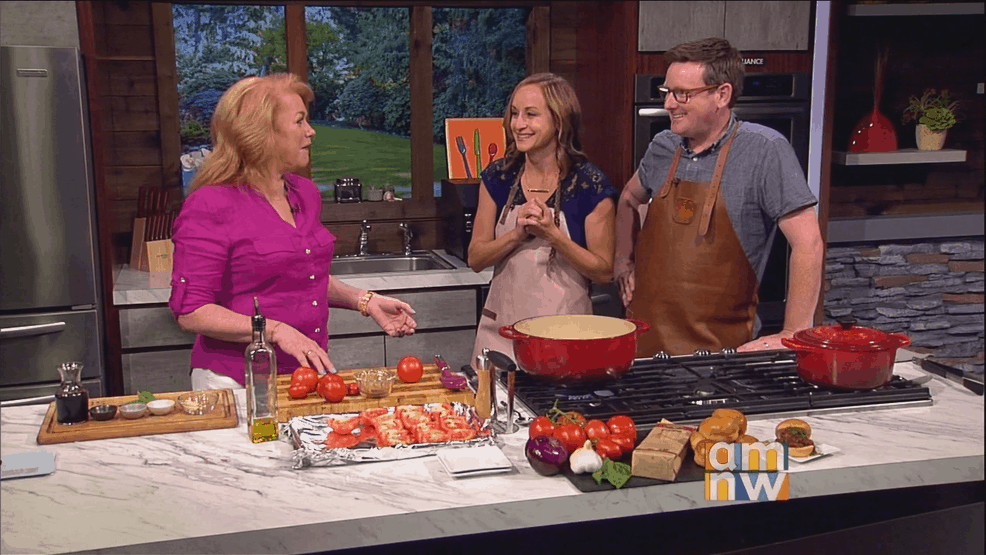 We get asked a lot about these hand made leather aprons we wear at events and on our AM Northwest TV segments. These are the ones. They are made by Witloft, a company based in Holland. Sean is kind of in love with their aprons, and we get tons of compliments on ours. They're not cheap, but they are a super cool gift for the foodie in your life. And they're having a 20% off sale right now. Find them here.
---
That's it. Our 10 items. If we find more good deals we'll be sure to let you know, either via our Facebook page or weekly newsletter. So make sure you're following along so you can be in the know of a good deal when we see it.
---
Some of these links are affiliate links. Please know we only recommend items we love and use often, and everything on this list is items we stand by. Happy Holidays!
---
Want more? If you liked what you read you can subscribe to Vindulge and have new posts delivered directly to your inbox.