This Red Wine Barbecue sauce, born from a wildfire, has turned into a balanced red wine based BBQ sauce that is perfect for pork and chicken. The story of how we got here is based on an unfortunate series of events that resulted in a delicious surprise.
This is a BBQ sauce that tells the story of a vintage.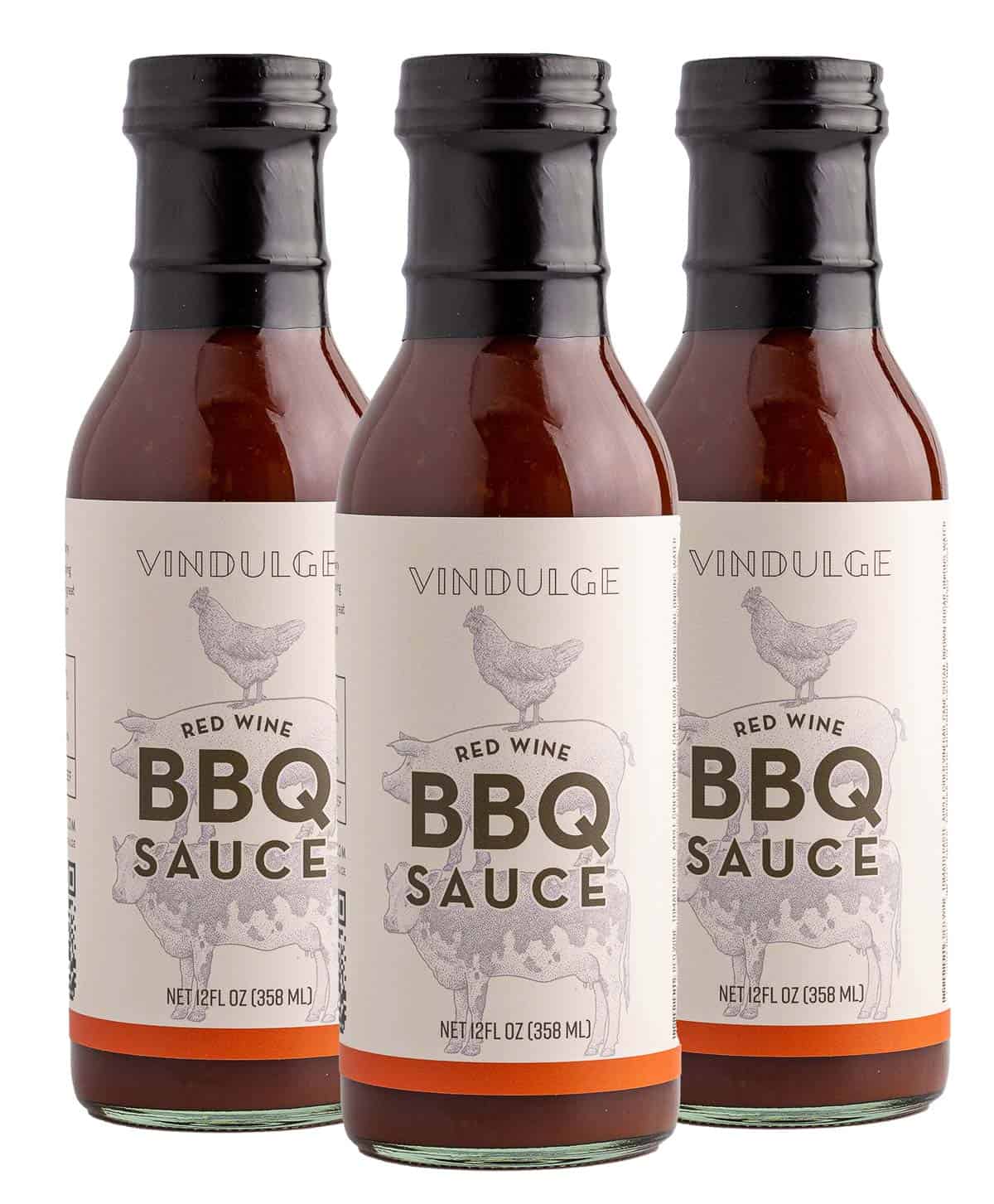 Jump to:
Acclaim and Press
The Oregonian – We were thrilled when Michael Alberty of the Oregonian and Wine Enthusiast tasted and reviewed our sauce. Not only is he an acclaimed wine professional, he is also a Kansas City native with a love of good BBQ sauce.
The Vindulge Red Wine BBQ Sauce passed the test with flying colors. It was sweet, but not too sweet, and spicy, with some nice acid backing everything up. You can detect the red wine, which adds a touch of earthiness and tart red fruit.

What put this sauce over the top for me was its texture. With every taste, you get these crunchy little roasted garlic and onion bits that are worth the price of the bottle all by themselves.

Michael Alberty, The Oregonion and Wine Enthusiast Contributor
Background
In September of 2017 a massive fire engulfed the Columbia Gorge, an hour east of Portland, OR near the Eagle Creek Trailhead, causing evacuations and devastation throughout the region. Part of that devastation was massive amounts of heavy, thick smoke that sat on top of the ripened grapes of the region for weeks that were just days from being harvested.
In some cases those fires were on the doorstep of the vineyards.
Because of the density of the smoke, the grape skins absorbed the flavor and imparted that to the juice that was pressed from the 2017 vintage throughout the Hood River Valley.
In speaking with one of the growers in the area we wondered if we could create a BBQ sauce from the effected wine. And while the idea was pursued, that grower was able to produce a wine that they could bring to market. But the story didn't end there.
2020 Willamette Valley Wildfires
Flash forward to September of 2020, a series of wildfires broke out throughout Oregon that set dense smoke clouds among the ready-to-pick grapes throughout the Northern Willamette Valley (and the Portland metro area). One of those fires broke out just one mile from our studio.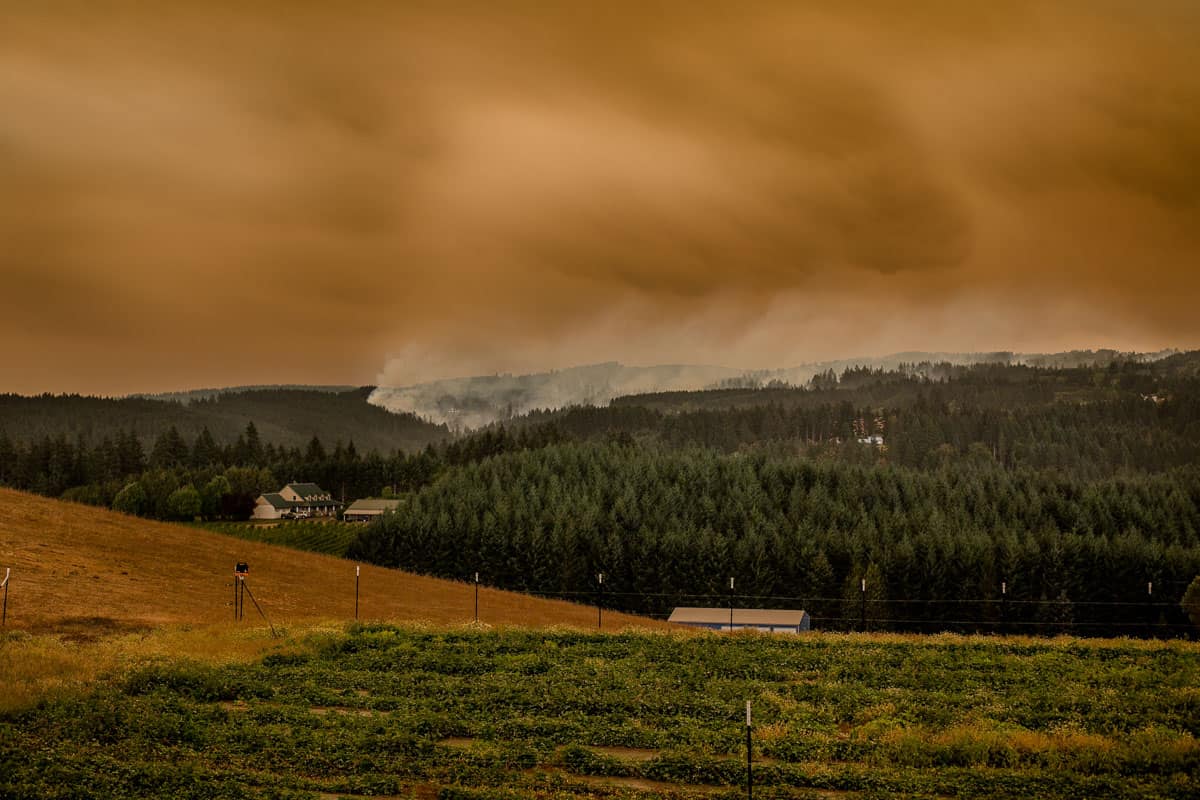 Luckily the fire nearest us was contained, but not before it (and the other fires) ruined an entire vintage for many wineries throughout the area. Once again a thick cloud of dense ash and smoke set among the ripened vines ready for harvest throughout the region. This time, many wineries were unable to produce any wines that year (this especially impacted the red wines).
And while wine may seem a luxury beverage, the reality is that most wineries are small farms that need each vintage in order to pay for the next.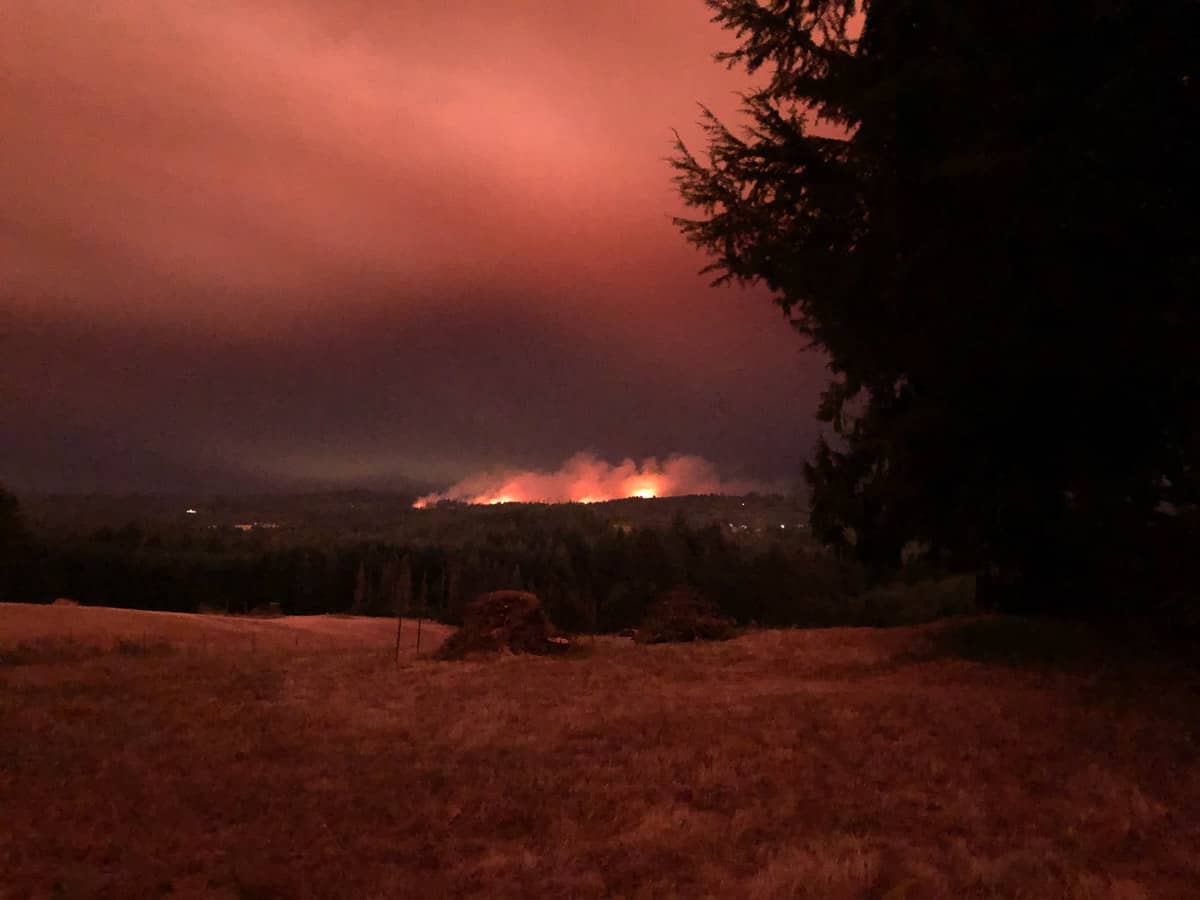 Sourced From Growers
Flash forward 18 months and many wineries were unable to remove the smoke flavor from the red wines that they produced. So a decision had to be made — to bottle a lesser wine or consider dumping the wine down the drain (literally).
In speaking with some of the local growers our idea returned. What if we could use the wine as a base to a unique BBQ sauce and blend the unique nuances of a smoky red wine with the traditional flavors of a Kansas City Style BBQ sauce?
A BBQ sauce that really told the story of that dreaded 2020 vintage, but turned it into something positive.
Making Lemonade out of Lemons
We were able to source some local red wine, and salvage what would have otherwise seen its fate in the drain, and used it as the base for our BBQ sauce.
We made sure that the underlying wine was worth drinking, even with a slightly smoky flavor. Then we went to trials and made variations of our sauce that could be scaled up, shelf stable, and worthy of bringing to market in a crowded field of BBQ sauces.
In sampling the trials the finished product received high praise for its flavor profile and complexity.
The Red Wine BBQ Sauce
We had already published a recipe for a Pinot Noir based BBQ Sauce back in 2015, one of the first red wine based BBQ sauces ever published (and it receives very high praise when people make it or we use it at events). So using the base recipe and some additional spices we were able to achieve a red wine BBQ sauce that has what we love most about food – balance.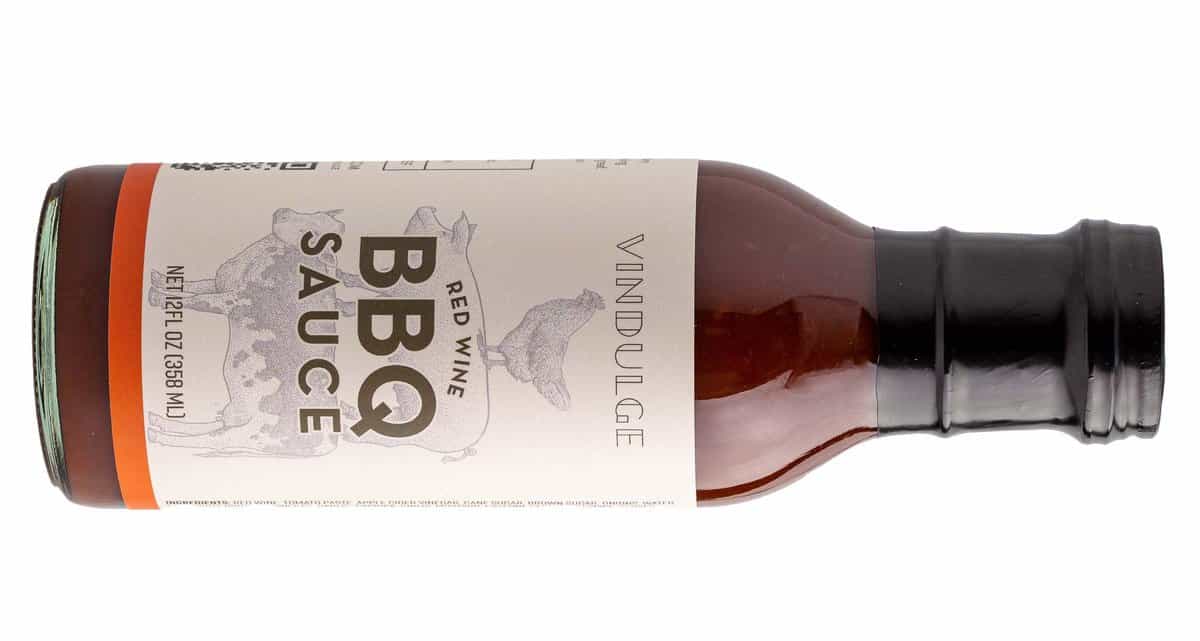 Acidity – The red wine is the first ingredient and it adds a slight acidic flavor to the sauce that is perfect with rich meats. It also has the slight smoke influence making it perfect for BBQ.
Spice – Hints of baking spice and cloves gives a richer depth to the sauce. We also added a touch of heat so that there was a nice pop when you first taste it.
Sweet – We don't lean into sweet sauces, so the minimal sugar added to the wine is to balance the savory and wine flavors.
Savory – Roasted garlic and onion are a base to add a savory and rich flavor in addition to some (secret) spices. Just kidding – you can see every ingredient all on the label (no secrets here!).
Texture – There is real roasted onion and garlic in the recipe and those can come through as small chunks. This adds a more authentic homemade flavor and a nice texture when eating (vs what you might expect from other sauces).
Red Wine BBQ Sauce Recipes
We designed this sauce to pair with pork and chicken but you can use this red wine sauce on any recipe you would typically use a traditional BBQ sauce on.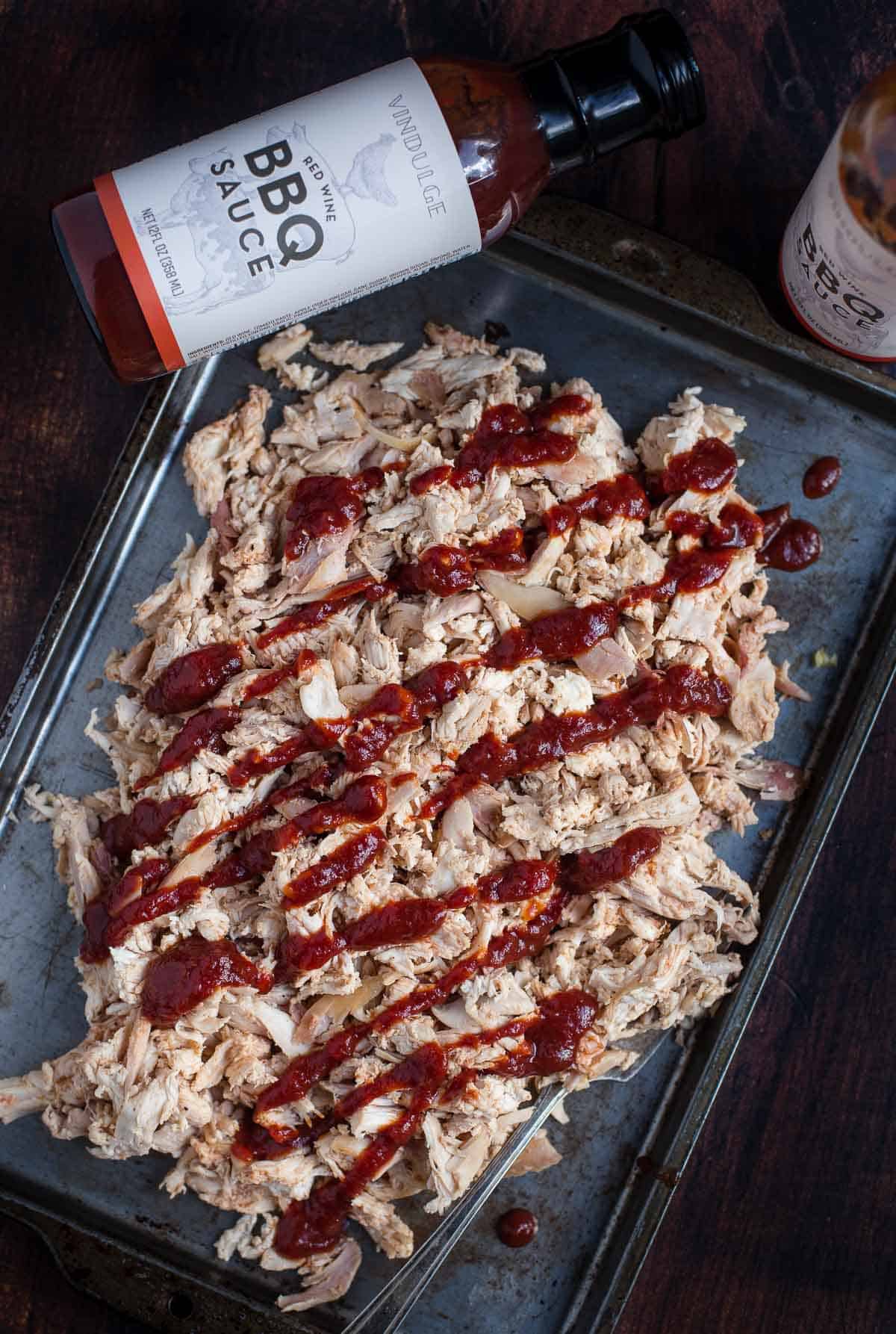 Where Can You Buy Vindulge BBQ Sauce
Currently we are selling the sauce online for shipping throughout the continental United States in a single pack or three-pack option (the best option when shipping). It makes a great gift in combination with our cookbook as well.
We are working as well to bring the sauce to distribution throughout the Northwest and beyond. We will update this article as we confirm where you can purchase.
Oregon
We strongly support purchasing our sauce and other makers at local retailers and grocers throughout the country. Check the links for hours of operation.
Frequently Asked Questions
Can I buy the Vindulge Red Wine BBQ sauce outside the US?
Currently the Vindulge Red Wine BBQ sauce is only available in the continental United States.
Is the red wine sauce sweet?
The flavor profile with the Vindulge red wine sauce is to balance sweet and savory and have a nice acidic finish. It is not a sweet first sauce.
Is there alcohol in the red wine sauce?
The first ingredient of the BBQ sauce is red wine. However the red wine has been cooked and reduced which cooks out a majority of the alcohol. Also, when you consider how much ends up in one 12-oz bottle, it's very minimal.
Are there any allergens in the Red Wine BBQ sauce?
The sauce is gluten-free, although not certified through the packaging facility. It's also nut free and dairy free. It is made in a facility that contains wheat, nut, and dairy (but none of those ingredients are in the sauce).
Why are there chunks in the BBQ sauce?
We used roasted garlic and real onions as a base to add savor flavors. This gives the sauce an authentic flavor and texture that replicates a homemade barbecue sauce. This may come across with small chunks in the sauce which give it that texture.